Best Amusement Parks In the USA
Do you love theme parks?  I know I do!  There are some amazing amusement parks in the USA.
Theme parks are my favorite vacation.  I love riding rides, eating yummy food, and experiencing all the shows and parades.
Let's explore some of the best theme parks in America!
If you want to save this information for later be sure to pin this to Pinterest.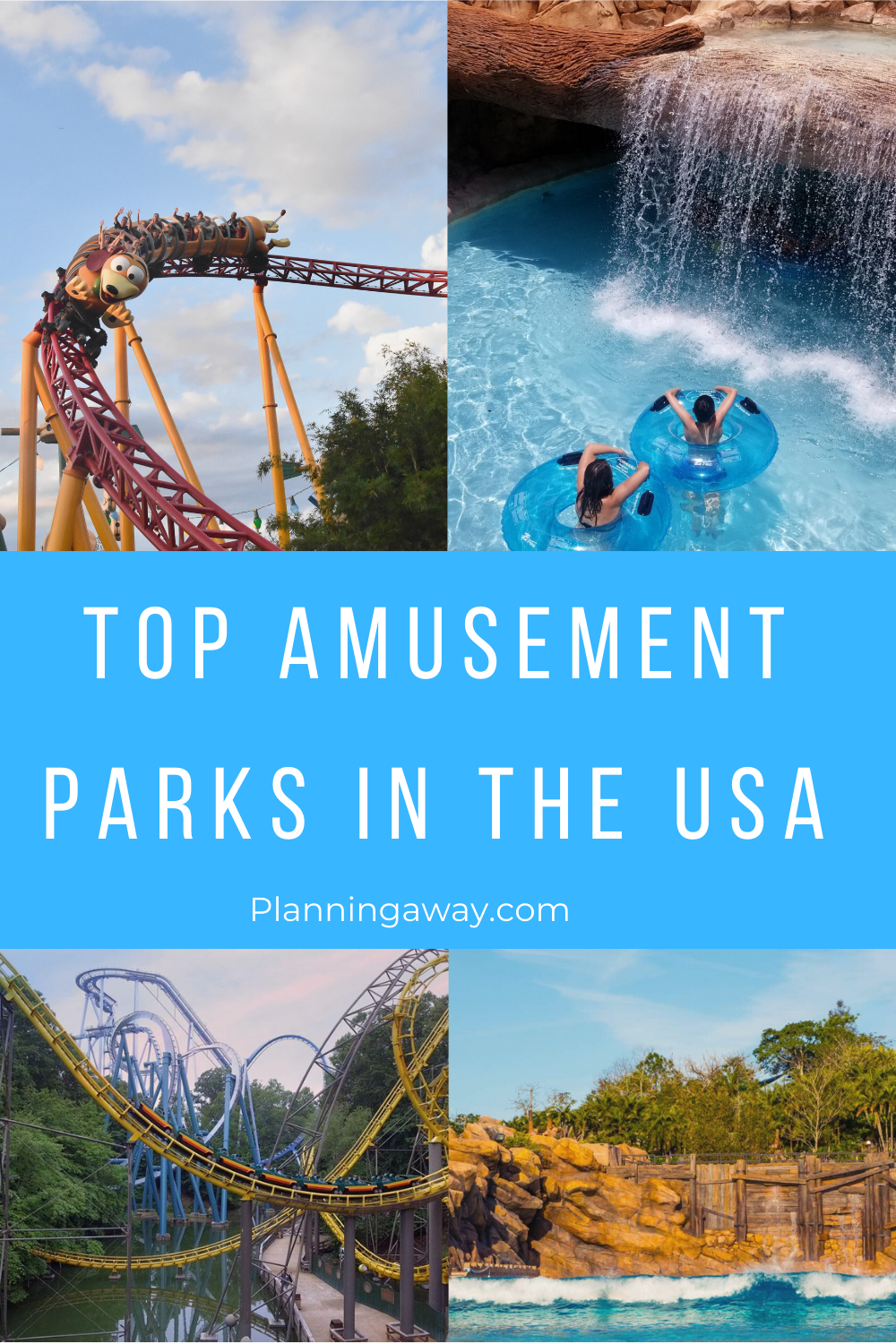 This post may contain affiliate links that will give me a commission at no additional charge to you.
SeaWorld
SeaWorld owns some of the best amusement parks in the USA. They are located throughout the United States. These locations include:
California

Pennsylvania

Texas

Virginia

Florida
SeaWorld is the main park, but they also own Busch Gardens, Adventure Island,  Water Country, Aquatica, Discovery Cove, and Sesame Place.
Let's explore these amazing Parks.
SeaWorld California
I highly recommend planning a SeaWorld San Diego Vacation.
Shows at SeaWorld
SeaWorld is most known for its orca and dolphin shows.  These shows are incredible.  Our favorite shows were the sea lion and otter show and the orca encounter.  But did you know that there are other shows like Cirque du Soleil and even ice skating shows during Christmas time?
Rides At SeaWorld California
We also loved the rides at SeaWorld. My kids had a blast and want to go back to SeaWorld San Diego.
They have some pretty awesome roller coasters. Our favorite was the Journey to Atlantis, which is also a water ride you'll get wet on. I think we went on it 15 times!
One thing that is nice about SeaWorld San Diego is the weather. No matter what time of year you go the weather is always perfect in San Diego!
SeaWorld Orlando and SeaWorld San Antonio are very similar to the California location.
Aquatica Orlando  
Aquatica Orlando was voted the #1 water park by USA Today. With a title like that, you can expect to have a fun time!  There are some of the most innovative and new water park rides located in this park.
Rides at Aquatica
Our favorite ride (and yes it was a ride) was the Roa's Rapid.  It is actually one of two "lazy" rivers at Aquatica.  The traditional lazy river is called Loggerhead Lane. Roa's Rapids is a fast-moving river.
On Roa's Rapids, you can wear a life jacket and will be pushed through the river at an accelerated pace.
Hot Tip
Even if you think you may not need one, you may have a lot more fun with a life jacket.
One thing I loved about the rides at Aquatica is that they are bigger and better than most water parks I have been to.
Discovery Cove

Discovery Cove is a unique theme park in Orlando, Florida which allows close interactions with animals and relishes tropical vibes. Its location along the International Drive and next to SeaWorld Orlando makes it a great addition to a family vacation.
Activities and Experiences
Discovery Cove may not have any roller coasters or water slides, but it surely provides many water-infused activities. Swim in the Wind-Away River that passes through a dense forest; relax in the warm waters of Serenity Bay; explore the Freshwater Oasis next to otters and marmosets; snorkel in the Grand Reef with rays and other tropical fish, or get out of the water and wander in the Explorer's Aviary.
 If you want to splurge some extra cash, then you can do even more. Such activities include swimming with dolphins, experiencing underwater walking, swimming with sharks, or feeding rays.
Food and Amenities
The good thing about Discovery Cove is that you do not need to worry about food and other amenities as everything is included. You can enjoy unlimited food and beverages throughout the day.
 From breakfast to lunch to snacks. In addition, expect to be given a beach towel, a snorkel set, and a wetsuit when entering the park. There are lockers to store your stuff, shower facilities, as well as animal-friendly sun cream.
Busch Gardens
Busch Gardens Tampa Bay has to be my favorite theme park in the United States. Aside from the amazing rides, great food options, an incredible range of shows – Busch Gardens Tampa Bay has amazing animal experiences!
Therefore, I'm confident in saying Busch Gardens Tampa Bay has something for everyone. From lions to tigers, to some of the best thrill rides in the country (and the world!), Busch Gardens Tampa Bay is fun for the whole family.
It's one of the only theme parks I've been to where people who hate roller coasters can still have an incredible time. After all, who doesn't love animals?
Things to Eat
Busch Gardens also has a wide variety of food options in addition to serving beer and wine throughout the park.
Things to Do
Not to mention the incredible seasonal and holiday events, from Howl-O-Scream to Christmas Town, to concerts and fireworks for Summer Nights, Busch Gardens Tampa Bay has you covered year-round!
Contributed By: Thetravelingbarnacle.com
Williamsburg Busch Gardens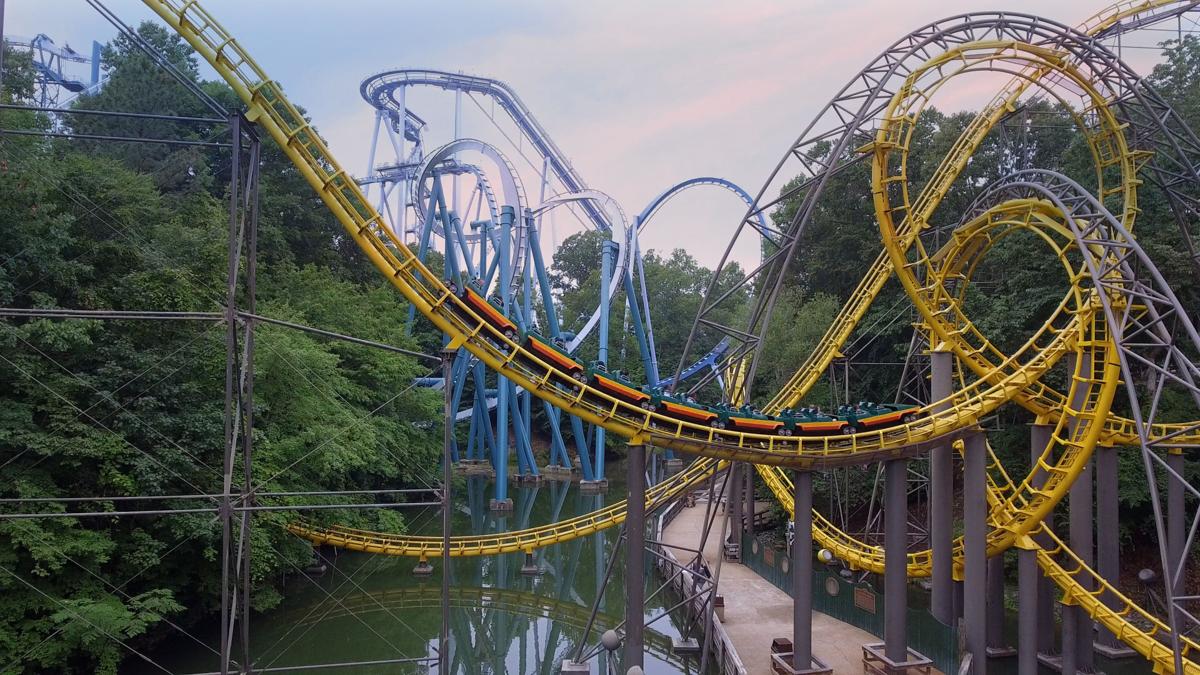 Busch Gardens has two locations one in Tampa, Florida, and one in Williamsburg, VA.
Williamsburg is a European theme which includes the countries of England, Scotland, Ireland, Italy, Germany, and France. 
Busch Gardens in Williamsburg has been voted the most beautiful theme park for the last 30 years. (I don't know by who) But it is a beautiful part of the country.
Water Parks
There are two water parks associated with Busch Gardens: Adventure Island is near Tampa and Water Country is near Williamsburg.
Sesame Place
Sesame Place is an amusement park located near Philadelphia.  It is perfect for little kids.
If your little one loves Sesame Street this park is a dream come true!  There are parades, character meet and greets, character dinners, rides, and even a water park.
This is one of the best amusement parks in the USA for toddlers and young kids!
Colonial Williamsburg
Looking for a theme park without the sensory overload? We can't recommend the unique experience of Colonial Williamsburg enough.
It doesn't have roller coasters and modern-day thrill rides. Rather, Colonial Williamsburg is an immersive experience in what the US was like before it was the US!
Explore an authentic eighteenth-century town, interact with the locals, dine on colonial faire, and have a blast FROM the past IN the past!!!
Things to Eat and Do
To eat, we recommend any of the three taverns that serve authentic colonial food and drink. Then spend the day visiting the blacksmith, the cobbler, and the myriad of other townsfolk.
You may even become a rebel spy or run into Thomas Jefferson. SUCH a unique theme park full of learning and fun!
In the same area is Busch Gardens Williamsburg and Water Country.
Contributed By: Thisfamilyblog.com[
Hershey Park 
Hershey, Pennsylvania is known as The Sweetest Place on Earth, but it's also home to the thrilling amusement park, Hershey Park. The park attracts visitors from all over central Pennsylvania and beyond, it's even one of the best day trips from Philadelphia.
The theme park has embraced the chocolate and candy legacy of the town by creating mascots around the famous Hershey's candies. You'll also find the rides categorized by different sweets and many of the children's rides having candy themes.
Rides and Coasters
The thrill rides are, however, independent of the candy likeness. One of the greatest thrill rides is the launched roller coaster, Storm Runner. It's 150 feet high and launches riders to speeds of 72 miles per hour in only two seconds.
Things to Do
There's more to offer than just thrill rides at Hershey Park, you can also enjoy Zoo America. It's an 11-acre zoo with 75 species of wildlife including some endangered species.
Hershey Park also has a section of water rides to cool off in the summer and seasonal events for Halloween and Christmas.
The Hershey Park Christmas Candyland event occurs each winter season and features elaborate light displays each night in addition to modified ride openings.
Contributed By: Robe-trotting.com
Universal Studios
Universal is one of the best amusement parks in the USA. Universal has parks in both Florida and California.   Florida encompasses three parks Universal Studios, Islands of Adventure, and Volcano Bay.  California is solely Universal Studios. They also have parks located throughout the world.
Universal Studios Orlando

Universal Orlando includes Universal Studios, Islands of Adventure, and Volcano Bay. All three parks are amazing. 
If you are a Harry Potter fan Universal Studios and Islands of Adventure have Harry Potter World.  You have to buy a double park pass to ride the Hogwarts Express which connects the two parks.
Rides and Coasters
Universal Studios has some amazing rides.  There are many 3-D indoor rides.   Islands of Adventure has more intense rides.  I personally, love Islands of Adventure.
Things to Do
Besides rides, there are plenty of restaurants to try out!  If you are Harry Potter fans the Three Broom Sticks, and the Leaky Cauldron needs to be on your list.
Wondering around Harry Potter World is one of the best things to do in Universal.  After you have purchased a wand there are areas located all around Harry Potter World to "perform" magic.
Universal Studios California
Universal Studios Hollywood is actually located in Universal City, California, just north of Hollywood. This theme park is unique in that it is also an active film studio.
Rides
You'll experience the best of movies in this action-packed theme park with rides based on Jurassic World, Despicable Me, Fast & Furious, and Transformers.
One of the most interesting rides is the Studio Tour, a tram ride through actual filming sets. Your video tour guide (Jimmy Fallon) shares behind-the-scenes movie magic while you visit well-known sets like the Bates Motel from Psycho and Amity Island, home of Jaws.
Things to Do
Don't miss the epic shows like the Special Effects Show where you'll learn how stunts, effects, and technology are used in films, and the ever-popular Waterworld Show, based on the 1995 movie you'll witness crazy stunts and an actual plane crash!
You can't forget to visit the Wizarding World of Harry Potter including Hogsmeade and Hogwarts with amazing rides like Flight of the Hippogriff and Harry Potter and the Forbidden Journey.
Lastly, grab some dinner, catch a movie, or finish shopping for souvenirs at Universal CityWalk, an underrated part of the park you can visit without a park ticket. 
Contributed By: Periodicadventures.com[/vc_column_text][vc_empty_space][vc_column_text]
Six Flags
Six Flags actually has 26 parks located in the United States!  We are going to highlight a few.  Personally, I have been to Six Flags Over Texas, Six Flags Great America, and Six Flags Discovery Kingdom.
Six Flags is a roller coaster dream.  The roller coasters are what make Six Flags one of the best amusement parks in the USA.
Six Flags Magic Mountain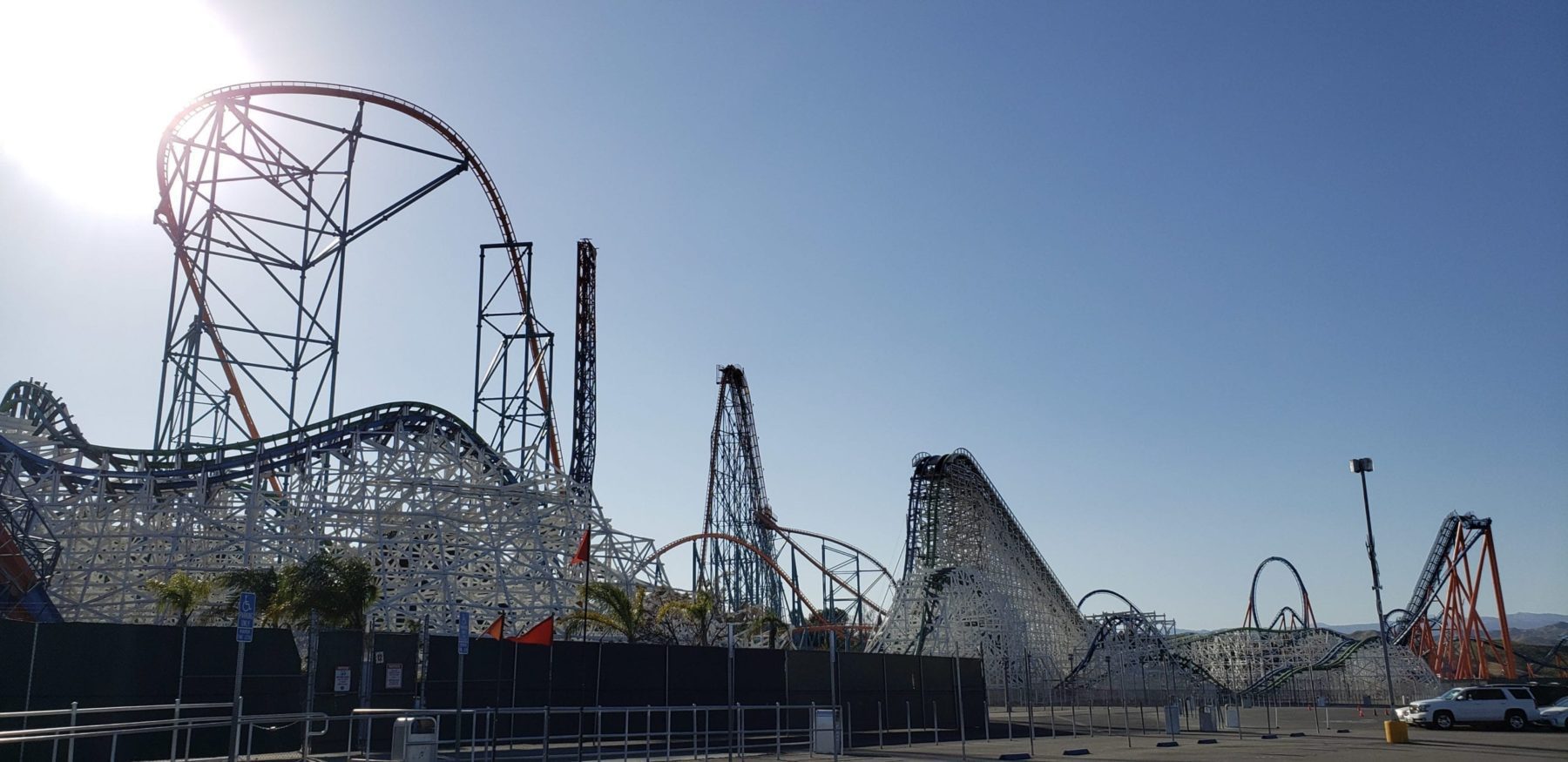 Six Flags Magic Mountain is a 262-acre theme park situated in Valencia, CA – roughly 30 miles north of Los Angeles.  The park has been open since 1971 and has become a staple experience for Californians and tourists alike. 
Roller Coasters
Some "can't miss" rollercoasters include:  Tatsu, a unique lay-flat coaster that surprises you with huge drops and pretzel-shaped twists and turns, all while lying face-down.  West Coast Racers is the world's first single-track racing coaster – an interesting feat in engineering.  And the New Revolution claims the first-ever 360 degrees vertical loop on over 3,000 feet of track.  Other rides like the carousel and the bumper cars are classics. 
Food Options
Food options range from pizza to Mexican and healthier options and of course the classic treats such as funnel cake, popcorn, and cotton candy. 
Beat the Heat
The close proximity to the Mojave Desert Region causes temperatures to be quite hot during the summer, reaching over 100 degrees in the hottest months of July-September.  However, Six Flags Magic Mountain theme park is open year-round.
Contributed By: Thisrareearth.com
Six Flags Darien Lake
Six Flags Darien Lake makes for one of the best theme parks in America. Situated in a quiet area of New York 45 minutes from Buffalo and Niagara Falls, this theme park offers a major bang for your buck, and in all of our visits, we've never had to wait for more than 5 minutes in line.
From family rides to thrilling roller coasters, there is something for everyone and all ages!
Roller Coasters and Rides
One of the best rides for the adventurous type is the Ride of Steel, known for being the tallest and fastest coaster in New York state!
The most recognizable family ride is the Tin Lizzy's – antique cars on a track that offer a relaxing pace for those with young children.
Fun at the Park
Bring your bathing suit for the summer – there's also a waterpark with pools, lazy rivers, rafting adventures, and speed slides!
Darien Lake is home to many concerts, including notable brands like Nickleback, Maroon 5, and Luke Bryan. This theme park also offers lodging and campgrounds for those looking to make a weekend out of it.
Food Options
From snack stands, cafes and restaurants, there are plenty of beverage and dining options to cater to diverse palates and keep you fueled for adventure during your visit.
Contributed By: InsearchofSarah.com
Mall of America Nickelodeon Universe
Nickelodeon Universe at Mall of America | Bloomington, Minn.
If you love amusement parks, then you must experience Nickelodeon Universe at Mall of America in Bloomington, Minn.
The seven-acre theme park is set in the middle of the Mall of America – the largest mall in the United States that attracts more than 40 million visitors annually.
Nickelodeon Universe is perfect for families and offers 27 rides and attractions for all ages. Of course, the entire amusement park is themed around popular Nickelodeon shows (like the Fairly Odd Coaster and Dora the Explorer Ferris Wheel).
Things to do at Nickelodeon Universe
SpongeBob SquarePants Rock Bottom Plunge roller coaster is one of the most popular rides at Nickelodeon Universe. In fact, it's been ridden well over one million times since it opened in 2008.

One of my favorites is the Paul Bunyan and Babe log chute with a 40-foot drop at the end. You will get wet.

In addition to these rides, you can enjoy several attractions including Barnacle Blast Zip Line. At 405 feet long and 55 feet high, it is the longest zip line in North America.
And there's so much more to do at Nickelodeon Universe. 
Nickelodeon Universe is another one of the best amusement parks in the USA for toddlers and little kids.
Contributed By: Kmfiswriting.com
Silver Dollar City
Silver Dollar City is an amusement park located in Branson, Missouri in the Ozark Mountains.  It is a beautiful area.  There are trees everywhere. Silver Dollar City has an 1800's feel and theme.
Rides and Roller Coasters
There are some very fun coasters at Silver Dollar City. Time Traveler was one of our favorites. With 31 roller coasters in total, you are sure to have a fabulous time.
Things to Do
There are many shows, displays, and stores to visit. One of our favorite stores was the Christmas Store which is open year-round!  It is fun to look at all the decorations.
Things to Eat
Cinnamon bread, and meat, and so much more!  Try them all. There are so many delicious foods to choose from.  The Food is a big reason why we love amusement parks!
Silver Dollar City also has a water park located nearby called White Water.
The theming at Silver Dollar City is what makes it one of the best amusement parks in the USA.
Schlitterbahn
Deep in the heart of the Texas Hill Country in the German town of New Braunfels, Schlitterbahn is a massive water park and a local institution.
River Fed Water Park
Many of Schlitterbahn's iconic tube shoots are river-fed by this region's beautiful rivers, some even end up in the river itself, incorporating the stunning Texas landscape into a family-friendly water park.
There are two sections to the park. The original section houses the classic tube shoots and more relaxing rides that are great for any age.
The newer section has modern gravity-defying slides, a wave pool, and a more modern lazy river.
Food Options
Don't forget to pack a picnic or store your cash in a water-proof container for the park's many restaurants. Visit both sides of the park in one jam-packed day, one of the best day trips from Austin, or dedicate the entire weekend to this iconic Texas waterpark.
Contributed By: Solsalute.com
Santa's Village in New Hampshire
If you have ever wanted to spend a day in the North Pole, there is a special theme park where a wish can come true.  Santa's Village in Jefferson, New Hampshire, a family theme park dedicated entirely to Christmas and one of the best theme parks in America, will transport you there faster than a ride on Santa's sleigh. 
 Open several months of the year, including on weekends up to Christmas, this jolly place brings all of the magic of Christmas to life.  My kids have loved this special place that not only offers rides, attractions, and entertainment, all centered around the holly jolly holiday.  But, they also love the water park and thematic dining! 
Rides 
With the more than 20 Christmas-themed rides, like The Great Humbug Adventure, Little Elf Flying School, and Rockin' Around The Christmas Tree, there are also special experiences that are the main attraction. 
Things to Do
Our kid's loved the park-wide scavenger hunt called Elf University, where kids hunt elf statues and collect stamps from all of the letters in the Elfabet.
Meet Santa
Kids can also meet Santa himself and feed his live reindeer!  Getting to see and meet the big man himself, is such a treat. But, oh what fun it is to see Santa ride the Sleigh Ride around the park.  Plus, it's never too early to put in an extra word for his list, before he checks it twice. 
Santa's Village is a jolly good time for kids and those who are kids at heart.
Contributed By: Bonvoyagewithkids.com
Knotts Berry Farm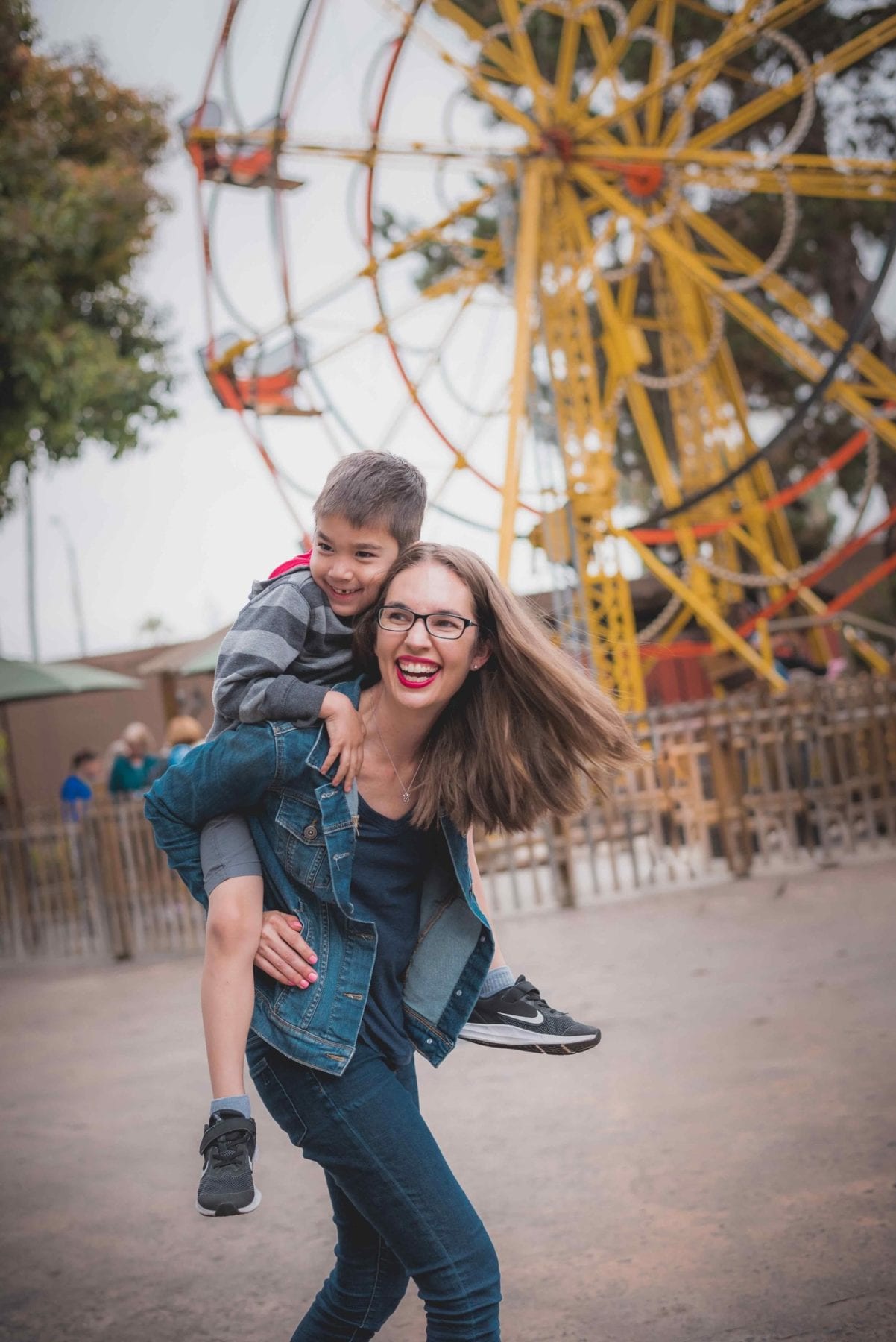 One of the most underrated theme parks in the United States is Knott's Berry Farm in Buena Park, California. While it's the oldest theme park in the U.S., there's plenty of awesome attractions that keep it a must-do on your Southern California vacation. Plus, it helps that it's just 5 minutes from Disneyland!
Roller Coasters
Knott's Berry Farm is definitely the place to go if you love roller coasters. They have one of the longest and tallest wooden roller coasters in the world. They also have the first and only dive coaster in California (with gravity-defying inversions!) And they have a speed coaster that takes you forward and backward through a 7-story loop!
Things to Do With Kids
 There are also so many awesome things to do at Knott's Berry Farm with kids. Camp Snoopy is a mini theme park full of pint-size rides, photo ops with Peanuts characters, and adorable shows. And families can also hop on a locomotive or a stagecoach for a ride around the park.
 Knott's Berry Farm is also home to tons of unique events like their annual Boysenberry Festival, Knott's Scary Farm Halloween festivities, and Knott's Merry Farm holiday festivities.
No matter when you go, you'll want to make sure to plan for dinner at the famous Mrs. Knott's Chicken Dinner Restaurant (their chicken pot pie is outstanding!)
 And if you are looking for a cool place to stay near Knott's Berry Farm, why not stay at the Knott's Berry Hotel? You can even rent a suite where Snoopy himself will tuck you in at night!
 Contributed By: MarcieinMommyland.com
Disney
A list of the best amusement parks in the USA could not be complete without Disney.  Disney knows how to do amusement parks right.
Disney has four parks in Florida; Magic Kingdom, Hollywood Studios, Epcot, and Animal Kingdom.  It also has two water parks: Typhoon Lagoon and Blizzard Beach.
In California, there are two parks: Disneyland and California  Adventure.
Disneyland
Disneyland is the original Disney theme park.  It is one of the most family-friendly locations in the country.  What makes this and other U.S.-based Disney theme parks unique are the thematic nature of the rides and cleanliness. Yes, Disney has some thrills, but it's the attention to detail and the overall immersive experience that sets Disney apart.
Roller Coasters and Rides
The most popular rides are Peter Pan, Space Mountain, Dumbo, Splash Mountain, and Big Thunder Railroad.  Additionally, the new Star Wars rides have opened up at Disneyland, which adds a whole new level of excitement!
Things to Do
Disneyland offers parades, shows, character meet and greets, and many stores to shop and explore.
Things to Eat
Eating is one of the best parts of going to an amusement park.  Disneyland is known for Dole Whips, turkey legs, and Mickey Mouse ice cream sandwiches.
California Adventure
California Adventure is located directly across from Disneyland. There is plenty to do in either park and so you can plan a day or more here. There is also a ticket that will allow you to visit both
parks on the same day.
California Adventure has a boardwalk feel, drawing on the experience of the California coastline. Disney has also recently added more of a Pixar and Marvel flair to the park.
This park has some of its own unique rides that you will not find anywhere else.
Rides and Roller Coasters
The marvel ride and the incredi-coaster are the newest additions to the park.   There is also the Toy- Story Mania ride, Journey Under the Sea, and my favorite ride, Cars!
Things to Do
There is a section within the park themed to look like San Francisco. You can see sourdough bread made and buy some. You can even get a free piece of Ghirardelli chocolate. 
Frozen the Musical is located at California adventure.   This is a Broadway-like production.  It really is a great show.  Character meet and greets are also available. The characters tend to be Pixar-related.
Things to Eat
The Trolley Treats of Buena Vista Street is a great stop with a lot of variety.  You can never go wrong with a Mickey-shaped chocolate chip cookie.  Clara Belles Ice Cream Shop is another hit.  They have specialty ice cream bars.  There are so many amazing treats at California Adventure!
Magic Kingdom
Let's now go across the country to Florida. The main Disney park in Florida is Magic Kingdom. Similar in many respects to Disneyland, it is bigger than Disneyland, and offers overall, a few more rides, but does not have all of the rides of Disneyland.
Rides and Roller Coasters 
Seven Dwarfs Mine Train is a ride unique to Magic Kingdom.  What I love the most about Magic Kingdom is that every line you wait in is themed.  Peter Pan is probably the best-themed line I have ever been in.  Everything seems to be bigger and better at the Magic Kingdom.
Things to Do
You have shows and rides at the Magic Kingdom, but there are also other activities. One of my favorites is the Kingdom Keepers Quest.  There are magic mirrors throughout the park where you can battle the Disney villains.
Things to Eat
There are some amazing restaurants. Magic Kingdom offers 2 character dining restaurants (Crystal Palace and Cinderella's Royal Table).  These restaurants are so cool because Disney characters come around to your table and you can get pictures with them without standing in lines. 
Pecos Bill has some amazing Mexican food and Casey's Corner is the all-American hot dog joint.  Food at Disney is so good. Don't forget your Dole Whip.  
Hollywood Studios
Hollywood Studios is one of my favorite Disney World parks.  They have more high thrill rides. This park has Star Wars Land and Toy Story Land. 
Rides and Roller Coaster
The Star Wars rides, Mickey and Minnies Runaway Railroad, and Slinky Dog Dash are the newest rides.  My favorite ride is Rock 'n' Roller Coaster.  And of course, Tower of Terror is a classic that can't be missed. 
Things to Do
Hollywood Studios is also known for its live-action shows.  A live outdoor production of Beauty and the Beast, Frozen, and Indian Jones Epic Stunt Spectacular are just a few of these amazing options.  
Things to Eat
Hollywood isn't necessarily known for its food, but we have tried two restaurants we thought were incredible.  50's Prime Time Café and Sci-Fi Dine-In Theater Restaurant are great options.  At 50's Prime Time Café manners are a must. So don't put your elbows on the table or your waiter will call you out!.  At Sci-Fi Dine-In
Theater Restaurant you get to eat at a table shaped like a car while enjoying clips from classic science fiction movies.
Epcot
Epcot is my most favorite Disney World Park.  There are actually two parts to this park; Future World and World Showcase. At least for now. (Disney has plans to remodel.)
Future world is all about innovation and technology and has most of the rides at Epcot. 
World Showcase goes around a lagoon in a circular fashion. As you walk around World Showcase, you will see areas representing countries around the world: Mexico, Norway, Germany, Japan, China, Africa, Italy, France, United States, United Kingdom, and Canada. 
Rides and Roller Coasters 
Test Track is a family favorite ride. We love designing our cars and racing on a high-speed track.  The two other major rides are Soarin' Around the World, and Frozen Ever After. They don't disappoint. 
Things to Do
After visiting Future World, getting a taste of World Showcase is the next thing to do.  In each country area in World Showcase, you can learn about different cultures, shop at stores that are country-themed, and of course eat the food of each country. 
Things to Eat
The whole reason we love Epcot is the food.  Eating around the world is a better term of what we like to do.  I love the Mexican food in Mexico.  The French bakery is a must to grab a Nutella-filled beignet. The orange chicken in China is a family favorite. 
Typhoon Lagoon and Blizzard Beach
Disney does everything right so of course, the water parks are no exception.  Blizzard Beach is arctic-themed.  Typhoon Lagoon is tropical-themed.
Rides and Pools
Typhoon Lagoon was my favorite out of the two parks.  The wave pool is incredible.  Instead of constant waves, a huge tsunami comes crashing in.  It was amazing.  We loved all of the rides.
All of these parks offer so much for families and if you are looking for a magical theme park vacation Disney is a great choice. 
Disney Parks are at the top of things to do in Orlando!
Are You Ready to Visit the Best Amusement Parks in the USA?
Hopefully, this gives you an idea of some of the best amusement parks in the USA!  I love all the variety!  Don't worry this is not a complete list. I look forward to adding more parks to this post in the future.
You will want to save this post so you can come back and check out what new parks have been added! Good luck planning the best theme park vacation ever!
Facebook Group
If you have any questions when planning your trip come join me in my private Facebook Group.  
This group is a place where you can ask any question about your upcoming trip and help others plan their trips.  It is also a place where I put travel deals.