Plan a Silver Dollar City Trip in Branson Missouri
Are you ready to plan a Silver Dollar City trip in Branson, Missouri?
If so, Awesome! This post is going to help you prepare and plan ahead for your trip, teach you how to navigate to Silver Dollar City and get around at the park, and explore all the fun things to do at SDC. 
We recently went to Branson, Missouri with kids, and Silver Dollar City was at the top of our list. We had a great time!
Let's explore all the fun things to do at Silver Dollar City in Missouri! 
If you would like to save this for later be sure to pin it to Pinterest!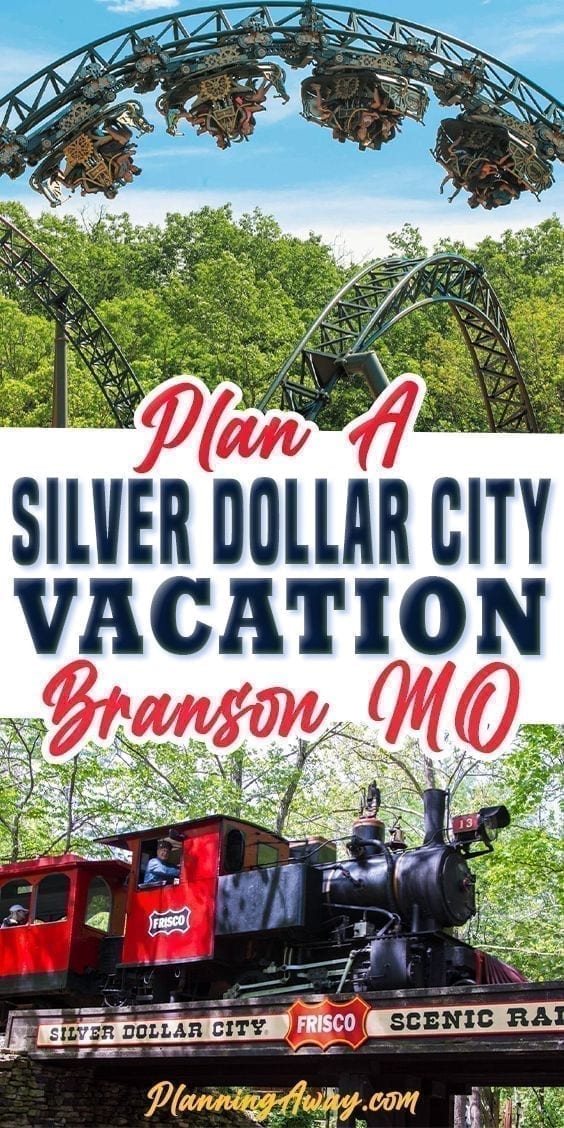 This post may contain affiliate links that will give me a commission at no additional charge to you.
Where is Silver Dollar City?
Branson is located in the Ozarks in the southern-most part of Missouri.  It is a beautiful location that is within driving distance of 8 states. The Ozarks are magnificent, and there are so many things to do in Branson. But Silver Dollar City is what started it all, and has grown with the town to provide thrills and shows for all ages.
Directions 
If you are using a GPS, the Address is:
399 Silver Dollar City Pkwy, Branson, MO 65616
It is pretty simple to find!
Hot Tip
The roads in Branson can get very crowded.  You will want to give yourself plenty of time to get to the park.  We went during Covid and it was not a problem but during normal tourist season be prepared for crowded roads.
What is Silver Dollar City? 

History of Silver Dollar City
Silver Dollar City began with one attraction Marvel Cave.  Hugo and Mary Herschend wanted to run a family-friendly business.  They fell in love with the Ozarks and wanted to bring more people to this area of the country.
Hugo wanted to make people remember their visit and gave silver dollars as change.  When people started paying by a silver dollar at nearby stores, the popularity of this attraction was spread by word of mouth.
Silver Dollar City Village
As the business grew, Mary wanted to entertain guests while they waited to enter the cave.  And so, she designed a Silver Dollar City Village. This village was made up of local artisans showcasing their talents.
The new village led to 125,000 visitors in its first year.  Four times as much as before!   It was so popular that the Beverly Hillbillies Television show shot four episodes in this village.
Over the years Silver Dollar City became a theme park and continues to grow. It currently encompasses 100 acres showcasing American heritage crafts and demonstrations from various craftsmen; woodcarvers, glassblowers, potters, leather crafters, candle and knife, and more.
The park has also introduced over 40 rides and attractions.     
What We Loved About Silver Dollar City
First off, we are huge amusement park fans.  It is one of our favorite activities to do with our children.  We knew as we were planning a trip to Branson that Silver Dollar City was going to be on our itinerary.
One thing to mention is our family loves Disney and Universal and to be clear, Silver Dollar City is the real deal when it comes to amusement parks. It has roller coasters, great food, and shows.
There are so many demonstrations, shows, and rides that you will be entertained the entire time you spend at the park.
Blast to the Past
But what makes Silver Dollar City in Missouri different from other amusement parks is its design. A step into the park is a step into the past.  It has a feel of what life would be like in the 1800s.
It draws upon the past of the surrounding area in its buildings and even in some of its rides.
I had no clue what a Bald Knobber was before going to Silver Dollar City. I know now!
Layout of the Silver Dollar City
And while the human design is compelling, nature provides a backdrop that we can't replicate. You are surrounded by the natural beauty of the Ozarks and its many trees, which give great shade.
Be Prepared to Walk
But with hills of the Ozarks come inclines and declines, which will give you a workout.  As you plan a trip to Silver Dollar City, prepare yourself for walking as you may not expect how big the park is!
Hot Tip
If you have little kids (5 and under) bringing a stroller might be a good thing.  Silver Dollar City does have strollers available to rent.  If you anticipate large crowds you can call ahead to reserve one.
Our little one fell asleep after a long day at the park and that stroller was a lifesaver!
Silver Dollar City is Clean
As we walked through the park, we didn't see litter or other messes that would otherwise distract from the theme. I was impressed with how clean the park was.  Silver Dollar City takes great pride in making sure everything is well kept.
We went during COVID-19, and the park also did a great job with sanitizing.
Hours of Operation, Admission, and Parking
Hours of Operation
9:30 am – 7:00 pm  
Tickets
The standard ticket price is $79
Can I Get Discount Tickets to Silver Dollar City?
Yes, Silver Dollar City always runs promotions.  Some of the promotions I have seen are:  buy one day get one free, adults at kids prices, military discounts, and kids born in a certain year are free.
Hot Tip
I have heard a rumor that if you purchase a ticket after 3:00 pm you have access to the park for the next day as well. You will have to call and confirm that.
Season Pass
If you live within a short driving distance I would recommend looking into a season pass.  It will pay for itself after 2-3 visits.
Parking
The majority of parking is free at Silver Dollar City.  Each lot has a shuttle service that will bring you to the front gate, but you can also walk.
If you want to pay $13 you can park in premiere parking.  We parked in a free parking lot and did not use the shuttle service as we could walk less than 5 minutes to the entrance.
Arrive Early
No matter which amusement park I go to I always arrive early.  We find that most people do not get up early and arrive right when it opens.  Using this strategy when will enable you to walk onto any ride you want the minute you enter the park.
During Covid, this wasn't an issue but in normal busy season's you will be so glad you did because you can ride 4-5 rides before most people even get to the park.
Visit During The Week
As you plan a Silver Dollar City trip make sure to schedule your days of attendance in the middle of the week.  Weekends tend to get so busy.  If you want fewer crowds plan accordingly.
We went during the week and loved that we were able to see and do more!
How Many Days Should I Stay at Silver Dollar City?
My opinion would be two days if all the shows and demonstrations were being offered.  We went during 2020 and some of the normal operations were cut back due to Covid-19. Even with cut-back operations and minimal lines, we still had a full day at the park.
Does Silver Dollar City Have A Water Park?
Yes, White Water located in Branson is at a separate location from Silver Dollar City.  This would be a park you plan to visit on a different day.
If you are visiting during summer this would be a great addition to your itinerary.
Let's Plan A Silver Dollar City Trip!
Now that you have some basic questions answered and you feel more confident let's make a plan of attack so that you can make the most of your time!
How Many Rides and Attractions are at Silver Dollar City?
There are over 40 rides and attractions at Silver Dollar City in Missouri.
Rides at Silver Dollar City 
We had a wide range of ages at our family reunion in Branson, giving us the opportunity to experience the whole range of rides.  So we will list out some of the must-do roller coasters at Silver Dollar City as well as age-appropriate rides.
Powder Keg

Powder Keg is an intense roller coaster.  We made a big mistake by bringing our timid 5-year-old on this ride.  We figured because he was tall enough that it would be great.  Unfortunately, that was not the case. He was terrified and we felt really bad for making him go!
This ride shoots you out and up from the get-go and was a favorite for many of our family members.
Time Traveler

I loved Time Traveler.  This is one of the newest coasters at Silver Dollar City, having been built in 2018.  The theming is awesome.  You really feel like you are getting ready to time travel.
The car you sit in not only moves forward but rotates during the ride. Don't worry, the spinning shouldn't make you sick (it at least didn't make us sick, and we can be prone to that on some rides).
Thunderation

Right next to Time Traveler is Thunderation. I have to be honest, I am not a huge wooden roller coaster fan but this one was actually pretty fun.  What I dislike about wooden roller coasters is that they tend to be jerky.  This one however was not.
Wild Fire

Wild Fire is a fun ride.  This is one of the more intense roller coasters at Silver Dollar City.  It is thrilling and fun!
Other Coasters
The Grand Exposition is a small coaster for kids, American Plunge is a log ride, Outlaw Run is an intense wooden roller coaster, Barn Swing is more intense but not a roller coaster and Mystic River is a river rafting ride (Brand New).
More Rides at Silver Dollar City in Missouri!
There are so many rides at Silver Dollar City!  Not all the rides are roller coasters so that is great for those who do not like the thrill rides.
Some of our favorites are the following:

Our less adventurous kids loved Flooded Mine, Fire in the Hole, and Tom and Huck's River Blast.  These are slower and themed or shooting rides.  My boys loved the shooting rides.
Electro Spin, Fire Spotter, Fire Wagon Frenzy, and Fire Fall are also great rides for kids.
Frisco Silver Dollar Line Steam Train

The train is worth highlighting.  This was one of the first rides at the park.  It is a 20-minute steam train ride that travels through the Ozarks.  It is a very beautiful ride.  Once you reach the midway point the train has to have time to reboot so get ready to watch a show and be entertained!
What is the Best Roller Coaster at Silver Dollar City?
Obviously, everyone could have a different opinion but my personal favorite Time Traveler.
Things to Eat at Silver Dollar City
One of our favorite parts of amusement parks is eating.  We love snacking and finding the best foods in a park.  As you plan a Silver Dollar City trip you can decide if eating in the park is on your list.
There are a lot of restaurants at Silver Dollar City.  We tried a few and highly recommend putting these on your list.
Clara Belles Cinnamon Bread
These loaves were amazing!  We bought four and thought it was a great breakfast treat. They did not last long either!
River Town Smokehouse
This place is amazing.  If you love meat this is where you will want to eat.  Half of our group ate here and wow!
Crossroads Pizza
If you have picky kids then this is the place for you.  It is best to order a big pizza compared to individual ones because it will go a lot farther.
Snacks at Silver Dollar City
There are so many yummy places located throughout the park for snacks.  We picked the funnel cake and it was worth it!  We also had the homemade ice cream which was delicious.
Old fashioned candy, homemade pork rinds, and fry bread are also some options.
One thing I did try and did not like was the turkey leg. I know most people love those but I was not a fan!
Refillable Mug
The refillable mug could be a great option if you don't mind sharing with your family.  Ask about it when you get to the park to see if it will save you money!
Can I Bring a Cooler to Silver Dollar City in Missouri?
Some people may prefer to save money and bring a cooler.  If that is you, awesome.  You can bring outside food into the park.  Just no alcohol.
Ice water is always free!  So if you are trying to save money grab a cup of water.
Shows, Entertainment, and Shopping
Going during the Covid pandemic we did not get to experience too many shows.  I know there is an incredible magic show.  Bluegrass singers are also a hit.  There are actually people who work full-time as performers at Silver Dollar City.
Shopping
If you love antiques and specialty shops Silver Dollar City has it all.  There are Christmas, toys, leather, and many other stores to browse around at.
Hot Tip
If you do buy something you can arrange to pick it up when you leave the park so you do not have to carry it around with you.
Hot Tips When You Plan A Silver Dollar Trip
Tip #1  During Covid, remember your mask!  This is something new and is mandatory.
Tip #2 Remember sunblock and bug spray
Tip #3 Check the schedule! The shows are so fun and entertaining.  Plan accordingly.
Tip #4 Wear good shoes!  You will be doing a lot of walking! There are a lot of hills!
Tip #5 Plan to have so much fun!
What to Expect at Silver Dollar City During the Pandemic
We felt very safe and had a great time.  We were able to do everything we wanted in one day.
One bonus of going during the pandemic is not only do you support a local business but there were no lines.  We practically had the park to ourselves!
Get the App
Silver Dollar City Has WiFi!
Silver Dollar City offers free Wifi for their guest.  I love this option.
Silver Dollar City App
As you plan a Silver Dollar City trip be sure to download the app.  This app has an interactive map, showtimes, and so much more.  It provides a lot of information about the park right at your fingertips.
Plan a Silver Dollar City Trip!
Hopefully, this post helps you plan a Silver Dollar City trip.  Silver Dollar City is so much fun!  It is one of the best attractions in Branson.  If you are planning a vacation to Branson be sure to add this to your Itinerary!
If you have any other questions comment below or join my Facebook Group!
Facebook Community
If you have any questions join my Facebook Travel Community. You can ask any questions you have about upcoming trips and everyone is happy to help you plan your trip.  I also try to give exclusive travel deals that companies send me.  It is a great group to join.