Visit Schlitterbahn Galveston Waterpark (Best Schlitterbahn Galveston Rides!)
Thinking about visiting Schlitterbahn Galveston Waterpark? Want to map out all the fun things to do and the best rides at Schlitterbahn Galveston?
Awesome! You are in the right place.
We actually went to both the original Schlitterbahn in New Braunfels and then a few weeks later, Schlitterbahn Galveston. 
For those of you who do not live in Texas, but have planned to cruise out of the Galveston port, this is a great excursion before or after your cruise. 
We went right before our cruise. It was really fun! 
In this post, we are going to go over the best Schlitterbahn Galveston tickets, and Schlitterbahn Galveston hours, give a Galveston Schlittergan map, and let you know what the best Schlitterbahn Galveston rides are. 
Let's explore Galveston Schlitterbahn Waterpark. 
If you want to save this information for later be sure to pin this to Pinterest. 
This post may contain affiliate links that will give me a commission at no additional charge to you. 
Directions to Schlitterbahn Galveston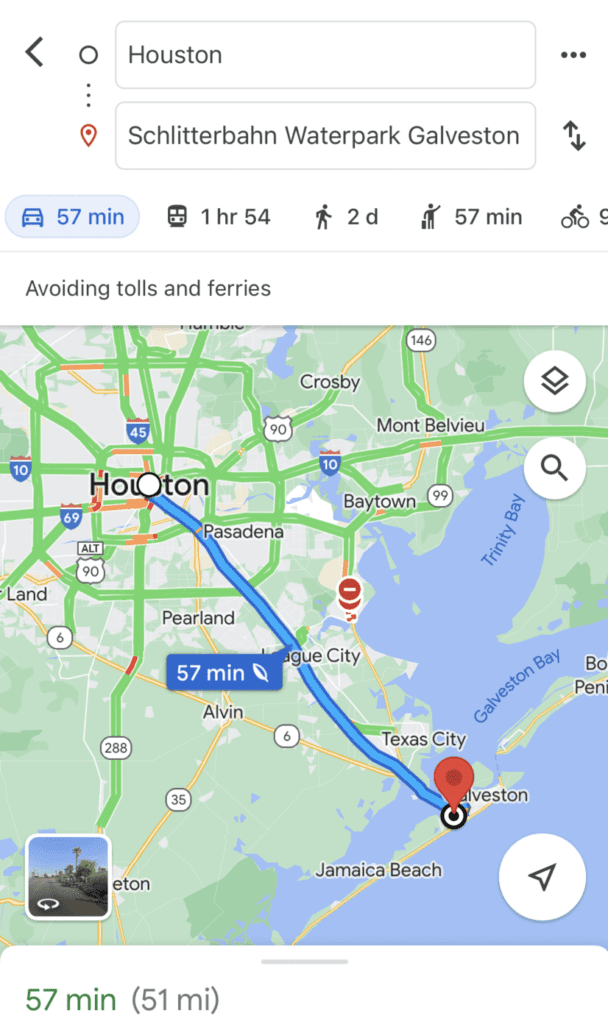 If you are flying into the area, you will probably fly into Houston Texas.  From the Houston Hobby Airport, it will take about 45 minutes from downtown it will be about an hour commute.
From George Bush Intercontinental Airport it will take around 1 hour and 20 minutes to get to Schlitterbahn Galveston Water Park. 
Galveston Traffic
Galveston is an island.  You will cross over via bridge to reach Galveston.  Once you arrive you can GPS your way around town.  Just a warning… Traffic is really bad in Galveston.  Be prepared to wait at lights 2-3 cycles. 
Schlitterbahn Galveston Tickets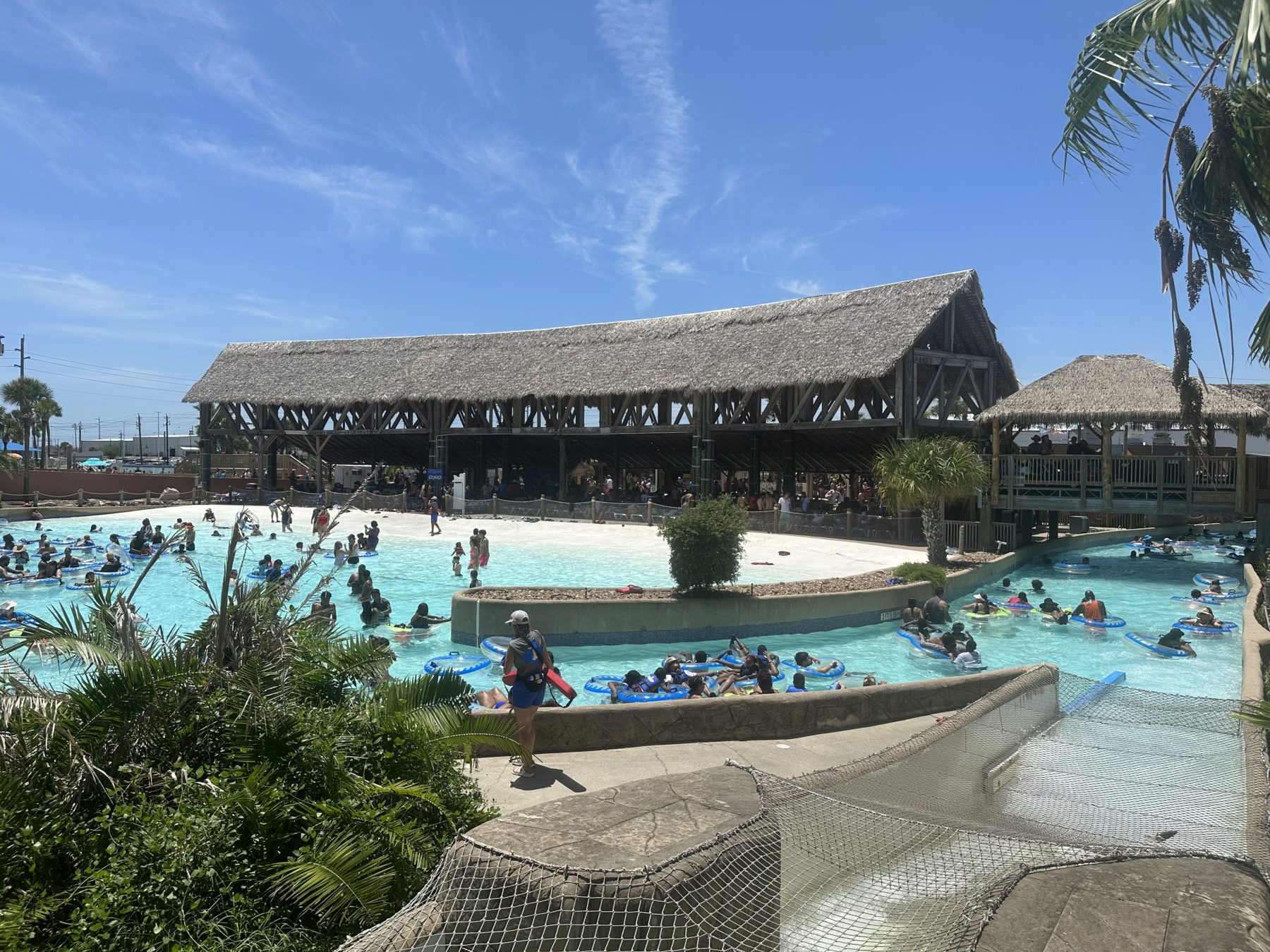 There are lots of options for Schlitterbahn Galveston Tickets.  If you live close by a season pass is very affordable.  
If not, purchasing your tickets ahead of time will save you a lot of money.  Sam's Club sells discounted Schlitterbahn Galveston Tickets online.  You can buy your ticket and it will be emailed to you immediately.  
The gate price is $75 but if you are a Sams Club Member you can get your Schlitterbahn Galveston tickets for around $52.
The prices of tickets on the Schlitterbahn Galveston website vary. However, if you wanted to purchase day-of tickets the prices go up to gate price even online.  
Schlitterbahn Galveston Hours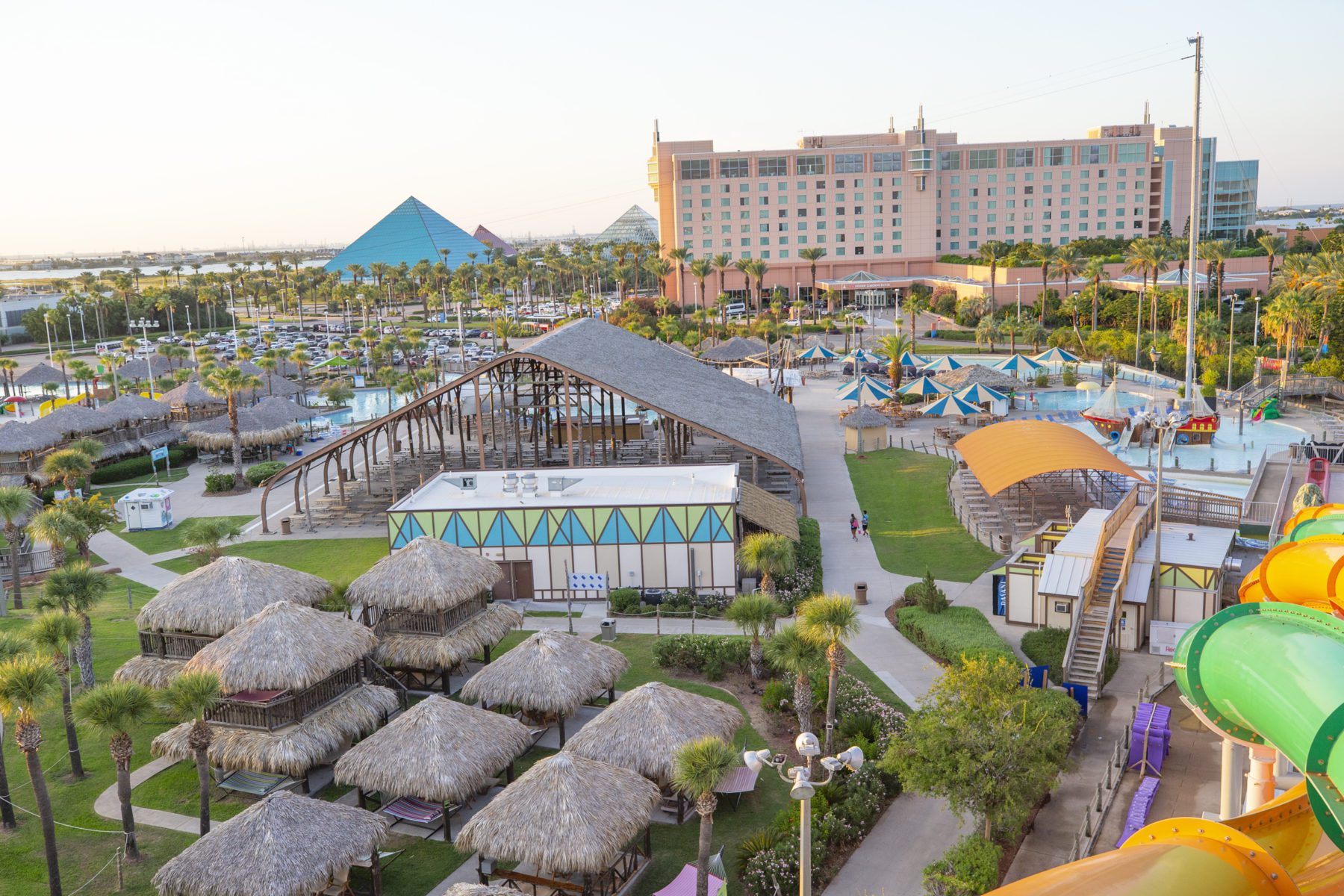 Schlitterbahn is a seasonal Galveston Water park.  It opens early Spring and closes after summer.  
Schlitterbahn Galveston Hours
10:00 am – 8:00 pm during the summer
Hours vary by day and season.  
In the past Schlitterbahn Galveston converted to an indoor water park but it doesn't seem to now.  
Best Time to Visit Schlitterbahn Galveston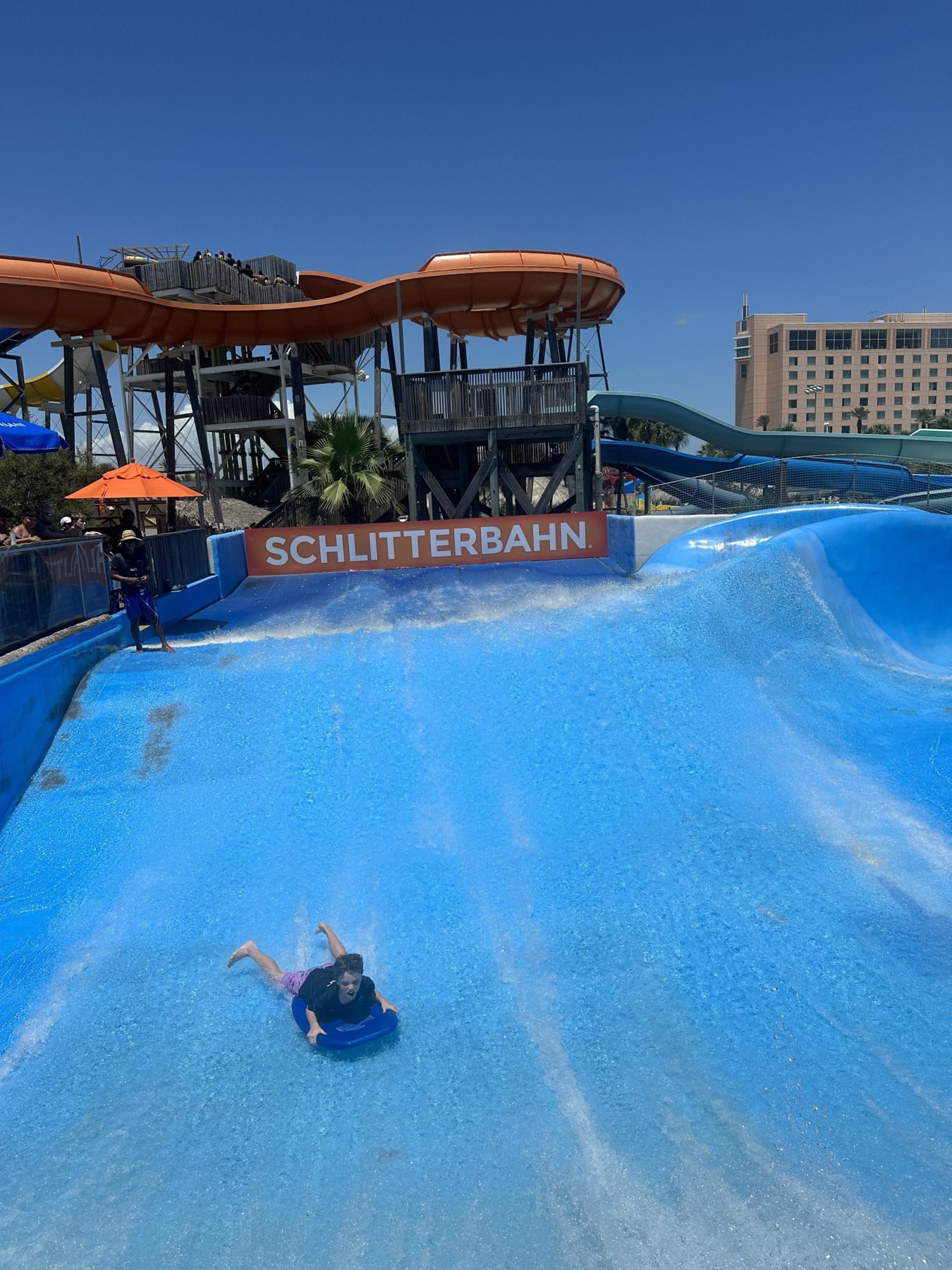 Going during the middle of the week is the best time to visit Schlitterbahn Galveston Water Park. 
During the weekends cruise ships port.  This brings lots of people to Galveston.  Lots of families will visit Schlitterbahn Galveston before or after a cruise.  
The middle of the week is the best time to go to Schlitterbahn Galveston. 
Galveston Water Park Tips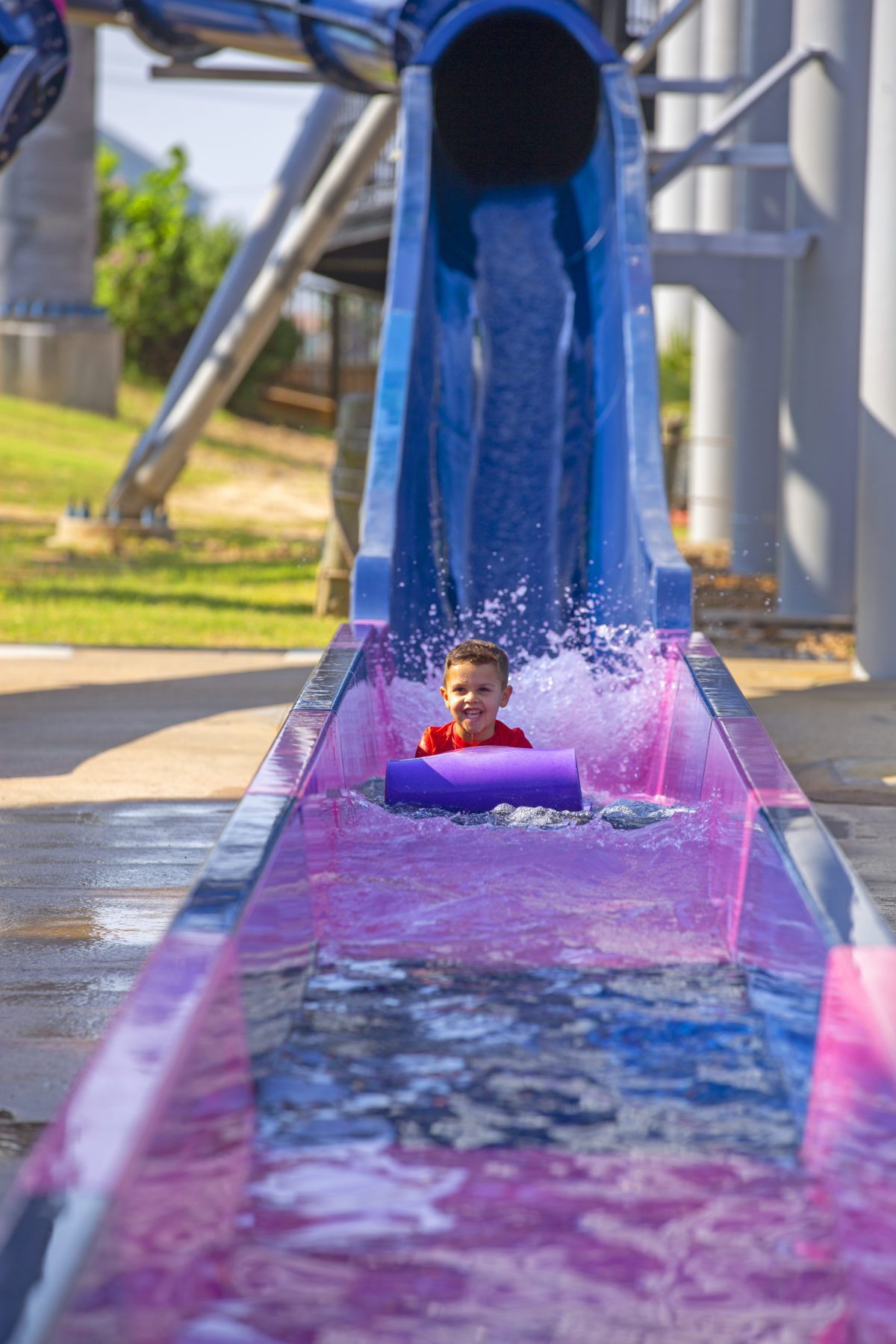 I have a few Schlitterbahn Galveston water park tips for you! These tips are some of the things I wish I had known when we visited! 
1. Schlitterbahn Galveston Water Park Parking
Schlitterbahn has free parking.  However, at the Schlitterbahn Galveston location, the free parking is not very close to the entrance. Plan to walk a long way! 
Schlitterbahn Galveston Parking
There are a few closer parking lots where you can pay to park closer.  Depending on how much you are planning on bringing into the park you might want to consider parking closer.
Paid parking is between $20-$30. 
2. Schlitterbahn Galveston Water Park Lockers
Schlitterbahn Galveston does have lockers.  There are all sizes.  You can access them digitally.  You will need a credit card.  
Once you set your combination, you have access all day long. You do have to release the locker when you leave the park or you will be charged.
At one point during our visit, we wanted to go back to the hotel and rest and thought about coming back later but weren't totally sure.  We had to go ahead a release the locker.
Ultimately we decided that we didn't want to go back so no big deal.  If we had come back we wouldn't have a locker.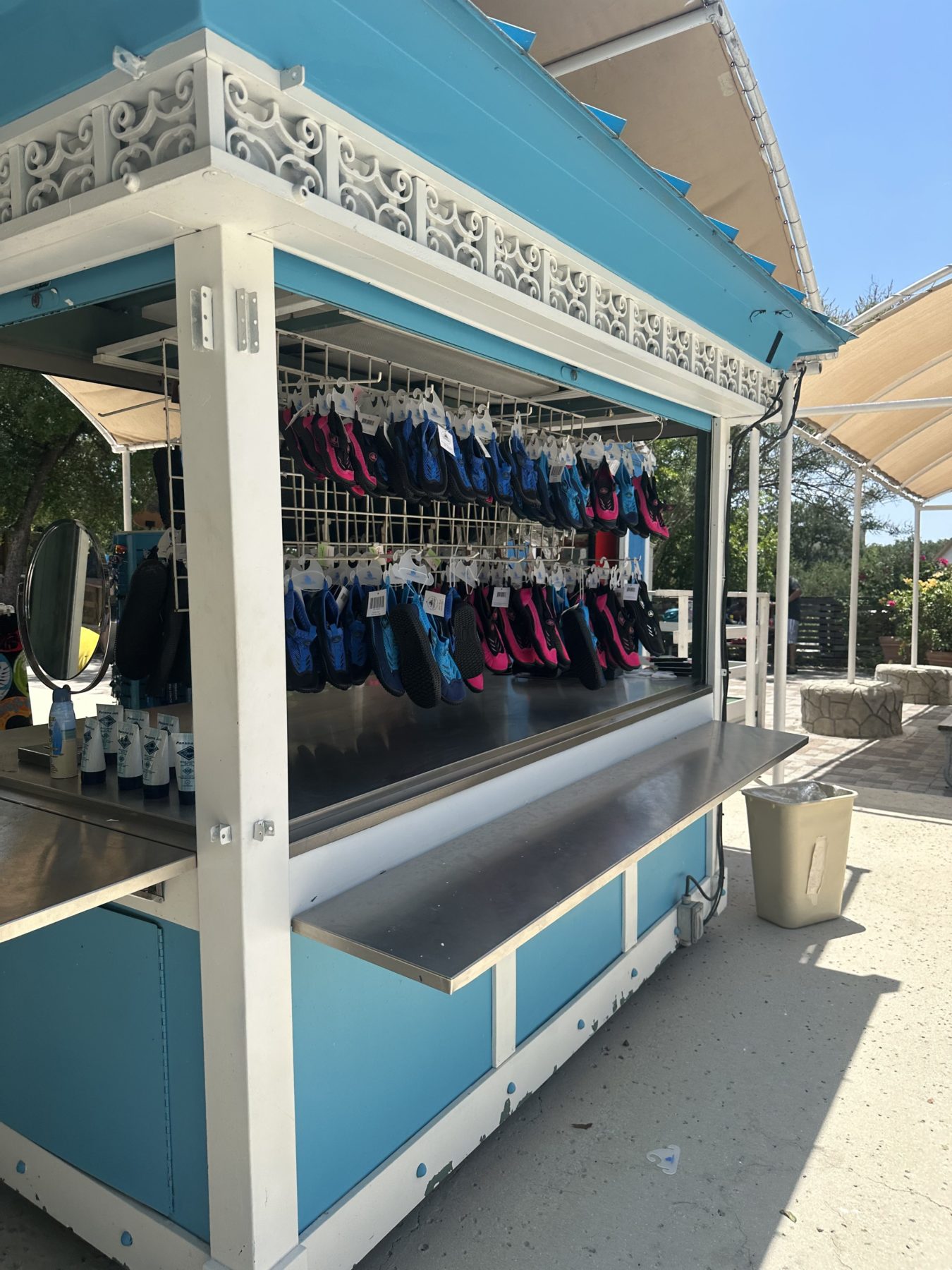 Water Shoes or flip flops are a good idea as you walk around the park.  For the most part, you can find an area to store your shoes while you play.
Once you are done with that area, it is nice to have shoes as you walk to other areas of the park. 
4. Schlitterbahn Galveston Picnic Tables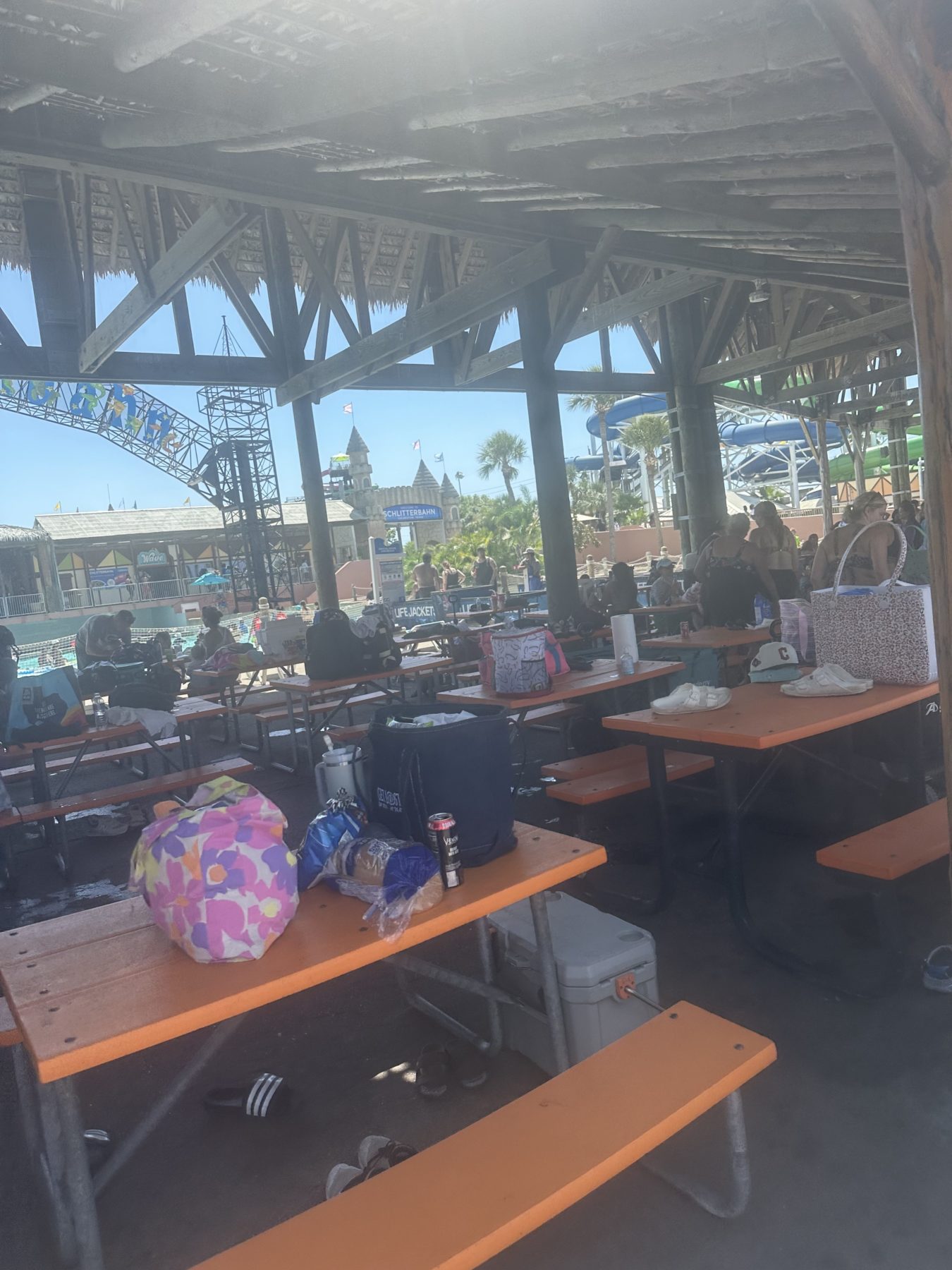 There are a few areas around the park where picnic tables are available. Right when you enter the park there is a pavilion. There is another large picnic area near the back of the park. 
Both are great areas to drop your ice chest, snacks, and other lunch items you are bringing into the park.   
Bring a Picnic Lunch
Here is a great Schlitterbahn tip, you can bring your own food into the park.  We stopped at Target before we came and grabbed a cooler bag and filled it with water bottles and snacks.  
It was so nice to have it while we were visiting Schlitterbahn Galveston water park. 
5. Fast Lane for Schlitterbahn Galveston Water Park
If you are visiting Schlitterbahn on the weekend and you want to go on any of the rides this pass is mandatory. 
We went on a Saturday and basically couldn't ride any rides without waiting in lines for over an hour.  We decided to just enjoy time in the lazy river instead.  
Schlitterbahn Rides that the Fast Lane Pass Includes
Bahnzai Pipeline

Boogie Bahn

Dragon Blasters

Faust und Furious

Gauda Loopy

Infinity Racers

Loopy Luge

MASSIV

Rohr!

Thunder Tub

Wolfpack
This pass is really the best way to ride each ride as many times as you want without waiting in lines. 
6. Go on the Best Rides at Schlitterbahn Galveston First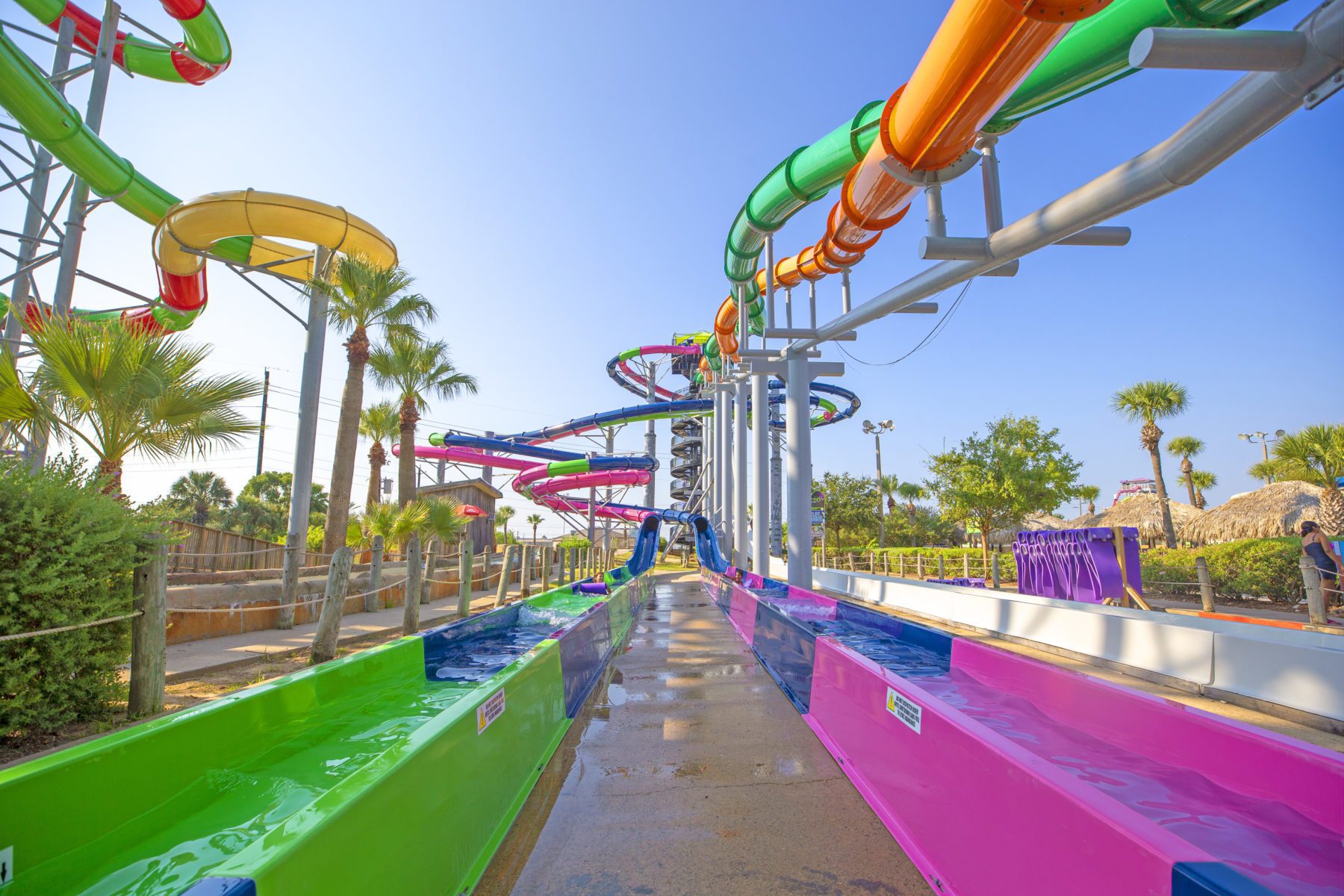 If you decide not to get a Fast Lane pass my best piece of advice is to go on the most popular rides first.  
Most Popular Rides at Schlitterbahn Galveston
MASSIV

Wolfpack

ThunderTub

Dragon Blasters
Map of Schlitterbahn Galveston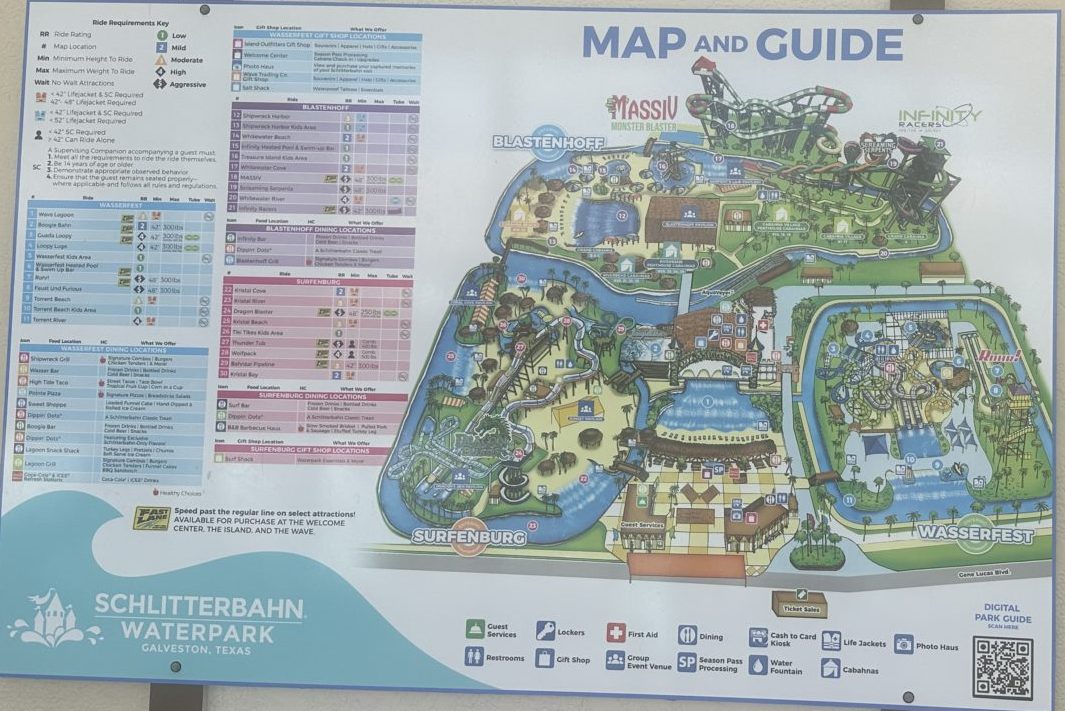 Schlitterbahn Galveston water park is broken into three sections. you can see the map of Schlitterbahn Galveston above and map out which rides you want to hit. 
One thing that is really cool is how big the lazy river is.  It basically goes around the entire park.  
Best Rides at Schlitterbahn Galveston Water Park
We are going to break down the best Schlitterbahn Galveston rides. I am not including all of them in this list, only the most popular Schlitterbahn Galveston attractions.
1. Schlitterbahn Galveston Lazy River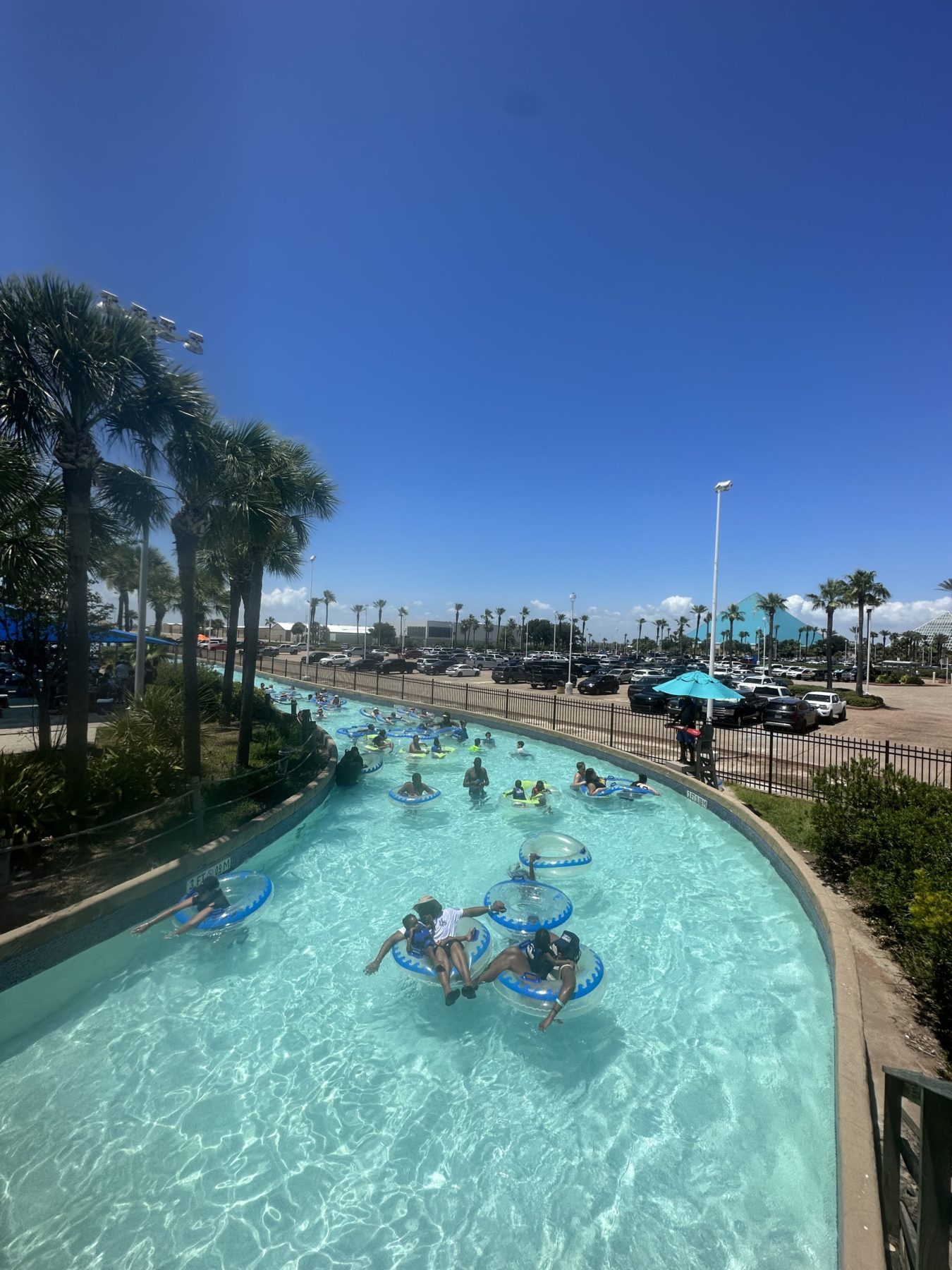 Height Requirement: 42″ to go alone. 
Schlitterbahn Galveston is known for having an incredible lazy river.  It literally goes around the entire park.
Some parts of the lazy river are smooth and what a traditional lazy river feels like.  In other parts, there are waves that push you forward fast.  It is really fun.  
Both of these are within the same lazy river.  We timed it out and it took about 30 minutes to go around the complete lazy river one time. 
Lifejackets and tubes are available for this Schlitterbahn attraction. 
2. Massiv Monster Blaster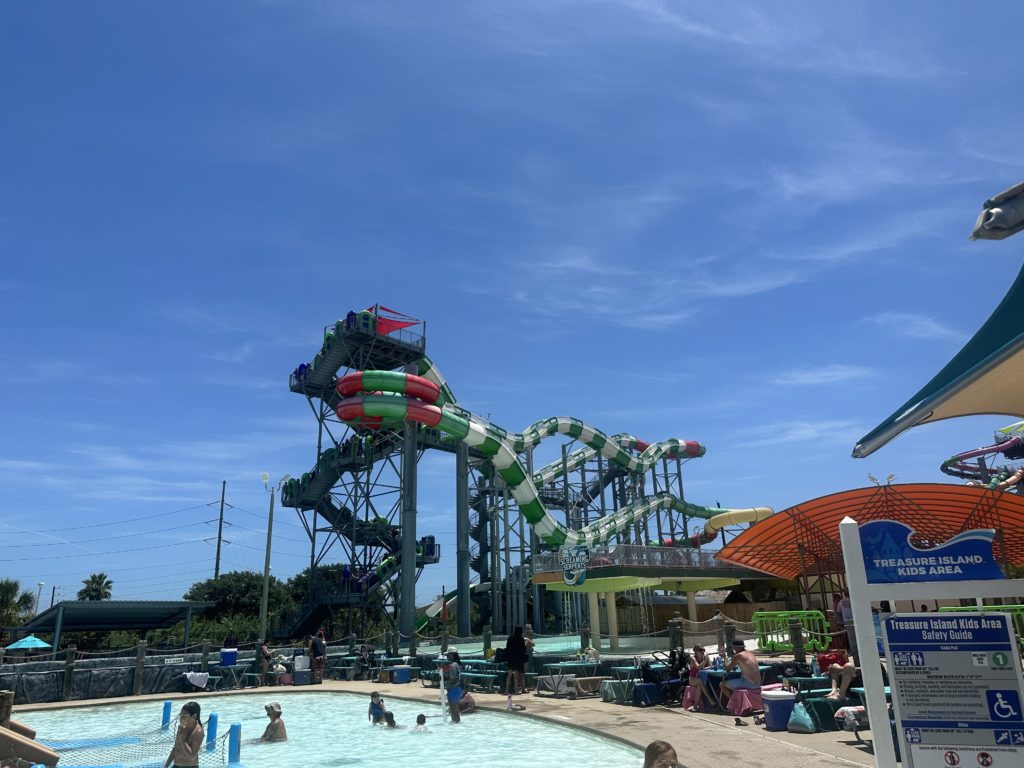 Height Requirement: 48″
The Massiv Monster Blaster is very similar to the Master Blaster at the original Schlitterbahn.
It is a water coaster that goes up and down.  This is probably the most popular ride at Schlitterbahn Galveston. Be ready to wait in line. 
Unless you have a Fast Lane Pass or you get to the park early and head straight there you will be waiting in line. Line times are typically over an hour's wait during weekends. 
One thing that kind of stinks is you have to carry your raft up the stairs.  
The good news is the ride is awesome! It is a lot of fun!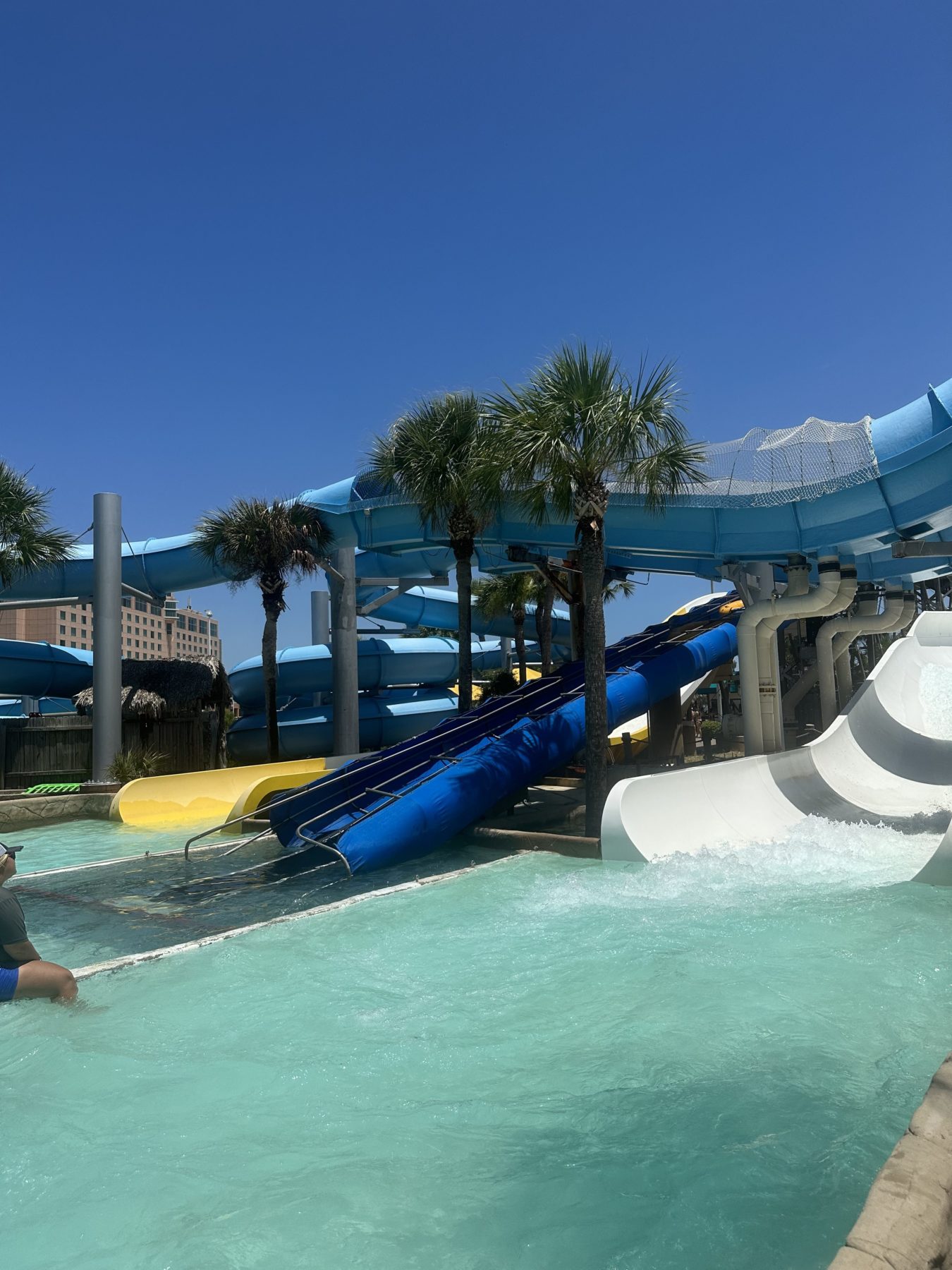 Height Requirement: 42″ to ride alone and 30″ to ride accompanied.
Thunder Tub is a 3-person raft ride.  It is really short! Keep that in mind.  It proably isn't worth waiting an hour for.  
There are not a lot of twists or turns, if you like really mellow tube rides this one is for you.  It is a calm raft ride. One good thing is that the tubes are waiting at the top of the tower for you.  No need to haul a raft upstairs!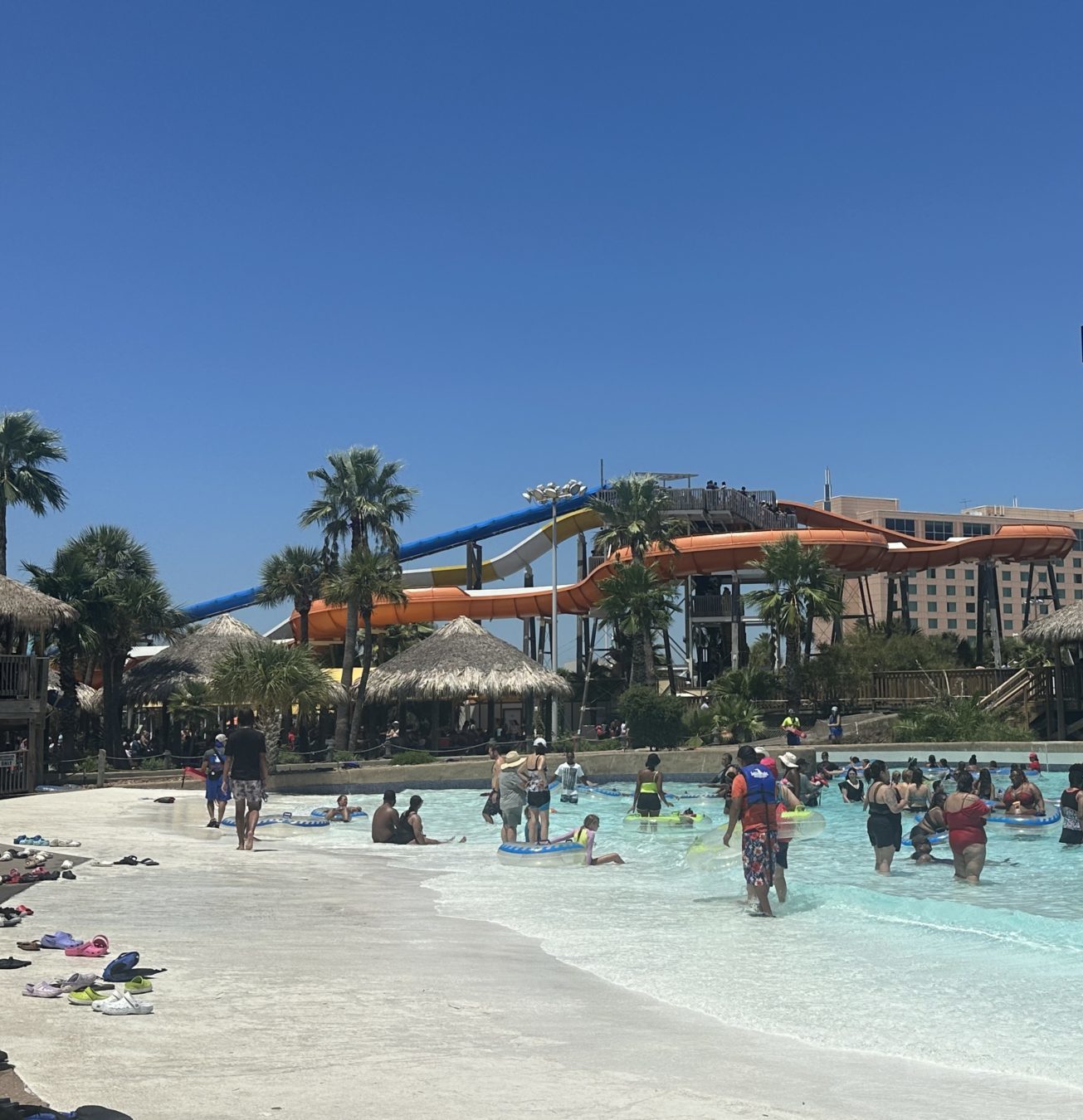 Height Requirement: 42″ to ride alone and 30″ accompanied 
Wolfpack is a family raft ride.  It is calm and long.  The tube track is a lot longer than the Thunder Tub.  There are twists and turns all the way down.
2-3 people can ride at a time.  Tubes are ready at the top of the ride so you do not have to carry them up the stairs.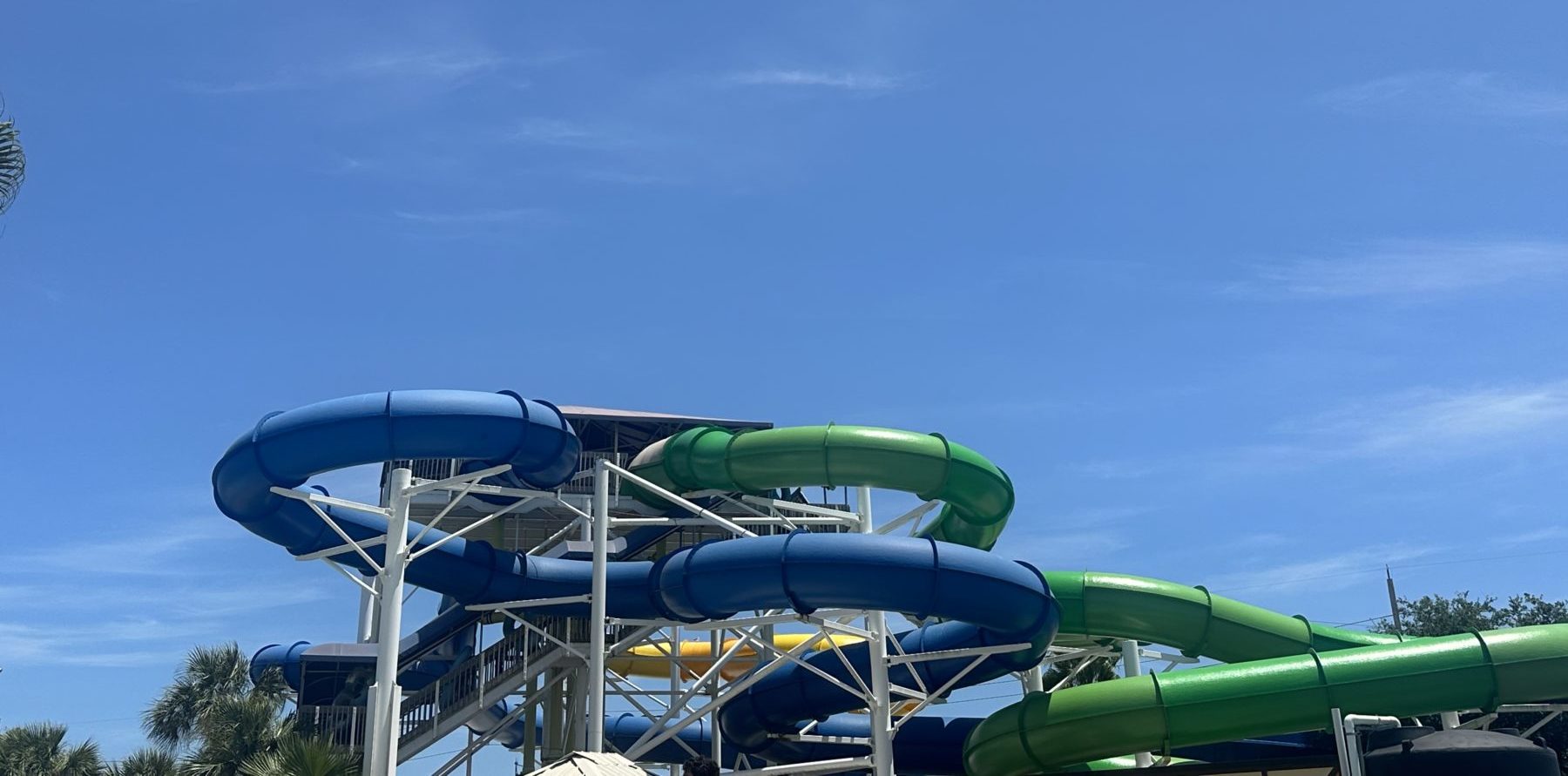 Height Requirement: 42″
Dragon Blaster is a water coaster that is mostly dark.  It is a fun ride.  It starts off with a 20ft drop and then twists and turns. 
You will wait in line for a tube at the bottom on the ride. Once you get one you will head up to the ride.  There are two tracks a blue and a green one. You will carry your double tube up the stairs. 
6. Schlitterbahn Galveston White Water River
Height Requirement: must be 42″ to ride alone
White water would be my favorite ride at Schlitterbahn Galveston. When we went it was closed! 
This is a rapid river ride.  It is my favorite kind of water ride.  Smooth in some parts and then more exciting when the rapids kick in.  
Schlitterbahn Galveston Hotels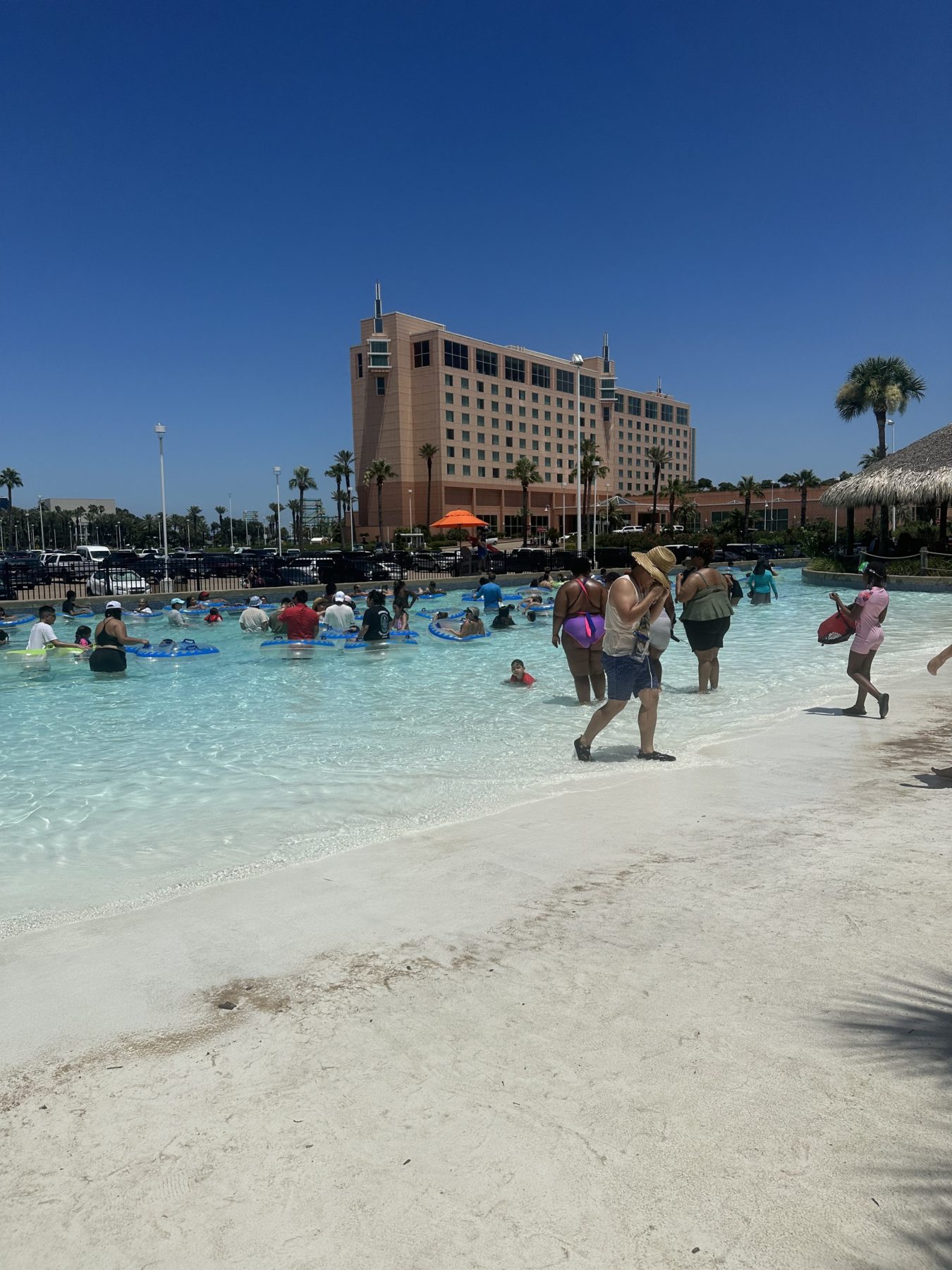 There are two hotels near Schlitterbahn Galveston Waterpark.
The Inn at the Waterpark is right at the parking lot of Schlitterbahn. You could walk from your hotel room and be at the park within minutes.  
Moody Gardens is really close to Schlitterbahn Galveston Waterpark.  You can see the hotel from the waterpark however you will need to take transportation from the hotel to gain access to the park. 
Moody Garden also has a really awesome pool with waterslides.
Ready to Go to Schlitterbahn Galveston Water Park?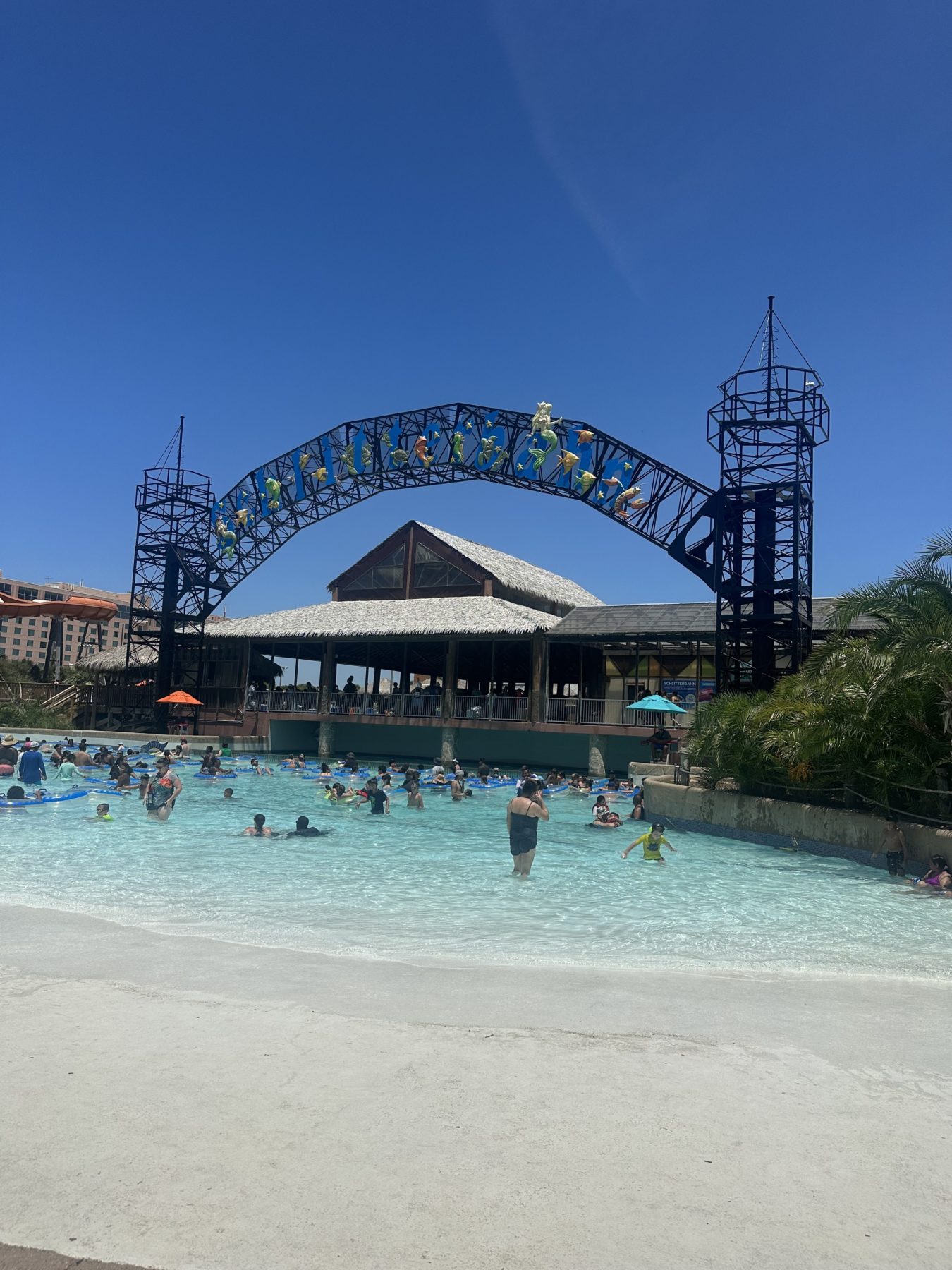 Are you ready to visit Schlitterbahn Galveston Water Park? This is a great water park to beat the heat and enjoy a day before or after the cruise. 
There are so many fun rides at Schlitterbahn Galveston you will not be disappointed!   
Facebook Community
If you have any questions be sure to ask in the comments below or even better join our Travel Community on Facebook.  The Travel community is a place where you can ask any question about any trip and will be sure to get help from everyone in the group!  I also try to post any good deals that come my way!