Best Cruise Lines For First Timers – Amazing Tips For First Time Cruisers
Do you want to go on a cruise? First time? Perfect! We are going to look at the best cruise lines for first-timers in this post. We will also give you the ultimate tips for first-time cruisers!  
I am excited to help you plan your 1st cruise ever! There are many cruise lines we are going to review. Some may appeal to you more than others.  
While planning a first-time cruise make sure to consider your travel dates, length of cruise, type of ship, ports of call, room size and options, amenities on the ship, and of course the price.  
Let's answer some questions about booking a first-time cruise. Followed by finding the best cruise lines for first-timers and lastly, give you the first-time cruise tips you need to plan your trip. 
If you want to save this information for later be sure to pin this to Pinterest. 
This post may contain affiliate links that will give me a commission at no additional charge to you. 
When is the Best Time to Go on Your 1st Cruise?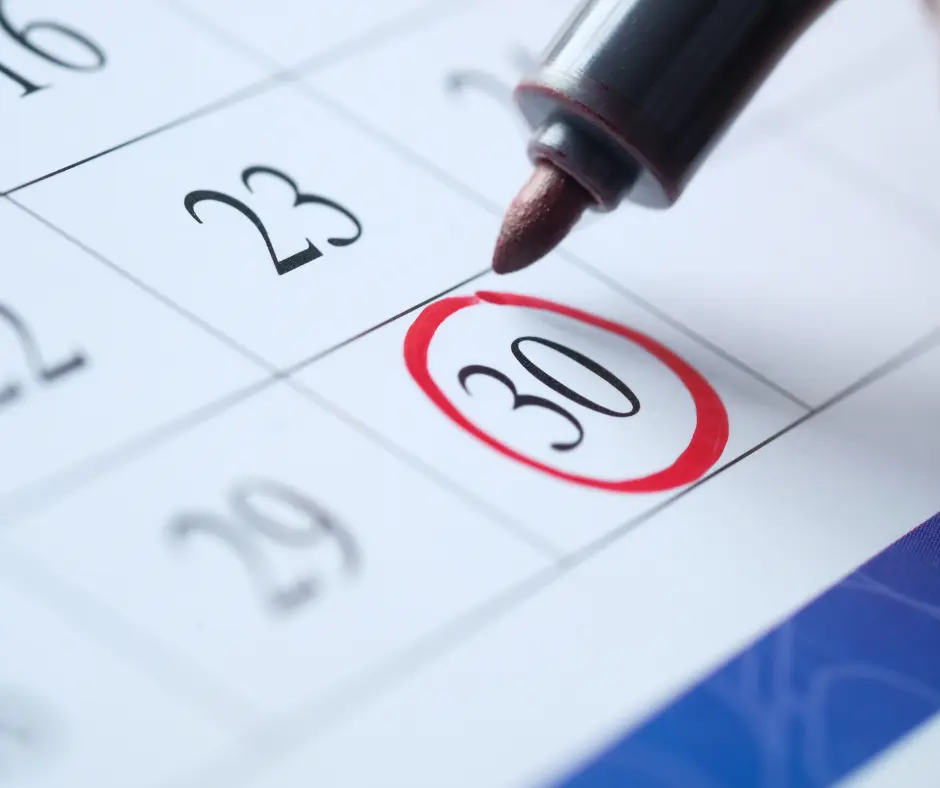 The best time to go on a cruise really depends on your availability and the cruise port location.  Alaska cruises for example only operate from May – September.  Obviously, that is the only time you can go so it would be the best time. 
I created the "Best time to go on a cruise worksheet"  This sheet lays out specific locations, what the weather is like, and lets you know when you can get the best price. 
This is an amazing guide if you are going on a cruise for the first time or if you want to cruise to a new area.  Get your free copy now
Tips for First Time Cruise
After you review the guide, make sure to pick a date that not only fits into your schedule but also a time where you will have the best experience.  
What is a Good Length of Cruise for First-Timers?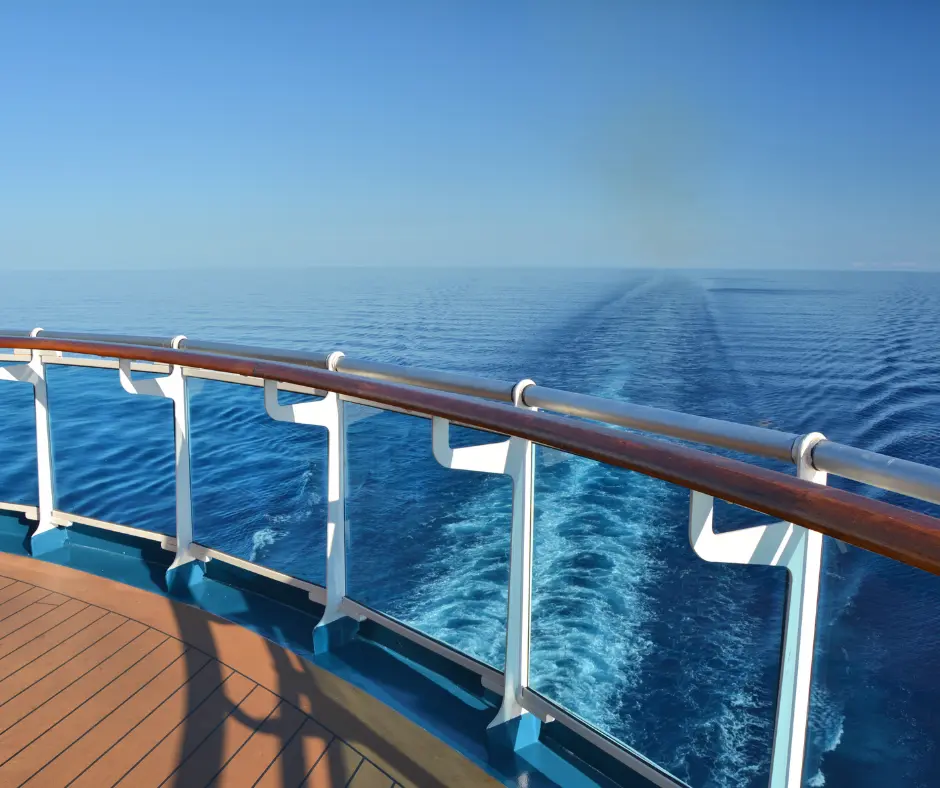 If this is your 1st cruise, you might want to start small.  A 3-5 day cruise is perfect for a first-time cruiser.  This will give you enough time to enjoy all the amenities on the ship and explore a few cruise ports. 
These cruises typically are not as expensive as a longer cruise.  Personally, I think you should make sure you enjoy cruising before you invest in a longer cruise.  
If you love it, then on your next cruise you can book a longer cruise.  
Tips for First Time Cruise
Make sure to look at the price and ship size.  Smaller ships may offer a longer cruise with more ports of call and may be less expensive.  Just something to consider!  
Ship Types Matter!!! This is one of those important things first-time cruisers should know.  There are classes of ships.  Some are smaller and some are huge.
Larger Ships
The larger ships offer more activities, more shows, and have more dining options.  However, they can feel more crowded and the lines may be longer getting on and off the ship.
Smaller Ships
Smaller ships are less crowded.  They are great if you are more excited about exploring the destination ports of call.  
Old vs. New
Cruise lines do a pretty good job of updating and keeping the ships in good shape. However, there is something about being on a new ship!  They are up to date, and you know everything will be clean.  
Tips for First Time Cruise
Pick a ship that has activities and shows that you will enjoy.  Look at the ports of call to determine if you would rather have a large ship or a smaller ship.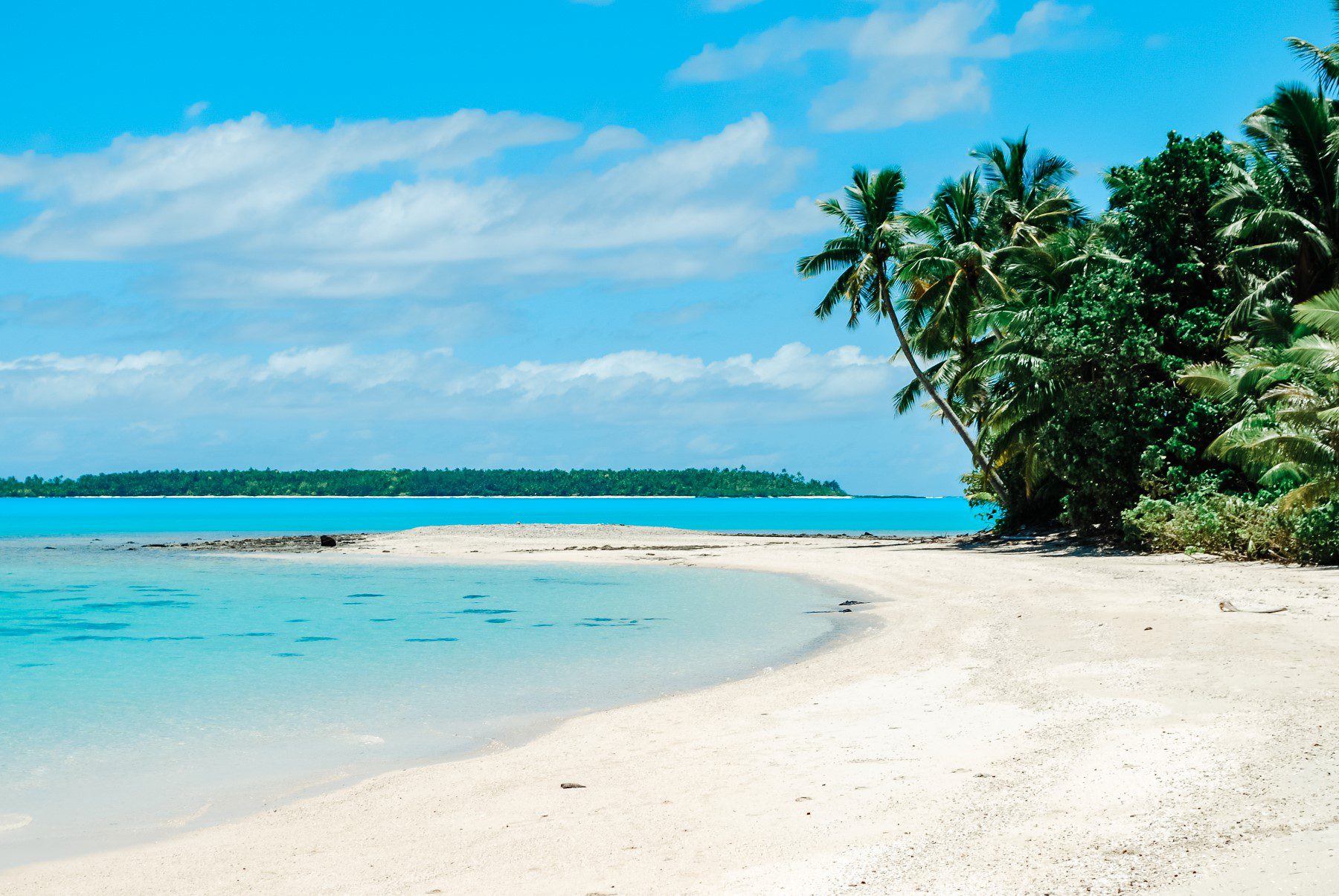 If exploring the different destinations excites you, the next tip for first-time cruisers will be important. 
Plan your Itinerary
Yes, planning your itinerary is so important.  Look at the locations that are offered by each cruise line.  These will be different for each ship.  Many cruise lines have their own private islands.  Check to see if it is included in your itinerary.  
Make sure you feel happy about your cruise ship itinerary. 
Tips for First Time Cruise
Do some research on the ports of call. More experienced cruisers will tell you to avoid certain ports altogether….some people say they do not even get off the ship in some locations.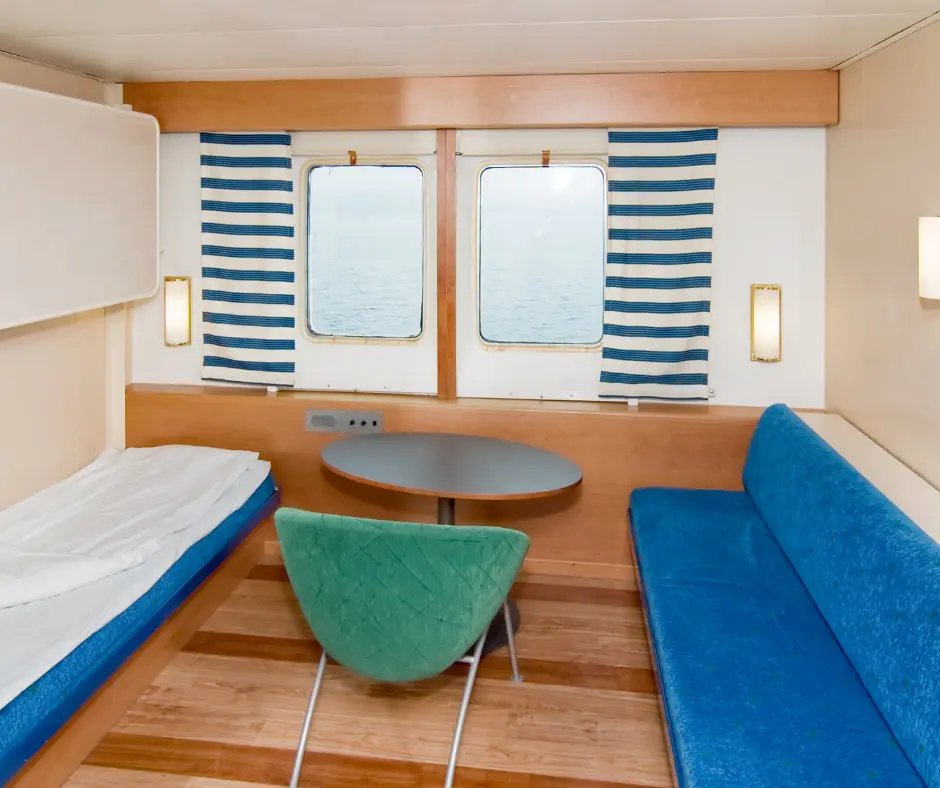 There are a few room size choices you can choose from.  Typically these include:
Interior

Ocean View

Balcony

Suites
Interior Room
Interior is typically going to be the least expensive.  It is a small room with no view. If you do not plan on being in the room much, it will work great.
Ocean View
In the ocean view rooms, there is a window.  This might be helpful if you want light coming into the room.  
Balcony Room
The balcony rooms provide a relaxing outside option to hang out. They are a little more expensive.
Suites
Suites offer Luxury. Oftentimes they will come with your own personal staff.  They are the biggest rooms on the ship. 
Tips for First Time Cruise
When booking your room the middle of the ship is a great option. However, it will be slightly cheaper if you allow the cruise line to pick your room.  
The different amenities on the ship are what makes cruising so worth it. These activities, shows, and food options are all included in the price of your cruise.  It is absolutely amazing! 
Many ships offer pools, workout areas, Broadway-style shows, bumper cars, bowling, rock climbing walls, teen clubs, and kid clubs.  
You will have to check each ship to know what is included.
Tips for First Time Cruise
As you plan your 1st-time cruise make sure to really research what each ship offers.  You want to make sure that you enjoy the available activities.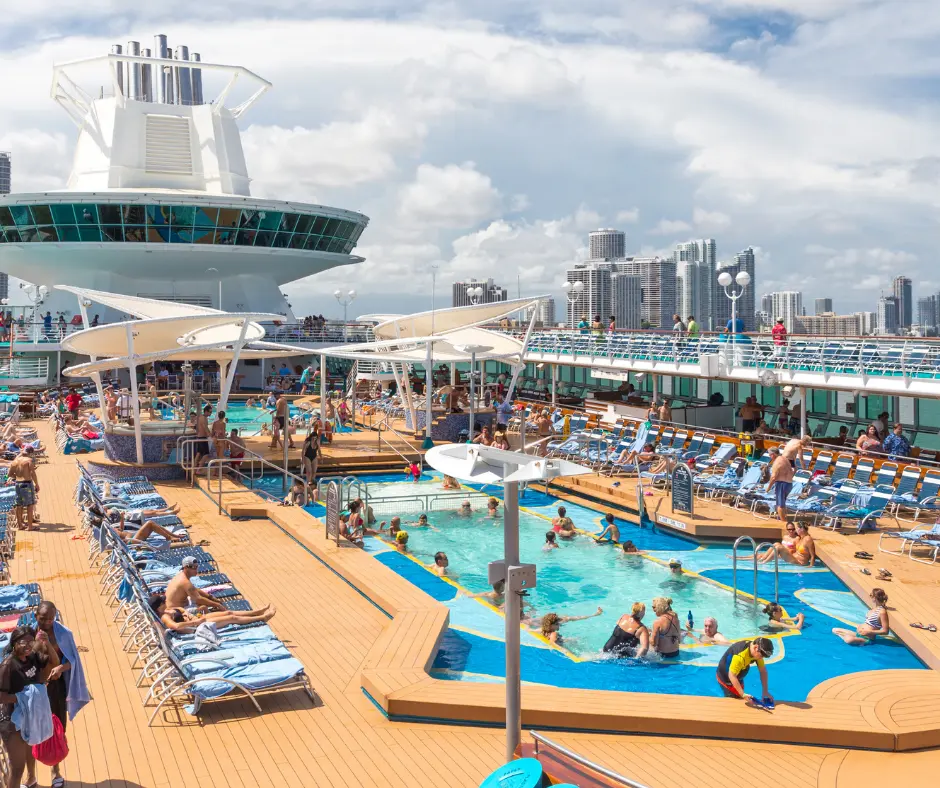 You can find great deals on cruises.  Going on an off-season cruise will save you money.  If you fit into any of these categories there are normally deals for you:
Military

Senior Citizen

Resident of Port

Teachers

First Responders 

Health Care Workers

Florida Residents 
Tips for First Time Cruise
Cruise ships also offer deals on their websites.  You can also go through a third-party site like Cruise Direct or Priceline to get a great deal.  There are last-minute deals and restricted deals for each cruise line. 
Best Cruise Lines for First-Timers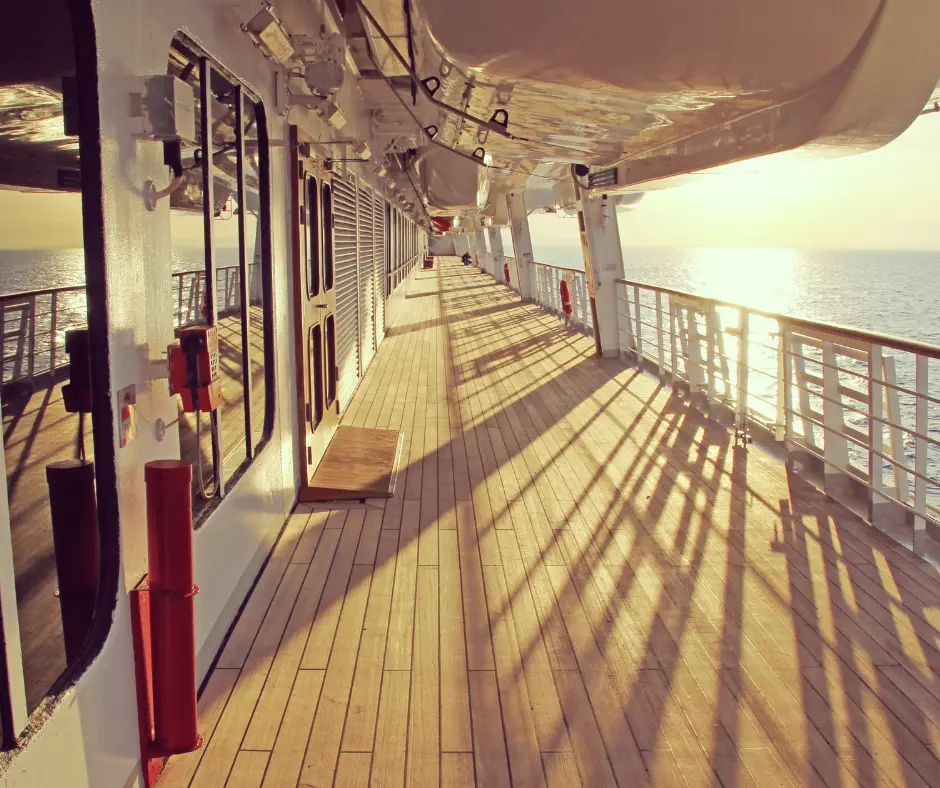 We are going to explore a few cruise lines that are great for first-time cruisers.  These cruise lines sail around the world. Depending on where your departure port is you will probably be able to find a location that works for you.  
In this post we will review the following best cruise lines for first-timers:
Royal Caribbean 

MSC

Carnival

P&O Australia

Disney

Norwegian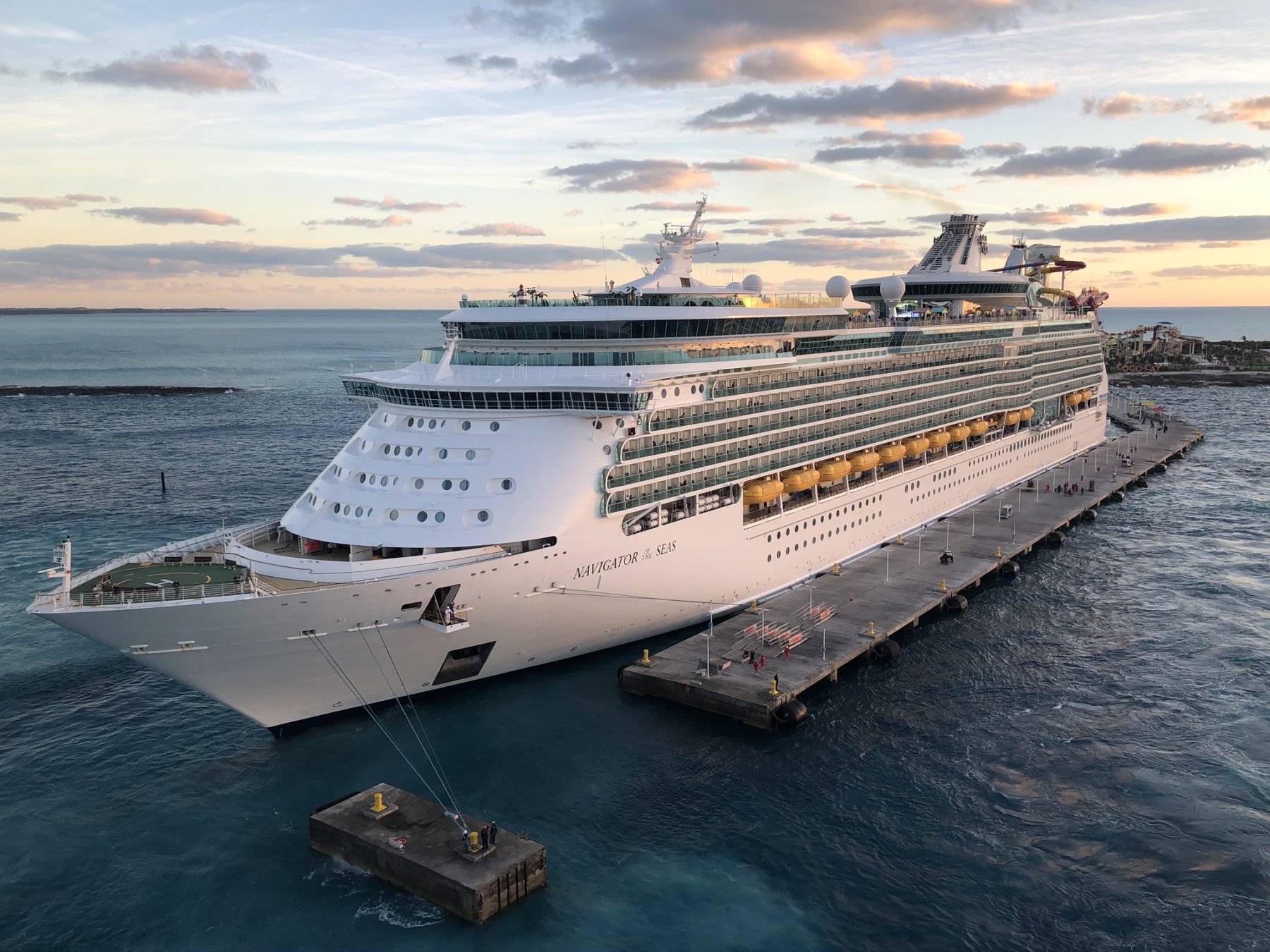 The first cruise I ever took was on Royal Caribbean's Allure of the Seas – one of the largest cruise ships in the world. Royal Caribbean makes a great choice for first-time cruisers as you're sure to be blown away by the sheer size of the ships and how much there is to do onboard.
Types of Ships
Royal Caribbean has seven classes of ships currently, ranging from the huge 6,000+ guest Oasis-class ships to the older, Vision-class ships that accommodate around 2,500 guests.
Amenities on Ship
The newest ships offer endless activities like zip-lines, waterslides, ice skating, and laser tag. With so much to do onboard, you'll probably struggle to fit it all into a week. The older ships are more suited to destination-focused itineraries and tend to attract more couples than families. That said, they still have rock climbing walls, pool parties, and outdoor movies.
Whether you're planning a honeymoon, a multi-generational trip, or a solo cruise, Royal Caribbean has something for everyone and one thing's for sure – you'll never be bored! The dress code is pretty relaxed, but if you want to dress up on certain evenings you have the option to.
Ports
Royal Caribbean has a private island. It is called Perfect Day at Coco Cay.  Located in the Bahamas, you can be sure to have some of the bluest water in the Caribbean.  It includes lots of fun free activities as well as Thrill Water Park and awesome Coco Cay shore excursions.  
First Time Cruising Tip
My top tip for Royal Caribbean first-timers would be to consider getting a drink package. The drinks can be quite expensive at around $12 for a cocktail. But, if you book the package in advance and get a good deal on it, you'll start to save money after around six drinks per day.
Contributed By:  Jenni from Cruisemummy.co.uk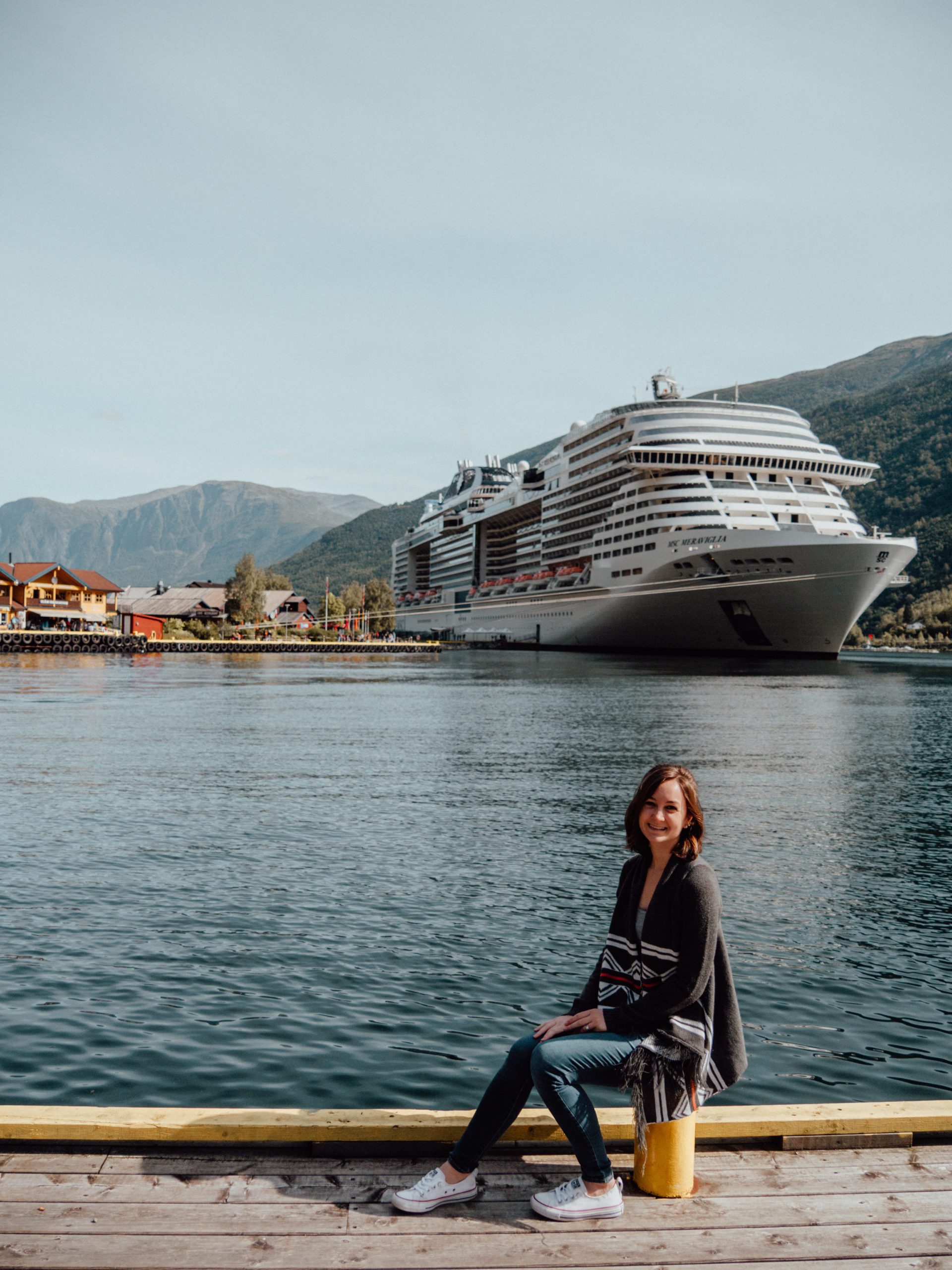 There are so many ways you can cruise, whether it's dining in all the different restaurants, relaxing in the spa all week, or enjoying the lively nightlife. You can cruise all around the world as well, stopping at many different destinations. Experience it all as you book your MSC Cruise today!
MSC Cruise Ships
Now, the third largest cruise line in the world, MSC Cruises is dedicated to being a leader in cutting-edge innovative ships. Explore their cruise ships and choose the ship that suits your exact needs — their ships offer something for everyone! 
MSC Destinations 
MSC Cruises sails all over the world. Some of the Destinations include the Caribbean, Europe, Asia, and Africa. MSC also offers Grand Voyages, which sail all around the world; stopping at many wonderful destinations including World Wonders!
MSC Excursions
MSC offers an incredible range of shore excursions for every taste: whether you prefer adventure, nature, culture, or history, there is something for you and the whole family. See the concierge about your itinerary!
MSC is for any demographic. If you are a couple looking for an adventure or a family with small children you will find MSC caters to all your needs!
First Time Cruising Tip for Embarking:
Print out tickets and luggage tags. It will be a much smoother process as you board.
Keep your passport and ticket handy as you board, they will be checked several times when embarking.

Carry only what you need when embarking: Much like an airport, you will check your luggage before checking in. If you don't want to carry much, take only what you need. Don't worry, your luggage will be safely delivered to your room.

Be firm. As soon as you board, you will be bombarded as the crew will try to get you to upgrade any package you may have.
First Time Cruise Tips for Dis-Embarking
Our one and only tip is: do not leave your luggage out the night before. As you disembark, you will be guided towards a warehouse full of luggage and will have to sort through hundreds of bags before finding your own.
Contributed By: Emily Dalton at Daltons Destinations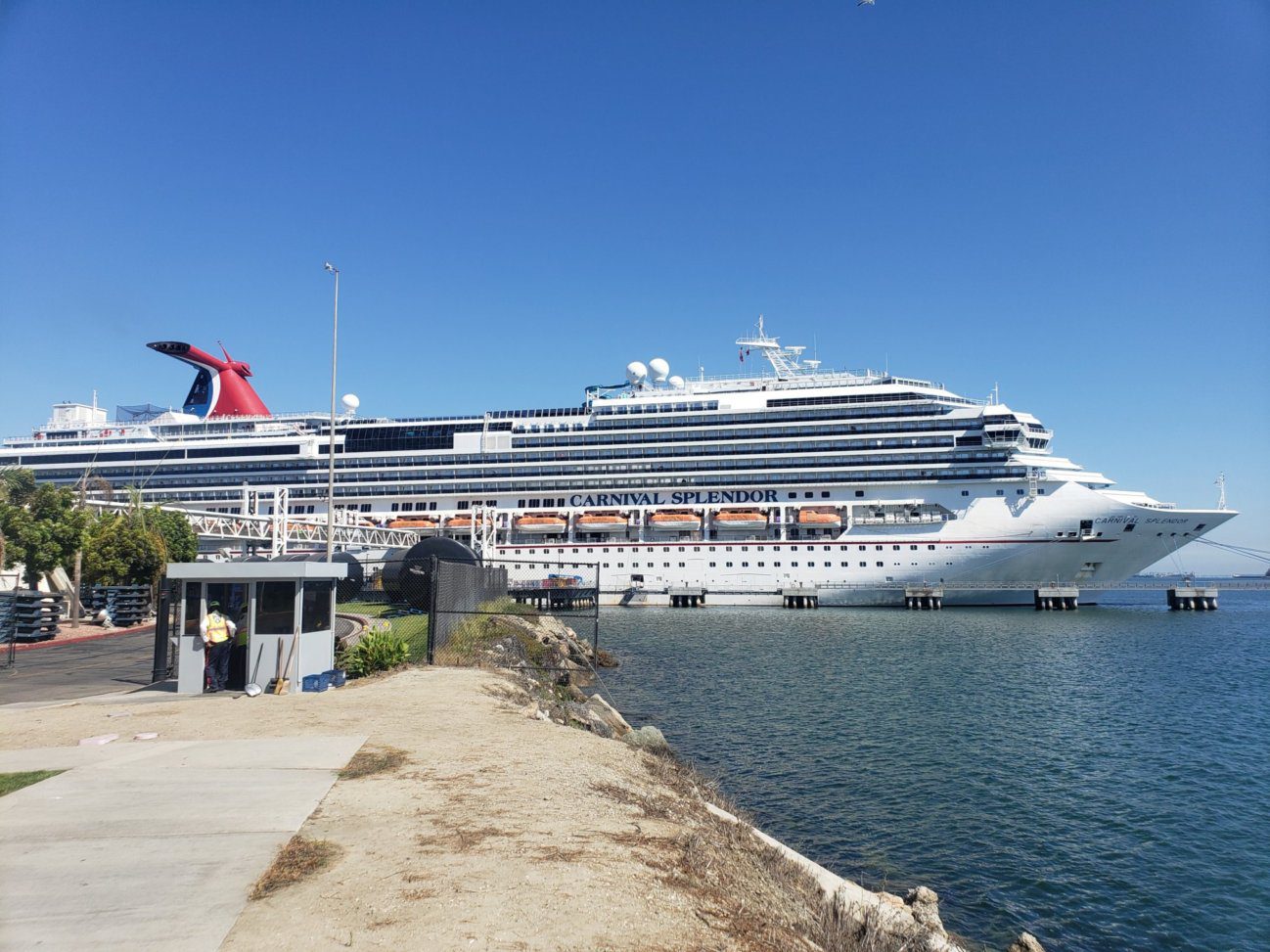 Carnival cruise line is an excellent cruise line for first-time cruisers because it offers a variety of itineraries at a reasonable price point.  
In addition to 3-7 day traditional ports in the Caribbean or Alaska, it also offers longer (14+ day) 
repositioning cruises to foreign ports
.
In 2019, the Splendor sailed one way from Los Angeles to Singapore over 24 days! 
Generally, the Carnival cruise line caters to a younger demographic that likes to party. The pool deck events can get rowdy. However, traveling with a family is still enjoyable as there are plenty of kid-friendly activities as well. 
Carnival Cruise Ships
There are eight classes of ships in the Carnival fleet. The fleet classes are Fantasy, Triumph, Spirit, Conquest, Splendor, Dream, Sunshine, and Vista. The Fantasy class is the smallest and the Vista-class is the largest.
Each class is a different size range and offers a variety of services and amenities. Some have water slides and a roller coaster while others offer indoor trampoline parks and IMAX movie theaters.
All of the cruise ships, regardless of class, provide passengers with a solid complement of basic amenities. These include a spa, casino, kid's club, pools, dive-in movies on the pool deck, live entertainment in various theaters, ping pong, and mini-golf.
First Time Cruise Tips for Carnival
First-time cruisers should look at the details of the ship options available before booking. Each ship in the Carnival fleet is so unique that two cruises on two different ships will be completely different experiences. 
Contributed By: Ouroffbeatlife.com
P&O Australia Cruise Line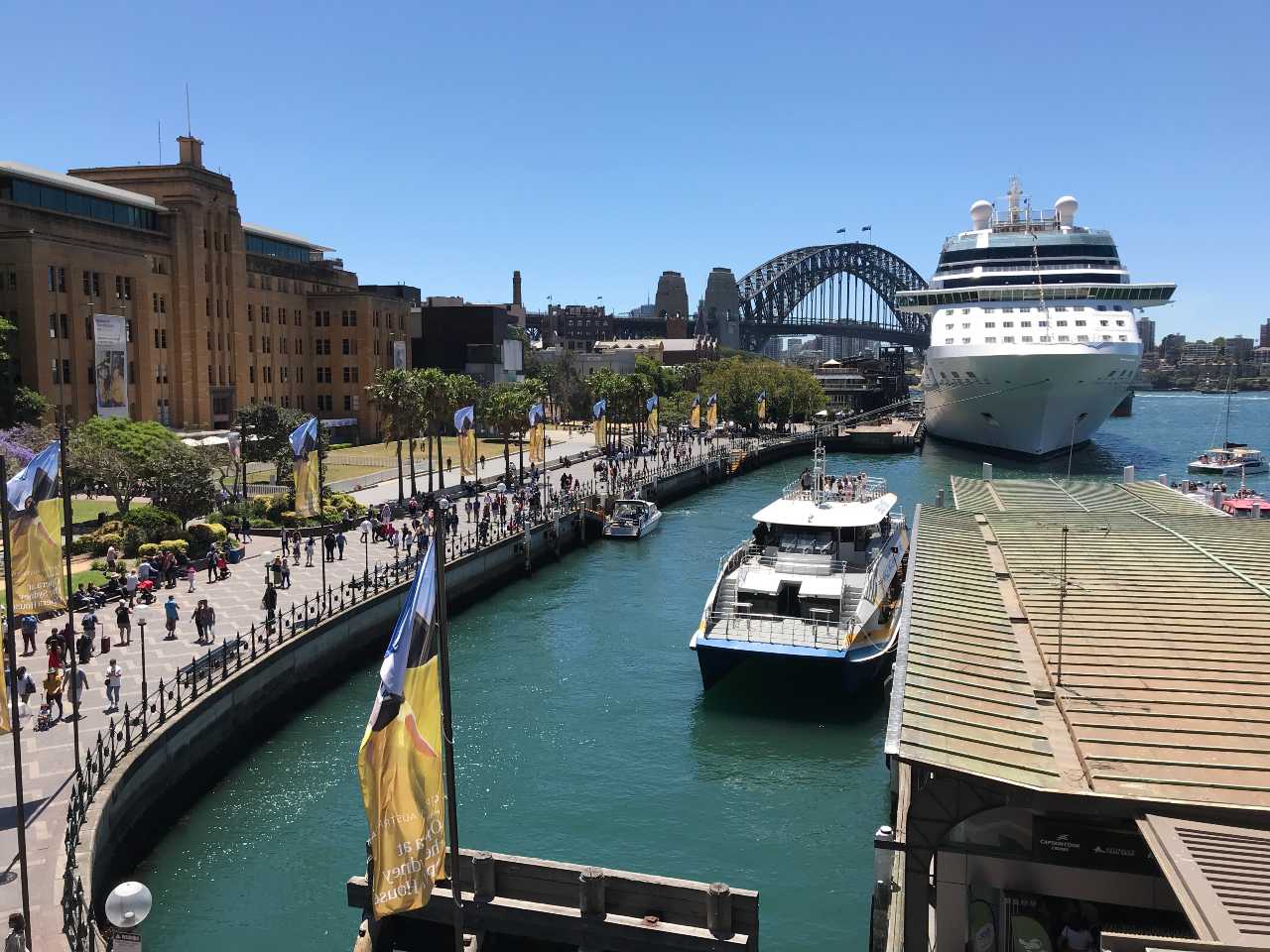 P&O Cruises Australia is the most popular cruise line operating out of Australia. Much of its popularity extends from the fact that it is the most affordable of all the major cruise lines operating out of any Australian cruise port, including Sydney, Brisbane, Melbourne, and Adelaide. For this reason, P&O Cruises Australia is the most popular cruise line for first-timers and families.
P&O Ships
Most of the ships within the P&O fleet tend to be smaller than the larger International cruise lines operating out of Australia such as Royal Caribbean and Celebrity Cruises, which can be a good thing for first-time cruisers as it makes finding your way around the ship less daunting.
P&O ships such as the Pacific Adventure and Pacific Encounter include waterslides, adventure parks, kids clubs, and a wide selection of dining options that are well suited to both adults and children alike.
P&O Excursions 
Most itineraries take in the Pacific Islands of Fiji and Vanuatu. Day trips out to see the attractions on these islands are usually in high demand, so be sure to book early as soon as you board your cruise so that you don't miss out on a spot.
First Time Cruise Tip For P&O
Be sure to book your excursions early.  You do not want to miss out on some of the fantastic port stops! 
Contributed By: Jamie of Sydneycityguide.com.au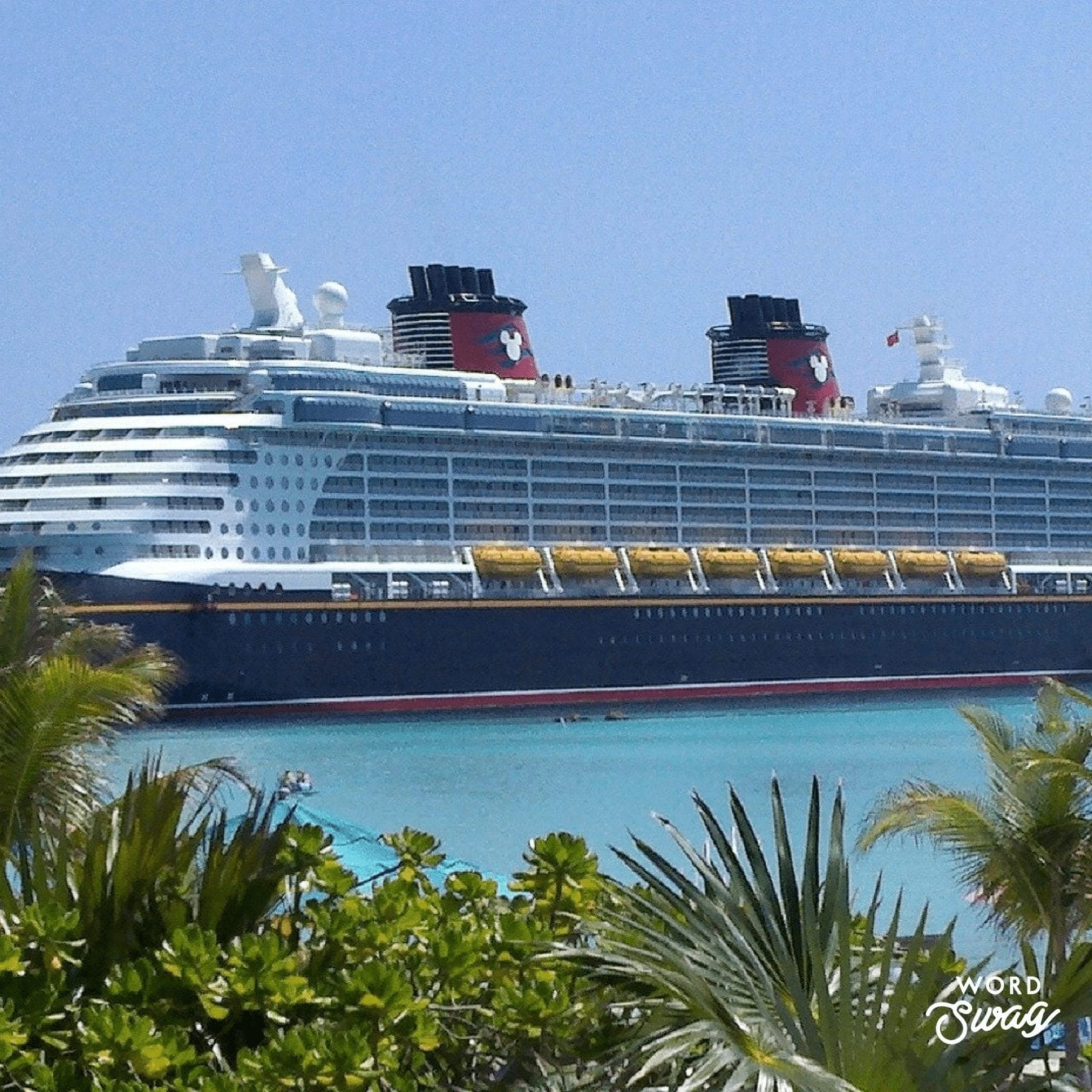 A Disney Cruise is the ultimate family cruise line.  It is one of the best cruise lines for first-time cruisers.  Disney knows how to take a regular family vacation and turn it into a magical experience.
If you are going on a first-time cruise and you have young children this is a great choice. There are amazing kid activities and clubs to keep your children entertained for days.  Don't worry if you don't have kids.  Disney has wonderful choices for adult-only areas as well.  Disney caters to kids but also has the first-class environment adults will love. 
Disney Cruise Line Ships
There are two classes of ships.  The Disney Magic and Disney Wonder are in the Magic class. These ships are smaller.  The Disney Fantasy and Disney Dream are much bigger.  The new Disney Wish is in a class all its own and debuts in summer 2022.
Disney's Private Island
If you book a cruise out of Florida be sure that Castaway Cay is included in the itinerary.  This private Disney island is full of fun activities that only those who are on the cruise ships have access to.  
First Time Cruise Tip For Disney
Some cruise ship itineraries make two stops at Castaway Cay.  If you have the time do this! It is worth it! 
Contributed By: Planningaway2magic.com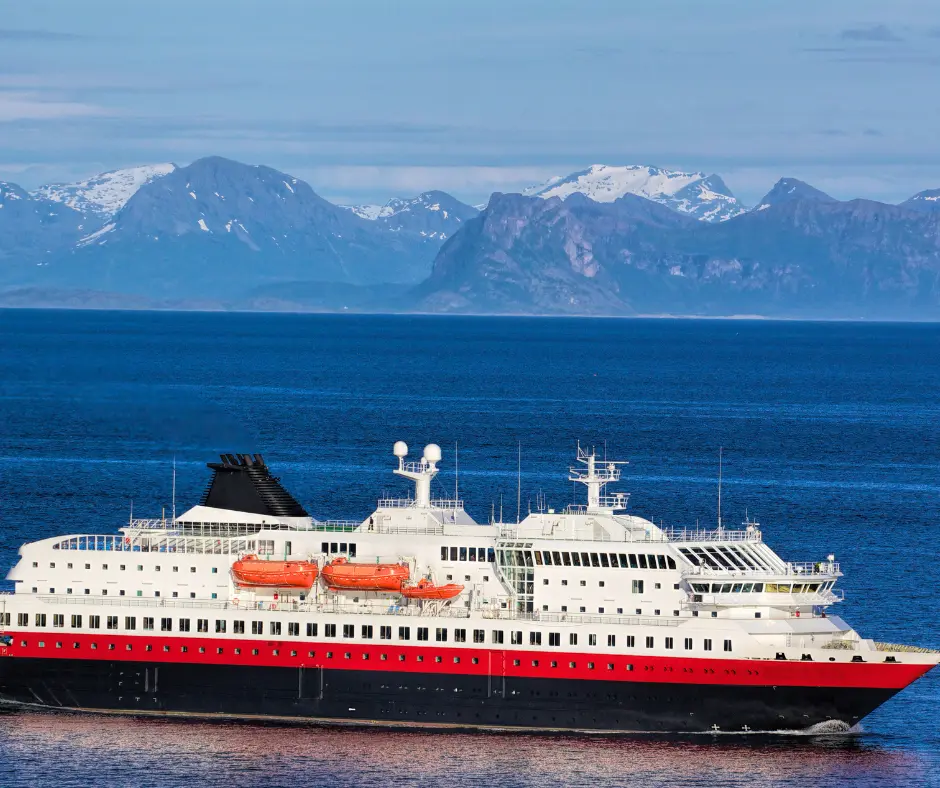 Norwegian Cruise Line is a great option for a first-time cruiser.  Just make sure to book one of the newer 7 megaresort ships.  
Norwegian Ships
Norwegian owns 17 ships with 8 different classes.  But for a first-timer cruiser, the only thing you need to know is that the newer ships are bigger and have a lot of fun activities compared to the older ships that focus on a smaller destination-focused experience. 
Norwegian caters to two groups those that love to be entertained with their larger ship options and those that prefer the excursion experience.  They also offer specialty restaurants that are included in the price of your cruise.
Norwegian Excursions 
One of the amazing things about Norwegian is that you can plan your on-shore excursions up to 6 months in advance.  This will allow you to plan ahead! 
Tip for First Time Cruiser
If you book your excursion through the cruise ship and something bad happens and they are late getting back to the ship, the ship will wait for you.  If you book an excursion through a third party and you do not make it back in time, the ship will leave you!!!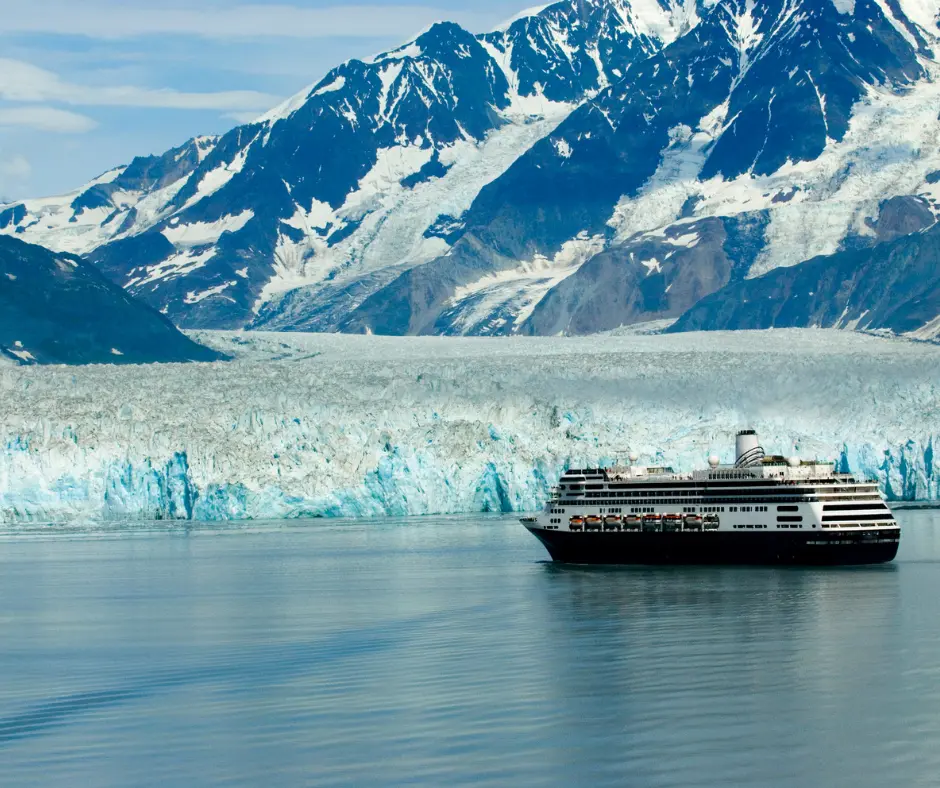 Princess Cruise Lines sail all over the World.  They offer a world-class cruising experience.  If you want the best Alaska cruise experience Princess is the cruise line you want to go on.  
Alaska Cruise
The Alaska Cruises on Princess are amazing but what makes them even more appealing is the land excursions they offer after your cruise.  These excursions allow you to visit places like Kenai National Park, Anchorage, and Denali National Park.  They provide train transportation and beautiful lodges.  
Types of Ships
There are over 14 Princess Cruise Line ships.  There are three classes of ships.  What you will notice when you step on a Princess ship is how beautiful they are!  
Princess Experience
Princess is very organized, the service is excellent, and the shows and activities are phenomenal. Princess goes above and beyond. It is the little details that you will love when you cruise Princess.   
Princess has amazing food options.  There is always an option for dining any time of the day.  The food is really good. 
Princess appeals to the 40-60 age demographic but is great for anyone.  
Tips for First Time Cruise 
Get ready for the fantastic sail-away party.  They offer the very best sail away party in the industry.  The movies under the stars are unbelievable! They also serve cookies and milk.  These extra touches are what make it above the rest. Another great tip is to go to all the events that are organized.  They are phenomenal. 
Are you Ready to Go on a 1st Time Cruise?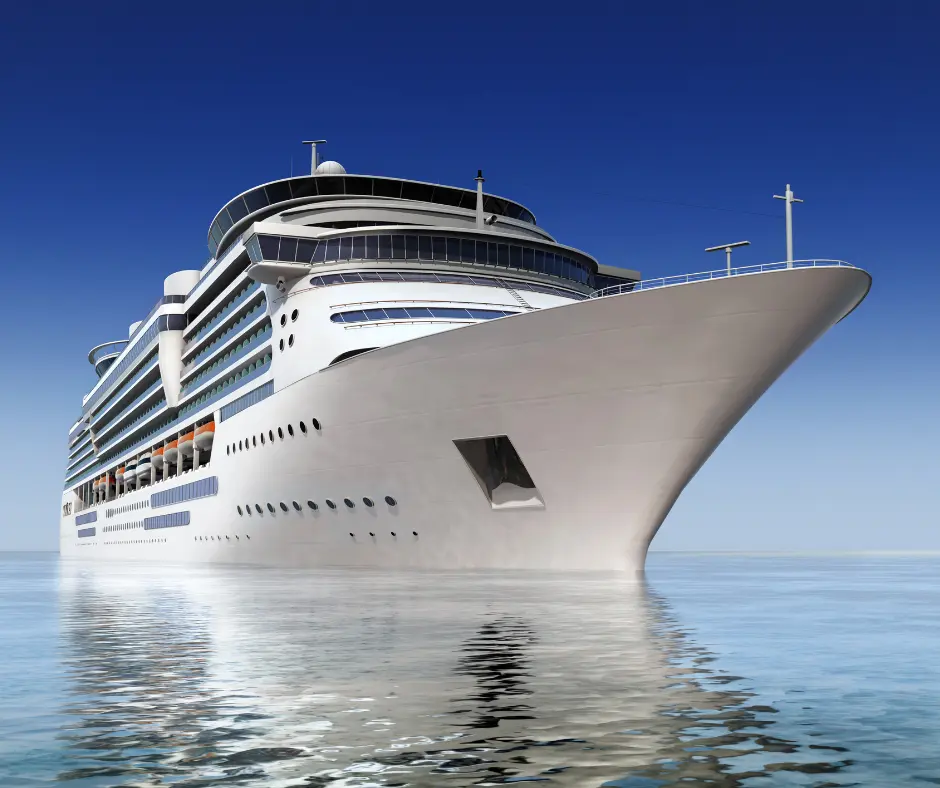 Hopefully, this helps you plan a 1st-time cruise.  When I evaluated what my family would like I thought the best cruise line for first-timers would be Royal Caribbean and Disney.  
This might be different for you depending on what stage of life you are in.  Cruises offer something for everyone.  They are a great option for a family vacation or even a family reunion idea.  
A cruise vacation is an all-inclusive experience!  You will love it! 
Facebook Community
If you have any questions join my Facebook Travel  Community.  You can ask any questions you have about upcoming trips and everyone is happy to help you plan your trip.  I also try to give exclusive travel deals that companies send me.  It is a great group to join!