11 Of The Best California Cities To Visit
Are you wondering what the best California cities to visit are?  There are so many to choose from!
California is an amazing place to go on vacation and no matter where you decided to go in this state you will not be disappointed!
There are so many California cities to visit!   From San Diego all the way up to the Redwood trees in Crescent City.  California has the best cities to visit in America!
Let's get started and explore the best California cities to visit!
If you want to save this for later be sure to pin this to Pinterest!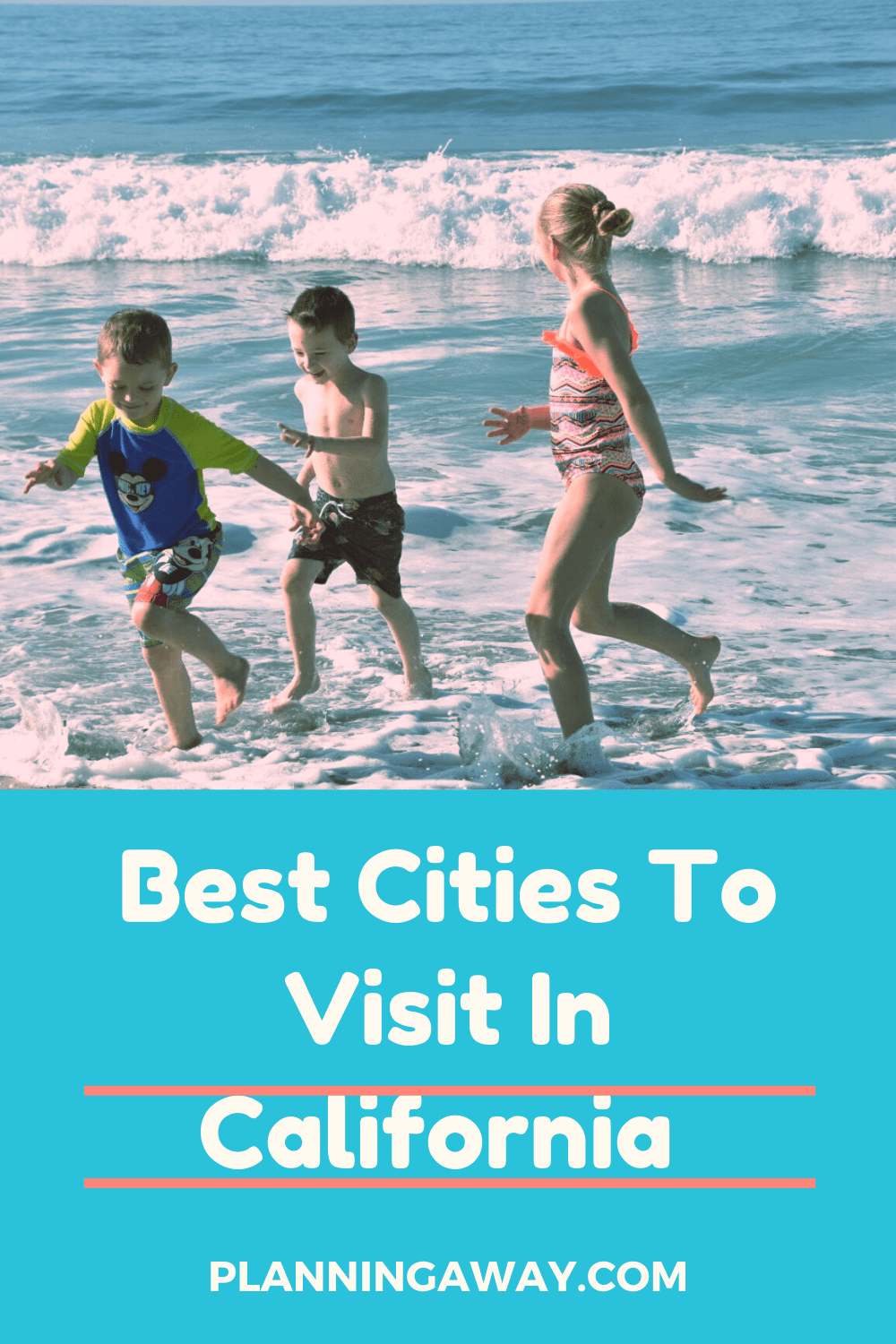 This post may contain affiliate links that will give me a commission at no additional charge to you.
Best Cities in California to Visit (Northern California)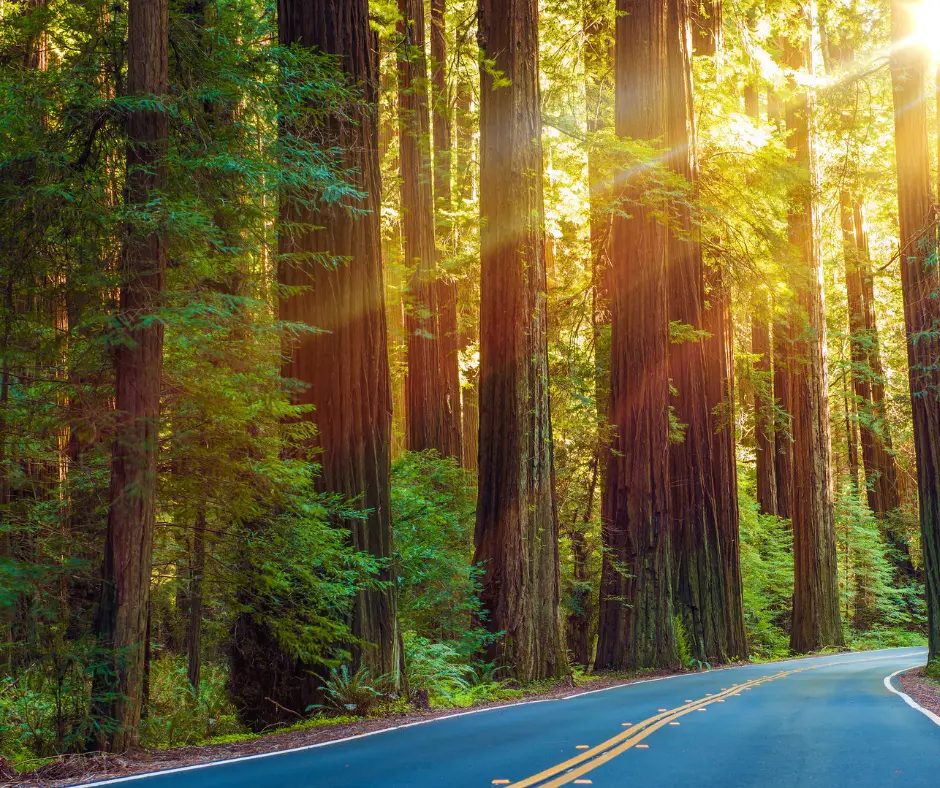 We are going to start with Northern California.  There are some great cities in California to visit in this area. 
Top Cities in California to Visit (Northern)
Let's start with one of the best locations in California – Crescent City.
1. Crescent City - Best California Cities to Visit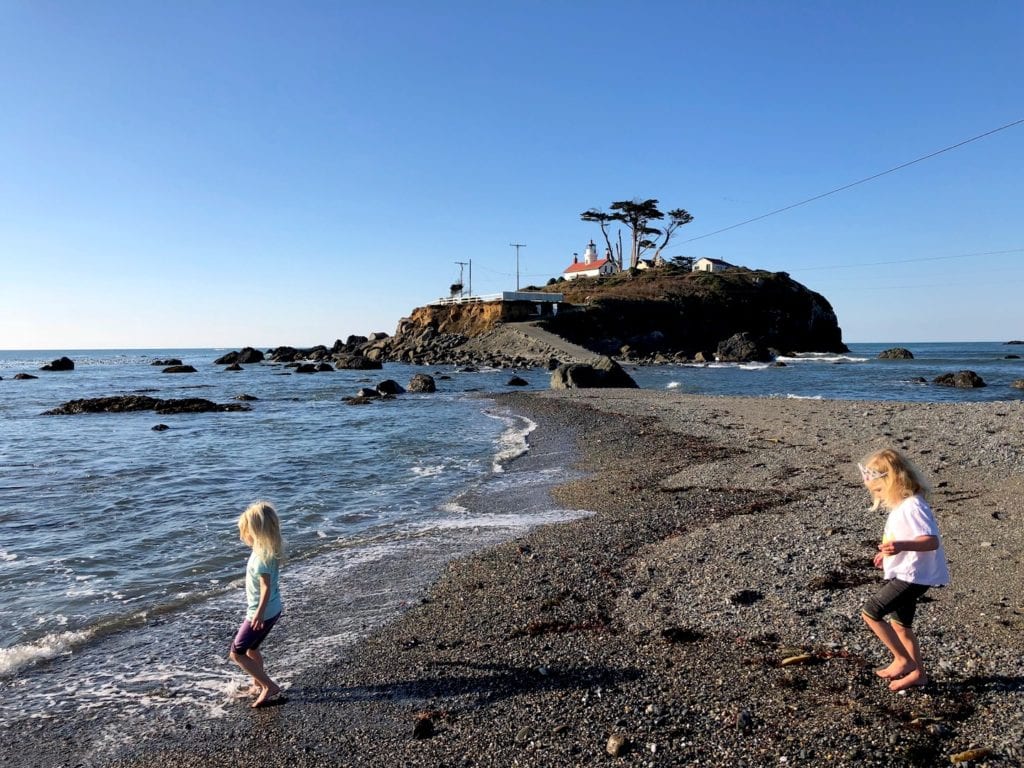 Crescent City
Crescent City is located in the northern part of the state and is one of the best cities in California.  It is most known for Redwoods National Park.  It also is a great start for traveling the California coastline.
If you want to explore the Redwoods in California—and really, you'd have to be crazy not to—Crescent City, CA is just about the best spot to declare your home base.
Redwoods
Crescent City is a 20-minute drive from Jedediah Smith Redwoods State Park, a 16-square-mile area that is filled with towering trees.
You have countless hikes to choose from, and I recommend starting in the Stout Memorial Grove. This short loop takes you past 300-foot-tall Redwoods, and you can also climb on top of fallen logs.
Pebble Beach
Crescent City is a lovely town to explore when you're not marveling at gigantic trees. Don't miss hunting for agates on Pebble Beach, just minutes from downtown. At low tide, you can also cross to the Battery Point Lighthouse.
The land bridge to this historic lighthouse is underwater as soon as the tide begins to come in, though, so keep a close eye on the tide tables!
Restaurants
My favorite place to eat in Crescent City is Sea Quake Brewing.   It is a local brewpub where the beer and pub fare are equally delicious. (Try the slaw-topped chicken sandwich or, if you want something healthier, the Thai salad.)
Activities for Kids
If you have kids, don't miss Beach Front Park just across the street from Sea Quake. This park has an epic,  fortress-like playground my kids couldn't get enough of.
Crescent City is one of the best cities in California to visit, whether you're just stopping through en route to the Redwoods or you're looking for a laid-back coastal Northern California town, you'll adore Crescent City.
Contributed By: To and Fro Family
Best Cities in California to Visit (Central)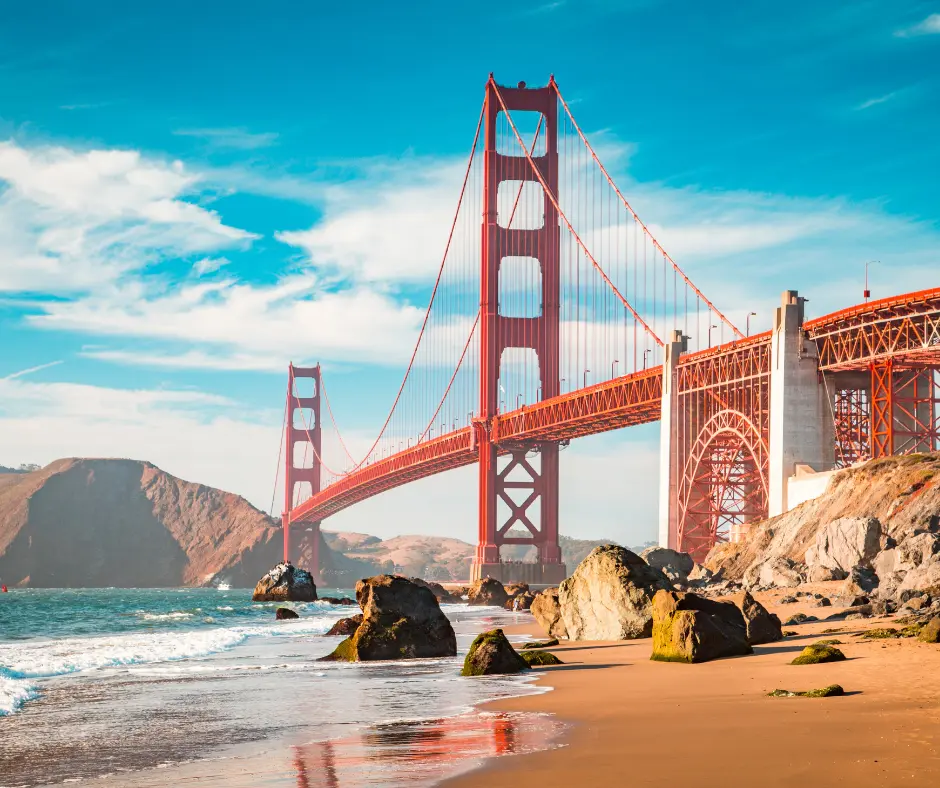 Central California is a great area to visit. There are some major cities that make our list and some more unique places in this area of California to consider. Some of the best places to travel in California are in this area. 
Top Cities to Visit in California (Central)
San Francisco

Sacramento

Oakland

Monterrey (Carmel-by-the-Sea)
Let's explore the best cities in California to visit in central California!  
2. San Francisco - Best California Destination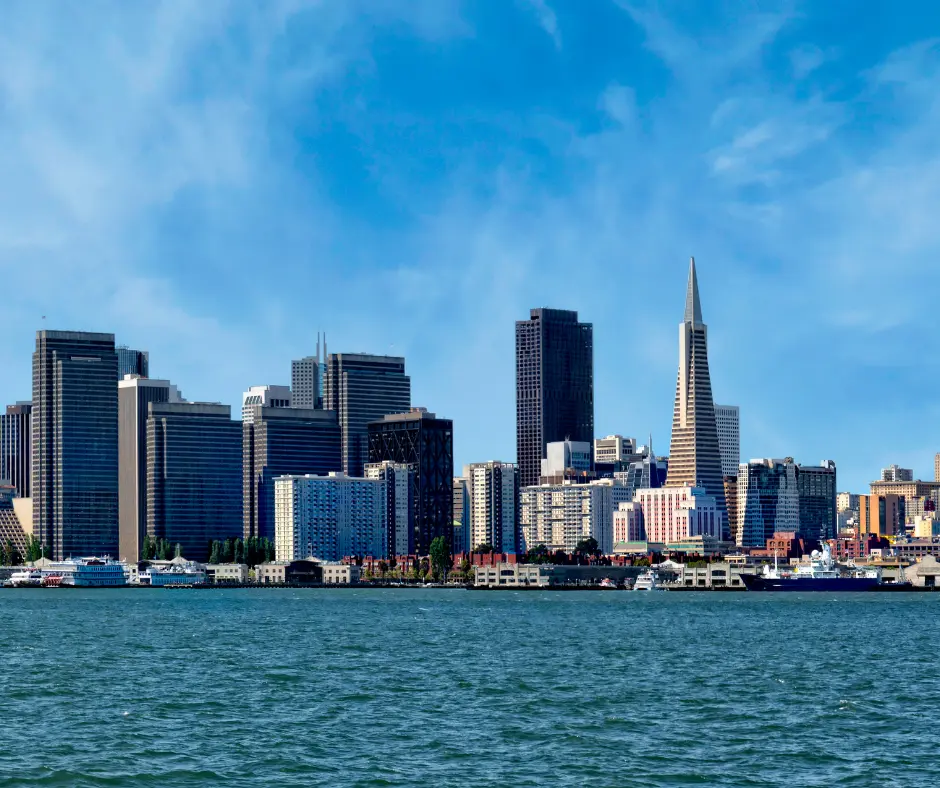 San Francisco is one of the best cities in California to visit!  There is so much to do and see.  From all the most famous landmarks to the best places to eat, this city will not disappoint.
San Francisco Picnic Spots
When most people think of San Francisco they tend to think of the iconic sites such as the Golden Gate Bridge and Alcatraz. 
Did you know that this amazing city has some fantastic sites for an afternoon picnic?  There are several spots all around the city where you can enjoy the views without the hustle and bustle!
San Francisco is one of the best cities in California to relax and enjoy the beautiful weather!   
Let's some other reasons why San Francisco is one of the best California cities to visit. 
Top Attractions in San Francisco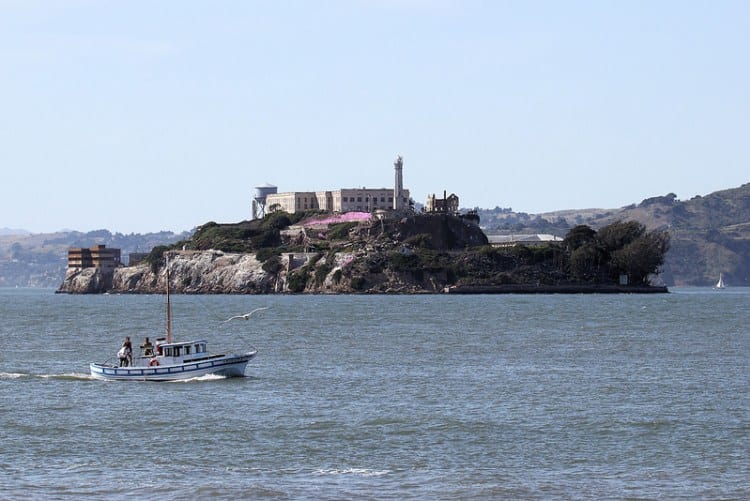 San Francisco has so much to offer!  This city really has something for everyone which makes it one of the best cities in California to visit.  Starting with the most famous sites and continuing with the hidden gems, San Francisco will not disappoint.
Obviously, the Golden Gate Bridge should be on your list but there are many must-see sites in San Francisco.  There are actually so many options in this city that you may want to spend a little more time discovering all the wonderful things this city has to offer.
Tours in San Francisco 
There are some really fun tours to consider.  The Grand Tour of San Francisco is led by a personal guide and will go to all the major areas of the city.  I personally loved biking all over the city.  
Maybe you are a little more adventurous and would enjoy a helicopter tour of San Francisco
China Town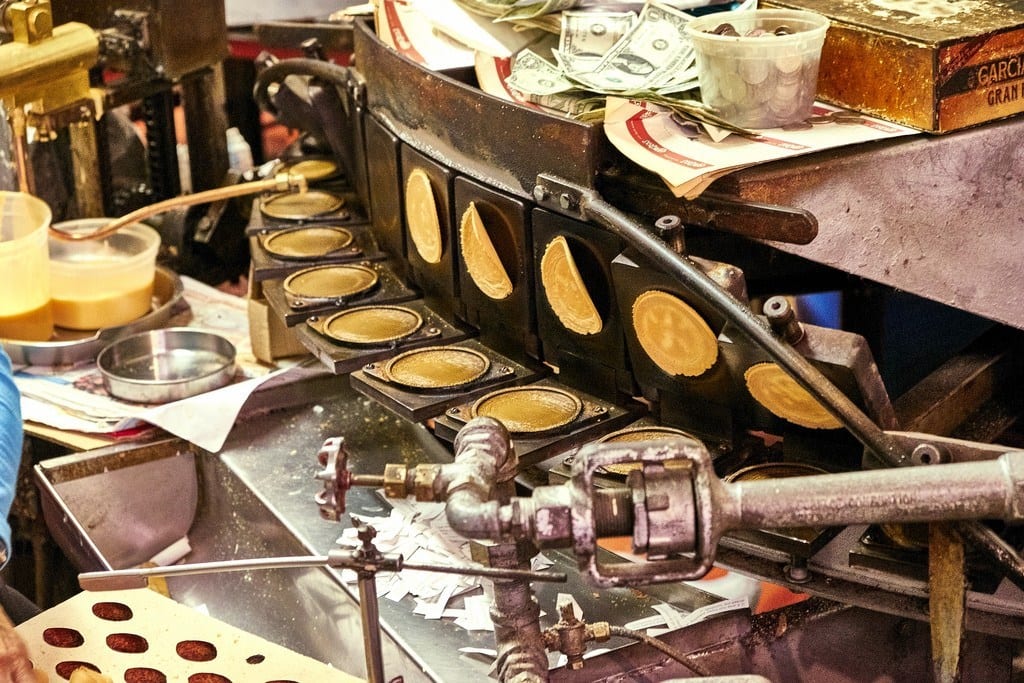 If you want to explore San Francisco's China Town with your kids you are in for a treat! (Literally, the image above is the fortune cookie factory.)
There are some fun adventures to be had in this area! Take your kids and explore all the neat aspects of this neighborhood!
Chinatown is a very unique area.  Many Chinese immigrants have come to California and there is a great culture and vibe in this part of the city.
Culinary Experience
Having a culinary experience in Chinatown is something you and your kids will love.
Best Places to Eat in San Francisco

If you are headed to San Francisco for the first time you may not know that it is a foodie's dream destination!  There are so many amazing places to eat in San Francisco.
I love to try new foods every time I go to San Fran, but there are some that I like to hit every time I go!
Whether you are planning a girls' trip or a family trip to San Francisco with the kids, there are so many things to do in San Francisco!
San Francisco really is one of the best California cities to visit!
Contributed By:
Frogmom.com
Toddler Abroad
3. Sacramento - Best California Cities to Visit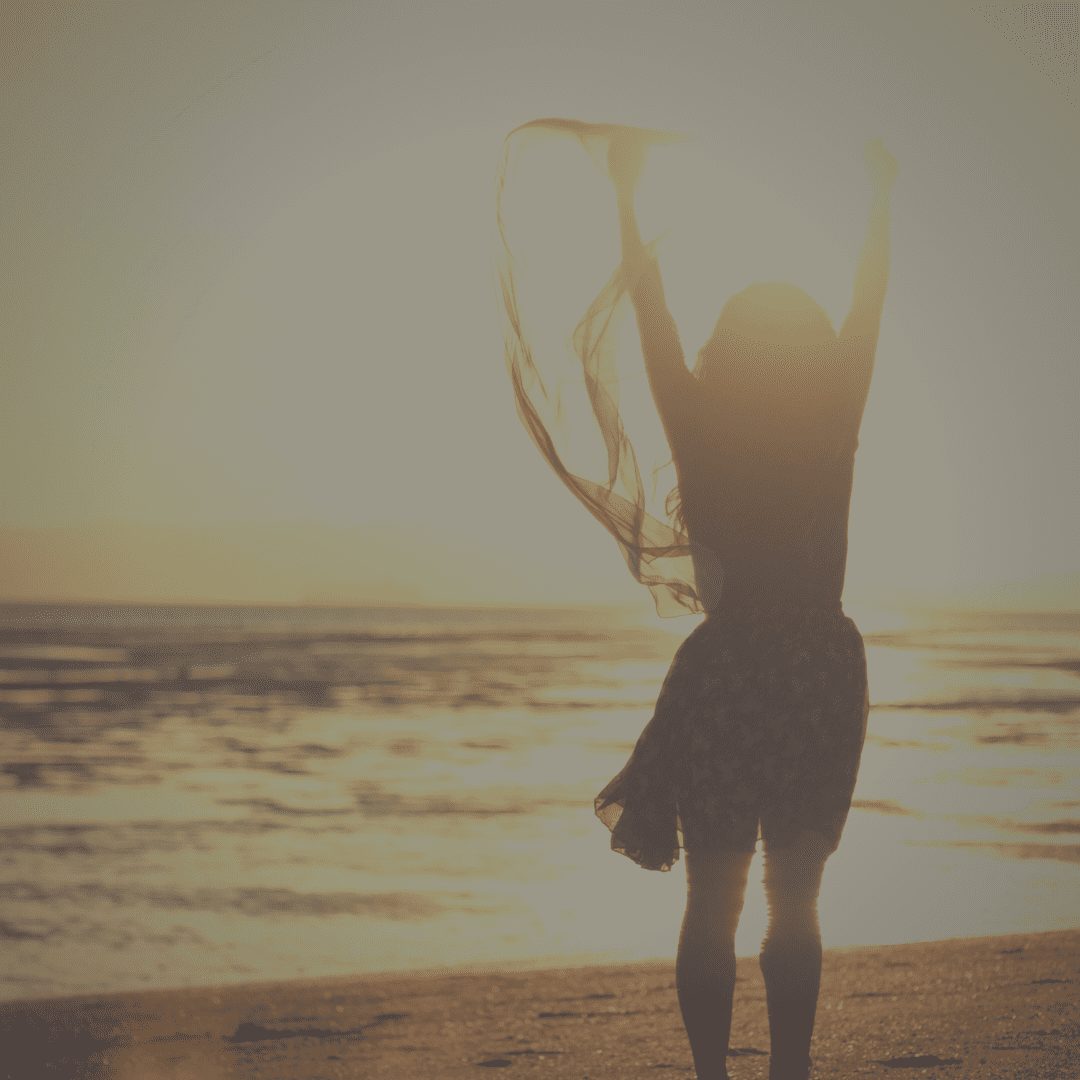 Sacramento
Sacramento, with its diverse culture, rich history, and amazing food, offers plenty of things to do.  Personally, I think Sacramento is one of the best cities in California to visit.  I would like to recommend 3 amazing things to do while visiting. 
Food Tours 
You can find so many different places to eat. If you love food like me, you will enjoy a food tour that Local Roots Food Tours does. With 6-8 different restaurants to tour,  you will get to meet the owners and taste their signature dishes. It is very exciting! I just love food.
Murals 
Sacramento also has some of the best street art. You can take a stroll through neighborhoods and see some of the best art for FREE!  Check out Google maps for all the locations.
California State Railroad Museum 
One of the best museums in California, the California State Railroad Museum takes you into the past. It features 21 trains and cars with a few of the trains dating back to 1862.  Riding a train is the highlight of this visit.  It takes about 45 minutes to ride.  The lovely view of the Sacramento River is so nice and makes the ride worth going on.
Sacramento can be added to the best cities in California to visit list!
4. Oakland - Unique Places to Visit in California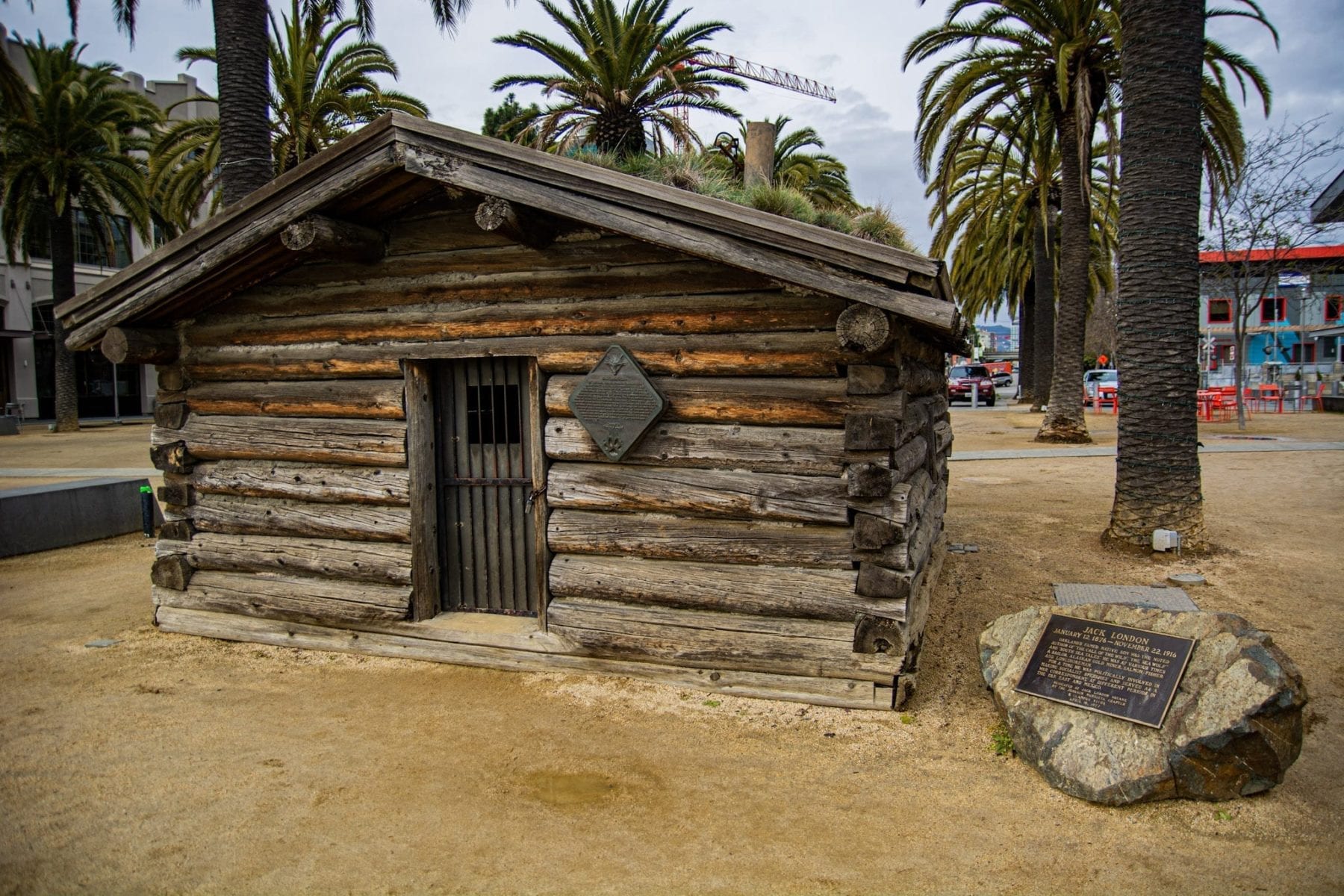 There are so many great places in Oakland to visit.  Jack London Square, for instance. Many of you probably recognize the name of the man who wrote classics like The Call of the Wild. An Oakland native, Jack London's name lives on in this nice waterfront entertainment district.
Heinold's First and Last Chance Saloon
While there are plenty of bars in Jack London Square, the one you really have to drink in is Heinold's First and Last Chance Saloon.
When Johnny Heinold opened this small, cozy bar in 1883, he gave it that name because it was either the first or last chance a sailor had to get rip-roaring drunk, either before shipping out or upon returning to port.
It's also been called "Jack London's Rendezvous," and was the inspiration for many bar scenes from his books. You can find money and souvenirs from all over the world, as well as the last operating gas lamp in the state of California.
Pro-Tip
See a wooden board with random letters on it? Go ahead and ask the bar what that means.  Be sure to check out the exact same log cabin that he stayed in while living in the Klondike, preserved and relocated from Canada.
Other Entertainment in the Area
Jack London Square holds plenty of spots to relax, a telescope through which you can view the San Francisco skyline, a movie theater, and plenty of eating options.
If you are vegan, you're in for a treat!  Just three blocks northeast of the square is Souley Vegan, the best vegan restaurant I've eaten in.  They offer traditional Louisiana soul food with a healthy twist while sacrificing none of the Cajun flavors.
With all of these options, be sure to pay Jack London Square a visit the next time you're in Oakland!
Contributed By: 9 to 5 Voyager
5. Carmel-by-the-Sea - Best California Destinations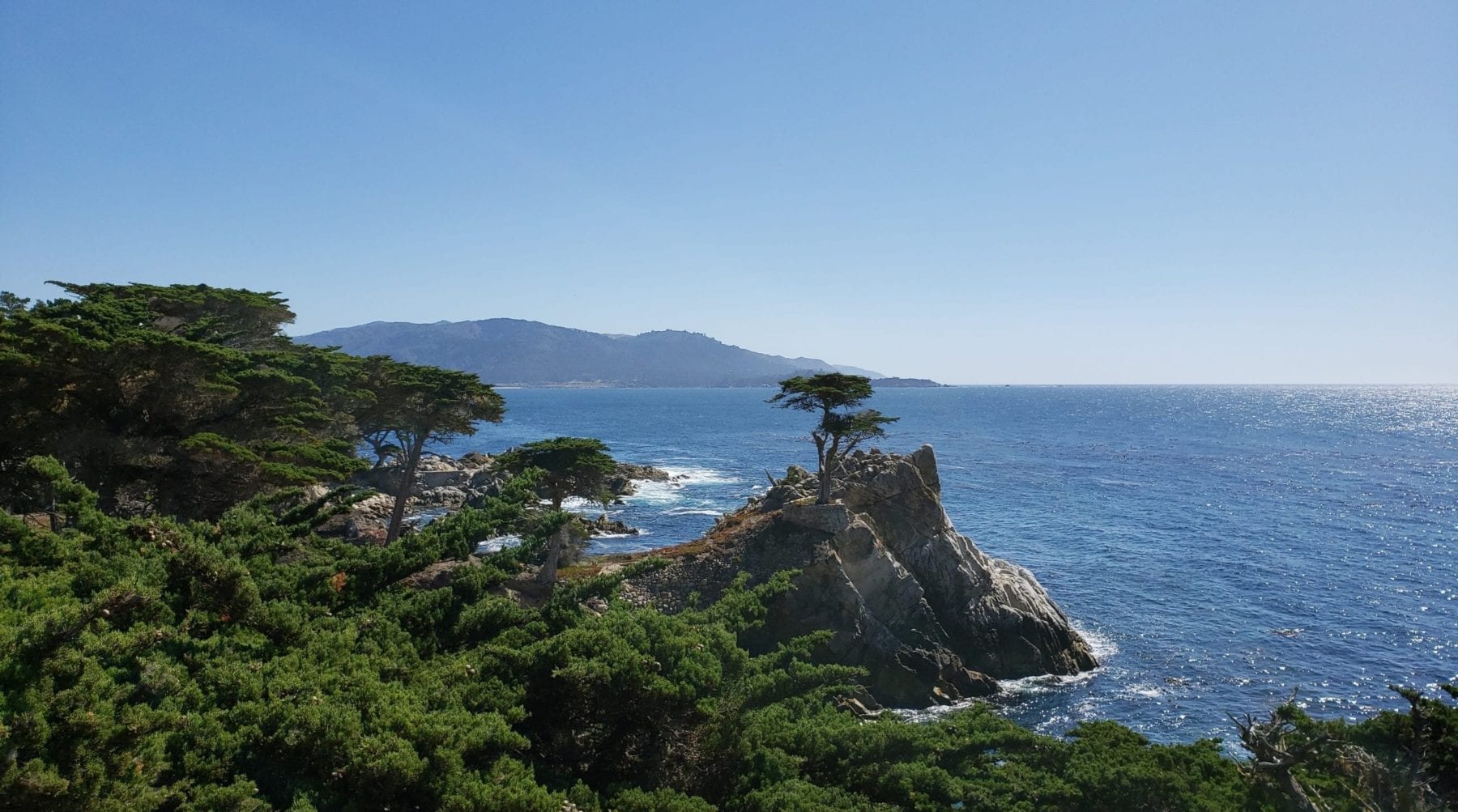 I feel like Monterey and Carmel-by-the-Sea are what we think when we think 'classic California'.  There is a lot of history in this part of the State, with beautiful architecture and buildings reborn into a more modern use like Cannery Row in Monterey, and the beautiful old homes (many dating back to the 1900's), built by artists and other creative's in Carmel.
Pebble Beach Community
Monterey and Carmel-by-the-Sea are linked by the beautiful 17 Mile drive through the Pebble Beach community.   In order to take this scenic drive through this private community, you have to enter through one of their 5 gates and pay the per car fee (it was $10.50 in 2022).
There are 17 beautiful stops along the way, listed on the visitors' map they give you.  There are 5 golf courses, as well the spectacular Pebble Beach course.
 The road runs right along the coastline most of the way, and I stopped at just about every single stop. There are beautiful ocean vistas, stunning multi-million dollar homes, and of course the world-famous Lone Cypress, which has been the iconic logo of Pebble Beach for 100 years (1919).
The Pebble Beach property is worth the stop, and if you decide to have lunch, they'll deduct the entry fee from your final bill.
Carmel-by-the-Sea
I didn't set a timeline for my drive, so all in all I spent almost 2 hours making the 17 Mile Drive.  You'll depart through another guarded gate and arrive just outside of Carmel, taking you to yet another beautiful community worth spending time in.
Best Cities to Visit in California – Monterey
Oh, and while you're in Monterey, I cannot stress how amazing the Monterey Bay Aquarium is.  To go to this area without spending a few hours there would be a travesty, and you don't need kids with you.  I was there alone and would go back again!
Monterey is one of the best cities to visit in California! 
Contributed By: The Eventful Traveler
Best Cities in California to Visit (Southern)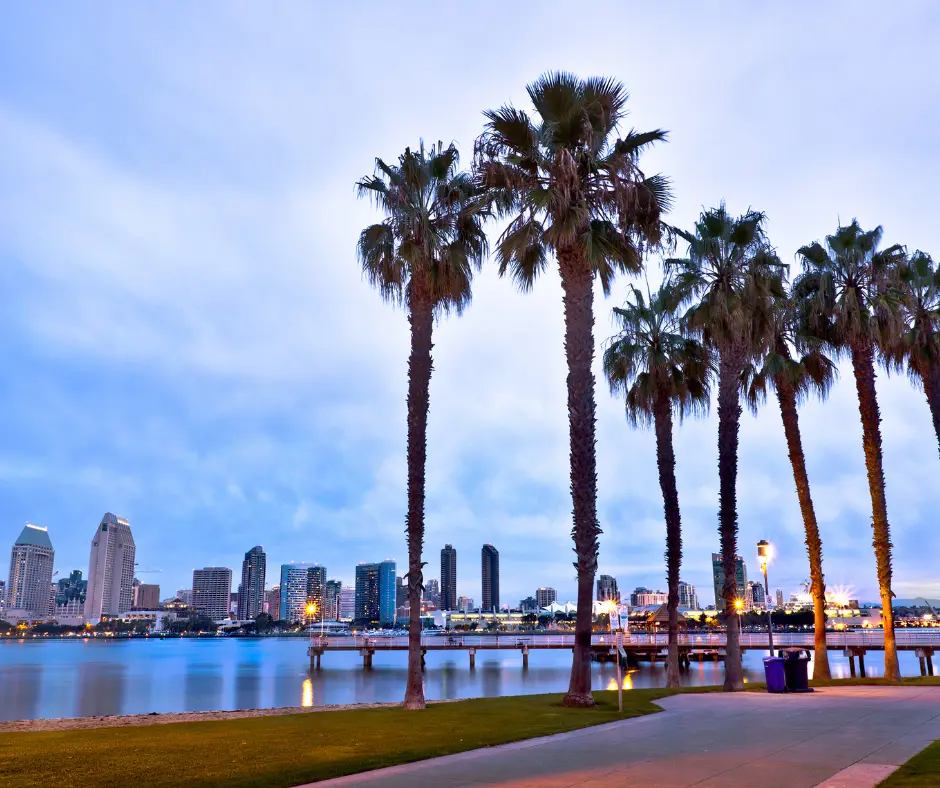 I think Southern California has the best cities in California to visit. I love the weather!  It is perfect all year round.  
Top Cities in California to Visit (Southern)
Malibu

Los Angeles (Orange County)

Newport Beach

San Diego

Coachella

Palm Springs 
Let's explore the best cities in California to visit in Southern California! 
6. Malibu - Best Cities in California to Visit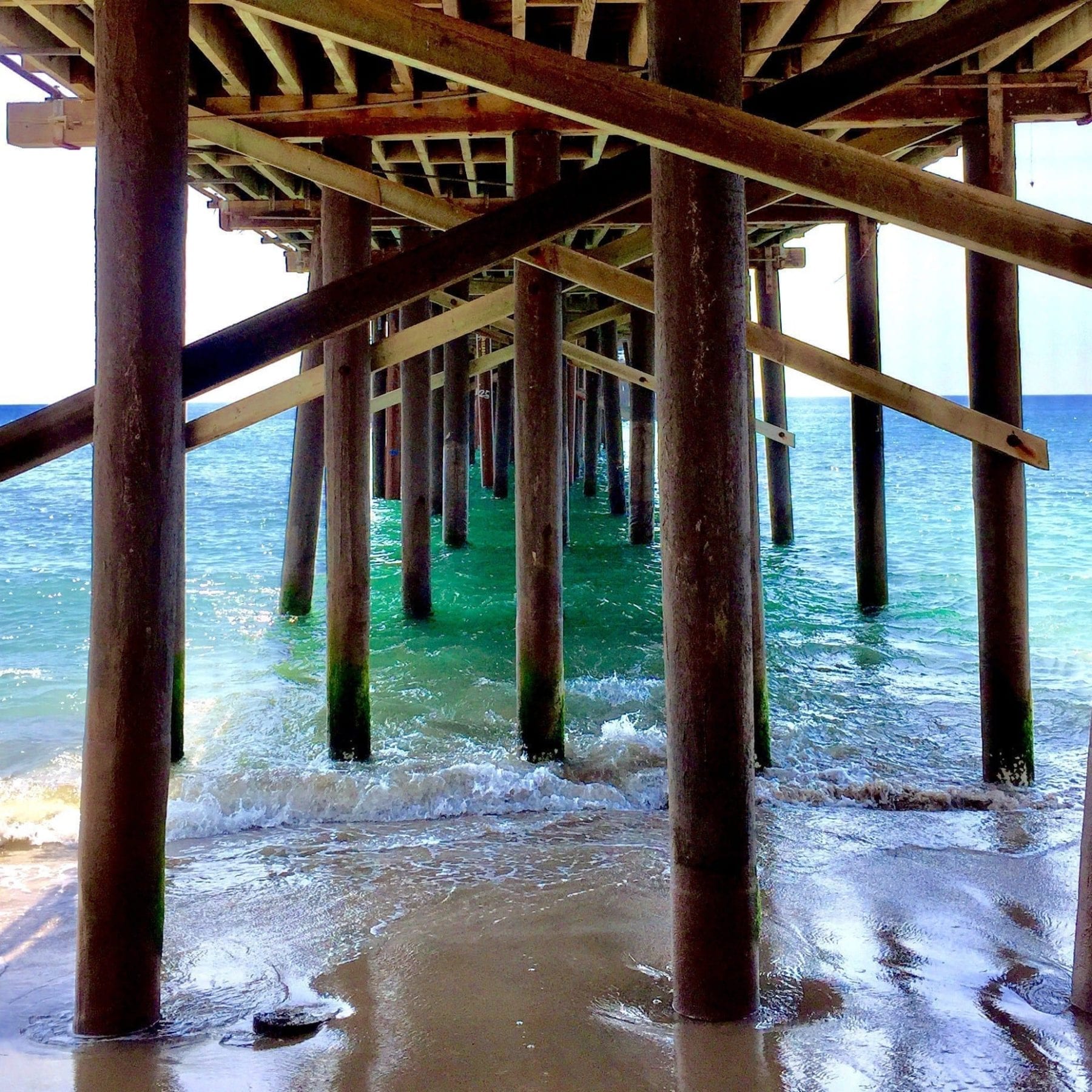 Malibu is located a little less than an hour northwest of Los Angeles and is one of the best places to travel in California.  Malibu has many amazing things to do and see.  It is on the ocean and is known for its celebrity homes and beautiful beaches.  You could easily spend all your time in this beautiful beach town and be perfectly happy!
Zuma Beach
Malibu is the home to the well-known Zuma Beach where many movies have been filmed.  You can enjoy surfing, swimming, and building sandcastles, and then walk over to the pier and do some fishing!
Hikes in Malibu
Malibu also has many hikes.  One that you need to check out is the Solstice Canyon located in the Santa Monica Mountains. This is a great family hike and is a great way to spend an afternoon.
If you are deciding which city to visit in California, Malibu is one of the best cities in California to visit!  
Contributed By: Hilary Style
7. Los Angeles - Fun Places in California to Visit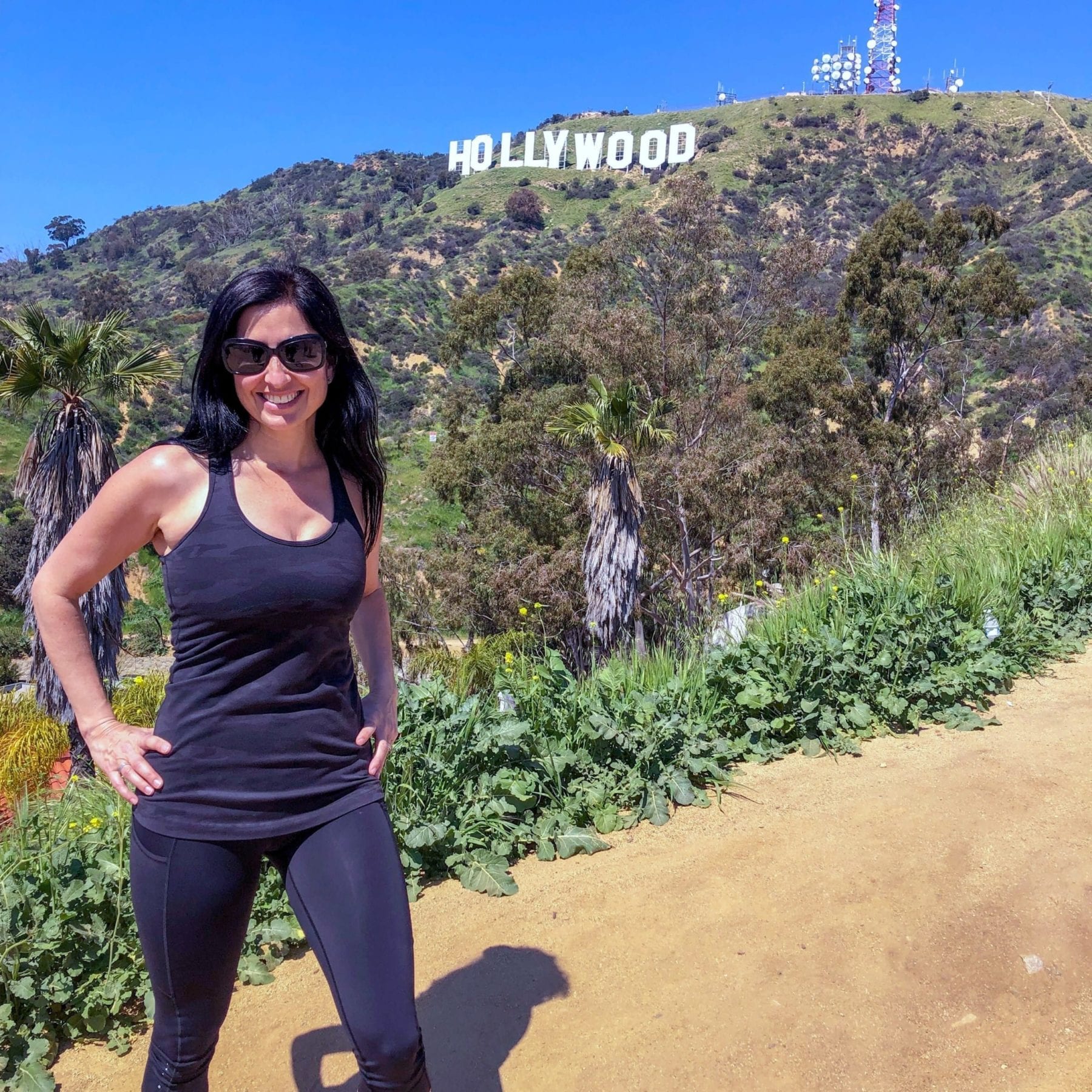 Los Angeles is one of the best places to visit in Orange county. 
Hike to the Hollywood Sign
Have you ever wanted to get an up-close encounter with the Hollywood sign in Los Angeles?  Guess what you can!  Hiking up to the sign is a great way to spend your day.
The Hollywood sign hike is the perfect day trip.  It is about 6 miles round trip.  It will take you around 3-4 hours to complete.  Once you are at the top you will see the most incredible views of the city.
If you are interested in a guide to the Hollywood sign, it is an option.  You will learn more about the history of Hollywood as you climb
If you are in Los Angeles you should really give it a try!
Amusement Parks Near Los Angeles

If you're in Southern California and want to visit an amusement park, you have plenty of choices! Of all the destinations in California, Orange County wins the title of the "fun places to go in California". 
Universal Studios
To get a feel for Hollywood, visit Universal Studios. The rides and shows give you a glimpse into movie magic. You can even take a bus tour to go behind the scenes of your favorite movies!
Disneyland
If you're traveling with smaller kids, Disneyland will be the better bet. This theme park will have such a surreal vibe as you run into some of your favorite Disney characters. Getaway Today is a great way to book Disneyland! 
Knott's Berry Farm
Maybe you can't afford Disney prices, but still want to take your family to a theme park while you're in SoCal. Fortunately, Knott's Berry Farm is a budget-friendly theme park 15 minutes away from Disneyland.
They have options for all ages! Toddlers can have fun playing with Snoopy while teenagers can ride extreme roller coasters. Whenever you need a rest, find a live show to watch with your family.
Six Flags
If you really just came for the roller coasters, then Six Flags Magic Mountain is the place to go. Like the other Six Flags parks across the country, Magic Mountain has some of the best roller coasters you've ever experienced!
However, keep in mind the worst part about amusement parks: the lines! Be a master of  avoiding the crowds .and you will have fun!  This area is probably the most popular choice of locations in California for families.
Contributed By:
8. Newport Beach - Most Beautiful Cities in California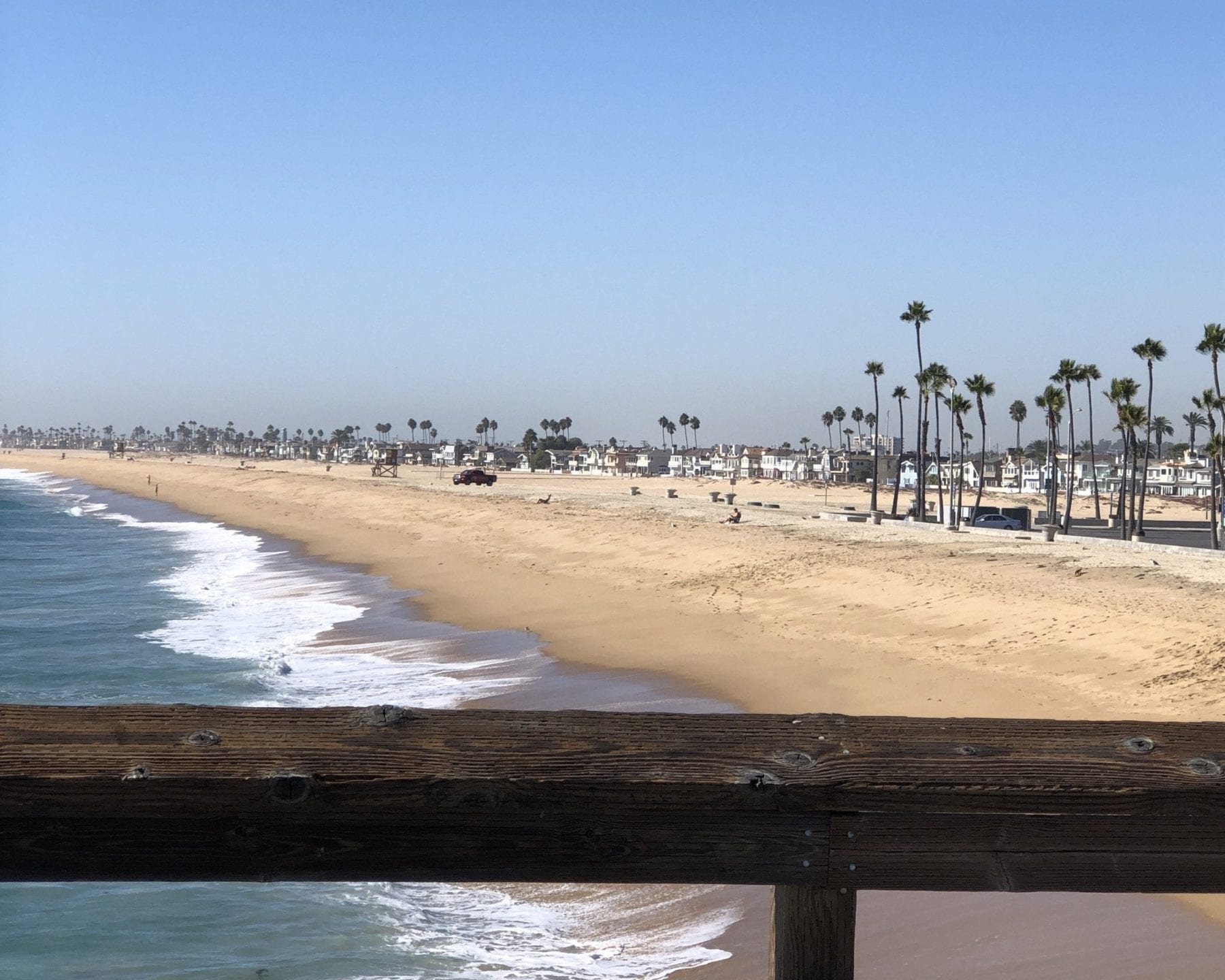 Newport Beach is a beautiful beach town on California's Southern Coast. There are plenty of great activities for your whole family to enjoy while visiting this idyllic destination.
First of all, we recommend staying at Marriott's Newport Coast Villas. Each villa has 2 bedrooms, 2 bathrooms, a full kitchen, and a washer and dryer. It is the perfect setup for a family!
The location, just up the road from Crystal Cove State Park, is perfect. Great pools and activities are going on at the resort too.
Crystal Cove State Park
Speaking of Crystal Cove State Park, this is a spot your whole family will love! It is one of the best destinations in California to visit.  Go at the right time and you can explore the tidepools. The kids will love searching for sea anemones, starfish, and hermit crabs. Bring some sand toys and a ball and you can spend hours there.
Newport Beach Pier
Another great activity for your family is to visit the Newport Beach Pier. Walk along the boardwalk, watch the waves crash, and search for dolphins. You can also rent bikes there and enjoy a nice ride along the beach.
Balboa Fun Zone
After visiting the boardwalk, walk over to Balboa Fun Zone. Be sure and ride the Ferris Wheel, have Zoltar tell you your fortune, and play some arcade games.
From Balboa Fun Zone, take the ferry over to Balboa Island. The ferry is cheap but requires cash. The ride is a fun, quick experience. Once you get to Balboa Island go grab a Balboa Bar (old-fashioned chocolate-dipped ice cream bar).  Dad's and Sugar n' Spice have delicious bars and are right next door to each other.
Newport is the perfect California destination full of lots of activities for a family! Beaches and sunshine?  What more could you ask for? It is one of the best cities in California to visit for family fun!
Contributed By: Travel Hacking Mom
9. San Diego - Best California Cities to Visit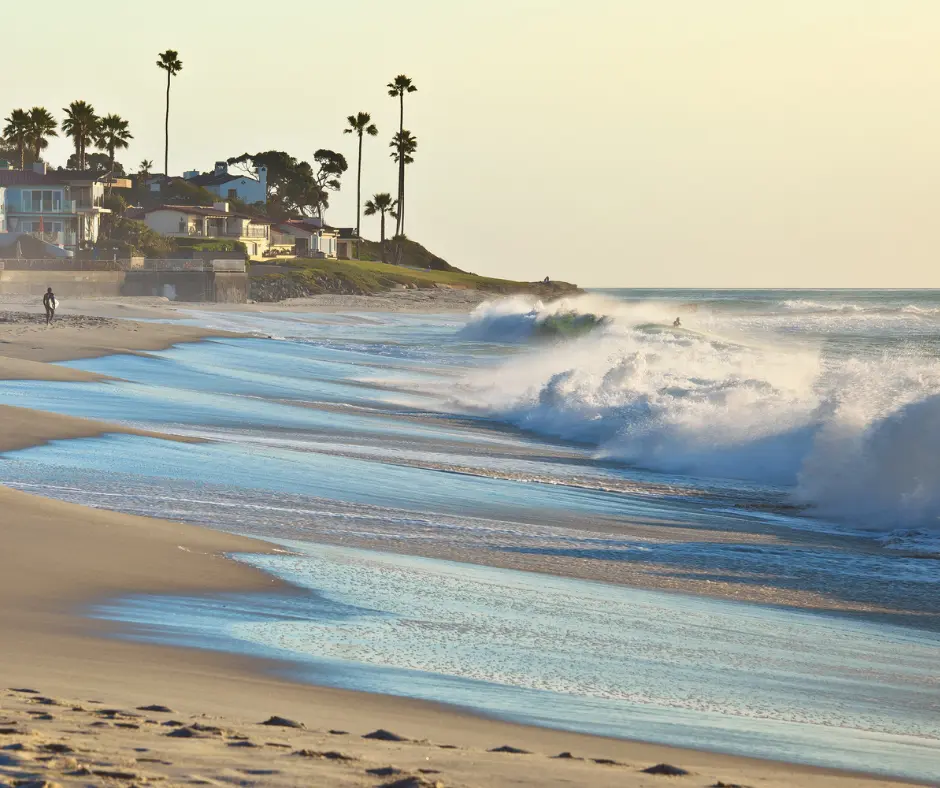 In my opinion, San Diego is the best city to visit in California!  It is a fun place to go in California. I love everything about San Diego! The weather is perfect, it is one of the best places to visit in California in December. That is our favorite time to visit.    
Let's learn why it needs to be on your "places to go in CA list."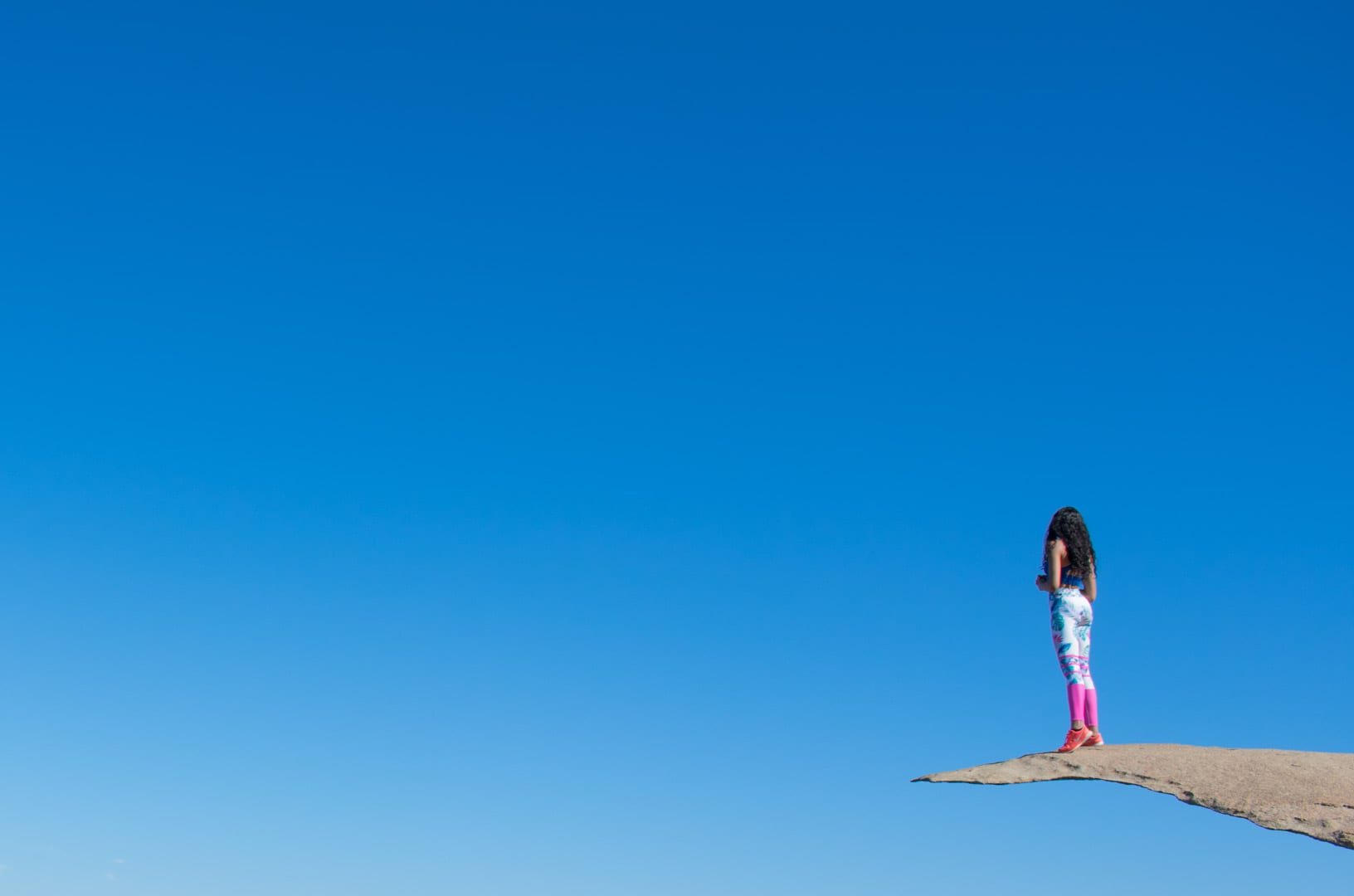 Best Hikes in San Diego
Although San Diego is known for its amazing beaches, incredible waves, and delicious fish tacos, the sunny border city is also home to some of the BEST hikes in Southern California. And you can squeeze in plenty of hikes just on a weekend trip!
 Some of the classic hikes are Torrey Pines State Reserve near the beach and Point Loma Tide Pools near the Cabrillo National Monument. Both are fairly easy to moderate hikes and boast dramatic views over the shoreline.
 Challenging Hikes
 For a more challenging hike, check out Ho Chi Min Trail, near La Jolla, to work up a sweat. Cowles Mountain is the highest point in San Diego, and arguably the most challenging! However, Potato Chip Mountain is the most iconic and instagrammable spot in San Diego, so pick your poison.
 Each of these three "harder" hikes is achievable in a half-day if you start early-ish in the morning.
To round out your hiking experience, visit Sunset Cliffs at…well, sunset! Accurately named, it holds the title of best sunset vantage point in the whole city, and you can even hike down to the small beach at the bottom.
Best Places to Eat In San Diego

San Diego is definitely a foodie town! From swanky oceanfront dining to taco trucks and everything in between, San Diego has what you're looking for.
For visitors, there are some can't-miss SD experiences when it comes to food. You really can't leave without trying some amazing fish tacos. My pick is Oscar's Mexican Seafood in Pacific Beach (branch out and try the octopus – you won't regret it).
Another great foodie experience, particularly if you're looking for something higher-end or romantic, is to dine at any one of San Diego's many restaurants on the ocean. My recommendations are Jake's Del Mar – you can't get any closer to the beach than this and the food is excellent.
Coasterra which sits on the edge of Harbor Island with incredible views of the bay and downtown San Diego is another great choice.
Little Italy
If Italian food is your thing, head to Little Italy. This quaint downtown neighborhood has so many great options.  I recommend Monello (especially for happy hour) or Barbusa, but whatever you choose, make sure to head to Pappalecco for gelato afterward!
Hotel del Coronado
And lastly, I have to mention the Hotel del Coronado. This San Diego historic landmark is not to be missed and it has a couple of options for dining.
There is the less expensive Sunset Bar, a beachfront lounge with breathtaking views of the ocean, or Sheerwater, a more upscale choice but still beachfront. The Hotel is beautifully lit at night, I recommend coming for sunset and staying for dinner.
Plan a San Diego itinerary!
Best Amusement Parks In San Diego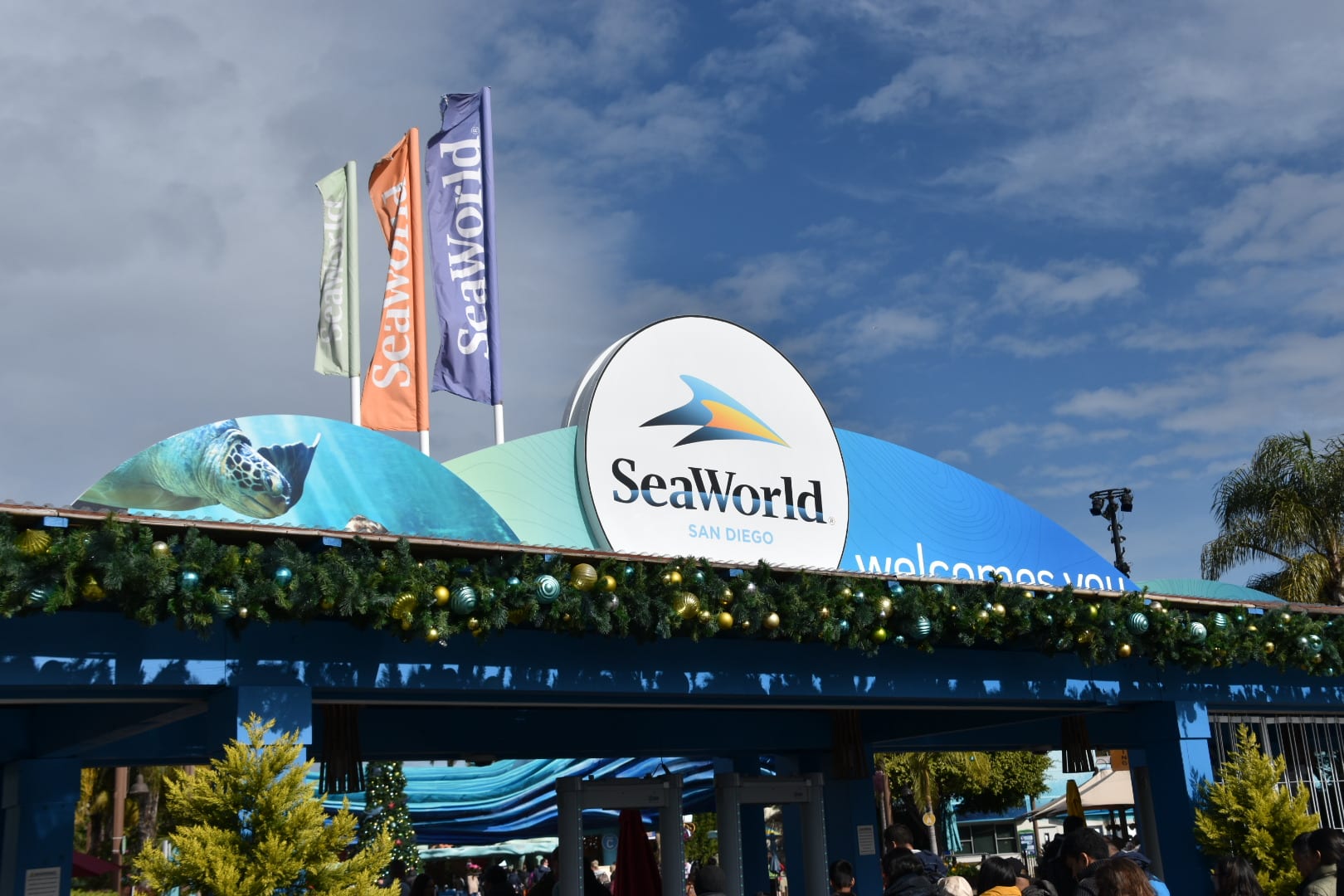 San Diego is an amazing place for entertainment.
SeaWorld, Legoland, and of course the San Diego Zoo and Safari Park are all located in San Diego.  There is also Old Town San Diego, the Marina District, and of course the beach! I have been to all of these amazing parks and have loved all of them.
SeaWorld San Diego
We recently went to SeaWorld San Diego and it was amazing for adults and kids of all ages. We really enjoyed the park.  The shows were amazing, especially the orca whales.  My kids loved all the rides and we loved all the food!
Legoland
Legoland is geared toward kids under 10 or extreme Lego fans.  We loved going to this park but what made it extra special was staying at the Legoland Hotel.  It was unbelievable!  The themes of the rooms were outstanding.  There are so many fun activities and dance parties that will make your stay magical!
San Diego Zoo and Safari Park
The San Diego Zoo is one of the most famous Zoos in the country.  You will not be disappointed.  The extension of the zoo is the Safari Park which is similar to Disney's Animal Kingdom's safari ride.
There is so much to do in San Diego which makes it in my opinion one of the best cities in California to visit! You are sure to have a fun time!
Contributed By:
Planningaway.com
10. Palm Springs - Places to Visit in CA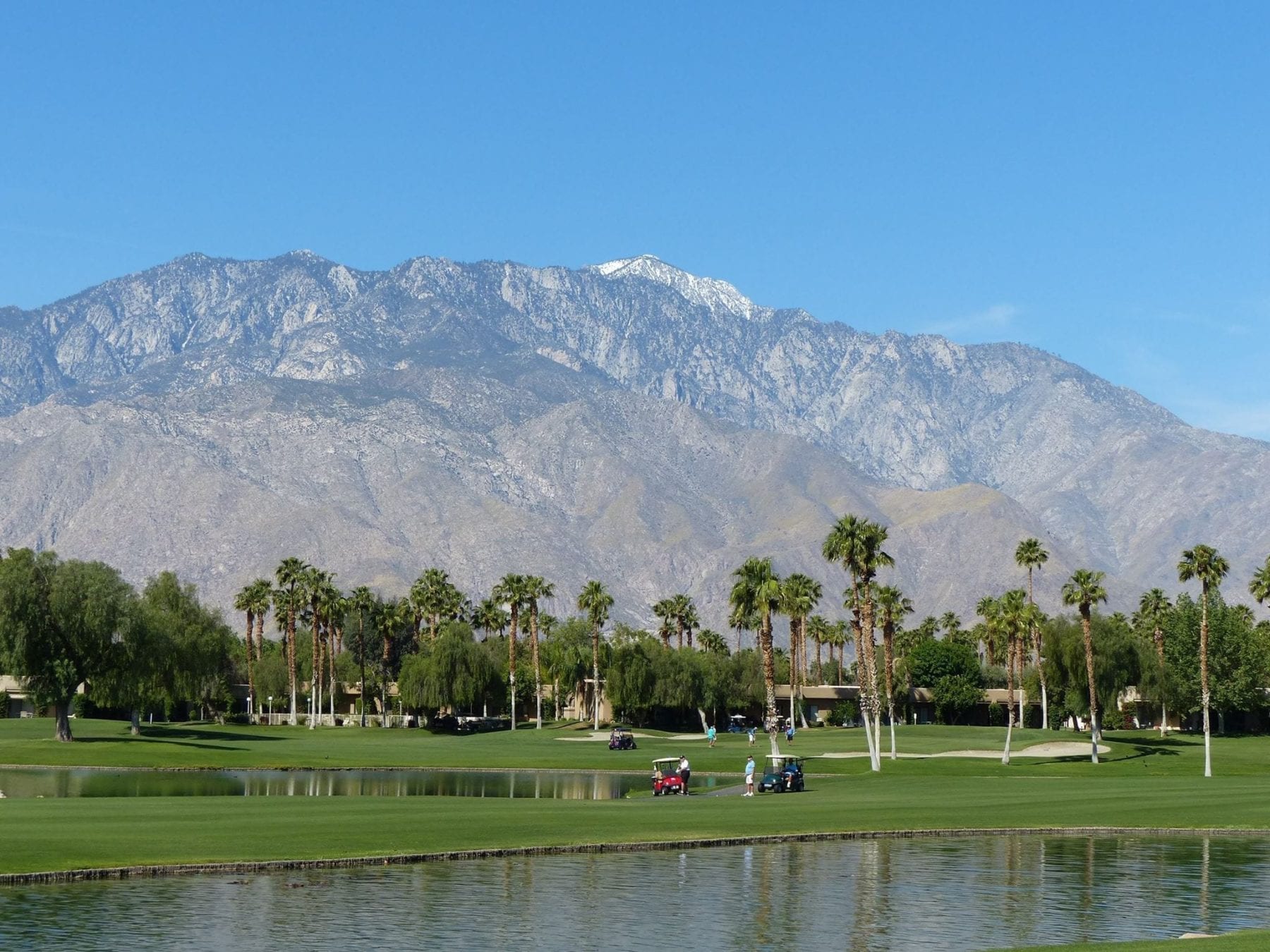 Palm Springs is a nice vacation town in the south-eastern corner of California. It has a lot of interesting attractions to fill your travel itinerary. It is one of the best places to go in California!
Palm Springs is mostly associated with 3 main things: palms, springs (as in "hot springs"), and golf.
There are a couple of areas around town where you can find unique palms oasis, such as Coachella Valley and Indian Springs. Hiking in these nature reserves gets you close and personal with unique desert habitats.
The neighboring town of Desert Hot Springs has plenty of hot springs resorts. You can either stay in one of these resorts or purchase a day pool pass to enjoy thermal waters and maybe a spa treatment on top of that.
Golf Courses
There are plenty of golf courses in and around Palm Springs due to the nice weather between October and April.  Palm Springs is definitely a winter escape destination. Palm Springs is also a perfect gateway for exploring Joshua Tree National Park.
Arts and Culture
In addition to the above, Palms Springs has a vibrant arts and culture scene and interesting mid-century architecture that attracts tourists.
The town was a popular winter playground for Hollywood stars back in the day so you can get the feel of the celebrity vibe while checking out some of its landmarks such as the house where Elvis spent his honeymoon or Melvyn's restaurant which was Sinatra's favorite.
Contributed By: Family Road Trip Guru
11. Coachella - Best Cities in California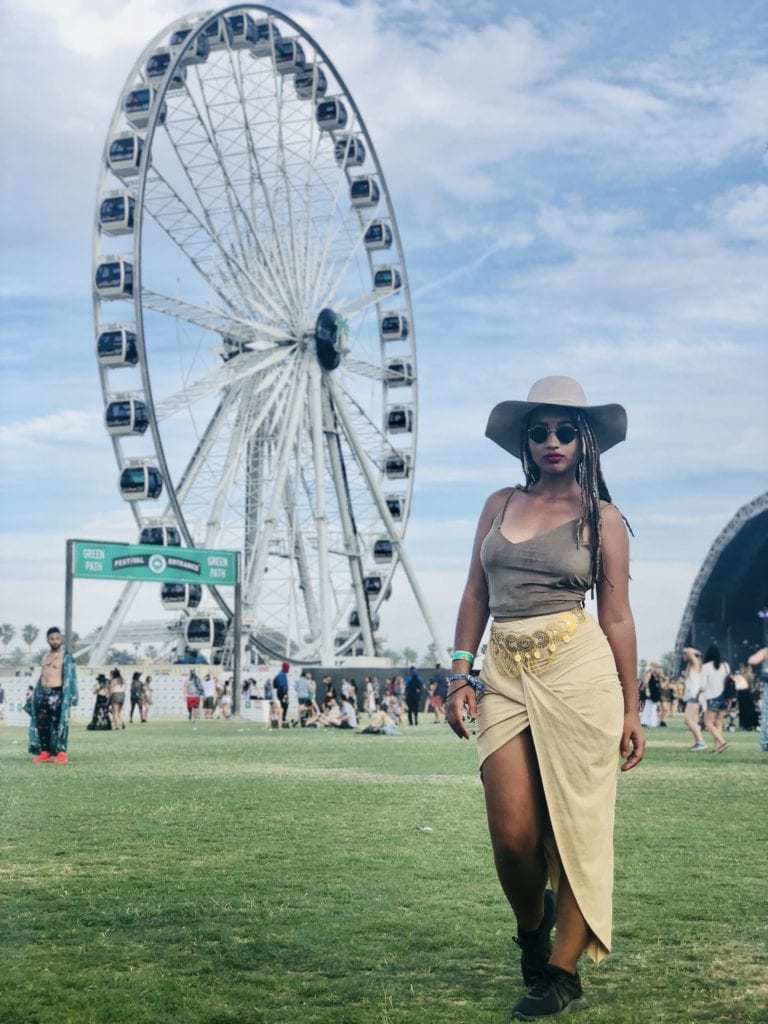 Have you ever heard of Coachella?  This is a huge music festival located in the city of Indio, CA, which is about 30 minutes from Palm Springs.  This area of California is known as the Coachella Valley.
This amazing event happens every spring.  It lasts 3 days.  People will camp out, yet dress like a movie star.  The performers are top-notch.  The rumors are always flying around about who will be performing every year and it never disappoints! It is a fun place to go in California! 
Tickets to Coachella
Tickets start at $400 per ticket.  If you want the VIP pass they start at $926!
Have you ever been?  Let us know in the comments!
Contributed By:  Escape Around The World
Best Cities in California to Visit - Overall Opinion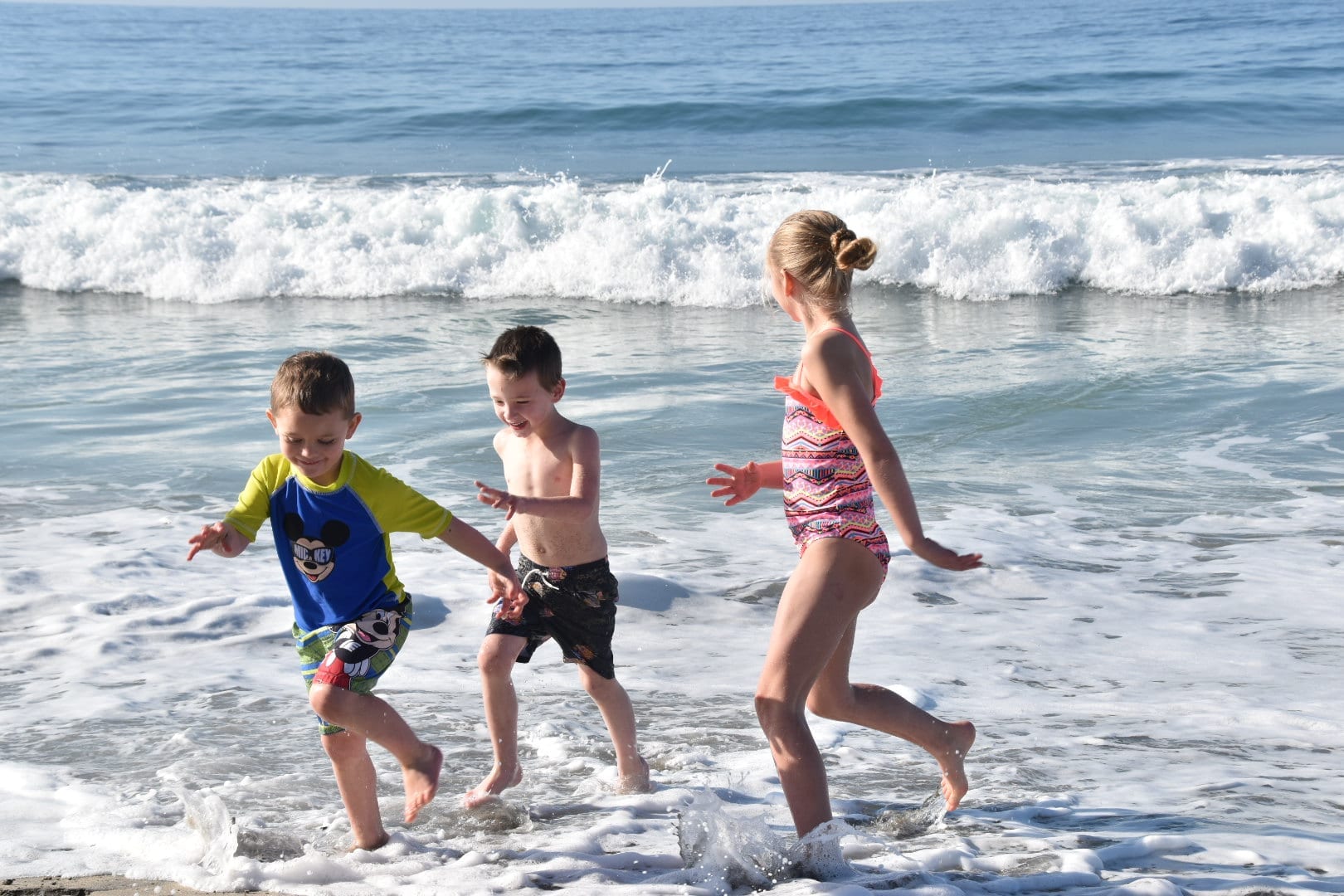 There is so much to do and see in California. To be honest, I don't think there is a best overall city in California; rather the best cities in California to visit (or area) will be different based on what you are looking for.
If you like theme parks, southern California has you covered. Golf? There are other places for that. Beaches? National parks? Ditto. Traveling down the coastal highway and finding coastal towns no one knows about. Amazing!
Based on what you personally like, I hope that this post guides you to the perfect destinations in California and you get to go to the fun places California has to offer. 
Make Your Trip Even Better
If you want to do more than one activity a Go Card Los Angeles, Go Card San Diego, Go Card San Francisco is worth looking into.
Facebook Community
If you have any questions be sure to ask in the comments below or even better join our Travel Community on Facebook.  The Travel community is a place where you can ask any question about any trip and will be sure to get help from everyone in the group!  I also try to post any good deals that come my way!