Golden Gate Bridge
Fisherman's Wharf
Alcatraz
Coit Tower
Cable Cars in San Francisco
Ice Cream Museum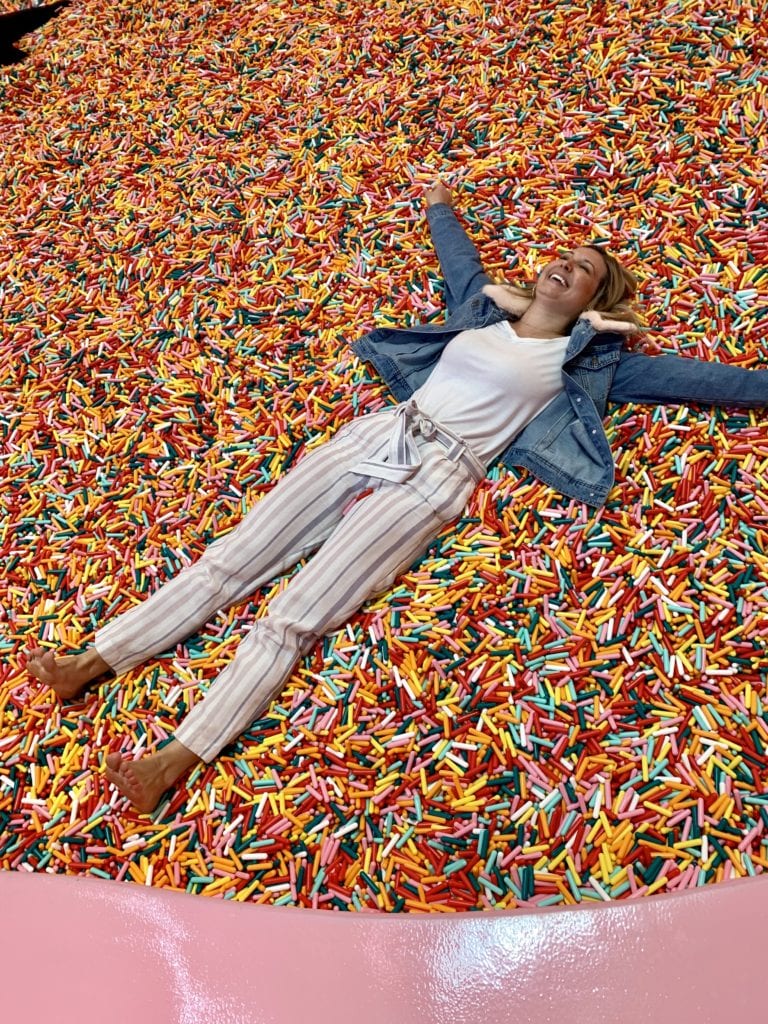 When you think of San Francisco, there are loads of well-known landmarks and attractions that you probably think about immediately, but I'm going to guess that my favorite place in all of San Francisco is likely not one of them.
Enter the Museum of Ice Cream – a beautiful, colorful, happy place filled with crazy art installations, tons of instagrammable backgrounds and yummy treats offered throughout. I would argue that the Museum of Ice Cream is actually the happiest place on Earth, but who I am to say?
Nothing could have prepared me for the awesomeness that I encountered after stepping inside the building. I would guess that 95% of the walls, floors, and ceilings were pink and I. Was. Obsessed.
You'll start your journey through the Museum with a trip down a pink slide and end it in a sprinkle pool. Yes! You heard that right – there is a pool filled with sprinkles and it is just magical!
Ice Cream Museum History
The museum first opened as a pop-up art exhibition in Manhattan in 2016. Since then, it has opened a temporary pop-up exhibition in Los Angeles and Miami, as well as another in San Francisco that became a permanent exhibition (with rotating installments) in September 2017.
In August 2019, the museum announced its first flagship in Soho, which is opening in Fall 2019. With each rotation of installments, the museum picks a theme and updates its 9 art installments for the theme.
Plan Ahead
Currently on view is the Museum of Ice Cream: Summer Camp. The previously two themes (both of which I visited for!) were Pride Celebration and Sprinkle Spectacular.
If you, too, want to partake in this incredible adventure, plan early and book your tickets a couple of months in advance, as they do sell out quickly! Plan to spend about an hour in the museum, but leave yourself time to grab a beverage or more ice cream in the Café 1905C and peruse the gift shop on your way out because you are going to want to buy something (or everything!).
From this ice cream queen to you, this is a lesser-known stop that you aren't going to want to miss!
Ghirardelli Square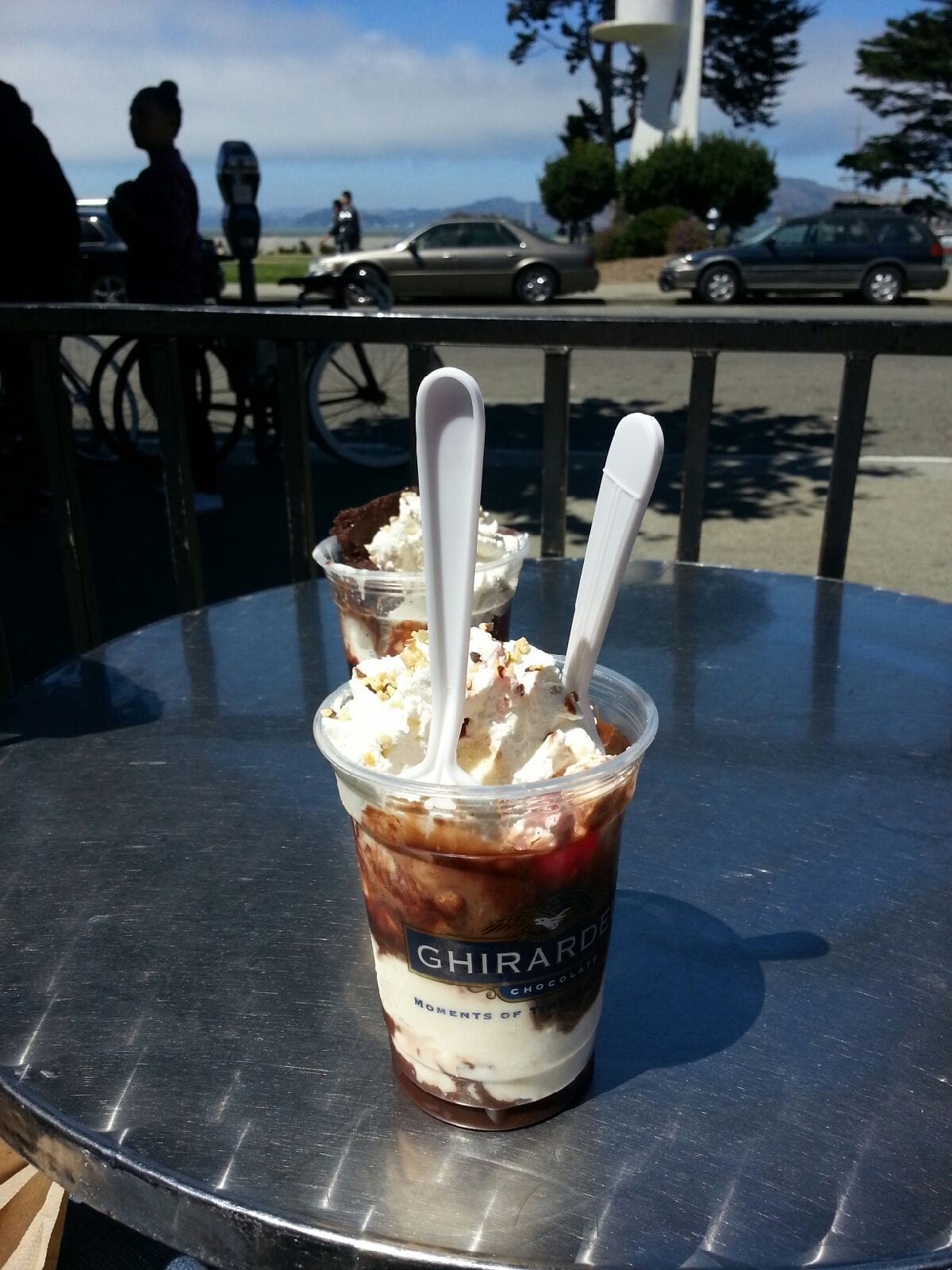 Description by Planningaway on Ghirardelli Square
Ghirardelli Square may be my most favorite place in San Francisco! There is the Ghirardelli Ice Cream and Chocolate Shop as well as the original chocolate manufacturing plant in this area. You can find other stores and restaurants to explore as well.
As you walk into the chocolate shop a worker gives a square piece of Ghiradelli chocolate. You can shop around and get cute souvenirs. After exploring the shop, you can head to the ice cream shop and order your favorite ice cream combinations. There are plenty of places to sit and enjoy!
My family loves the ice cream so much! When we are in San Francisco we usually come a few times during our trip to try different ice cream sundaes!
You do not wan to miss out!
Exploratorium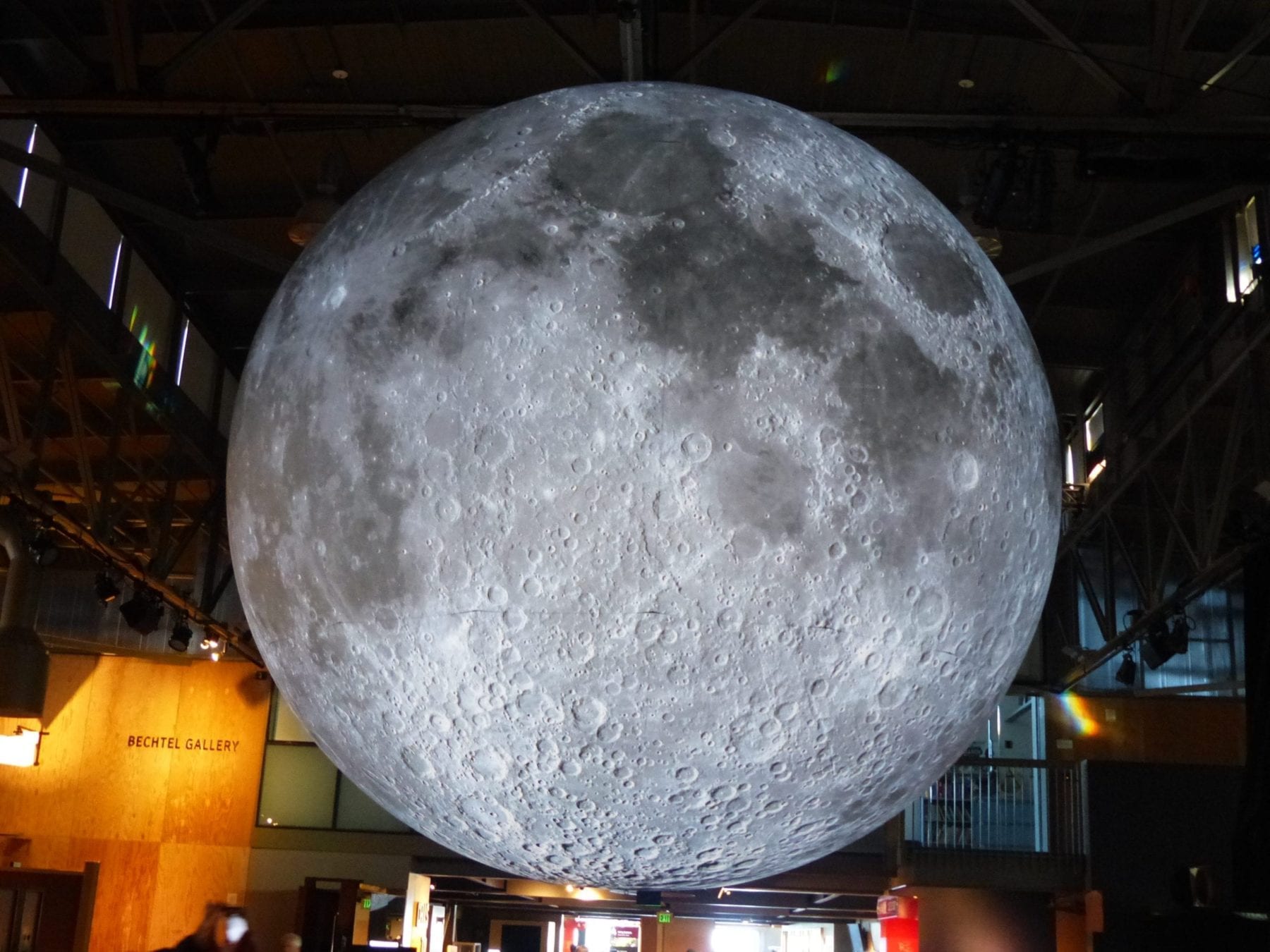 Exploratorium is one of the most famous science museums in San Francisco if not in the entire U.S. The unique nature of Exploratorium stems from the fact that almost all of it exhibits are hands on.
Whether you are exploring optical illusions, sound waves, light or any other of multitudes of scientific phenomena around us you can try your hand at figuring out how the phenomena works and why.
Both kids and adults are equally mesmerized by everything Exploratorium has to offer. It is a huge museum with both indoor and outdoor exhibits and, honestly, we never managed to see it all in one day.
Special Events
Exploratorium is also famous for organizing various science related events. Just this summer it hosted a month-long celebration dedicated to the 50th anniversary of the Apollo Moon landing.
The museum also organizes adults only evening parties. If you plan to spend the whole day at Exploratorium, please, note that is has a very good food court on site offering a variety of healthy dining options.
Twin Peaks
The California Science Museum
THE PRESIDIO | BAKER BEACH | CRISSY FIELD
Sausalito
Muir Woods
Oracle Baseball Park
Sutro Baths
Painted Ladies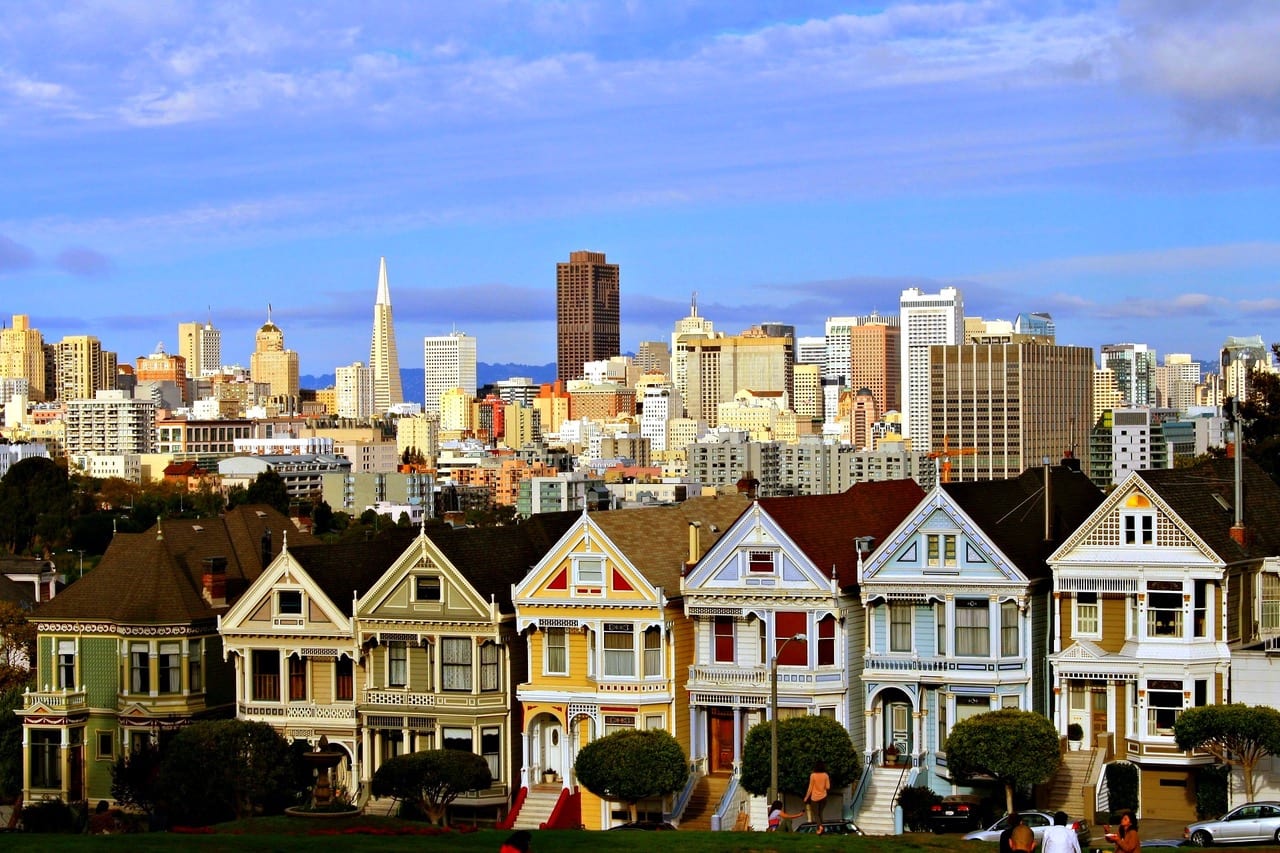 Description From Travels with Bibi's of the Painted Ladies
San Francisco's Alamo Square is a picturesque neighborhood that is home to the most famous of the Painted Ladies. What exactly are the Painted Ladies? I'm glad you asked!
Painted Ladies is the term used to describe any Victorian or Edwardian style house that is painted in three or more colors to enhance the architectural detail. While Painted Ladies can be found all over San Francisco, the row of homes that sits along the area's popular park draws
crowds of photographers on most days of the year.
The Painted Ladies here, commonly known as the Seven Sisters, are across from the park in the 700 block of Steiner Street. These beauties regally line up side-by-side and present a perfect Instagram-worthy scene, with the houses in the foreground and downtown San Francisco in the background.
You can see other beautiful Victorian-style homes around the park and throughout the neighborhood, so take some time for a leisurely stroll. To get a great photo, walk up Hayes Street about a block to Pierce Street.
From this vantage point you may recognize the view from the opening credits of the TV series Full House. Since these famous homes face west, and the sun shines on them in the afternoon, the best time to take photographs is later in the day.
There's more to do in and around the San Francisco area besides snapping a frame-worthy photo. The grassy hilltop park, which is bordered by Fulton, Steiner, Scott, and Hayes Streets, is a favorite destination for families of all ages. The younger crowd can play the day away on the two-level playground and pet parents can bring Fido for a romp in the dog park.
Yerba Buena Gardens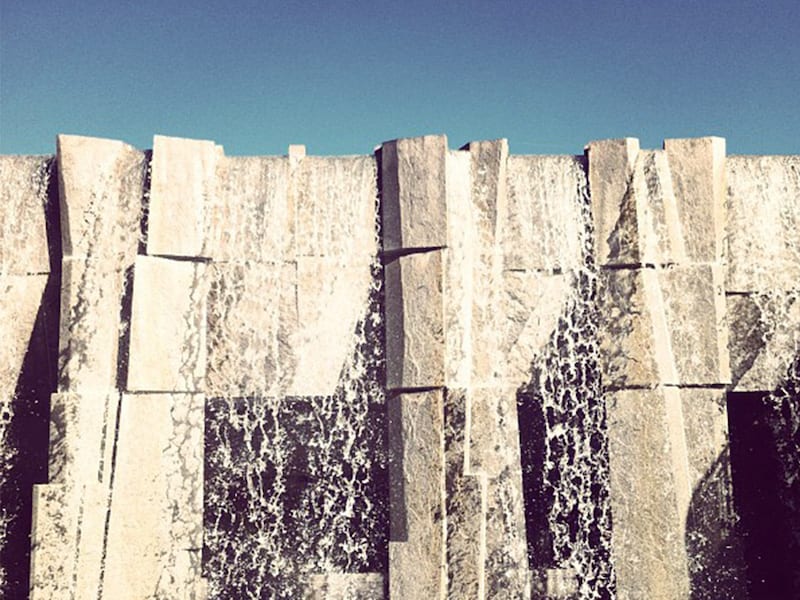 Whilst in the busy commercial zone of San Francisco and looking for new attractions to pass your time, be sure to check out Yerba Buena Gardens. You can escape the skyscrapers and concrete sidewalks in seconds. Once inside this park you'll be greeted by a beautiful stretch of rolling gardens, flowers, water fountains and even free concerts that are scheduled throughout the year.
If you're downtown on a Sunday this is the perfect place to stroll with loved ones. Travelling with kids? Even better as there is a little playground and food court close by which overlooks the park. Make sure you carry a decent
travel camera
along with you so you can capture your favorite moments with family and friends.
The "wall fall' is one of the most attractive installations in the park which has been elegantly positioned as a focal point in the gardens. No matter whether you are a local or a visitor to the Yerba Buena Gardens, this is a place you can visit time and time again to enjoy its natural beauty.
San Francisco Tours
Golden Gate Bridge Bike Tour
This Golden Gate Bridge Guided Bike Tour
is a great way to experience the iconic landmark. If you want to get a little exercise while on vacation this would be perfect!
Golden Gate Bridge Historical Walking Tour
If you prefer to walk and would love to learn the history of the area than the The Golden Gate Historical Walk with Secret Bridge Viewpoint
is a great option for you!
Hop On Hop Off Bus Tour
We decided to see the Golden Gate Bridge by going on the Big Bus San Francisco: Hop-On, Hop-Off Tour. This is a great option if you do not have a car and would rather drive across the Golden Gate Bridge. Also, the hop on hop off bus tour has many stops throughout the city. We were able to see so much because of this tour.
The Sightseeing Pass

San Francisco Sightseeing Flex Pass: Hop-On, Hop-Off Tour, Entry to Top Attractions and More!
is a great option if you are planning on doing more than one attraction that the pass includes. This will save you money compared to buying individual tickets at each location.
San Francisco Electric Bike Rental
Another great way to see the city is renting bikes! San Francisco Electric Bike Ride
is a really fun way to explore and get around the city.
Segway Tour
San Francisco Segway Night Tour
would be so cool! It would be something neat to try out as you explore San Francisco!
San Francisco Helicopter Tour
San Francisco Helicopter tour is the ultimate adventure. Getting an aerial view would be amazing! I bet you didn't even know this was an option but now you do!
Seaplane Ride
Another cool and unique thing to try would be a San Francisco Seaplane Ride! This is another adventurous option that might interest you!
Alcatraz Ticket, Chinatown Walking Tour, and Cable Car Ticket
This ticket is an all in one way to see some really neat locations in San Francisco. It might be a good idea to get this if you were unable to get Alcatraz tickets on the their homepage.
Enjoy Your Time In San Francisco
Hope you enjoyed all these great ideas on the Top Things to do in San Francisco! If you have any questions join our Travel Community on Facebook. We love helping each other as we plan our next vacations!