Top Things to Do In San Francisco
Looking for the top things to do in San Francisco? Want to make a San Francisco itinerary? 
Then keep reading!
San Francisco is an amazing city with so many things to do!  I have visited San Francisco as an adult-only trip as well as a San Francisco family vacation and both trips were fabulous!
There are lots of places to see in San Francisco.  Most likely, more than you could possibly do in one vacation.
If you are looking for fun things to do in San Francisco for your vacation, this is the right place!
Let's make a San Francisco itinerary! 
If you would like to save this for later be sure to pin this to Pinterest!
This post may contain affiliate links that will give me a commission at no additional charge to you.
Golden Gate Bridge
Description From PartTimeTourist.com of the Golden Gate Bridge
The Golden Gate Bridge is one of the most iconic landmarks in San Francisco. It's unheard of to visit this city without getting a glimpse of the famous bridge. But where's the best view?
The first thing that you'll need to decide is if you want to see the bridge from the North or the Southside. Personally, I prefer the south side because you'll most likely already be on the side and if you cross, you'll have to pay the toll.
Unique Views
If you stick to the south side, I recommend using the Langdon Court parking lot. Why? It's free (rare for San Fran) and it is still virtually unknown! You'll also be able to enjoy three unique views of the bridge from this location.
Fisherman's Wharf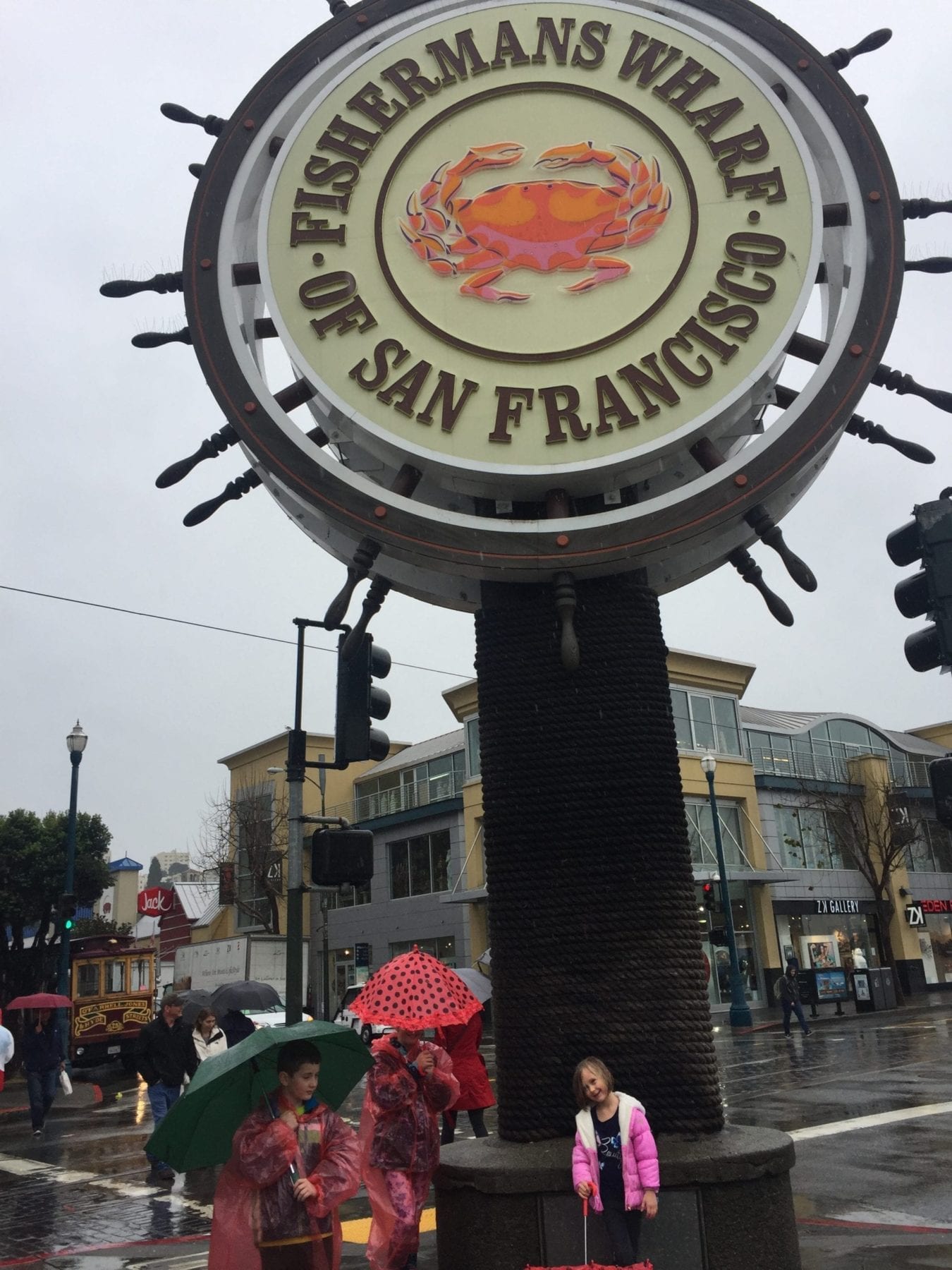 Description by Planningaway on Fisherman's Wharf
Fisherman's Wharf is one of the top things to do in San Francisco. It is located on the northern waterfront.  It is a large area that includes the famous Pier 39.  Tourists flock to this area to try the famous sourdough bread bowls and clam chowder at the Boudin Bakery.  You can also buy fresh crab at local stores.
Pier 39
This area is a high tourist area so you will find plenty of souvenir shops.   At Pier 39 you will find lots of restaurants, street performers,  The Aquarium at the Bay, and 7D arcade games.  There is lots of entertainment and fun to be had for all ages.
One of the most popular spots to check out on Pier 39 is located at the end of the pier.  The San Francisco Sea Lions have made a home right on the Pier! Be sure to check them out!
If you want more "touristy" ideas check out my post Planning A Girls Trip To San Francisco.
Hot Tip
Also, be sure to bring your camera because from Fisherman's Wharf there are incredible views of the Golden Gate Bridge and Alcatraz.
Alcatraz
Description From TwoTravelingTexans.com of Alcatraz
How would you like to walk in the footsteps of some of America's most notorious criminals like Al Capone and George "Machine Gun" Kelly?  On a small island in the middle of San Francisco Bay, you can.
Alcatraz was originally developed as a military fortification with a lighthouse, but it is most famous for being a high-security federal prison from 1934-to 1963.
Tours
The only way to see Alcatraz is through the official tours.  They offer a day tour, night tour, and behind-the-scenes tour.  All the tours include a scenic boat ride to the island and an audio tour of the cell block. 
The Alcatraz night tour offers a bit of a spooky atmosphere and special ranger talks while the behind the scenes tour will take you to areas of Alcatraz Island that the other tours don't.
Coit Tower
Description From ColemanConcierge.com  on the Coit Tower
The iconic Coit Tower climbs 210′ up from the top of Telegraph Hill in San Francisco. Many people consider the view from the top to be the best panoramic vista of the city.
Sites To See
You can see Lombard Street, Nob Hill, Russian Hill, Twin Peaks, Aquatic Park, Pier 39, the Financial District, the Ferry Building, as well as San Francisco Bay itself including Angel Island, Alcatraz, Treasure Island, and the Golden Gate and Bay Bridges.
Visiting Coit Tower
Visiting Coit Tower goes beyond the view from the top. A mural exhibit inside the tower depicts life in California during the Great Depression for a collection of famous painters.
You can also explore the surrounding Pioneer Park including a series of staircases leading down to Little Italy and the Waterfront.
Coit Tower Tour
Visiting Coit Tower helps you understand San Francisco in a single stop. It's also a bonus hill on a San Francisco walking tour that's well worth the climb. Don't worry; your $9 entrance fee includes an elevator ride to the top.
This image is the view from Coit Tower!
Cable Cars in San Francisco
Description From SerendipityOnPurpose.com of the Cable Cars
My absolute favorite thing to do in San Francisco is riding the Cable Cars. There is something so nostalgic and thrilling about them! I love to get a place on the running board where I can hang on tightly as the car rounds the corner or passes an oncoming Car. The breeze blows through my hair and I can hear the clang of the bell as we come to each stop.
Cable cars are more than transportation, they are an experience! The gripman (driver) of the cable car has to be very strong and have a great sense of timing as he grips and releases the cable. It is thrilling to watch him work, almost like he has choreographed his every move, and he also clangs the bell throughout the whole process!
 Cable Car Museum
If you visit the Cable Car Museum at Washington and Mason, you can find out all about how the cable cars work, see the cables actually running under the street, and read up on the history of the Cable Cars in San Francisco. It's a fascinating museum, and it's free!  
 Cable Car Routes
There are four different cables that run three routes. Two routes start at the end of Powell Street: Powell/Hyde and Powell/Mason. The Powell cable runs both of these routes until they split onto Hyde and Mason. 
These routes have a turntable at the end of the line so that the cars can go back the other way. It's fun to watch the cars turn around, but beware: the lines to get on the cable cars are often long at the turntable. 
Hot Tip
Just a hint: It sometimes works better to catch the cable cars at the stops along the route. 
The last route is the California line. Its cars are built to go both ways, so there is no need for a turntable. They just run to the end of the line and start right back the other way.
Wharf Lines
Powell/Hyde and Powell/Mason are the lines that take you down to the wharf. The Hyde line ends near Ghirardelli Square, where you can buy some yummy chocolate or ice cream treats. Look for the Mason line which ends closer to Pier 39, if you are hoping to get delicious seafood, visit the aquarium, or watch the sea lions sun themselves.
I recommend taking a
Tour
or getting to know more about the
cable cars in San Francisco
before you go on vacation
.
Ice Cream Museum
Description From ApologeticallyBossy.com of the Ice Cream Museum
When you think of San Francisco, there are loads of well-known landmarks and attractions that you probably think about immediately, but I'm going to guess that my favorite place in all of San Francisco is likely not one of them.
Enter the Museum of Ice Cream – a beautiful, colorful, happy place filled with crazy art installations, tons of instagrammable backgrounds, and yummy treats offered throughout. I would argue that the Museum of Ice Cream is actually the happiest place on Earth, but who I am to say?
Nothing could have prepared me for the awesomeness that I encountered after stepping inside the building. I would guess that 95% of the walls, floors, and ceilings were pink, and I. Was. Obsessed.
Ice Cream Museum
You'll start your journey through the Museum with a trip down a pink slide and end it in a sprinkle pool. Yes! You heard that right – there is a pool filled with sprinkles and it is just magical!
Ice Cream Museum History
The museum first opened as a pop-up art exhibition in Manhattan in 2016. Since then, it has opened a temporary pop-up exhibition in Los Angeles and Miami, as well as another in San Francisco that became a permanent exhibition (with rotating installments) in September 2017.
In August 2019, the museum announced its first flagship in Soho, which is opening in Fall 2019.  With each rotation of installments, the museum picks a theme and updates its 9 art installments for the theme.
Plan Ahead
Currently on view in the Museum of Ice Cream: Summer Camp.  The previously two themes (both of which I visited for!) were Pride Celebration and Sprinkle Spectacular.
If you, too, want to partake in this incredible adventure, plan early and book your tickets a couple of months in advance, as they do sell out quickly!
Hot Tip
Plan to spend about an hour in the museum, but leave yourself time to grab a beverage or more ice cream in Café 1905C and peruse the gift shop on your way out because you are going to want to buy something (or everything!).
From this ice cream queen to you, this is a lesser-known stop that you aren't going to want to miss!
Ghirardelli Square
Description by Planningaway on Ghirardelli Square
Ghirardelli Square may be my most favorite place in San Francisco!  There is the Ghirardelli Ice Cream and Chocolate Shop as well as the original chocolate manufacturing plant in this area.  You can find other stores and restaurants to explore as well.
Ghirardelli Ice Cream Shop
As you walk into the chocolate shop a worker gives a square piece of Ghirardelli chocolate.  You can shop around and get cute souvenirs.  After exploring the shop, you can head to the ice cream shop and order your favorite ice cream combinations.  There are plenty of places to sit and enjoy!
My family loves the ice cream so much! When we are in San Francisco we usually come a few times during our trip to try different ice cream sundaes!
You do not want to miss out!
Exploratorium
Description From Family Road Trip Guru on the Exploratorium
Exploratorium is one of the most famous science museums in San Francisco if not in the entire U.S. The unique nature of Exploratorium stems from the fact that almost all of its exhibits are hands-on.
Whether you are exploring optical illusions, sound waves, light, or any other of multitudes of scientific phenomena around us you can try your hand at figuring out how the phenomena works and why.
Both kids and adults are equally mesmerized by everything Exploratorium has to offer. It is a huge museum with both indoor and outdoor exhibits and, honestly, we never managed to see it all in one day.
Special Events
Exploratorium is also famous for organizing various science-related events. Just this summer it hosted a month-long celebration dedicated to the 50th anniversary of the Apollo Moon landing.
The museum also organizes adults-only evening parties. If you plan to spend the whole day at Exploratorium, please, note that it has a very good food court on-site offering a variety of healthy dining options. 
This is a great place to explore in San Francisco!
Twin Peaks
Description From MyBackPackerLife.com on Twin Peaks
The Twin Peaks are two of the highest natural points in San Francisco, only Mount Davidson is higher, which means they're the perfect places to visit if you're looking for some beautiful viewpoints!
Twin Peaks are located not too far away from the city centre, but I would still recommend going there by car or possibly by public transport – walking would probably take you over an hour.
The views from either of the peaks are amazing and, even better, you don't have to be in good shape or walk far to enjoy them – you can actually drive your car all the way to their tops!
Photography
Bring your camera and enjoy the beautiful view of San Francisco's skyline and as good as the whole surrounding city. From here, you'll be able to spot several of the most iconic sights in the city – such as the Golden Gate Bridge.
I love scenic drives and although this is a short one up to the viewpoint, you surely get a lot in return for those few minutes in the car.
Hot Tip
If you want some magic light and beautiful colors to make the view from the peaks even better, try to make it here just before sunset!
The California Science Museum
Description From Travel Niche Design's On the California Academy of Science
The California Academy of Sciences is seriously one of the coolest and most interesting science museums you will ever visit. Located in Golden Gate Park, it offers something for every age making it a perfect stop for families traveling.
It is an aquarium, planetarium, rain forest, and natural history museum. One can walk through a butterfly enclosure, visit the living rooftop, and even spend the night if you plan ahead. You can also meet with working scientists and attend lectures and workshops for budding scientists.
Check Out The Rooftop
The stupendous living rooftop provides more than just a tourist gimmick. This rooftop is used to monitor weather changes and temperatures used to maintain the rain forest. It also provides solar power which keeps the interior piazza at just the right temperature and allows natural light to illuminate the interior exhibits.
The rooftop has 7 small hills with solar panels, comprised of 50,000 biodegradable trays. An estimated 1.7 million plants occupy the trays. These plants' roots are home to a variety of birds, insects, and small mammals.
This is one place not to miss when visiting San Francisco. Be sure to add it to your San Francisco itinerary. 
If you want a more exclusive experience consider the Behind the Scenes Tour
THE PRESIDIO | BAKER BEACH | CRISSY FIELD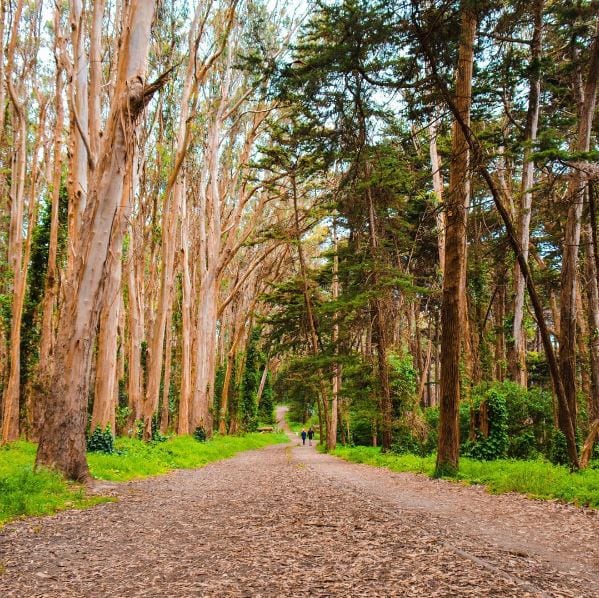 Description From Travel Niche Design at Presidio, Baker Beach, and Crissy Field
If you are looking for some of the best Instagram spots in San Francisco look no further than The Presidio, Baker Beach, and Crissy Field. Technically, they are all part of The Presidio, but they are distinct areas. 
 Presidio
The Presidio is an old army base turned national park. It is full of eucalyptus and redwood trees, scenic overlooks, picnic spots, and plenty of hiking and cycling trails.
 You can stay inside the park at one of 2 hotels or you can camp right in the heart of San Francisco. The Presidio is also home to restaurants, the Disney Museum, and Lucasfilm/Industrial Light and Magic of Star Wars fame. If you are a Star Wars fan, you can find Yoda hanging out in front of building B. 
Hot Tip
There is a free shuttle offering 3 routes to, and around, the park. The Go Downtown route offers service between the Transbay Terminal, Embarcadero BART, and Union Street/Van Ness Avenue, and the Presidio. 
 Two routes around the park – Presidio Hills and Crissy Field – will take you to 40 destinations within the Presidio.
Please note that some trips on the Presidio shuttle require a Presidio Go Pass,
s
o check with the park service when planning.
Baker Beach
Baker Beach provides one of the best views of the Golden Gate Bridge around. It's also a beautiful, sandy wonderland. Great for sunbathing, picnicking, and hiking the Lands End Trail. You can also bring your dog if you are so inclined.
This is not an area for swimming, however, as there are dangerous rip currents that can sweep a person out to sea at a moment's notice. This beach is be enjoyed on the shore and for its amazing bridge views.
 Crissy Field
Crissy Field is the place to go for more fabulous photos of the Golden Gate Bridge as well as people and bird watching. This spot is where locals go to hang out and get some fresh air.
You'll see frisbee golf, kite flying, picnics, skateboarders, dog walking, and runners. It's also known for being a great place for bird watching due to the marshlands nearby which are home to over 100 different bird species.  It's just a cool place to relax and unwind.
It is time to explore more of Northern California and add this to your San Francisco itinerary! 
Sausalito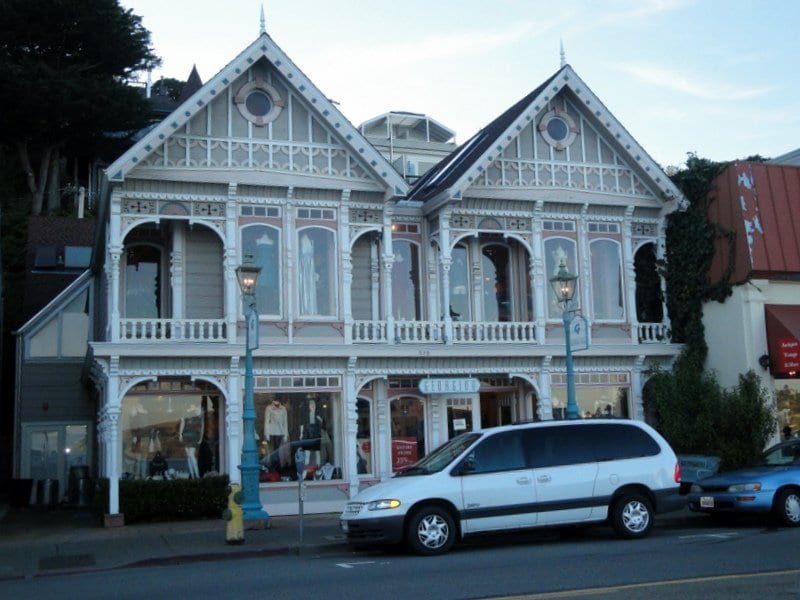 Experience From DottedGlobe on Sausalito
Located across the Golden Gate Bridge, Sausalito is a charming community. It has beautiful views of San Francisco, the Golden Gate Bridge, and the Bay.
It also has colorful houses, cafes, art galleries, boutique shopping, and trendy eateries. Sausalito's waterfront is very pretty and feels more European than American. You will see locals sailing on a calm sunny day and watch yachts at the marina. You can also see the occasional marine life in winter.
Take the Ferry
The seaside town is a perfect day trip from the City. To reach Sausalito, you can take a ferry from San Francisco or just drive, though parking in the town is a nightmare. Or you can do like us and bike across the Golden Gate Bridge to Sausalito.
We definitely recommend the last one – it was our favorite experience on our California road trip – biking across the bridge is thrilling plus the town is meant to be explored on a bike!
Muir Woods
Description From Prosperity Passenger of Muir Woods
Walk among ancient giants in an old-growth forest of redwoods in northern California. Tucked in one of the nation's largest urban areas, Muir Woods National Monument is a retreat into nature in the bustling neighborhoods of the San Francisco Bay area.
Nothing can really prepare you for the incredible giant redwoods.  Redwoods are the tallest trees on Earth.  The air smells purer.  The temperature drops.  The air is crisp and clean like you have never breathed before.   You can spend hours in the woods exploring, hiking the trails, and reading about all the redwoods.
History of Muir Woods
Muir Woods has a rich and varied history, from its use by the Coast Miwok people to its early days of tourism and the Mount Tamalpais Mill Valley Scenic Railway to an era of conservation, to modern preservation.
In each era, the forest has been affected by the actions of humans, for better and for worse. In May 1945, Muir Woods was host to a very special international event. United Nations delegates meeting in San Francisco traveled to Muir Woods to honor the late President Franklin D. Roosevelt with a special memorial in a grove of redwood trees.
This 550 acres of land was named for famed naturalist and conservationist John Muir, who was influential in the preservation of wilderness and the creation of public lands.
Nations First National Monument
It was the nation's first national monument created for a living thing: the redwood trees. Over the past 110 years, millions of people from around the world have experienced the natural woodlands. Muir Woods National Monument protects more than this land dominated by coastal redwoods.
Plan Ahead
Muir Woods is a popular destination, so it is important to plan ahead.  Shuttle or parking reservations are required to get there. Even Uber or Lyft can be tricky with the spotty cell phone signal in the park. You could also take a Ferry or Tour from San Francisco to get to the area. There is even an app if you are visiting the many other National Park Service sites in the San Francisco area.
 Muir Woods is worth adding to your San Francisco itinerary.
Oracle Baseball Park
Description From Travels with Eli on the Oracle Field
Even if you aren't a huge fan of baseball, a Giants game at Oracle Park is a fun and affordable activity for the whole family. Oracle Park is located right on the ocean.
The outfield is designed to allow home run balls to actually make it out of the park and into the ocean.  Cheap tickets are usually available in sections 308 through 331 where you can watch the game and take in the beautiful ocean views.
A Giants game has something for everyone in the family.  Adults will love the great selection of food and craft beer (not your typical ballpark food and beer).  Kids love the huge slide and playground built into a gigantic coke bottle and baseball glove in left field. The largest slide is perfect for older kids and there is a smaller playground for the little ones.
If you only have a short amount of time in San Francisco, this two-day San Francisco itinerary will help you fit in as much as possible.
Sutro Baths
Description of the Sutros Baths From Livingoutlau
If you are looking for the best views of the Pacific Ocean along some fantastic cliffs, then you cannot miss Sutro Baths. Sutro Baths is a historical landmark located on the western edge of San Francisco.
It used to be the first indoor public swimming pool back in 1896. However, the business was not going so well and the owner was forced to sell the facility. Before the transaction went through, the whole facility was burned down from an act of arson.
Now Sutro Baths are part of the Golden Gate National Recreation Area in San Francisco. Other than the amazing history, Sutro Baths are one of the most beautiful places in San Francisco.
Sunset
Come at sunset for a nice walk on some of the nearby trails while watching the glorious sun fade away to darkness. Make sure you don't stay too late though because that area could be a little dangerous!
Painted Ladies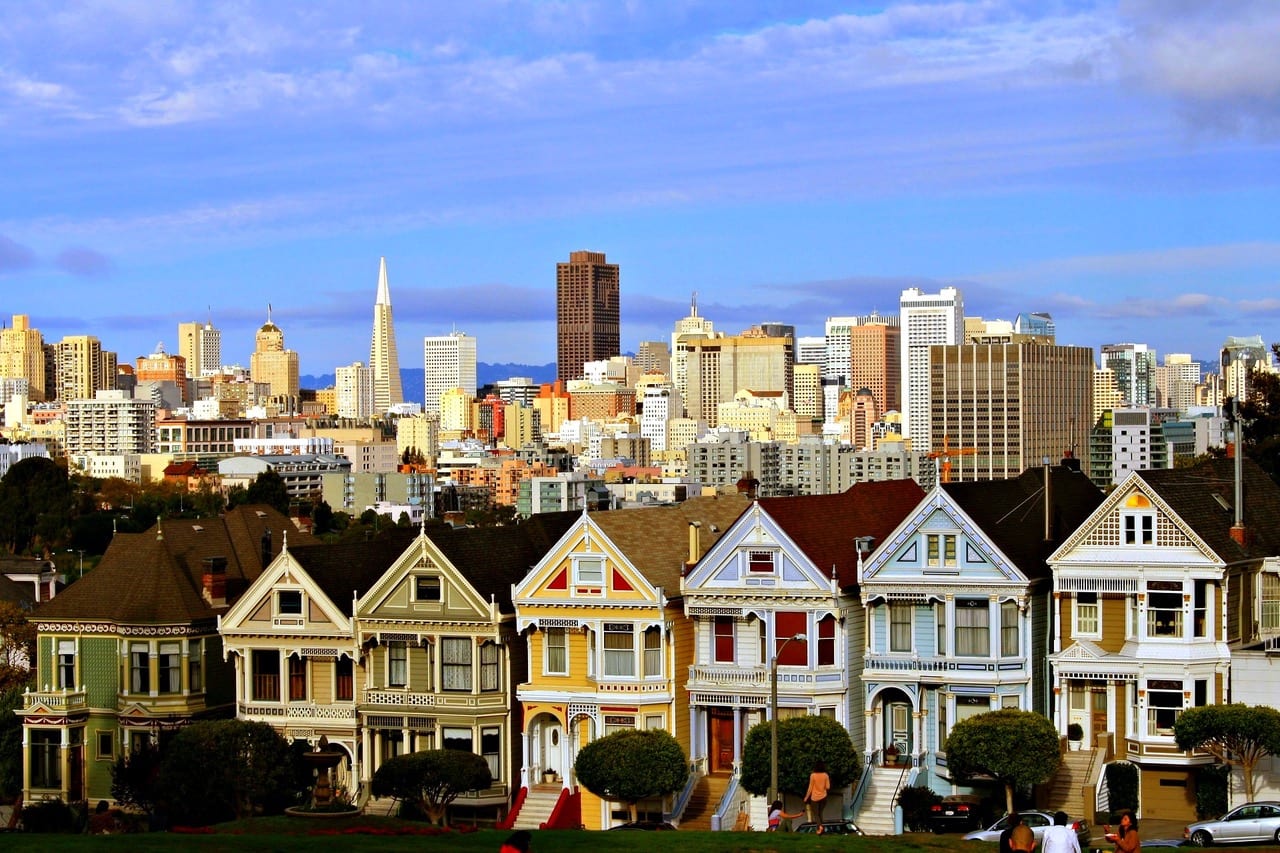 Description From Travels with Bibi's of the Painted Ladies
San Francisco's Alamo Square is a picturesque neighborhood that is home to the most famous of the Painted Ladies. What exactly are the Painted Ladies? I'm glad you asked!
Painted Ladies is the term used to describe any Victorian or Edwardian style house that is painted in three or more colors to enhance the architectural detail.
While Painted Ladies can be found all over San Francisco, the row of homes that sits along the area's popular park draws crowds of photographers on most days of the year.
The Painted Ladies here, commonly known as the Seven Sisters, are across from the park in the 700 block of Steiner Street. These beauties regally line up side-by-side and present a perfect Instagram-worthy scene, with the houses in the foreground and downtown San Francisco in the background.
You can see other beautiful Victorian-style homes around the park and throughout the neighborhood, so take some time for a leisurely stroll. To get a great photo, walk up Hayes Street about a block to Pierce Street.
Full House
From this vantage point, you may recognize the view from the opening credits of the TV series Full House.  Since these famous homes face west, and the sun shines on them in the afternoon, the best time to take photographs is later in the day.
More to Do
There's more to do in and around the San Francisco area besides snapping a frame-worthy photo. The grassy hilltop park, which is bordered by Fulton, Steiner, Scott, and Hayes Streets, is a favorite destination for families of all ages.
The younger crowd can play the day away on the two-level playground and pet parents can bring Fido for a romp in the dog park.
Yerba Buena Gardens
Description From LayerCulture on Yerba Buena Gardens
Whilst in the busy commercial zone of San Francisco and looking for new attractions to pass your time, be sure to check out Yerba Buena Gardens.
You can escape the skyscrapers and concrete sidewalks in seconds. Once inside this park, you'll be greeted by a beautiful stretch of rolling gardens, flowers, water fountains, and even free concerts that are scheduled throughout the year.
If you're downtown on a Sunday this is the perfect place to stroll with loved ones. Traveling with kids? Even better as there is a little playground and food court close by which overlooks the park. Make sure you carry a decent travel camera along with you so you can capture your favorite moments with family and friends.
Wall Fall
The "wall fall' is one of the most attractive installations in the park which has been elegantly positioned as a focal point in the gardens. No matter whether you are a local or a visitor to the Yerba Buena Gardens, this is a place you can visit time and time again to enjoy its natural beauty.
San Francisco Tours 
Golden Gate Bridge Bike Tour
This Golden Gate Bridge Guided Bike Tour is a great way to experience the iconic landmark.  If you want to get a little exercise while on vacation this would be perfect!
Golden Gate Bridge Historical Walking Tour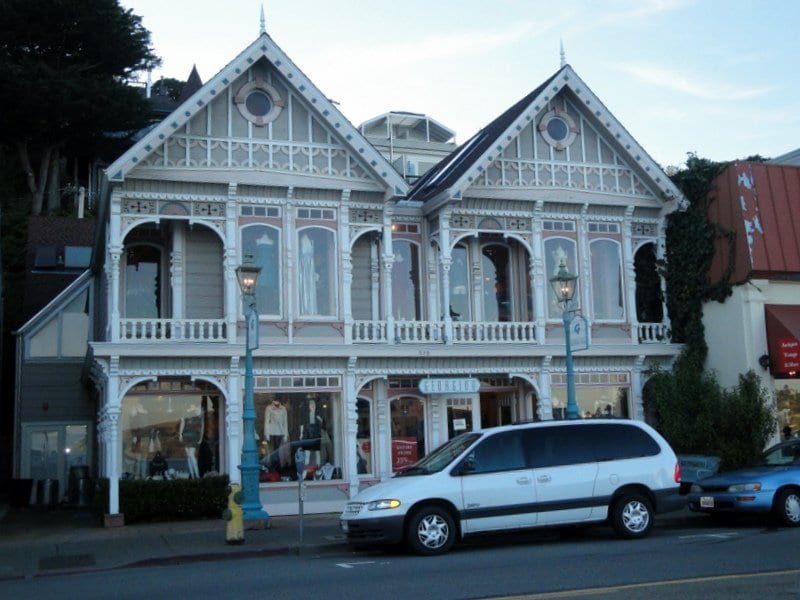 If you prefer to walk and would love to learn the history of the area then the Golden Gate Historical Walk with Secret Bridge Viewpoint 
Hop On Hop Off Bus Tour
We decided to see the Golden Gate Bridge by going on the Big Bus San Francisco: Hop-On, Hop-Off Tour. This is a great option if you do not have a car and would rather drive across the Golden Gate Bridge.  Also, the hop on hop off bus tour has many stops throughout the city.  We were able to see so much because of this tour.
The Sightseeing Pass
San Francisco Sightseeing Flex Pass: Hop-On, Hop-Off Tour, Entry to Top Attractions, and More! is a great option if you are planning on doing more than one attraction that the pass includes.  This will save you money compared to buying individual tickets at each location.
San Francisco Electric Bike Rental
Another great way to see the city is by renting bikes! San Francisco Electric Bike Ride is a really fun way to explore and get around the city.
Segway Tour
San Francisco Segway Night Tour
would be so cool!  It would be something neat to try out as you explore San Francisco!
San Francisco Helicopter Tour
San Francisco Helicopter tour is the ultimate adventure. Getting an aerial view would be amazing!  I bet you didn't even know this was an option but now you do!
Seaplane Ride
Another cool and unique thing to try would be a San Francisco Seaplane Ride! This is another adventurous option that might interest you!
Alcatraz Ticket, Chinatown Walking Tour, and Cable Car Ticket
This ticket is an all-in-one way to see some really neat locations in San Francisco.  It might be a good idea to get this if you were unable to get Alcatraz tickets on their homepage.
Enjoy Your Time In San Francisco
Hope you enjoyed all these great ideas on the Top Things to do in San Francisco! I know you are going to have a great time! Hopefully, this will give you some ideas to create your San Francisco itinerary! 
If you are looking for the best things to eat in San Francisco be sure to get my free guide!
Facebook Group
If you have any questions join our Travel Community on Facebook.  We love helping each other as we plan our next vacations!