Should I take my kids to San Francisco?  Is a San Francisco family vacation a good idea? What if it rains? The answer is, YES!  There are a lot of things to do in San Francisco when it rains!
After going on a Girls' Trip to San Francisco I really wanted my family to see this awesome city.  It was a totally different trip going with kids compared to an adult only trip, but that doesn't mean it was bad. Just different!
When traveling with a family, I think it is important to mention all the ways you can save money, so in this post you will find lots of money saving tips. As well as many options of things to do in San Francisco when it rains because that is exactly what happened to us.
If you want to save this for later be sure to pin it to Pinterest!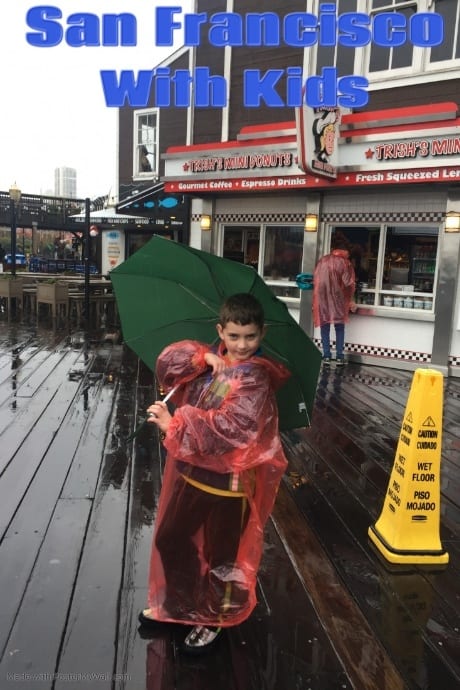 This post may contain affiliate links that will give me a commission at no additional charge to you.
How Much Time Do I Need In San Francisco With My Kids?
Traveling with children tends to slow the pace of a trip down just a little.  Especially if you have little ones that need naps or breaks during the day.  I feel like 2-3 days was a good amount of time to get done everything we wanted to do.
Outside of the time you actually spend in the city, I would recommend making this a week long vacation exploring a little more of California.
We went to Six Flags Discovery Kingdom which is about an hour outside of San Francisco.  You could also venture south to Monterrey Bay Aquarium near Carmel-by-the-Sea. Both would be great to add to your San Francisco with kids trip.
Is San Francisco Safe For My Kids?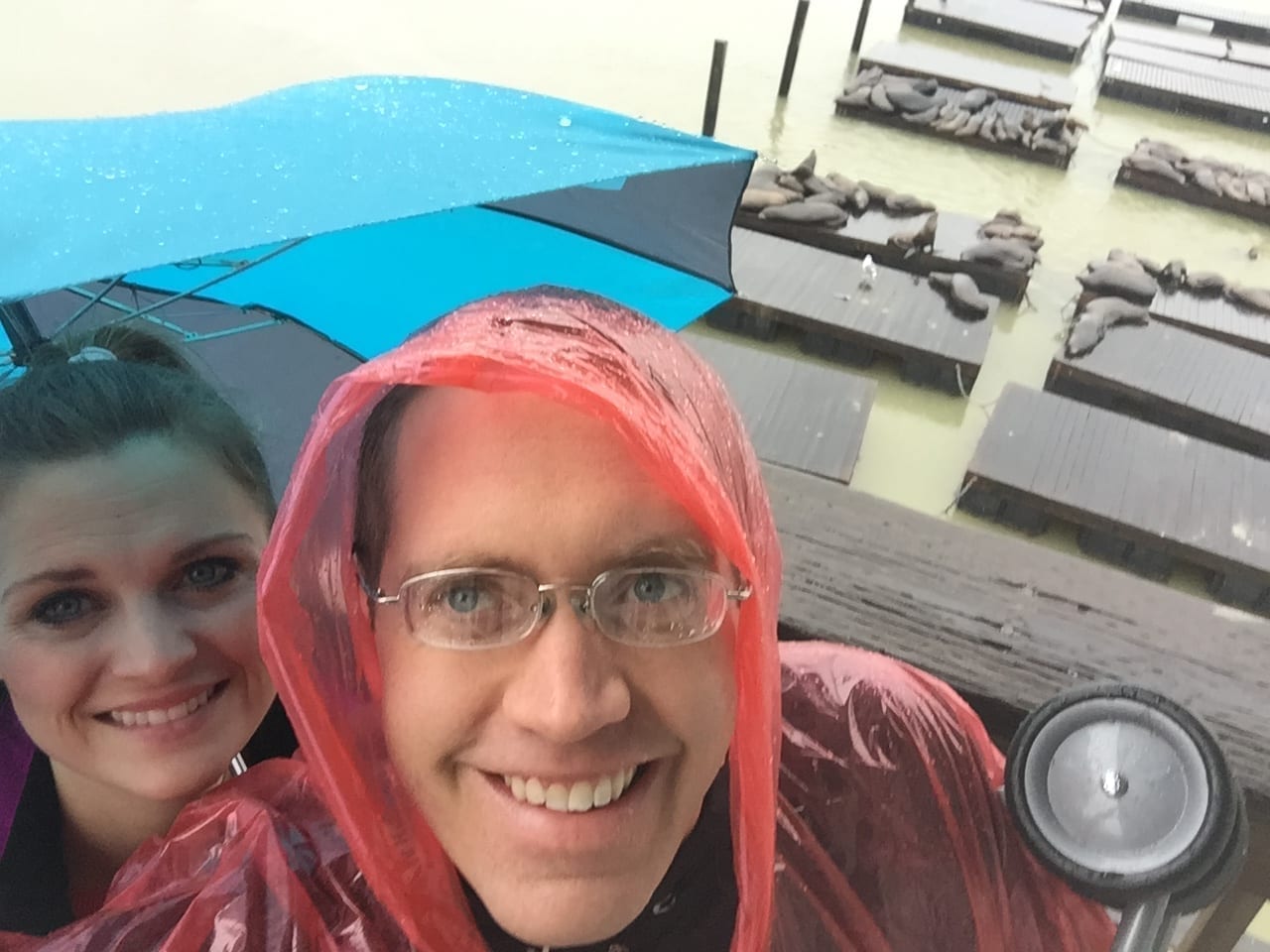 I felt very safe with my family in the touristy parts of the city.  San Francisco has a homeless population that could be disturbing to little ones, but we didn't see this too much (although we did see it).
Choosing the right hotel will make a big difference on how you feel!  Like any city there are good areas and bad.  Stick to the good and you will feel safe!
Where to Stay in San Francisco with Kids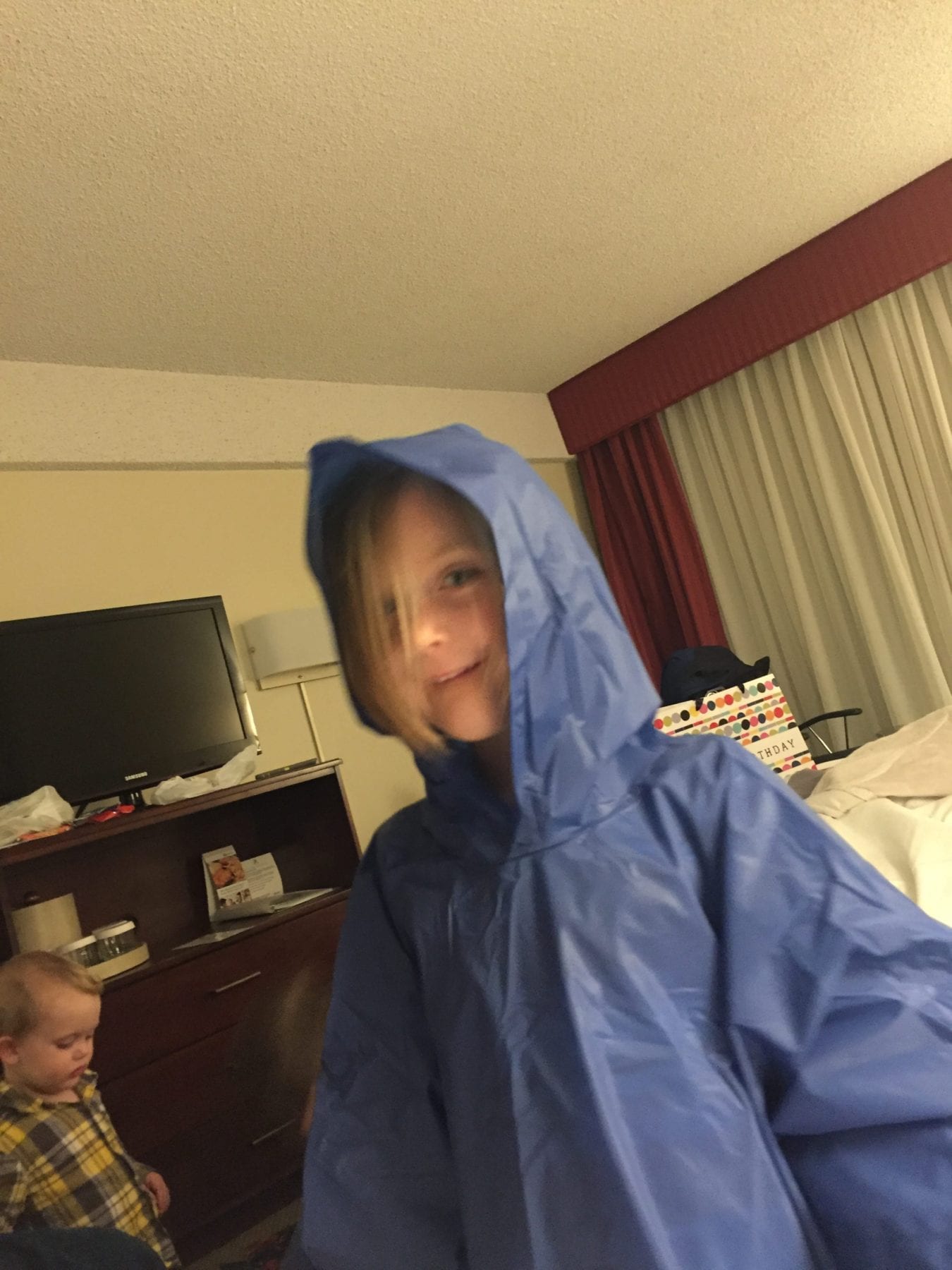 We stayed at the Holiday Inn Fisherman's Wharf.  We really liked it. I think this was a perfect area for families.  We loved being close to Ghirardelli Square, Fisherman's Wharf and Pier 39.   I would jump over to Hotels.com and check out this hotel and others in the area.
Watch Out for Fees
But here's a word of warning. Hotels in San Francisco will not be shy in adding fees. Resort fees and parking fees are common fees. I loved having a car to get around in San Francisco. But it cost me.
Things to Do in San Francisco When it Rains!!!!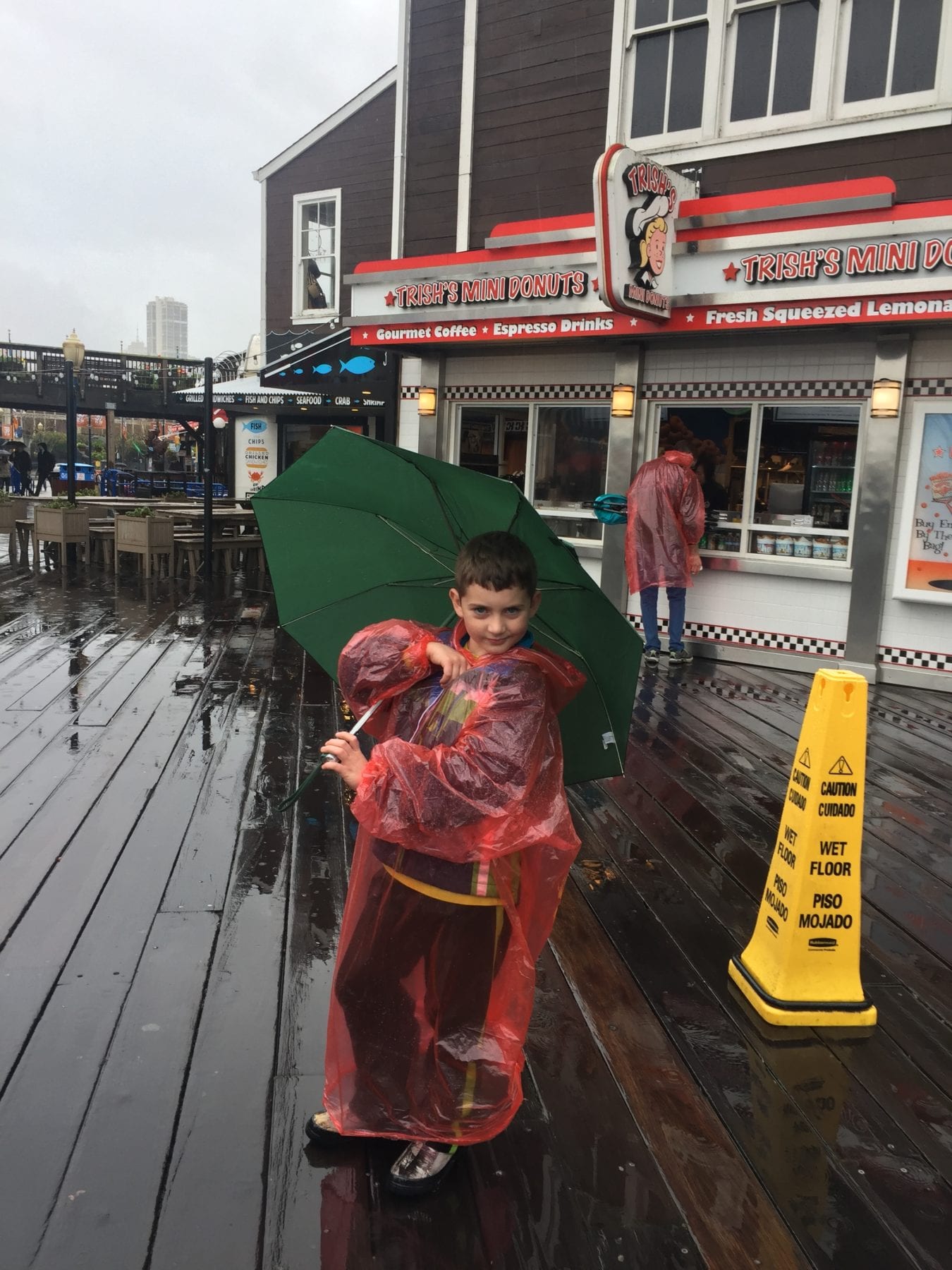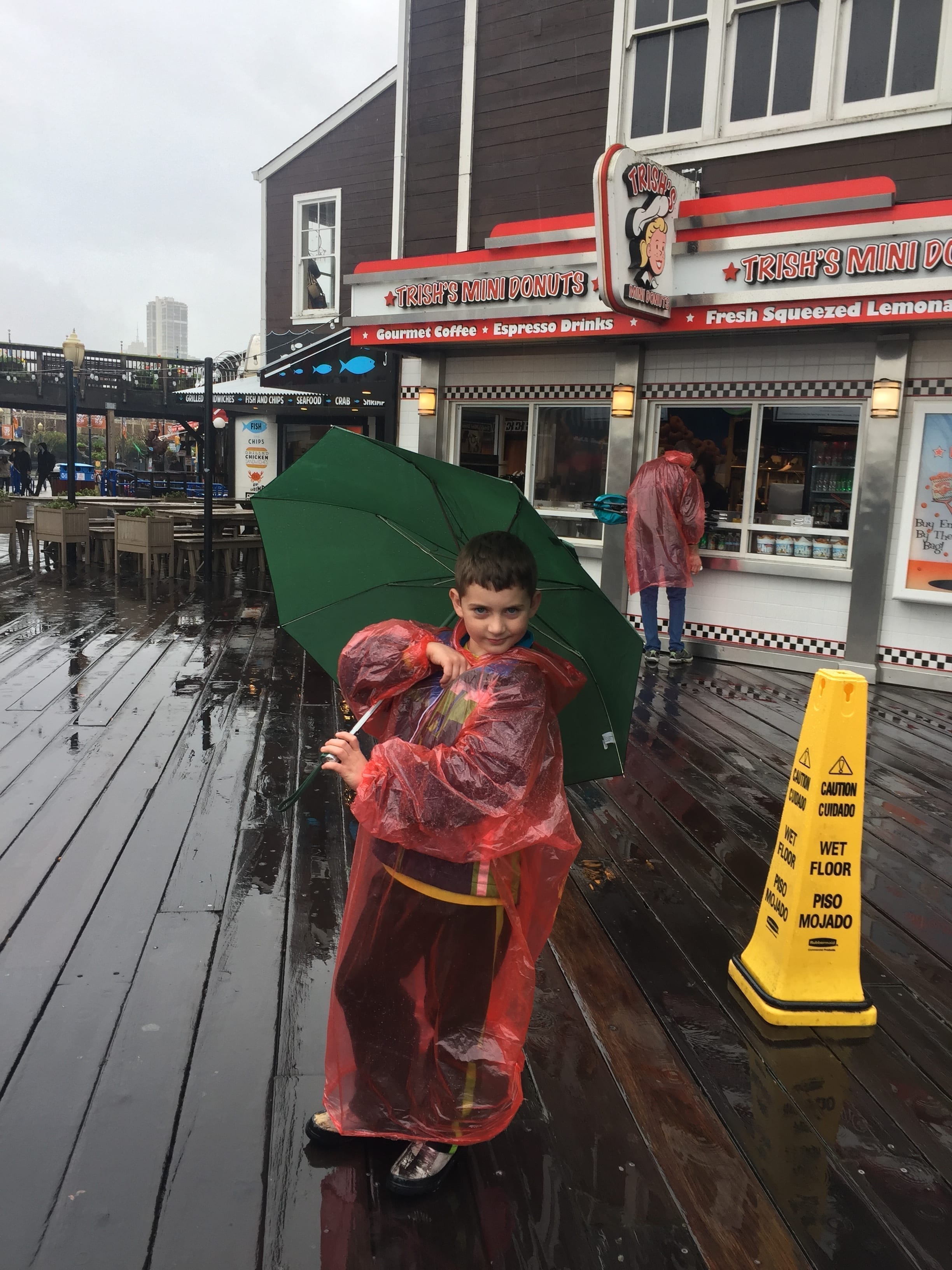 There are so many fun things to do in San Francisco with kids.  My kids had a blast even in the rain!  San Francisco rains a lot so we made sure to pack ponchos and still had a fun time!
We hit a lot of the major tourist attractions plus many museums since it was raining!
One way to save a little money when hitting a variety of attractions and museums is to get a City Pass.  This pass saves money overall if you are planning on doing lots of activities in one day.
Let's explore some of the things to do in San Francisco when it rains.
Pier 39 and Fisherman's Wharf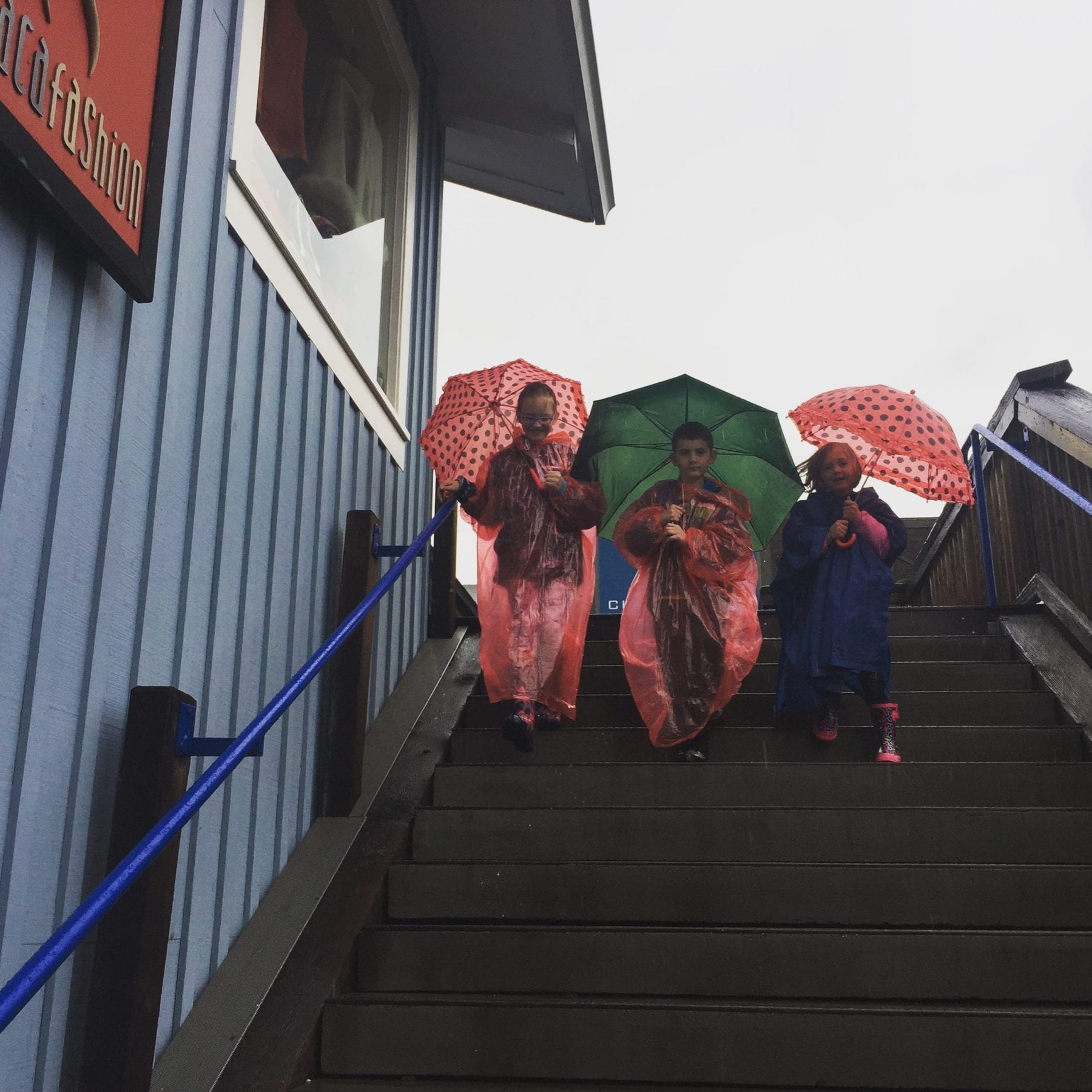 Pier 39 would be my first stop in San Francisco with kids!  As you step onto Pier 39 your kids will get excited.  There are shops and restaurants all around. Walking on the pier will be an experience all of its own. 
As you come to the very back of the pier, this is where the sea lions live.  There is a colony that showed up after the earthquake of 1906 and never left.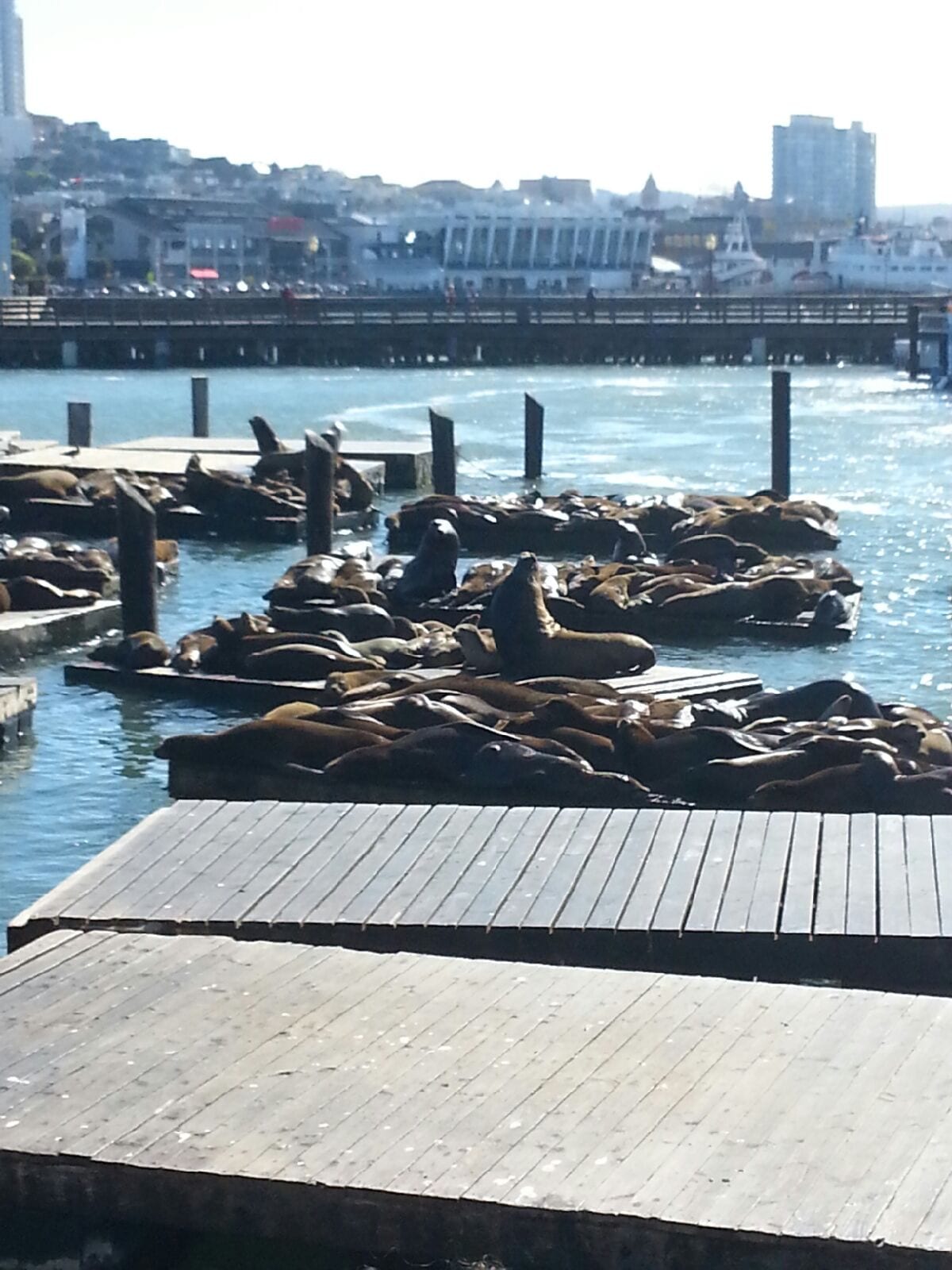 Candy Shop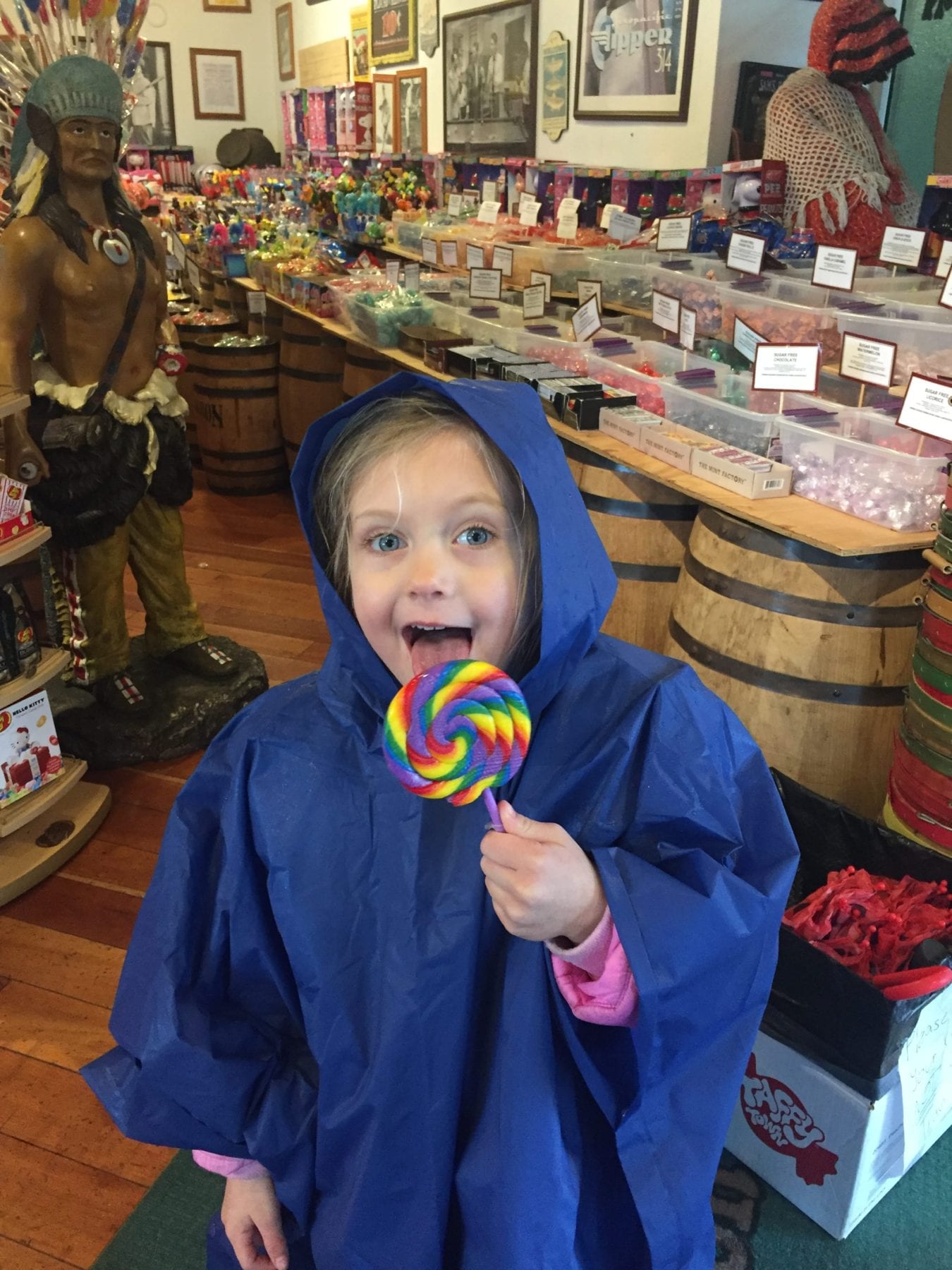 We made a few stops while on the pier.  There is a candy store located near the sea lions.  My kids were in love.  They wanted everything in sight and had a blast looking at all the different kinds of candy.
Joke Shop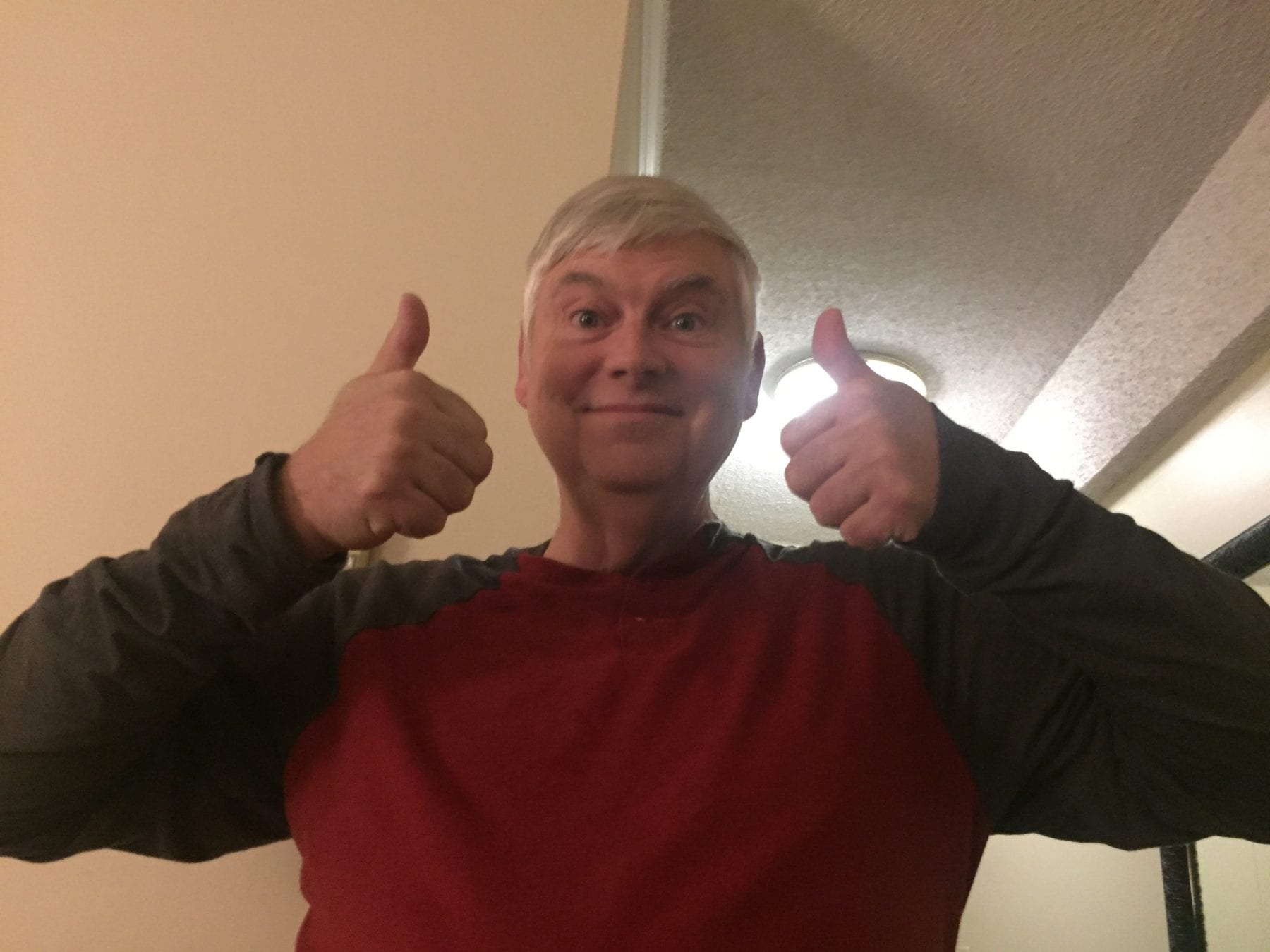 -Grandma and Grandpa joined us on this trip.  My dad is a trickster!  There is a joke shop located on the pier.  My dad said he was going to the restroom and instead went into the joke shop and bought a fake mouse.  My mom is terrified of mice.  You can imagine what he did later on in the hotel!  He put it on her pillow before bed.  The kids thought that it was funny that grandpa plays tricks all the time.
Aquarium of the Bay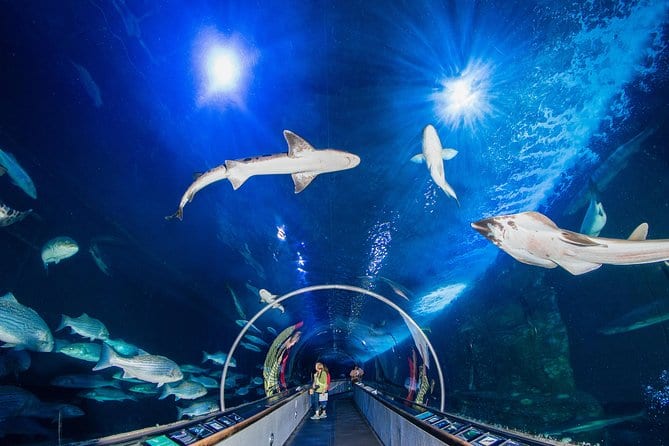 Location:
On Pier 39,The Embarcadero and Beach Street
San Francisco, CA 94133
Hours:
Daily
10am- 6pm
Admission: (Not part of ASTC)
Adults $28.25
Children $18.25
Parking
Is available at Pier 35 but parking can not be validated.
Aquarium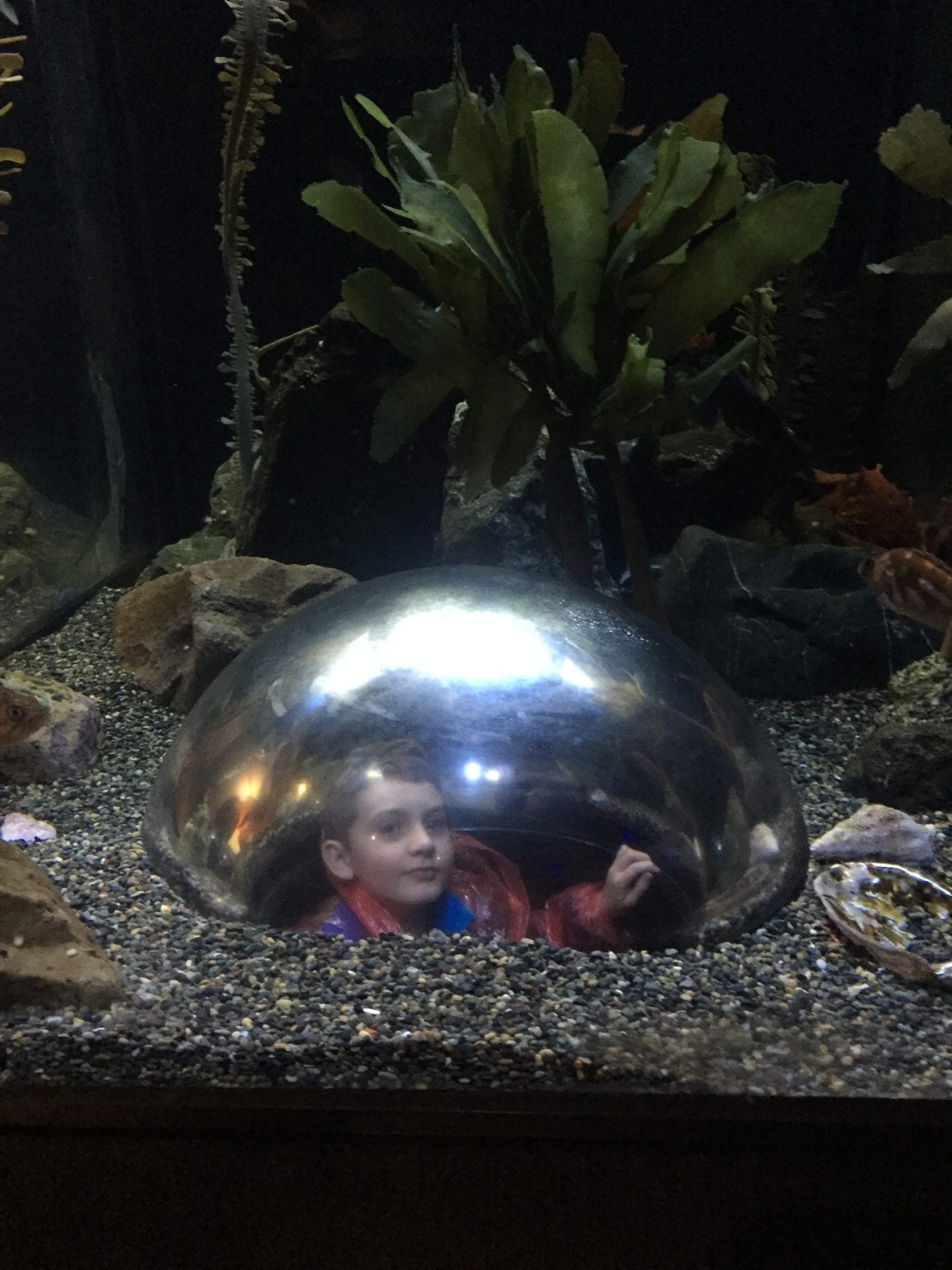 Located right on the pier is the aquarium. This is one of the perfect things to do in San Francisco when it rains.  The Aquarium at the Bay, sometimes offers discount tickets so be on the lookout for that.
It was raining the entire time we were in San Francisco so this was a great option.  The kids loved seeing the sea life!
The aquarium is small and takes about 90 minutes to walk through.  I wasn't blown away by the aquarium and if I had paid full price I may have been disappointed. Getting a discount ticket made my experience worth it.
Fisherman's Wharf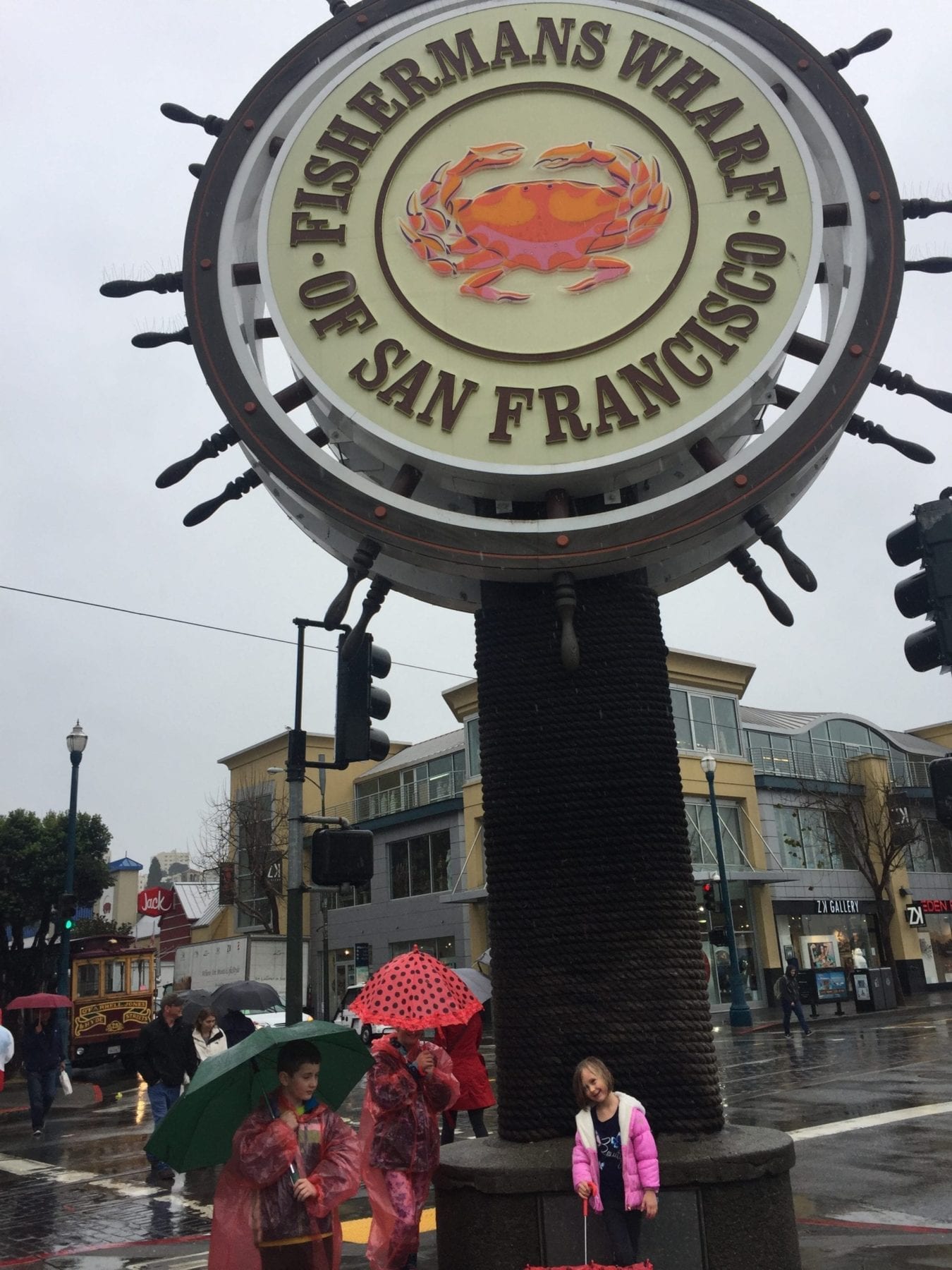 My kids will not eat sea food, but mom and dad love it.  Fisherman's Wharf is a great place to quickly stop and get fresh sea food. There are locations where you can order at a window, and have the sea food in minutes.  No sitting down. No squirming kids (other than squirming when they see you bite into that sumptuous crab sandwich!)
These quick locations are sidewalk stands, but if you do prefer to sit down at a restaurant, Fisherman's Wharf has you covered (although that may be for when the kids are back at home).
Boudin's Bakery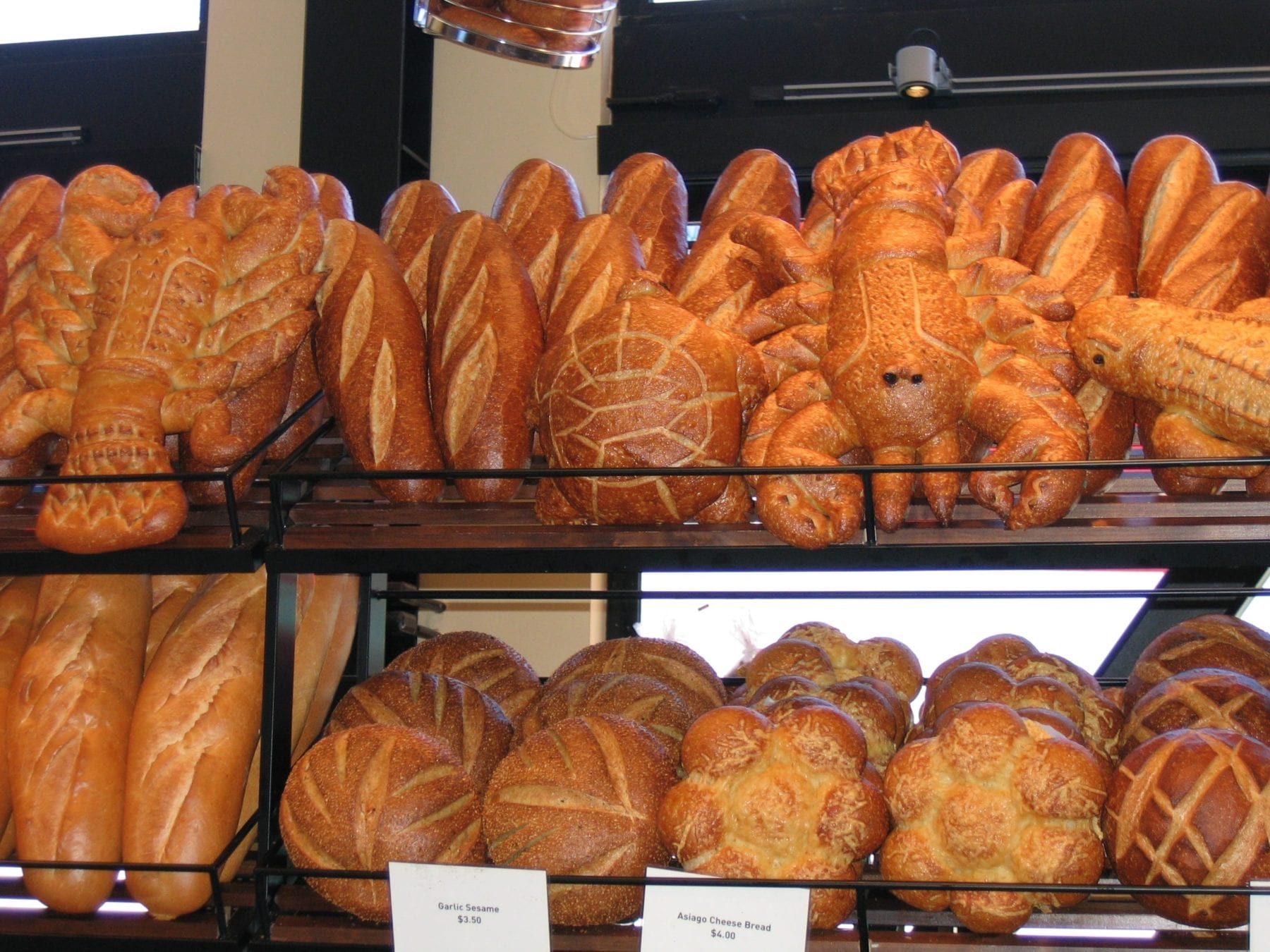 Photo Courtesy of By Edward Z. Yang – Wikipedia
Boudin's Bakery is also located near Fisherman's Wharf. This location is the home of the "mother dough." Yes, that sour bread you bite into is baked using the same dough cultivated from a gold miner's sourdough starter.
Our kids aren't fans of sourdough, but they were fans of the sourdough creations visible through the windows — an alligator, turtles, lobsters, and more. This store is worth walking through, and eating if sourdough is your thing.
San Francisco Bay Cruise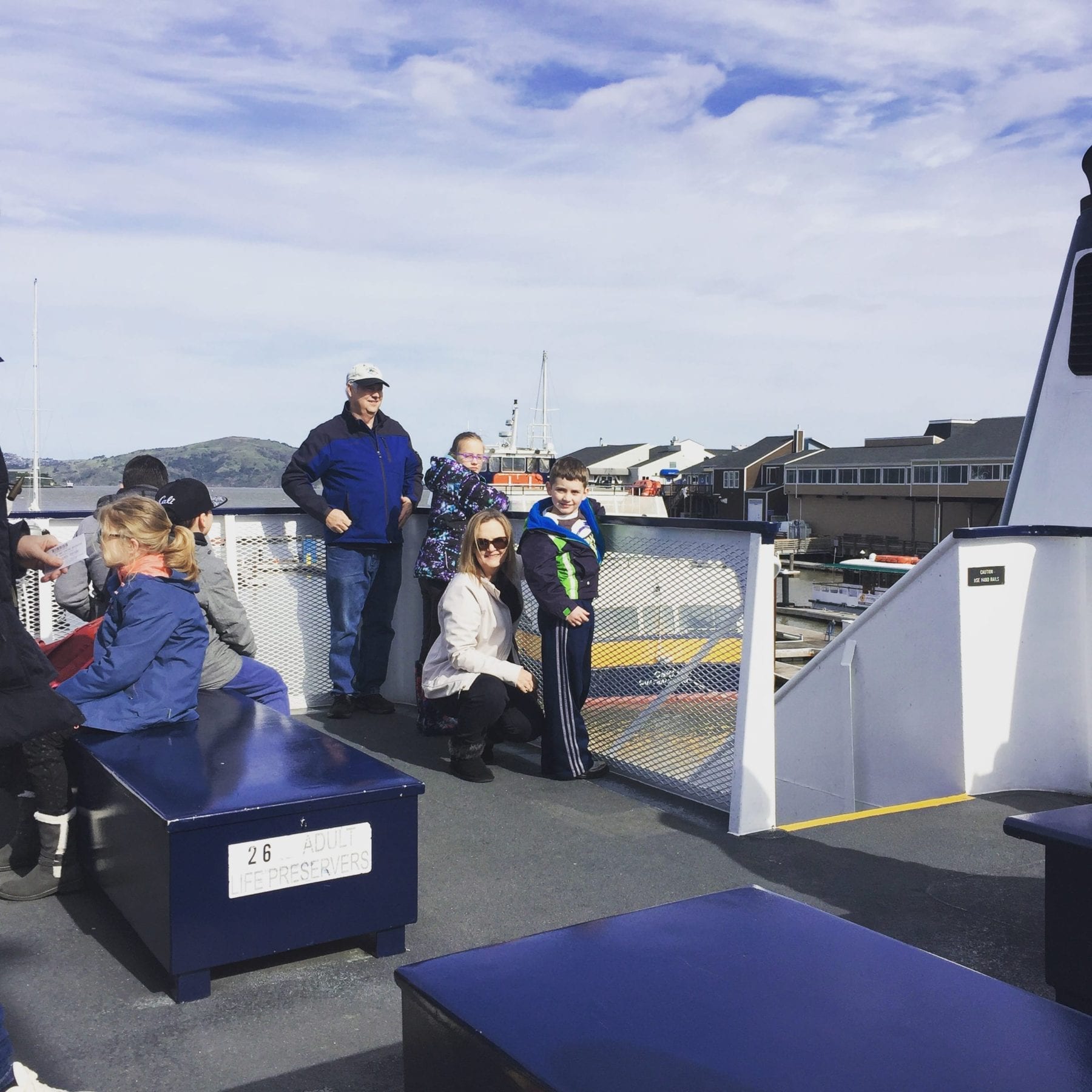 What is a San Francisco trip without Alcatraz? When we hear people go to San Francisco for the first time, a boat ride to the famed prison is a must. The reason people don't go seems to be they failed to get tickets in advance, not that they didn't want to go.
But for kids, especially young kids, we decided to skip on Alcatraz. We wanted to wait until they were a bit older. But we still wanted to get them out on the bay.
You can get tickets in advance, or you can buy them the same day (beware of the time of year you go, as sometime are busier than others).
Cruise
We went the Blue and Gold Fleet located at Pier 39.  A Cruise of the San Francisco Bay was really fun.   It was a little cold and windy but there was a nice indoor area which still allowed us to get a great views. (You get great views of the Golden Gate Bridge, as well as a history lesson (there is a guide with a microphone).
If you are looking for a discount, check out The San Francisco Sightseeing Pass.  They offer tours and other package that will save you money.  Also, Groupon has discounts available almost all the time.
Maritime Museum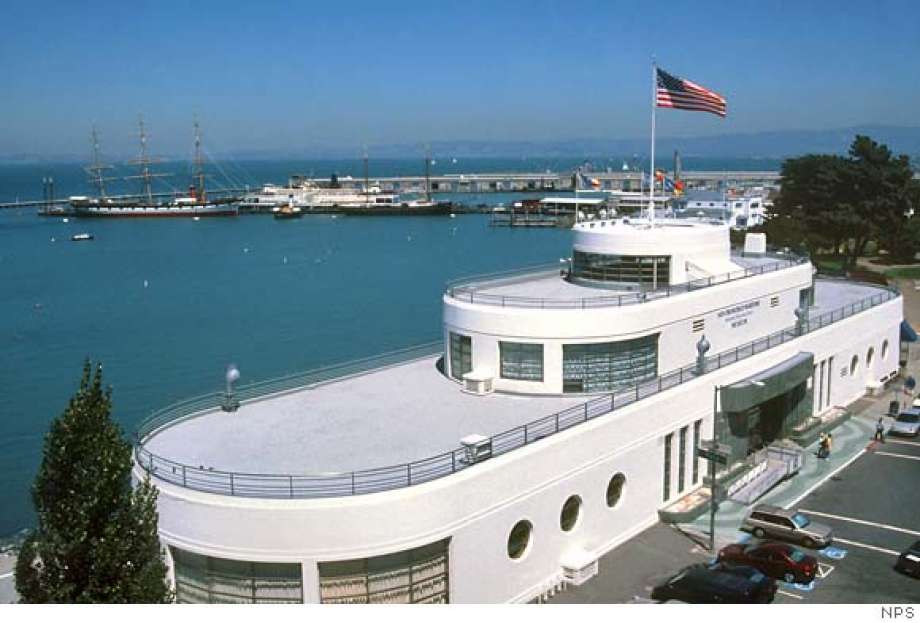 Location:
2 Marina Boulevard, Building E, 2nd Floor
San Francisco, CA 94123
Hours:
8:00 a.m. – 5 p.m.
Admission:
Free for the indoor exhibit; $15 per person to visit the historic ships
Museum 
The Maritime Museum is the premier resource for San Francisco and the Pacific Coast maritime history. This museum is very close to Fisherman's Wharf and Ghirardelli Square.  My kids really enjoyed this museum as it had very hands on interactive exhibits.
We literally stumbled into this museum when we were walking around Fisherman's Wharf and the surrounding areas. The indoor exhibit is not massive, but is well done. There is enough interactive images and models to keep kids' attention. We spent about 45 minutes exploring.
Just For Kids
There is also a game for children called "Agents of Discovery." Your child becomes an agent and is challenged to complete missions. If successful, the child collect a prize.
It is recommended to get e tickets in advanced especially during busy seasons.
If you are looking for things to do in San Francisco when it rains near Pier 39 and Fisherman's Wharf this is a great option.
Golden Gate Bridge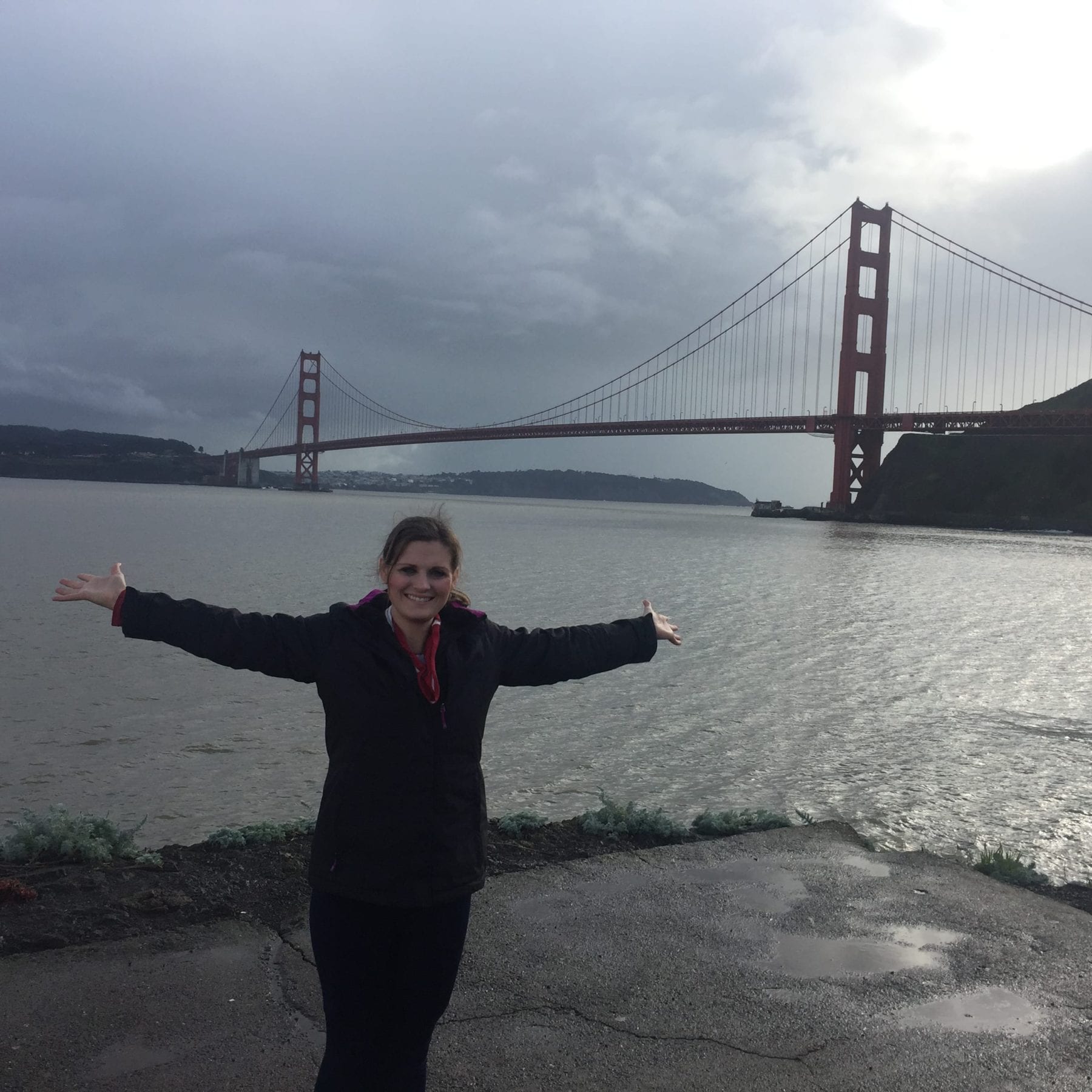 We were able to see the Golden Gate Bridge a few times on our trip. We crossed over it when driving to Muir Woods. Also, we were able to get a great view from the Discovery Bay Children's Museum.
It was very rainy when we went so taking a bus tour or biking tour was not an option for us.  This may be a really fun activity, especially if you have older kids that can ride bikes.
Hot Tip
There is a toll when returning back to San Francisco. There are no toll booths, so we had momentary panic when our rental car got scanned (what do we do??!!?). No worries. You should have 48 hours to go online and pay the toll.
Ghirardelli Square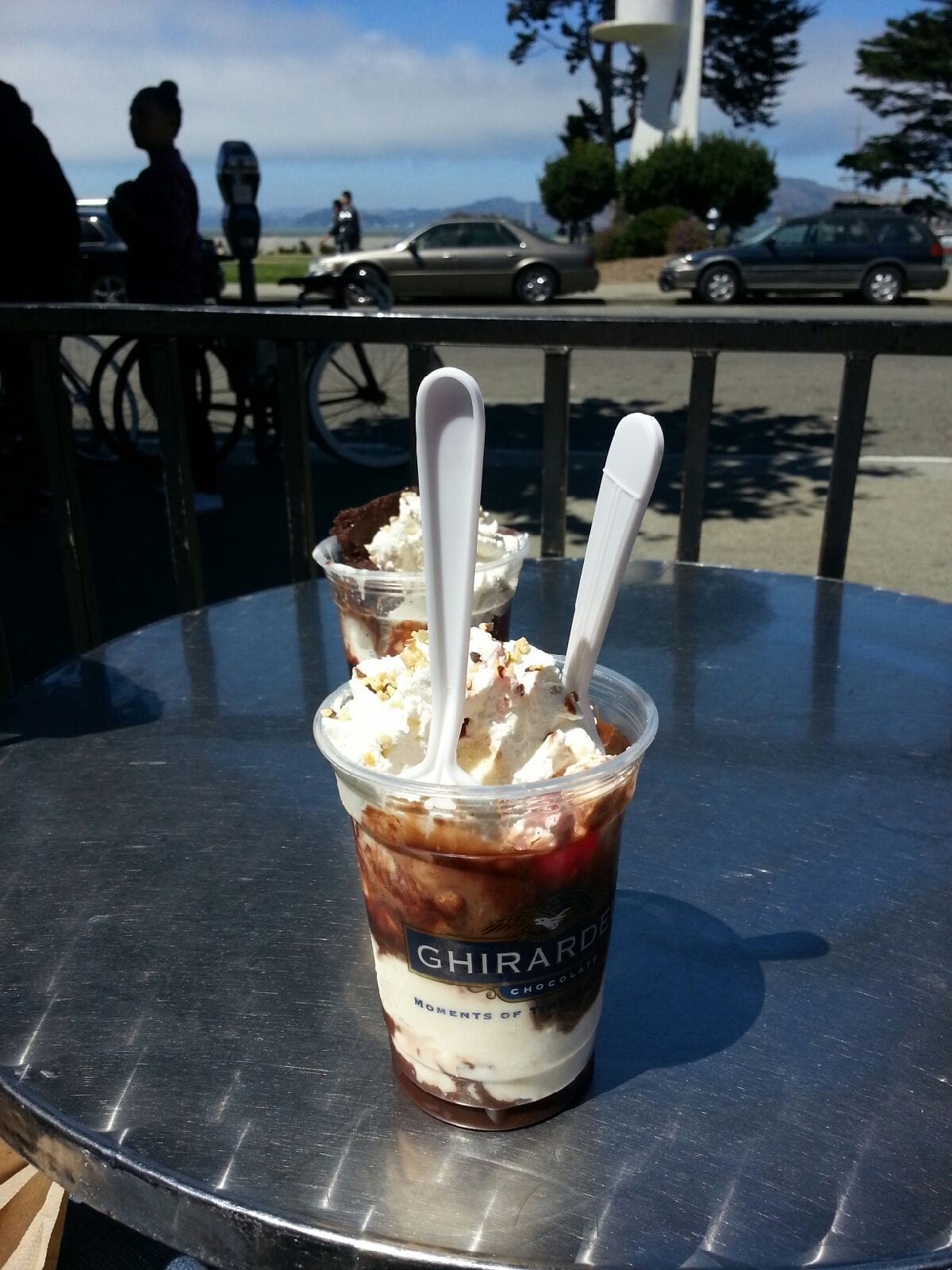 Ghirardelli Square is a short walk from Fisherman's Wharf (about 7 minutes). As a fair warning, this is a shopping center, but not too much of a bustling one.
There are a few places to eat and visit. None of that matters to us. What matters is one place and one place only. The Original Ghirardelli Ice Cream & Chocolate Shop.
The Original Ghirardelli Ice Cream & Chocolate Shop.
We waited in line to get in, but the line moved quickly. We received a piece of chocolate on our way in. The shop itself was a bit of eye candy. You first walk past a location full of chocolate to purchase. Once past those selections, you walk into a two-level eatery. The machinery is visible.
We ordered ice cream. Our kids had such a good time, this is the place they wanted to return! And we did!  
This was the perfect thing to do in San Francisco when it rains!  Your kids will love you!
Museum and National Parks In and Near San Francisco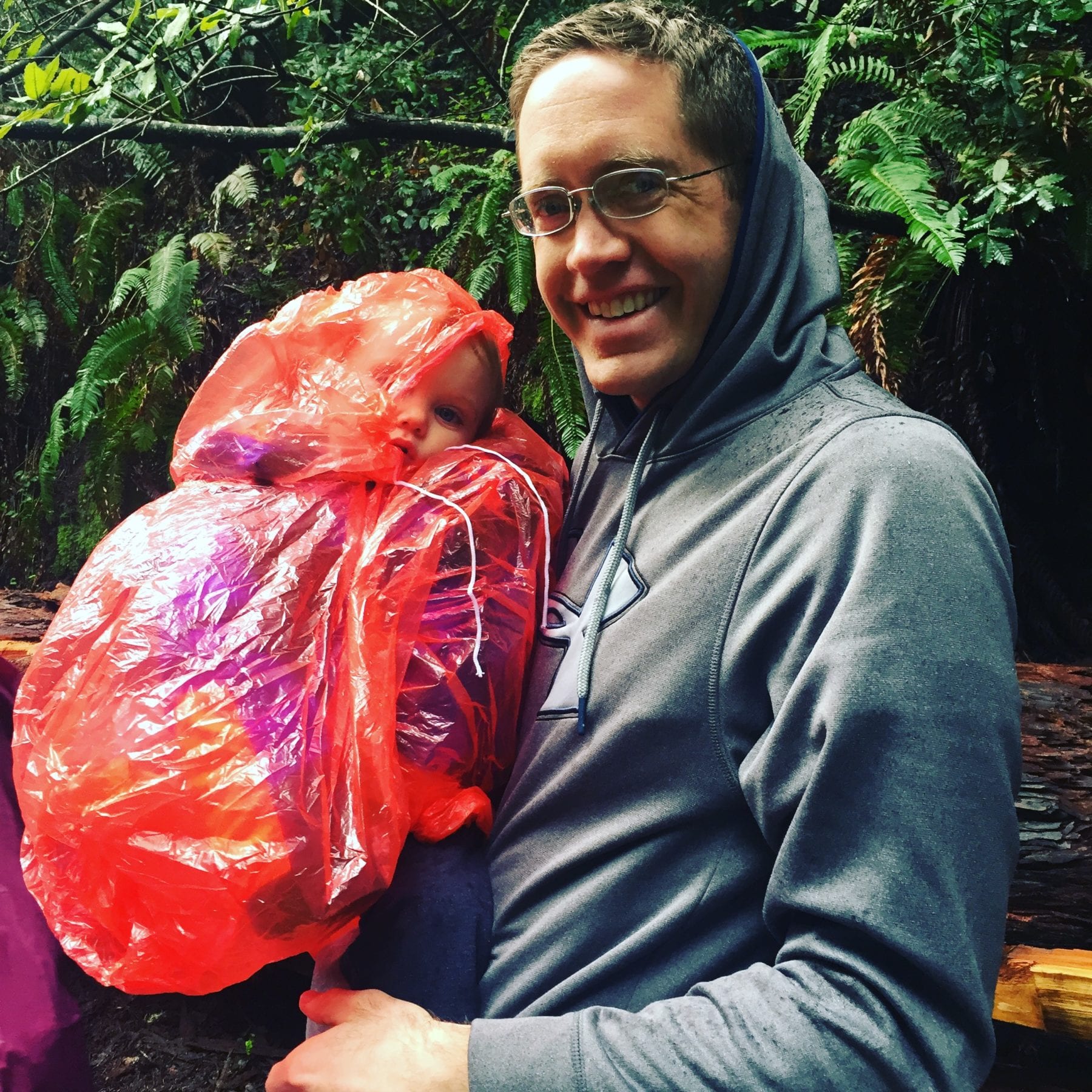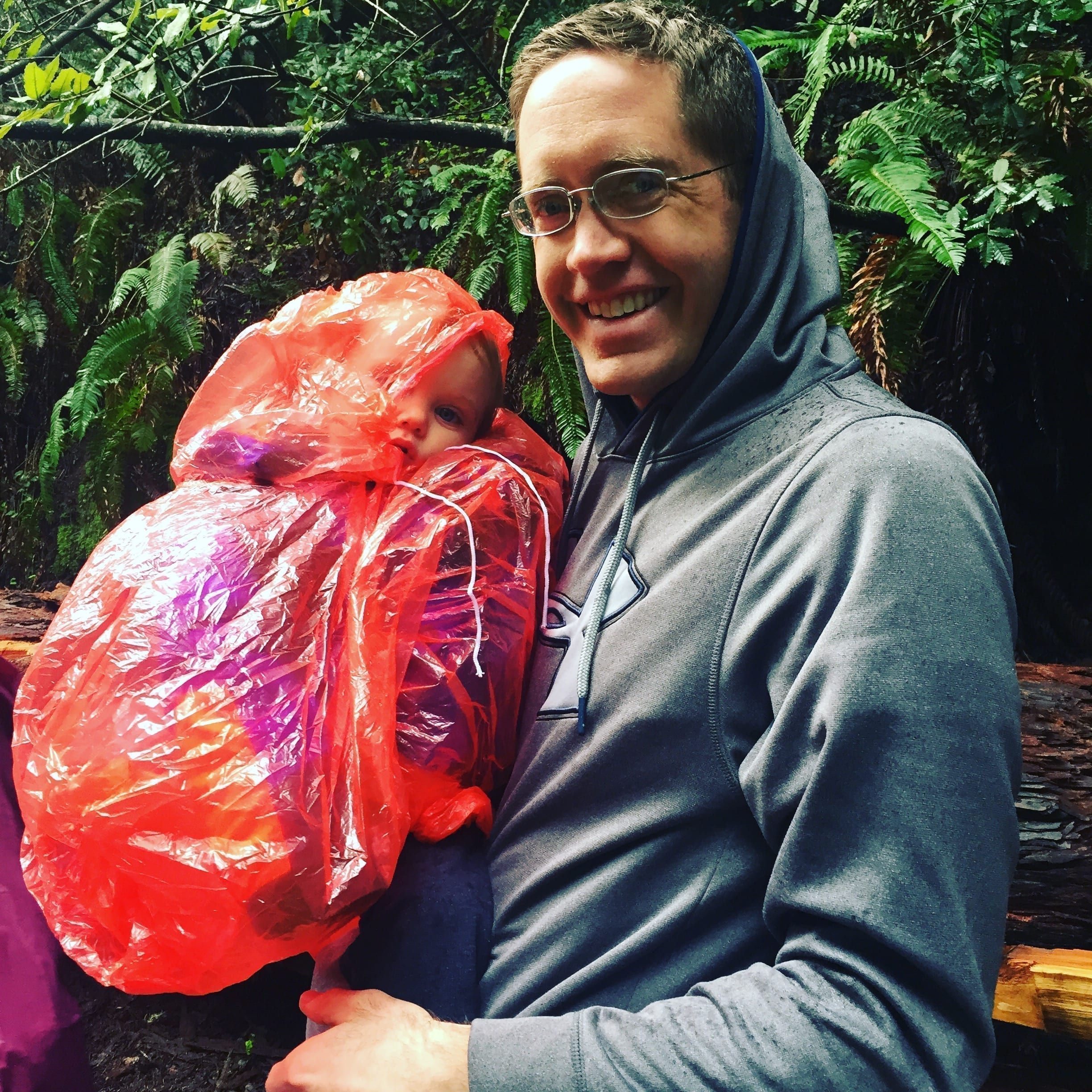 My first recommendation is ASTC.  This is a museum program that allows you to enter museums for FREE when you are traveling. 
You purchase a membership at your local participating museum and can use it at museum's across the country.  If you want more information on this program check out my post Learn All About The ASTC Program.
National Park Pass
Another program to consider, is the National Park Pass.  If you have a 4th grader your family can get a pass for free.  We had a 4th grader when we went to San Francisco and we were able to take advantage of this as well!
Museums are perfect for those rainy days.  There are so many I cannot list them all here.  However, my  Top Things to Do in San Francisco  has many more ideas of great museums. 
I will give you an idea of what we did and some recommendations for you to consider when traveling to San Francisco with kids.  Especially if you have the ASTC membership.
Children's Creativity Museum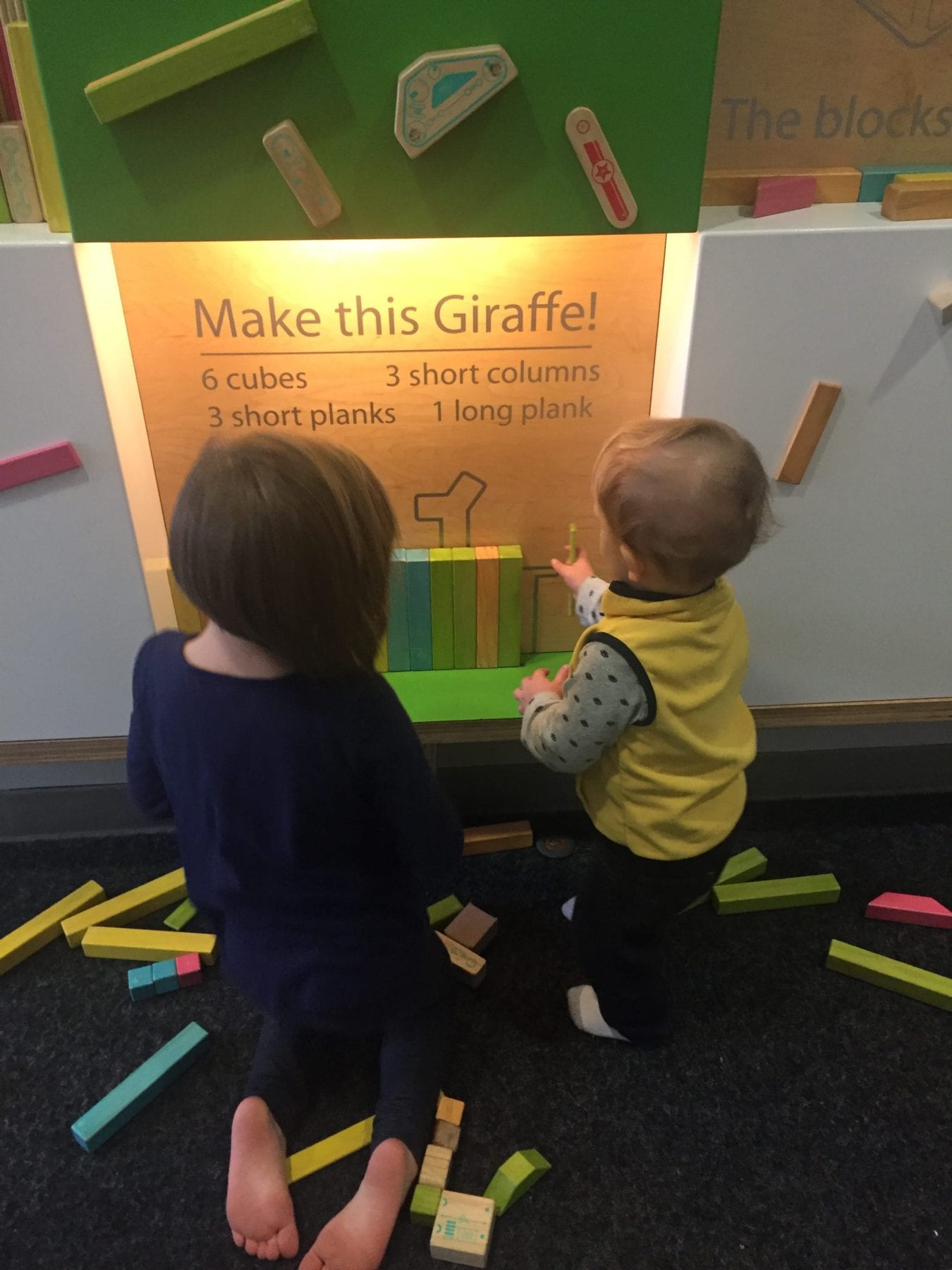 Location: 
Downtown at:
221 4th Street
San Francisco, CA
United States
Hours:
Wednesday – Sunday
10:00 am – 4:00 pm
Admission: (Included in ASTC program)
$15 per person
Parking Fee
Museum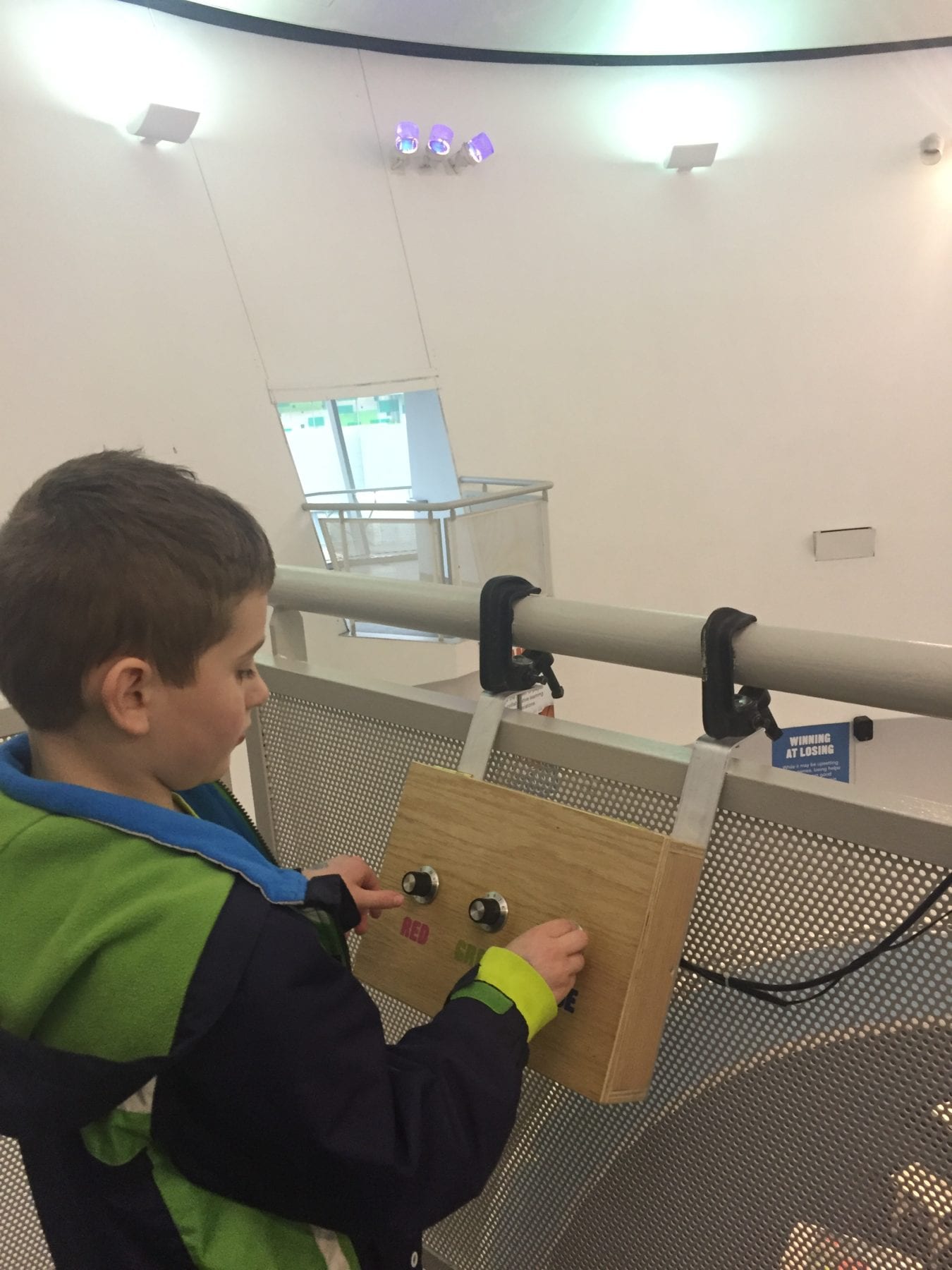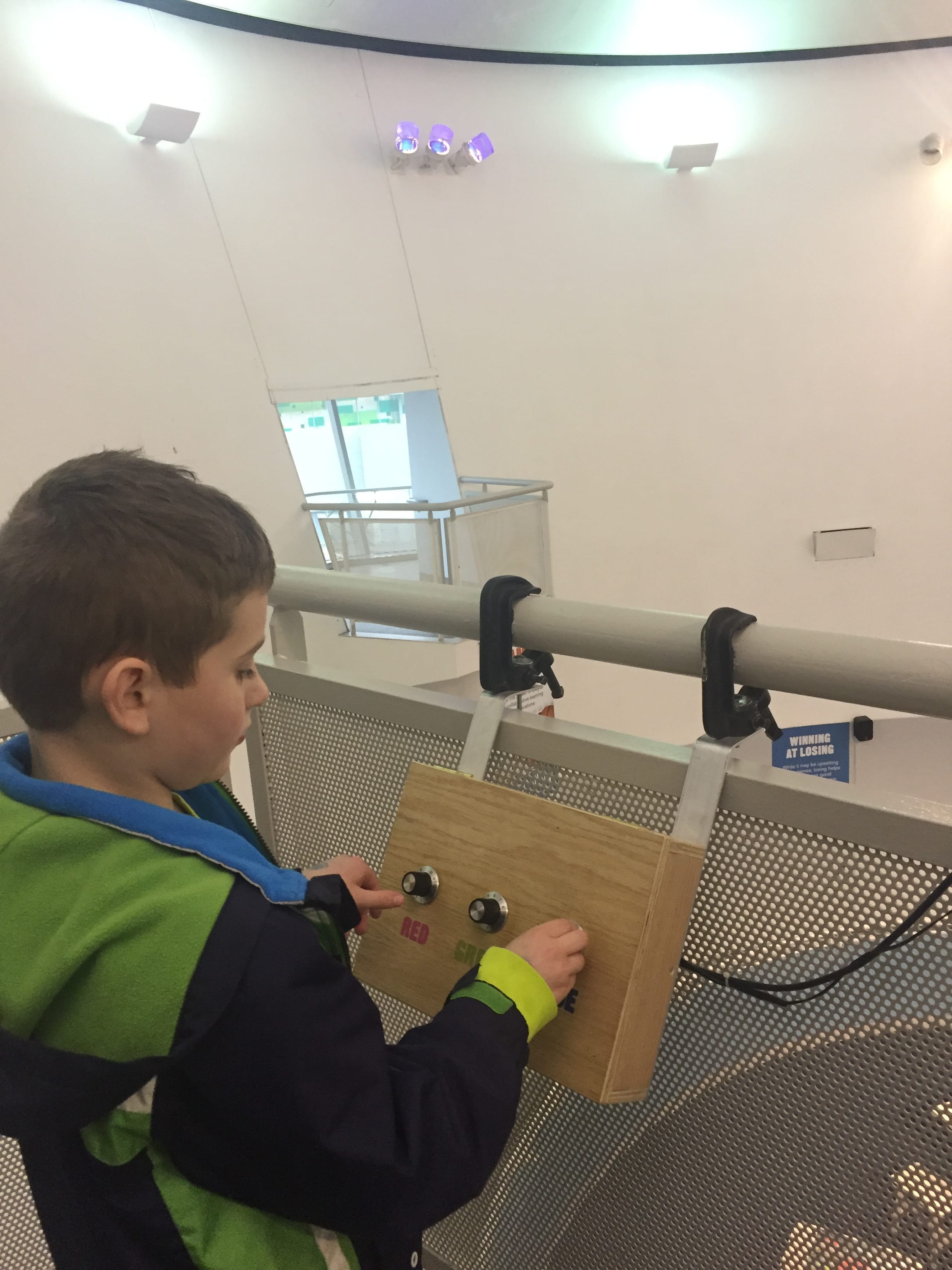 My kids love children's museums.  This was no exception.  Out of all the museums we did, I would say this one was our kids' favorite.  We stayed for a few hours and thought it was a great thing to do in San Francisco when it rains.  We really couldn't do too much outside in the rain.
Carousel

They do have a carousel in the plaza adjacent to the museum that is protected from the rain.  My kids were really excited about this.  They loved going on a ride!
Museum Exhibits
The exhibits are immersive. The Animation Studio let our kids play with clay. (Got to admit on this one that I'm not sure they understood the animation concept as much as they were enthralled with all of the clay!).
Tech Lab
The Tech Lab allows you to program robots with iPads. Think of robots set on a table with obstacles, and you program the robots so they know where to go.
Music Studio
The Making Music Studio allows you dress up and jam out.  Our kids also had the chance to get kits and build. I can't remember if they were trying to build a functional "spaceship." But I do remember our kids loved it so much we had to coax them to move in so that we could see the other exhibits.
Parking
As a warning, parking is tough here. We parked in a parking garage. The big dollar number on the sign made it look cheap, but that was only for the first 30 minutes! Try to plan ahead on this one.
Exploratorium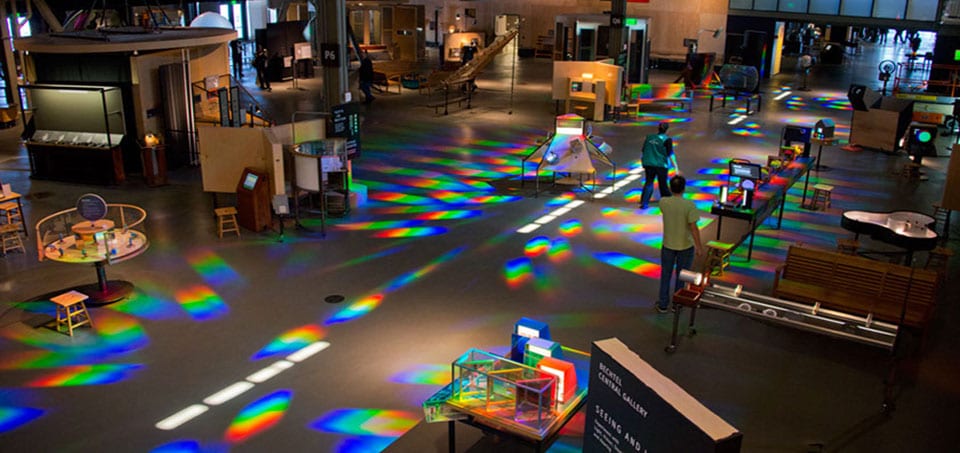 Image courtesy of exploratorium.edu
Location:
at Pier 15:
17 Pier Ste 100
San Francisco, CA
United States
Hours:
Tuesday – Sunday
10:00 am – 5:00 pm
Admission: (Included in ASTC Program)
$30 per Adult
$20 per Kid
Parking Fee $15
If you are in San Francisco with kids this is a must see!  It is a great hands-on science museum.  We did not get a chance to go on our trip.   But I would highly recommend checking it out if you have kids who love science.
Bay Area Discovery Museum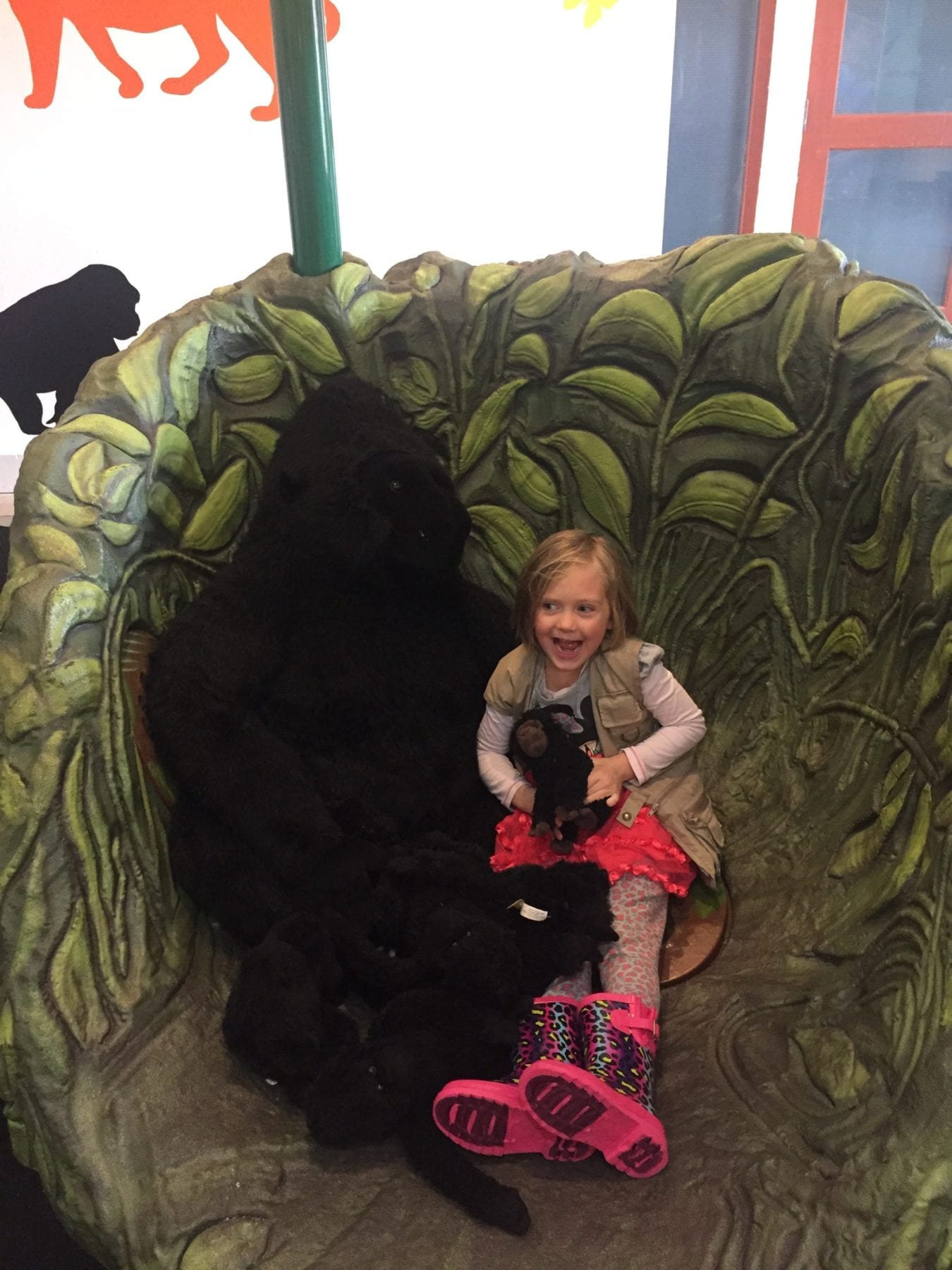 Location:
557 McReynolds Road
Sausalito, CA
United States
Hours:
Tuesday – Friday 9:00 am -4:00 pm
Saturday 10:00 am – 5:00 pm
Sunday 9:00 am – 5:00 pm
Admission: (Included in ASTC Program)
$15.95 per person
This museum does not want to turn away families that can not afford it so ask about the open door policy to receive a lower admission cost.
This is a great stop after (or before) visiting Muir Woods National Monument.  It is across the Golden Gate Bridge in Sausalito.  The view of the Golden Gate Bridge is really nice from this museum and my husband enjoyed hiking around near the bridge with my dad for part of the time we were there.
Children's Museum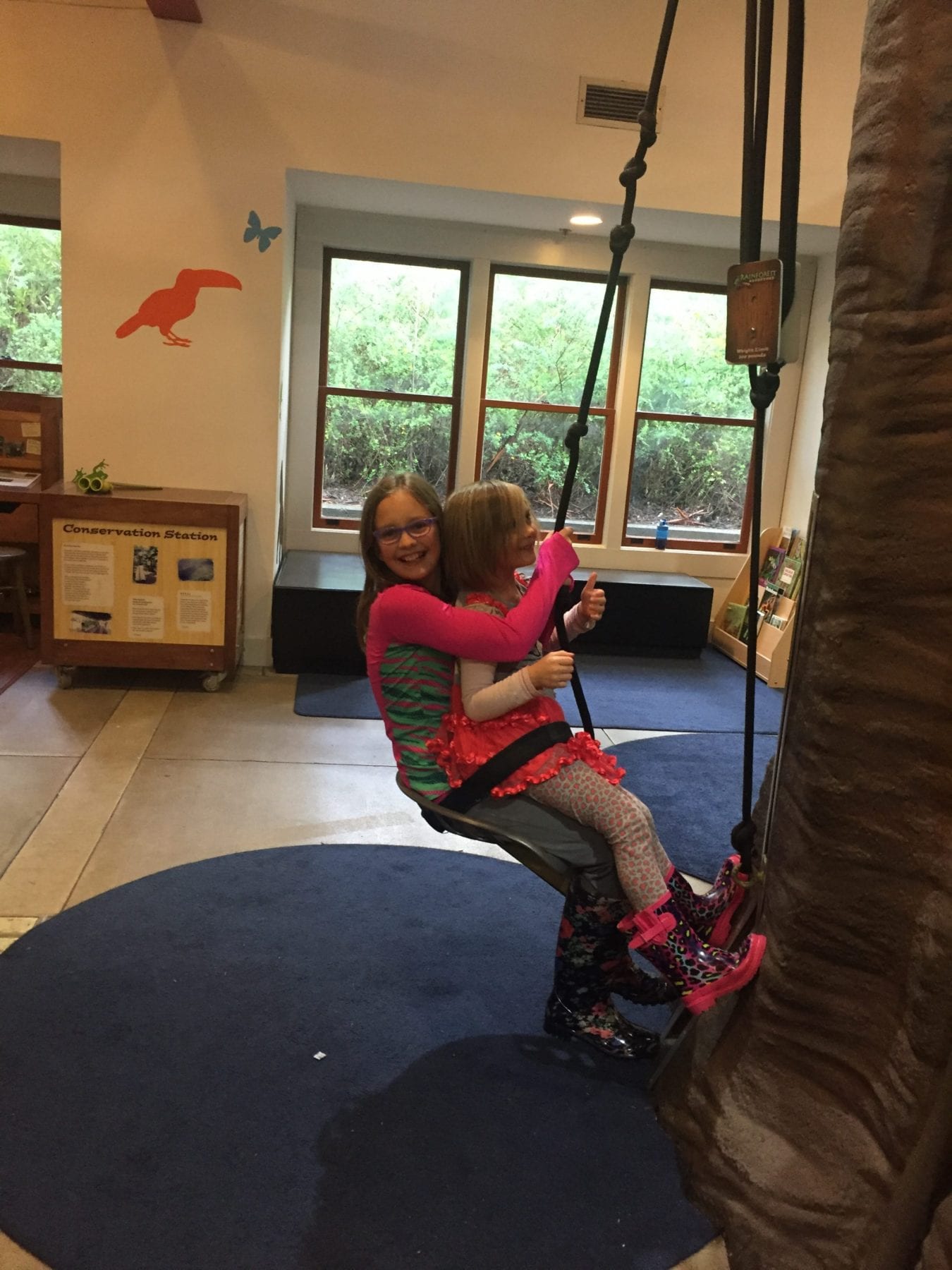 This is another children's museum that has lots of outdoor activities. What is nice about this children's museum is that the parking is free, it is easy to get to, and the surroundings are fabulous.
But there are only a select number of activities offered and we finished up within an hour.  If you have time for only one children's museum, we preferred the activities at the Creativity Museum versus this one.
Ice Cream Museum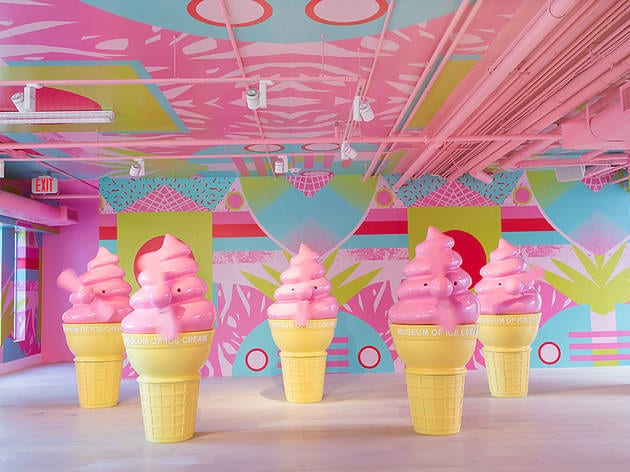 Image courtesy of Timeout
Location:
1 GRANT AVE. SAN FRANCISCO, CA. 94108
Hours:
Monday, Wednesday, Thursday 12:30 pm – 6:00 pm
Friday 12:30 – 6:30 pm
Saturday 9:30 am – 8:45 pm
Sunday 9:00 am – 8:00 pm
Admission:
Price is $38 per person
It is best to reserve your tickets in advance
Museum
If you are in San Francisco with kids, this may be a dream come true for them.  This is a new museum in San Francisco and sounds like a blast.  It is designed for both children and adults.  Mostly, adults who love Instagram and want to take a bunch of awesome pictures.  It is geared towards kids and craft stations are throughout the museum.
You will also find treats located all around the museum.  The ice cream is supposed to be fabulous (you can purchase it at Target if you want to try it right now!)
If you have been let us know what you think in the comments!  
The Walt Disney Family Museum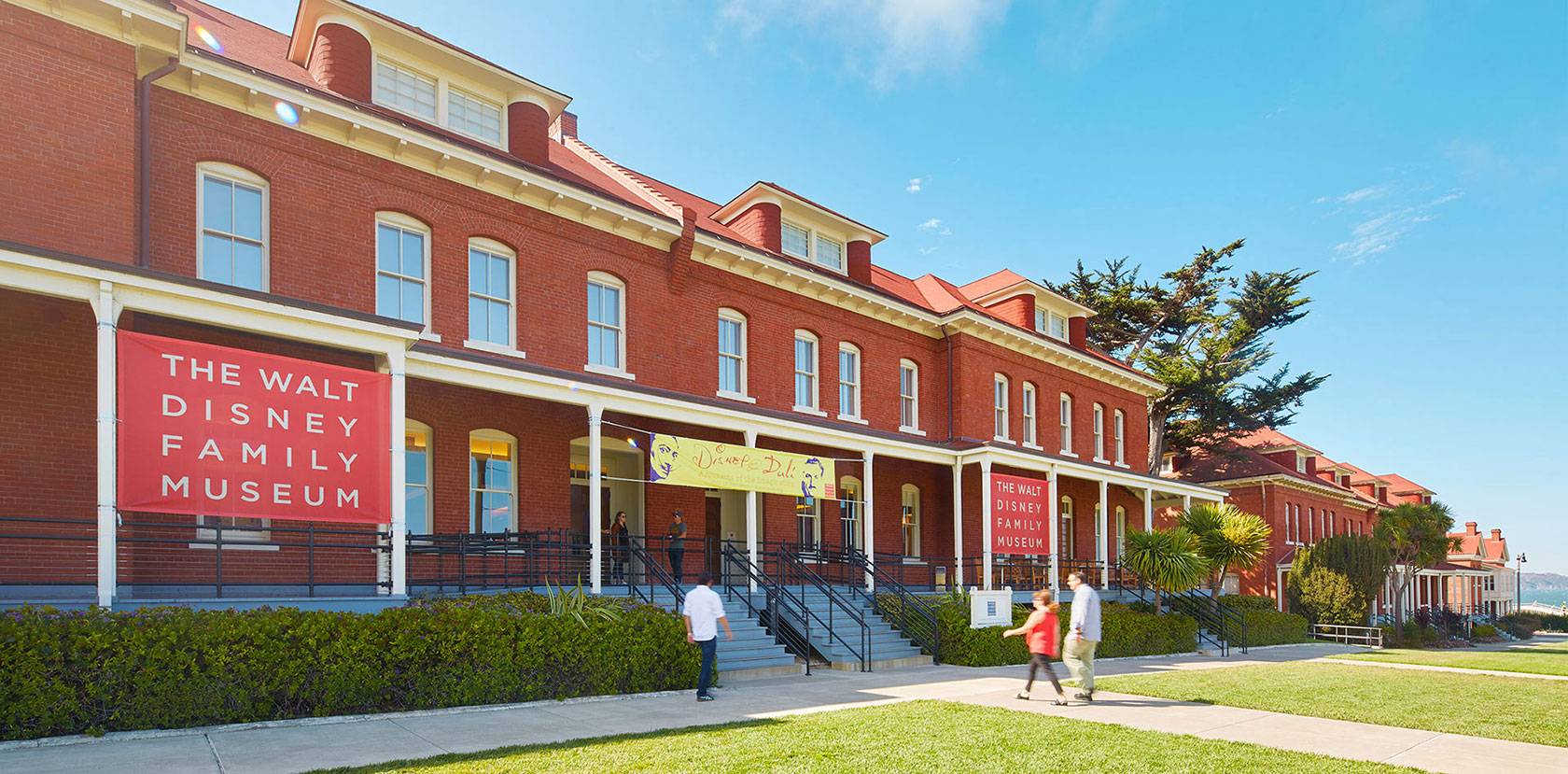 Image courtesy of Walt Disney.org
Location:
104 Montgomery Street in the Presidio
San Francisco, CA 94129
Hours:
Daily (except Tuesdays)
10:00 am – 6:00pm
Admission:
Adults $25
Children (ages 6-17) $15
Okay, so I mention this one only because I am a big Disney fan. This museum is not going to house Peter Pan's Flight, or even have the interactive queue you walk through at Disney World, so I don't think this is for most families.
This is more for those who have some interest in Walt's life.   The museum is close to the Golden Gate Bridge, on the San Francisco side.
Muir Woods with Kids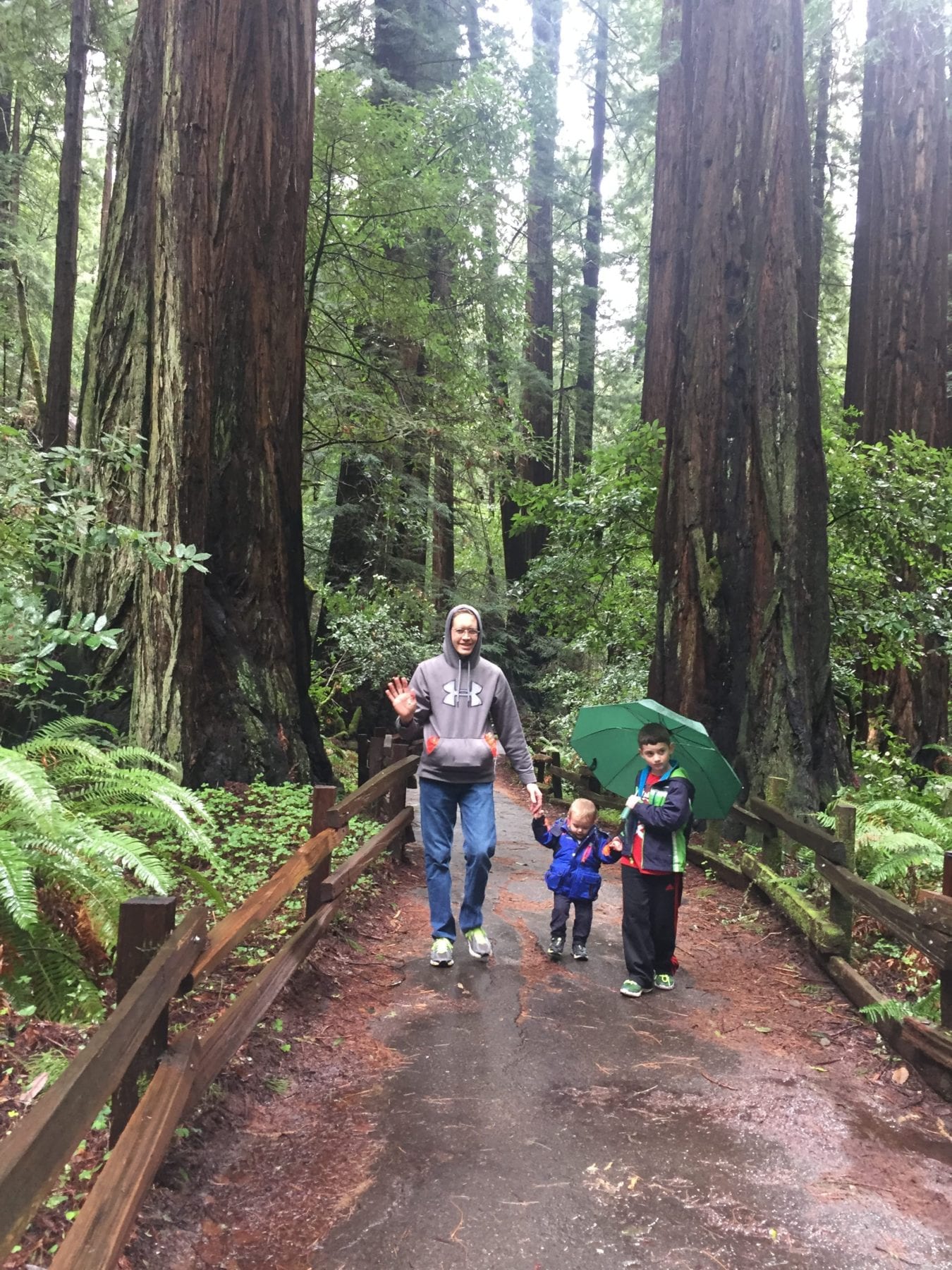 Location:
Muir Woods National Monument
1 Muir Woods Rd
Mill Valley, CA 94941
Hours:
Opens 8:00 am and closes at different times depending on the season
Admission:
$15 per adult (16 and older)
Children are free
Included in National Park Pass
Muir Woods National Monument
I highly recommend taking your kids to Muir Woods National Monument.  If you have a 4th grader don't forget to get your free National Park Pass and your family can enter Muir Woods for free.
If you like the outdoors, then this is a must if you have kids. That's because Muir Woods has a main loop that is flat and scenic.  You can take the 30 minute loop, the 1 hour loop, or the 90 minute loop.  We did the 60 minute loop (or maybe it was the 30 minute loop with lots of pictures, along with juice and snack stops). This was the perfect amount of time for my kids!
We still have this on our "things to do in San Francisco when it rains" list because if you have an umbrella or poncho it isn't too bad.  The trees block a lot of the rainfall.
More Trails
Keep in mind that there are other trails in Muir Woods. Some take you into the Mount Tamalpais State Park. These hikes can be steep and challenging. We saw some people walking along them, and made mental note for whenever we get around to doing a San Francisco couple's trip.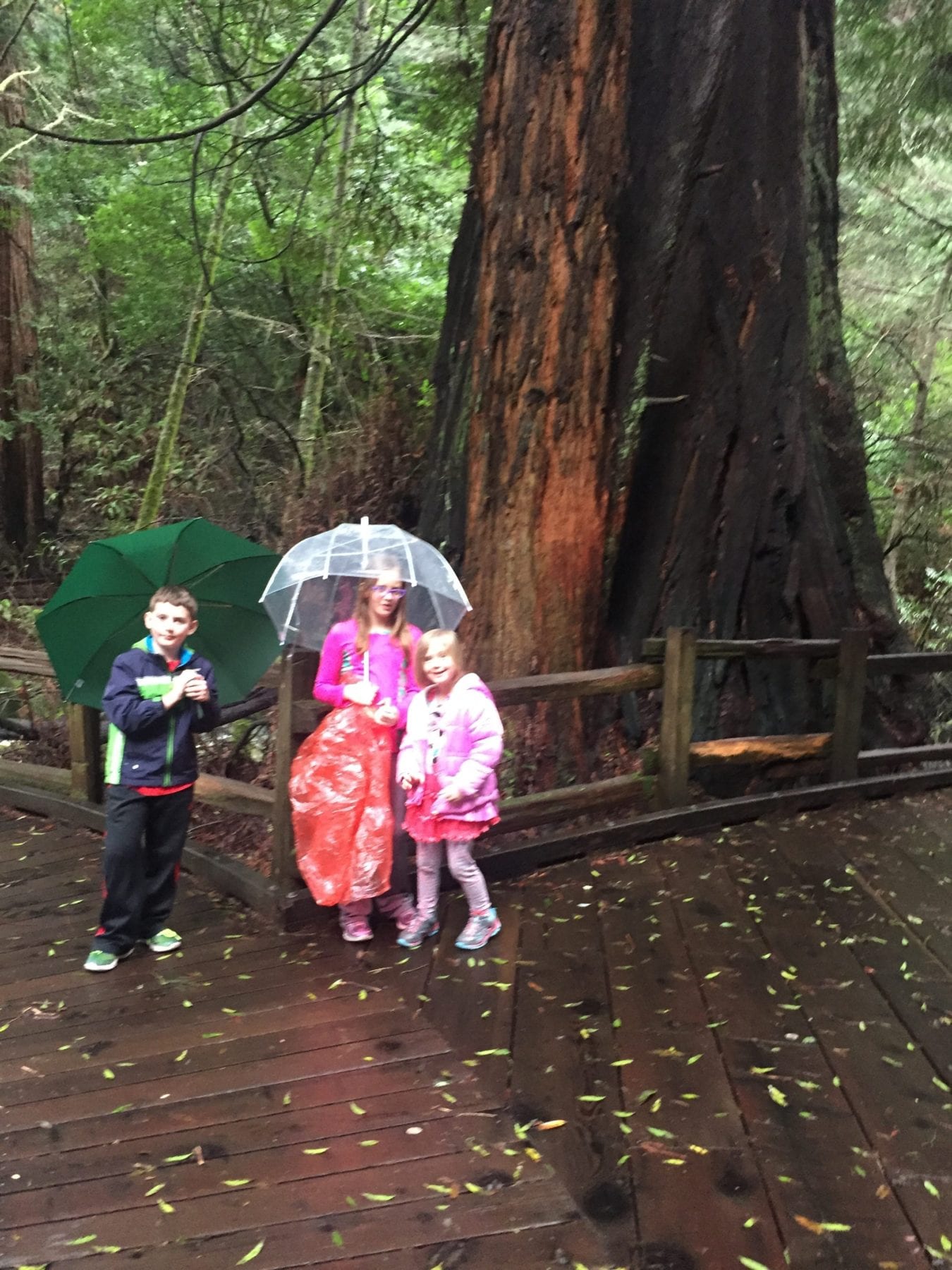 Things to Do in San Francisco When it Rains

San Francisco Golden Gate Cruise
The Golden Gate Bay Cruise is similar to the one that we took our kids on.   This tour will make your San Francisco family vacation a blast!
Big Bus Tour San Francisco
No San Francisco family vacation would be complete with a Big Bus San Francisco tour This is a hop on hop off tour. 
There are many, many stops.  This tour takes you around the entire city!  If you do not want to drive in San Francisco than this is a great option!
San Francisco Cable Car Tour
The San Francisco Classic Cable Car Tour is iconic.  When you are planning your San Francisco family vacation make sure to check into this because I think most kids would love it. 
This tour is about 3 hours and has two start times: 9:00 am and 1:00 pm
The San Francisco Sightseeing Pass
Planning a San Francisco family vacation can be overwhelming.  One thing I like about the San Francisco Sightseeing Pass is that it helps me decided exactly what I want to do.
It will save you a lot of money if you already had planned on doing the activities available on the pass compared to paying individual entrance fees at each location.  I would check it out and see if this is something your family would enjoy.
San Francisco Guided Bike Tour
A Guided Golden Gate Bridge Tour is great for kids.  You can choose a comfort bike or an electric bike.  This is San Francisco family vacation favorite.
Because it rains so much these tourist attractions are prepared for all types of weather.  They make the cut on the "things to do in San Francisco when it rains" list!
Things To Do Near San Francisco with Kids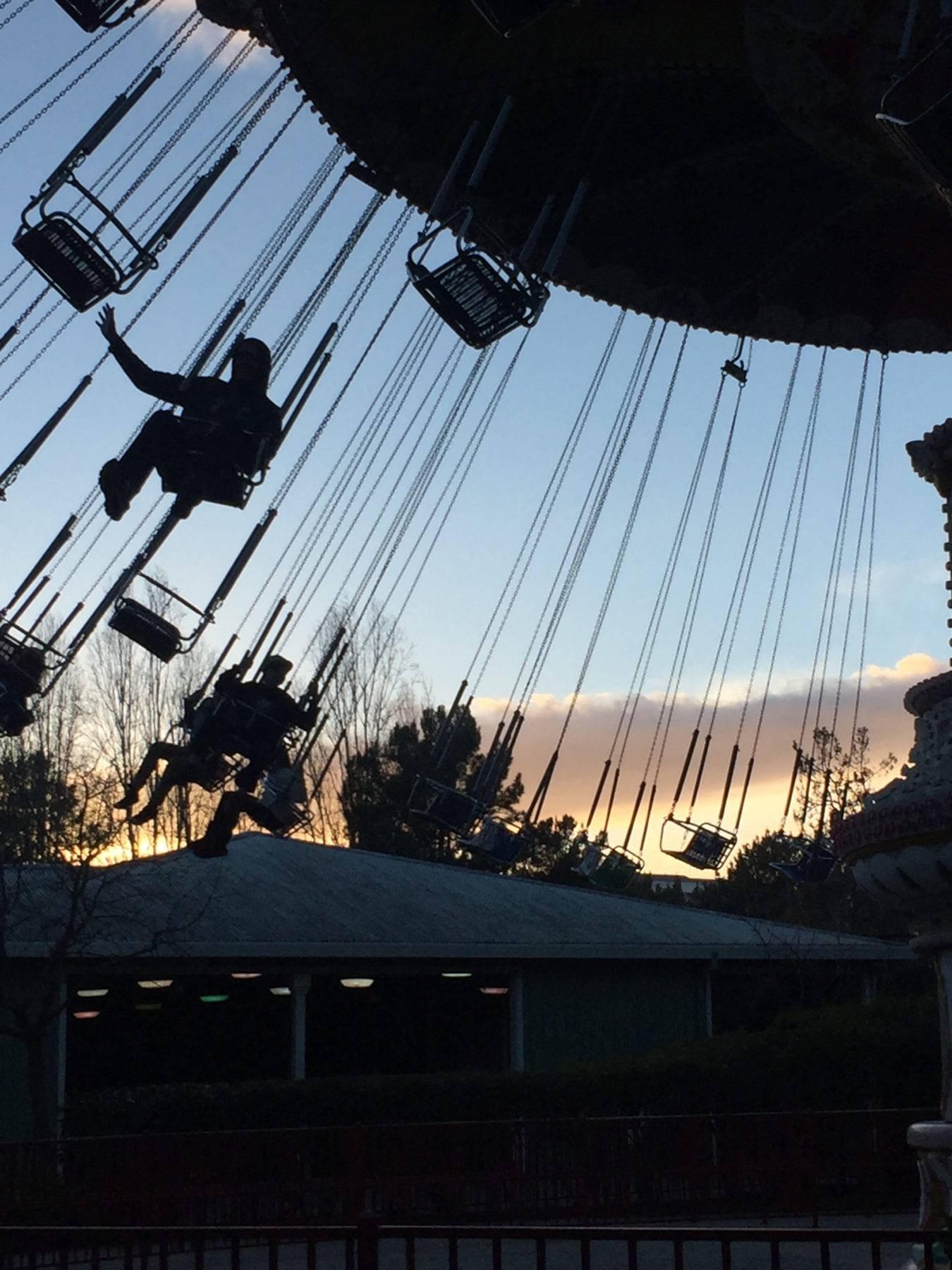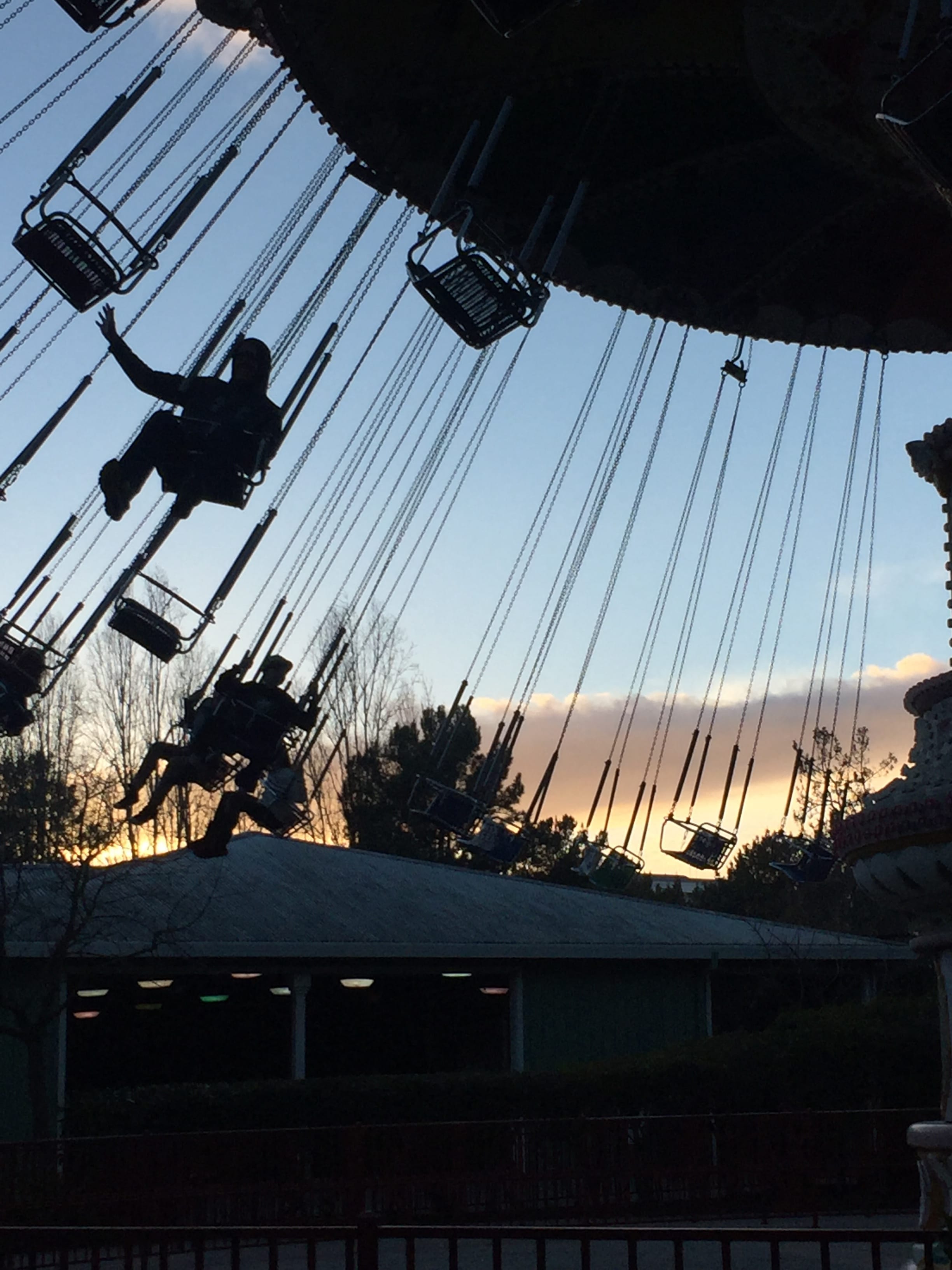 Before or after your trip to San Francisco proper, it's worth mentioning that there is some traditional kid entertainment close by. 
Because my children are amusement park junkies (and because we had an annual pass), we actually started our trip about an hour outside San Francisco, at to Six Flags Discovery Kingdom.
This amusement park seemed comparatively small (based on our familiarity with Six Flags Great American that is located between Chicago and Milwaukee). With that said, it still has quite a few thrill rides that we've come to expect with Six Flags, and also is unique with its animal focus. Dolphins, giraffes, seals, sharks, lions . . . yep, all of that and more.
Just make sure to buy your tickets online ahead of time if you know you'll be going. You can save quite a bit.
More Options
If you are thinking about venturing out from San Francisco, but not too far, you could also go south to Monterrey Bay Aquarium near Camel- by-the-Sea.
This aquarium is known as one of the best aquariums, if not the best aquarium, in the United States.  My husband grew up near Chicago, and so we've been to the Shedd Aquarium, which is great. But there is something to be said about an immersive aquarium that is on the Pacific Ocean coastline.
The bay area has a lot to offer for families.  There are all kinds of fun activities.
Six Flags Discovery Kingdom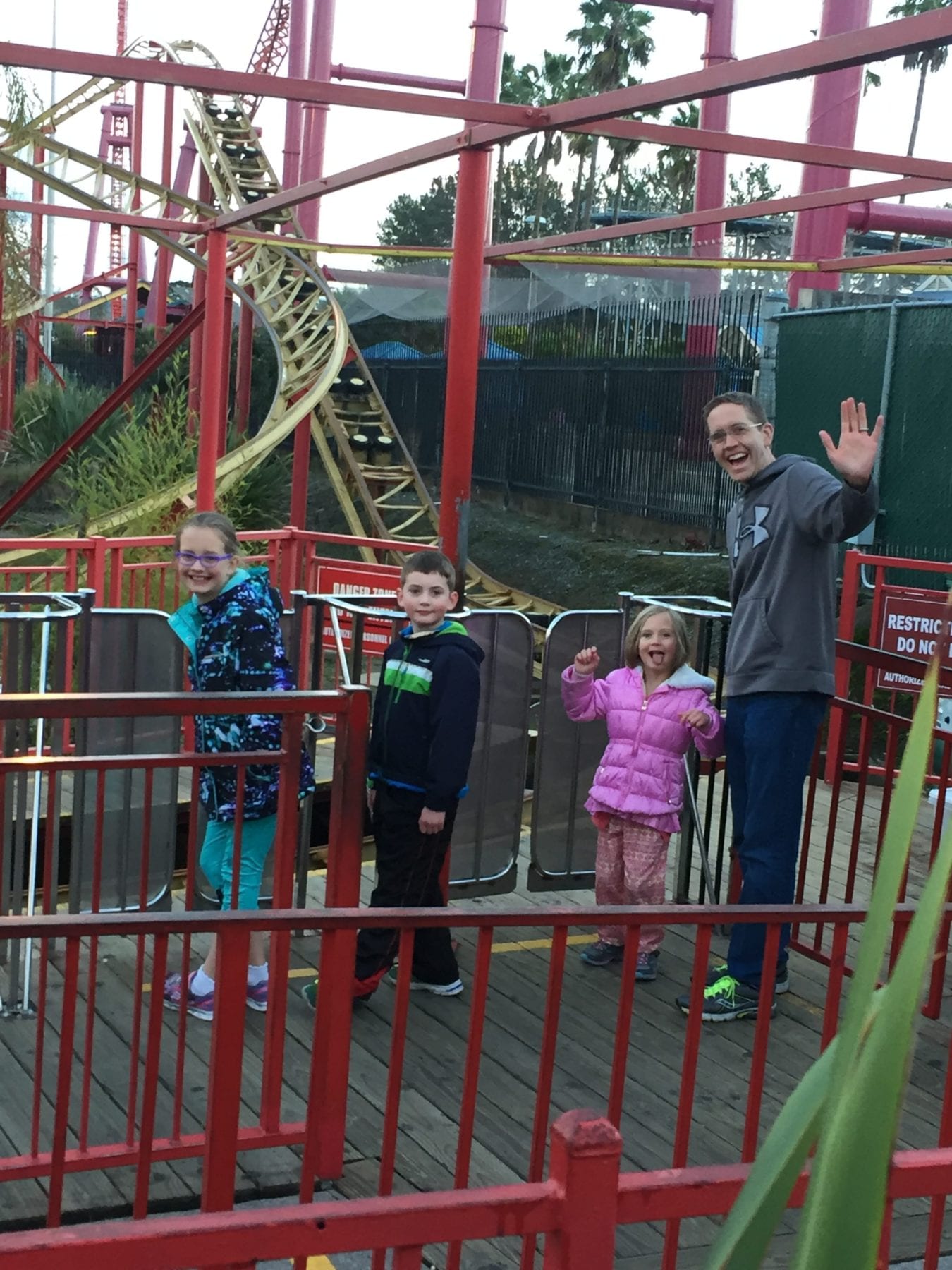 We actually purchased season passes for Six Flags for a previous trip to Chicago.  The great thing is the pass will get you into all of the parks across the country.  We took advantage of this and had a lot of fun.
Monterrey Bay Aquarium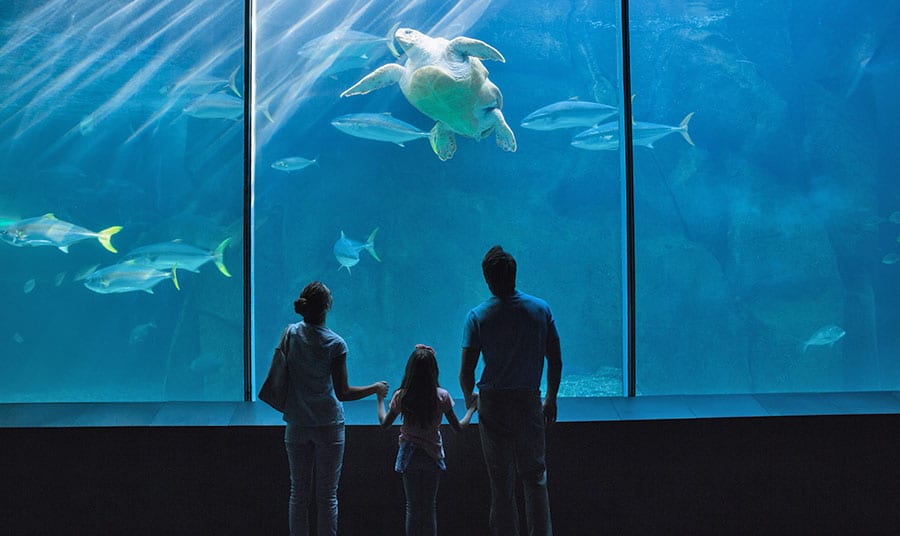 Image photo courtesy of Inns of Monterrey
Location:
886 Cannery Row
Monterey, CA 93940
Hours:
10:00 am -5:00pm
Admission:
$49.95 per adult
$29.95 per kid
This is a great San Francisco family vacation destination. It is located just outside of San Francisco. 
If you have time, it would be worth the drive. Or better yet the Monterrey and Carmel Tour includes the Monterrey Bay Aquarium. (Great option if you did not want to rent a car.)
Let's Go To San Francisco in the Rain!!!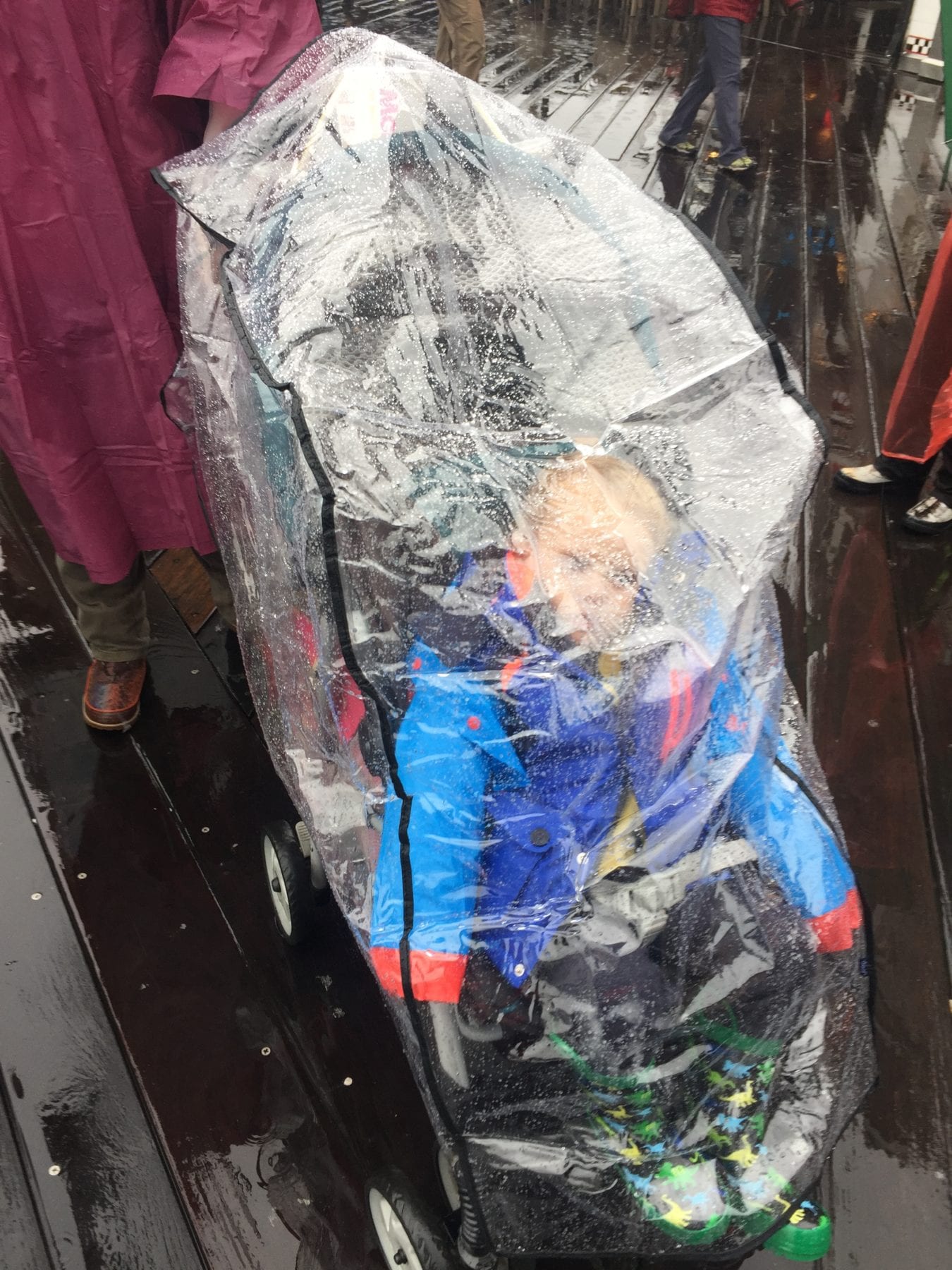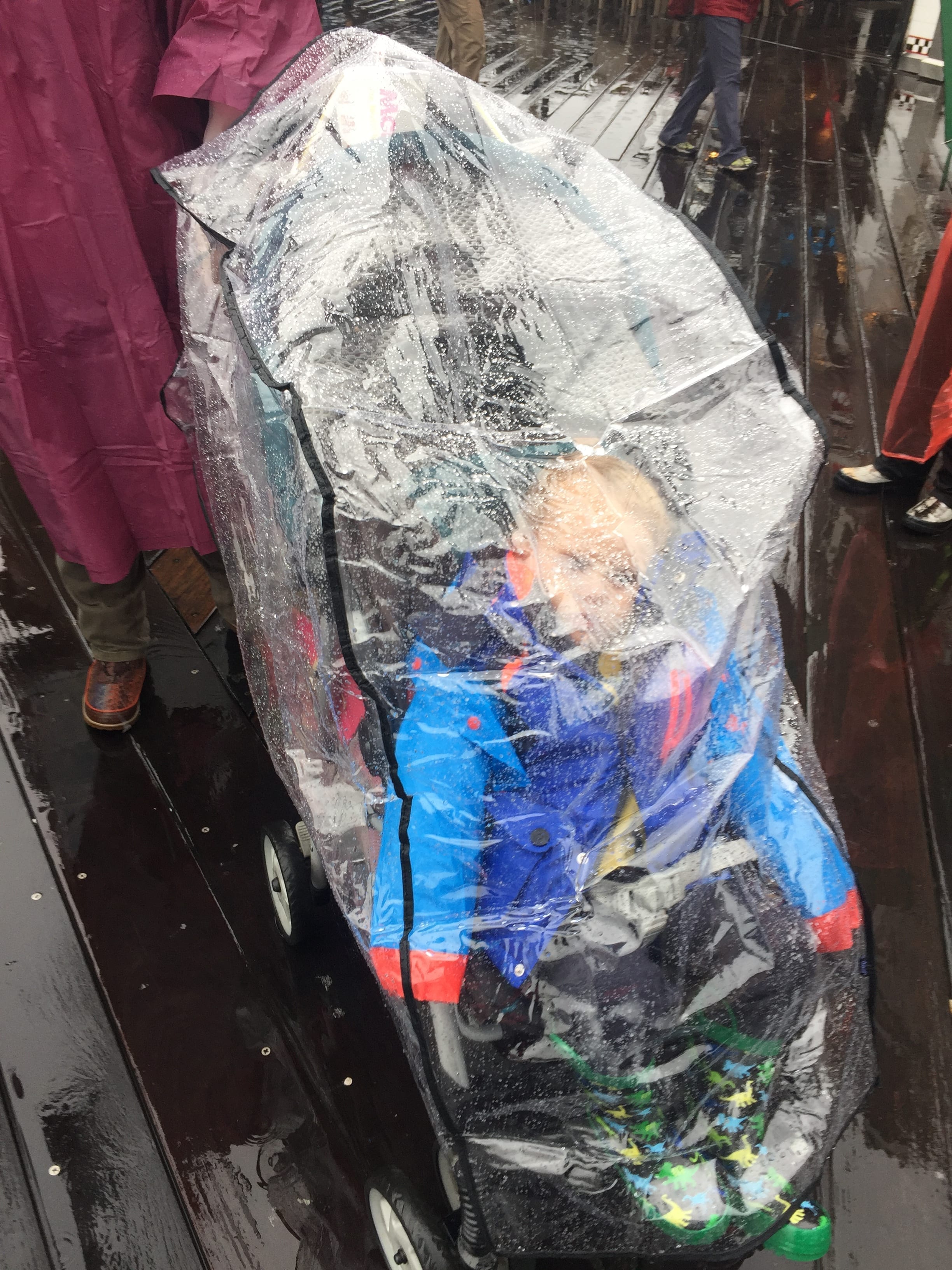 Hopefully, this helps you plan a few things to do in San Francisco when it rains!!  We loved all the museums and had an incredible time, even in the rain.  
Facebook Community
Also, join our Facebook Community and ask any question you have about your upcoming trip.  We have lots of member who would love to help you!