An Adventure in NYC -17 Top Things To Do in New York City
Looking for an adventure in NYC? Want to explore the top things to do in New York City?
Then keep reading!
There are so many places to see and activities in NYC!  I actually had a New York City honeymoon.  Crazy right!  I wanted to see Wicked so bad!  New York City is full of entertainment and amazing places to check out!
There are lots of tourist attractions in NYC.  Most likely, more than you could possibly do in one vacation.
If you are looking for an adventure in NYC, this is the right place!
We will share some of the top tips for New York City and experiences on what we love in  New York City!
If you are planning a trip to New York City Save this Pin for Later!
This post may contain affiliate links that will give me a commission at no additional charge to you
1. Adventure in NYC -Statue Of Liberty

Description of the Statue of Liberty By: In the Olive Groves
The Statue of Liberty has been a beacon of light and hope for millions of people since it opened on October 28, 1886.  The statue was one of the first sites immigrants would see as they reached America after their long journey across the ocean. The Statue of Liberty continues to inspire everyone who visits her to this day.
Even today I can still remember visiting that first time when I was only 10 yrs old.  She leaves a lasting impression on everyone who visits, including children.
I believe most Americans know the statue was a gift from the French people to the United States.  However, do you know why?  Well, it's to commemorate the alliance the French and the United States had during the American Revolution.  A "Jeopardy" tidbit of information for you.
You can learn about the Statue of Liberty when visiting the island by taking the audio tour. But don't miss the opportunity for your children to become Junior Rangers here and at Ellis Island.  My kids really enjoyed earning this badge. This is one of the best activities in NYC and definitely the best adventure in NYC!
Tickets to the Statue of Liberty
When you buy your tickets, you can book just a visit to the island, or you can go into the pedestal or crown.  The tickets for the pedestal and crown book out months in advance so be sure to plan ahead.
A note about going to the crown. This is not an easy climb.  The crown is 162 'tight and narrow' circular steps up.  If you are not fit or able to climb yourself (i.e. a child), opt for the pedestal tickets. Also, children must be at least 4-foot-tall to climb to the crown. There is no elevator so plan accordingly.
How to Get to the Statue of Liberty 
You can take the ferry from either Liberty State Park in New Jersey or Battery Park in New York City.  Your tickets are good for going to both Liberty Island and Ellis Island.
Make sure not to miss the opportunity to take some great pictures on the boat ride getting to Liberty Island.  You will have a great view of Governors Island, Ellis Island, the statue, and lower Manhattan.
For more on the Statue of Liberty see my post on Kid Activities in Lower Manhattan
2. Adventure in NYC – Times Square
Description of Times Square By Planning Away
Times Square also known as "The Crossroads of the World" "The Center of the Universe" "The Great White Way" is one of the busiest pedestrian areas with over 50 million visitors annually!
Some of the activities in NYC that are featured today in this post are located right by Times Square!  Including the Theater District ( My favorite place in New York City), Gullivers Gate, Museum of Art, Top of the Rock Observatory, Radio City Door Tour, and Rockefeller Center Tour.
There are other attractions in this area such as Ripley's Believe it or not, Madame Tussauds, and The National Geographic Encounter.
Commercialism is at its strongest in Times Square.  You will see all sorts of advertisements and promotions.  In the picture above my good friend James is being recognized for his Non- Profit The Investors Society which helps help high school students learn about the stock market.
Time Square is the location of the New Year's Eve ball drop.  It is a very popular celebration with up to 2 million participants in some years!  This can also be viewed nationwide on television.
Times Square is an adventure in NYC you can't miss!
A sightseeing pass is a great idea if you are going to be doing the major tourist attractions in NYC.
3. Adventure in NYC – Empire State Building
Description of the Empire State Building from That Traveling Family 
The Empire State Building is such an iconic New York landmark that an adventure in NYC wouldn't be complete without adding it to the itinerary.
Possibly one of the most famous buildings in the world, the Empire State Building has been featured in over 250 movies! The incredible views of
the city from the 86th-floor observation deck is the big draw, but there's so much more to see along the way.
The lobby alone with its 1930's art deco style is one of the most recognizable spots in the city. Exhibits located throughout the building detail its interesting history and will keep you entertained while you wait for the elevators to the top.
Observation Deck
Although the observation deck is an incredibly popular tourist attraction, if you head there first thing on a clear morning, you'll be able to avoid some of the crowds. Since it's open until 2 a.m., another option is to head up late at night to see the city all lit up.  It is one of the most iconic activities in NYC.
4. Explore Ellis Island
Description of Ellis Island By State by State
When you take the ferry out to the Statue of Liberty, you will also have the chance to explore Ellis Island. This historic site is run by the National Park Service in conjunction with the state of New York.
They work together to help preserve this important piece of early American history. Regardless of whether you have ancestors that came through here or not, it is an interesting place that's definitely worth checking out.
Arriving on Ellis Island
As you pull within sight of the building, the first thing you will notice is the beautiful design of the exterior. The red bricks really stand out and the curves and arches draw you in. When you walk through the big doors, you'll be surprised by how large the room is.
There are rangers on-site to answer any questions you have and will provide you with a map. If you have children in your group, pick them up a junior ranger book here as well.
Start Exploring
Once you've got your map, you can start exploring the building. It's hard to believe that this is where millions of immigrants first set foot in America.
There are plenty of exhibits found on each floor that will tell the stories of people and events that took place here. There is sure to be something for every interest. Make sure you plan enough time because there is a lot to see here.
Exhibits
Aside from the fact that you get to wander around inside this historic place, Ellis Island has some wonderful exhibits on display. There is an exhibit showcasing some of the personal items people brought with them to America.
These items are things that have been donated by family members of those that passed through here to become citizens. Many of the items on display were clothing because, for some, that's all they had with them.
Money Exchange
Another interesting room had on display currency from all over the world. Everyone passing through Ellis Island had to exchange their foreign currency for American money.
They did this right on the island. Most of them arrived speaking little or no English. This meant that oftentimes they would just have to trust that the people in the treasury were giving them a fair deal. You can see all sorts of different types of money in this section including paper currency and coins.
Upstairs
Upstairs, you'll be able to see some of the rooms set up as they would have been when Ellis Island was still in use. It was interesting to see the rooms where the immigrants were examined before they could leave the island.
Also upstairs is a very interesting art exhibit. It features photographs of how Ellis Island appeared before being recognized as a historically significant location.
These photos depict Ellis Island in a poor state of disrepair. Much of it is overgrown and the buildings are in bad shape. It is great to see how well they have preserved, restored, and protected this important piece of American history.
Ellis Island is just as much an attraction as the Statue of Liberty. It offers some great insight into early America and the people that make up this country. Take your time and explore this piece of history.
This is a great adventure in NYC!
5. Adventure in NYC – Central Park
Description of the Top 10 List of What To Do in Central Park by KMF is Writing
New York City is one of my favorite places to visit in the world. I used to live only about an hour north by train and have returned as a visitor countless times over the years. It is never the same experience twice.
While I love so many things about New York, I highly recommend spending at least a day in Central Park. While there are hundreds of things to see, here are my top 10 adventures in NYC Central Park.
1: Take a walk
At 840 acres, exploring Central Park is not exactly a walk in a park. But you could simply just do that and have a fabulous experience as you never know what to expect.  In fact, I just asked my husband what his favorite thing to do in Central Park was and his response was, "Walk."
2: The Mall and Literary Walk
This wide pedestrian walkway bordered by American elm trees is a great way to explore Central Park. On the south end, you'll come across the Literary Walk with a few statues of well-known writers.
3: Bethesda Terrace and Bethesda Fountain
You'll probably recognize the fountain in Bethesda Terrace from movies and TV shows.  Love the grand staircase that takes you down to the terrace and fountain. Make sure to walk through the arcade and check out its unique tiled ceiling.
4: Strawberry Fields
Strawberry Fields is a designated quiet zone – a memorial to songwriter and musician John Lennon and named after his favorite Beatles song. Here you'll find a beautiful Imagine mosaic (a tribute to one of his solo songs).
5. Rowboats on the Lake
Rent a rowboat or reserve a gondola ride at The Loeb Boathouse while discovering Central Park from a unique perspective. Rowboats are first-come, first-served, while reservations are required for the gondolas. Or you can grab something to eat and drink at the boathouse and watch others row.
6. Take a Pedicab
If you want to give your feet a break, flag down one of the many pedicabs to explore Central Park. Make sure you agree on a price before you get in.
7. Sheep Meadow
This 15-acre field is a popular respite especially for city dwellers needing a nature fix.  Residents and visitors alike come here to picnic, fly kites, sunbathe and read.
8. Central Park Zoo
Central Park Zoo is a must-do, especially for families. Some of the exhibits include the ever-popular sea lions, grizzly bears, penguins, lemurs, and goats that you can feed at designated times.
9. Museums
While you're in the neighborhood, you can find several museums near Central Park (and is also a good Plan B if the weather is uncooperative). Our favorites are the Metropolitan Museum of Art and the American Museum of Natural History (you'll recognize some of the exhibits from the Night at the Museum movie).
10. A Whole Lot of Nothing
Honestly, sometimes I just love to grab a Nathan's Famous hot dog from the nearest vendor and find a good place to sit and just be present. It's also a great opportunity for to people watch.
Of course, my list could go on and on.  These things to do in Central Park are just the beginning. 
6. Adventure in NYC – Rockefeller Center Top Of The Rock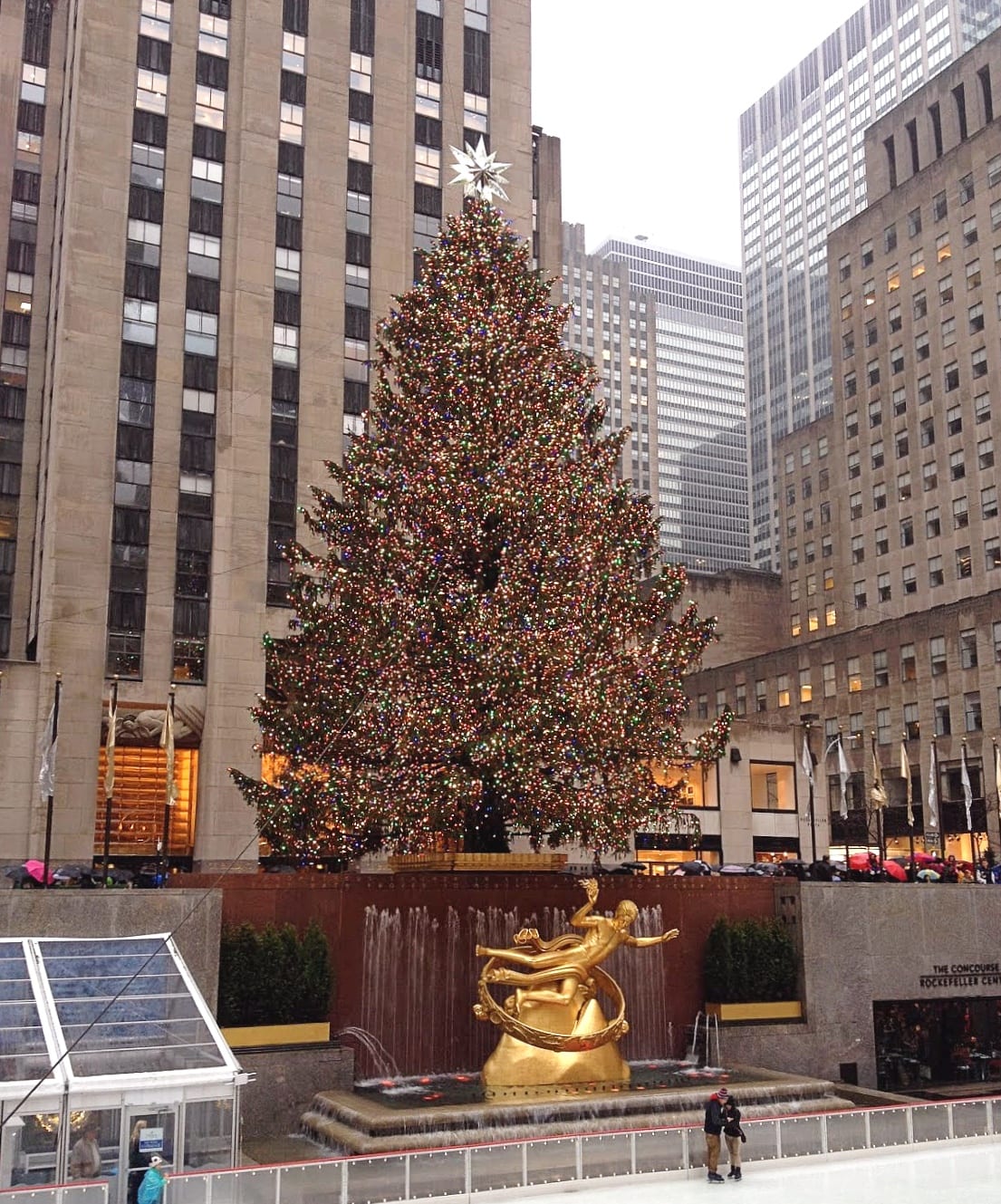 Description of Rockefeller Center By Wanderlust On A Budget
Without a doubt, Rockefeller Center is one of the most popular tourist spots to visit in New York City. Particularly at Christmas! From the NBC Studio Tours to the Top of the Rock observation deck, to ice skating next to the giant Christmas tree, there's a reason it's so popular. These are great activities in NYC. 
For me, Top of the Rock is the best observation deck in NYC. Why? Because part of what makes the New York skyline so iconic is the Empire State Building. But if you're at the top of the ESB, you can't see it. But, if you are at Top of the Rock, you'll see the skyline with the Empire State Building included. It's also a little bit cheaper.
If you have the time, a visit the NBC Studios is a must. You'll get a guided behind-the-scenes tour of some of the sets and props, along with some interesting stories. Depending on which day/time you visit, you may see rehearsals for Saturday Night Live or the set of The Tonight Show with Jimmy Fallon. 
Lastly, Christmas in Rockefeller Center is the iconic Christmas scene, one that you'll see in countless holiday movies. While ice skating there can be overly crowded with incredibly long lines, it costs nothing to go visit and take photos! One of my favorite spots to view the tree and ice skating rink is upstairs, above the Nintendo store in the café seating area.
7. Adventures in NYC – Metropolitan Museum of Art
Description of the Metropolitan Museum of Art By Two Traveling Texans
When you are in NYC, you must visit the Metropolitan Museum of Art.  More affectionately referred to as "the Met." it is the largest art museum in the United States and has over 2 million pieces in its permanent collection.  It is one of the top activities in NYC.
Things to see at the Metropolitan Museum of Art
It's not possible to see the entire museum in one visit, but make sure to see the highlights including works from Ancient Egypt, paintings from European masters, antique weapons and armor, and of course the collection of American and modern art.
During the summer don't miss the special exhibit on the roof. Be sure to snap some shots of Central Park and the NYC skyline while you are at it. This is a great adventure in NYC.
Location and Admission
The Met Museum is located at 1000 5th Avenue, which is on the stretch of Fifth Avenue known as the Museum Mile.  It is open 10:00 am – 5:30 pm Sunday through Thursday and from 10 am – 9 pm on Fridays and Saturdays.
The museum used to have a pay-what-you-wish admission policy but now they charge $25 for adults (unless you are a tri-state area resident).  This also allows you to visit the Cloisters and Met Breuer. The Metropolitan Museum is also included in most NYC attraction passes.
8. Adventure in NYC – Grand Central Station
Description of the Grand Central Station by Prosperity Passenger
Grand Central Station is a world-famous landmark and transportation hub in Midtown Manhattan. Its rich history is a story of immense wealth and great engineering, but also of survival and rebirth.  Built-in 1913, it is the largest train station in the world.
Grand Central Terminal
Although many may call it Grand Central Station, its real name is Grand Central Terminal, and it holds many magical secrets within its walls. If you have a trip to NYC planned, you'll want to check out the mysteries of this iconic transportation hub. This is an adventure in NYC!
Grand Central Station is known as one of the finest transportation stations in the world.  There are 44 platforms with 67 tracks.  The terminal covers 49 acres and has over 700,000 people a day traversing its corridors. And you could spend a day just eating your way through the restaurants, cocktail bars, and the infamous Magnolia Bakery banana pudding.
Architecture 
Among the hustle and bustle of this transportation hub in the thriving city of New York, a little-known secret and magical phenomenon rises up out of the architectural structure of the terminal itself.  This is a secret worth quietly whispering to your closest friends.  Explore Grand Central Station and experience this secret phenomenon on your next trip to New York City.
9. Adventures in NYC – Food Tour Of New York City
Description of the Best Foods in New York City by Travel Collecting
One of the absolute best things to do in New York City is to experience the food that you can only find there or that originated there.  There is nothing like having the OG! It is one of the best activities in NYC!
Best Pizza in New York City
Of course, you have to have a slice of pizza – thin, folded over to keep it from drooping and eaten on the go. For a sit-down version, classic pizza restaurants include John's on Bleeker, Grimaldi's Pizza, and Farinella's Bakery Pizza.
Where To Get The Best Hot Dogs In New York City
Add in a hotdog covered in mustard and sauerkraut from any street cart vendor or from the one and only Nathan's at Coney Island.
Sandwiches You Can Not Miss in New York City
You probably won't be able to finish a pastrami on rye – about 6 inches of meat between two slices of bread at the classic Katz's Deli on Houston (pronounced HOWston) Street.
Desserts in New York City
Leave room for a slice of New York cheesecake from Juniors.
Cronuts
More modern additions include cronuts at Dominique Ansel's Bakery in Soho and Crack Pie at celebrity chef Christina Tosi's Milk Bar (there are several hole-in-the-wall locations around the city).
A cronut is a combination of a flaky croissant and a donut, filled with a creamy filling and topped with a flavored ganache.  Flavors change every month – get there early so you don't miss out.
Crack Pie
Crack Pie is a slice of sugary pie that is allegedly as addictive as crack – I'll let you be the judge!
A trip to NYC wouldn't be complete without sampling all of the foods unique to it! A food tour is an amazing adventure in NYC!
10. Adventure in NYC – Broadway Theatre District
Description of Broadway By Love Laughter and Luggage
If you're heading to New York City, be sure to put a Broadway show on your itinerary.   It is my favorite adventure in NYC! The shows are amazing, and you're sure to make some great New York memories.  There's a little something for everyone–classics, contemporary, and even Disney!  You may even be able to see one of your favorite performers.
There's nothing like walking in the heart of the city to see your show.  And when your evening show is over, you'll get to see the Great White Way in all its glory. With all the glowing lights, it's no wonder that New York's theatre district was given the nickname.
Make Memories in NYC
One of my best memories of that trip was visiting the Empire State Building after seeing the evening performance of Phantom of the Opera. We walked a few blocks to the building, and by the time we got through security and up to the top, it was midnight.  Such a surreal feeling!  And chilly!  Though it was June, we certainly needed our jackets up there at night.
Don't be afraid to check out one of the activities in NYC or to grab a treat after the show.  Make a night of it or an afternoon of adventure.  You'll be glad you did!
11. Adventures in NYC – Coney Island
Description of Coney Island by Adrift Aesthetic 
New York is one of the most frequented cities in the States, but sometimes you need to hop on the train and get away from the skyscrapers and traffic. If you're looking for a fun and unique day trip from NYC, definitely make your way to Coney Island.
Located on the south tip of the Brooklyn borough, you will feel like a kid again as you stroll the boardwalk, hop on classic carnival rides and relax on the beach.  It is one of the best activities in NYC! 
Rides
Coney Island is home to multiple rides that are so iconic, they've received National Historic Landmarks designations. The most famous is Deno's Wonder Wheel, a twist on the typical Ferris wheel where colored cars slide down slanted tracks as the ride spins. The Coney Island Cyclone, first built in 1927, is also a must-ride coaster for any thrill-seeker.
Food
No trip to Coney Island is complete without eating food that will pile on the calories in the best possible ways. Nathan's is an institution, selling corn dogs on the boardwalk for well over 100 years. You can also stock up on all other things deep-fried including Oreos and funnel cake.
Round out your trip with some time on the beach and Steeplechase Pier, and you'll quickly realize why Coney Island has been such a popular destination, generation after generation.
Coney Island is an adventure in NYC!
12. Adventure in NYC – Live TV Show Viewing In New York City
Description of  How to Get Free Tickets to a Live TV Program By Marcieinmommyland
One of the coolest things to do in New York City is attending live TV taping! You can find tickets to Live with Kelly and Ryan, the Tonight Show with Jimmy Fallon, The View, Good Morning America, Saturday Night Live, and more.
Free Tickets
My husband and I scored free tickets to Late Night with Seth Meyers on our last trip to NYC. It's easy to apply for tickets online. We showed up a few hours before the taping and learned how to be good audience members.
And in between filming, Seth Meyers came into the audience and chatted about life with his baby and his absolutely crazy birth story!
Not only did it provide hours of entertainment for us, but we loved that it was a totally budget-friendly thing to do in NYC at nighttime! It was a fabulous adventure in NYC!
13. Adventure in NYC – Greenwich Food Tour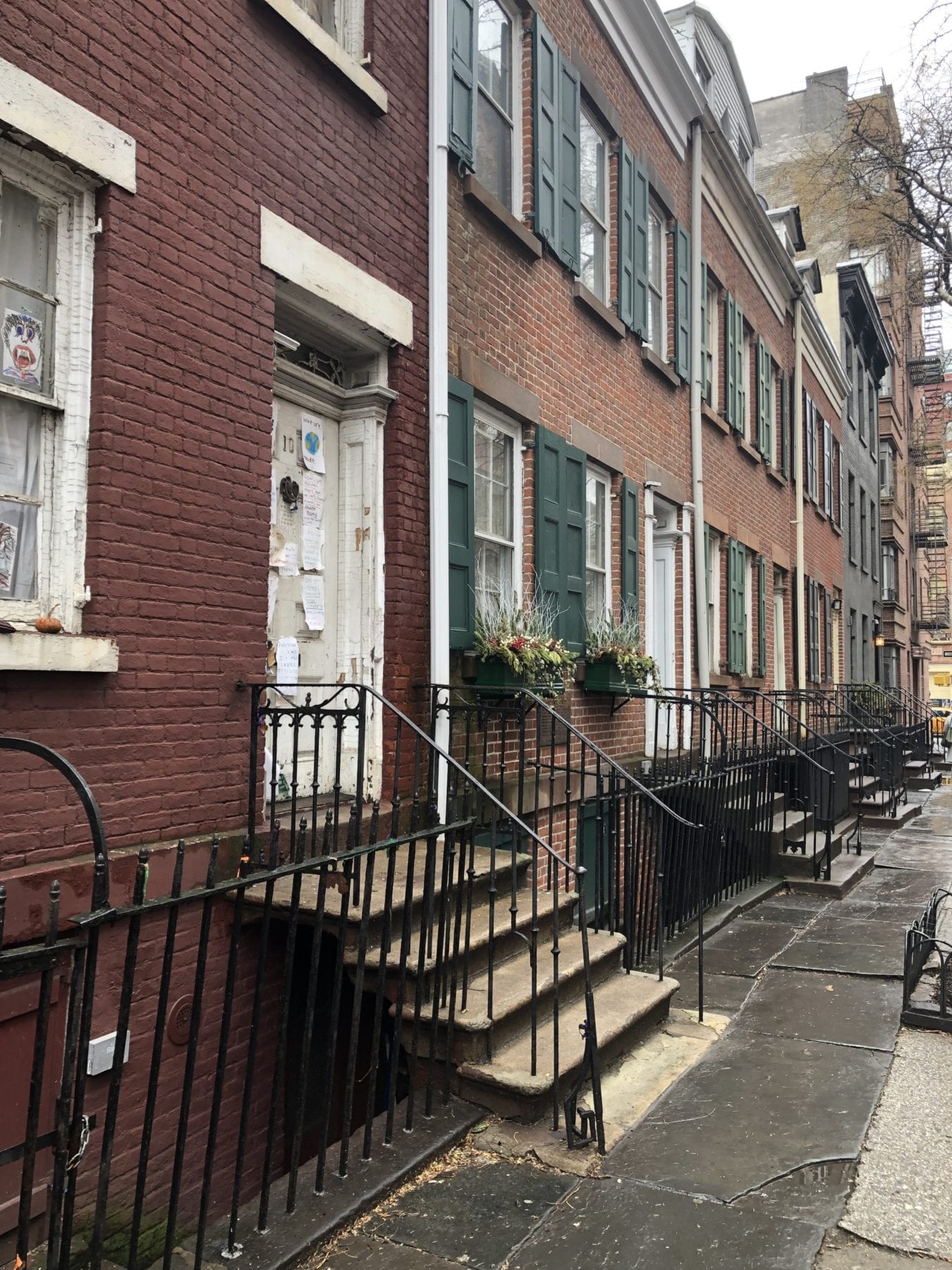 Description of Greenwich By  DQ Travel
New York is filled with plenty of fun, historical, and classic things to do.  One of the most unique ways to tour the city is to take a food tour through one of its neighborhoods.
Greenwich Village
Greenwich Village is one of those areas that feel as if you are walking through a movie set.  Tree-lined streets, brownstones, and cafes are everywhere and the food is delicious!  We took a Greenwich Village Food Tour and it was one of the highlights of our New York City trip.
Food Tour
This food tour was centered around Italian food and we all left with a full stomach.  We tasted cheese, pasta meatballs, olive oil, pizza, soppressata, cookies, and cannoli.  Our tour guide not only took us to quaint restaurants and shops but explained the history of the area and some fun trivia facts from movies and TV films. It was an adventure in NYC I will never forget! 
Overall, I highlight recommend taking this Italian food tour in Greenwich Village to experience one of the most unique activities in NYC.
14. Adventure in NYC – Gullivers Gate
Description of Gullivers Gate By Thrifty Family Travels
A fun attraction to see in Times Square is Gulliver's Gate – particularly if you're in NYC with kids!  This little miniature world is so cool, both young and old will love it.
This is the world's most technologically advanced, interactive display of miniatures- everything is tiny, but you will have big-time fun at this attraction.
Interactive Museum 
This modern and interactive museum with plenty to discover, offers miniature figures of the world of famous buildings, all over the world at one time.  The place is huge!  There are over 50,000 square feet of worlds to check out from over 40 countries.
There are miniature worlds from the USA, Europe, Asia, and even a fully operational miniature airport!
The Detail!
Kids and adults alike will love discovering new little detail in the various worlds and checking out cities that they have visited too.
No doubt the little ones will particularly love the key they are given upon entry, which can be used used to activate different parts of the miniature sets.
3D Scanner
You can even become a part of the attraction yourself with the 3D scanner.  This is an optional extra, but the 3D scanner can make a miniature you and pop it in one of the displays.
Gullivers Gate is located right in the heart of time square and is open between 10 am and 8 pm.
This is a great adventure in NYC for kids!
15. Adventures in NYC – Staten Island Ferry
Description of the Staten Island Ferry By Where The Wild Kids Wander
One of the top things to do in New York is also free! You read that right. FREE! The Staten Island Ferry, the iconic orange boat you see in many movies and television shows, offers free transportation between Manhattan and Staten Island. It is one of the best free activities in NYC! 
Ride the Ferry! 
Why would you want to ride the Staten Island Ferry? For the views! The ferry rides right by Liberty Island, giving the riders a perfect view of both the Statue of Liberty and Ellis Island.
On the other side of the boat, passengers can get a good look at Governor's Island, another fun New York destination. When you ride the ferry back to Manhattan, you'll see the Brooklyn Bridge, as well as the lower Manhattan skyline.
Board the Ferry
To board the ferry on Manhattan, head to the Whitehall Terminal adjacent to Battery Park. After you arrive at Staten Island, you must depart the boat. Follow the crowd to the main hall, and then make a left to return to the passenger waiting area. There you will be able to board the return ride home.
The ferry operates seven days a week, 24 hours a day. Boats leave every 15-20 minutes during peak times, and every 30 minutes the rest of the day.
This is a fun adventure in NYC!
16 Adventures in NYC – Williamsburg
Description of Williamsburg by Via Travelers
Williamsburg is one of the hottest, trendiest neighborhoods of New York. It is a unique activity in NYC.  Believe it or not, this borough wasn't really on anyone's radar as it was mostly home to industrial parks and manufacturing. It wasn't always such a hipster-centric scene.
Music Scene
During this redevelopment of the area, the music scene boomed alongside it. With many indie-rock and electronic artists both living and playing in the area.
It isn't just a hipster scene too, there is plenty of cultures (as you'd expect in New York) ranging from the Middle East, Italian, Latin American, and more.
Food
If you are a foodie, craft beer, or music lover, then Williamsburg is for you. I recently used several travel hacking techniques to experience Williamsburg and Brooklyn right by staying at The Hoxton Hotel.
Things to Do in Williamsburg
There's plenty to do and explore in Williamsburg. I suggest you check out the Brooklyn Bowl and Brooklyn Brewery. If you have plans to see more of Manhattan, you should walk across the Williamsburg Bridge to get there.
It's a great experience to see the city from a new vantage point while participating in the typical New York City hustle and bustle.
17. Adventures in NYC – Roosevelt Island NYC
Description of Roosevelt Island from Voyagewriters.com
Roosevelt Island is a quick getaway from the hustle and bustle of New York City. Located on the East River between Queen's and Manhattan, you can take the subway, bus, or car to get there.
How to Get There
By far the most scenic and interesting way to get to Roosevelt Island is to take the 5-minute ride on the tram. Use your MetroCard and board at E 59th and 2nd Ave.
Once you are on the 2-mile long island, your first stop should be the Roosevelt Island Historical Society Visitor Centre.  Staffed by volunteers that live on the island, they are ready to answer your questions and give you a map.
Franklin D. Roosevelt Park
Next, head to the southern end of the island and visit the Franklin D. Roosevelt Four Freedoms Park. Here you will have a spectacular view of the city skyline as you stroll along the riverside walk.
Renwick Ruin
Working your way north, make stops at the Renwick Ruin (former smallpox hospital), the Octagon Tower, and the 19th-century lighthouse. Along the route, you will find restaurants, coffee shops, and lots of history.
The pace here seems slower even though it is home to the Cornell University NYC campus. Enjoy what many native New Yorkers haven't discovered yet. It is a new adventure in NYC! 
Ready to Plan a Trip to New York?
Hopefully, this helps you plan your adventure in NYC and plan a New York City itinerary!  There are so many fun things to do in New York City you are sure to have a blast with all the fun activities in NYC! 
If you have any questions be sure to check out the Facebook Group!
Facebook Community
I hope you have lots of ideas of what you want to see and do on your next New York City Vacation.
If you have any questions we have a great Facebook Community!  This community is a group effort and we all help each other!