This is the Place Heritage Park
This is the Place Heritage Park is a must-see in Salt Lake City!  This site will transport you back to the time of the early pioneers that settled Utah.
There is so much to learn at this interactive historic site.  Let's explore all that it has to offer!
If you would like to save this post for later be sure to pin it to Pinterest!
This post may contain affiliate links that will give me a commission at no additional charge to you.
This is the Place Heritage Park
If you love historical travel this will rank on the top of your list!  Located in Salt Lake City, Utah, This is the Place Heritage Park is an interactive step back in time.
When Brigham Young and members of The Church of Jesus Christ of Latter-day Saints crossed the plains from Illinois in the 1800s, Brigham Young looked out over the valley, which is now Utah, and said, "This is the Place."
This park is a tribute to the history of Utah.  You could easily spend an entire day here. The hours of operation are from 10:00 am – 5:00 pm daily, year-round.
Admission varies depending on the season but no matter what time of year you can go to Coupons4Utah.com to get a $2 off coupon.
What to Expect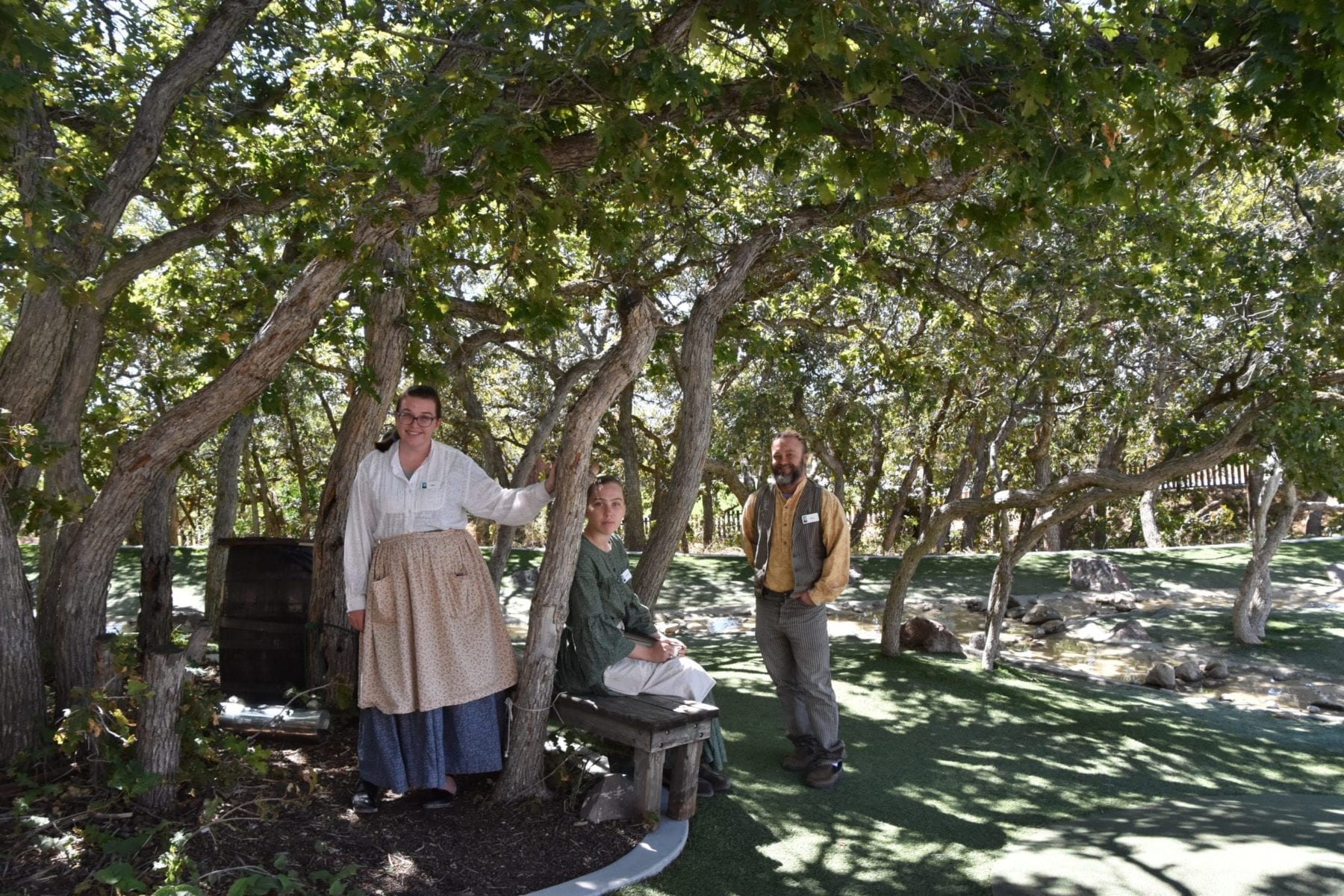 The park is very big and there are different locations throughout the park with interactive hands-on activities.  You will find workers dressed in pioneer attire willing to teach you all about Utah's early history.
Train
As you walk into the park, you can board a train.  The train will take you around the park, and will stop at 5 different locations.  The conductor will tell you all about the history of Utah with a comical twist. You will be laughing and having a great time as you ride along.
You do not need to ride the train to see all the stops, especially the pioneer village but, the park is so big that it would make you very tired if you did not ride the train at least a little!
Pioneer Village
At stop one is the pioneer village!  This village includes log cabins, a schoolhouse, a bank, a candy shop, a blacksmith shop, a furniture maker home, and much more!
There are interactive characters dressed up like pioneers that teach you about life in the late 1800s. (Think similar to the historical parks at Jamestown or Williamsburg with workers dressed in historical pieces)
Family Cabin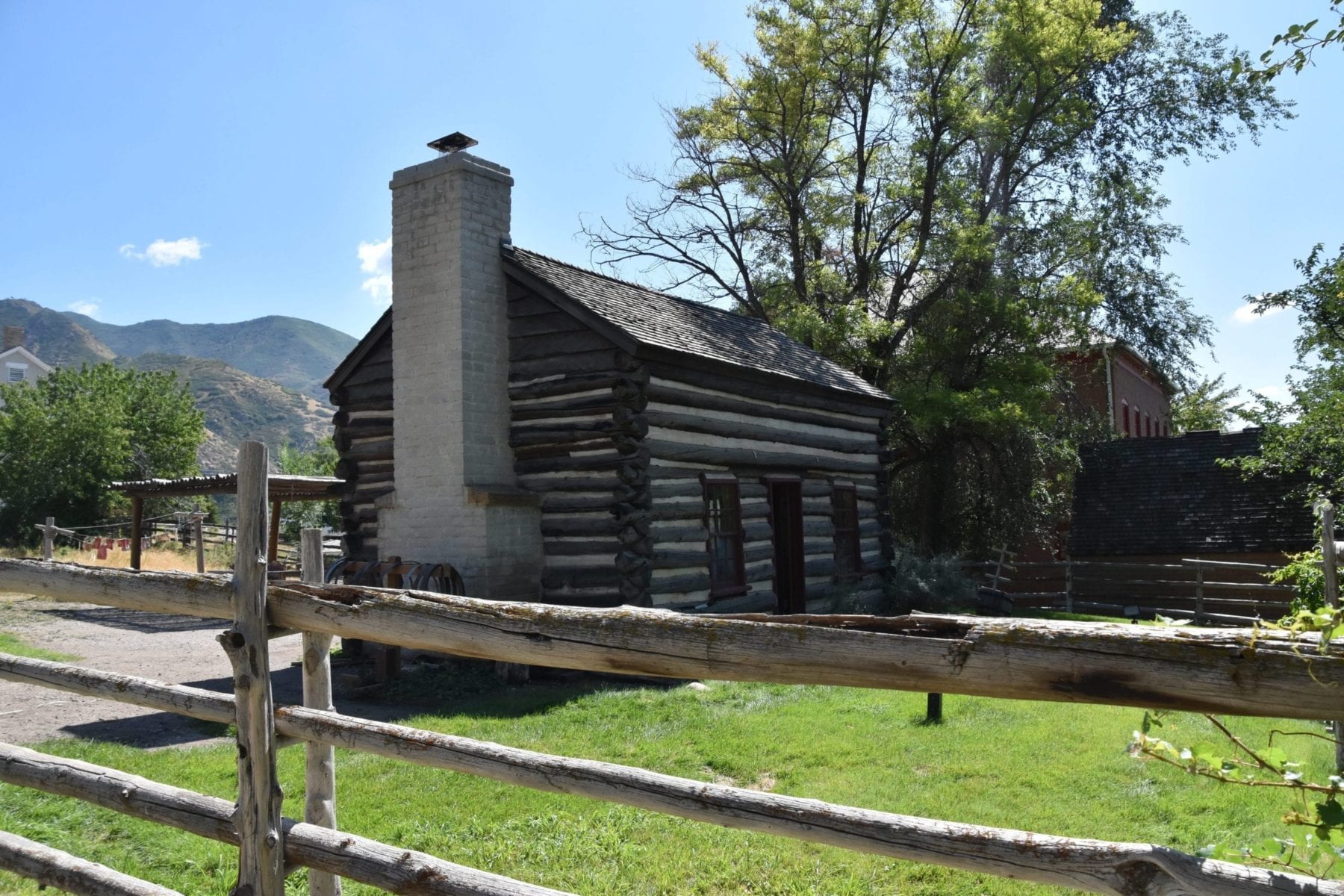 One of my kids' favorite spots is a cabin of a family with many kids.  There are pioneer games outside to play.  My kids love learning how to wash clothes and garden.
Brigham's Doughnuts
We always stop by the doughnut shop for some old fashion doughnuts and homemade dips.  This does cost a little extra but we think it is worth it.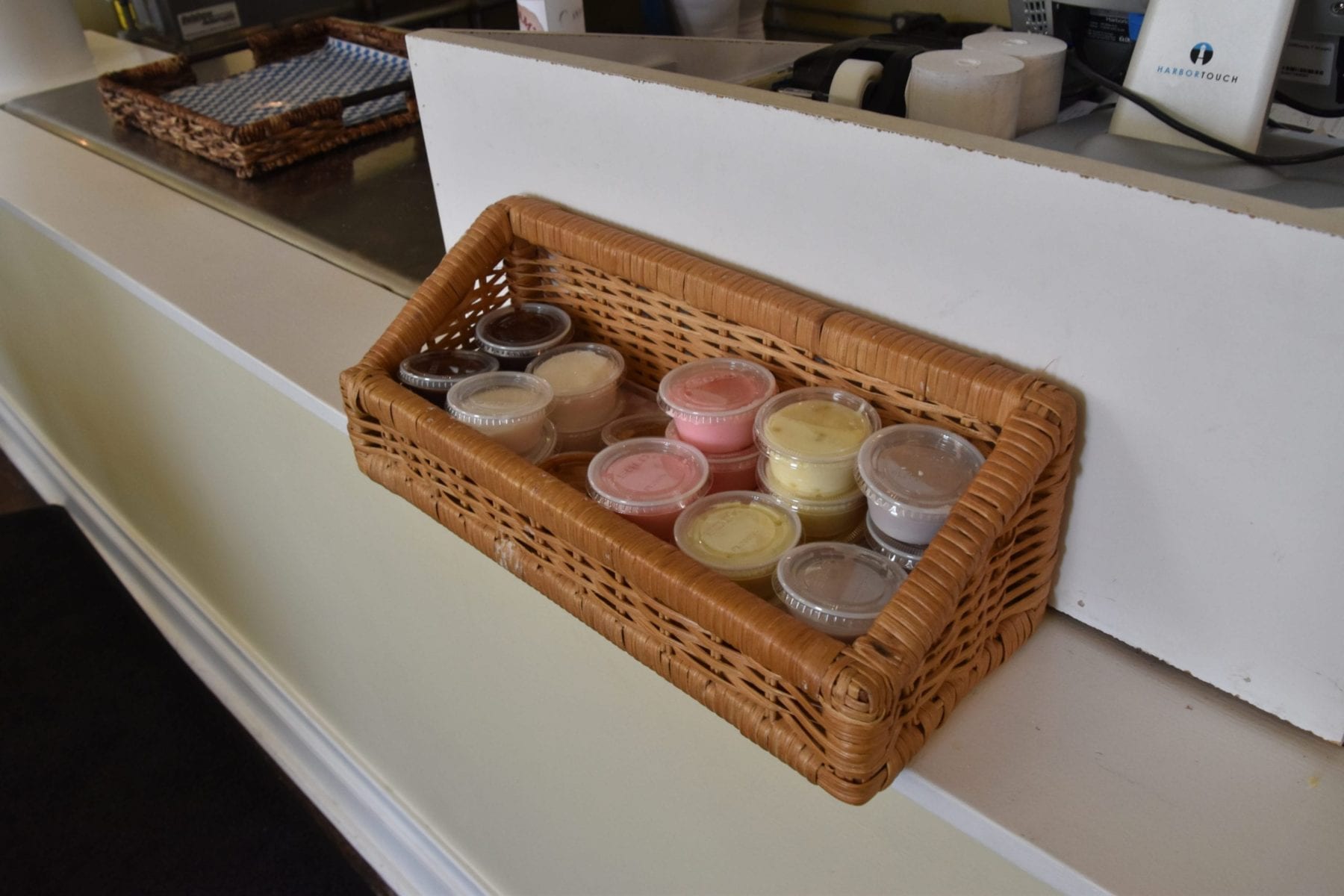 Petting Zoo and Pony Ride
Also, located at the pioneer village stop is a huge petting zoo. There are lots of animals, such as sheep, pigs, horses, rabbits, and goats.   A pony ride is included in admission for the kids.  Lots of baby animals are born each year; it is a highlight.
Playground
A playground is near the petting zoo. My kids love this part and could spend a lot of time climbing and exploring! This is a great spot to have a picnic lunch and relax!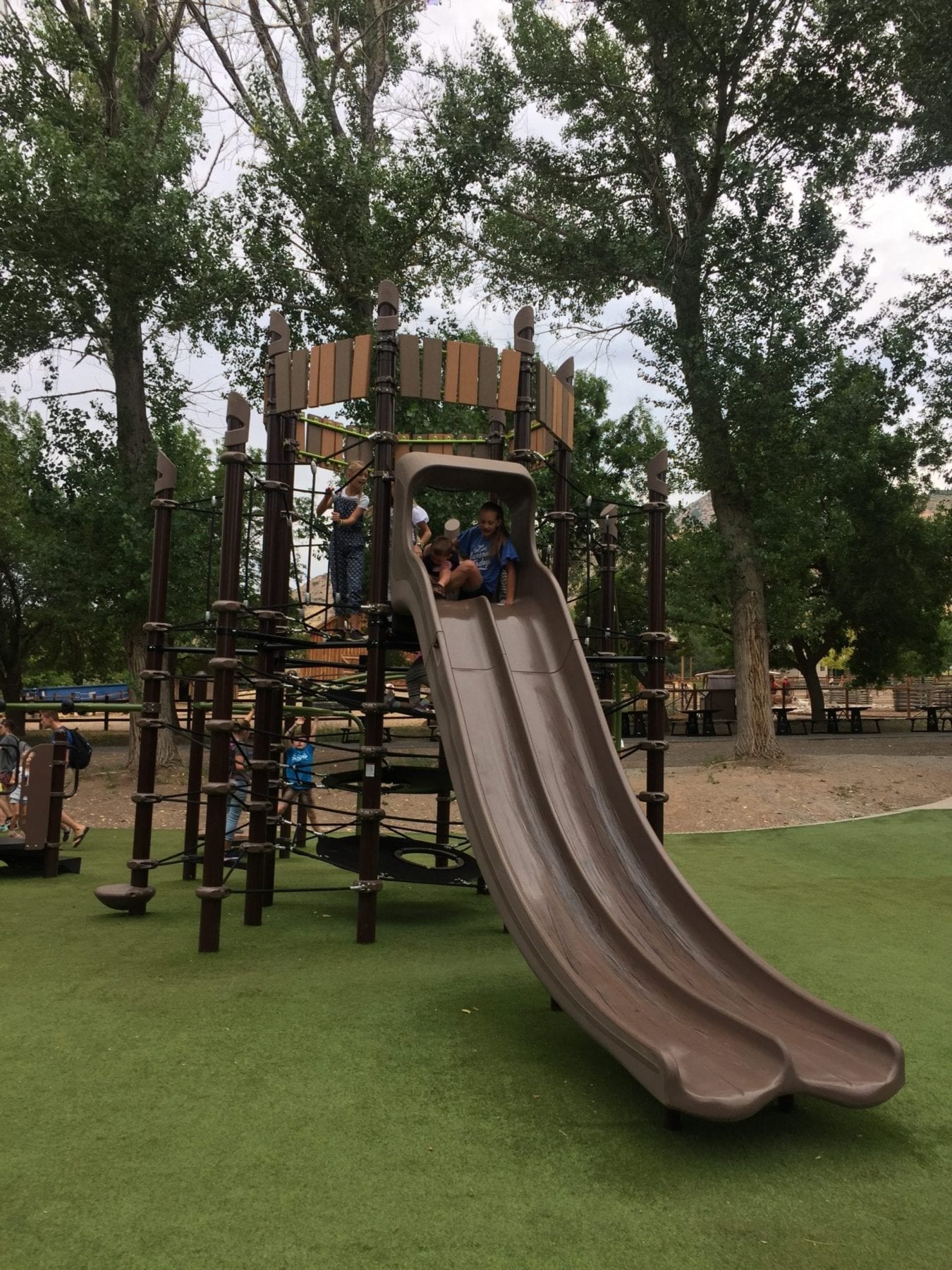 School House
Learning about how school was back in the 1800s is always a highlight for my children, and so the schoolhouse is on the top of our list.  The early pioneers were from all over the world and spoke many languages.  It was difficult to teach everyone.

Brigham Young Home
At train stop 2, there is a replica of a home that Brigham Young lived in.  A tour of the home is available every 30 minutes.
When the pioneers came to Utah it was important to plant many different kinds of seeds to see what would grow in the desert.  There is an orchard of apple trees on the property. Fruit does grow really well in Utah!
Splash Pad and Hotel
Train stop 3 will be your favorite stop in the summer!  A splash pad is in this area!
Huntsman Hotel
The Huntsman Hotel is across the street from the splash pad.  It is now used as an ice cream parlor and restaurant.  They will also give you free water cups if you are dying of heat!
ZCMI
We like to hit the ZCMI Mercantile Shop.  ZCMI was a very popular store for years in Utah.  It was established by Brigham Young in 1868. You will not see the ZCMI in Salt Lake City or other locations anymore, as ZCMI was sold in 1999, and the buyer stopped using the ZCMI name for stores in 2002.
At This is the Place Heritage Park, which is remembered as a candy shop.  We love to buy old-time candy for 5 cents.
Pharmacy
Another place to stop is the pharmacy. Here you can learn about the medicines used during frontier times, as well as candy. Here's a hint. If you stop at the hospital when you arrive (it's near the entrance), you can get a prescription (if you take the train the hospital is at the last stop).
You can give the pharmacist the prescription and he or she will give you a piece of candy! This is a great place to learn all about what herbs were used for medicine in the 1800s.
Bank
The bank is a great place to go as well, but you might want to wait until after you go pan for gold at the next stop. If you bring your gold to the bank you will get chocolate gold coins in return!
Native American Village
At train stop 4 there is a Native American Village with Native American Dancers.  They do demonstrations of the cultural dances of their tribe.  You can also make jewelry (included with admission).
As you journey past the tee-pee and red rocks you come to a stream where you can grab a toy boat and race it down to the bottom!  This is really fun!
The tee-pee is the 3rd largest in the world behind one in Canada and one in China.  But this tee-pee is air-conditioned!
Treasure House
At this same stop on the opposite side of the Native American area is the treasure house.  There is a gold panning location here.  You can sit down and enjoy the day in the shade as you get rich!
Gold Panning
This area has a shallow stream full of "gold" flecks. There are metal tins that kids can use to dig into the sandy stream bed and shake out the sand and other deposits to find the gold.
Ship
A replica of the ship that transported some of the pioneers from New York to California is located in the area as well.  Kids can play on the inside of the ship.
Miniature Train
A short walk from the ship you will find a miniature train that you and your young ones can ride. It goes around a pond and has a beautiful view of the valley.  This is included in admission and is the highlight for my four-year-old!
Digging for Gems
If you want to pay $1, you can get a pouch and dig for gems and precious rocks to put in your pouch.  My kids will spend so much time in this pit searching for the best options.
Pioneer Children Memorial 
This memorial was just added in July of 2019.  It is a tribute to the children who died crossing the plains.  The youngest was a newborn and the oldest was 16 years old.
Hospital and Quilt Museum
At the last stop, which is the hospital, you can walk in and there will be workers who will hand the kids crafts to color. The room is full of tables to sit at, as well as timepieces along the wall to look at. The crafts are included in admission.
If you walk to the other side of the hospital and up the stairs (or you can use the elevator), there is a quilt museum, and is worth checking out!  There is a quilt made from squirrels!  It is crazy!  All of the quilts were made in the 1800s.

Special Events
We love This is the Place Heritage Park, and have had a season pass.  There are many special events throughout the year that we love.
Candlelight Christmas – This event is really fun. We made smores and had hot chocolate. There is a live nativity and Christmas carolers from the pioneer days.  Santa is also there!
Christkindlmarkt – Inspired by the German Christmas markets, this event offers a unique shopping and cultural experience.  There are many yummy foods to try as well.
Dog Day – Bring your dog to the park and a portion of your admission price goes toward local animal shelters.
Liberty Day – On the 4th of July a special Candy Cannon is fired!
Pioneer Day – Pioneer Day July 24th is a state holiday and everyone locally gets off work.  This is the day that the pioneers entered the Salt Lake Valley in 1847.  Salt Lake City has a huge parade and fireworks each year on this day. At This Is The Place Heritage Park, there are parades, contests, games, performances, and the candy cannon multiple times throughout the day.
Little Haunts – This is not a scary event, and is very fun for the littles to dress up and enjoy the park during Halloween time.
Horse Back Riding
The property around the park is spacious. There is land that goes up the foothills into the mountains.  At an additional cost, you can go on a guided horseback ride.  The price runs between $55-75 for an hour experience.  These rides are for ages 8 and up, and need to be reserved ahead of time.  There are six rides a day.
Building Rentals
There are some beautiful buildings on the property that can be rented out for weddings and receptions, corporate events, and family reunions.  This is truly a grand park.
Are You Ready to go to This is the Place Heritage Park?
If you are looking for more awesome things to do in Utah be sure to explore planningaway.com!
Facebook
If you have any questions be sure to join my Facebook Travel Community  This great community can help answer any questions you may have about your upcoming trip. Plus, I try to add any great deals or promotions that companies send me!