Are you excited to go to Capitol Reef National Park?  I bet you are!  I wanted to share with you the best hikes in Capitol Reef National Park as well as a guide to help you navigate the park.
One of the five national parks located in Utah, Capitol Reef provides canyons, an arch, and mountainside hikes, providing panoramic views and brilliant landscapes.
Let's explore this West Coast national park and all of the best hikes in Capitol Reef!
If you would like to save this information for later be sure to pin this to Pinterest!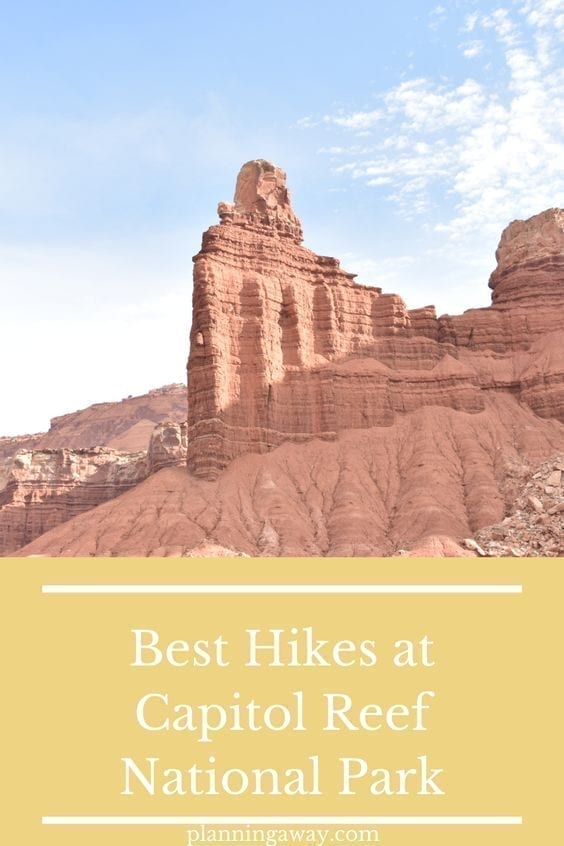 This post may contain affiliate links that will give me a commission at no additional charge to you.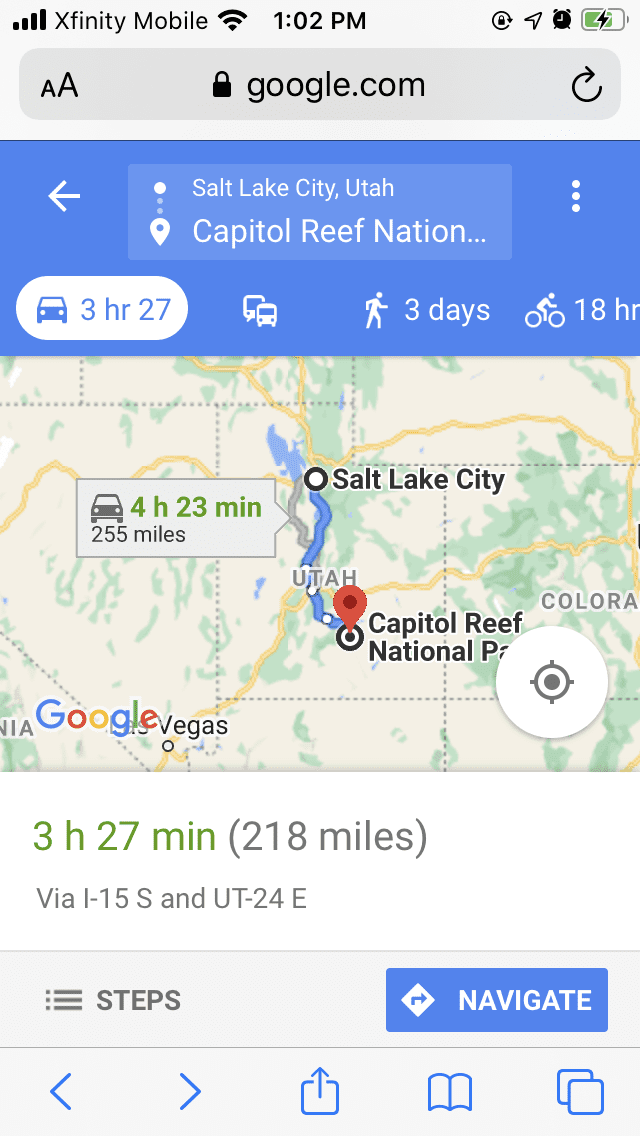 Capitol Reef National Park is near Torrey, Utah. Torrey is a small town, located 213 miles from Salt Lake City (just over a 3 hour drive).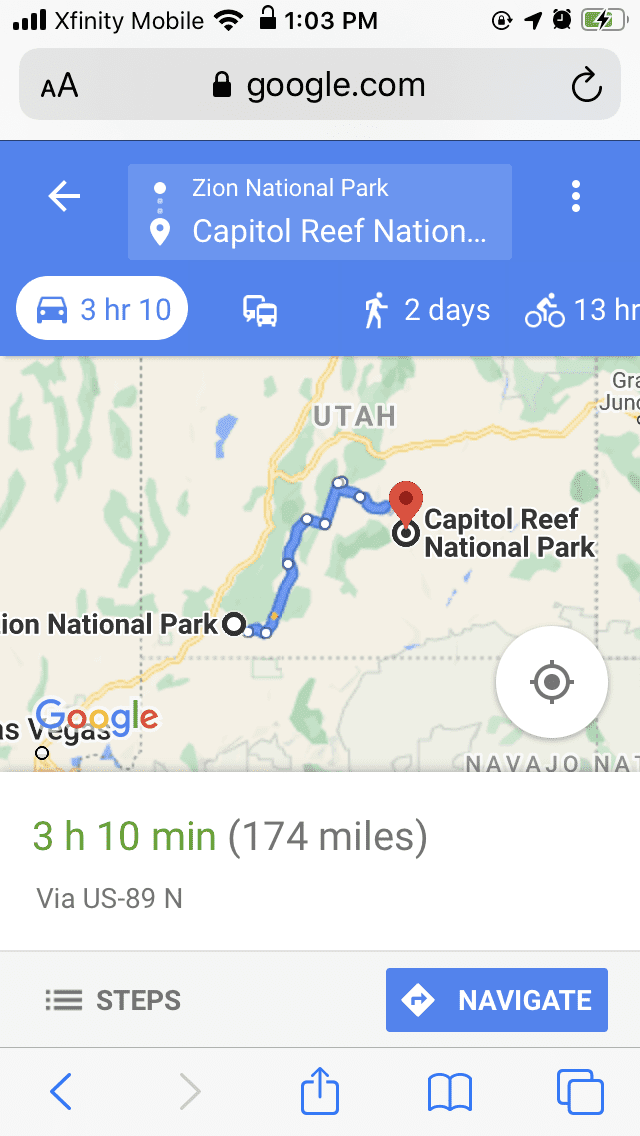 If your prior or next stop is from Zions National Park, there are approximately 170 miles between the parks, which will take you about 3 hours.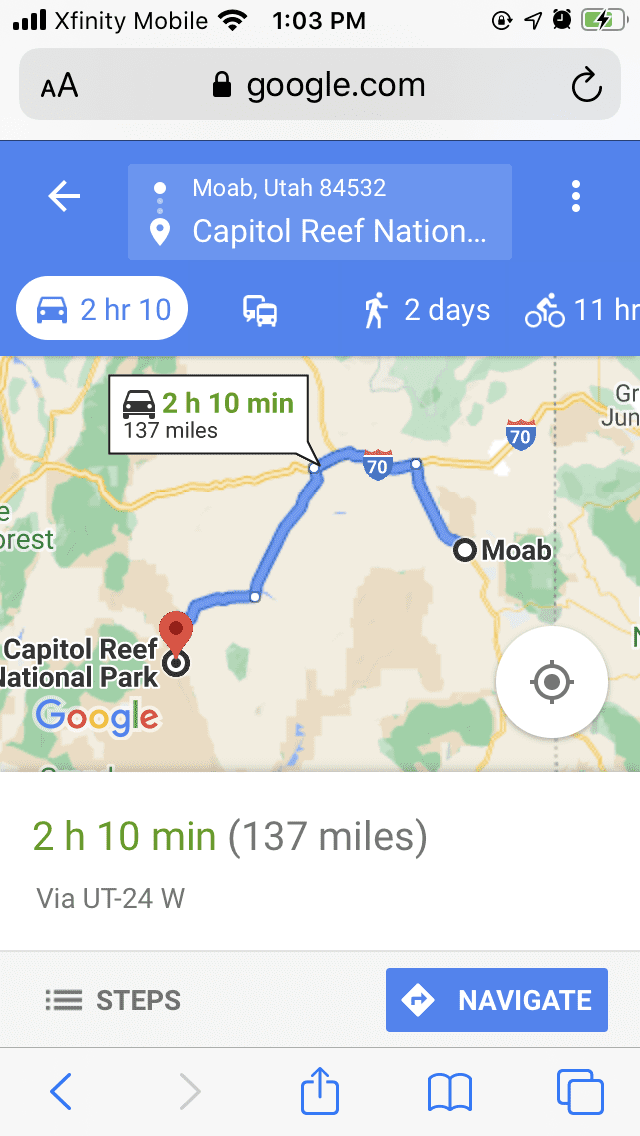 From Moab, Utah where Arches National Park and Canyonland National Park are located it is about 150 miles away, which will take you just over 2 and a half hours.
How Much Time do you need at Capitol Reef National Park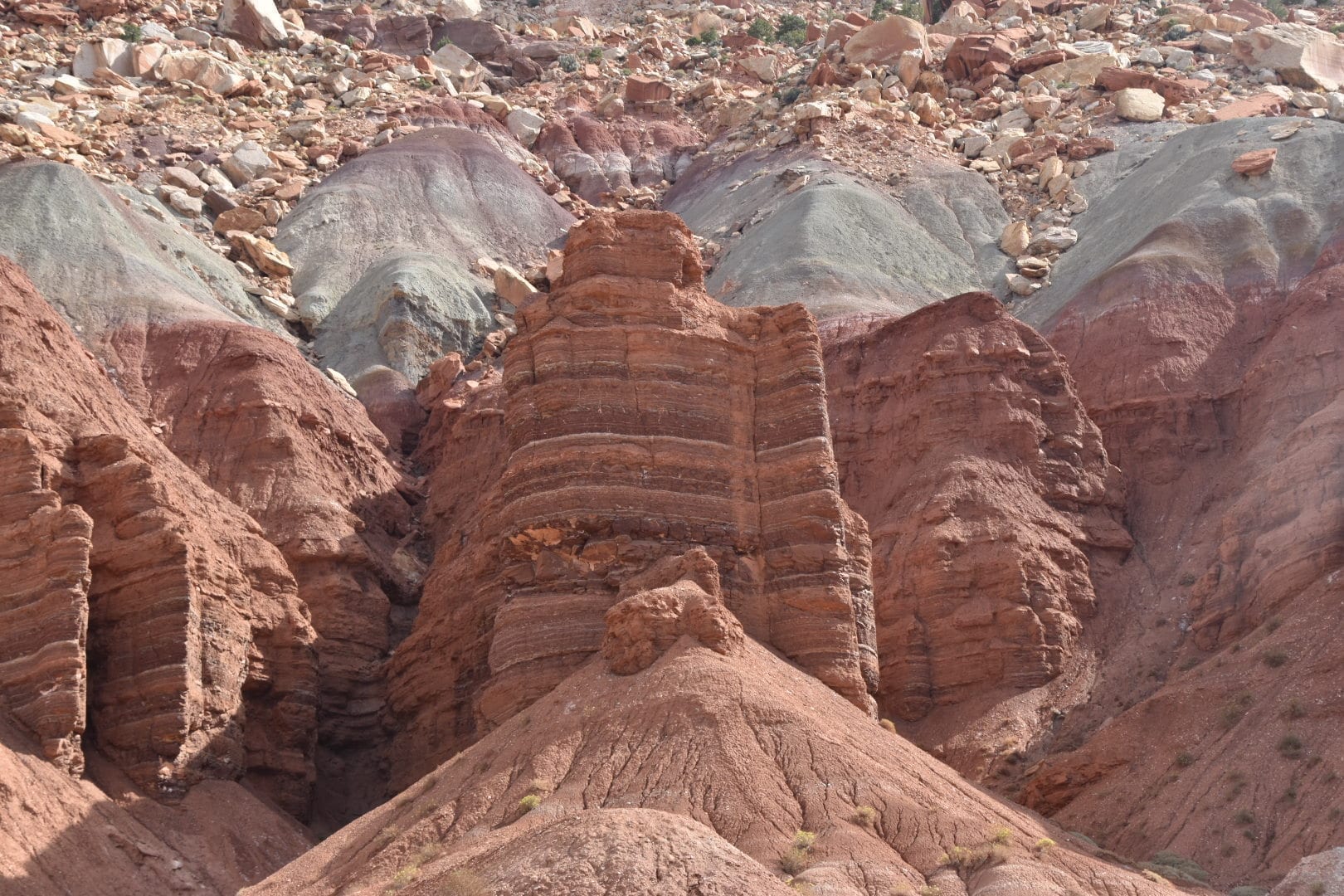 I recommend spending 1-2 days at Capitol Reef National Park.
Is Capitol Reef National Park Worth Seeing?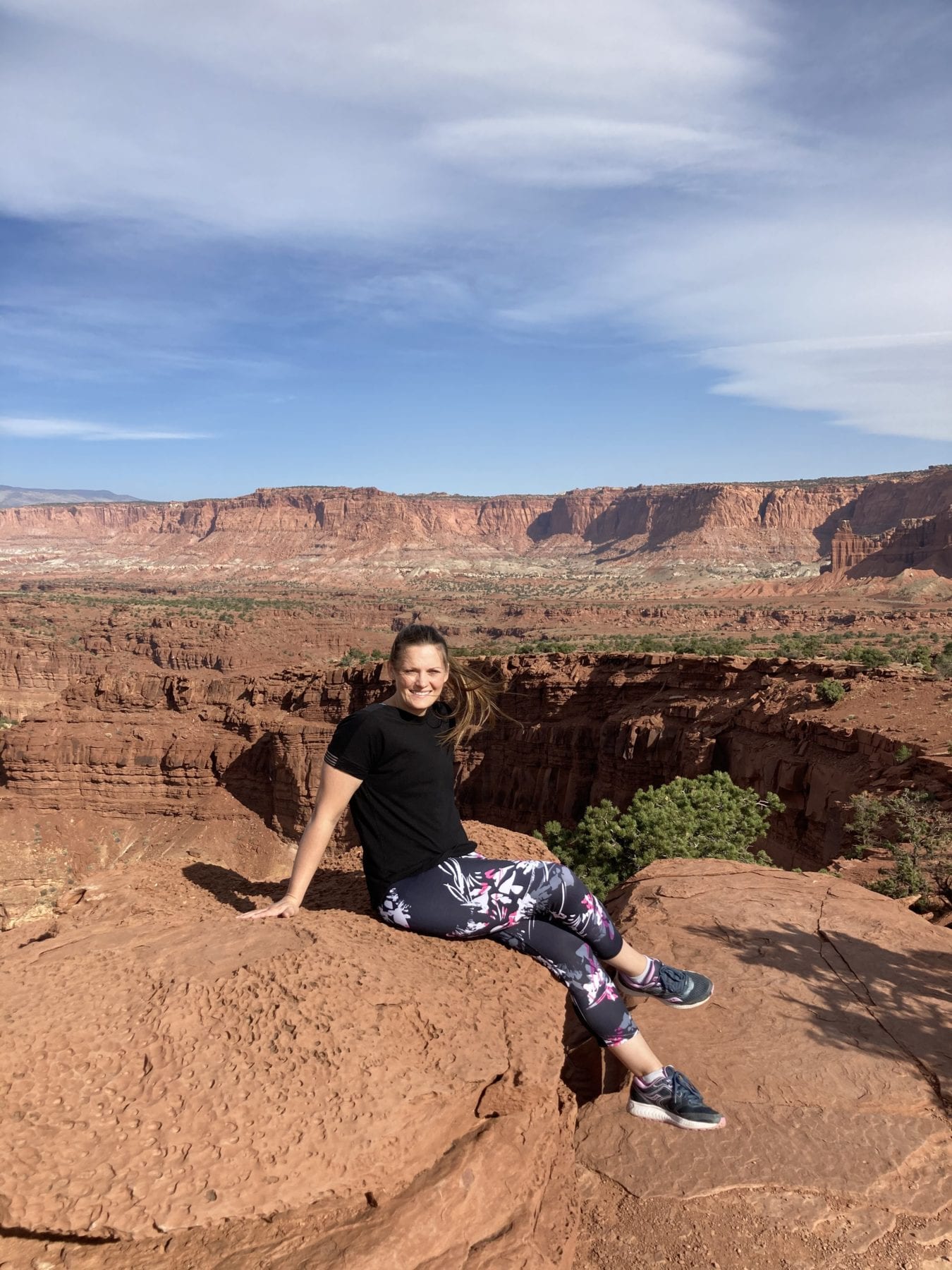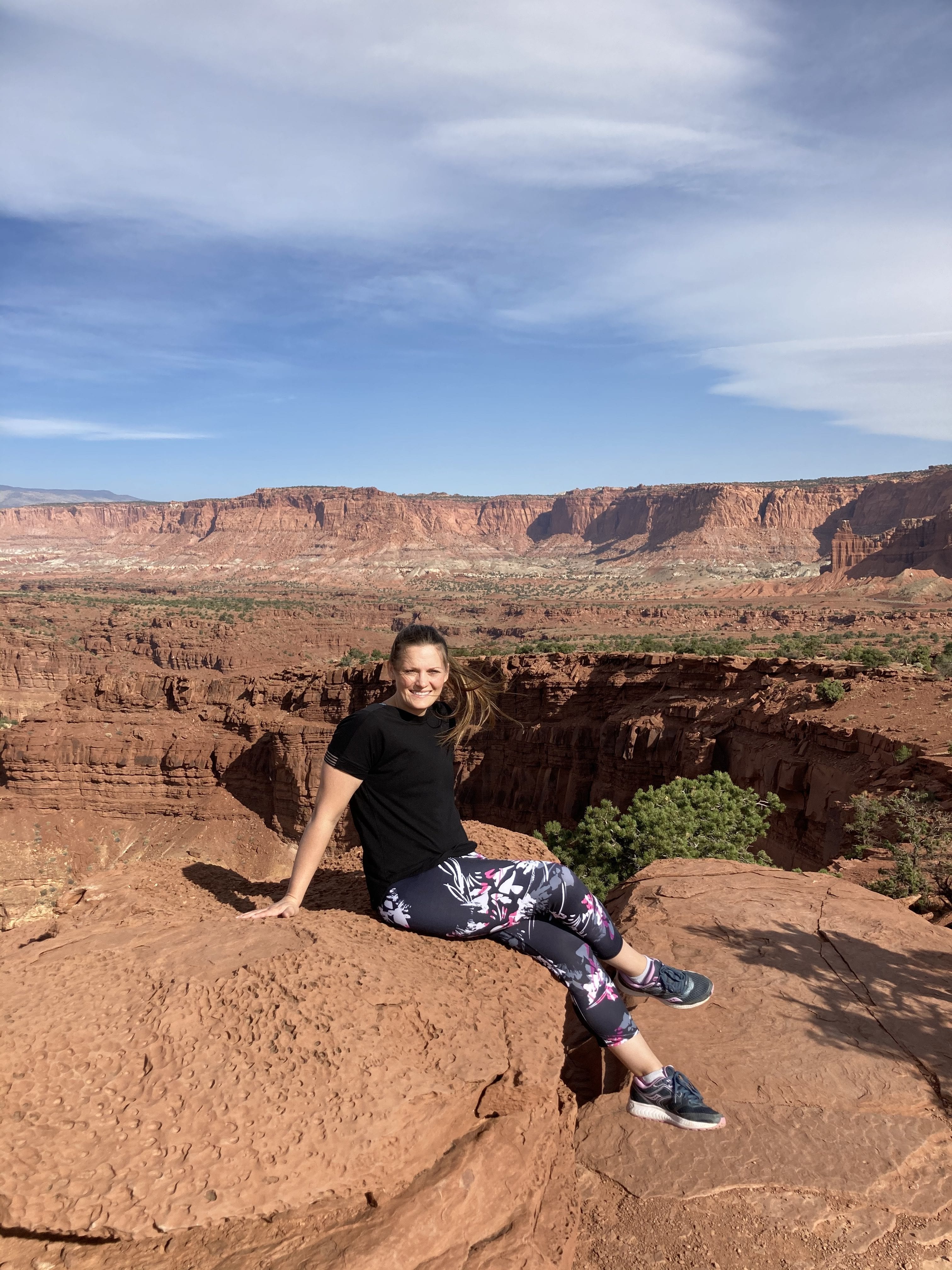 Absolutely! It doesn't have the popularity of the other National Parks in Utah partly because it doesn't have that one iconic hike or arch.  However, Capitol Reef has some other things going for it.  Some of the highlights worth mentioning are:
International Dark Sky

Hiking in the Canyons

Historic Sites within the park
One thing I noticed is that Capitol Reef is not as built up as the other parks.  I personally like this aspect.  It feels like you are driving into an incredible otherworldly experience.  There is no gate for entry fees, many of the roads are not paved, and the crowd levels are very low.  
What is Unique about Capitol Reef National Park?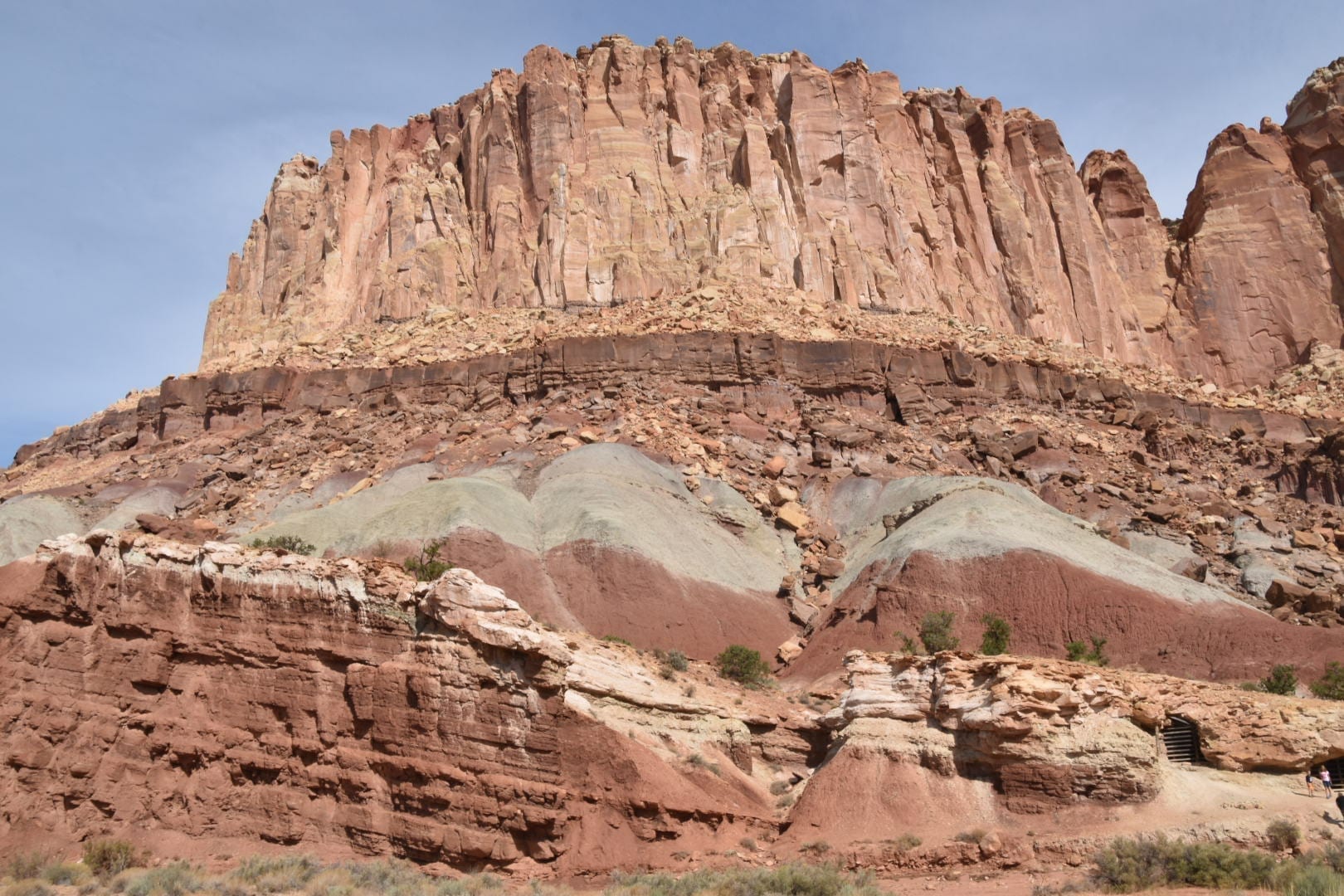 Capitol Reef has some amazing canyons.  The sounds that can be produced in these canyons are incredible.  I enjoyed hiking the trails and learning the history of the area.
The surrounding towns are small, and as such there is not much light at night to obscure your view of the night sky. The view of the stars at night is incredible!
What Does Capitol Reef Offer?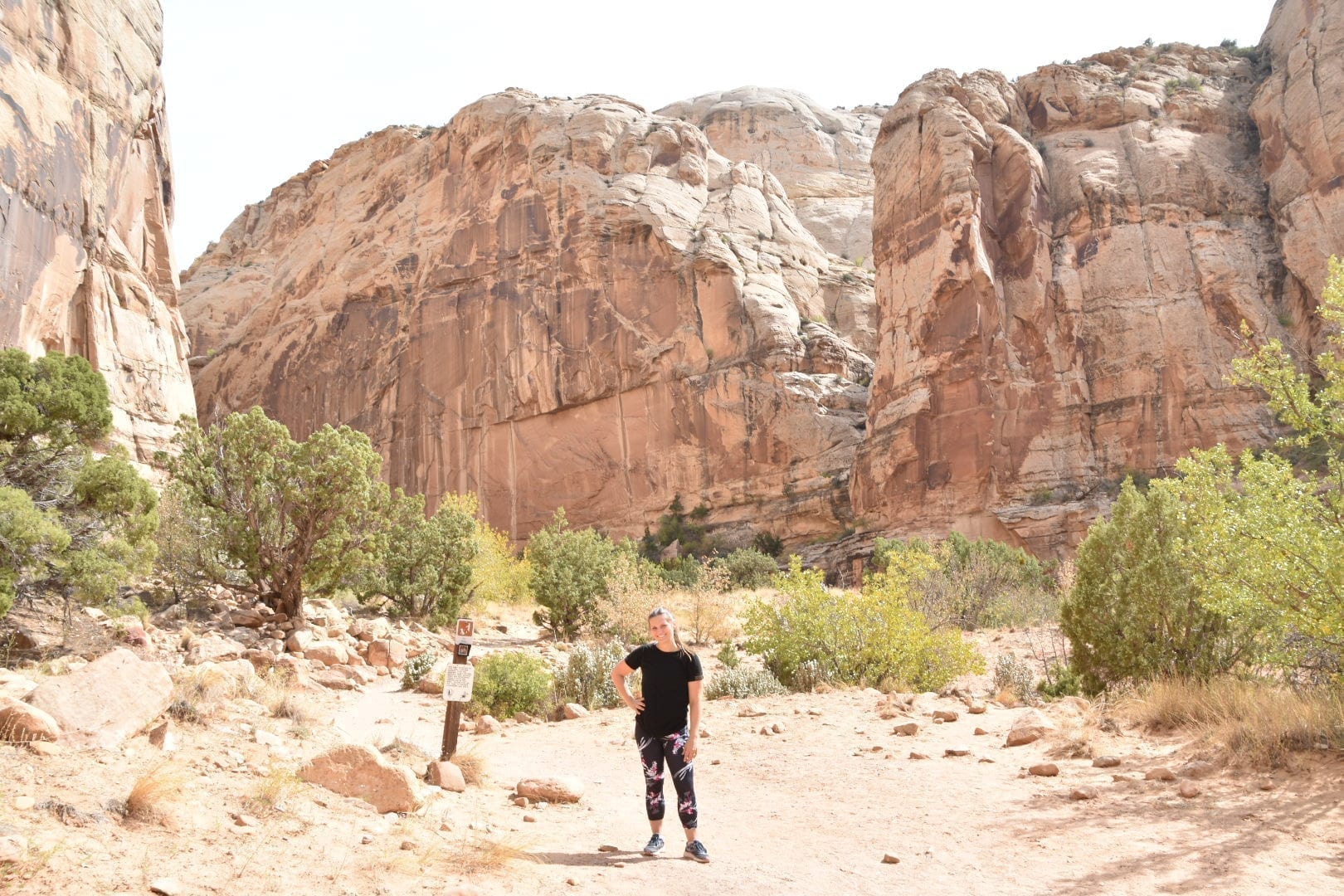 I also feel that Capitol Reef is a microcosm of what the great outdoors in Utah has to offer — it has arches, slot canyons and desert landscapes in places, but also has fruit orchards and mountainous climbs in others.
The differing views and heights, combined with the relative ease to access hikes, gives the eye of multitude of colors and opportunities in a short period of time and distance.
Where Should I Stay when Visiting Capitol Reef National Park?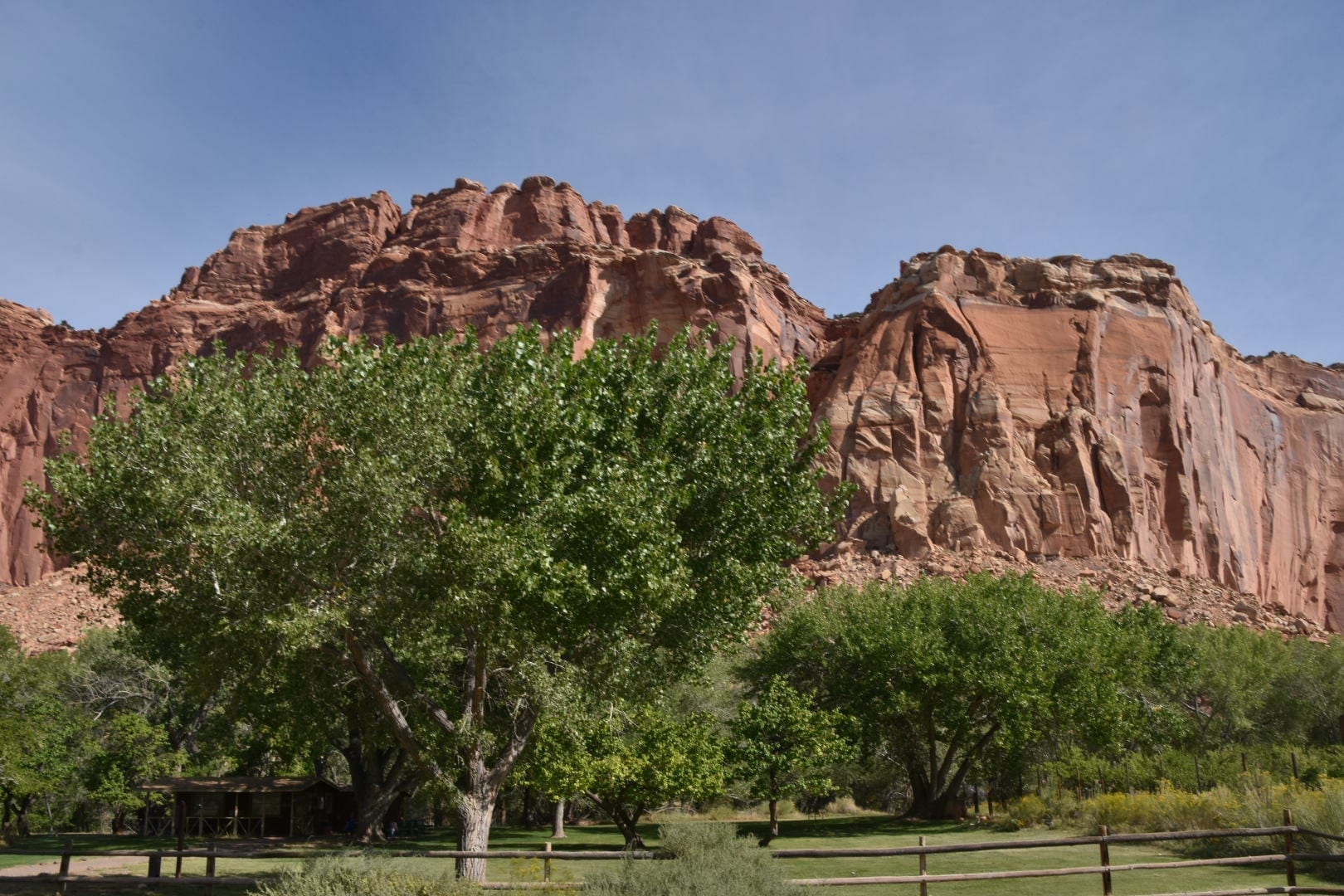 Since there are no large towns near Capital Reef, you will not have access to large, national hotel chains (sorry Marriott or Hilton reward members).
But that doesn't mean there aren't lodging opportunities. There are plenty of places to stay.
There are campsites located within the park and nearby. But please note that a number of campsites you may search for on Google or otherwise may be far from the national park.
There are also small hotels, cabins, and RV sites in the area.
Camping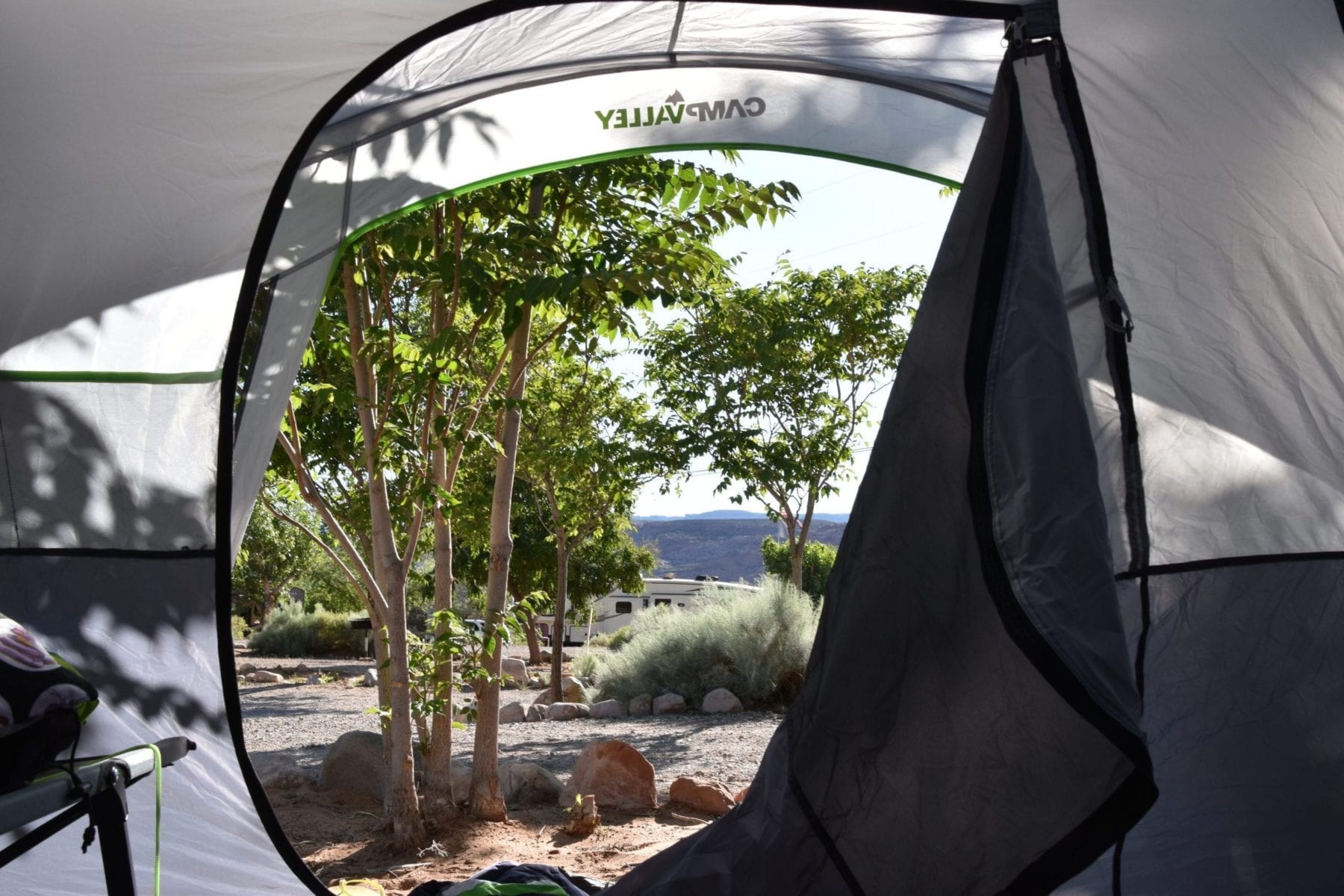 If you are planning a camping trip, I recommend booking a site months in advance. Campsites can fill up fast. "Winter" season (the time when campsites close) starts as early as September for many campsites, which means if you plan to visit in the fall, you may have limited options.
You can find out information about various campsites and book your stay at recreation.gov.
The Fruita Campground is located within Capitol Reef National Park.  With the surrounding orchards, this is the most beautiful spot to camp. The 71 campsites are surrounded by a historic orchard in the middle of the dessert.  The Fremont River runs through the campsites as well.
Each of these campsites has a firepit and picnic table.  
Other Camping Options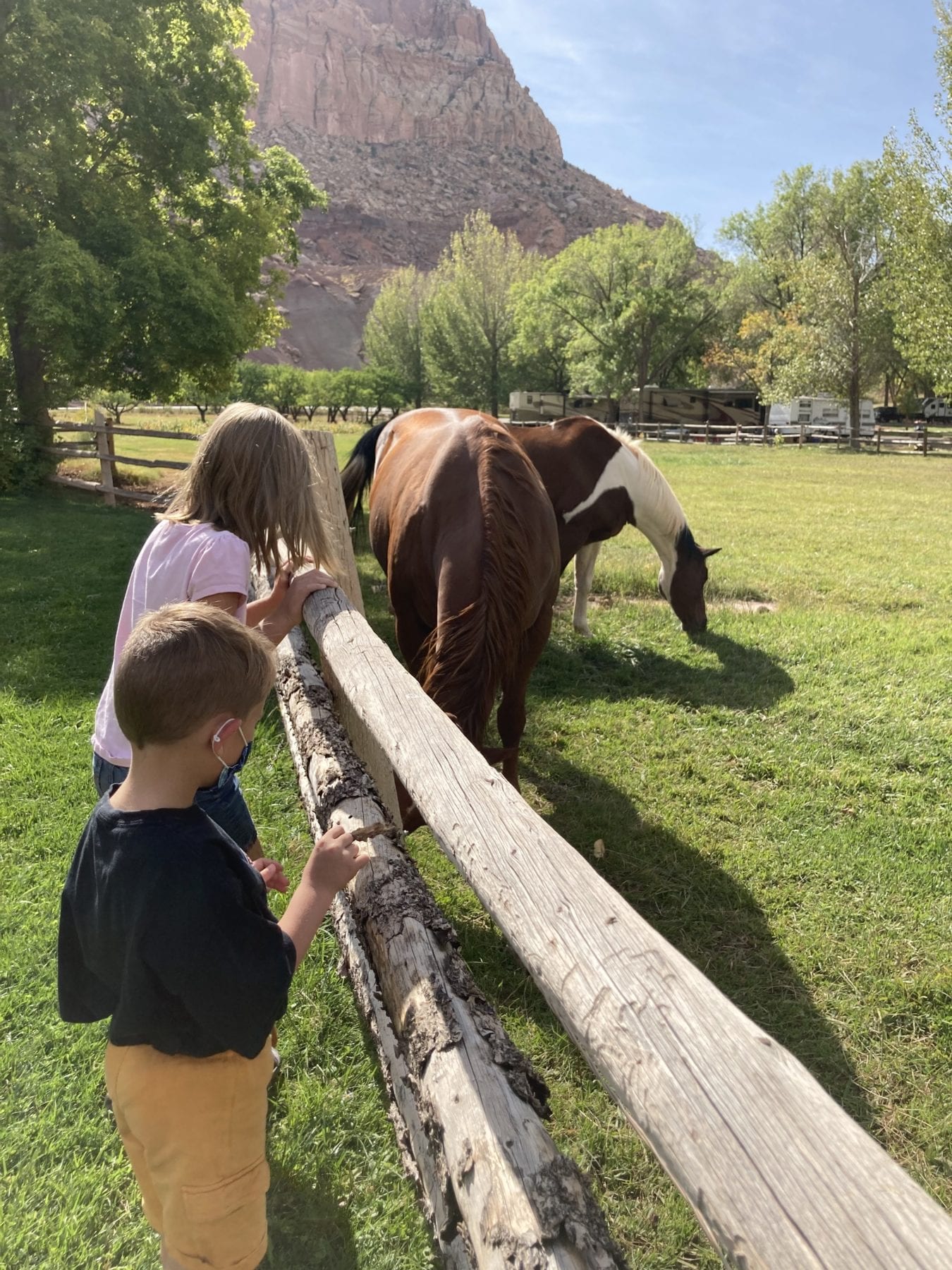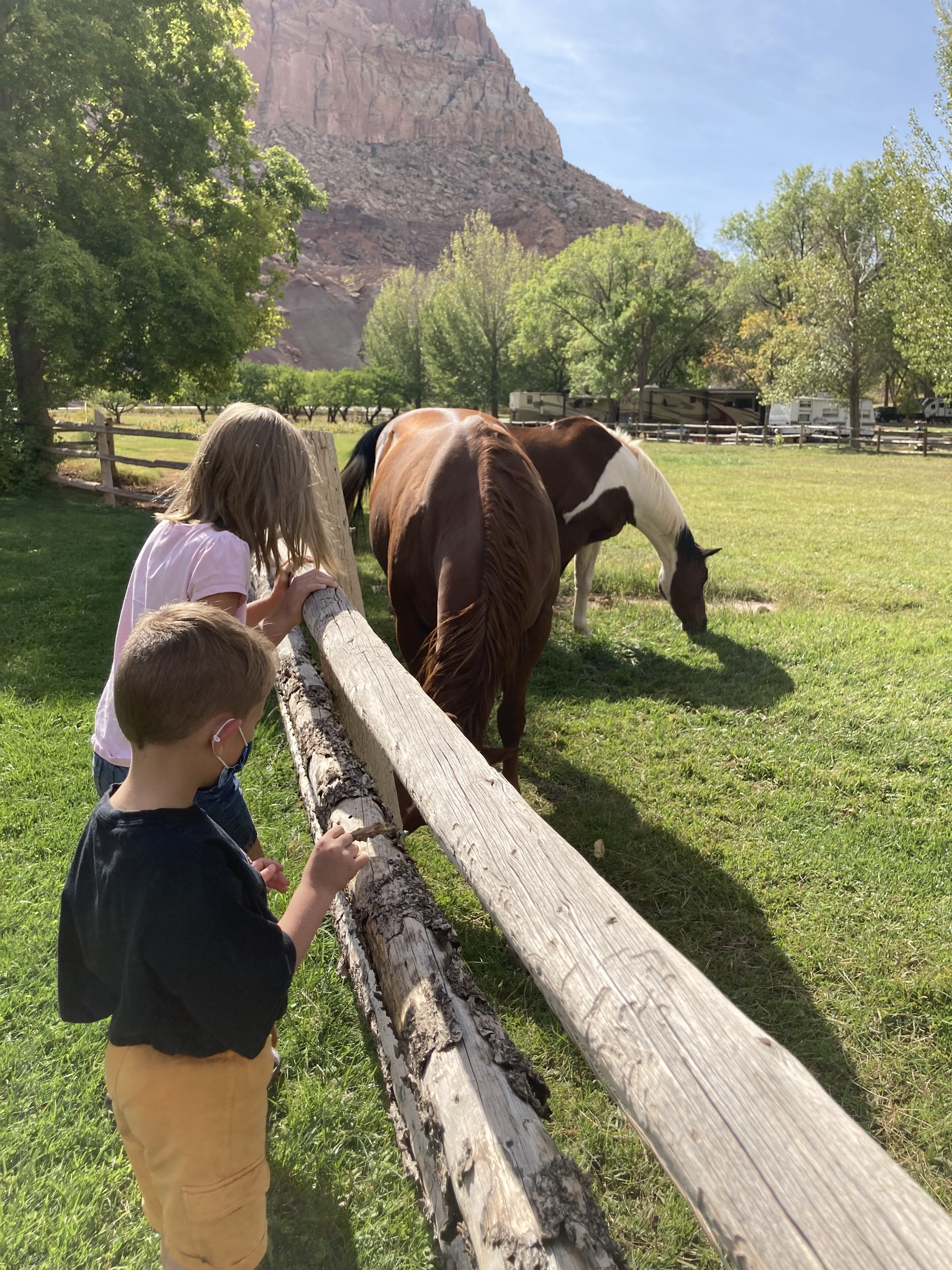 If you are unable to secure a site at the Fruita location, there are other campsites close by to Capitol Reef National Park.
We camped at Wonderland RV Park had a great time. It was very close to the National Park and was next to a farm. And of course if you are travelling in an RV, this is a great place for you to stay.
If you check out recreation.gov or Google, you will see you have a number of other options if you want to get a place beforehand. 
There is also more primitive camping nearby as well.
Resorts and Hotels
If camping isn't your thing, there are a few hotels which may be a better option for you.  There are places such as the Noor Hotel and Rim Rock Inn close to Fruita. There are also a number of hotels, motels, and bed and breakfast locations in or near Torrey.
Capitol Reef Resort
Image Courtesy of Capitol Reef Resort
You may also want to take a look at the Capitol Reef Resort.  This resort has something for everyone. There are luxury traditional hotel options as well glamping options: teepees, and covered wagons are just a few of these unique experiences at the resort.
Hours and Admission to Capitol Reef National Park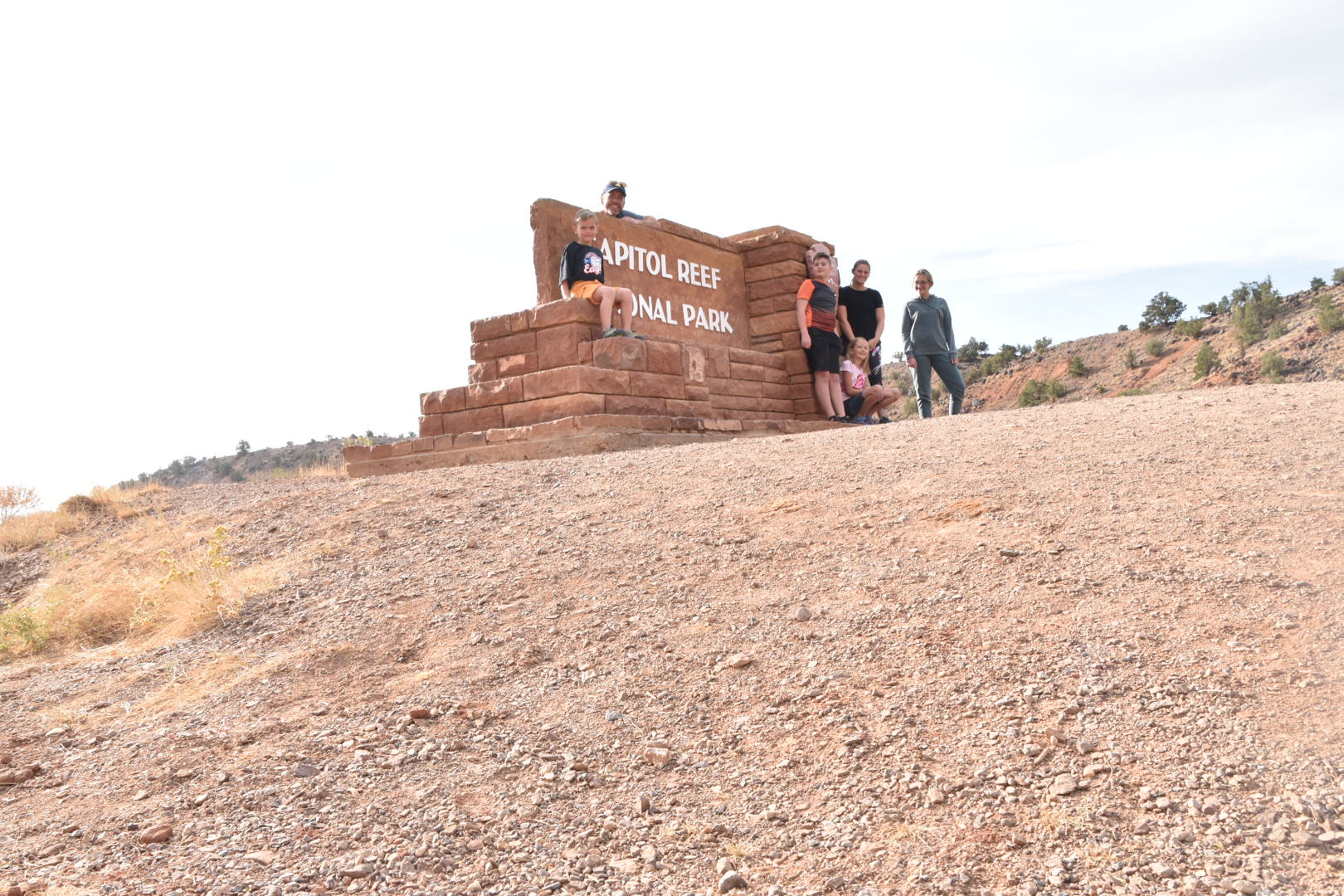 The park is open year round. The visitor center is only open from 8:00 am – 4:30 pm.  Please note that during the winter season, food establishments in Torrey may close earlier, and many campsites will not be open.
Admission:
$20 per car for a pass that is good for 7 days.  You can also purchase a National Parks Pass (America the Beautiful) that will be good for Capitol Reef admission and admission to all other national parks for a year.
Things to Do in Capitol Reef National Park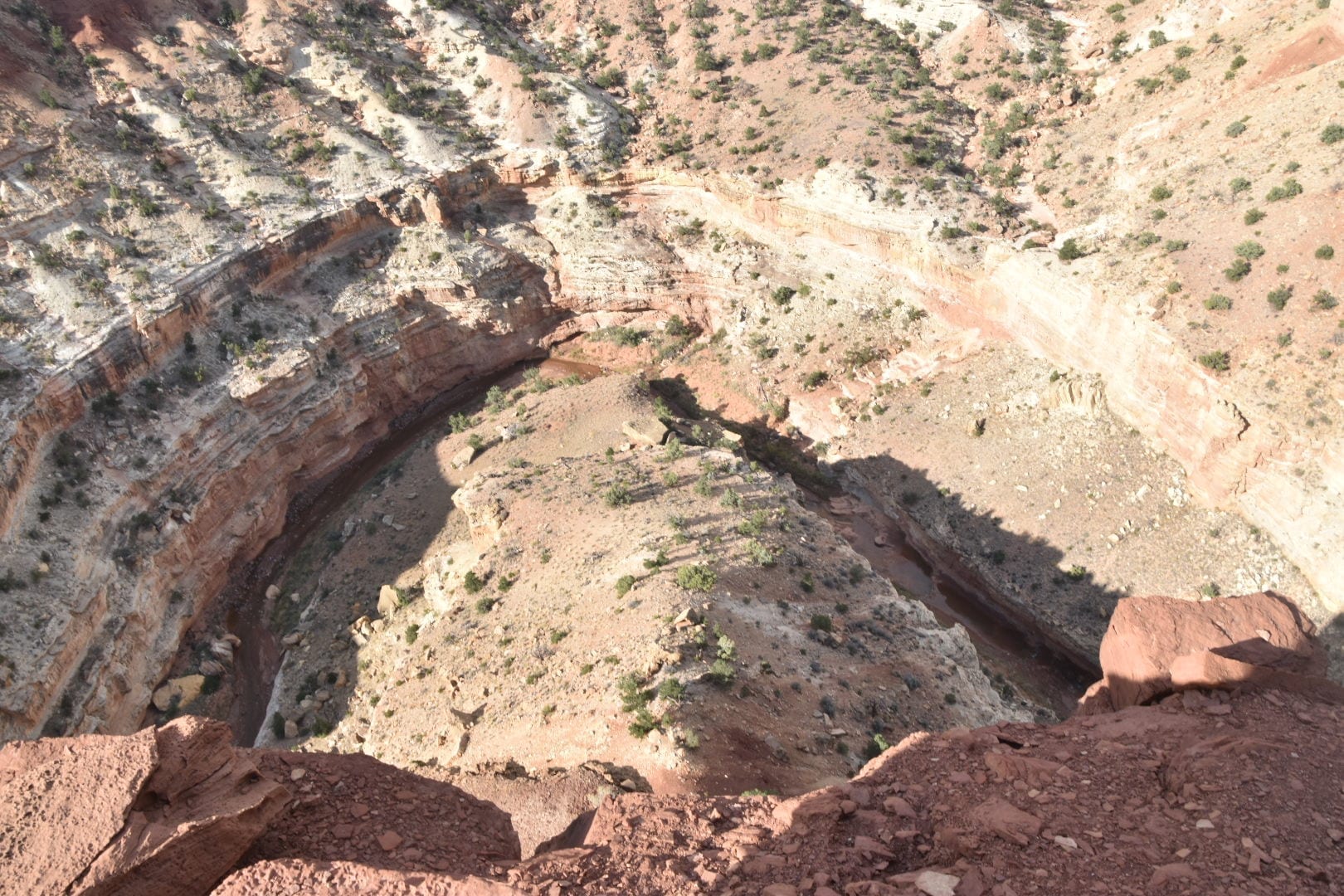 Hiking

Historical sites

Camping

Scenic Drives

Canyoneering

Rappelling
Best Hikes in Capitol Reef National Park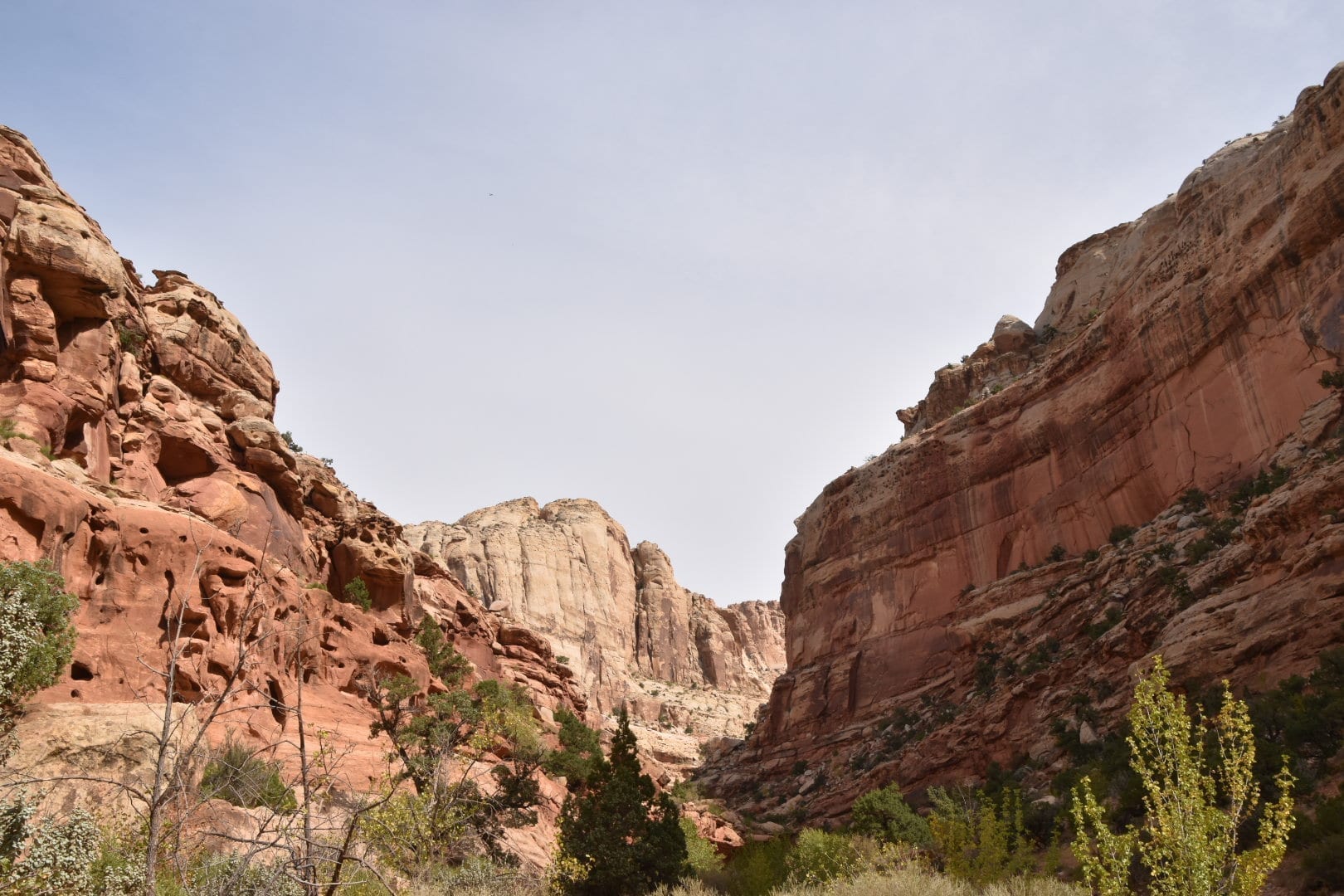 We have young children, and wanted to do the best hikes in Capitol Reef National Park for kids.  So most of the hikes we did were easy.  
Panorama Point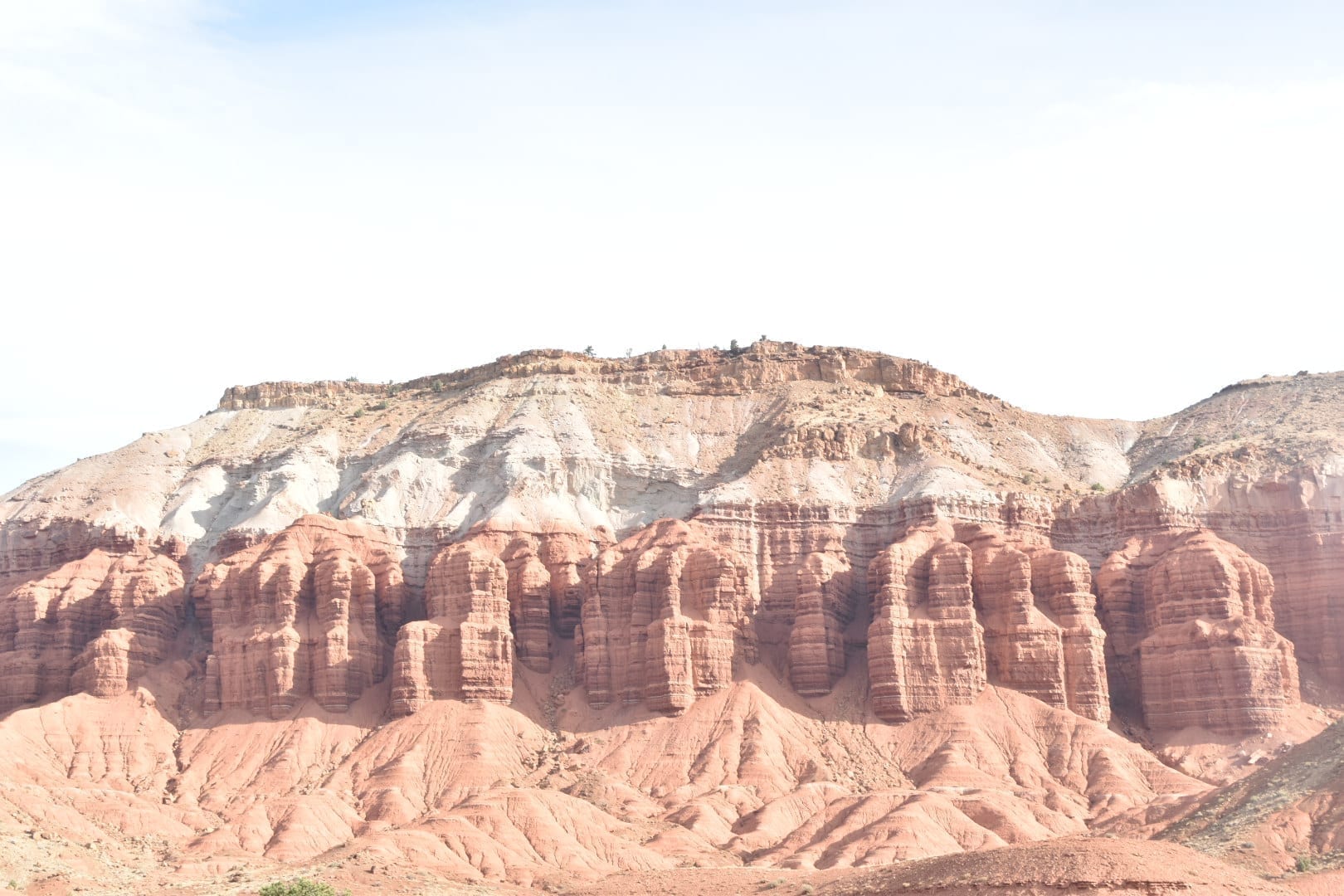 The first hike we did when we entered Capitol Reef is Panorama Point. Located just off of the main road, you can walk from the parking lot right out to rock overlooks that provide phenomenal landscape views.
Goosenecks Point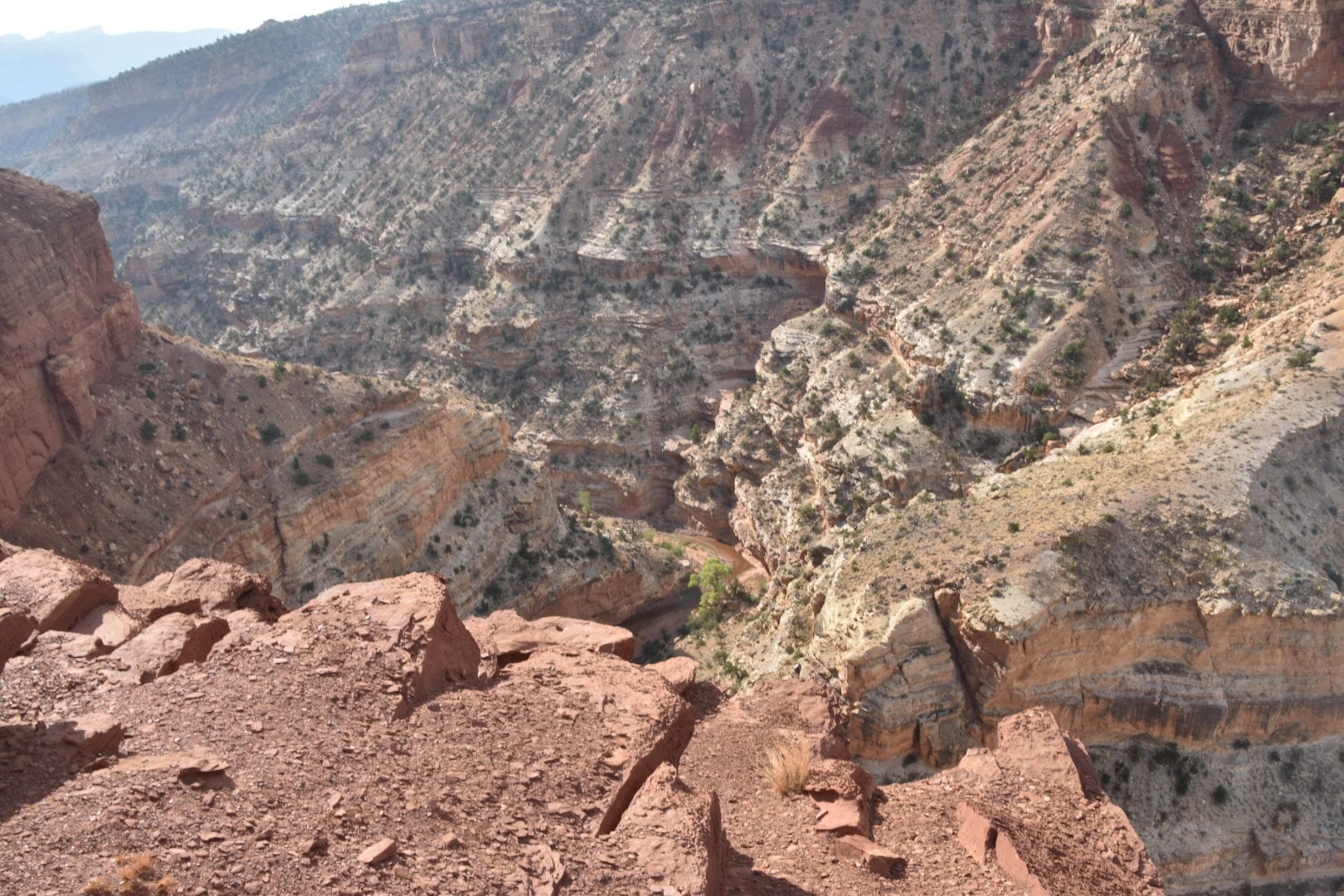 Miles .2 miles round Trip
Once we were done with Panorama Point, we kept driving off- the-beaten-path before returning to the main road (and on the advice of a tourist and information center that we had stopped at near our campsite). We are glad we did.
You do not have to drive far to arrive at a parking lot that has access to two short trails — Gooseneck Trail and Overlook and Sunset Point Trail.
The Gooseneck Trail takes you up and out to a beautiful view down at Sulphur Creek, a tributary of the Colorado River. This is one of the first stops as you enter the park.  You can park and walk straight up.  There are dramatic canyon views.
Sunset Point Trail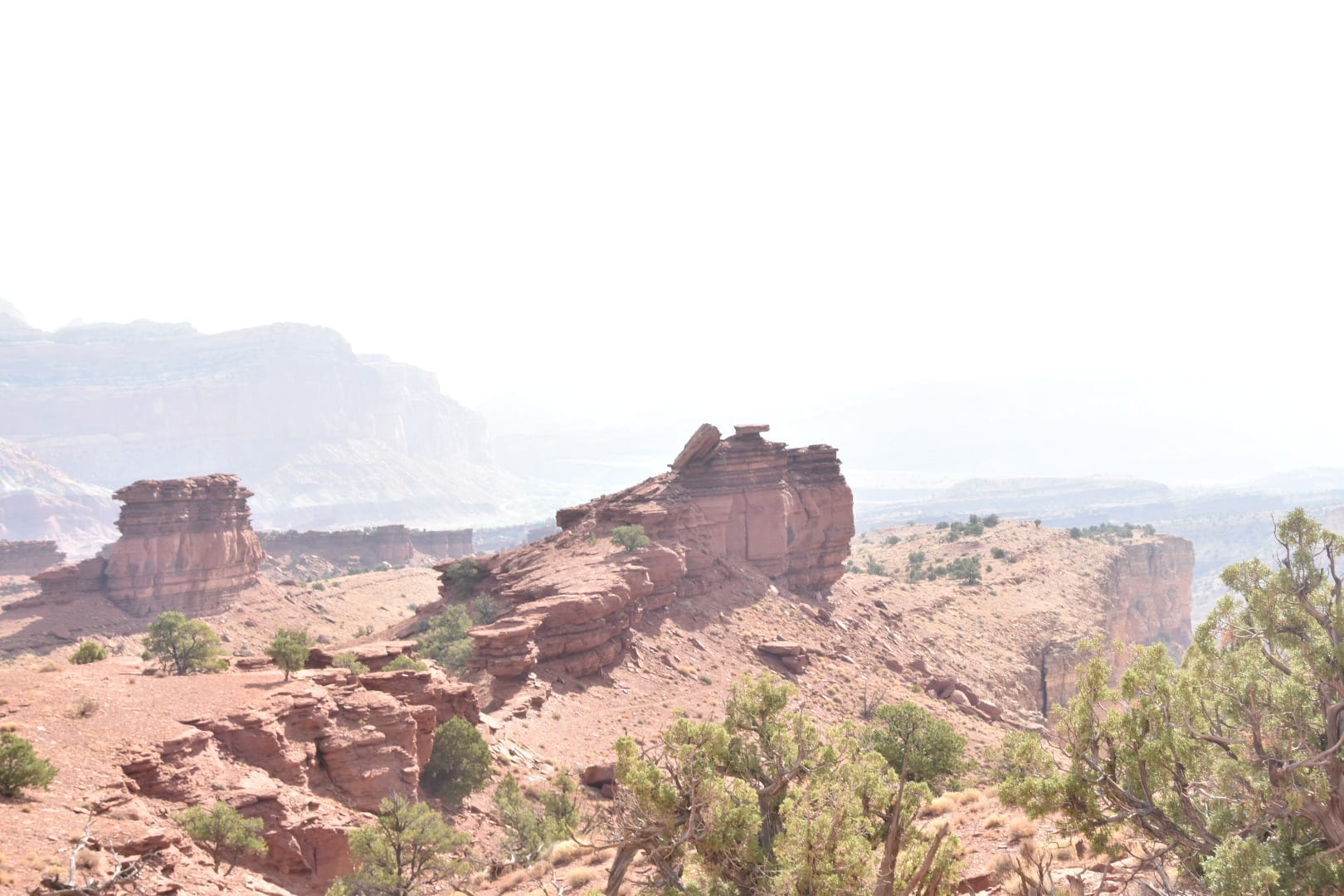 Miles: .8 roundtrip
Located near Goosenecks Overlook, this hike is a little longer but still considered easy.  We easily walked to a beautiful overlook area.
Grand Wash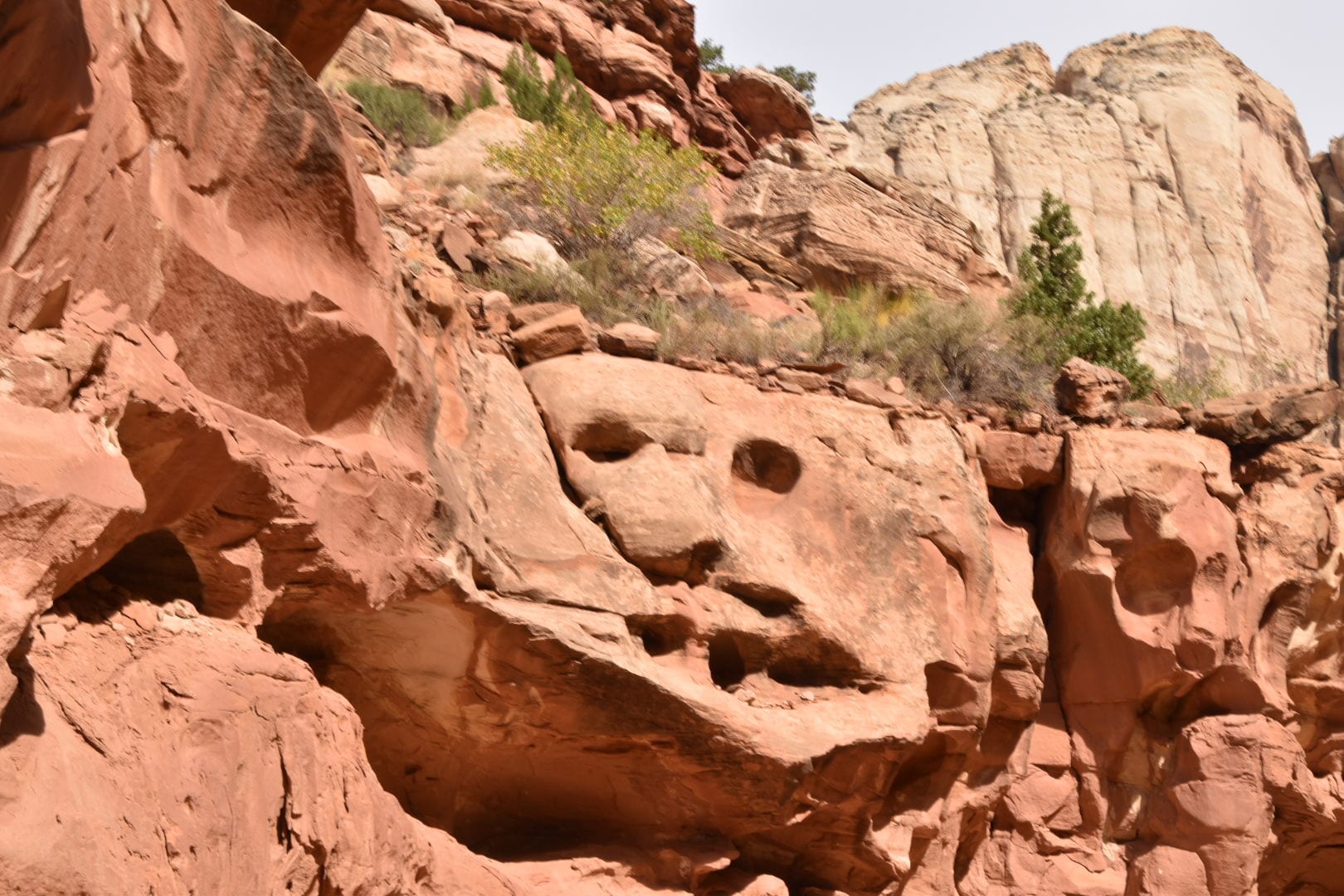 Miles: 4.4 round trip
In my opinion, this is the the best hike at Capitol Reef National Park.  The best part is that most of this hike is located in a canyon.  My kids loved yelling, singing, and talking because there is an incredible echo.
Because our kids can only handle so much hiking we did not do the entire hike.  We went about halfway and then went back.
Capitol Gorge Trail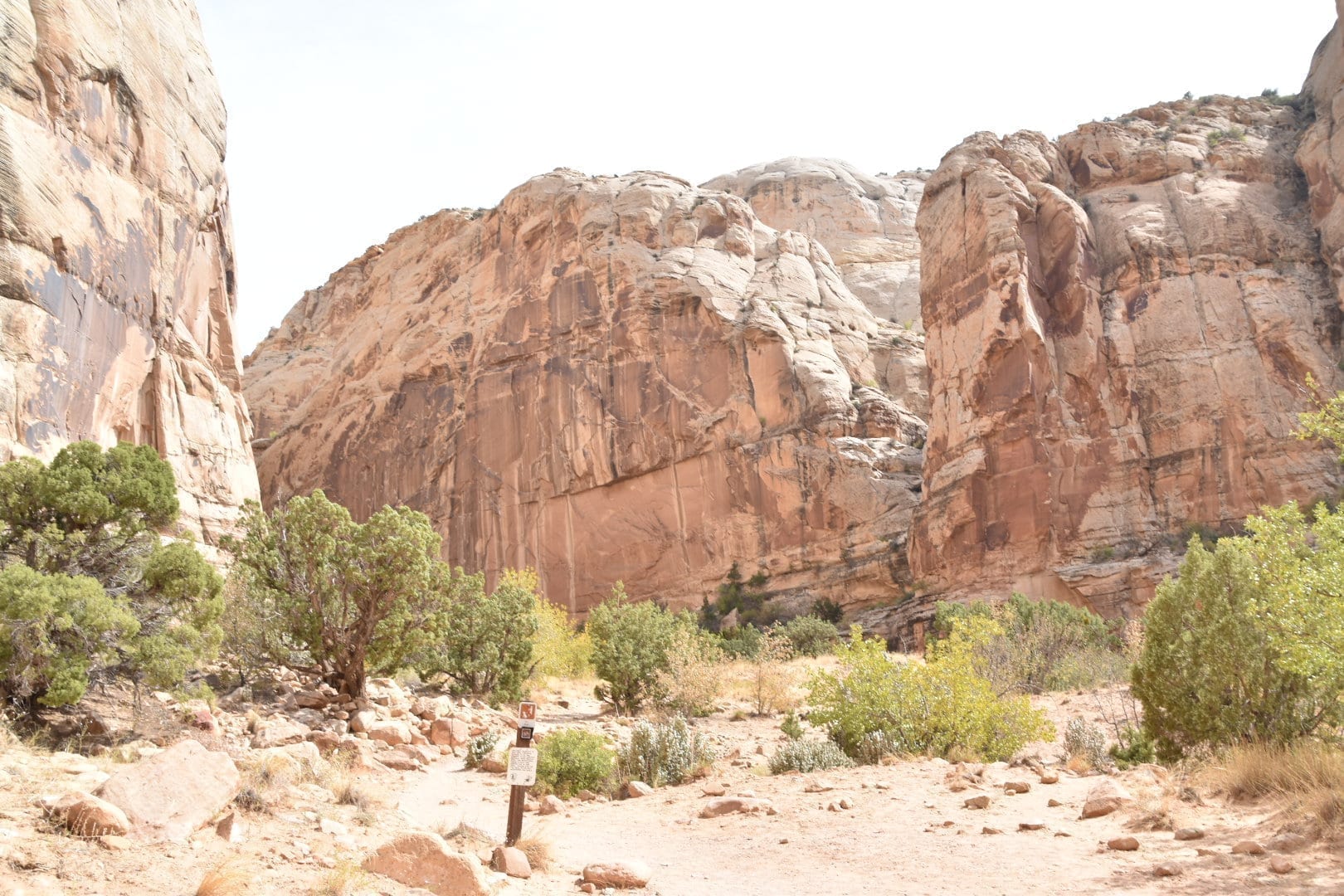 Miles: 2.0 round trip
Capitol Gorge Trail is another easy hike that has a deep canyon. We think it is one of the best hikes at Capitol Reef National Park because it will take you back 100 years when the pioneers settled the area.  As you hike about a half a mile into the canyon you will see historic inscriptions from the first pioneers in the area.
Most Popular Hikes in Capitol Reef National Park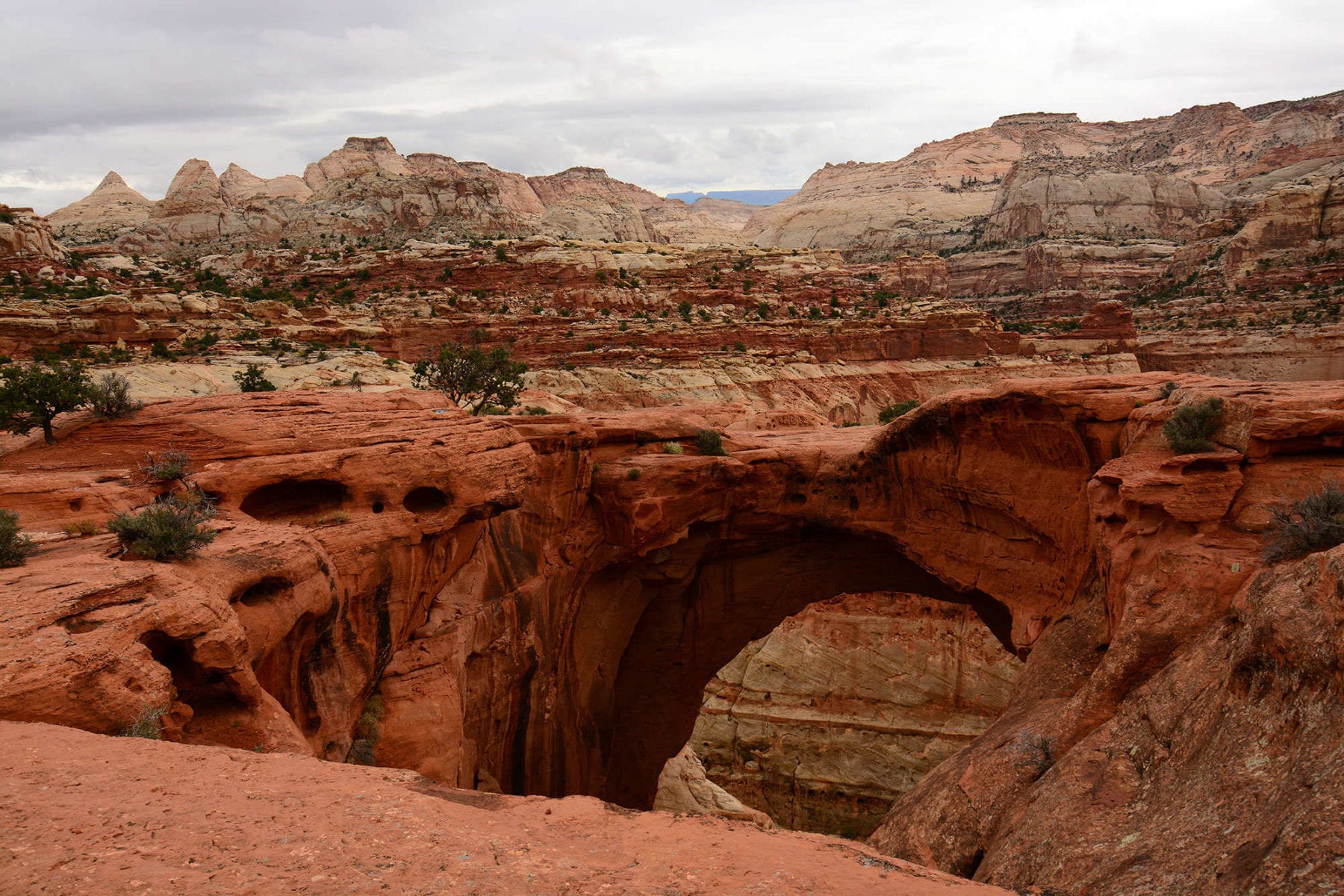 The most popular hikes at Capitol Reef are Cassidy Arch and Hickman Bridge.  These hikes are moderate and longer.  There are also drop offs which I didn't feel comfortable taking my kids on.  If you want to hike one of the best hikes in Capitol Reef National Park these hikes are for you. 
Historical Sites at Capitol Reef National Park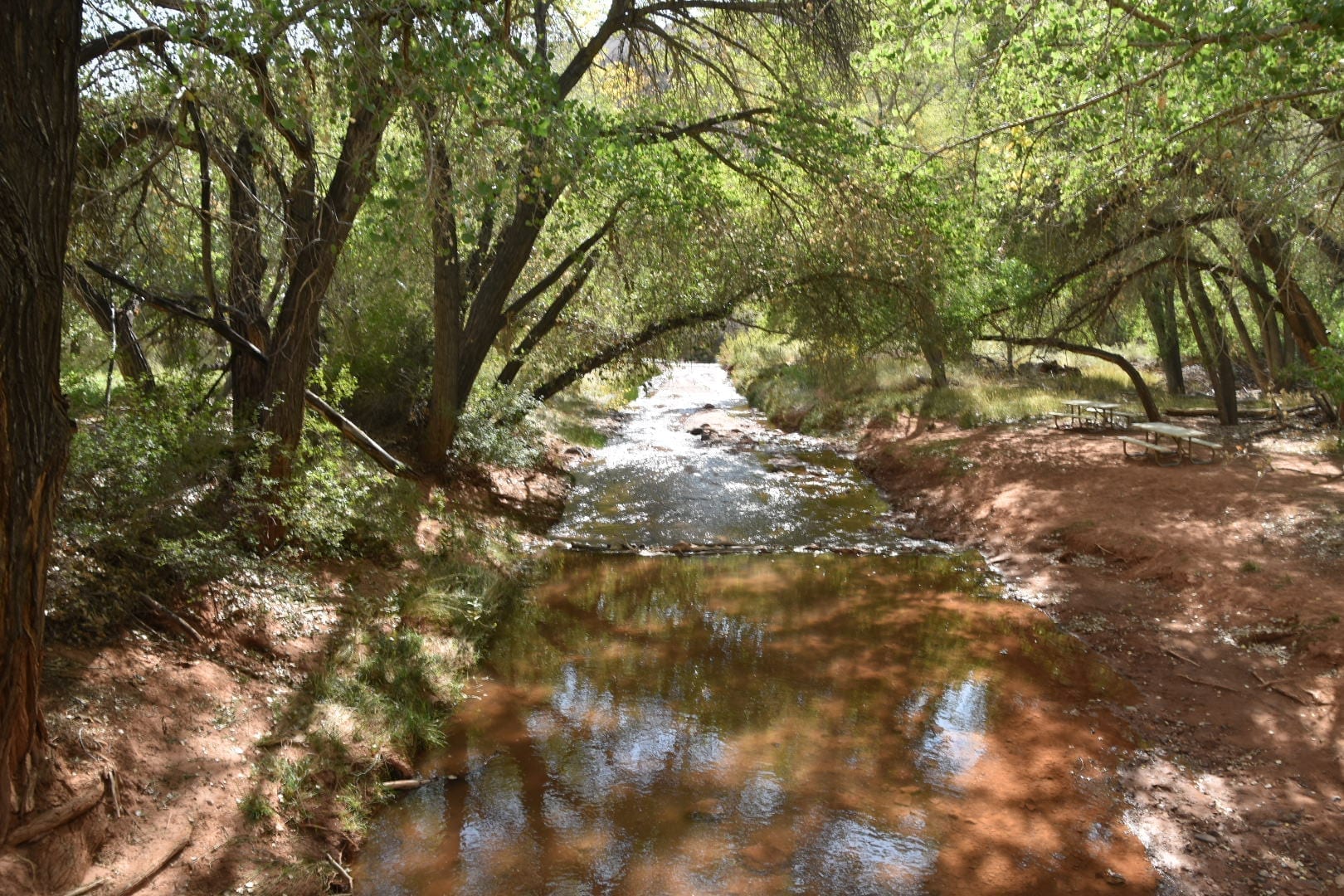 The Fruita Historic District is actually located inside the park.  I thought this section was so fun.
Ripple Rock Nature Center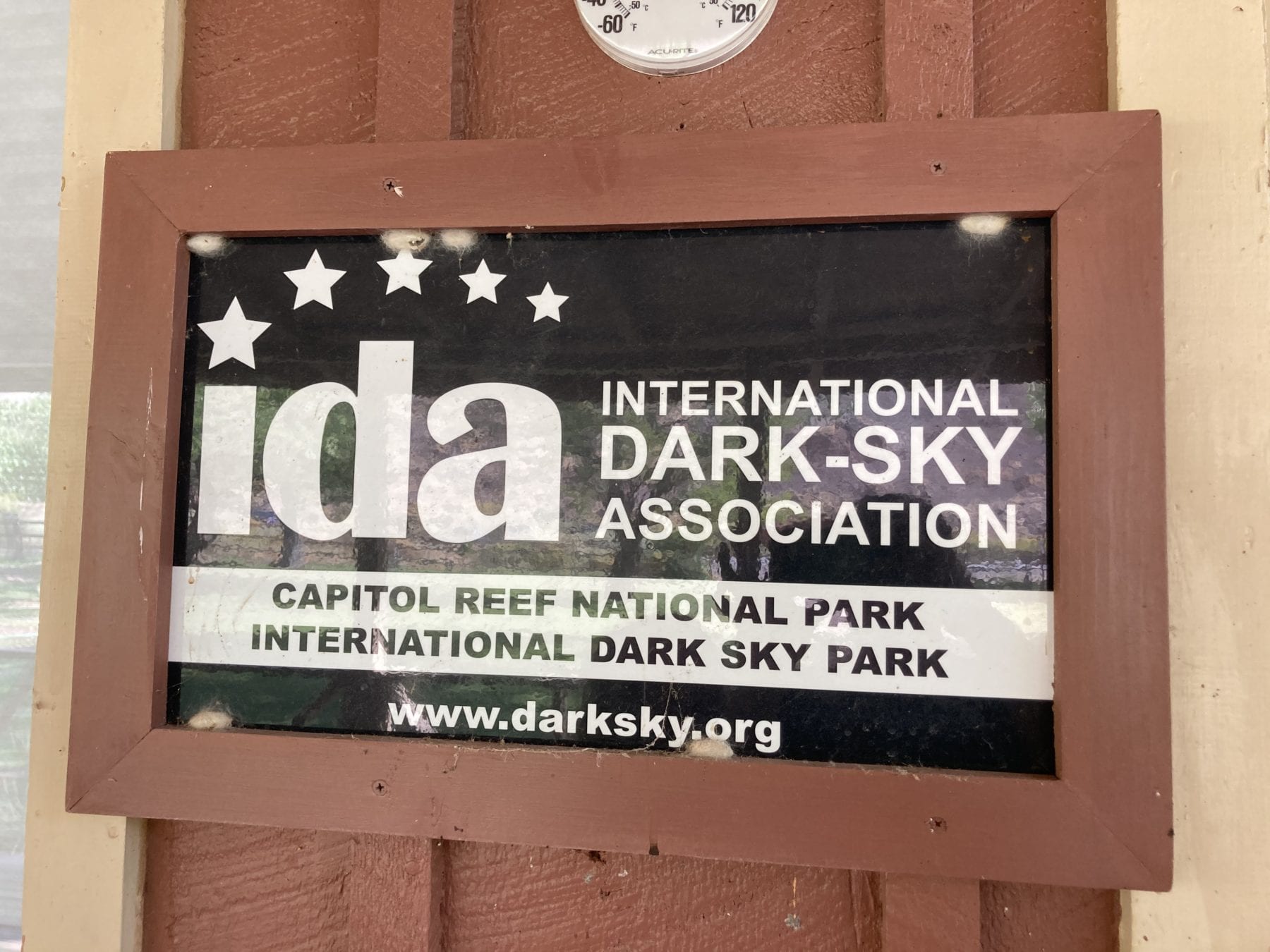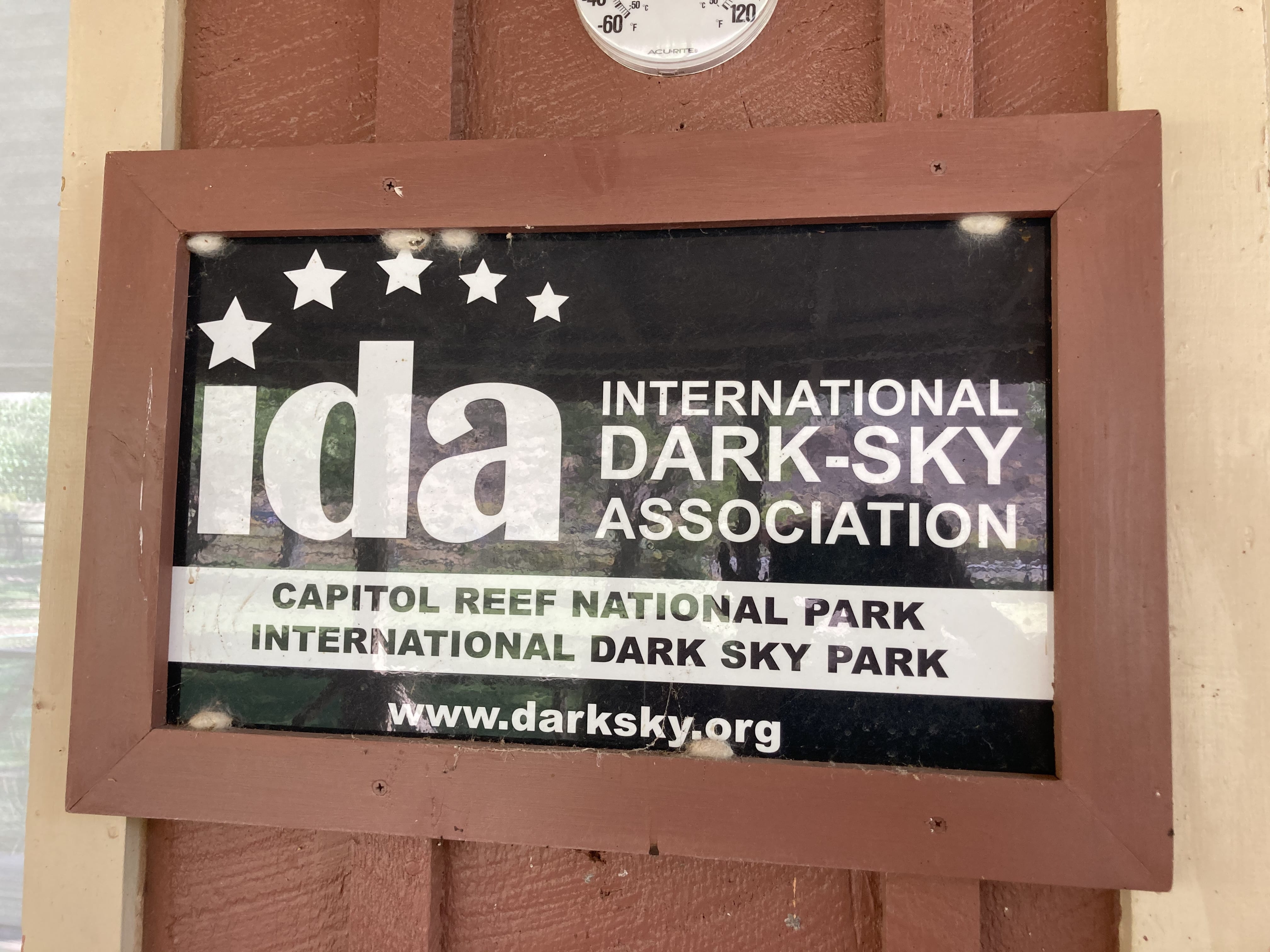 The nature center is only open at certain times of the year.  It  has some great information about the park.
Blacksmith Shop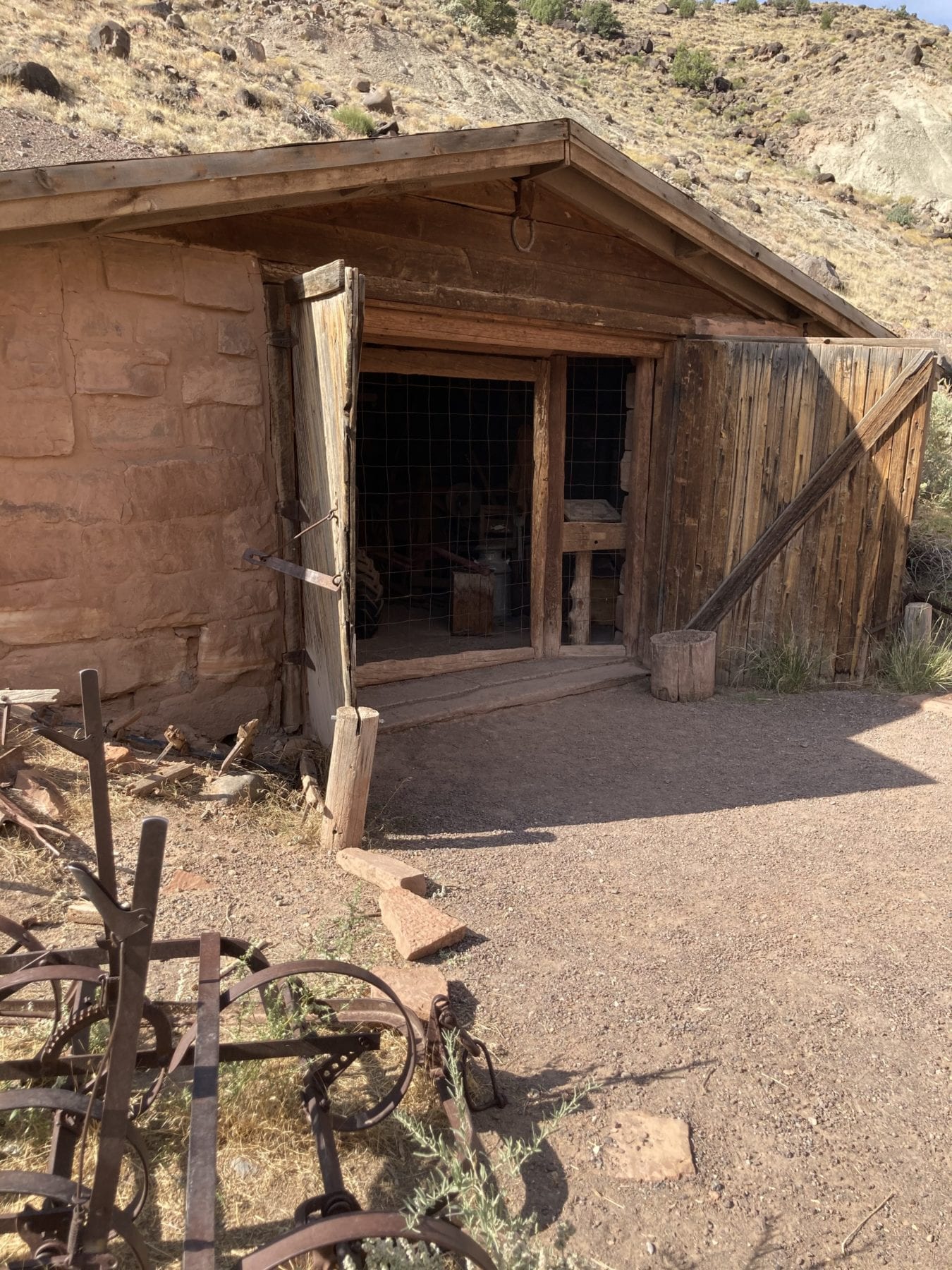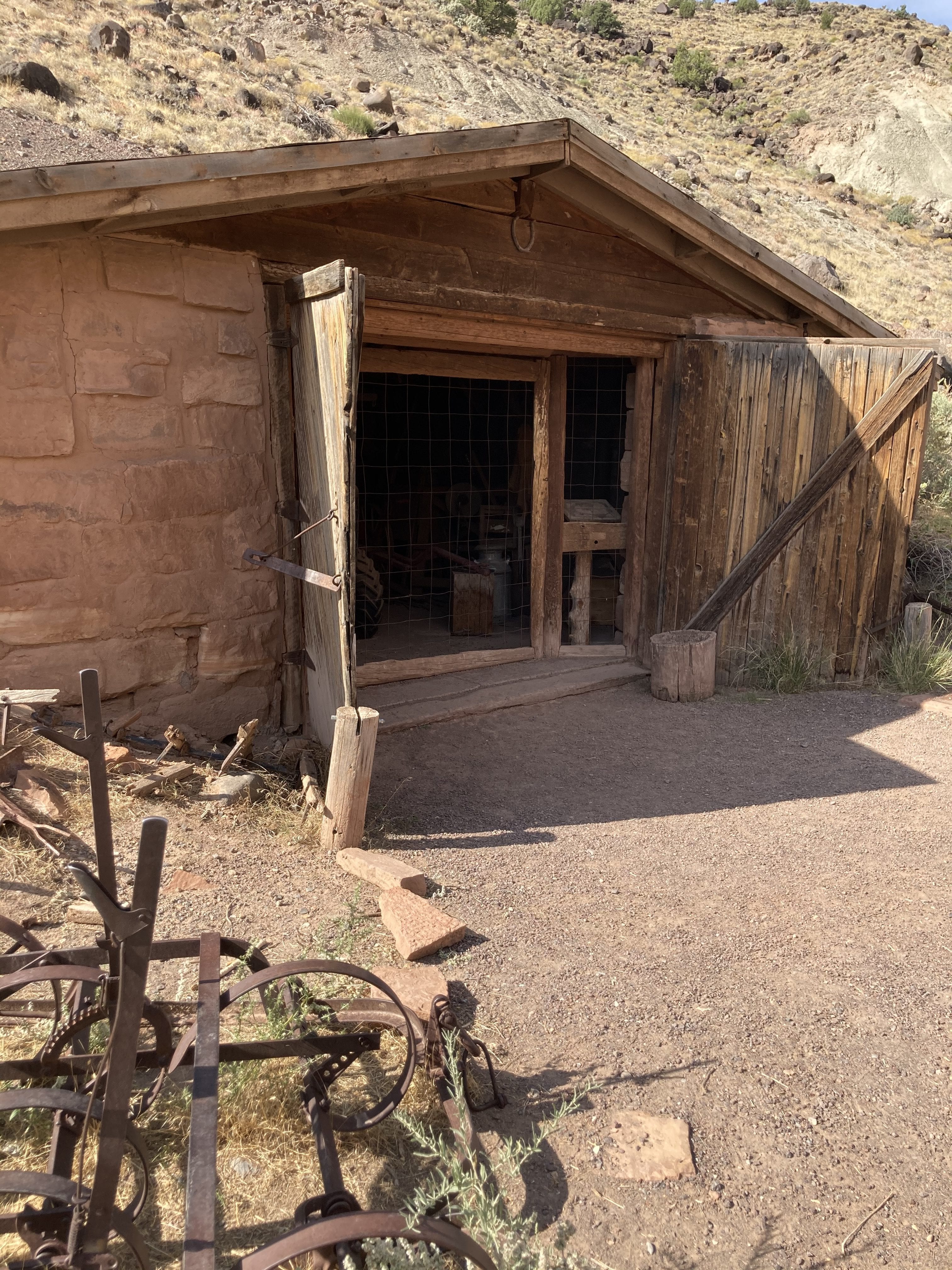 The blacksmith shop is a historic replica of what a blacksmith shop would have been in the pioneer times.  There is a recording that gives fun historic information.
Gifford House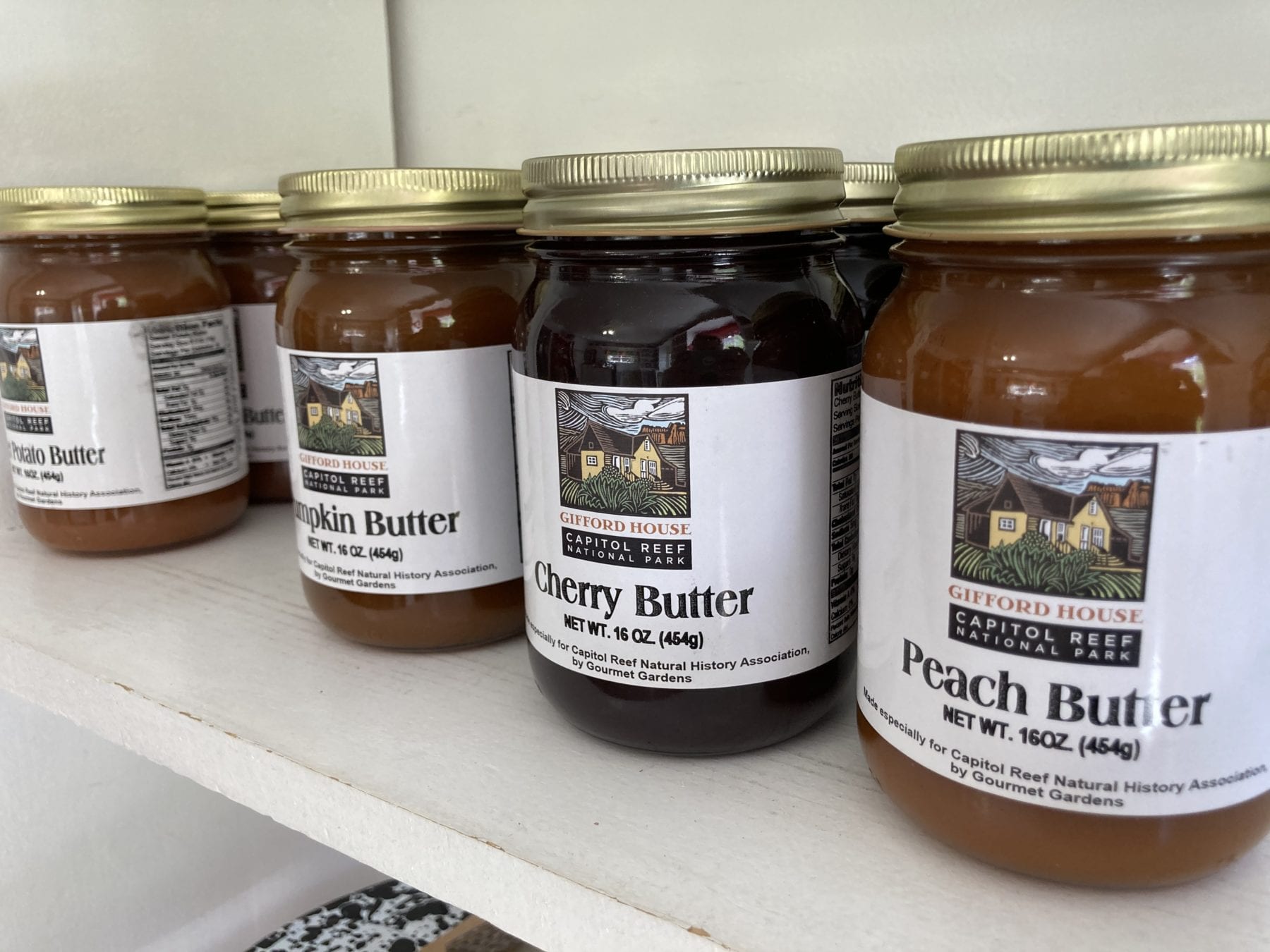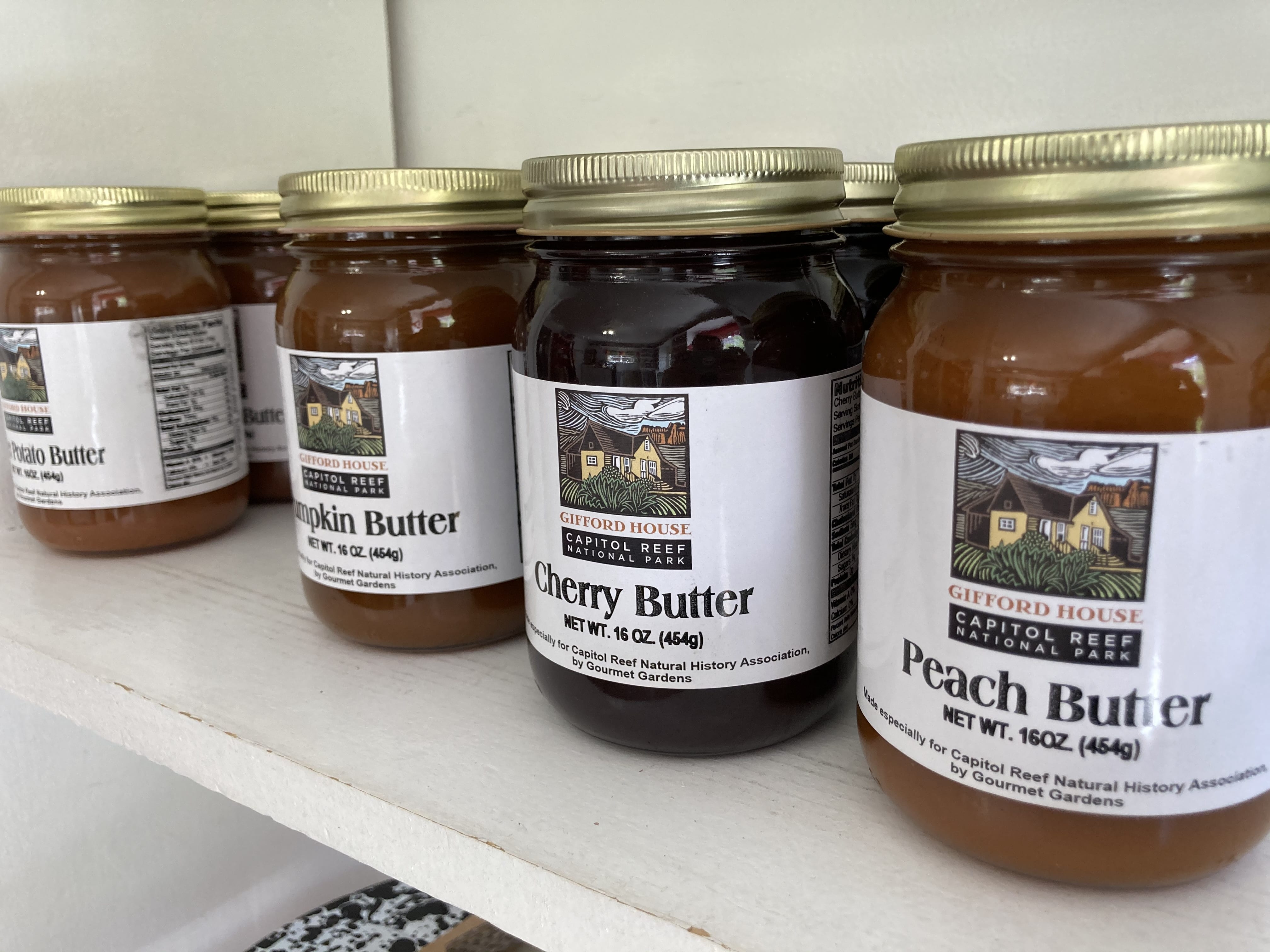 The Gifford House had my attention right away. Located outside is a sign that says fresh pies and cinnamon rolls!  I was ready to go right in!
The house is very cute!  Not only do they have fresh baked goods but they have canned products like salsa and local goods.  You can also get ice cream at the Gifford House.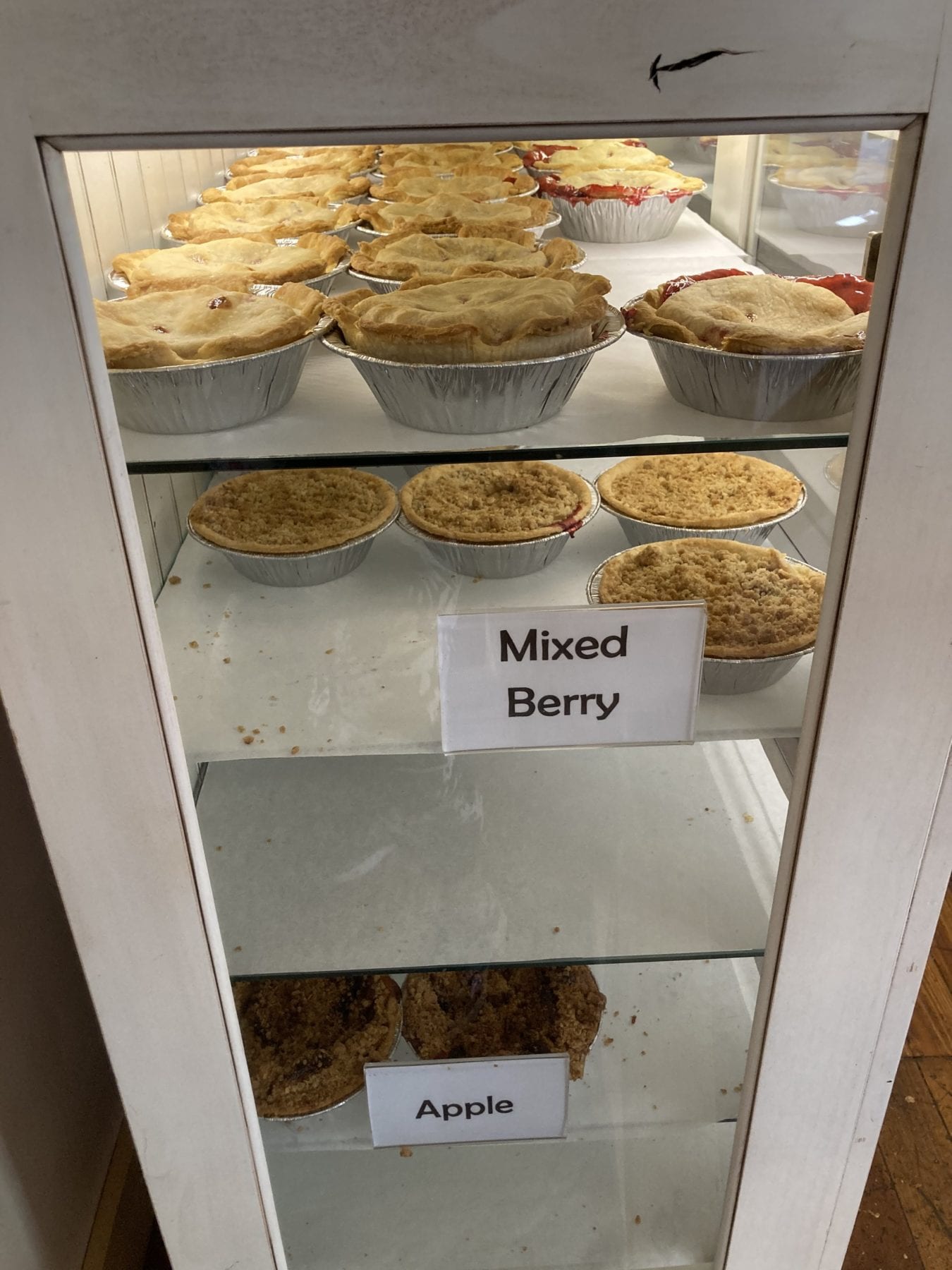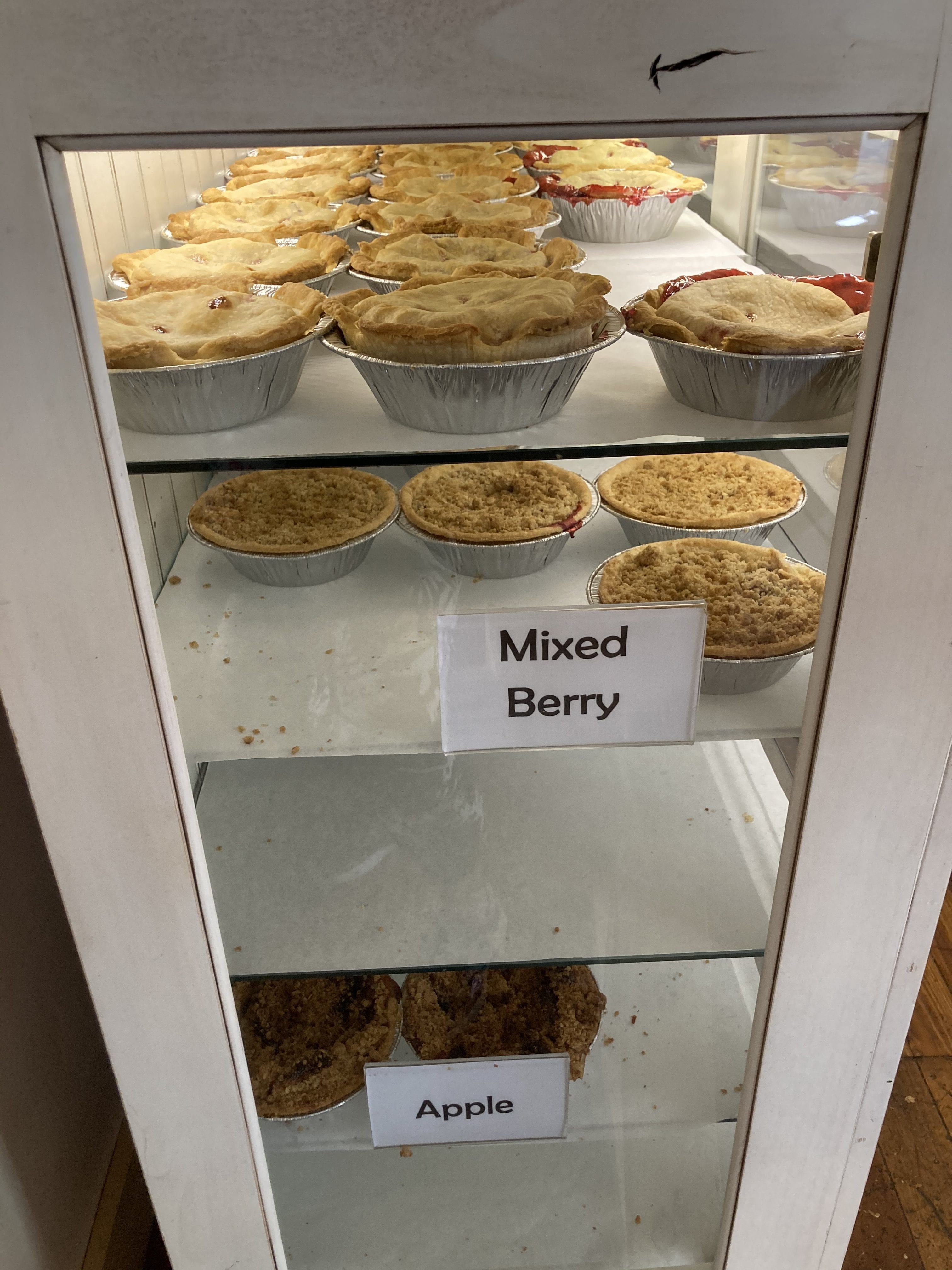 This is very unique for a National Park.  This historic district adds so much "flavor" to Capitol Reef. 
Scenic Drives at Capitol Reef National Park

Can I Drive through Capitol Reef National Park?
Yes, you can drive through the park and stop at the fun historical sites and picnic but I would suggest getting out of the car and taking a few hikes to really take in the scenery.
Many of the roads that lead to the trail-heads are not paved so they are bumpy and dirty.  Our mini-van handled off roading pretty well! I would encourage some off-the-beaten-path drives when visiting Capitol Reef National Park. All wheel drive or at the least high clearance is recommended, but we did see plenty of sedans tackling the dirt roads. 
Adventures in Capitol Reef National Park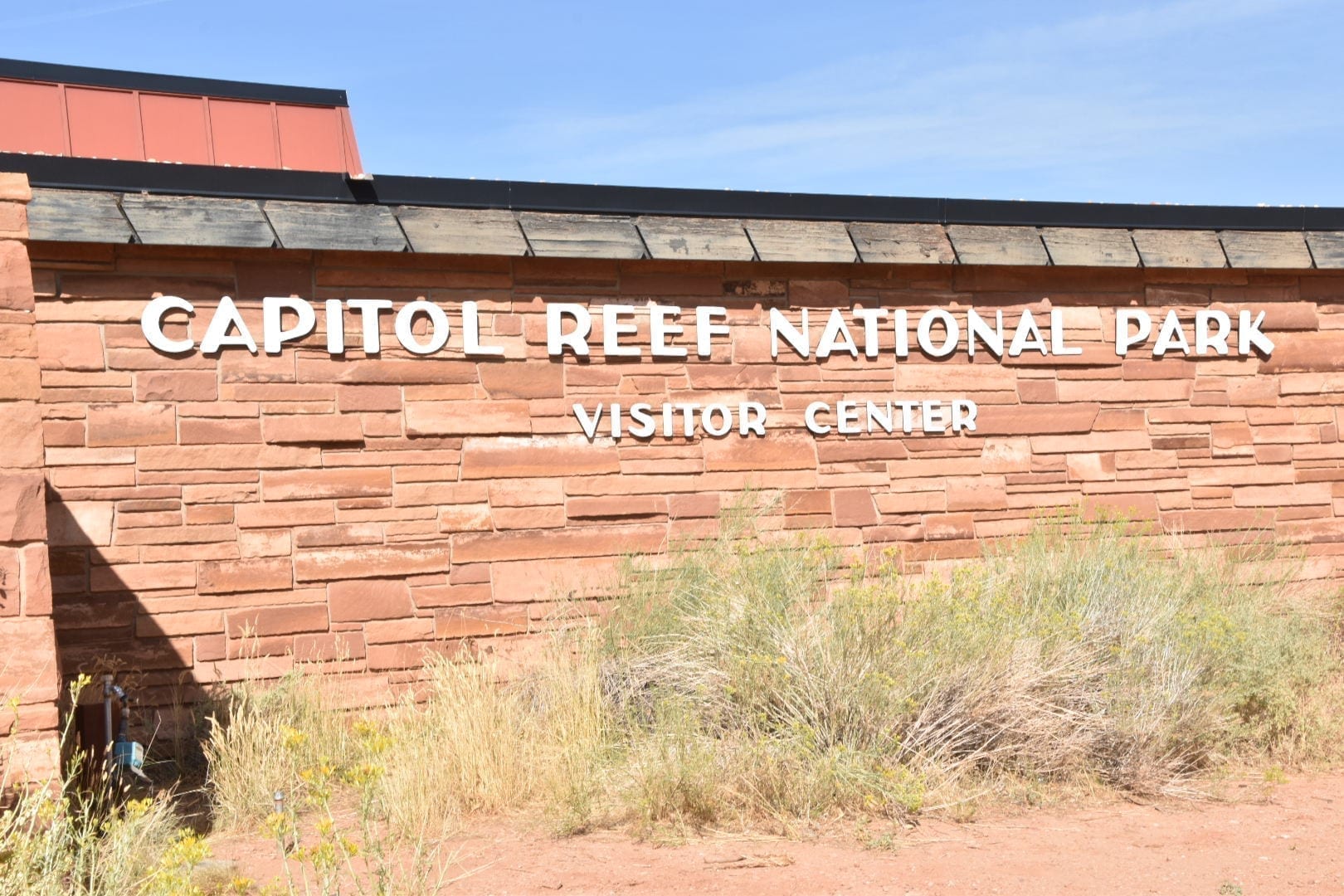 Rappelling and canyoneering are popular activities within the park.
Horseback riding is available nearby.
For kids, the Visitor Center is a great place to stop. The Junior Ranger program is a fun activity to do.
Where Should I Eat at Capitol Reef National Park?
The local towns have a few restaurants but one that we highly recommend is Slackers.  
Slackers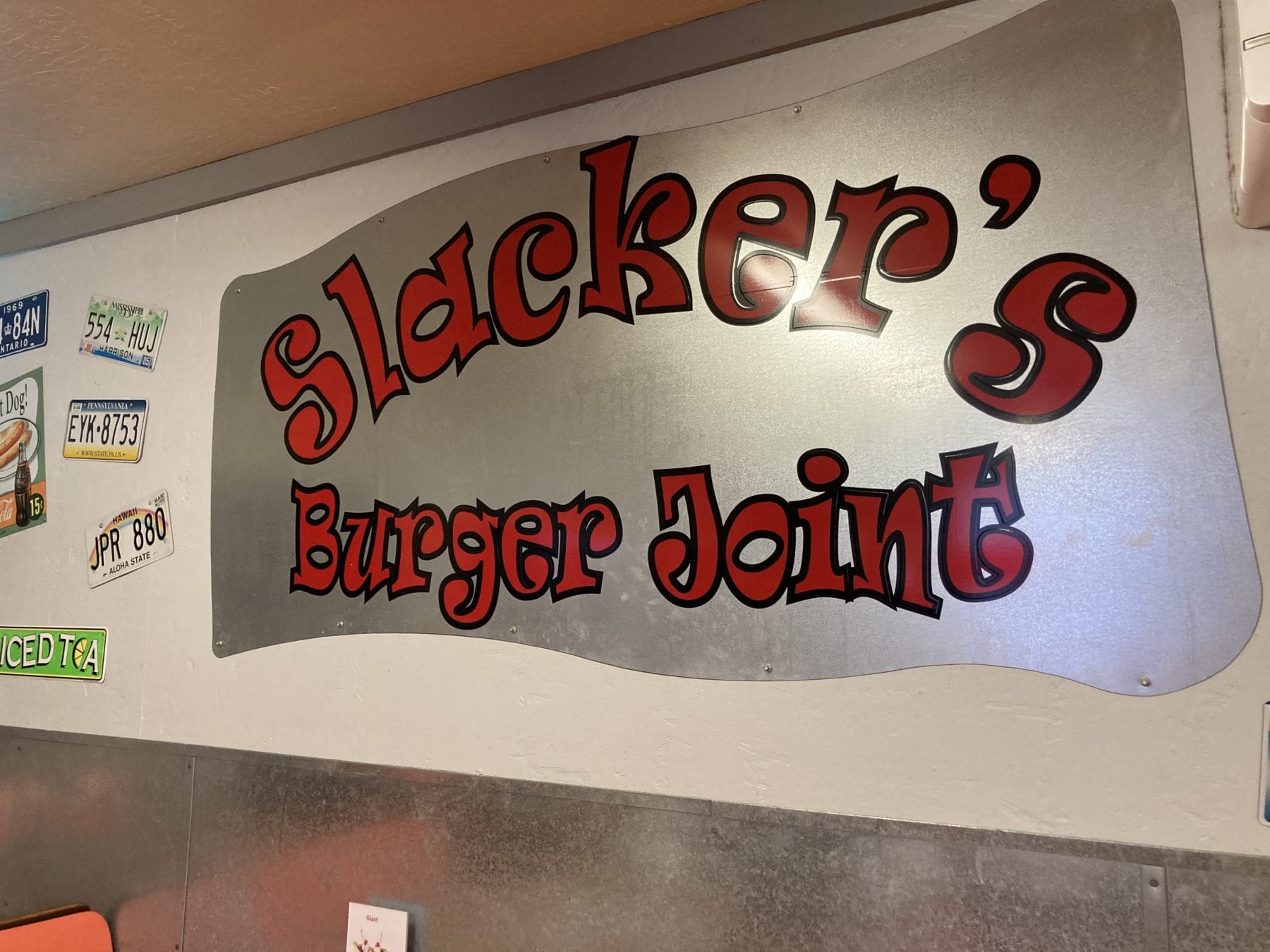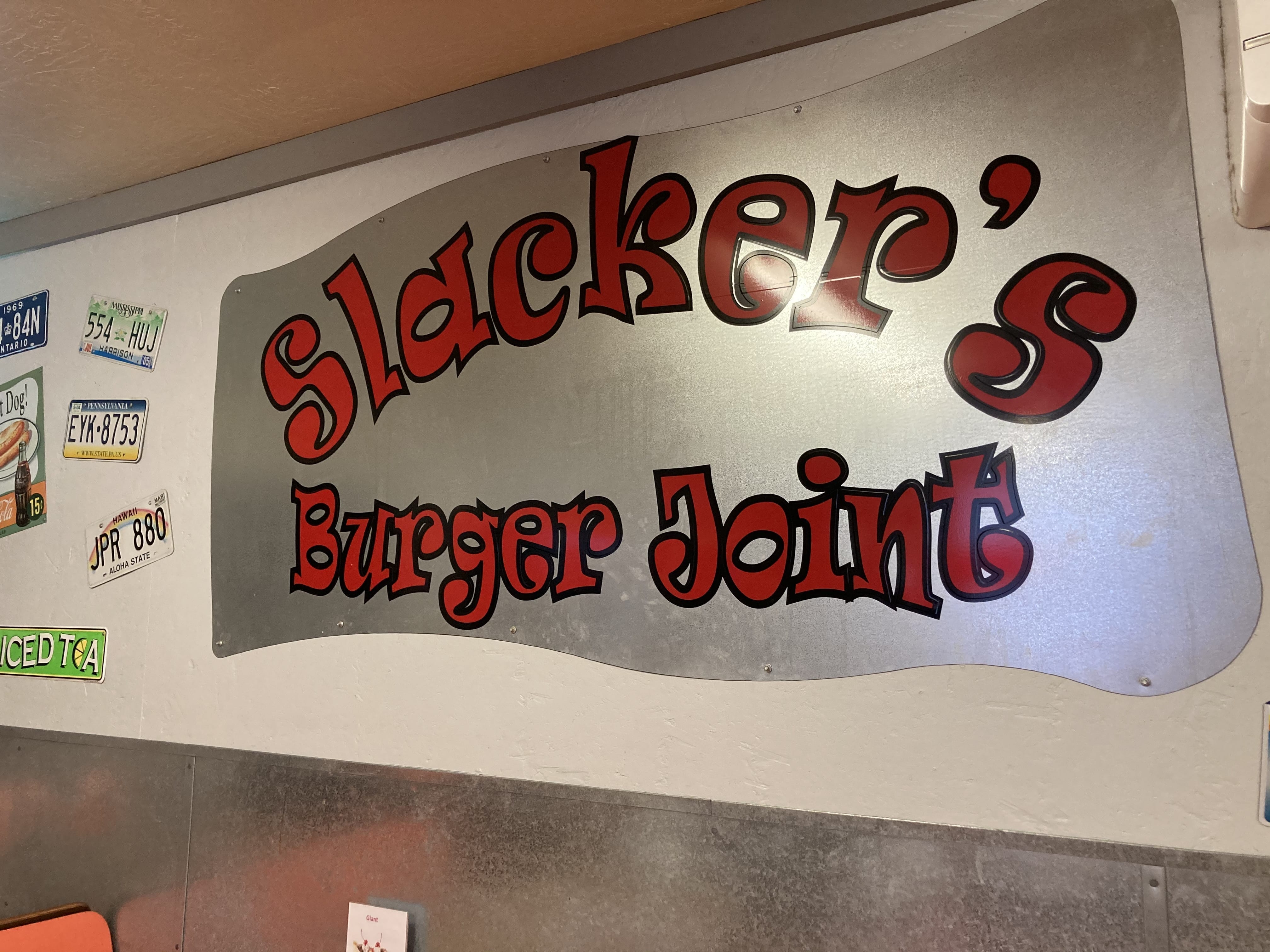 This is the hottest place in town! Slackers has an all-American menu.  Shakes, pies, and other desserts are a must when you stop here. Believe me when we went it was crowded! 
We tried a variety of ice cream and dinner options. The service was great and the food hit the spot.
Picnic near the Fremont River
If you want to plan ahead and purchase food ahead of time, there is a beautiful picnic area in Fruita.  It is actually located inside Capitol Reef National Park.
The picnic area has lots of tables and is close to the historic district.  There is shade which is a big plus. It is a perfect place to have a lovely picnic.
Are you Ready to Go to Capitol Reef National Park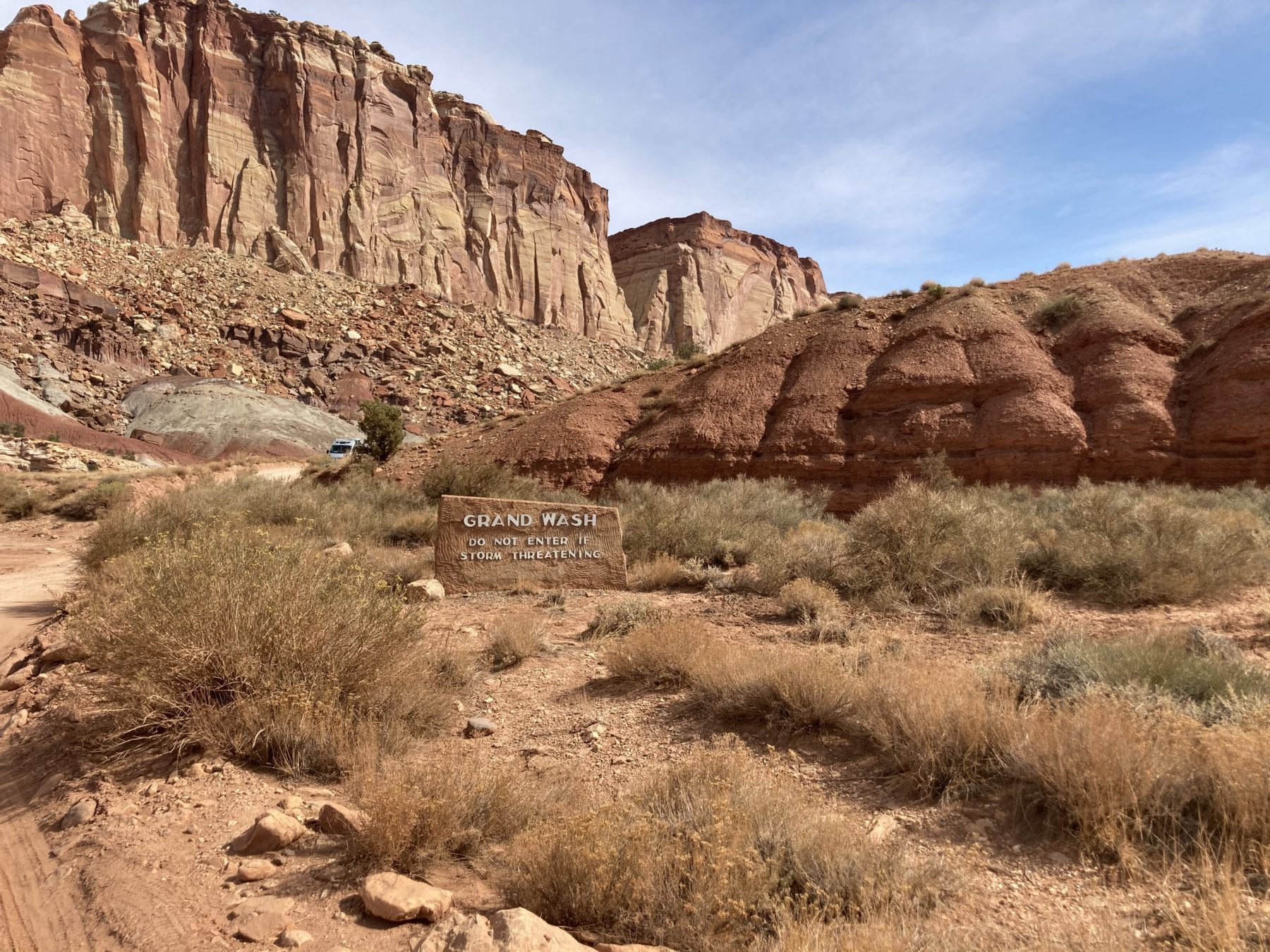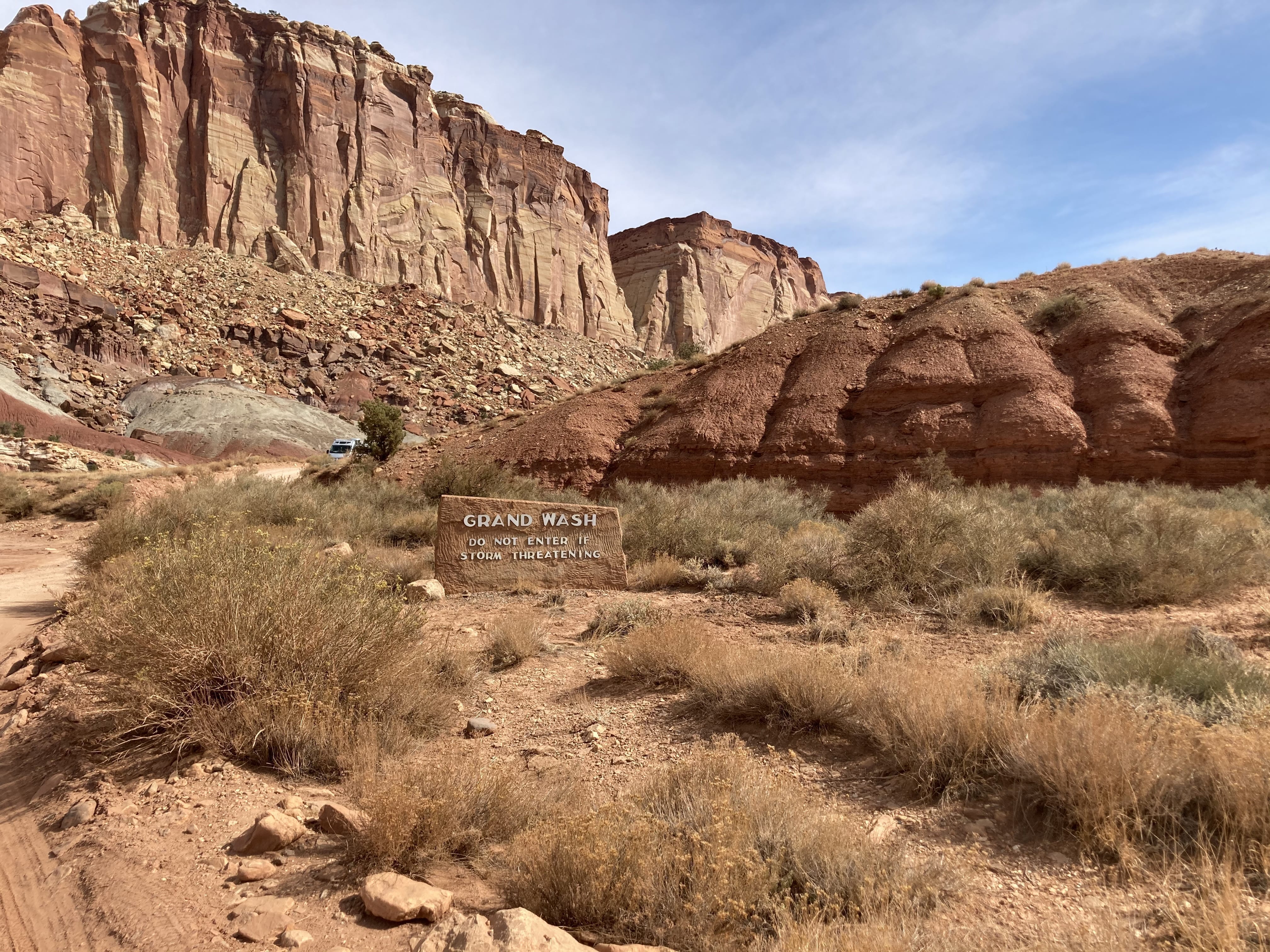 Hopefully, this helps you plan for your trip to Capitol Reef National Park.  It is such an amazing place I know you will have a great time enjoying the best hikes in Capitol Reef National Park. 
We consider Capitol Reef National Park one of the best National Parks in the USA! If you are considering heading over to Moab, Utah to explore Arches and Canyonland National Parks be sure to stop at Goblin Valley State Park on your way.  It is amazing!  Have a wonderful time exploring Utah's Mighty 5 parks. 
Facebook Group
If you have any question when planning your trip come join me in my private Facebook Group.  
This group is a place where you can ask any question about your upcoming trip and help others plan their trips.  It is also a place where I put travel deals.