Are you planning on visiting Canyonlands Island in the Sky and trying to figure out what the best hikes in Canyonlands are?  
Perfect, I just explored this area of Canyonlands and I am excited to share with you some tips that will help you plan a trip.
If you are on a mighty 5 road trip visiting Canyonlands National Park is a must.  
There are two areas of Canyonlands, The Needles and Island in the Sky.  In this post we are focusing on the Island in the Sky. If you only have one day at Canyonlands this is the best option. 
Let's explore one of the best west coast national parks and all the best hikes in Canyonlands Island in the sky!
If you want to save this information for later be sure to Pin this to Pinterest.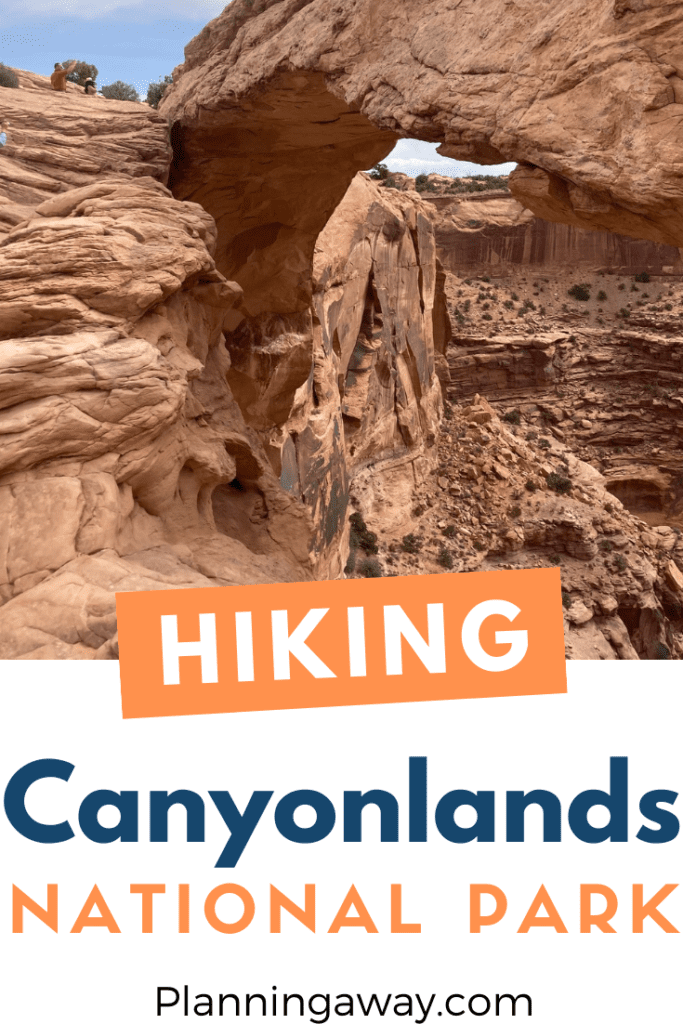 This post may contain affiliate links (including Amazon) that will give me a commission at no additional charge to you. 
Plan A Trip To Canyonlands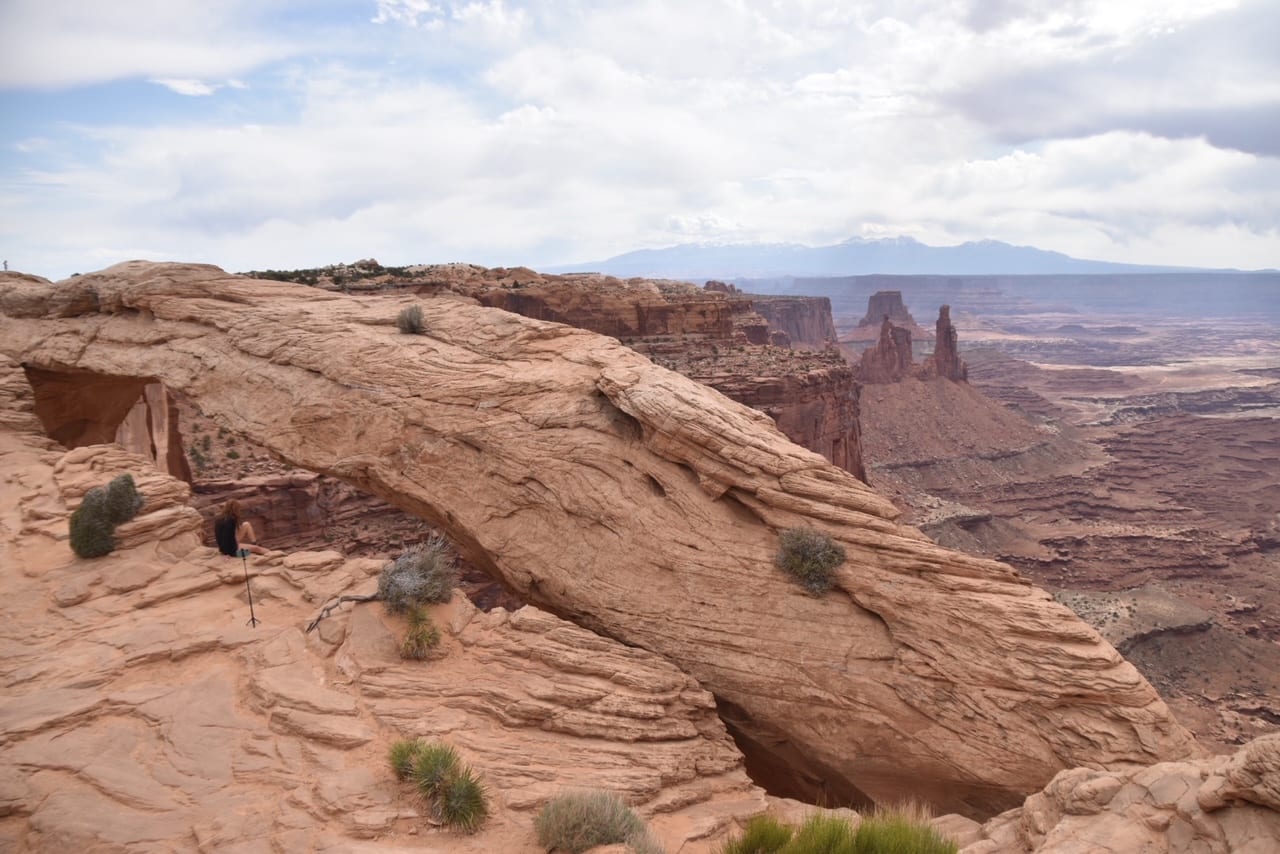 I want to give you as much information as I possibly can, so this will be a complete guide for Canyonlands including: where to stay, what to do, and how to accomplish it all.  
How Much Time Should I Spend at Canyonlands Island in the Sky?
Depending on how much hiking you would like to do, three hours to one day is plenty of time to explore this area of Canyonlands National Park. 
Are There Any other Recreational Areas Near Canyonlands?
Yes, as you are driving the 25 miles on UT-313 from the main road (UT- 191) to Canyonlands there are pull offs.  You can hike before you enter Canyonlands.  Personally, I thought the landscape and rock formations were more impressive on the drive to the park than what was actually inside the park.  
You can also go to Dead Horse State Park.  Dead Horse State Park has a U-shaped Colorado River viewpoint that is very impressive.  You can also hike and bike at the park. There is an additional state park fee. 
Arches National Park is also 30 minutes away.  
Where is Canyonlands Island in the Sky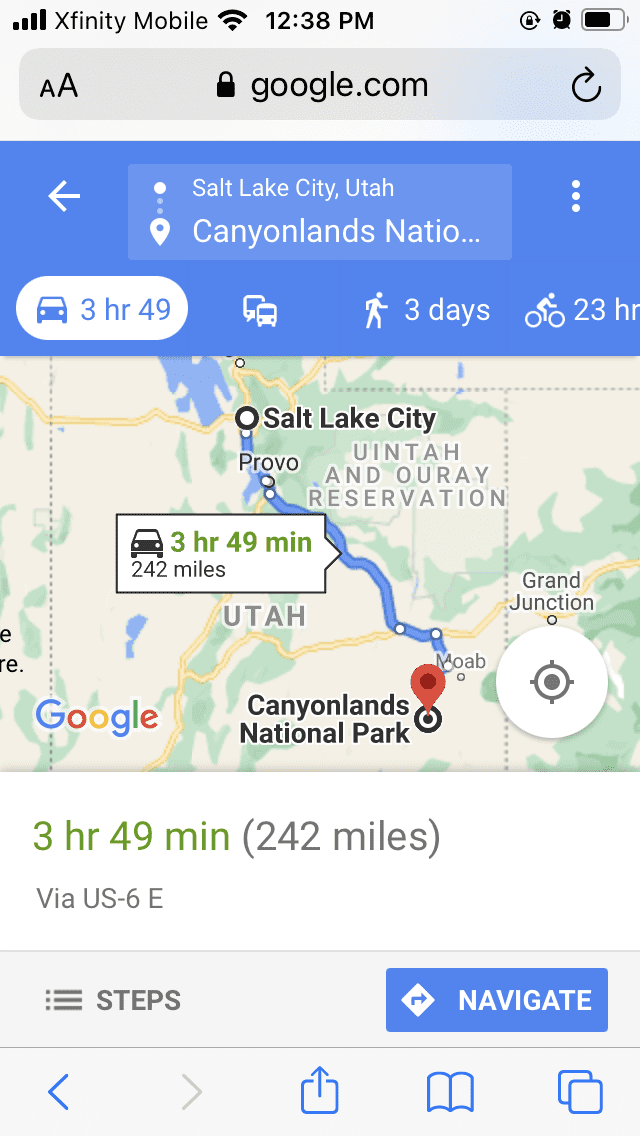 Canyonlands is 3.5 hours from Salt Lake.  The closest town to Canyonlands is Moab, Utah.  You will want to plan a trip to Moab and include Canyonlands in your itinerary.  
Canyonlands to Arches
There are two national parks close to Moab, Utah: Canyonlands National Park and Arches National Park.  The distance from Canyonlands to Arches is 26.2 miles which takes about 30 minutes to drive.  
Where to Stay Near Canyonlands National Park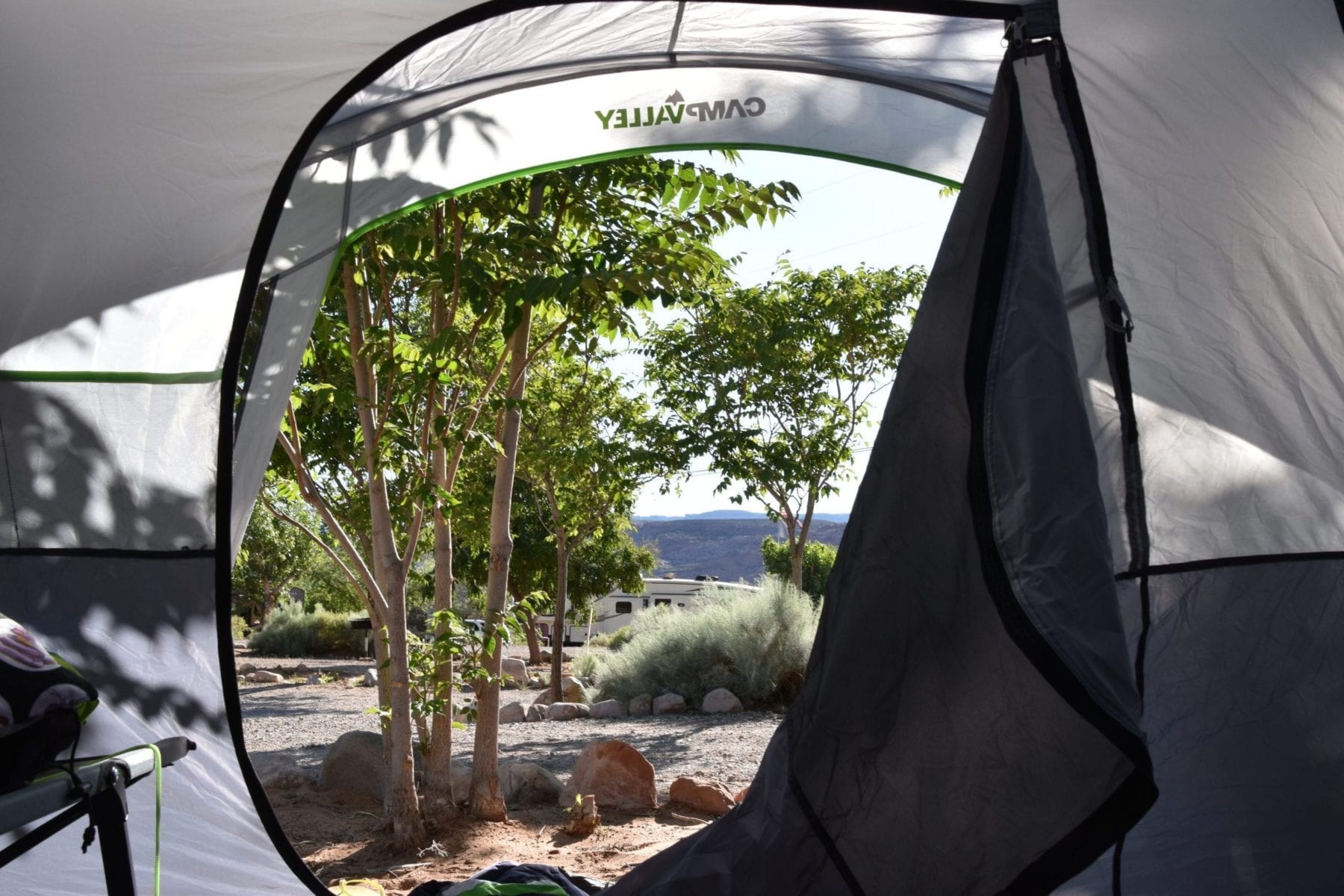 Staying in Moab is the most popular option.  There are plenty of accommodations such as: hotels, glamping, and camping. 
If you want to stay closer to Canyonlands there are a few campsites located just outside of the park entrance.  There is also a campsite near the Islands in the Sky area of Canyonlands.  
Camping
We love camping in Moab.  We like staying at the KOA.  There is also another site called Under Canvas Moab that has platform tents.  It is a glamping option.  
Stay In Moab
If camping isn't your thing don't worry.  Moab has many hotels and vacation rental options.  Our favorite is the Spring Hills Suites because the pool is amazing.  There are also lots of food options and other accommodations available in Moab. 
Rent An RV
If you want to really experience the remote area near the Canyonlands renting an RV may be the way to go.  There is a lot of BLM land that is free to camp on in this area. 
Admission and Hours to Canyonlands National Park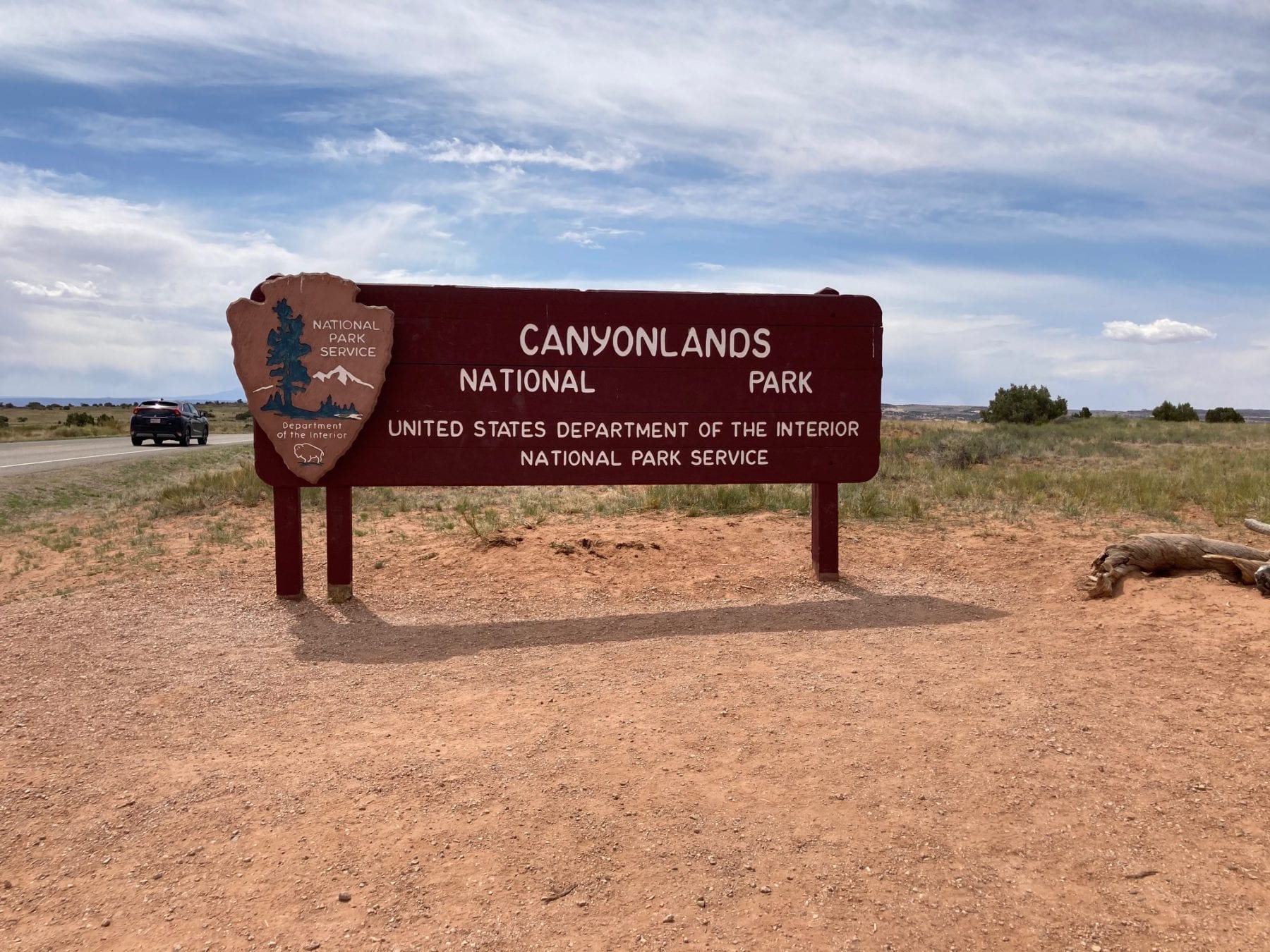 Admission
Park Admission is $30 per vehicle.  
Canyonlands is included in the America the Beautiful Pass.  
Hours at the Island in the Sky Visitor Center
8:00 am – 5:00 pm
Canyonlands is open 24 hours a day.  
Canyonlands National Park Islands in the Sky Visitor Center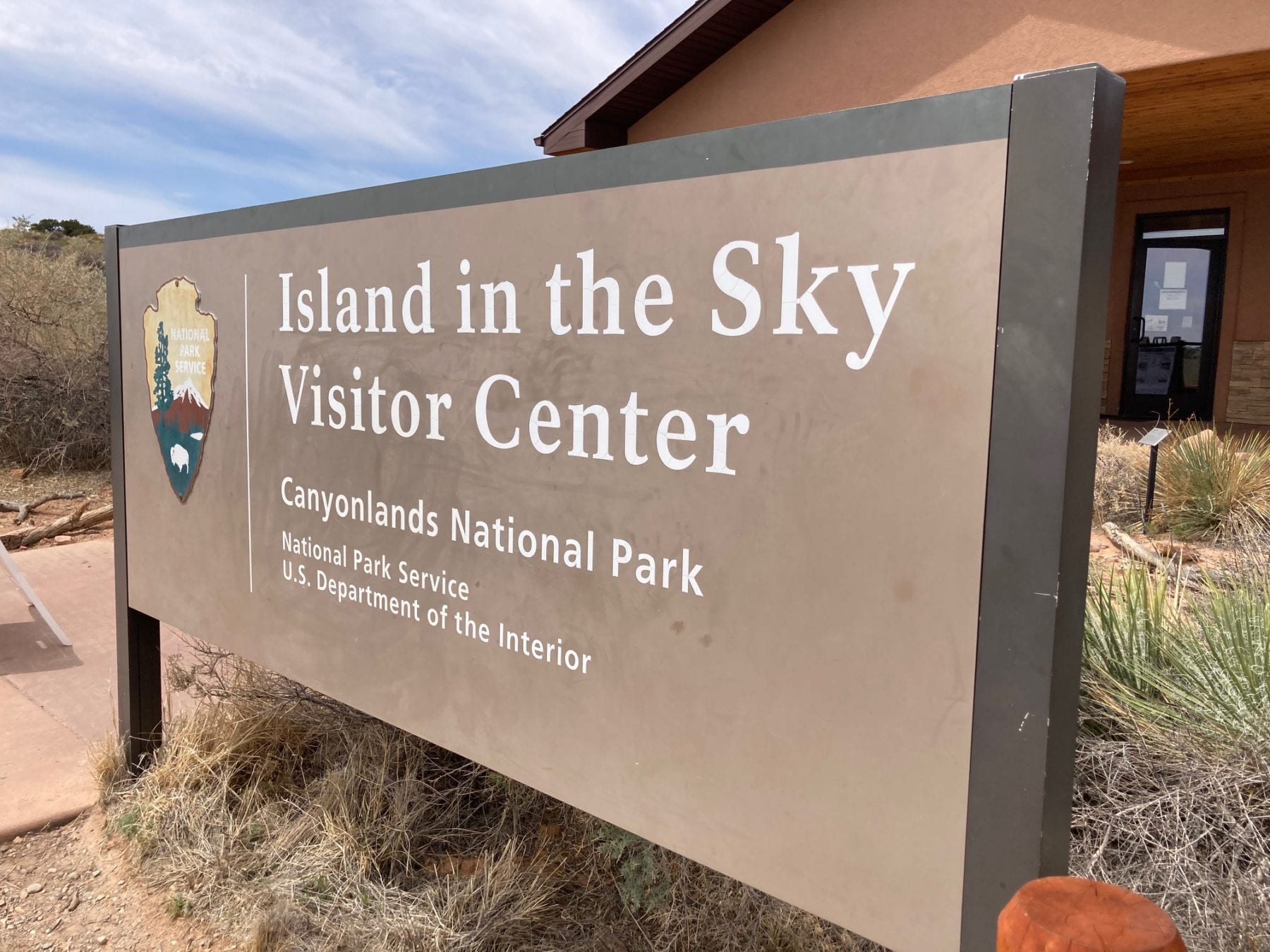 The first stop you will want to make is at the visitor center.  It is always good to check in with the park ranger for suggestions and find out the local weather report. 
Talk to a Park Ranger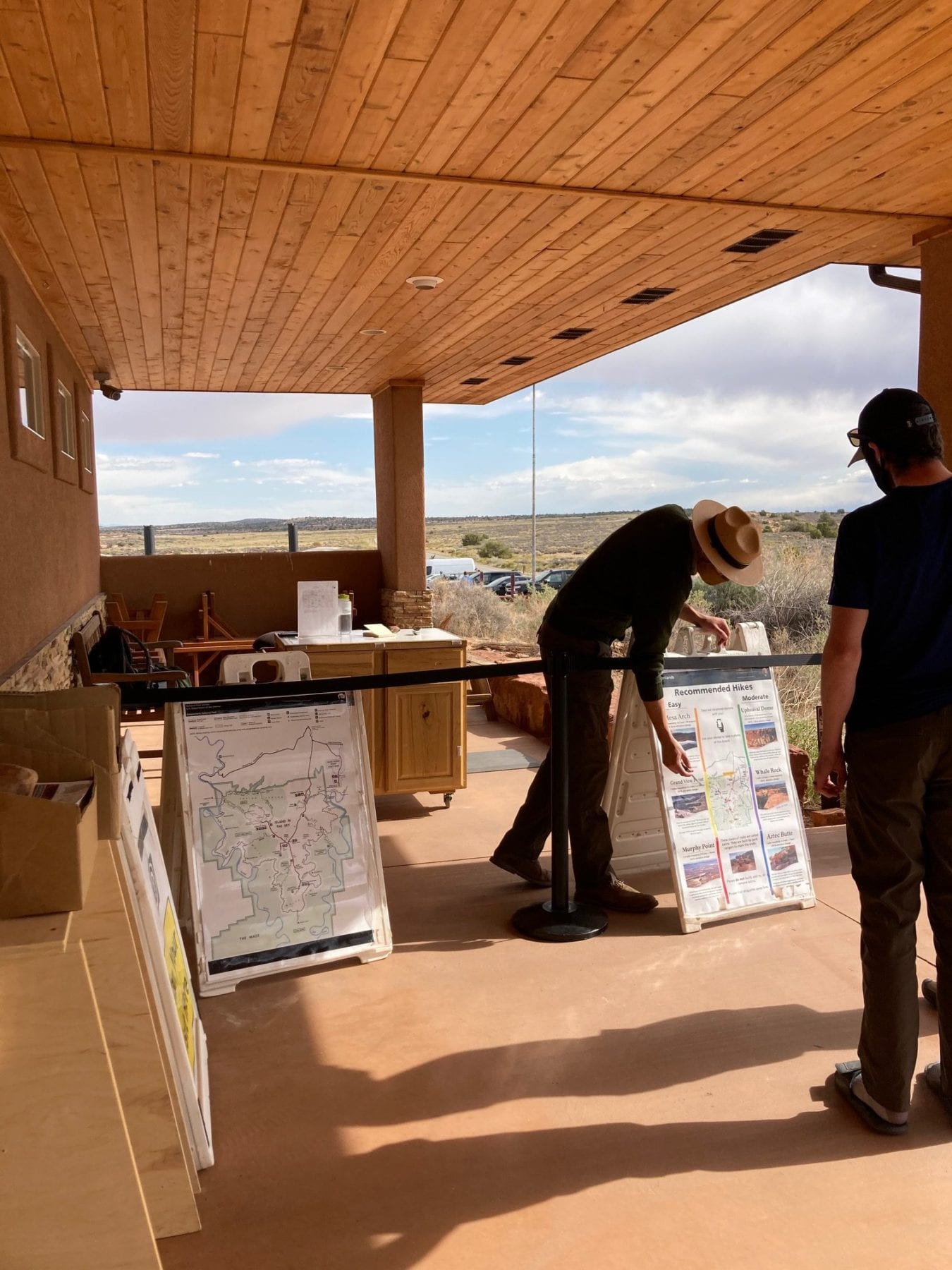 One of the best ways to find the best hikes in Canyonlands is to stop at the visitor center and talk to a park ranger.  We did this and it was so helpful.  
They will ask you how much time you have and direct you to the best hikes. 
Junior Ranger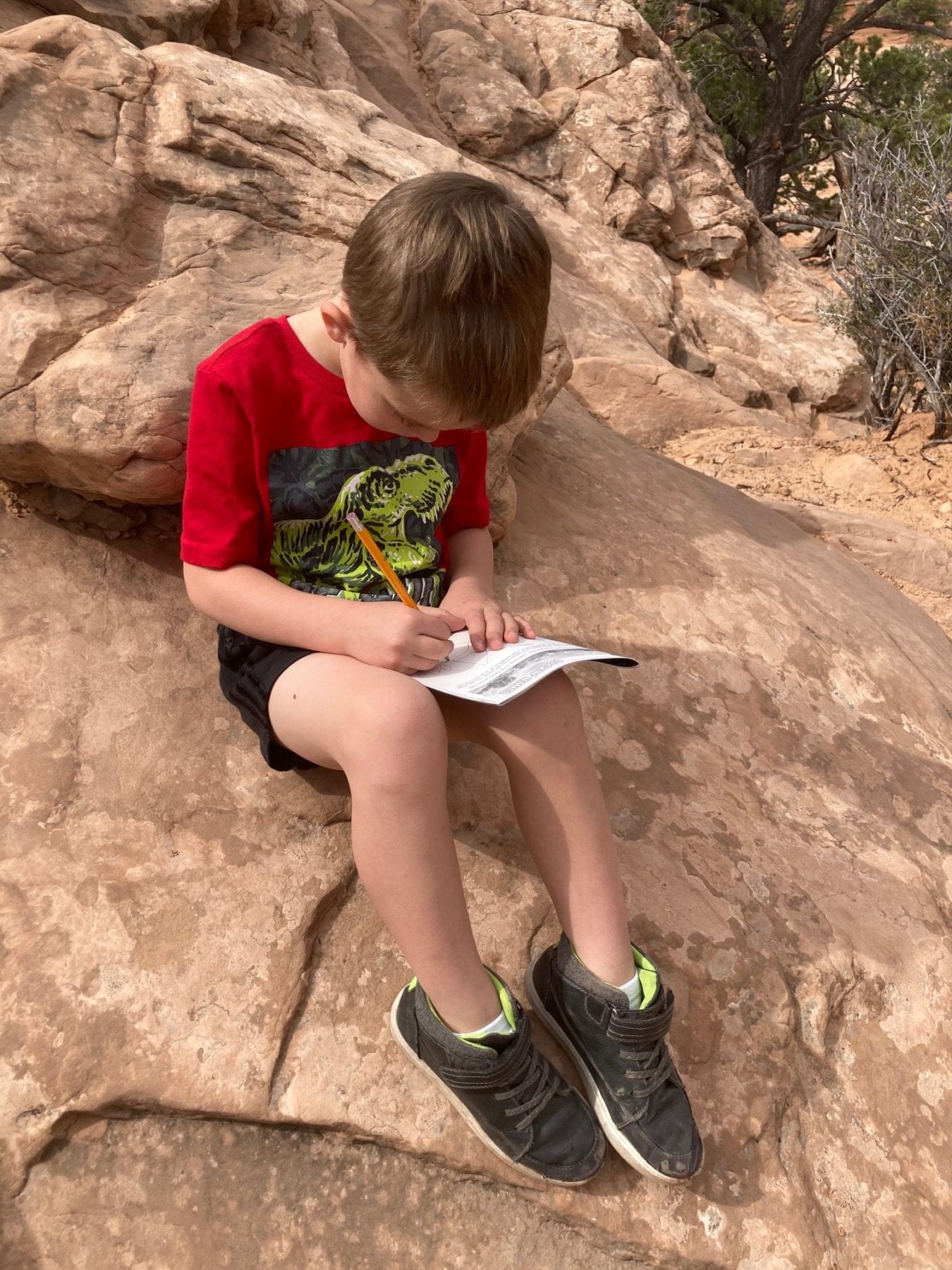 If you are at Canyonlands with kids, make sure to ask the park ranger about the junior ranger program. 
At most national parks kids will be given an activity book to complete while you explore the park.  After they complete the required amount of pages (based on their age) they will receive a badge of completion and be sworn in. 
Gift Shop
The gift shop is also located at the visitor center.  We love picking up a few souvenirs of our adventures.  Right now I am collecting the reusable bags.   
Most Popular Hikes at Canyonlands National Park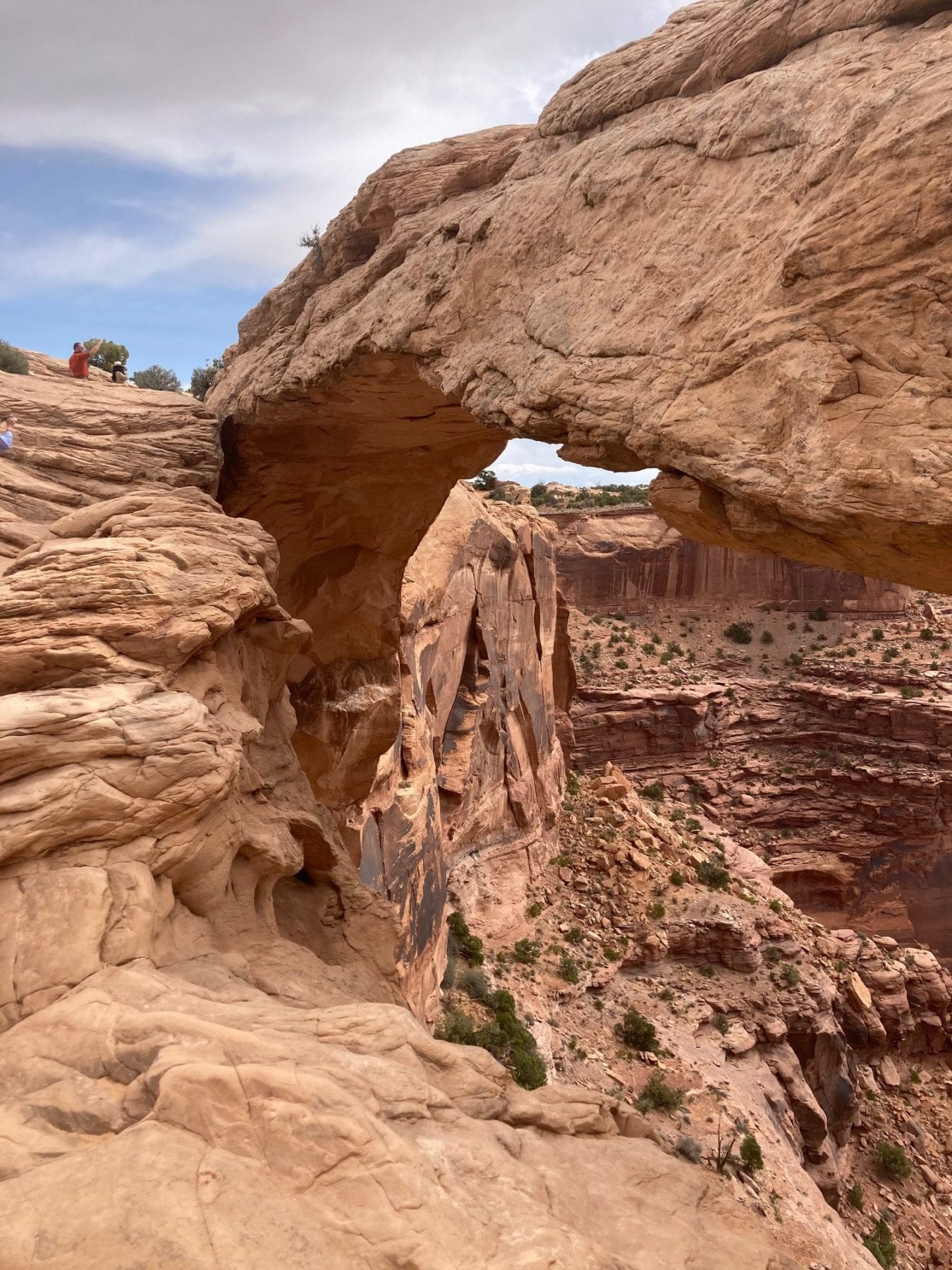 The two most popular hikes in Canyonlands Islands in the Sky area are Mesa Arch and Grand View Point.  If you ask the park ranger, they will tell you to be sure to check both of them out.  
Mesa Arch
Difficulty: Easy
Miles: .5
Time: 30 minutes
Is there Parking at Mesa Arch?
Yes, there is a parking lot with facilities at the start of the trial. 
Hot Tip:
Because Mesa Arch is the most popular hike in Canyonlands the parking lot does fill up.  However, people tend to take a few pictures and head back to the parking lot making for a quick rotation for parking spots. 
What is the Best Time of Day to Hike Mesa Arch?   
This area can get very hot in the summer.  I would plan to hike in the morning or evening. However, the hike is very short and as long as you have plenty of water and sunscreen you will probably be fine anytime of the day.  
Is the Mesa Arch hike in Canyonlands Good For Kids?
Yes, it is easy.  There is an incline but my kids who are 5 and 8 did great.  At the top there are some drop off areas but nothing that sets of the alarms.  
Our Experience
After hiking some of the intense hikes at Arches National Park we loved hiking Mesa Arch.  My kids did not complain!  Once we reached the arch we were able to enjoy the view and get some great pictures.  We stayed at the top for 20 minutes and then headed back to the car.  It was a good amount of time to relax and take in the view. 
Grand View Point 
Difficulty: Easy
Miles: 2
Time: 1.5 hours
Is there a Parking Lot at Grand View Point?
Yes. There are quite a few spots but the turnaround is not as quick so if you come and the lot is full it could take a while before a spot opens up.  There are areas to park on the sides of the road if all the spots are full.  Facilities are also available at this location.
Grand View Point Overlook or Hike?
If you are not up for hiking but want to have a great view this area is also an overlook.  You can easily get out of your car and walk a short distance to get a great view. 
The hike is 2 miles.  It is an out and back hike that extends along the rim of the canyon.  
Is Grand View Point Hike Good For Kids?
We did not want to hike the entire 2 miles.  We hiked about a half mile and then turned around and came back.  We had a gentleman tell us that he wouldn't recommend taking the kids the entire way because it was very long and the views were pretty much the same along the entire hike. 
The park ranger said, "this hike sums up what Canyonlands really is."  It is a must when visiting Canyonlands Island in the Sky.  
It is one of the best hikes in Canyonlands and should be on your list. 
Overlooks at Canyonlands: Island in the Sky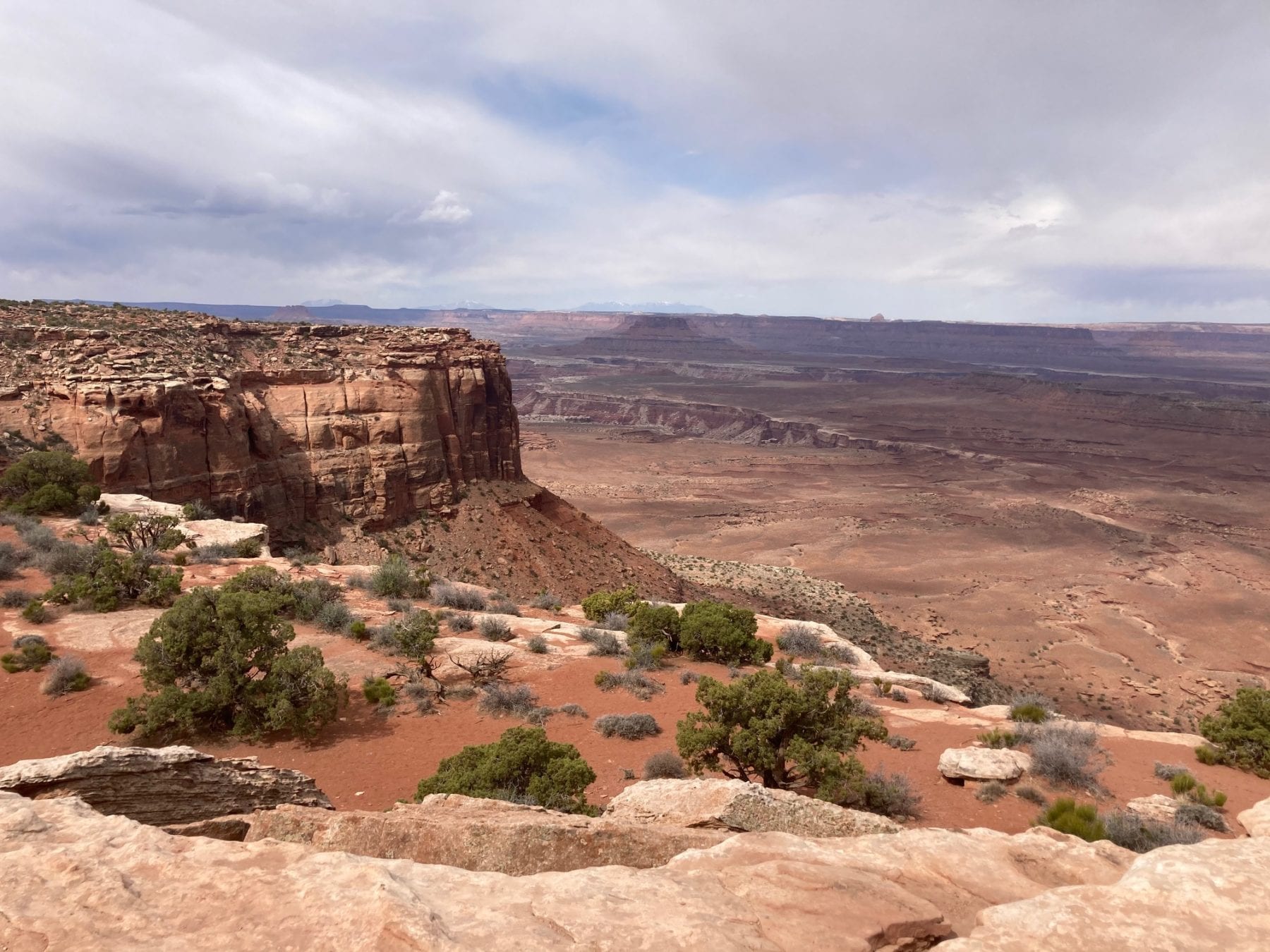 One thing we loved about Canyonlands: Islands in the Sky is that there are overlooks.  We enjoyed driving in Canyonlands, getting out of the car, and being able to check out the views. 
Shafer Canyon Overlook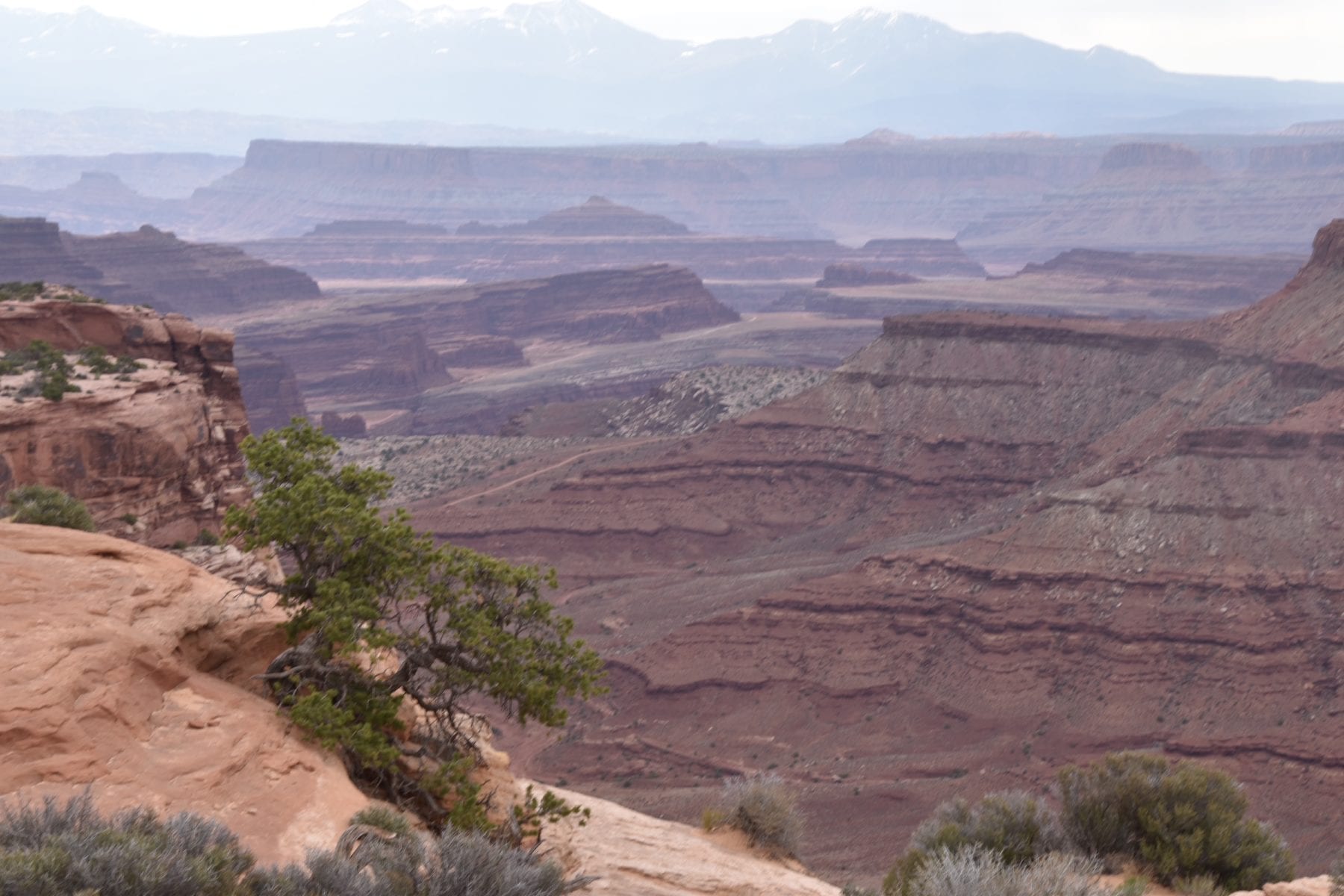 Difficulty: Easy
Miles: .3
Time: 20-30 minutes
Shafer Canyon is located right across the street from the visitor center.  It is a very beautiful overlook of the deep canyons in the area.  You are about 1400 feet about the canyon.  You can see the La Sal Mountain Range and the White Rim Road at the top of the overlook. There are lots of lizards!
Candlestick Tower Overlook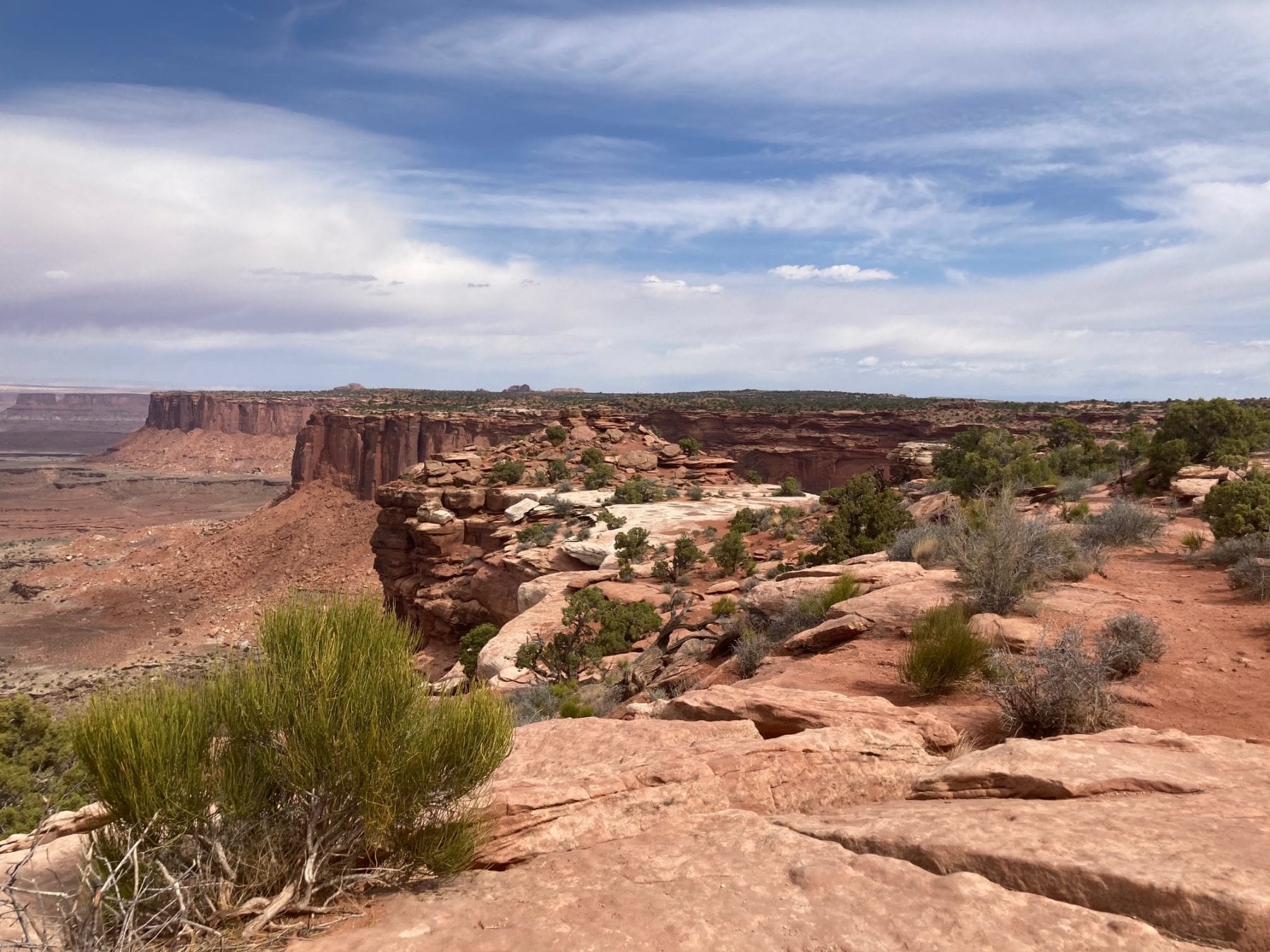 There are 3-4 parking spots at the Candlestick Tower Overlook.  You do not even have to get out of your car to view this rock formation that looks like a candlestick.  I didn't get a photo of the "candlestick"  I took a shot of the view in the opposite direction! 
Murphy Loop Trail
Difficulty: Hard
Miles: 10.8
Time: All Day
If you want a closer view of the Candlestick Tower, the Murphy Loop Trail is a good way to get a better view. You do not need to go the entire 10.8 miles.  To get a good view 1.3 miles in will get you to Murphy Point. 
The entire Murphy Loop will allow you to explore deep in Canyonlands. 
Buck Canyon Overlook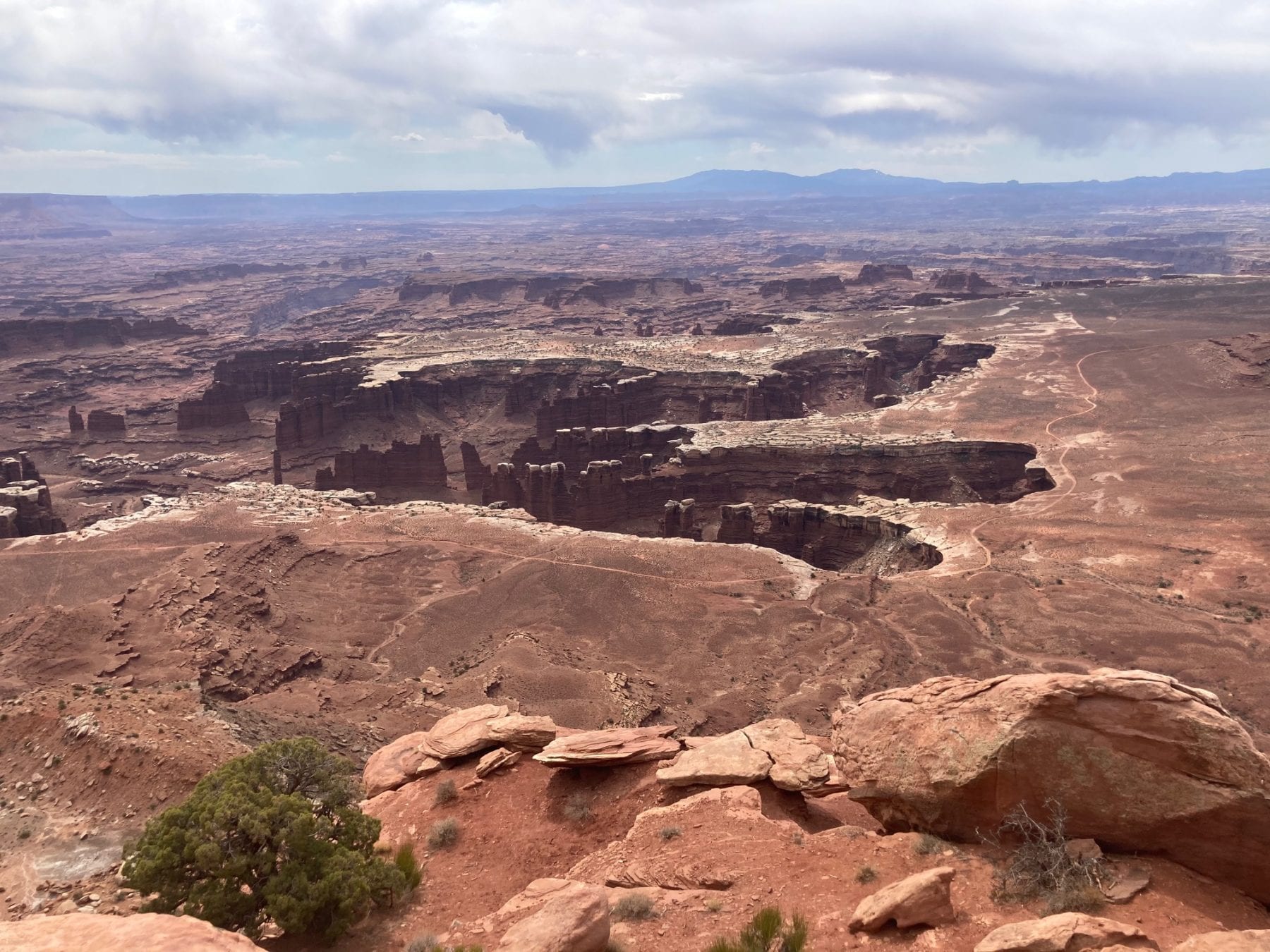 This overlook is not a hike.  It is a beautiful view of the canyon.  I easily ran out to the overlook and took a few pictures.  It took about 5 minutes total.  
White Rim Overlook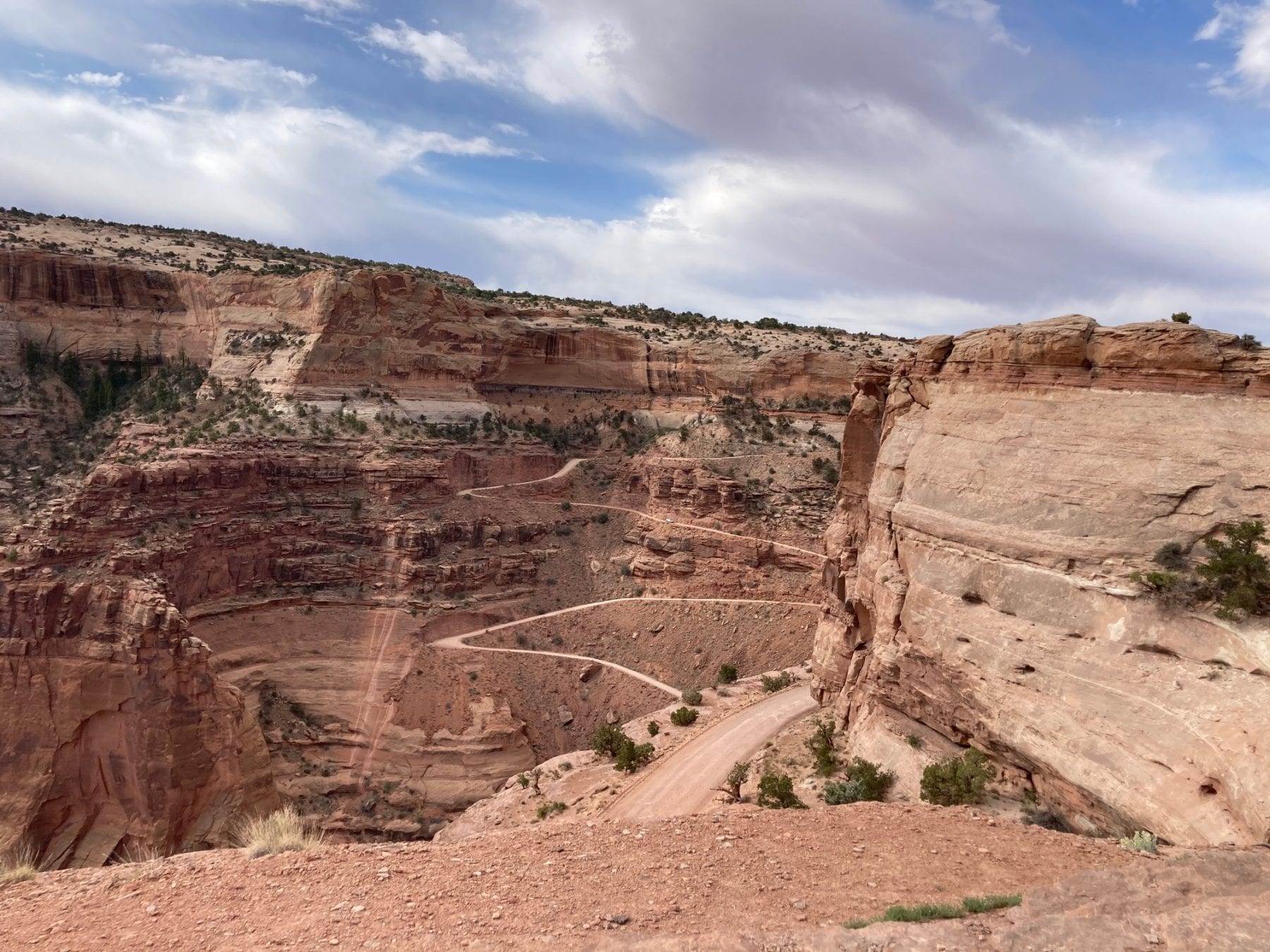 Difficulty: Easy
Miles:1.8
Time: 1.5 Hours
This view will be of the Colorado River, Monument Basin, and the La Sal Mountain Range.  The best time to go is in the late afternoon, you can bring a picnic lunch and enjoy the 360 views. This hike is not crowded.  (This image is not of the overlook it is of the White Rim Road) The White Rim Overlook gives you views of the deep canyons.  
Hot Tip:
Be sure to follow the White Rim Overlook Trail and not the Gooseberry Trail. 
Gooseberry Trail
Difficulty: Hard
Miles: 5.4
Time: 4-6 Hours
This is the steepest hike in Canyonlands.  There are rough switchbacks and sheer cliff drop offs.  This hike is not good for kids or those who do not like heights.  
Orange Cliffs Overlook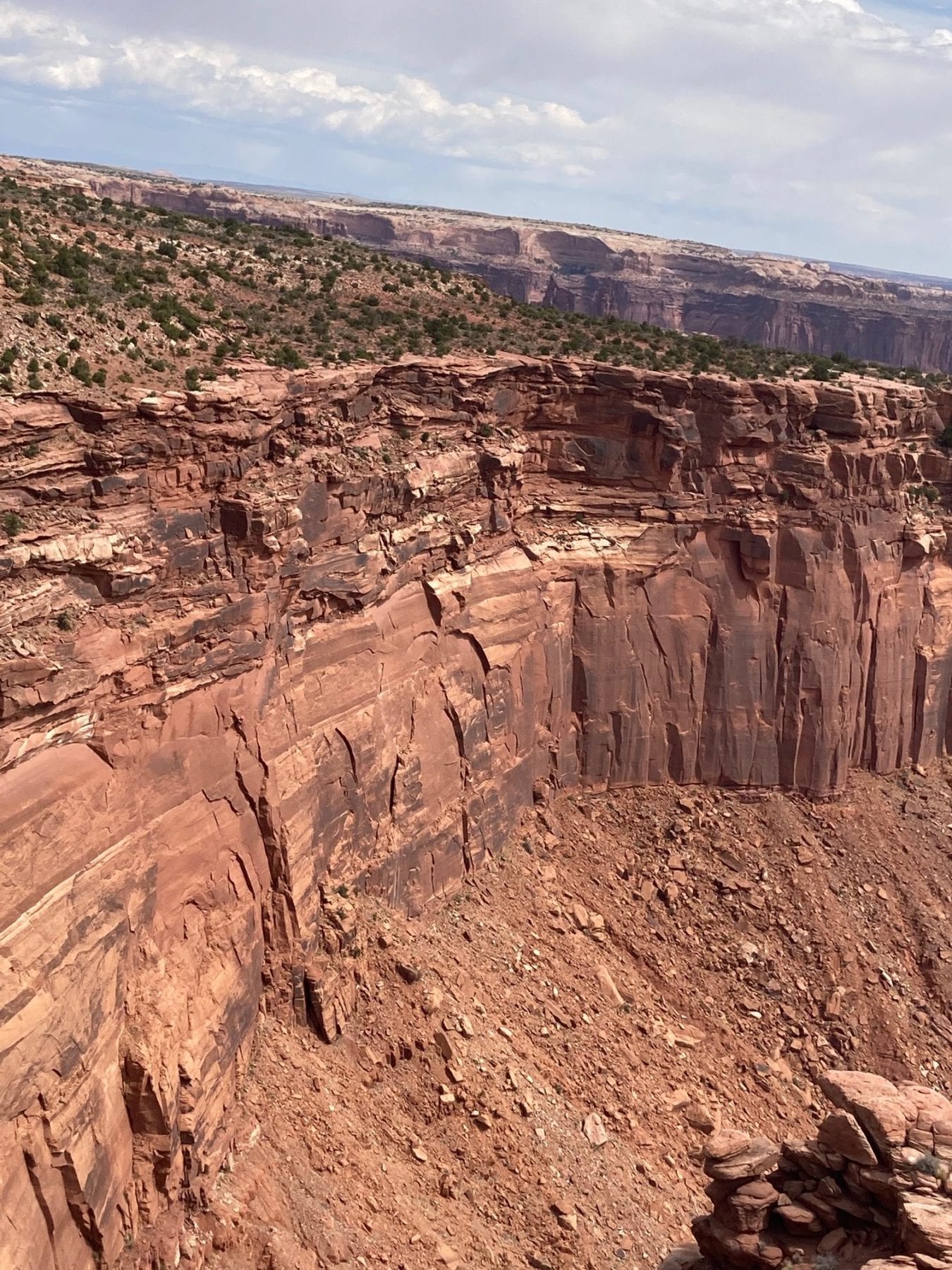 Orange Cliffs Overlook is a quick stop.  You can easily get out of the car and take a look at the views and head on to the Grand View Point Overlook. 
More Hikes at Canyonlands If You Have Time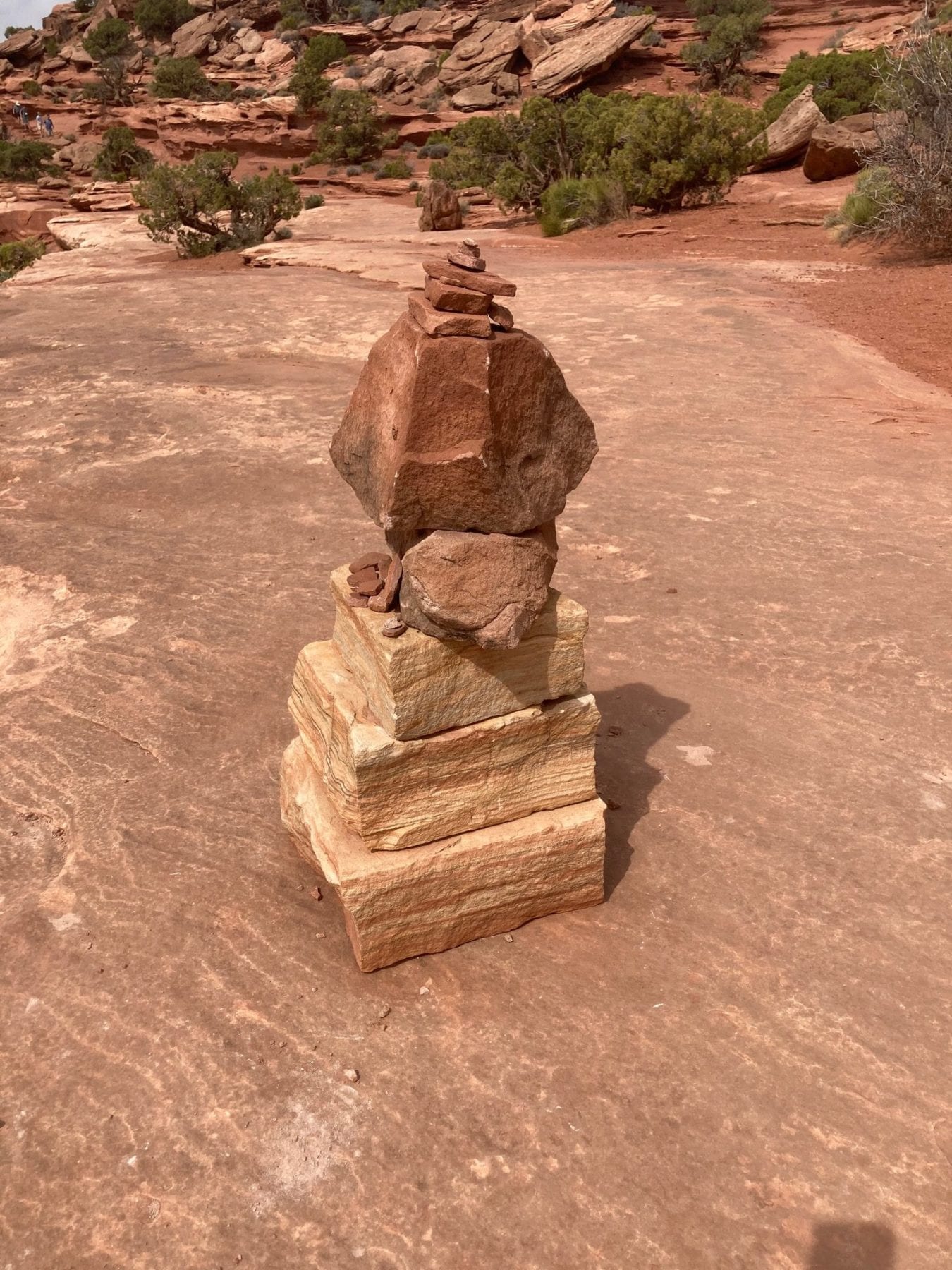 There are two main roads at Canyonlands Island in the Sky area.  The first is directly south of the visitor center and will take you to Mesa Arch, all of the overlooks, and ends at the Grand View Point Overlook.  
This is the path that we took. We spent half a day exploring the park and were able to do everything we wanted along this path.  
The second road leads to more moderate hikes such as: Upheaval Dome, Whale Rock, and Aztecx Butte. 
Let's explore these hikes.
Upheaval Dome
Difficulty: Moderate
Miles: .8
Time: 1 hour
Upheaval Dome is a short but steep hike.  This hike is unique because most of Canyonlands rock formations are predictable with layers of sediment. 
These rock formations at Upheaval Dome are a geological mystery.  They do not follow the layer by layer pattern.  Some geologists think it could have been a salt bubble that created these unusual rock formations, others believe it could have been a meteor.  Either way there are two viewpoints along the hike to get a good look at this unusual site.  
Whale Rock
Difficulty: Moderate
Miles: 1
Time: 1 Hour
Whale Rock is a huge rock that is shaped like a whale.  There are some steep drop offs along this trail.  
Aztec Butte
Difficulty: Hard
Miles: 2
Time: 1.5 Hours
This trail involves climbing, going up slickrock, and drop offs.  There is an archeological site – the Ancestral Puebloan Granaries.  You may not enter the site but can view it.  
Canyonlands Island in the Sky - Hiking Guide
Hopefully, this gives you an overview of the best hikes in Canyonlands.  You can easily plan out what hikes you would like to do.  
We actually only spent half a day at Canyonlands.  We were able to do everything along the road to Grand View Point.  You could easily spend the rest of your day exploring the Upheaval Dome area. 
No matter what you decide, you are going to love the hikes at Canyonlands.  
This area is such a fun place to explore! As you plan a trip to Moab be sure to include Canyonlands in your adventure.  You may also want to add Goblin Valley and trek over to Capitol Reef National Park.
Facebook Community
Do you have any more questions about Canyonlands? Join my Travel Community on Facebook.  This is a great group that can help answer any travel question you might have.  I also try to add any deals that companies send me as well.