Let's Start with Money Saving Tips
Do You Have a 4th Grader?
National parks have an amazing 4th grade pass that allows all 4th grade students and their families free entry to all of the parks, including Yellowstone National Park. The pass is called, "Every Kid in a Park." Every year, beginning September 1st, all 4th graders have access to the pass. It expires August 31st, so you have the entire summer after 4th grade to use it.
We have used this pass, and it has been awesome! It is a great way to save money and explore all the amazing beauty of the national parks. It is very simple to sign up for the pass. Go to the Every Kid in a Park Website and fill out the necessary information. You can print out your temporary pass. You will be given an official pass when you arrive at your first national park. It is a neat collectible for the kids to have.
National Park Pass
If you are planning on visiting three or more parks in a year and you do not have a 4th grader, the national park pass, is also a great way to save money. As of June 2019, it costs $80. You can purchase this pass on the US Park Pass Website when you Click Here.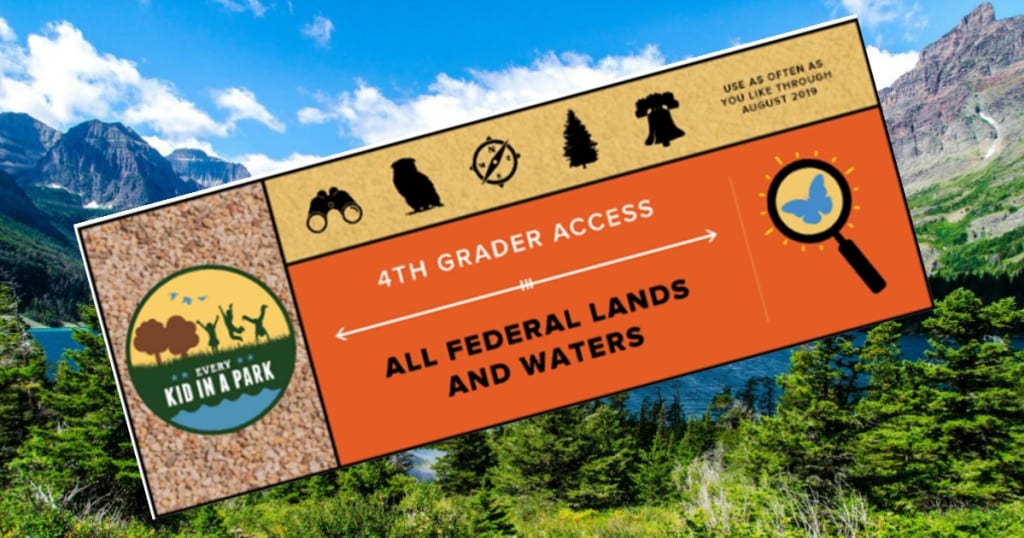 Start with the Visitor Center - Old Faithful
Junior Ranger Program
The first thing we do when my family arrives at a national park is to head straight for a park rangers to inquire about the Junior Ranger program. Yellowstone has many options to choose from. Please note that some of these programs do cost money.
The Junior Ranger program is designed for kids ages 4 and up. You will purchase your book and begin the activities inside. Once your little one has completed the age appropriate activity, he or she will be award a really cool badge.
Some families may go out of their way to collect these badges from as many national parks as they can, as each has a different badge. If you keep your eyes open while at Yellowstone National Park, you'll probably see a kid with a backpack covered with badges from parks around the country.
One thing that jumped out to us about Yellowstone National Park is that it is massive! At many national parks, the visitor center is the first place you see on your way in. Not Yellowstone. You can drive all over the place, and Old Faithful is deep within the park. I am glad we made stopping at the visitors center a priority, because the activities there are amazing!
Scientific Program
The scientific program is designed for children 5 and up. The cost is $5. It is so worth it! Once you purchase your book you are given a measurement tool that will tell you how hot the water around Old Faithful is. It is absolutely awesome! Your child points the device and it measures the temperature. When you complete your book you will receive a badge or a key chain.
We purchased the scientific program for my then 8 year old who loves science. Our entire family had so much fun measuring all of the different boiling pots. It was well worth it, as it entertained everyone but also gave us a real understanding of how dangerous walking around Yellowstone can be. Some of the temperatures were very hot and could easily scold a child if they fell in.
Visitor Center
Take time to enjoy the visitor center itself. There are hands-on exhibits and activities to entertain your children. You could probably spend half a day in the visitor center and the adjacent area, which includes Old Faithful and walking trails.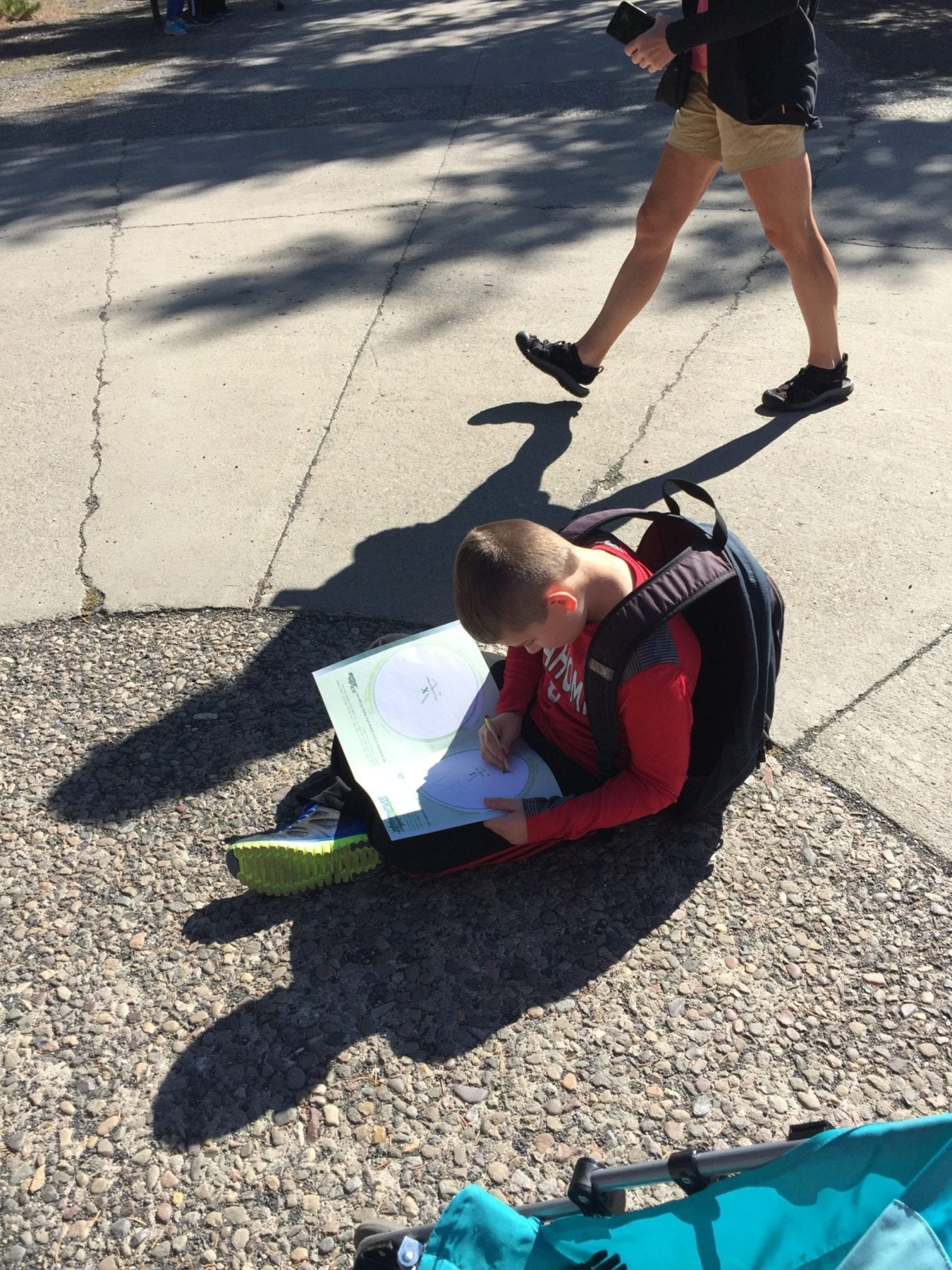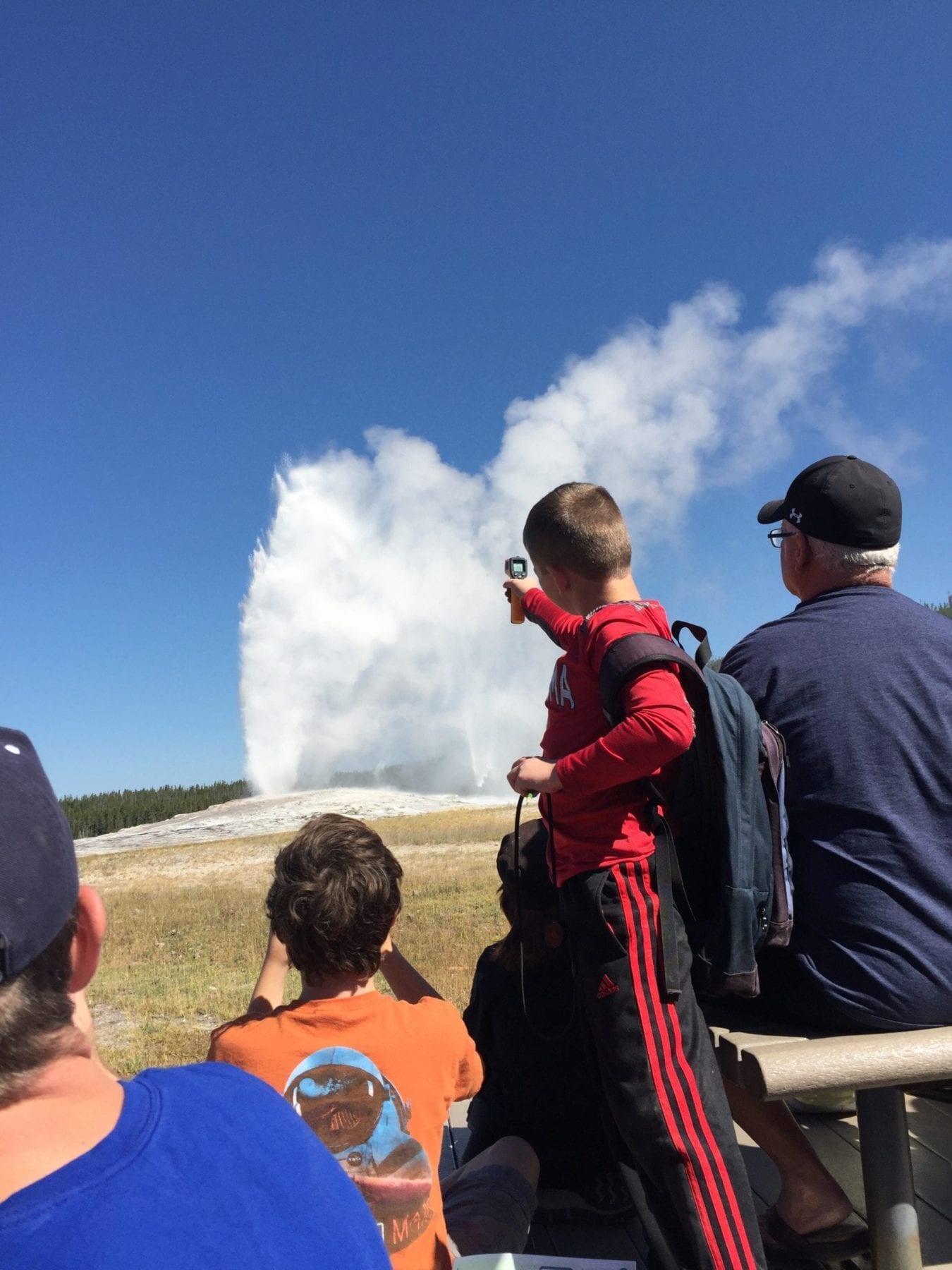 This image is of my son. He had the measuring tool in his hand trying to get data on the temperature of Old Faithful. Obviously, it was a little too far away, but hopefully it will give you an idea of how the device works.
Exploring Old Faithful
This is what we were so excited about when coming to Yellowstone. It is pretty amazing watching this geyser explode out of the ground like clockwork every 35 to 120 minutes! It was so impressive! This will probably be the highlight for most kids! They will probably remember how impressive and awesome it is to see the water shooting up so high.
You will want to gather around the designated location to view the geyser early so that you will have a great seat. The anticipation is really exciting for the kids as well.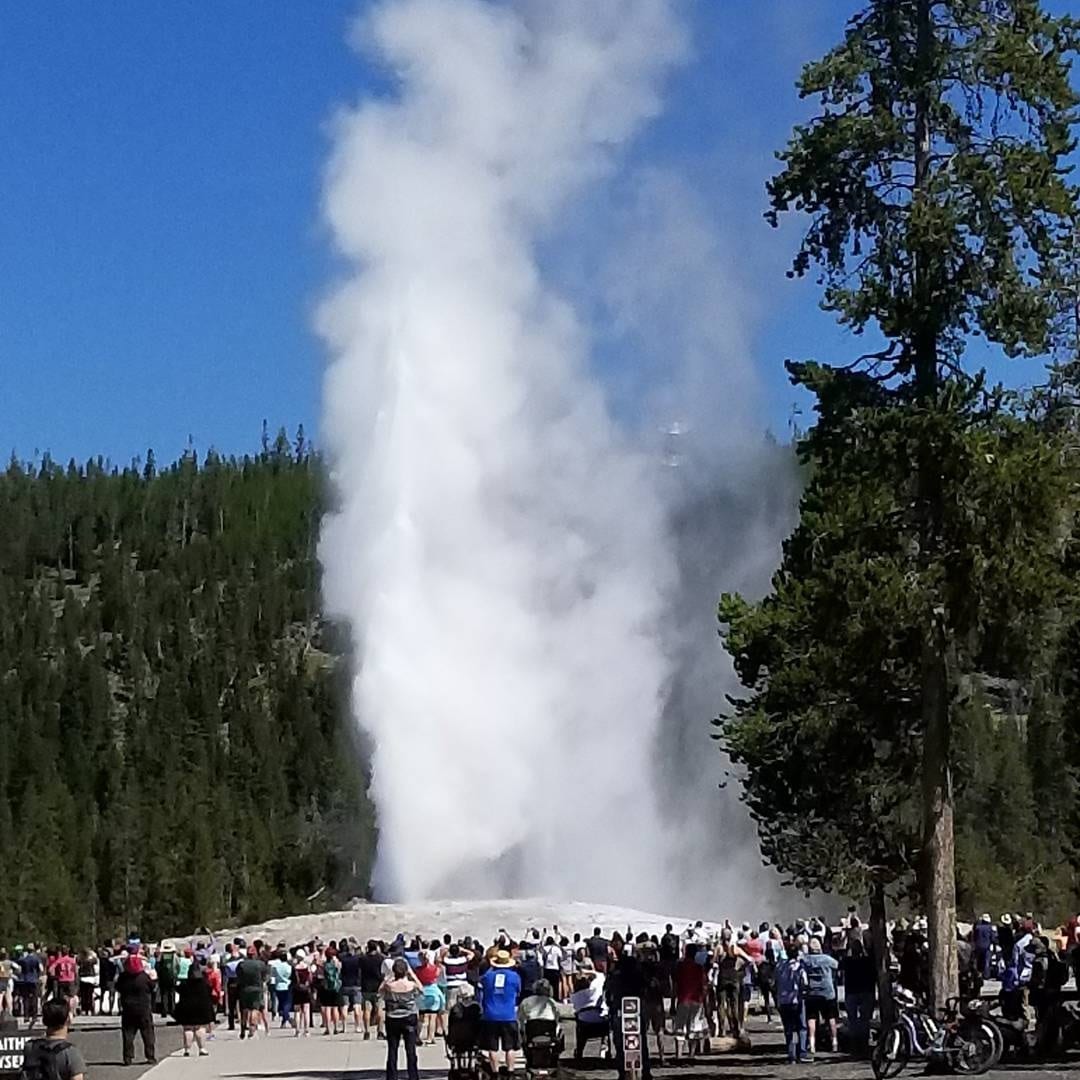 2. Search for Wildlife
Yellowstone is known for wildlife! It is not surprising to see bison crossing the street. We were on the hunt to find bear, wolves, elk, moose, badgers and otters. The excitement the kids had when we spotted an animal was priceless. I love hearing my kids get excited and laugh when they saw something!
Hot Tip
Bring bear spray. My cousin was walking along one of the wooden plank trails and a bear walked right out in front of her!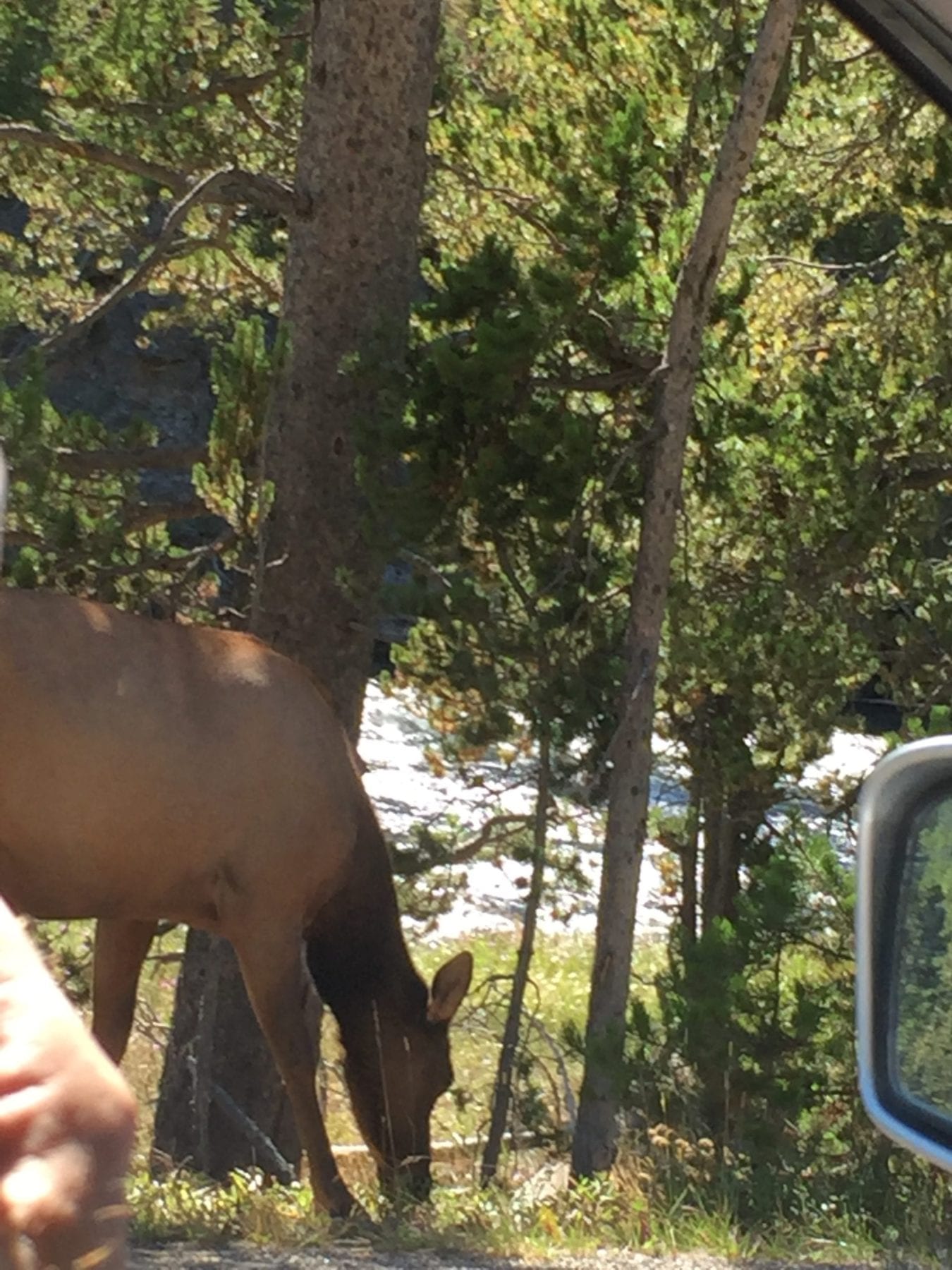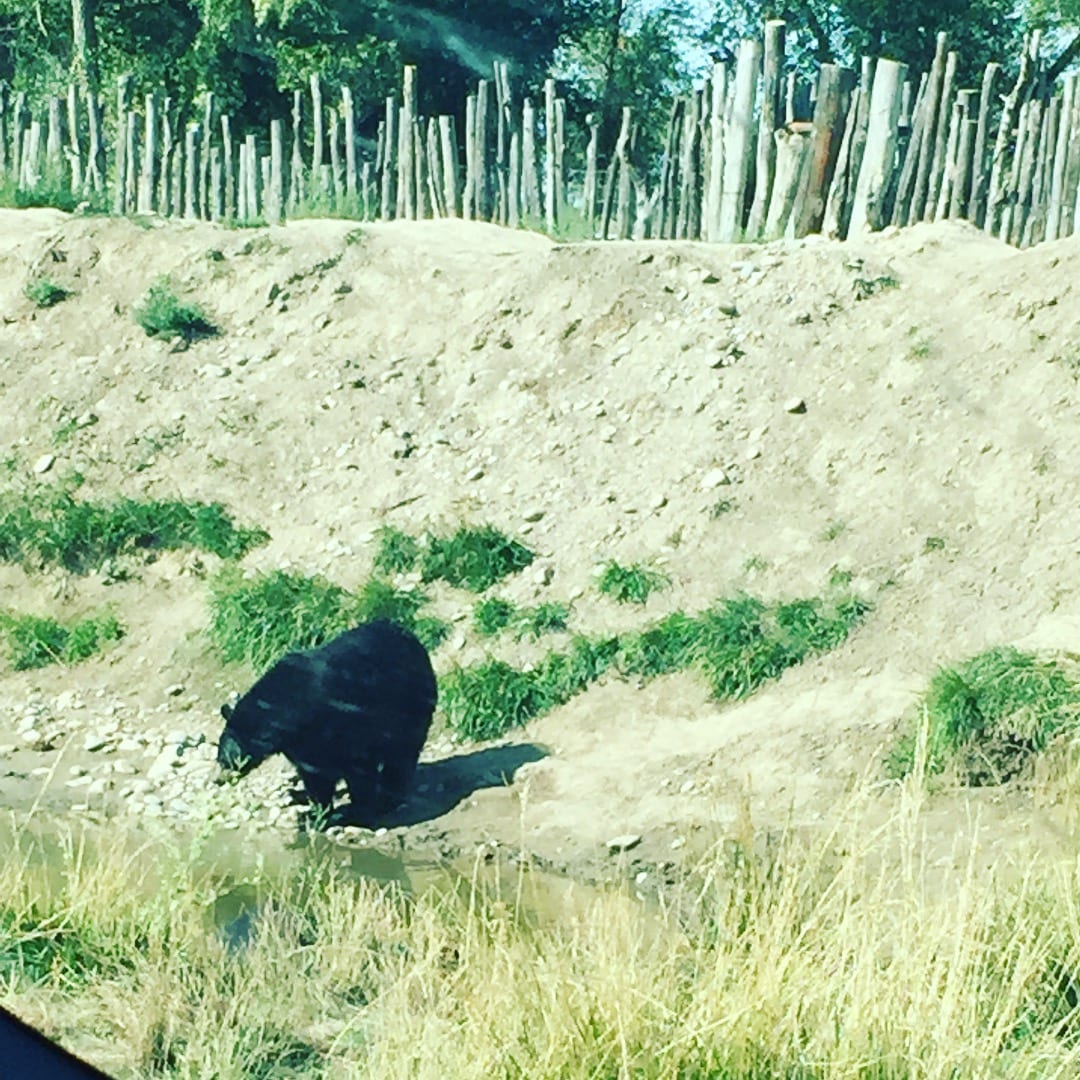 3. Go for a Hike
Three Easy Hikes with Kids
Observation Point – 1.1 miles – Near Old Faithful
This is a great, short hike. As you go up to the point you will get a different view of Old Faithful and the thermal features and geysers that surround the area. This path has a wooden, bridge-like walk-way above all the hot pots. It will be important to hold little children's hands. And honestly, if I had a child under 4 I would invest in a backpack carrier, just for extra safety.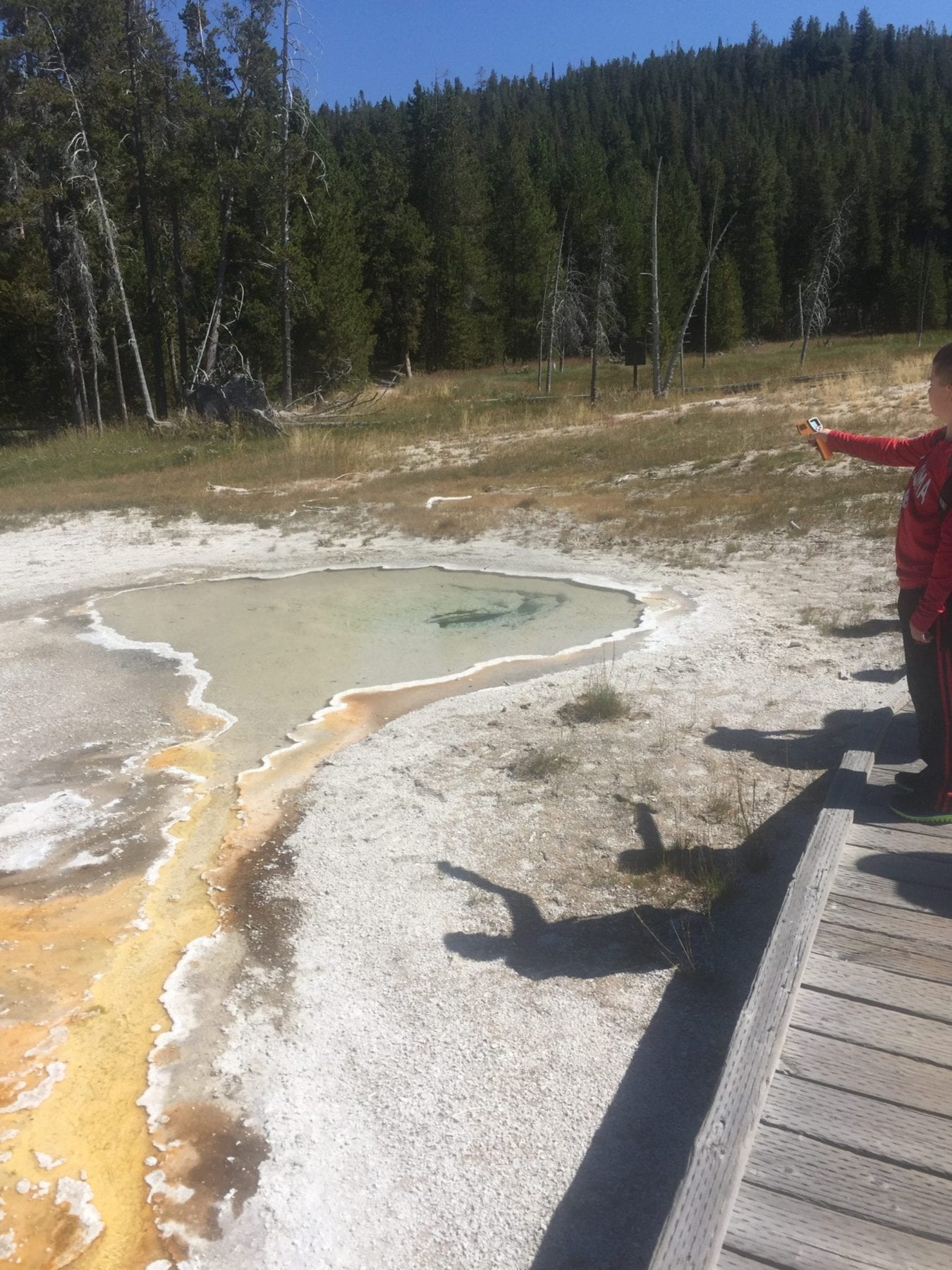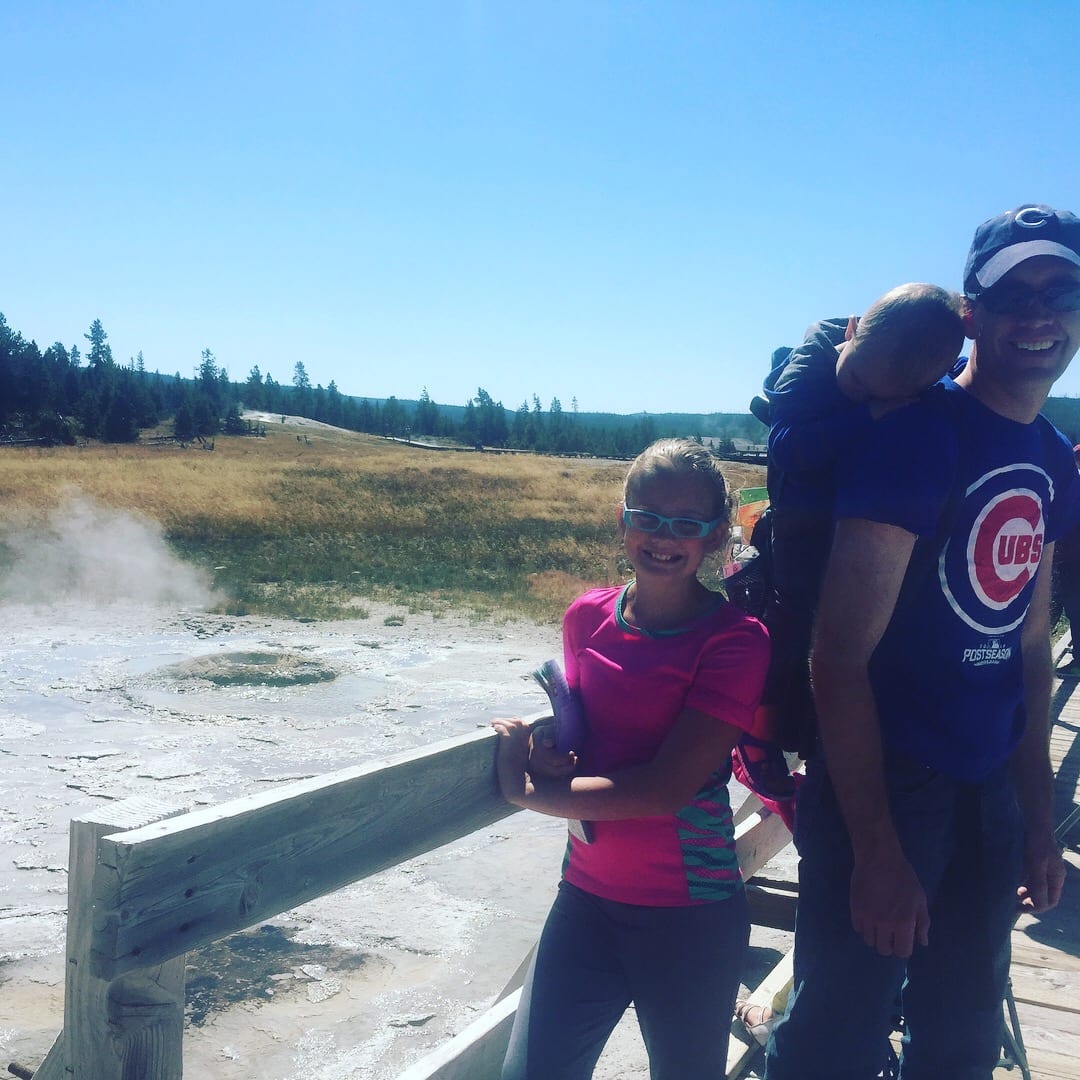 Mystic Falls Trail
This next hike was not in the Old Faithful area. As you enter on the west side you will first see the Upper Geyser Basin and Midway Geyser Basin. These are the first two stops we made. Our first stop was the Mystic Falls trail head. There is a parking lot that you can get out and take a short hike. I will say parking is really hard in the busy season!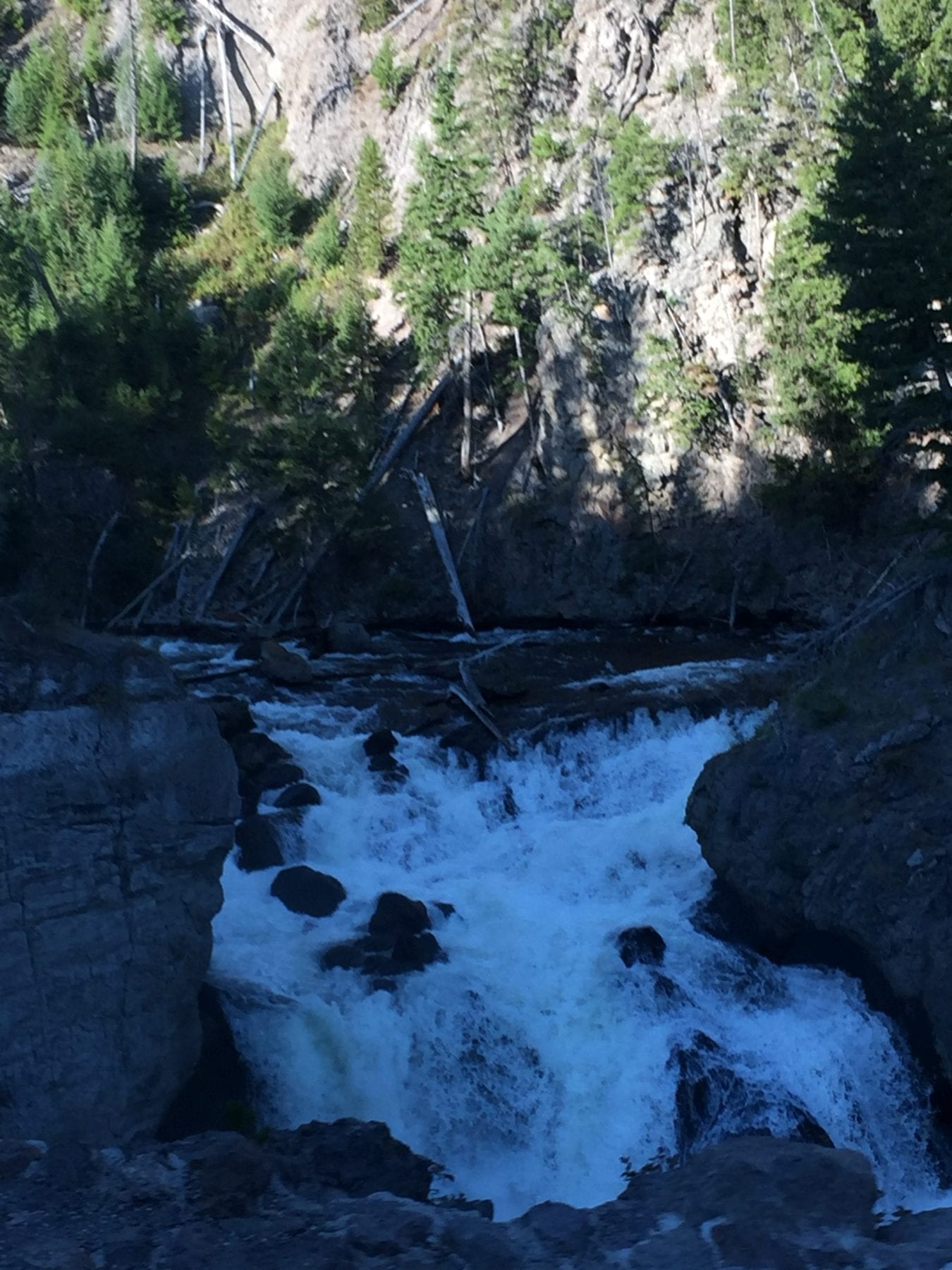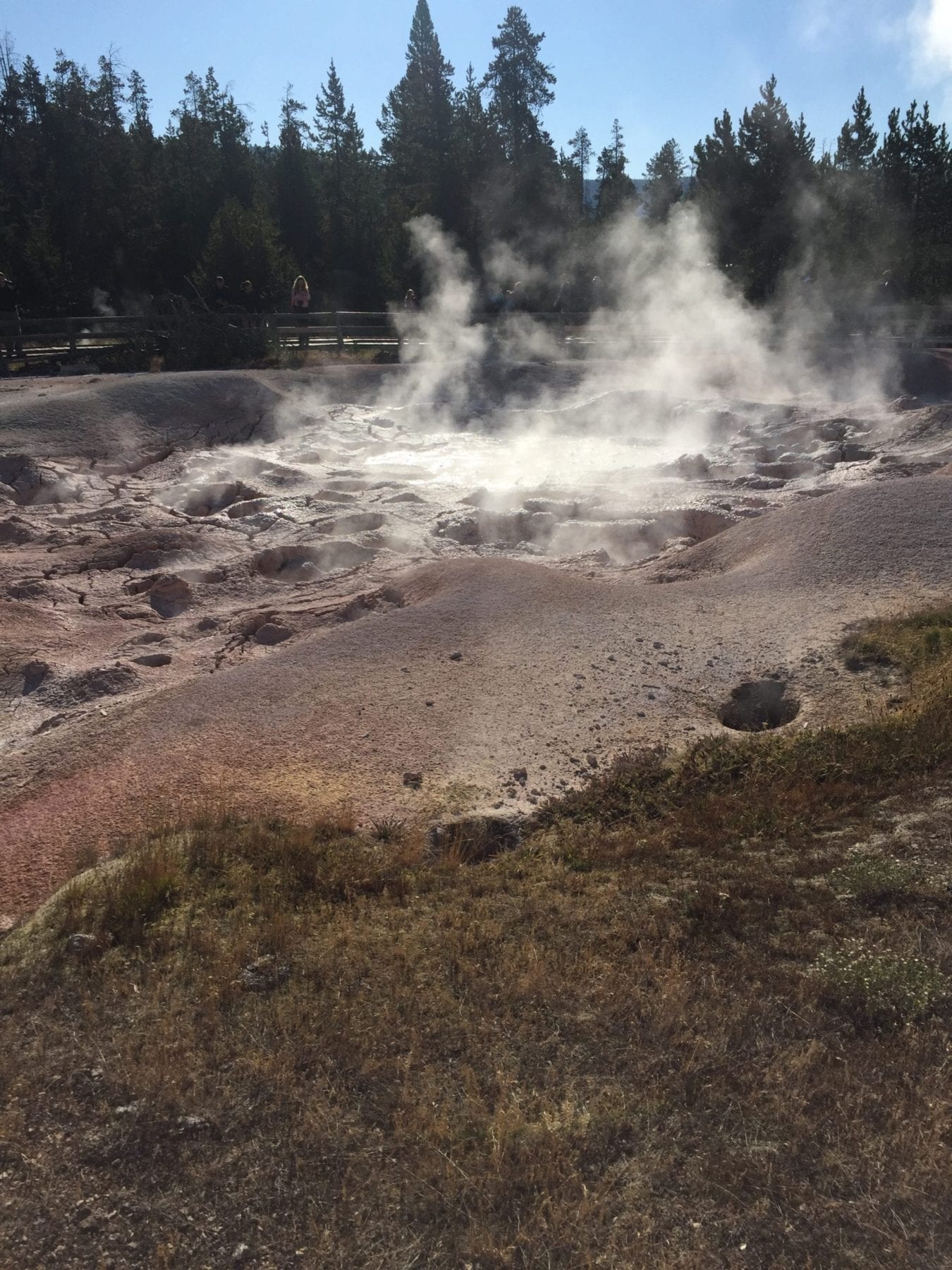 Fairy Falls Trail
Our second hike was the Fairy Falls trail head. I will say that I have a very anxious child and he was very scared. I don't blame him, the ground is so thin in spots that if you were to step on it you would fall right through. There are certain pathways that keep you safe, but as a child this could seem very intimidating. We did not walk too far on this path because of his fear.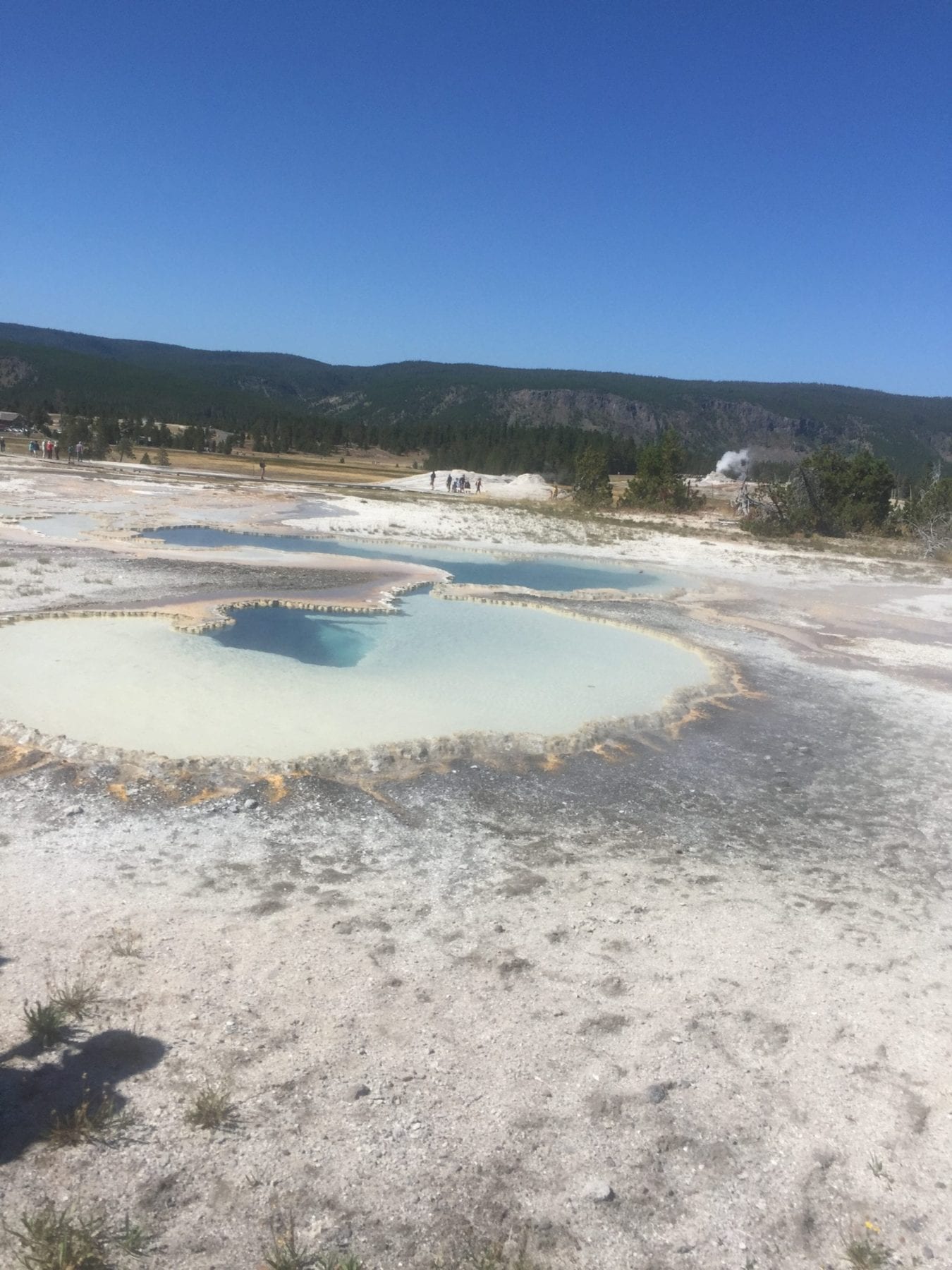 Picnic Spots
Kids love the idea of having a picnic! Finding a great spot to enjoy a nice picnic wasn't too hard! We headed to West Thumb Geyser Basin trail head. There are picnic tables available. Hanging out and enjoying the beauty of the area was fabulous.
West Thumb Hike
We decided to finish our trip with one more hike to see West Thumb. It was very beautiful. Our kids did struggle a little bit with the length of the hike. It wasn't long, but the kids were worn out from all the prior action of the day.
The water was so blue. One way we help our kids with hikes is playing games along the trails. We have to be pretty creative and for the most part it pays off! Sometimes we will make believe we are in search of treasure in a faraway kingdom, with trolls and other beasts lurking around the corner.
What things do you do to make hikes enjoyable for little ones?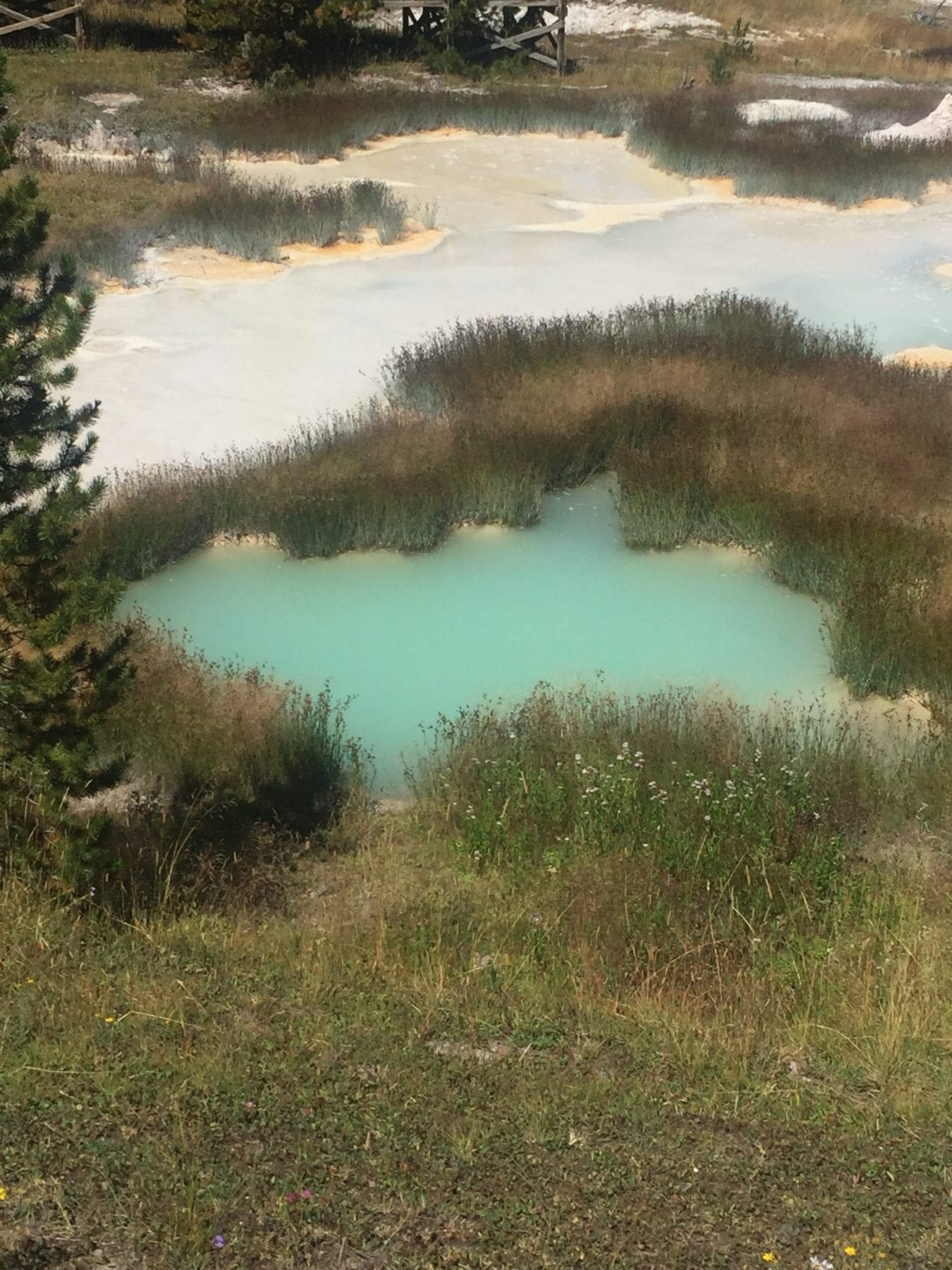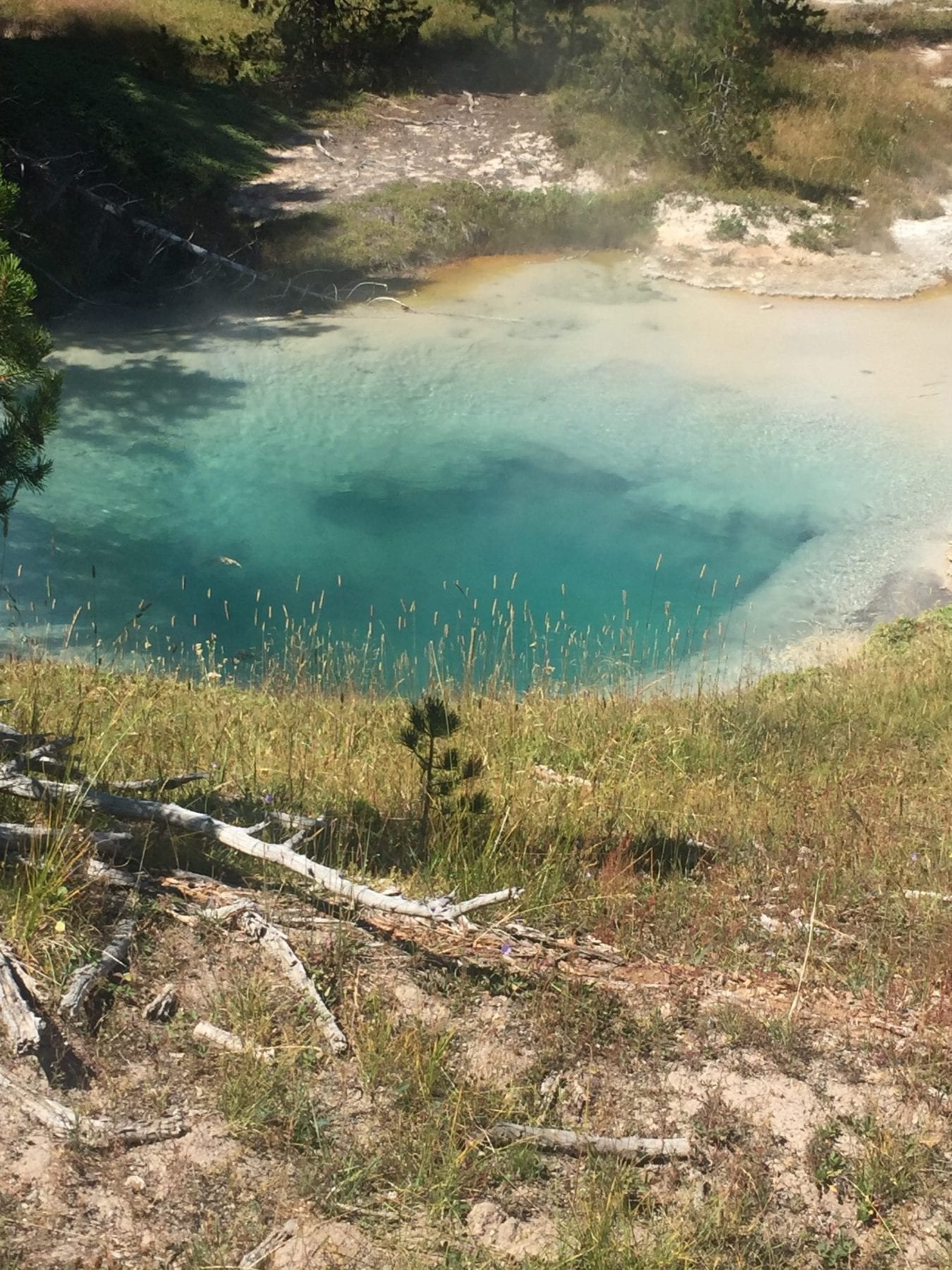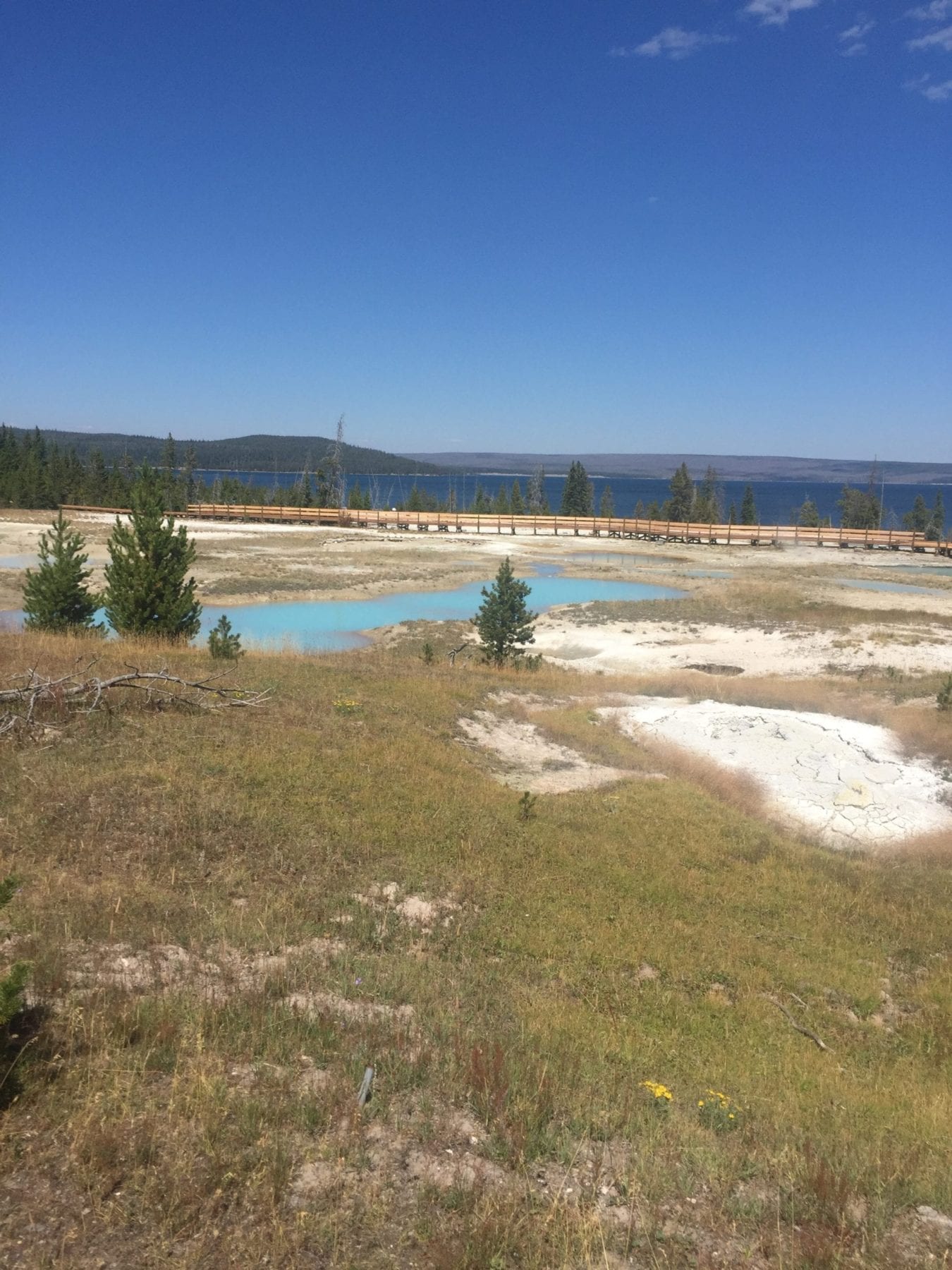 Important Yellowstone National Park Tips
Yellowstone National Park is a great family vacation. There are a few really important tips when planning your trip.
Book Early – We booked our trip in February and our trip was planned for August. Hotels and campsites were already filling up that far in advance. We like cabin camping and booked a KOA cabin near the west entrance of Yellowstone.
Plan enough days to explore this amazing park. We did not have enough time to explore the entire park but, we loved what we did see! We thought of our kids and really wanted them to enjoy the experience in regards to time spent in the park.
Be Flexible – Sometimes the park is busy. It is a very popular summer destination. Traveling from one side to the other side of the park can be congested at times. Also, your drive can be interrupted by wildlife crossing a street.
Plan a Trip to Yellowstone National Park
Yellowstone National Park is unlike anything you have probably seen before. It really is a beautiful and thrilling location. It has a lot to offer! I highly recommend going and seeing for yourself the extraordinary landscapes and geological wonders. We went in summer but it is also amazing in winter check out Yellowstone in Winter.
Also remember that the Grand Tetons National Park nearby, so be sure to add that to your itinerary!
You can also check out my Bear World post for other ideas near Yellowstone National Park. Also, as you travel through the park take time to read this funny Post of the 15 Best Worst National Park Reviews! You will love them!
If you have any questions or other insights be sure to leave a comment below!
Save this on Pinterest by clicking the image below!