Top 10 Schlitterbahn Rides (Schlitterbahn East Tips)
Do you love waterparks?  Schlitterbahn New Braunfels is one of the best waterparks in Texas. The Schlitterbahn rides are unique and offer a great way to cool off in the Texas heat! 
We actually made a special trip to Texas so that we could go to Schlitterbahn. We had a lot of fun!  I am excited to share our favorite Schlitterbahn rides so you can plan out your day. 
In this post, I am going to give you a complete guide to visiting Schlitterbahn including Schlitterbahn ticket discounts and Schlitterbahn hours.  
We will also let you know what the best rides at Schlitterbahn are. These Schilitterbahn tips will help you plan out your day at one of the best Texas waterparks in the state. And just FYI Schlitterbahn East is amazing! 
Let's plan out the best rides at Schlitterbahn and learn some awesome tips! 
If you want to save this information for later be sure to pin this to Pinterest! 
This post may contain affiliate links (Including Amazon) that will give me a commission at no additional charge to you. 
There are five Schlitterbahn locations. New Braunfels, Galveston Texas, Corpus Christy, South Padre Island, and Kansas City. 
In this post, we will be only learning about the Schlitterbahn New Braunfels location which is the original Schlitterbahn. New Braunfels is the largest Schlitterbahn location with 64 acres and 2 parks: Schlitterbahn east and Schlitterbahn west. 
Schlitterbahn is located between Austin and San Antonio.  
Austin to Schlitterbahn Directions
Schlitterbahn is located about an hour away from Austin.  It is a straight shot down I-35 until you hit New Braunfels. It is a great day trip. 
Schlitterbahn San Antonio Directions
Schlitterbahn is about 40-50 minutes from San Antonio. New Braunfels is a great location just outside the city!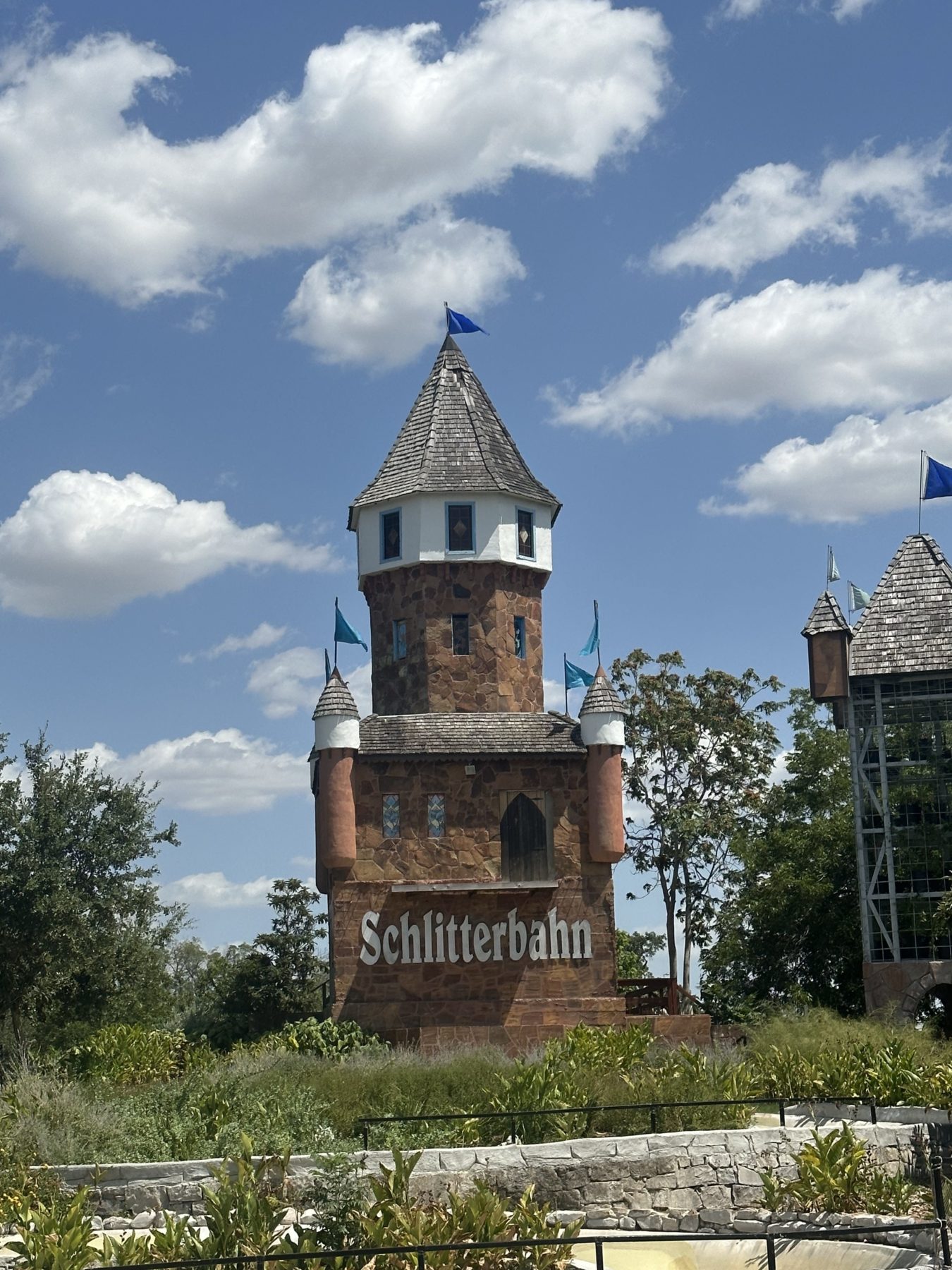 You may be asking "Why does Schlitterbahn water park have a German name?"
Well, I thought this was really interesting in the mid-1800 over 7000 Germans settled in the area.  New Braunfels and San Antonio have a huge German influence.  
When Schlitterbahn was formed in 1979, the people wanted to make sure the German culture stayed alive.  Schlitter means Slippery and Bahn means road.  Slippyroad is what Schlitterbahn translates to. 
River Water
In the original waterpark, the water from the Comal River was and is still used today for many slides.  That means half of the water at Schlitterbahn is not chlorinated. 
Schlitterbahn Tickets and Schliterbahn Hours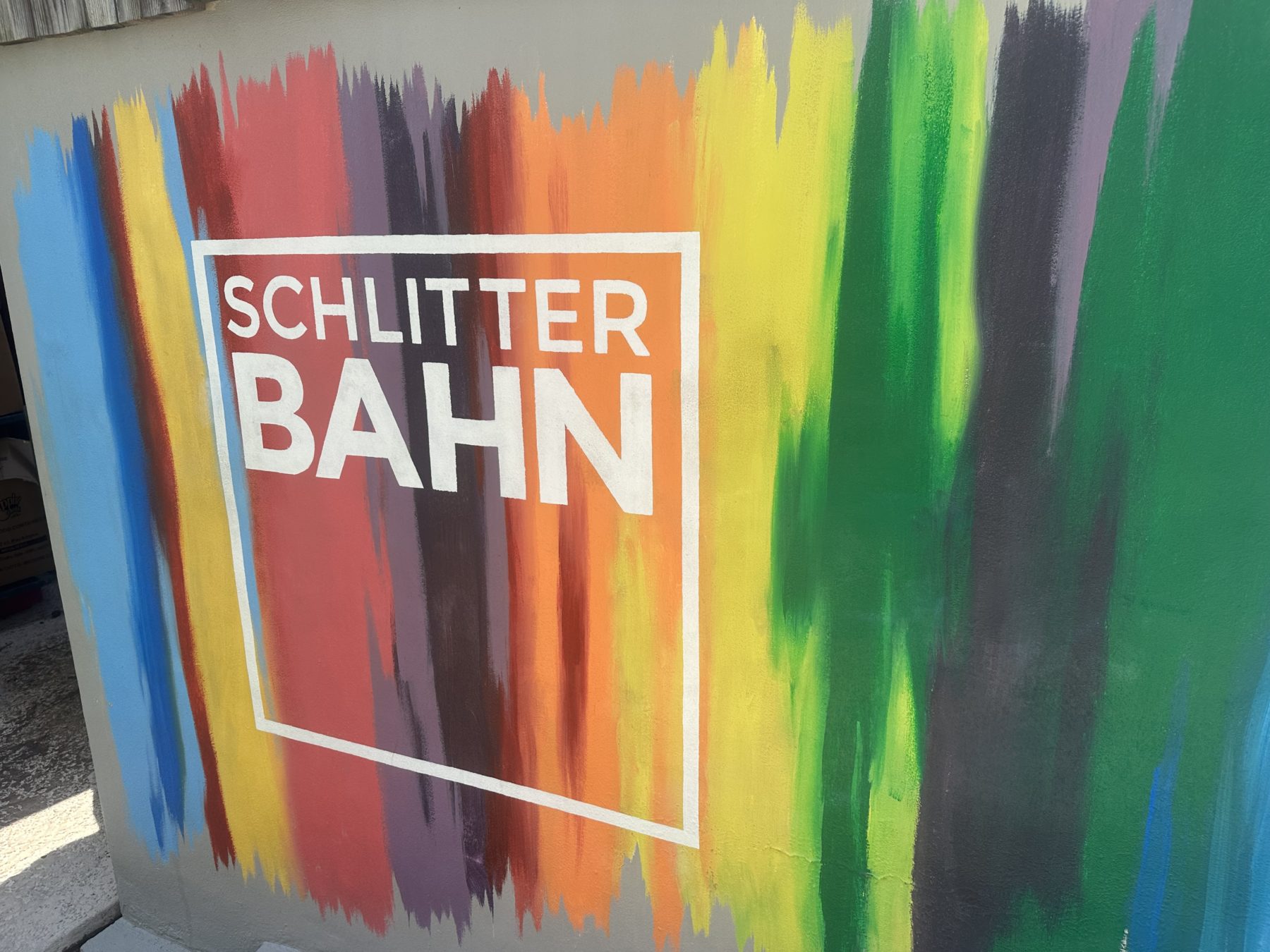 Don't buy tickets at the gate! They are a lot more expensive.  You will want to buy them ahead of time online to save money and time. 
How much are Schlitterbahn Tickets?
The Schlitterbahn ticket price is about $70 at the gate. 
If you buy tickets online you can get them for $47.99.  You must buy your tickets at least a day before you go to the park.  If you want to purchase tickets the same day you go it will be the gate price. 
Schlitterbahn Discount Tickets
If you are looking for discounted Schlitterbahn tickets, call HEB which is the local grocery store they may have some.
Another great option is Sams Club.  They do sell tickets at a discounted price if you have a membership.  It is about $10 off the online price. 
Schlitterbahn Season Passes
If you live near Schlitterbahn and think that you will visit at least two times during the season a Schlitterbahn season pass is worth it.  
Schlitterbahn Hours
Schlitterbahn New Braunfels is open from 10:00 am on weekends and 11:00 am most other days. It typically closes at 8:00 pm.
I am going to share some of the best Schlitterbahn tips with you.  These will help make your Schlitterbahn experience awesome! 
1. Schlitterbahn 

Parking
Guess What!!! Parking is Free! Seriously!  There are a few lots located near the entrance of both the Schlitterbahn East Park and the Orginal Park. 
You have to go pretty early to be able to snag a free spot. There are other privately owned paid spots if you can't find one of the free spots.  
Schlitterbahn East HOT TIP
If you can park on the original side of  Schlitterbahn transportation to Schlitterbahn East in the morning is not crowded at all!
Shuttle buses mid-day are crazy! The lines are very long to get to Schlitterbahn East.
Here is my Schlitterbahn tip: park on the original side in the morning. Then take the shuttle to the Schlitterbahn East side and enjoy the park for the first part of the day.   During the afternoon shuttle back to the original side.
You can enjoy the original park and then be able to have access to your car much much easier. 
2. Schlitterbahn Shuttle
There is a Schlitterbahn shuttle that connects the Schlitterbahn East and the original park. Shuttle stops are located after you enter the park.  
The shuttle busses come frequently, however, during the afternoon lines can be very long to get onto a shuttle bus. 
That is why I mentioned above about tactics for parking and using the Schlitterbahn shuttle.
3. Water Shoes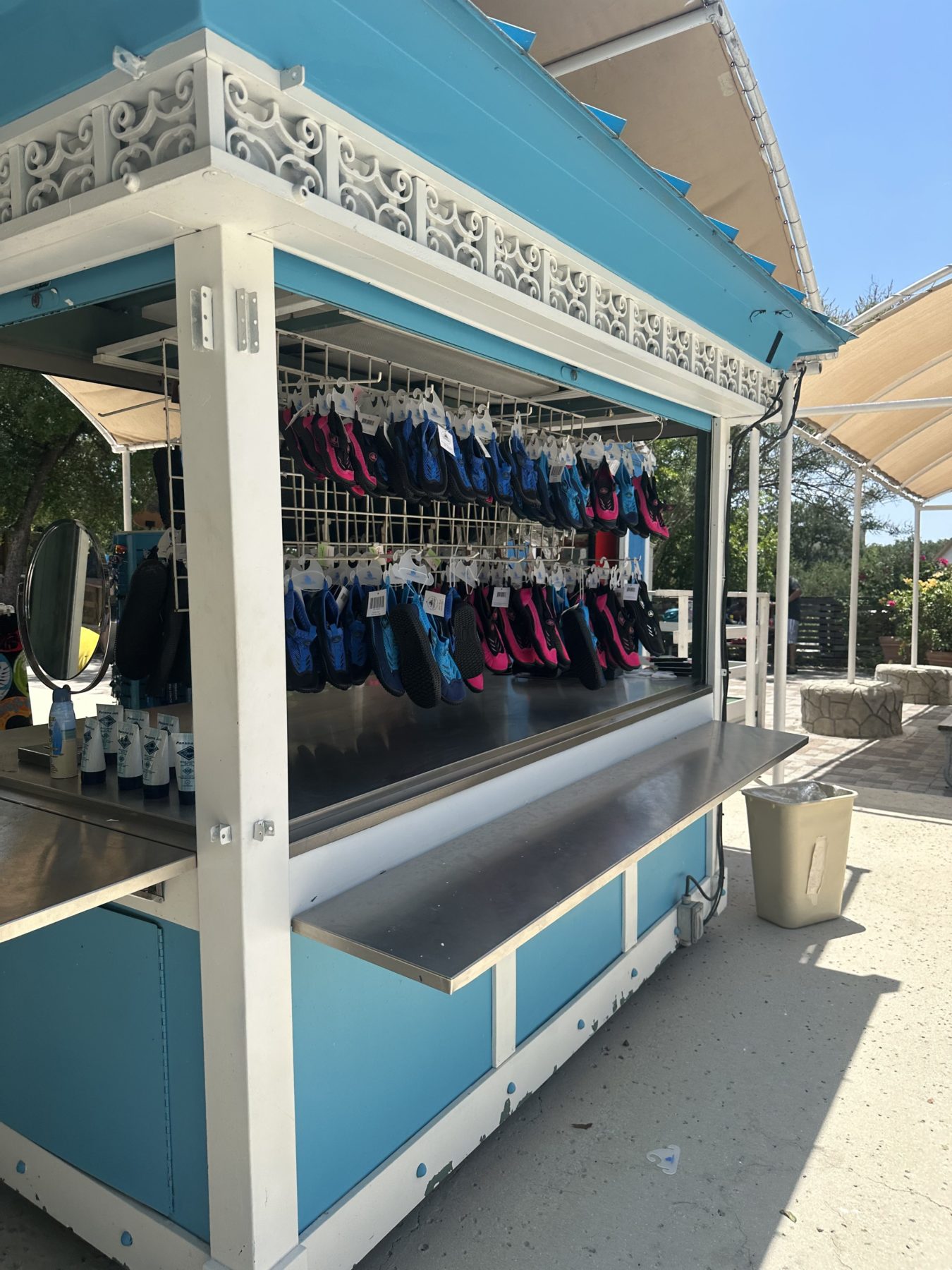 Hello Texas! It is hot in the summer! Your feet will fry if you don't wear water shoes.
I did not come prepared! The cement was really hot.  You can wear your shoes on most rides as well. 
I would purchase water shoes before arriving at Schlitterbahn. 
4. Schlitterbahn Lockers
There are lots of lockers throughout Schlitterbahn East and the Orginal Schlitterbahn. 
We wanted to keep our valuables safe so we got a locker and it worked out.
Schlitterbahn Locker Prices
Lockers are around $20 
Schlitterbahn East Locker Tip
One important thing to think about is if you get a locker on the Schlitterbahn east side and want to go to the other side you can not transfer locker locations. 
This stinks because you will have to pay for a separate locker once you get to the other park. 
The bad part is that you do not want to leave your stuff at Schlitterbahn East because getting a shuttle back to that side of the park is going to be ridiculous! The lines are very long! 
5. Location Drop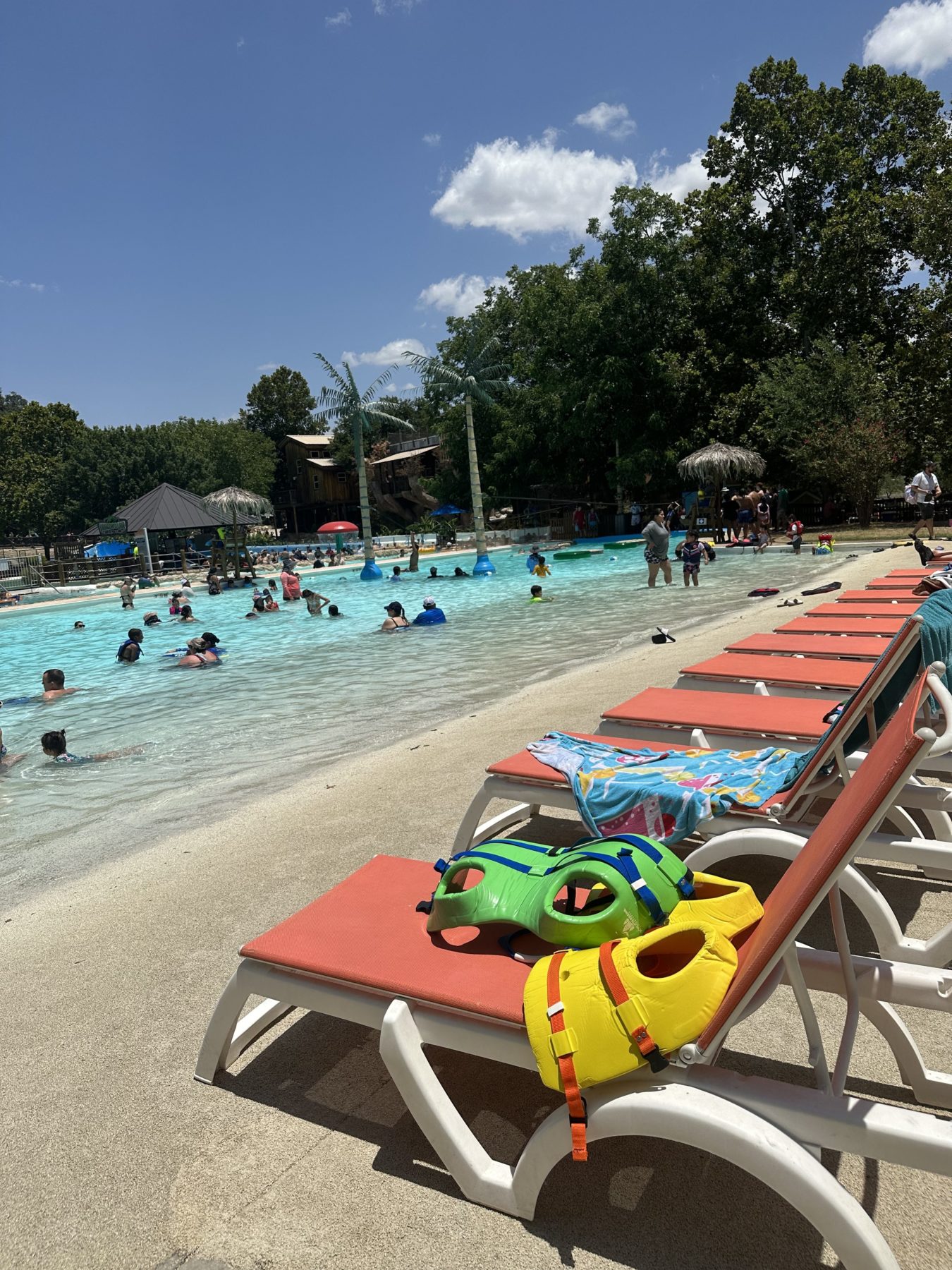 You won't want to put everything in your locker. Your towels, sunscreen, and food can be left at a few locations. 
Schlitterbahn Beach Chairs
Beach chairs are located all around Schlitterbahn East and the original Schlitterbahn.  You can claim a chair and put all of your stuff on it. 
The bad part about the beach chairs is they give absolutely no sun protection.  They are fully exposed with no shade umbrella.  
Picnic Tables
The picnic tables are in the shade.  Personally, I would claim a table first thing in the morning and also put a towel on a beach chair. 
If you bring a picnic lunch or just want a shady place to get out of the sun, the picnic table is the way to go! 
6. Bring a Lunch
Guess What!!! You can bring your own picnic lunch into the park.  There are restaurants and snacks available for purchase but you also have the option to bring your own food in the park. 
This can save you a lot of money! I highly recommend bringing a cooler full of water.  I saw people bring wagons full of food and ice chests with drinks into the park.  
7. Go to the Most Popular Rides First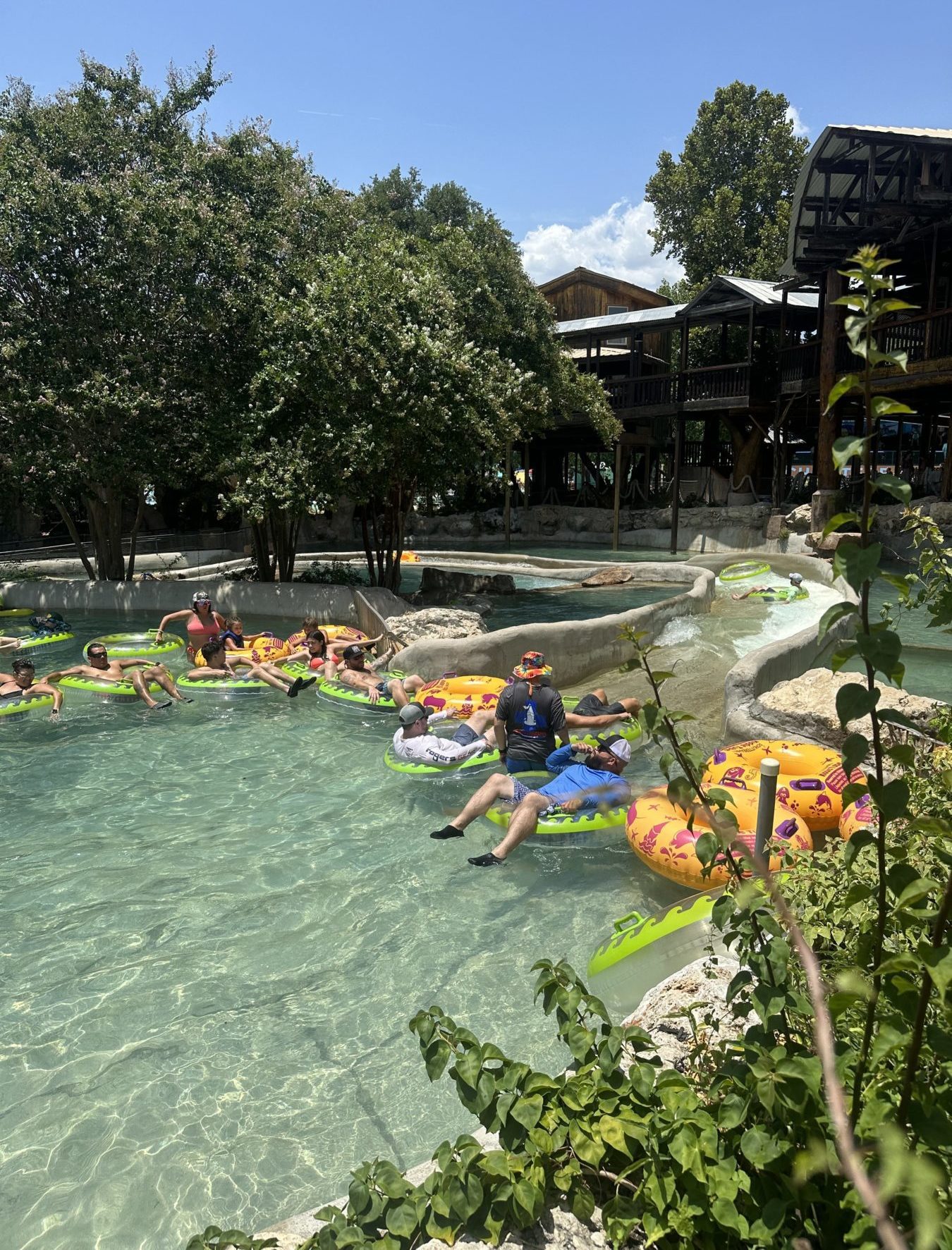 Both Schlitterbahn East and West have some fun popular rides.  I would go to Schlitterbahn East first thing in the morning because the rides at Schlitterbahn East are better. 
Schlitterbahn East Rides
The Dragon's Revenge

Master Blaster Uphill Water Coaster

Wolfpack Raft Slide  
Orginal Schlitterbahn West 
Whitewater

Double Loop

Cliffhanger
8. Blast Pass
There are certain rides that are included in the Blast Pass.  This will give you front-of-the-line access. 
We waited in line for an hour and we were very envious of those that had Blast Passes.  They only sell a limited amount each day.  
The Dragon Revenge is one of the best rides at Schlitterbahn.  It is located on Schlitterbahn East side.  
Tips for Dragon Revenge
There are two lines.  The first line is to get your raft. The rafts are designed for two people.  The second line is where you will go to ride the ride. 
This line is themed. You actually walk through water into a dungeon.  You find that the dragon has escaped.  You will get wet before you even get on the ride.  There are waterfalls everywhere! 
The ride is really fun! There are some dark parts but it is a pretty easy tube ride overall. 
Master Blaster may be #1 for some people.  If you are looking for the top thrill ride at Schlitterbahn, this is it! 
Master Blaster Schlitterbahn
It is one of the best rides at Schlitterbahn.  This is a roller coaster water ride.  I will warn you if you do not ride this ride first you will be waiting over an hour to ride it later in the day.  
Two people can ride at a time. We loved this ride it was fun! 
We have been on something similar at Volcano Bay at Universal.  
The Wolf Pack is a big raft ride and one of the best family rides at Schlitterbahn.  3 people can ride at a time.
One of the best parts is that you do not have to carry the raft up the Blastenhoff tower.  There is a conveyer belt that does that for you.  You will climb to the top and the raft will be there. 
Wolfpack
I asked a lifeguard what his favorite ride was and Wolfpack was the winner.  There are twists and turns and drops.  It is really fun.
Wolfpack is another ride that will have an extremely long line on busy days! Best to do it right when the park opens. 
The Black Knight is one of the top rides at Schlitterbahn.  The lines get very long and the bad part is that you have to wait in two separate lines! 
One to get a tube and then another as you climb to the top of the Blastenhoff tower.  
Black Knight
Black Knight is a dark tube ride. There are two tubes with similar twists and turns.  
The Falls is one of the longest water rides in the world.  It seriously is amazing. It takes about 30 minutes to complete.  
I thought this was the best ride at Schlitterbahn. So as you can see the top 5 rides are all incredible and should all be ranked #1 but I had to rank them! 
The Falls
The Falls is a rapid ride with areas of waterfalls.  Your tube floats along rapids.  There are lifeguards along the ride to help your tube head in the right direction. 
I wouldn't rush to this ride right when the park opens.  The line won't be horrible until around 3ish if the park is busy. 
The Falls is one of the best rides at Schlitterbahn and is great for families! 
6. Lazy Rivers Schlitterbahn East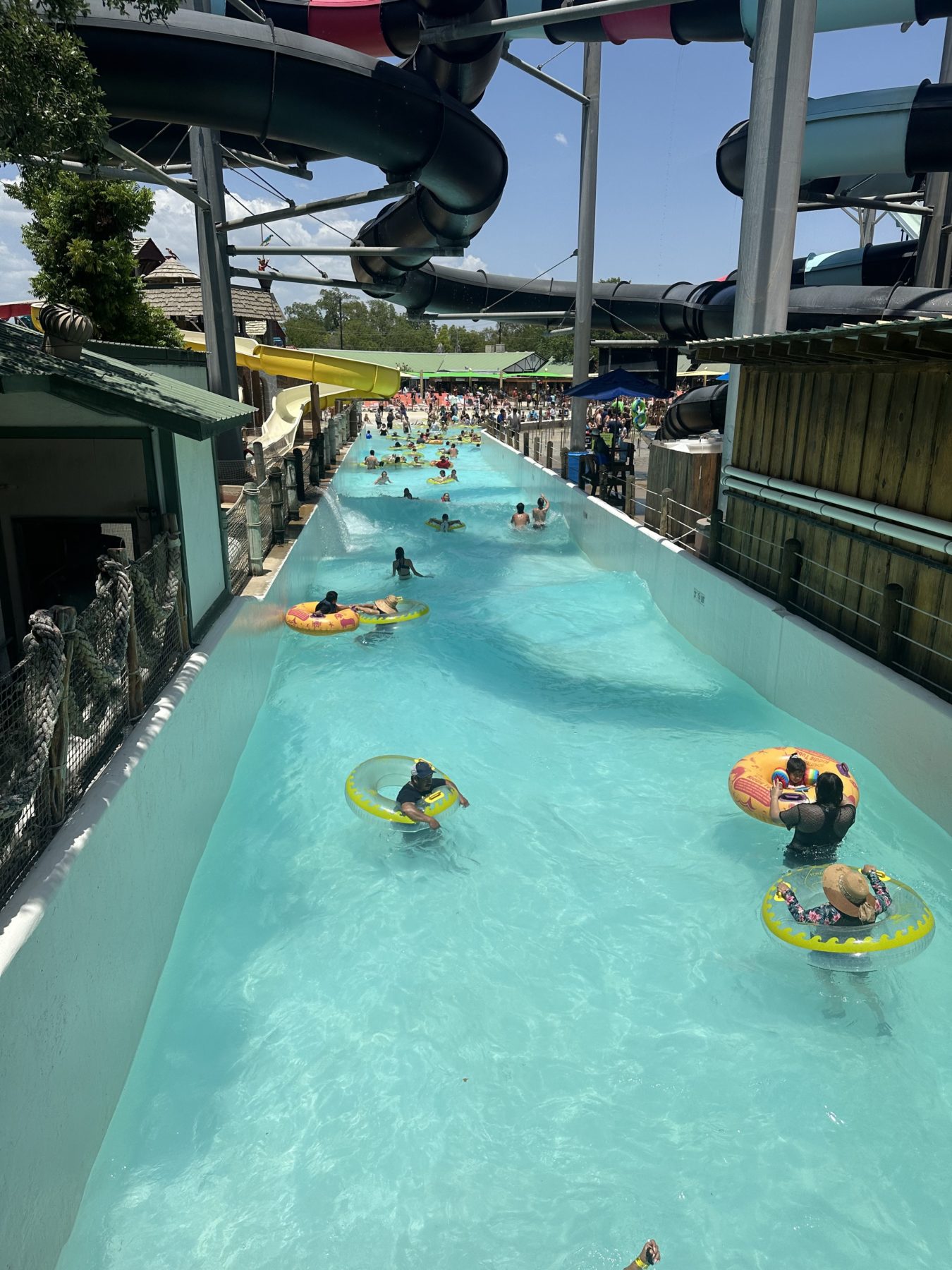 There are three lazy rivers. They are not all the same. Each one offers something a little different. If you ask me the lazy rivers are the best rides at Schlitterbahn. They are awesome!
Krystal River
Krystal River is a traditional lazy river. It is a place to relax and enjoy a slow-flowing river. You can swim or use a tube.
Torrent River
This is one of the best rides at Schlitterbahn if you call it a ride. I think it counts because it is a wave pool lazy river. It is really fun. As you float the waves start in and blast you forward. You can go around as many times as you like.
DeLuge
This lazy river was closed when we went but it is a choose-your-own-adventure lazy river. It stretches along all of Schlitterbahn East. You will move through a wild canyon with lots of waves. It ends at The Falls.
7. Schlitterbahn East Kid Area
There are two kid areas on the Schlitterbahn East side: Kiddie Coast and Han's Hideout
Kiddle Coast
Kiddie Coast is located near the Dragons Revenge and the Krystal River.  It is a great spot at Schlitterbahn with toddlers.  The water isn't too deep and there are lots of fun little kid slides. 
Han's Hideout
Han's Hideout is located near the waterslide tower.  This area is great for more adventurous little kids.  There are more slides for little kids off of a giant pirate ship. 
These two areas are the best place at Schlitterbahn for toddlers and younger kids. 
Best Rides at Schlitterbahn Orginal West Side
Most of the best rides at Schlitterbahn are located on the Schlitterbahn East side but we have a few to share on the west side. 
The west side has a lot of great areas for younger kids. There are smaller pools, splash pads, and even rides that younger kids can enjoy. 
If you enjoy relaxing river rides the west side is the place. The original Schlitterbahn rides actually use water coming from the Comal River. It is not chlorinated! 
Rides Schlitterbahn West
The best rides at Schlitterbahn West side that you will want to make sure you get in line for right when the park opens or right before the park closes if you choose to go to Schlitterbahn East first.  During the middle of the day these rides will be packed! 
Whitewater

Congo River Expedition

Cliffhanger

Double Loop
8. White Water Tube Chute
White Water is one of the most popular Schlitterbahn rides on the original side.  It is tricky to find. You will go behind the Castle entrance and head down.  
White Water
This chute begins with a twisting vortex and big waterfalls.  It goes all the way down near the Comal River.  The Schlitterbahn West has a lot of these types of rides. In fact, these types of rides are the best rides at Schlitterbahn West. 
9. Cliff Hanger Tube Chute
I have some great news for you! The Cliffhanger Tube chute typically has the shortest line at Schlitterbahn.  The reason is the entrance is really tricky to find. 
You have to go to the castle entrance and then walk from a midway point along the cliffside. Super tricky, ask a lifeguard! 
Cliffhanger
This ride uses water from the Comal River and is a relaxing float ride along the Comal River. 
10. Congo River Expedition
The Congo River expedition is another float ride that is themed. You can relax and view the animals of the Congo and enjoy a few waterfalls. There is even an underground mine to float through. 
Most of the float rides are easy going and great for the entire family.
11. Schlitterbahn Kid Area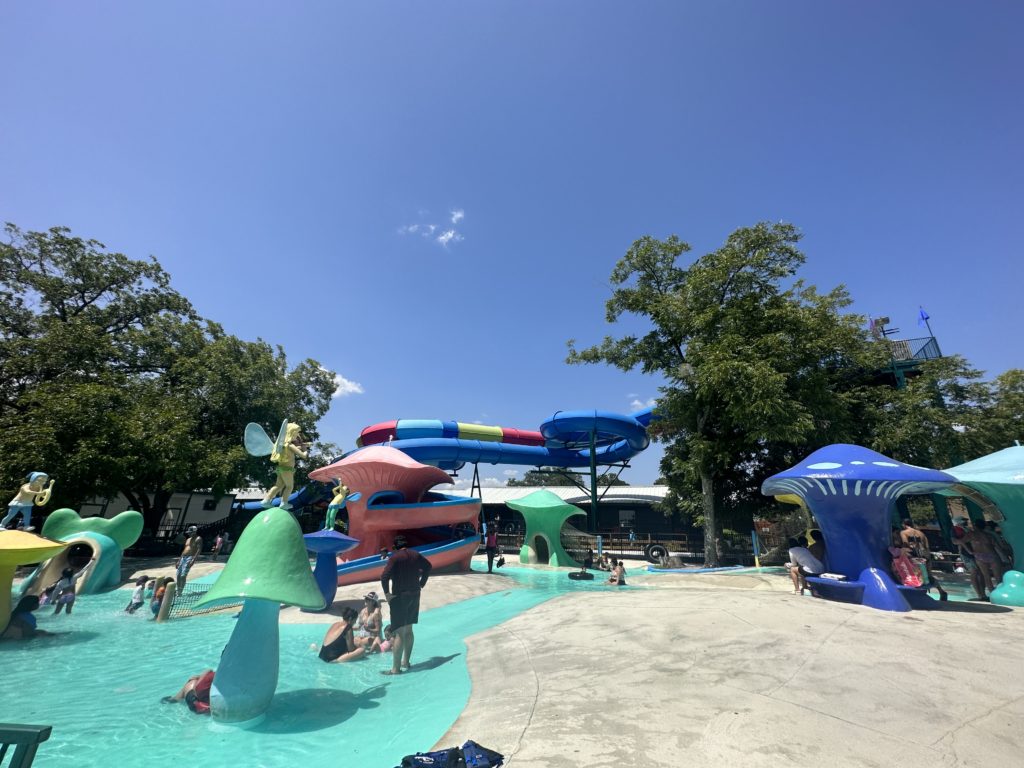 If you are bringing younger guests, Schlitterbahn West has a lot to offer. There are little pools, splash pads, and even waterslides designed for younger kids.
These areas are perfect for Schlitterbahn for toddlers! Lagoon kids area, Schatze's Central Park, and Polywog Pond Kiddie park are great areas. 
Are You Ready to Go to Schlitterbahn New Braunfels?
I did not give you every ride at Schlitterbahn, I only listed the most popular and what my favorites are. 
There are many pools and smaller slides that did not make the list.  Schlitterbahn has so many great areas to relax and swim. 
Hopefully, this post will help you plan a perfect day at Schlitterbahn New Braunfels. 
Facebook Community
Do you have any more questions about Schlitterbahn? Join my Travel Community on Facebook.  This is a great group that can help answer any travel questions you might have.  I also try to add any deals that companies send me as well.