Best Things To Do In Colorado Springs With Kids
Planning a trip to Colorado Springs? Awesome! There are so many things to do in Colorado Springs with kids!
We loved Colorado Springs and wish we would have planned more time to visit all the amazing kid-friendly activities in Colorado Springs!
Let's explore all the fun things to do in Colorado Springs with kids!
If you want to save this information for later be sure to pin this to Pinterest!
This post may contain affiliate links that will give me a commission at no additional charge to you. 
Where is Colorado Springs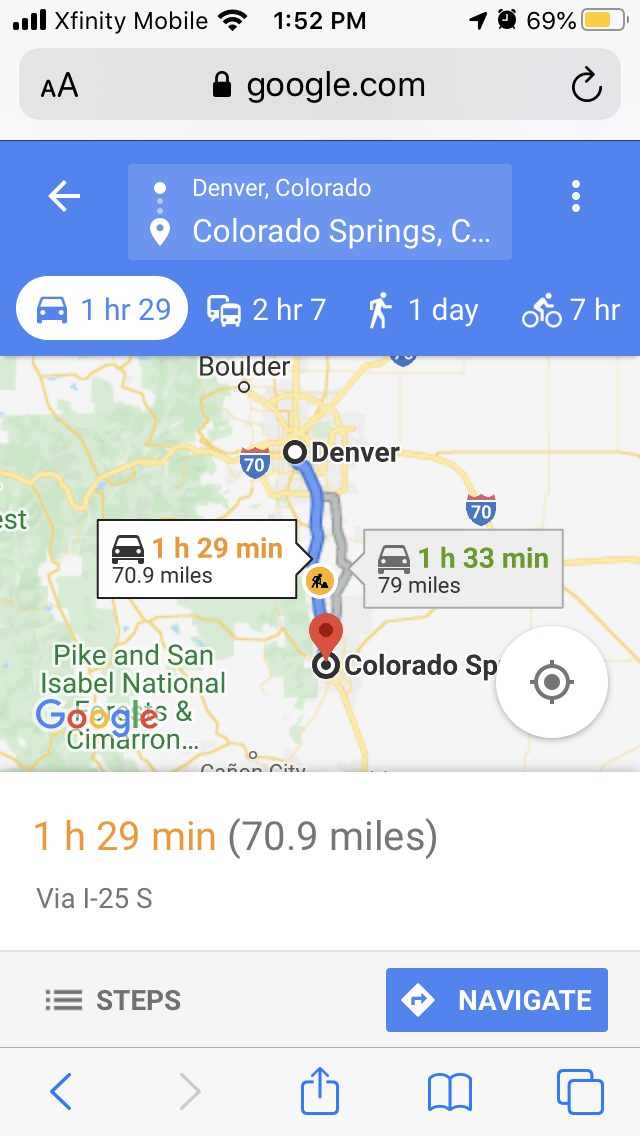 Colorado Springs is located a little over an hour south of Denver.
It is located at the base of the Rocky Mountains which provides some beautiful scenery.
What is the Best Time to Visit Colorado Springs with Kids?
The best time to visit Colorado Springs is March-May and September – Fall.  This is the off-season so you will get better deals on lodging and activities.
Plus, in the Fall the leaves will be changing colors which is a gorgeous sight.
Unfortunately, unless you live close to Colorado Springs going during these times is probably not an option as kids will still be in school or just starting school.
The best time to go to Colorado Springs with kids will probably be the summer. It might be a little more crowded and the temperatures will be a little warmer but you will still be able to have a great trip.
Things to Do in Colorado Springs with Kids
There are so many things to do in Colorado Springs with kids.  We did not plan enough time because we had no idea how much there is do in this area.
Admission and Hours
Free
Park Hours:
5:00 am – 10:00 pm
Visitor Center Hours:
9:00 am – 3:00 pm (M-Th) 9:00 am – 5:00 pm (F-Sun)
Visitor's Center
Garden of the Gods is a visitor and nature center.
We first stopped at the visitor center and I was so surprised at how many different license plates from all over the country there were!
This is a huge attraction that receives visitors from all over!  It is actually the most visited attraction in all of Colorado Springs and definitely one of the best things to do in Colorado Springs with kids.  
Colorado Springs is one of the cheapest places in Colorado where you can find plenty of free things to do.
Museum and Overlook
We started with the museum and overlook.
Junior Ranger Program
If you are in Colorado Springs with kids you will want to head to the front desk of the visitor's center and pick up an activity book.  It is $2.00  and is designed for kids ages 7-12.  My kids love doing these extra activities.
Once the packet is completed your child will receive a badge and a certificate.
Hiking at Garden of the Gods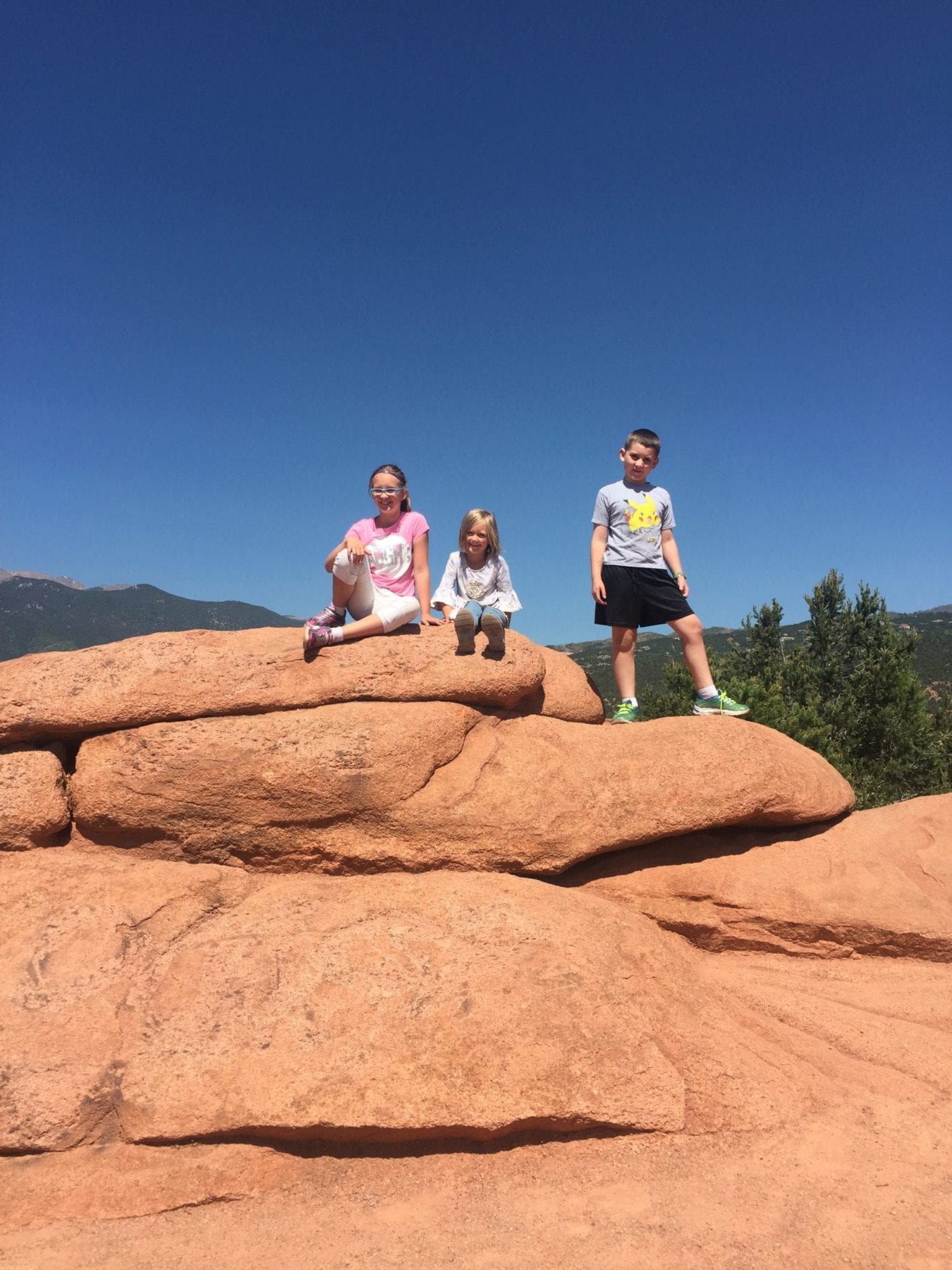 One of the best things to do in Colorado Springs with kids is hiking.  Many hikes are very family-friendly!  Shuttle buses are available to take you to certain hikes or you can try to park at specific parking lots located close to each trail.
If you choose to drive, we found that it was very crowded getting into the actual park, and can be difficult to find a parking place.
Hiking Trails
Most of the trails at Garden of the Gods are kids friendly. The majority of the trails are less than 3 miles. Most kids will not have a problem.
My advice would be to go early to avoid the heat, bring water, and have a great time.
This is one of the best family-friendly activities in Colorado Springs.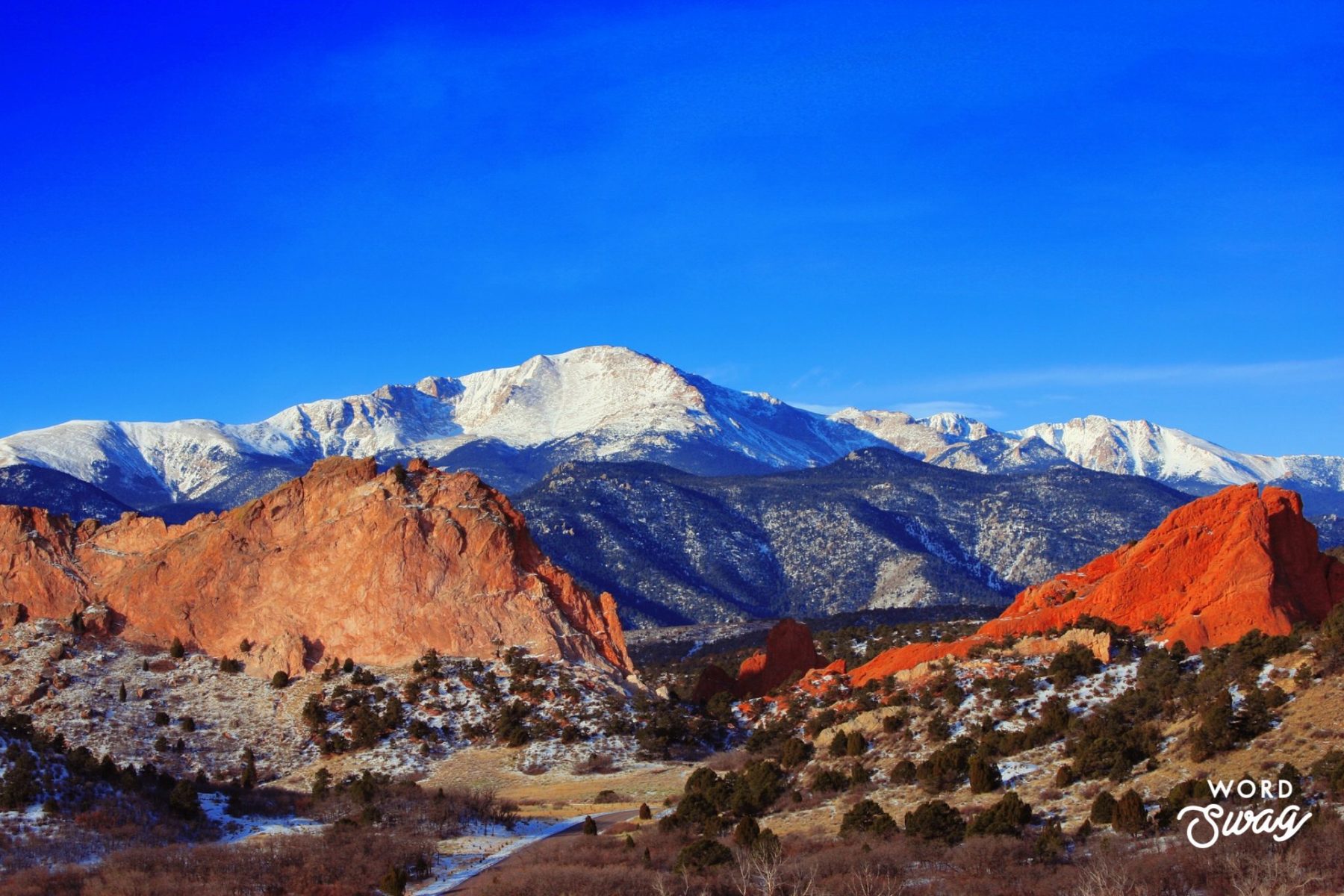 This is America's Mountain!  There are a few ways to get up to the top. Unfortunately, they all require a fee.
Driving is an option, but the roads are very curvy.   Shuttles run every five minutes from Devil's Playground. Sadly, Broadmoor had a historic train ride up but it recently closed.
On a clear day, you can see five states (Colorado, Utah, New Mexico, Arizona, and Kansas) from the top. This is a fun thing to do in Colorado Springs with kids!
It is open from 9:00 am-5:00 pm
Cave of the Winds offers a variety of tours.  There is an admission fee!
This is not just a cool cave, but an attraction as well.  They offer an outdoor rock climbing adventure, ropes course, and a "Terror-Dactyl" zip line flight across the canyon.
It is one of the things to do in Colorado Springs with kids, especially those kids who love adventure.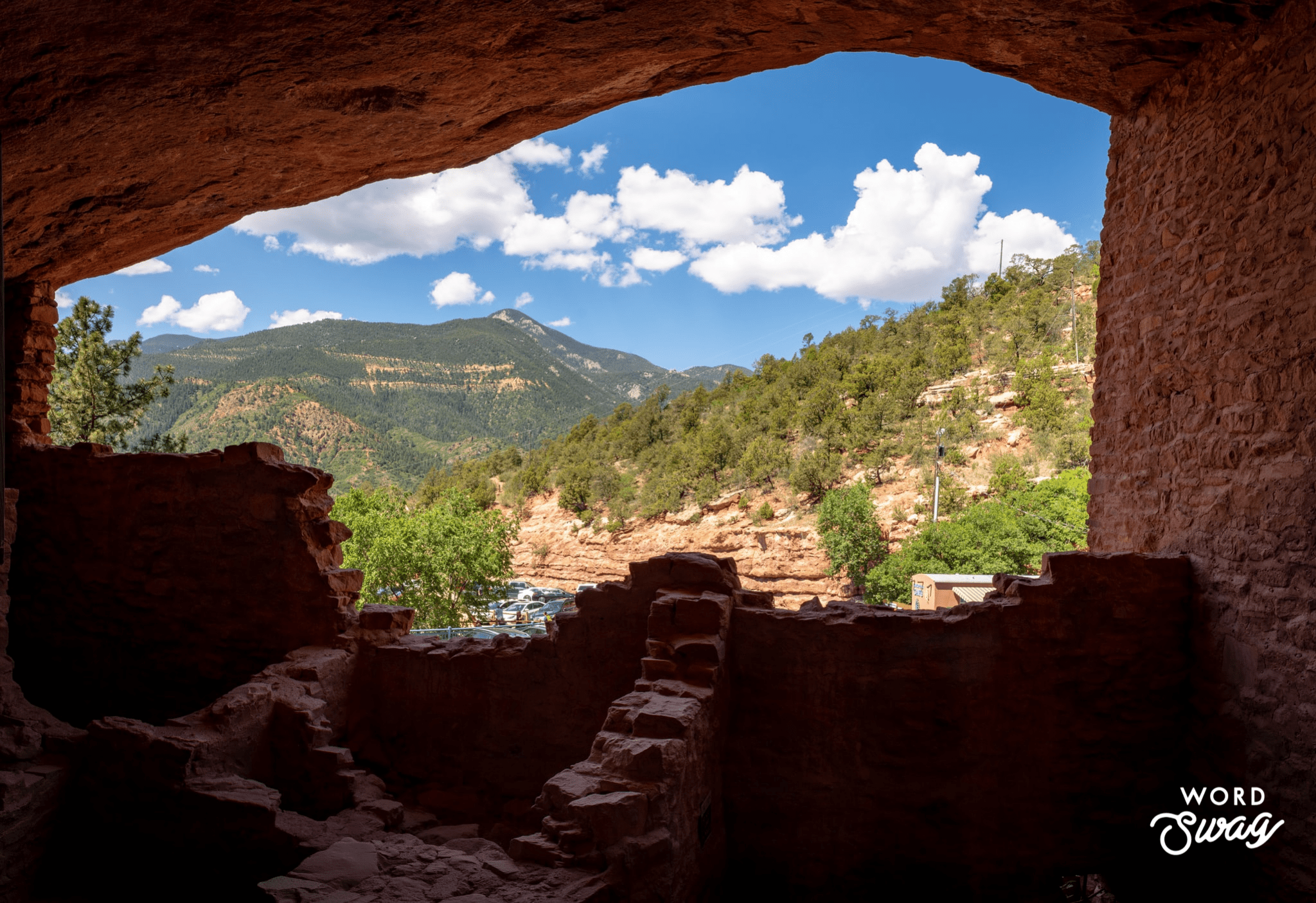 The Manitou Cliff Dwellings is a replica of the actual dwellings located in Mesa Verde.  They represent artifacts and structures dating back 800-1000 years.
What is nice is that you can actually climb and explore.  As a kid, I remember going and seeing Native American dancers that performed a rain dance and it actually rained!  That made it worth it for me.  This has an admission fee
The "grandest mile of scenery" is a nickname for this beautiful waterfall.
Hiking the Seven Falls
There are two hikes available to see two separate views of the falls.   One option takes an hour to complete the hike.  A shorter option is a 30 minute smaller hike.
What You Need to Know
An elevator to the top of the Eagle's Nest is located across from the falls.  A restaurant and gift shop are close by.
There are free shuttles so you won't have to deal with traffic. The shuttles are located near Broadmoor Resort
Royal Gorge has developed over the years.  It is not just a phenomenal view from the Bridge, it is a full entertainment area.
Royal Gorge – Family-Friendly Activities in Colorado Springs
There is a zipline, sky coaster, gondola ride, play area, and theater.
We were really surprised at how expensive it was and unfortunately, we didn't have enough time to make it worth the money.
If you allow yourself enough time it would be an awesome adventure!
Kid-Friendly Palaces to Stay in Colorado Springs
Colorado Springs has some amazing places to stay. From camping to luxury resorts, it has it all.
We actually wanted to camp on this trip.  This was our first time camping with our kids and we thought Colorado Springs would be a great place.  Indian Springs Campground is the site we stayed at.  We had a great time!
For those of you who would rather stay in a little more luxury, the following places are my top hotel choices in Colorado Springs.
Broadmoor Resort is a great family-friendly place to stay. The resort offers a wide variety of room choices such as suites, cottages, and even an estate house.  Not only is the lodging nice but they have attractions that you can come enjoy a la carte.
Attractions at Broadmoor Resort
"Soaring Adventure" is a zip line that is not for the faint of heart.  It is pretty amazing and is perfect if you are looking for things to do in Colorado Springs with kids.
Shuttle
Broadmoor Resort is also the location to take the free shuttle to hike the falls.
Other Amenities
The resort itself has golf, a spa, a pool, and a tennis court with fitness facilities
One of my top things to do in Colorado Springs with kids is going to Great Wolf Lodge.  It is a new accommodation just built within the last few years.
Great Wolf Lodge is a kid's dream. There is an indoor water park!  We didn't get a chance to go to Colorado Springs but we did go to Wisconsin and my kids loved it!
MagiQuest is one of the many fun attractions and activities for kids. My kids loved it!
Are You Ready to Go to Colorado Springs With Kids?
There are so many things to do in Colorado Springs with kids. These suggestions are just the beginning.
You could easily stay a week and have enough to entertain you the entire time.  Especially, if you like hiking and want to explore this beautiful area of Colorado.  I highly recommend a road trip to Colorado Springs you will not regret it!
Facebook Community
If you have any questions join my Facebook Travel Community. You can ask any questions you have about upcoming trips and everyone is happy to help you plan your trip.  I also try to give exclusive travel deals that companies send me.  It is a great group to join!