The Perfect Venice in a Day Itinerary
Are you planning on doing Venice in a day? Are you nervous it just might not be enough time?  No need to fear we are going to map out some fun things that you can do if you only have one day in Venice.
Venice, Italy is a great city that has a lot to offer. 
Let's explore all the options and make an itinerary for visiting Venice in a day!
If you want to save this for later be sure to pin this to Pinterest.
This post may contain affiliate links that give me a commission at no additional charge to you.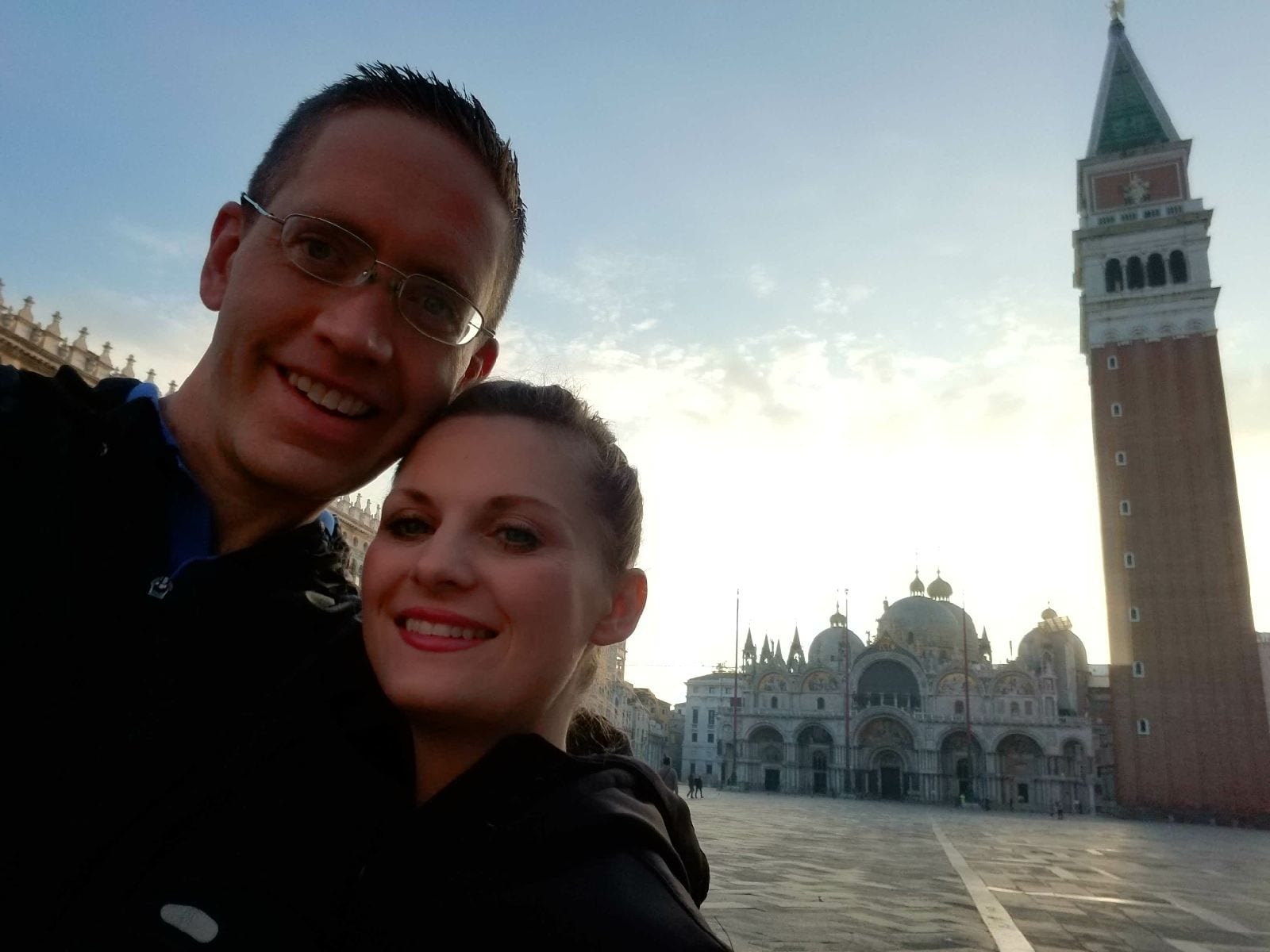 If you only have one day in Venice there are a few places that need to be at the top of your list. Let's explore them!
Piazza San Marco
Piazza San Marco is the main public square in Venice.  It has many famous buildings. American's usually refer to this area as St. Marks Square.
St. Marks Square is a central location where you will find most tourists! There are many things to see in this location such as St. Marks Basilica, Palazzo Ducale, and Torre dell'Orologio.
St. Marks Square should be on everyone's Venice itinerary.
St. Marks Basilica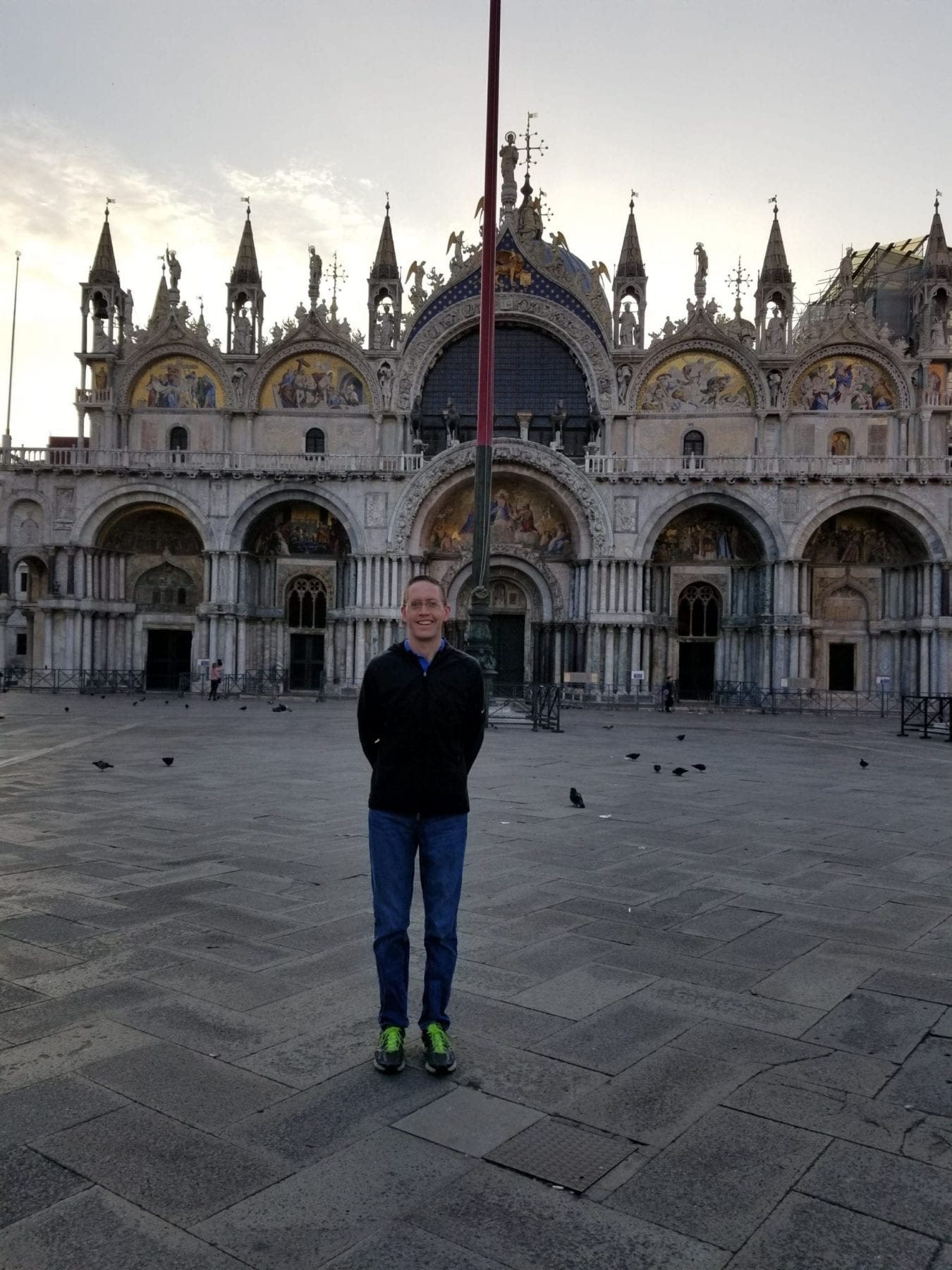 St. Marks Basilica is absolutely gorgeous! It is the most famous church in Venice.
Admission
Entrance is free to the Basilica, donations welcome
You will need to purchase tickets if you want to see the golden altar, the treasury, or the San Marco Museum.
Interesting Facts
One thing that I learned was that it was built around 829 and rebuilt in 1071 AD. I also found it fascinating that it has enough mosaics to fill an American football field.
What Makes St. Marks Basilica So Great?
Words can't even describe the beauty of this building. The floor is marble with glass inlaid. The Pala d'Oro, a Byzantine altar is gold, with hundreds of gems. 1300 pearls, 400 garnets, 300 emeralds, 300 sapphires, 100 amethyst, and many rubies and topazes.
Its incredible five domes and intricate architecture are one of the reasons this is the most popular site in Venice.
This area is very crowded, so you will most likely be waiting to enter unless you purchase a tour.
The Palazzo Ducale is also known as the Doge Palace was the home of the ruler of Venice and the power of the Venetian Republic for over 1000 years.  It is now a museum.
The Doge Palace Museum is 1 of 11 museums owned by the same group. What makes it special is it is so conveniently located to other sites. If you only had one day in Venice and want to do as much as possible it is a good option because of its close proximity to the St. Marks Basilica.
Admission
Adults – 25 Euros which gives entrance to several of the museums in Venice.
Also located in St. Marks Square is a beautiful clock tower, however, you must book ahead of time to see it.
Helpful Tip
Children under 6 are not permitted. Make sure you take note of that as you are making your Venice itinerary.
Grand Canal Tour

 
The Grand Canal is the basic way of transportation in Venice.  The magnificent buildings along with the canal date back to the 13-18th century.  These buildings represent the wealth of the Venetian Republic.
Vaporetto
If you only have one day in Venice a Vaporetto ride is essential! Vaporetto's are so much fun! They are taxis that take you from stop to stop along the canal.
You can relax and enjoy your ride along the canal!  Rick Steve's has an amazing audio tour that you can download to your phone.  It gives all sorts of history and facts as you ride down the canal.
Best Time to Ride
Certain times of the day are better to ride on the Vaporetto's. Early morning before cruise ships dock is the best time.
During crowded times of the day, it isn't as exciting because you will not be able to really enjoy the audio tour if it is really loud and you are having to stand instead of sit.
We loved going in the morning and enjoying the beauty of the canal. It is pretty magical making your Venice in a day trip worth it.
Rialto Bridge
The Rialto Bridge is an iconic landmark.  The bridge connects Sestieri San Marco to San Polo. It is the oldest bridge across the canal and is known as a Renaissance masterpiece namely for its architecture and engineering achievement.
There are some of the most breathtaking views from this bridge as well as great places to walk around and "get lost in Venice."
A trip to Venice would not be complete until stopping at this location.
Shopping in Venice
There are so many interesting shops such as fun candy shops.  We saw candy that was made to look like tools, pasta, and other objects.  It really is a fun little area.
This area will make your Venice in a day perfect.
High-End Shopping
There is also very high-end shopping in this area.  Italy is known for fashion.  Milan being the center but Venice has everything you would want.  If you like designer fashion this is where you might want to spend a few hours!
Basilica di Santa Maria della Salute
As you travel along the canal, there is a beautiful Roman Catholic Church called Basilica di Santa Maria della salute.
I believe salute means health in Italian.  This building was built in 1630 during the plague as an honor to "Our Lady of Health"
You do not necessarily have to go inside to appreciate the beauty.
How to Get There?
You can get there by Vaporetto or crossing a bridge.  Taking the bridge is a little bit of a walk but there are always things to explore along the way.  There is a cost if you want to enter the church as a tourist.
Venice Tour

If you only have one day in Venice, you might want to look into getting a tour of the places you want to see most.  A lot of times the tour groups have special entrances and can help you avoid long lines. This makes Venice in a day doable!
Venice Food Walking Tour
Enjoy a 2.5 hour Venice Food Walking Tour with a local foodie.  The tour begins at 10:15 am.  This is a great way to try all the cuisine in the area!
Another option is the Taste of Venice Tour.  The best things in Venice often revolve around Food. This is a perfect Venice in a day activity.
Gondola and Serenade Ride
I actually highly recommend buying this Gondola and Serenade Tour ahead of time because the starting price was $80 per person in person.  It is even more for the driver to serenade you.  Plus, you won't have to deal with bargaining and agreeing upon a price. (I hate that)
If you only have a day in Venice, a gondola ride is probably high on your list.
Another option is a Gondola and Glassblowing Tour, and Gondola Ride for Two. Both of these would be amazing!
Venice in a Day Tour
If you only have one day in Venice this is a perfect tour.  Venice in a Day Tour will show you all the highlights without the hassle of lines.  This also includes a gondola ride.
Venice Grand Canal Tour
I mentioned above that Rick Steve's has a great audio tour but if you want a Guided Tour of the Grand Canal this is a great option.  
Venice In A Day Tour From Milan
If you do not want to rent a car but still would like to see Venice in a day consider a Guided Tour from Milan!
Are You Ready For One Day in Venice?
If you are planning a trip to Italy and want to explore other cities check out other Italy posts.  Also, I highly recommend getting an Italy Travel Guidebook before you plan your trip.
Planning a northern or central Italy vacation?  One Week In Italy, Pisa, and Lucca, Romantic Venice, Siena, and Florence are great areas to include in your Italy itinerary.
If you are looking for a southern Italy itinerary be sure to check out Capri, Pompeii, Gaeta, and the Amalfi Coast.
In addition, if you are looking for another reason to visit Italy or some great Safety Travel Tips for Italy before you travel be sure to check out my other post.  You may also love to look at all the great gifts for Italy Lovers, to get you thinking about souvenirs. 
Facebook Community
If you have any questions join my Facebook Travel Community.  You can ask any questions you have about upcoming trips and everyone is happy to help you plan your trip.  I also try to give exclusive travel deals that companies send me.  It is a great group to join!
Check out my video of How Rick Steve's Saved My Italy Trip!