The Perfect Romantic Venice Getaway
Are you excited about a romantic Venice getaway?
Whether you are planning a Venice honeymoon, anniversary, or maybe just a little getaway, Venice is a great location to make your dreams come true.
Maybe you already have it planned or maybe you are dreaming of a future trip.  This will be your guide on what you can do to make this the most magical, romantic time of your life!
Venice is a great choice as a destination for love.  The Italian people are in love with love.  Going on a romantic Venice honeymoon or anniversary is a great option!
In this post, we will give you a few ideas for a romantic Venice vacation, including the most romantic restaurants Venice has to offer and some romantic things to do in Venice Italy. 
Let's plan a romantic Venice getaway! 
Be sure to pin this to Pinterest as a great reference!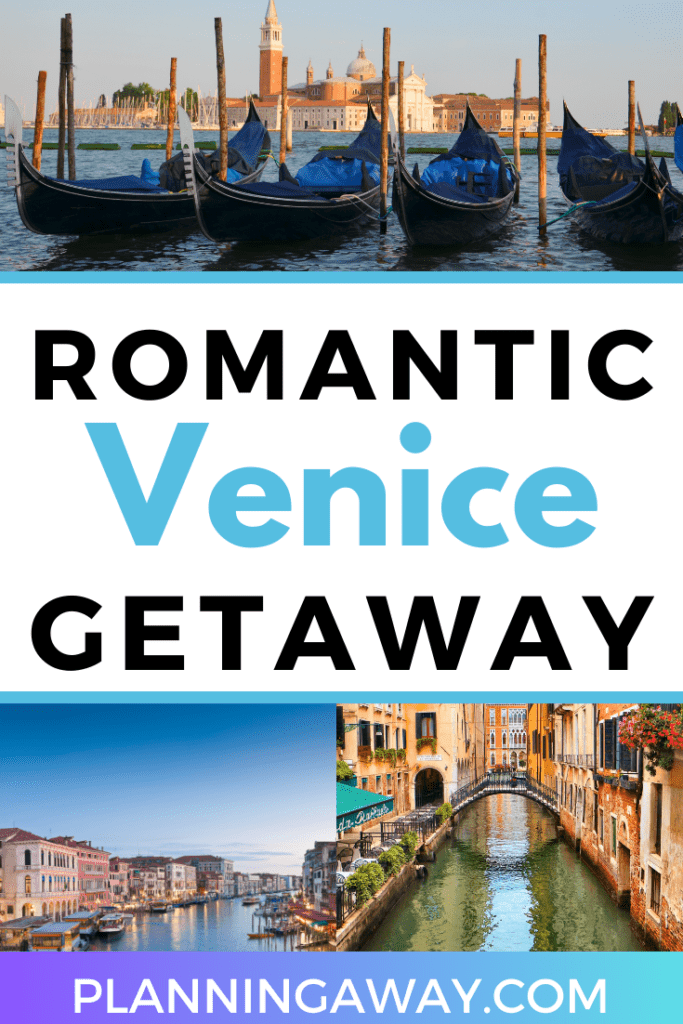 This post may contain affiliate links that will give me a commission at no additional charge to you.
How Long Should We Stay In Venice?
Should you stay in Venice for your whole Venice honeymoon or Venice romantic getaway?
No, you should plan maybe two or three days, but you can do most sites in Venice in a relatively short time.
Romantic Venice Tip – Time of Day Makes a Difference
As you plan your romantic Venice trip, remember timing is everything. One of the most romantic times of day is the sunrise in Venice.
If you are coming from the United States you will most likely be jet-lagged and will want to wake up early.  My advice is to do it!  Wake up at 5:00 AM and hit the streets.  Having the feeling of being completely alone with your love is one you will not regret.
Sunset is another great time to feel the romance Venice has to offer. There are lots of tours and romantic things to do in Venice Italy at night. 
1. Private Gondola Ride
The most romantic thing to do in Venice is a gondola ride. 
I want you to imagine a beautiful canal between picturesque buildings, the sun is setting and you are in a gondola with the love of your life.   This may be the most romantic thing you will ever do in your life. Really!  What can beat it?
Best Romantic Venice Experience
The gondola rides offered in Venice are the best in the entire world.  The whole experience will bring you great joy. Your private gondolier will take you down many canals and out into the Grand Canal.
The water is so blue and your surroundings are breathtaking. You can add a musician and have romantic songs sung in Italian the entire time.  This will really set the mood for your romantic Venice getaway!
Pro-Tip for a Romantic Venice Trip
Romance comes with a price tag! 80-100+ euros for a 40-minute ride, and an extra 120 euros for the musician!  Is it worth it?  You will have to decide!  Personally, I would book ahead of time so you do not have to negotiate a price when you arrive.
2. Romantic Venice Vaporetto Ride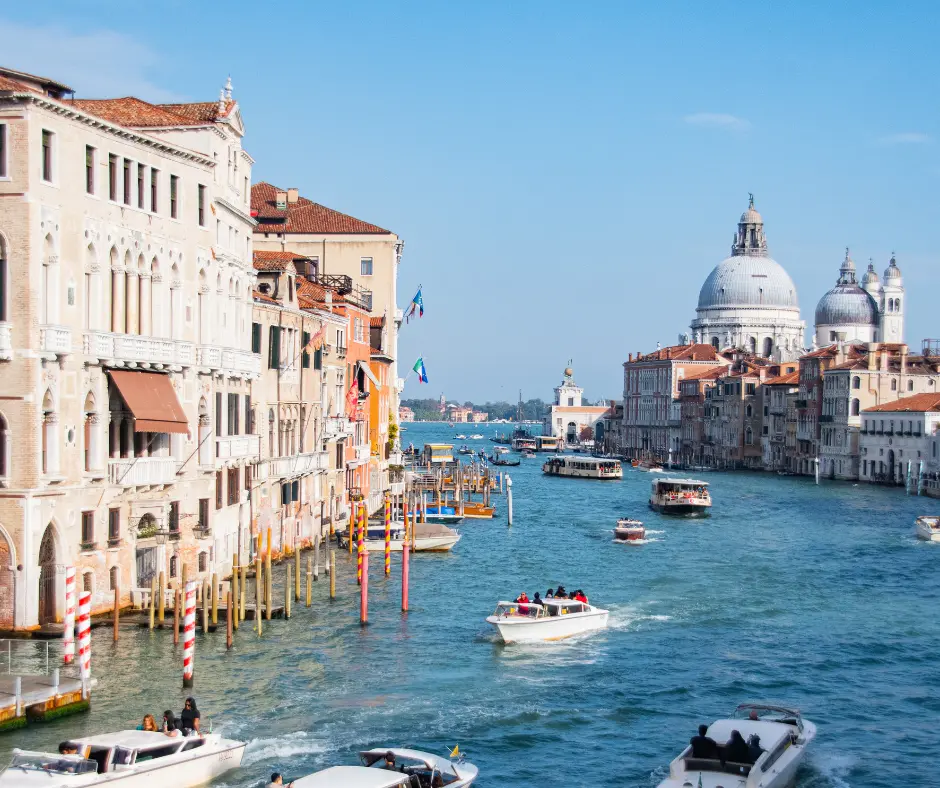 A Vaporetto ride in any other part of the day will not be romantic because it will be crowded and uncomfortable.  The rides begin at 6:00 AM.  It is almost as good as the gondola ride at this hour.
If you want to learn about the history of the city and about the Grand Canal, download an audio tour from Rick Steves.  Relax and enjoy a romantic ride down the Grand Canal.
Pro-Tip for a Romantic Venice Getaway
Venice is overly crowded until 4:00 pm each day because of all the cruise ships that port nearby. This may take away some of the romantic vibes but don't let it.
3. Getting Lost in Venice
Romantic Venice Walk
Take your sweetheart on a long romantic walk.  Venice has amazing narrow alleyways and, as a result, you can truly get lost! 
But not too lost. The city is three by two miles, so you can eventually find your way. But who cares. When you are with the one you love, being lost is both an adventure and a dream.
Holding hands and passing the time talking about your dreams and hopes will be one of the highlights of your trip.  We actually went on one of these beautiful long romantic Venice walks and found that we were actually lost!
Pro-Tip for Romantic Venice Italy Trip
Make sure to download Google Maps before you attempt this walk or your night may go from romantic to frustrating!  We were so grateful for Google Maps!
4. Romantic Hotels in Venice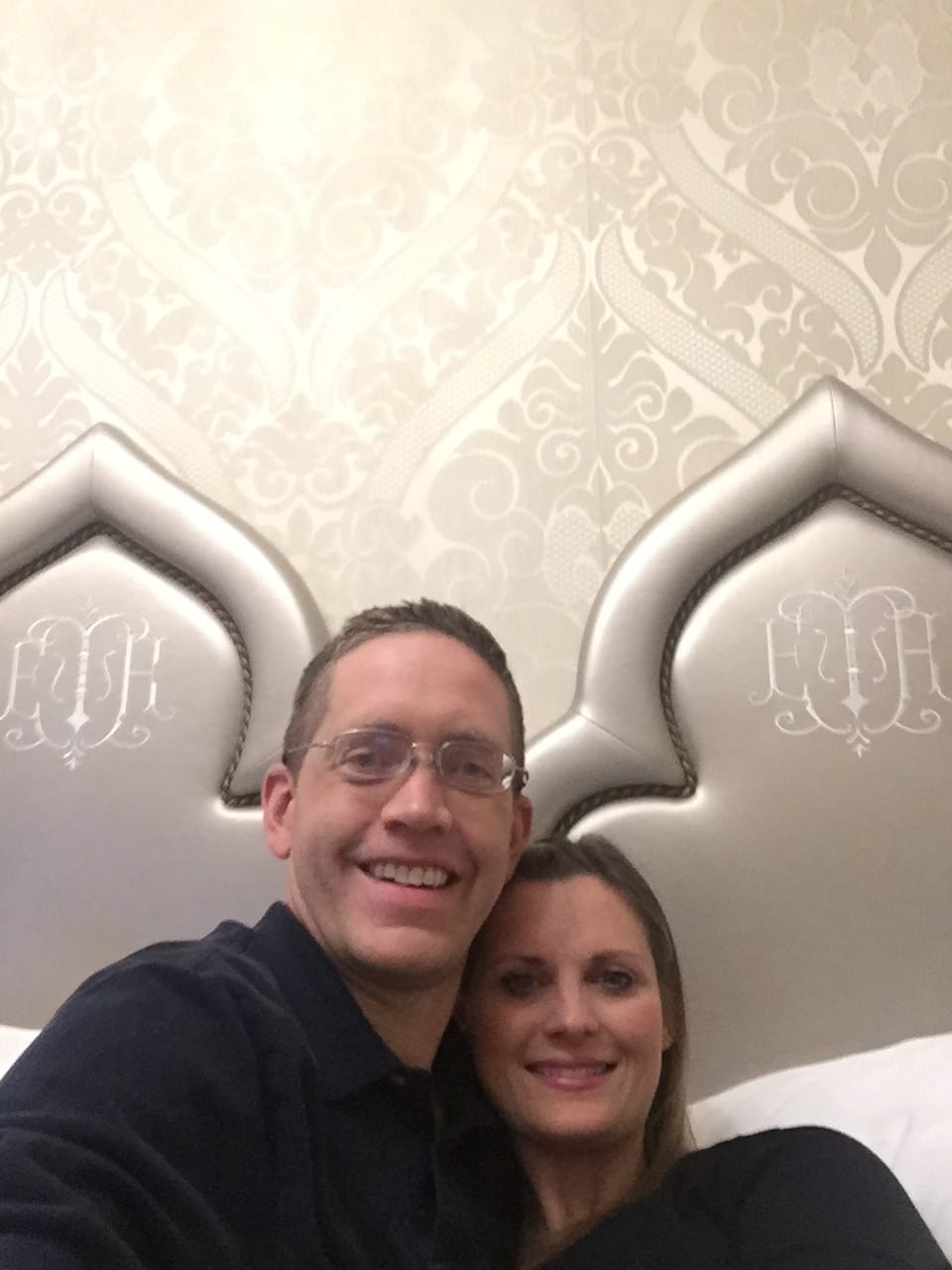 The ambiance of a hotel really makes it or breaks it for me.  We stayed in the heart of the city.  As we looked out of our window there was nothing but blue water.  We could see the gondoliers rowing around. It was the ultimate romantic experience.
We stayed at a Marriott which overlooked the Grand Canal.  Ultimately, my discovery was staying at the right place really does set a romantic mood! 
Personal View
I personally think staying in Venice is the way to go. We had family and friends suggest staying outside of Venice in Mestre and then taking a train in.
I'm glad we didn't. I loved staying in Venice. Being able to wake up early and be in the streets of Venice, by simply stepping out of my hotel was awesome. 
Not having to worry about a commute at the end of the night was. Having the city more to ourselves when the cruise ships left. It was great!!
Pro-Tip for your Romantic Venice Honeymoon or Stay
Keep in mind that most hotel rooms are very small in Europe.  This hotel was beautiful and very romantic but was no exception.  I still felt very comfortable and loved being there with my husband.
We stayed at a Marriott Hotel and it was perfect. 
Some of our friends suggested VRBO but if you are going for the romantic vibe it could be tricky to find one that meets your standards.
5. Romantic Venice Walking Tour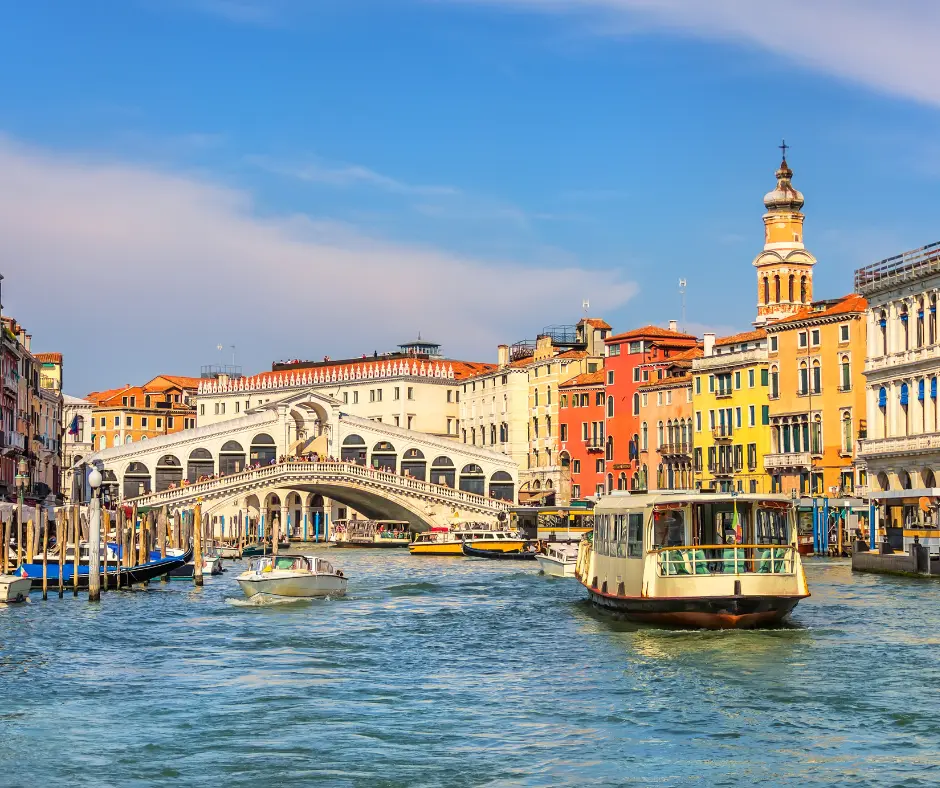 Now, if you and your sweetheart love to learn and want to gain a great grasp of the Venice area a walking tour might one of the best romantic things to do in Venice Italy.
Pro-Tip for Romantic Italy Getaway 
Walking tours are affordable and fun. The only downside is that you will be with other people on this adventure!
6. Visit the Rialto Bridge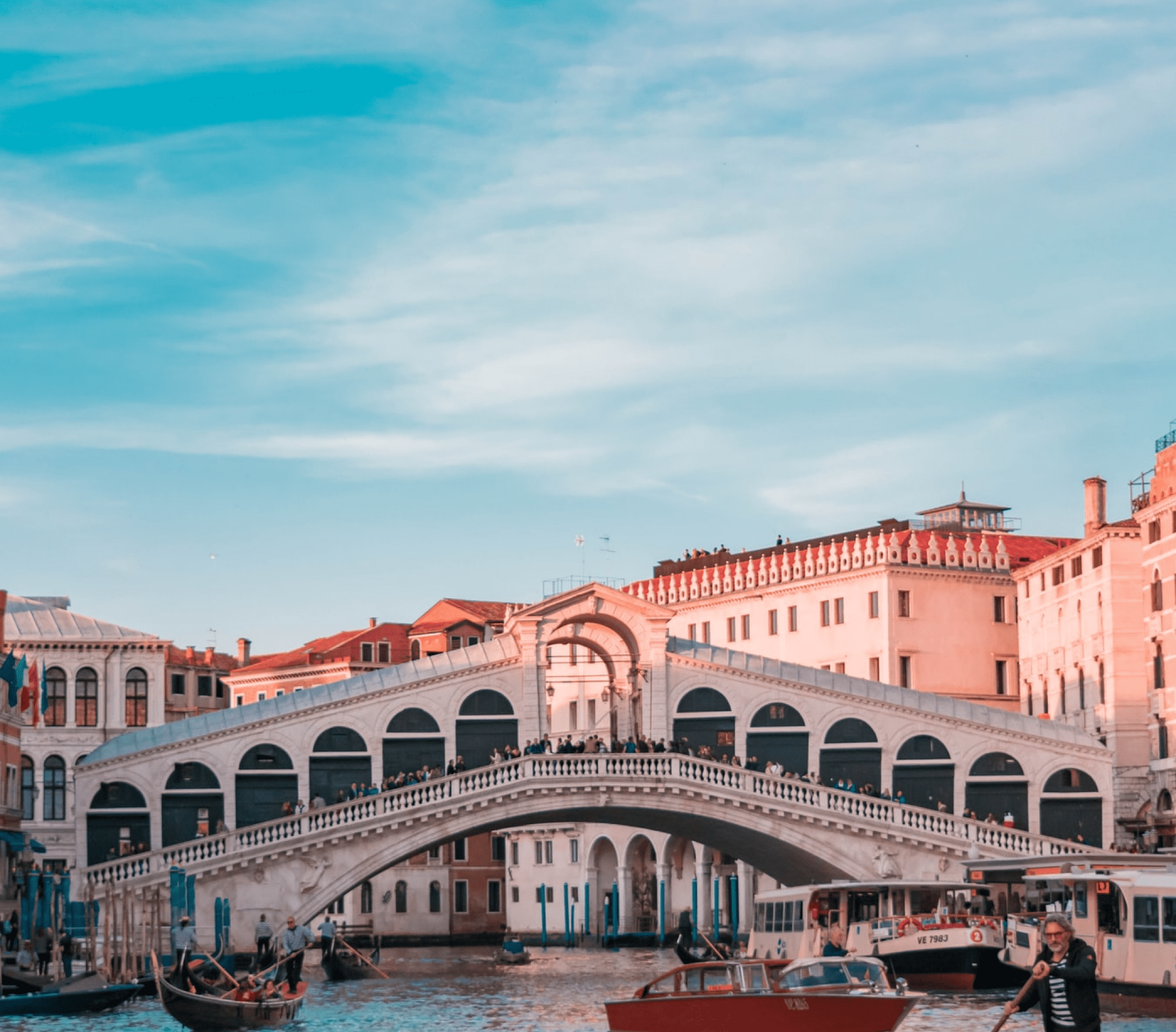 There are certain Venice spots that scream Romance.  Rialto Bridge is also known as the "lovers bridge Venice."  
Walking across this bridge is one of the most romantic things to do in Venice. You can also attach a love lock if you wish. 
7. Romantic Venice Cooking Class
How does a romantic Venice cooking class sound?  This tour is at the top of romantic Venice choices! 
Another option if you do not want to cook but still enjoy amazing food is a food tour. to A local will take you to some of the best places to enjoy some samples of some of the best local cuisines.  
8. Romantic Venice Photography Tour
If having a guided tour of Venice at sunset is appealing to you this photography tour would be a must. 
A local will guide you around the city and help you capture the most romantic pictures.  If you love photography this is for you.
9. Most Romantic Restaurants in Venice
Dining at one of the most romantic restaurants in Venice is one of the most romantic things to do in Venice.
There are a lot of romantic restaurants in Venice. I have a few suggestions that might help you decide where to spend your evening. 
Romantic Restaurants in Venice Along the Grand Canal
I think food is essential for any great romantic date atmosphere.  Dining along the Grand Canal would make your night unforgettable! 
I love the idea of sitting at a little table staring into the eyes of my one and only.
Keep in mind, you are paying for the view and the experience and not necessarily the delicacy of the food.
Top Recommended Romantic Restaurants in Venice
Taverna al Remer

Bancogiro Stretch

Bar Naranzaria

Caffe Vergnano

Osteria al Pescador

Bar Restorante Bancogiro

Bar Ancora
One romantic restaurant in Venice that may have it all is called Taverna al Remer.  This restaurant is in a candle-lit warehouse that has a private pier to overlook and enjoy the canal.
Grand Canal View
All of the romantic restaurants in Venice I listed above have an overlook the Grand Canal. They are an absolutely wonderful place for a romantic Venice night out
Another option is a four-course meal prepared just for you.
I wish a romantic picnic in the moonlight was an option, but in most parts of the city, it is forbidden.  So don't count on that.  I am not exactly sure why but it is a law.
Pro-Tip for Romantic Venice Trip
A popular place at night is St. Mark's Square. There are restaurants and live bands. It is a bit crowded, but a wonderful experience!
Personally, I think that St. Mark's Square in the morning is a better way to experience the romantic Venice atmosphere.
10. Bridge of Sighs
The Bridge of Sighs is one of the most romantic Venice spots. Legend has it that a couple who kiss under this bridge at sunset will have eternal love. 
You can book a private gondola ride to make sure you are there right at sunset.
11. Murano Glass Blowing
While the crowds are high in the middle of the day, a great little boat ride away is a place called Murano.  If you want a romantic Venice date, take a Vaporetto (water taxi) to the Colonna stop to Murano. 
Murano is famous for glass making. If you walk down Fondamenta dei Vetrai street, you will see all the glass shops along the canal, which are incredible!
Glass Museum
There is a glass museum that displays the history of this amazing type of artwork.  We also saw a demonstration with a true Venetian glassmaker; so cool!
Murano is also a great place for a romantic walk.  There are little stores along the dock that are so inviting.
Are You Ready for a Romantic Venice Trip?

Hopefully, this gives you an overview of what a romantic Venice vacation could look like.  Start planning your Venice honeymoon, anniversary, or romantic getaway now. There are so many awesome romantic things to do in Venice! 
Italy is beautiful and you will not regret embracing the love the Italians have for love! Romance = Venice!
Facebook Group
If you need advice about your upcoming trip Planningaway has a private Facebook Group full of amazing people that will answer any questions you might have.  Join us and we can help!
More of Italy
Also, if you would like a Free Italy Guide with Itineraries and Restaurant suggestions sign up and I will email them to you.
Where will your next stop be? Maybe Florence to Rome or maybe down to the Amalfi Coast?  We loved everywhere we visited in Italy be sure to check out my adventures in Italy!
Also, I highly recommend getting an Italy Travel Guidebook before you plan your trip and think about which Italian souvenirs you want to purchase. 
If you are planning a northern or central Italy vacation be sure to check out my other posts Venice, Pisa and Lucca, Romantic Venice, Siena, and Florence.
If you are looking for a southern Italy itinerary be sure to check out Capri, Pompeii, Gaeta, and the Amalfi Coast.
Top Travel Tips for Italy is another great place to look for great Italy advice.