Do you want to visit Pompeii Italy?
Awesome!  Lets learn all about it!
Pompeii was an ancient city that was buried by the 79AD eruption of the Volcano Mt. Vesuvius.  It was preserved by the ash that fell from the sky.  The Pompeii ruins are an amazing look at what life was like in 79 AD.
If you want to save this information for later be sure to pin this to Pinterest.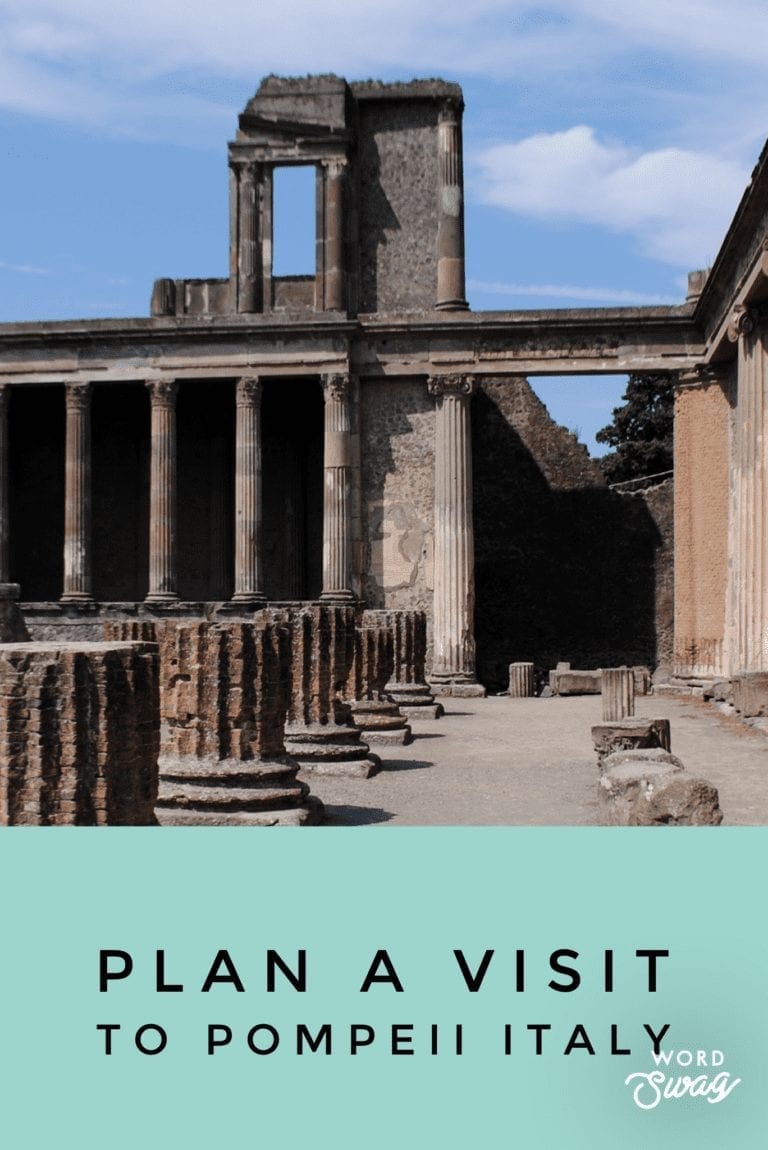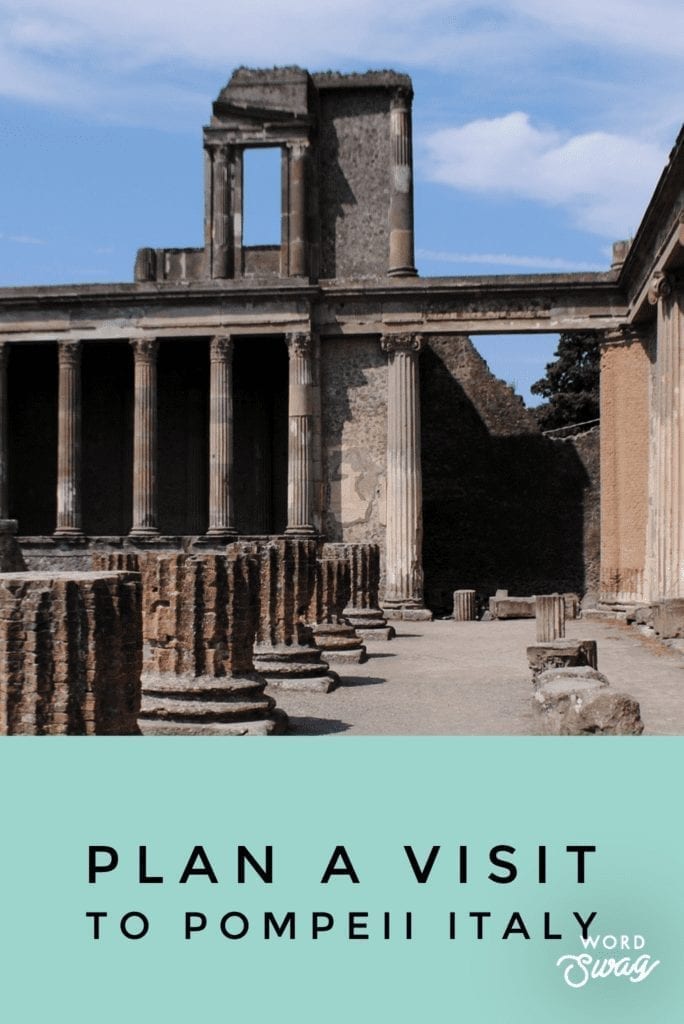 This post may contain affiliate links that will give me a commission at no additional charge to you.
Let Plan Your Visit To Pompeii
Pompeii was a thriving city until AD 79 when a massive eruption from a volcano known as Mount Vesuvius covered the city.  Pompeii is now a huge archaeological site.
It is so interesting to walk around and see how the people lived and worked in a perfectly preserved town from about 2000 years ago.  There are a few things that you should be aware of before visiting Pompeii.  I will give you a few tips. 
Be Safe
We took the train from Sorrento. It was not as nice as other areas in Italy and consequently I was a little nervous with the type of people on the train.  Once we got off at the pompeii-scavi stop I felt fine. The stop is a short walk to Pompeii. There is also a baggage storage area at this stop.
Get Tickets Inside or in Advanced
The ticket lines for Pompeii can be extremely crowded.  You might consider booking a tour or getting skip the line tickets in advance.
How Much are Tickets to Pompeii?
Admission for Pompeii is about 16.50 Euros + 1.50 convenience fee for ordering online.  
A combined ticket for Pompeii, Herculaneum, Oplontis and Boscoreale costs €22.00 for an adult, this ticket is only available to purchase at the ticket office.  If you are planning on visiting all the sites this might be the best option. Although, you will have to wait in line once you arrive which could take 20-40 minutes depending on how crowded it is.   
 Hot Tip
There are many vendors outside trying to sell tours, but they are not legit.  The official line is inside.  You may have to wait if you get tickets at the gate, you can purchase them online on their website.
Download Rick Steve's Audio Tour
We bought the Rick Steve's Italy book which is so helpful. I highly recommend it.  In the book it suggest downloading different tours.  They are free informational guides that are very helpful. 
We downloaded the Pompeii tour, and it was fabulous.  You will see many Rick Steve's fan's here with books in hand!  However, if you want a more authentic experience a local guide may be a better option.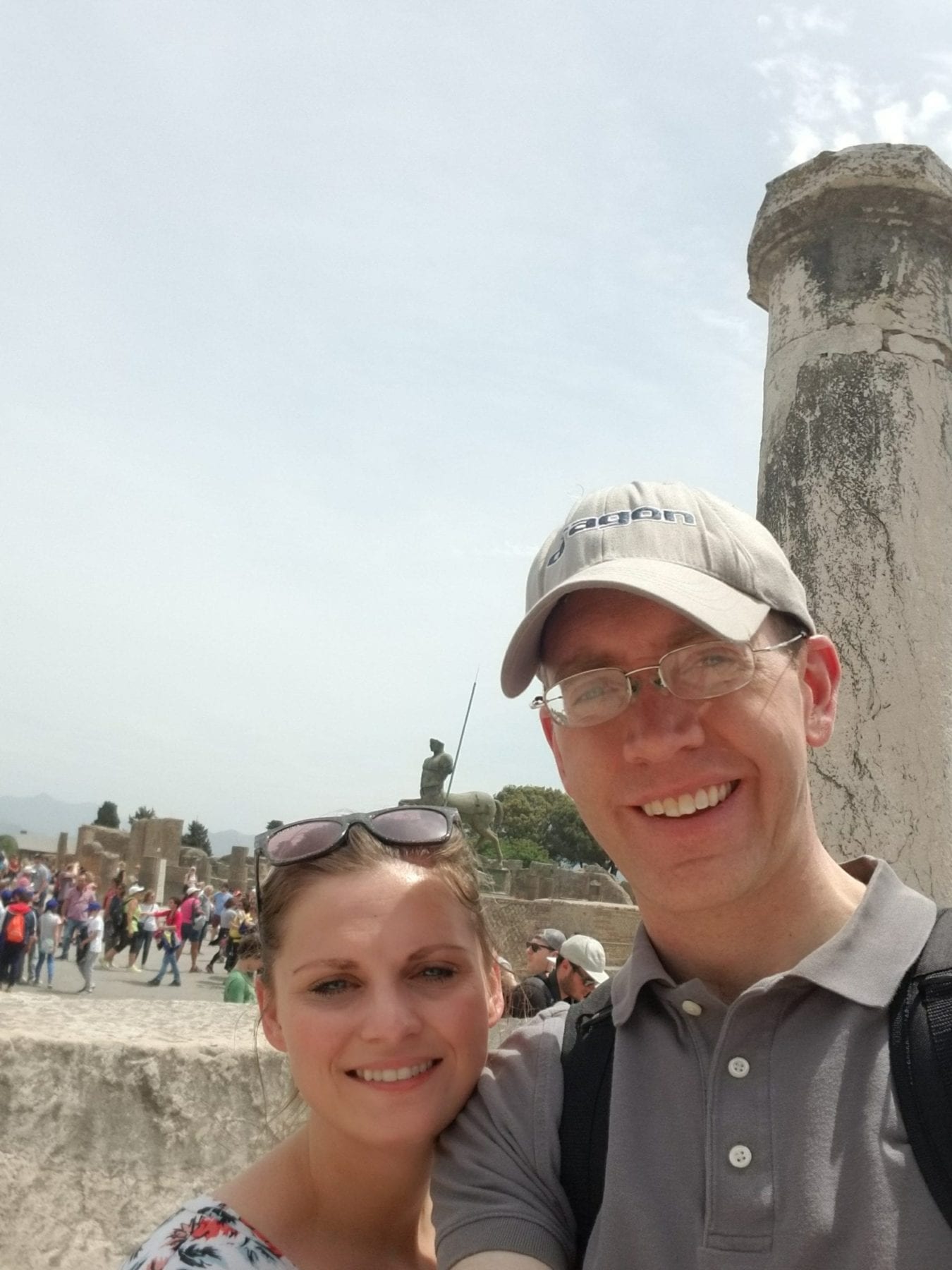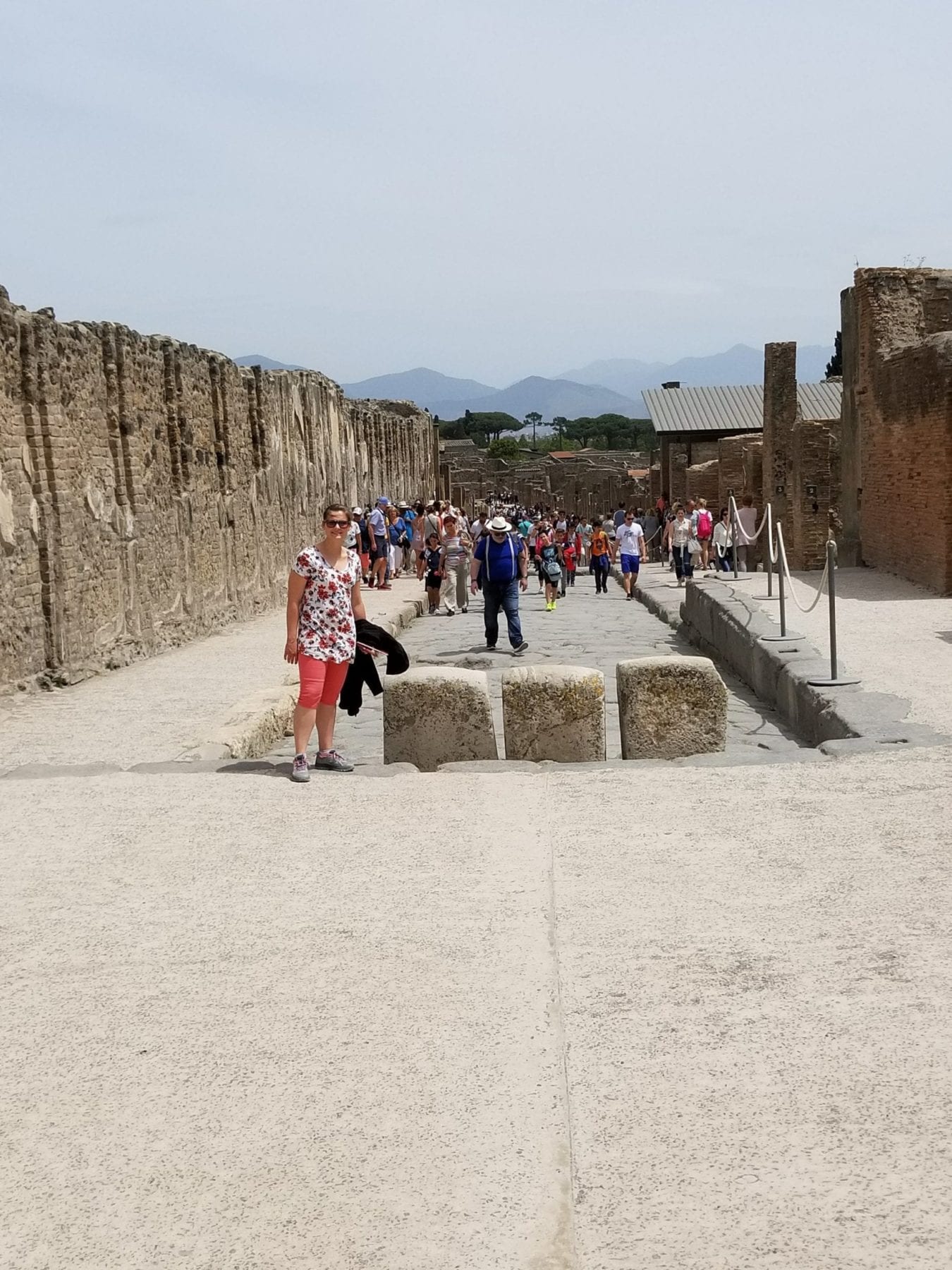 Bring Water
It is hot most of the time and you will be walking a lot.  Make sure to hydrate and have enough water with you.  We went in Spring and it was fine, but I have been to Italy in August and it is HOT!
Restaurant Inside
Don't worry if you forgot your picnic lunch or have no way of bringing one anyway!  There is a Air-Conditioned Restaurant located within Pompeii!  It is really nice to stop and grab a snack and rest from all the walking.  It does tend to get crowded.
Educate Yourself
Before your trip or on the plane ride watch a document or read some Pompeii history!  It will help you better understand this vast area!  You will not be able to see all of it (parts are blocked off)  but know where you are going and what you want to see!  Get a map too when you arrive, it will help out a ton!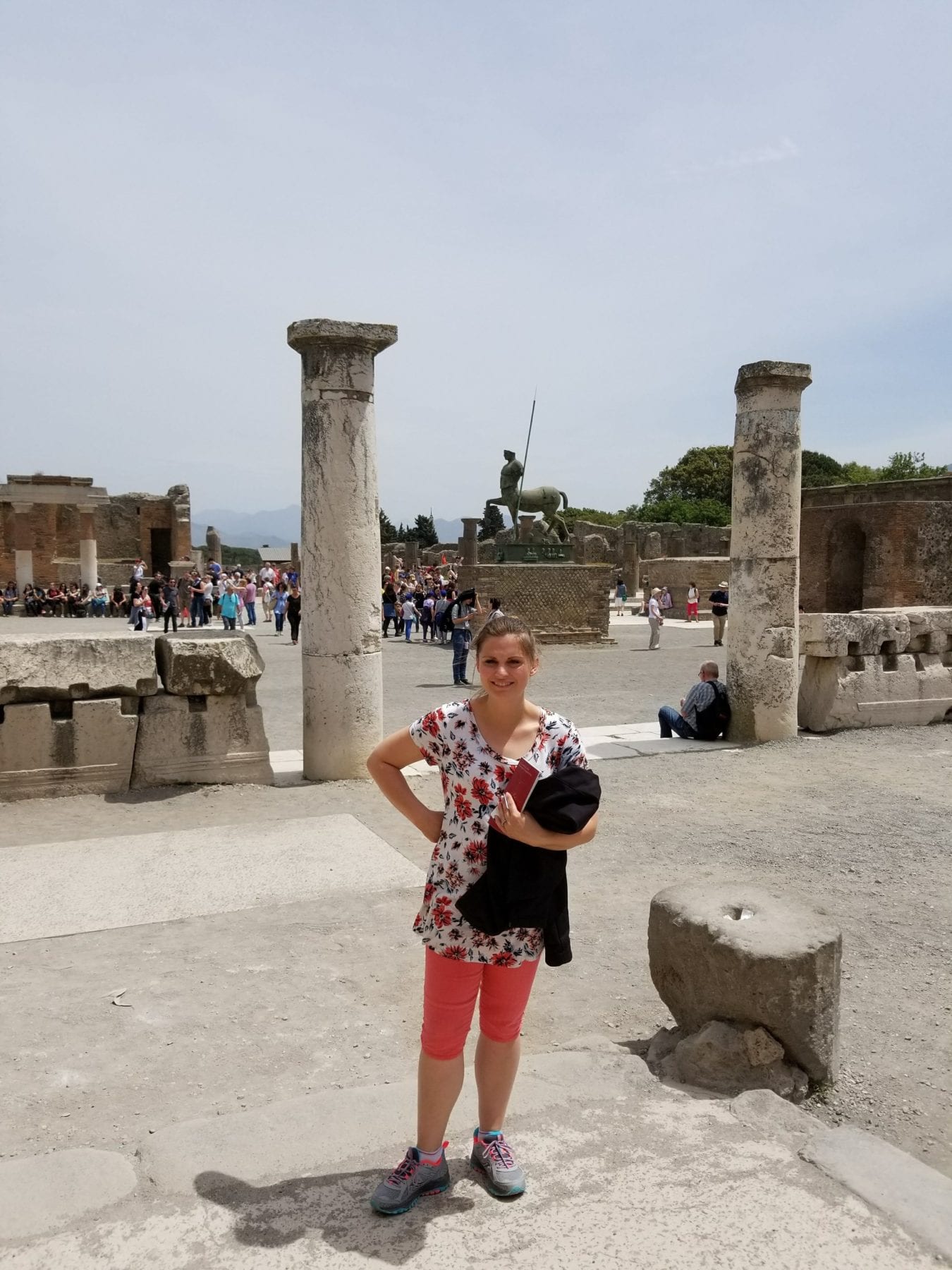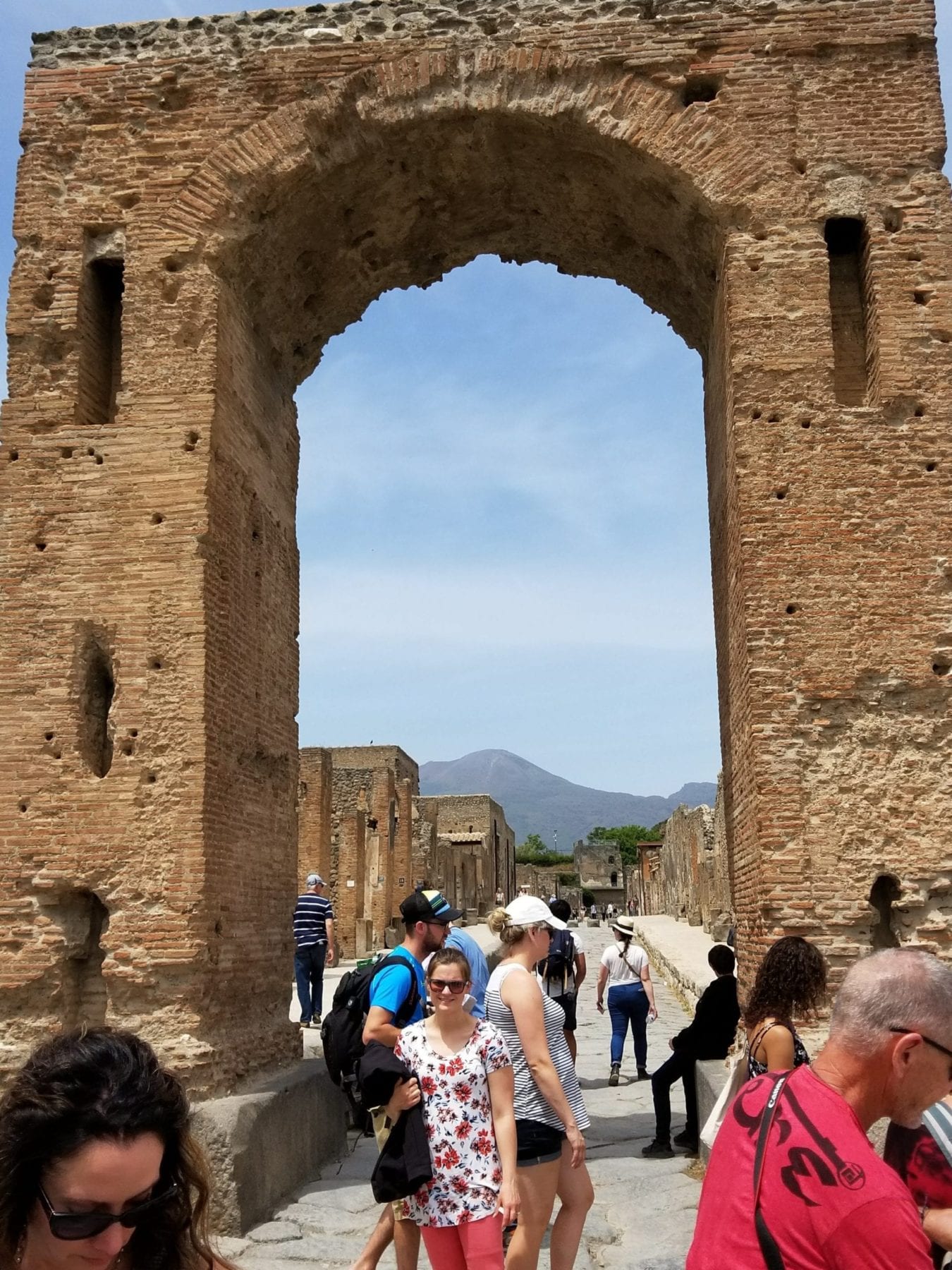 Are you ready to go to Pompeii, Italy?  In addition to pompeii there are many amazing cities in Italy to explore. Be sure to check out my other post by clicking on the links below.  These will hopefully inspire you to plan an amazing Italy vacation.
This is my video of How Rick Steve's Saved My Italy Trip! It is posted on all my Italy Posts! Enjoy