Are you planning a day trip to Capri Italy?
Perfect,  although, you might want to consider spending a little more time on the island if possible.
Obviously, if you are on a cruise ship you do not have this option but if you do have the time I think a 2 day trip is a perfect amount of time.
Lets explore all the different things to do in Capri Italy!
If you want to save this for later be sure to Pin this to Pinterest!
This post may contain affiliate links that will give me a commission at no additional charge to you.
Should I Visit Capri Italy?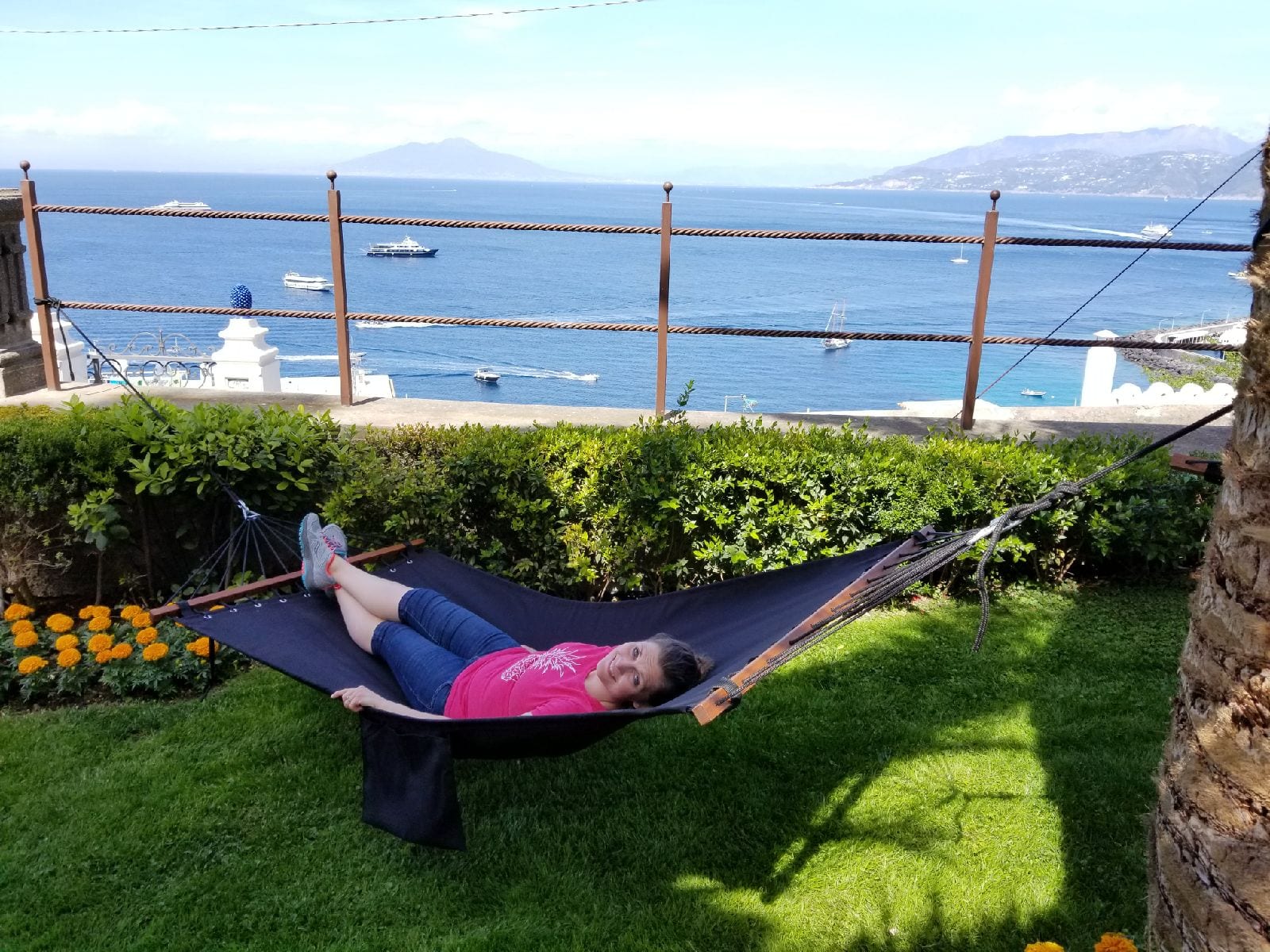 The Island of Capri is located just a ferry ride away from the Amalfi Coast or Naples.  It may be one of the most romantic places on earth!  We were able to spend a couple of days on the island.
Where is Capri Italy?
Capri is located in the southern coast of the Bay of Naples.
What Makes Capri Italy Special?
Capri is famous for its Blue Grotto!  It also prides itself on upscale hotels and shopping. Lemons are found all over the island.  Limoncello and leather sandals are the most popular products produce on Capri.
There are actually two parts to the Island of Capri.  Capri is the more touristy area and Anicapri is where most of the locals live.  We went to both sides of the island to explore. Personally, I think they are both worth visiting.
What is the Best Time of Year to Go To The Island of Capri?
Usually, Easter weekend until the first weekend in November is considered tourist season. The best time to go is April to mid-June and the beginning of September to mid-October.  We went in May and it was incredible.
Should I Take a Day Trip to The Island of Capri?
Absolutely, the island is a magical place. You probably will not have time to do everything with just a day trip to Capri.  But you will get a chance to explore the beauty of the island.  I would either hike Mount Solaro or take a boat cruise to the Blue Grotto.
How to Get To the Island of Capri?
Obviously, by sea! The only way to get to the island is by boat.  Ferry's run from Naples and Sorrento all year long.  In the summer the ferries have stop's all along the Amalfi Coast that can transport you to Capri.
There are two types of ferry's.  The high speed ferries which are faster and more expensive and the slow ferry.  It takes about 50-80 minutes to get to Capri.
I got sea sick on the ferry!  It made me feel awful.  I believe we took the faster ferry.
How Much is the Ferry to Capri?
Prices range from 15-20 Euros for budgeting purposes. But you do not have to buy your tickets until you are at the port.
Top Things To Do On Your Day Trip To Capri
The Blue Grotto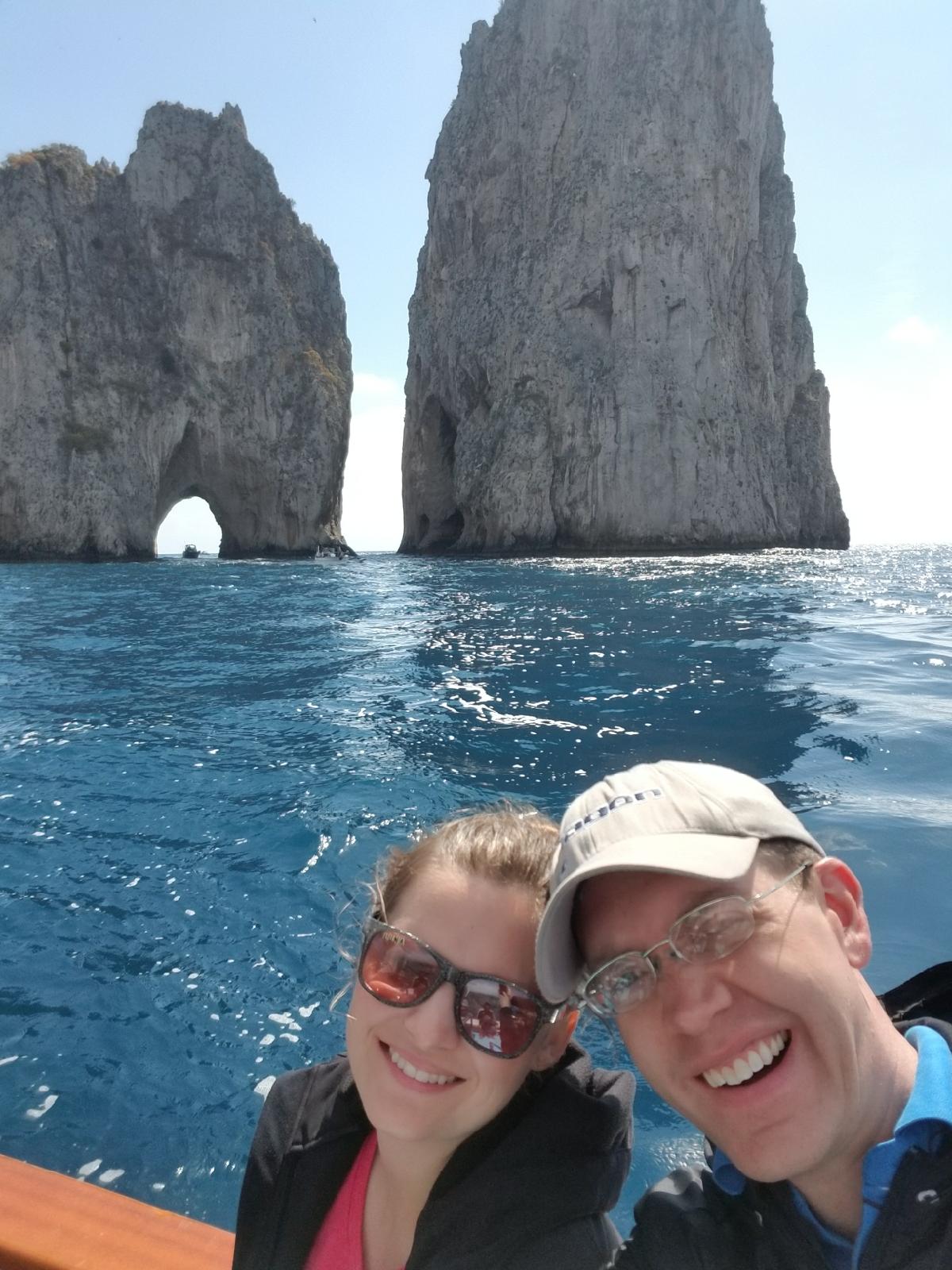 The most well known attraction is the Blue Grotto. We found out that there are actually many grottoes around the Island. Some are even better than the Blue Grotto.  If you have a private tour you can visit many of the grottoes.
We took a public boat tour.  The Blue Grotto is special because you hop onto a Canoe and an Italian driver steers the boat into a beautiful cave of blue water and sings romantically to those on your boat.
I loved it!  I loved being on the ocean and getting a great view of the island on a speed boat.
Was It Worth It
Absolutely!  I loved being on the beautiful Mediterranean Sea!  The cave was awesome!  My suggestion is to get in the front of the boat!  We had such an amazing experience, therefore I highly recommend this adventure!
Mount Solaro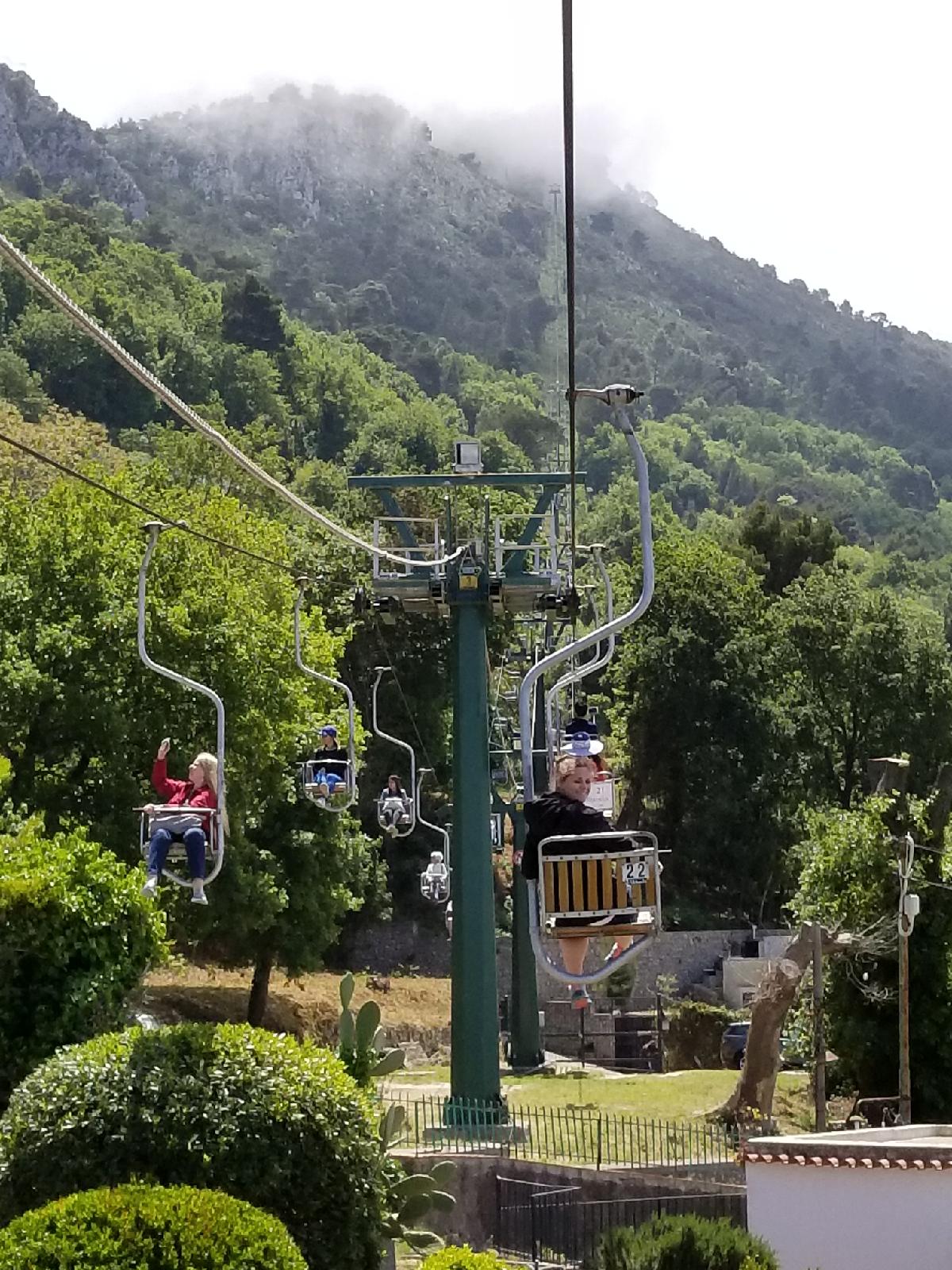 Mount Solaro is on the Anacapri side. We rode a chair lift up to the top of the island and hiked down.  It was absolutely gorgeous!  This is a must do!  The only downside to this lift was it was single chairs.  I would have preferred to sit next to my husband to enjoy the breathtaking views.
How to Get to The Chair Lift
There is a bus that will take you from the Capri side of the island to the AnaCapri side.  It will lift you off right near the chair lift.  You can go purchase your  tickets and begin your 12 min chair ride to the top!
Admission and Hours
May – October: 9:30 a.m. to 5:30 p.m
March – April: 9:30 a.m. to 4:30 pm
November – February: 9.30 a.m to 3:30 p.m.
Tickets: 12 Euro return, 9 Euro single
Times may vary in each season. You can check them at info-points in Marina Grande or in Piazzetta.  I would recommend buying a single ticket up and hiking down.
Children under 7 ride free on their parent's lap.
Personally, I think that it would be unsafe to ride with anyone even a child.  The chair was small with only a metal bar to prevent you from falling off.  I can't imagine my 6 year old sitting on my lap way high above the ground for 12 minutes.  I would recommend buying a ticket or just hiking up.
Hiking Down Mount Solaro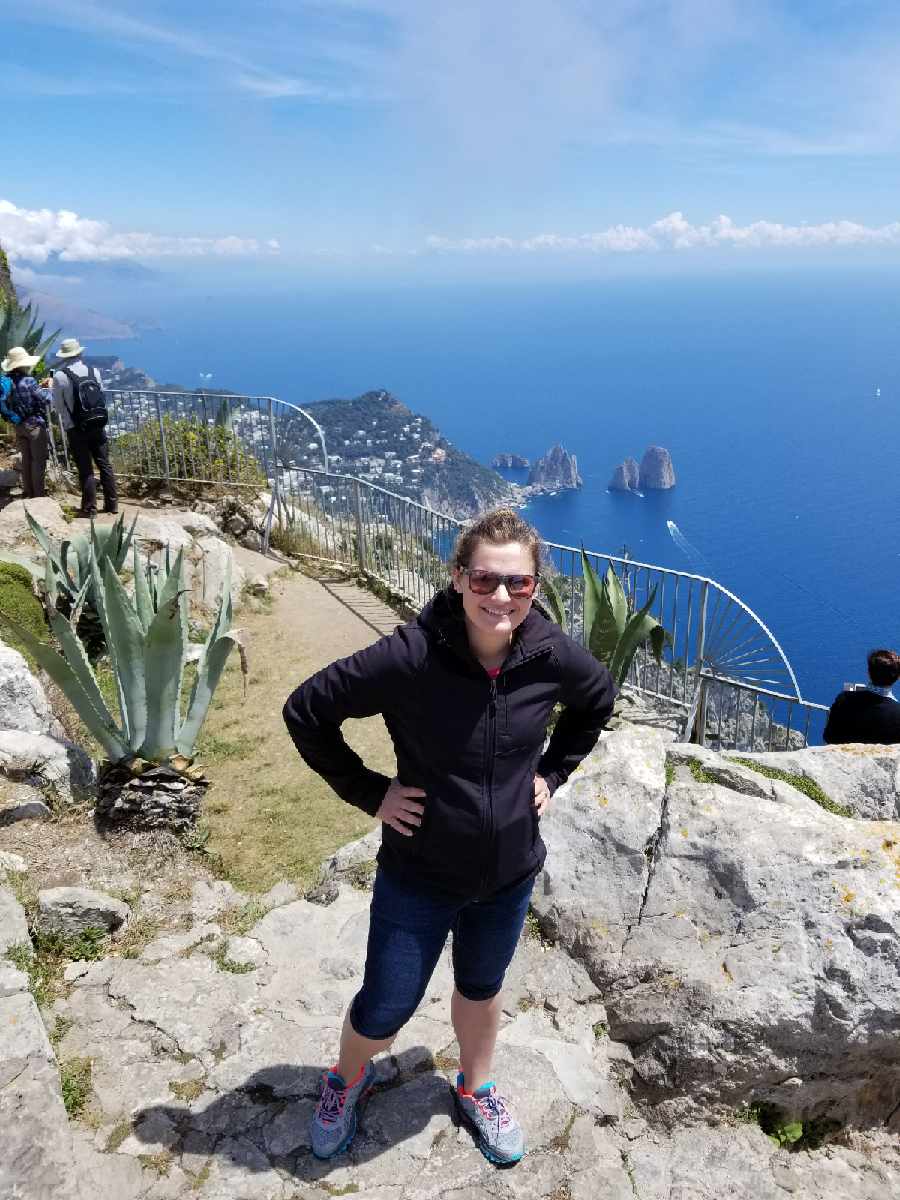 Distance
2.2 Miles not using the chair lift
1.1 Just hiking down
Elevation
754 ft
Terrain
Moderate
This hike offers spectacular views.  If you are hiking up the trail it would be challenging.  Only hiking down was not difficult a little steep at times but very manageable.
Our Experience
This was a fabulous way to spend the afternoon.  One thing to mention is that you do not have to hike at all you can ride the chair lift both ways.  At the top of the chair lift is a beautiful patio with tables and chairs. You could eat a picnic or have a few snacks in the area.
I highly recommend putting this on your Capri Itinerary!
Explore Capri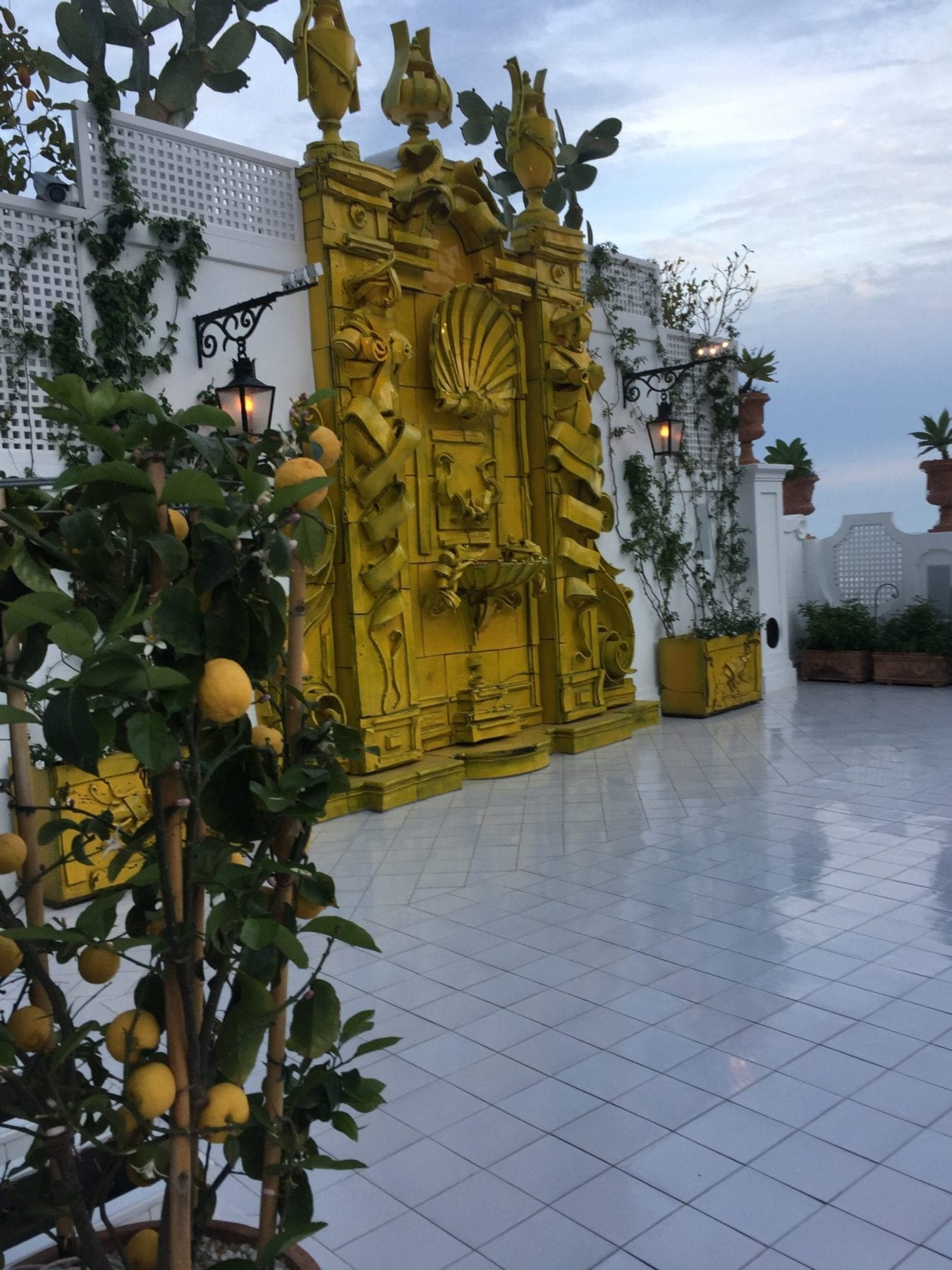 There are many shops to explore.  I would have never guess that Capri is actually a big player in the fashion world.  They are known for their leather sandals but did you know capri pants were named after the Island of Capri?
I think that is pretty cool.  What you will find at most of the shops are lemons. Lemon everything!  It is very bright and a cheerful experience walking around and shopping in Capri!
Best Restaurant in Capri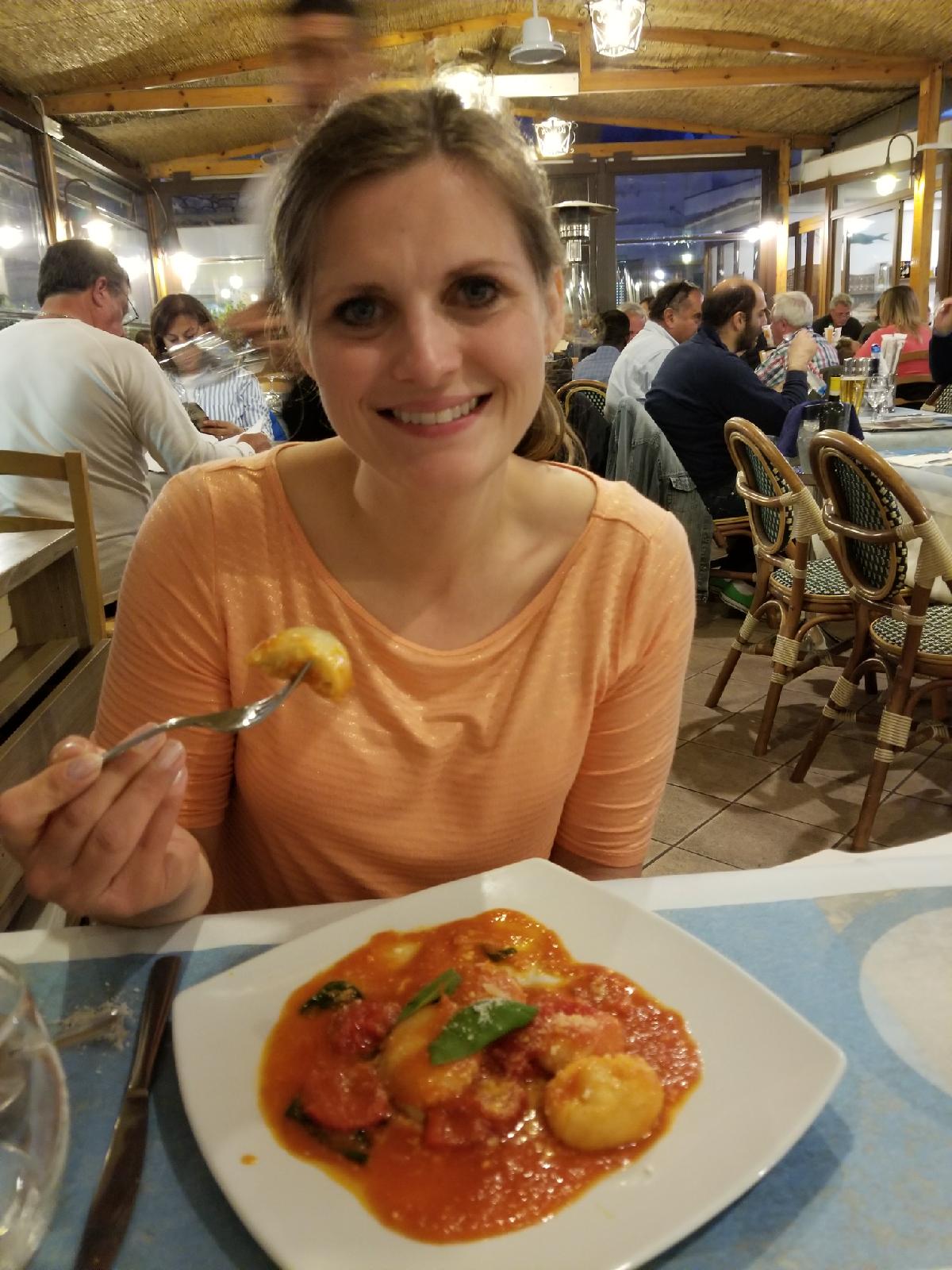 We ventured down a lonely path and found a restaurant called Verginiello.  It was so good!  Being Americans we were hungry at 7ish and got in fairly easy, but by 9:00 pm when the locals came out it was packed! The food was wonderful!
I highly recommend this restaurant!
More Things to Do In Capri
I was not able to do all of these activities. However, I wanted to give you some more options.
Giardini di Augusto – Beautiful garden – 1 Euro to enter
Via Krupp – A beautiful path down the cliff located near Giardini di Augusto
Punta Carena – lighthouse hike
Grotto di Matermania – caves to explore
Continuing Your Day Trip to Capri into the Night
The last ferry leaves around 7:15 pm.  You will have to plan ahead.  The main restaurants and shops close up after the crowds go back to the mainland. Most people come to the island during the day because they are on a cruise ship excursion.
We stayed on the island and got to experience what the island is like without tourists everywhere.  It was amazing. We walked the streets and enjoyed our time.
Staying the Night in Capri Italy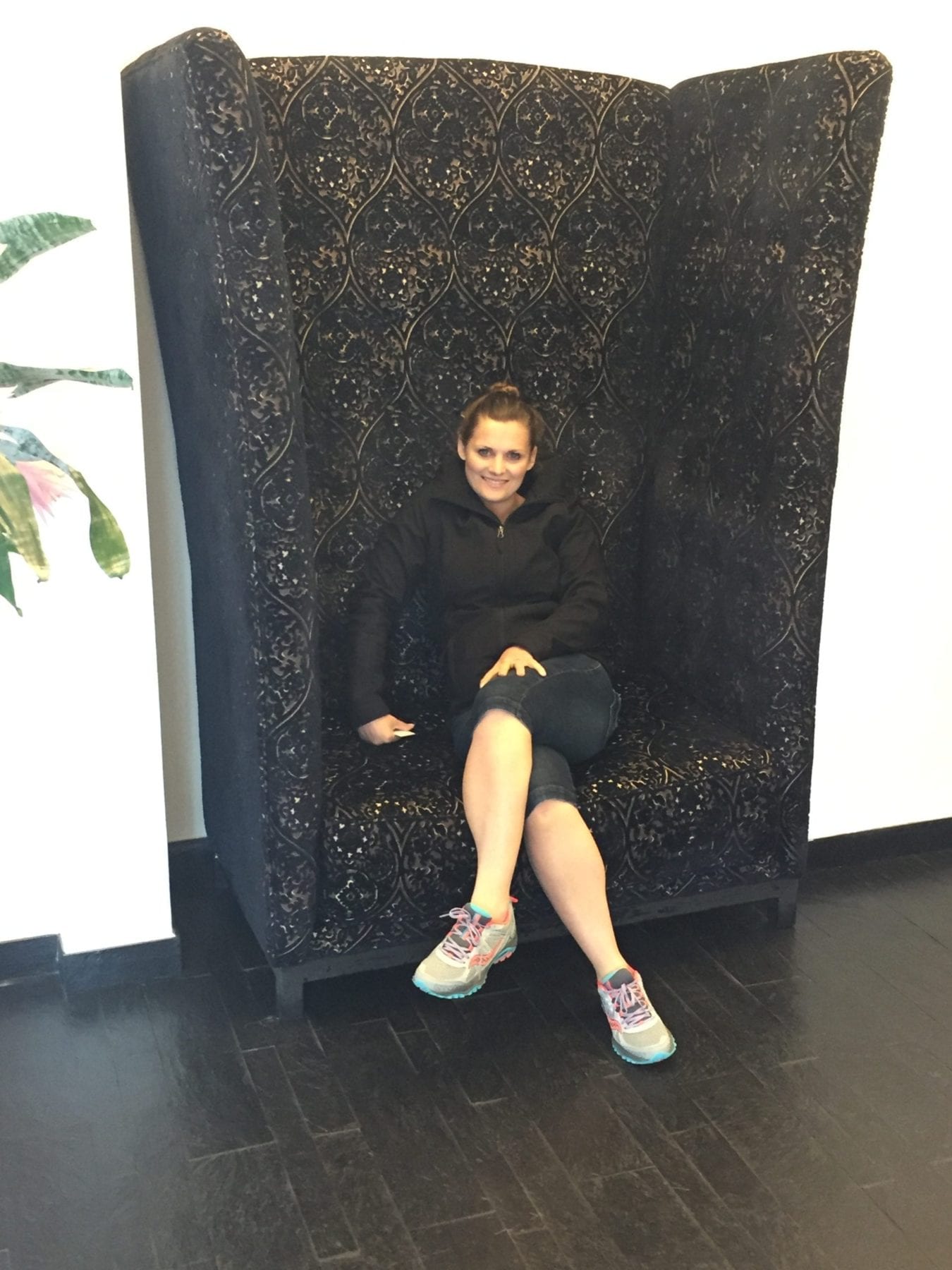 If you need a hotel recommendation, I have one for you! (this is not sponsored) The hotel name is Villa Marina Capri Hotel & Spa. It was the most incredible place we stayed at on our entire trip to Italy.     This is a five star hotel! (American Standards)
The Grounds at Villa Marina Capri Hotel and Spa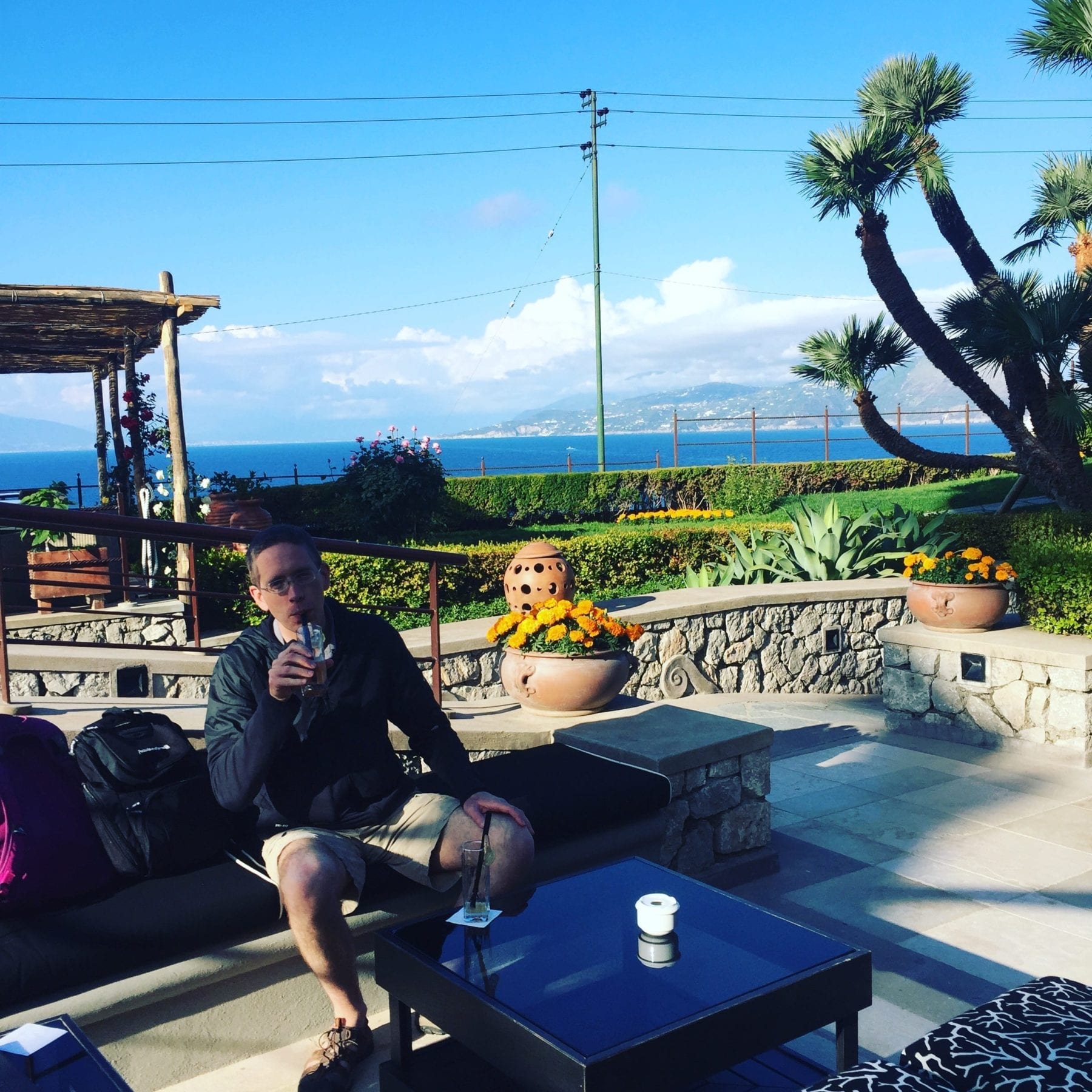 The grounds are beautiful!  Everything is high class.  There are lemon trees all around the property.  The views of the ocean were breathtaking.
Welcome to the Hotel
The minute we walked into the hotel you were greeted with a spa treatment as we waited for our room accommodations.  A welcome drink was also offered to us, but we do not drink so a non-alcoholic drink was provided.
As we were guided to our rooms we were so impressed.  Most hotels in Europe do not have bathtubs or large rooms, but this place was the exception!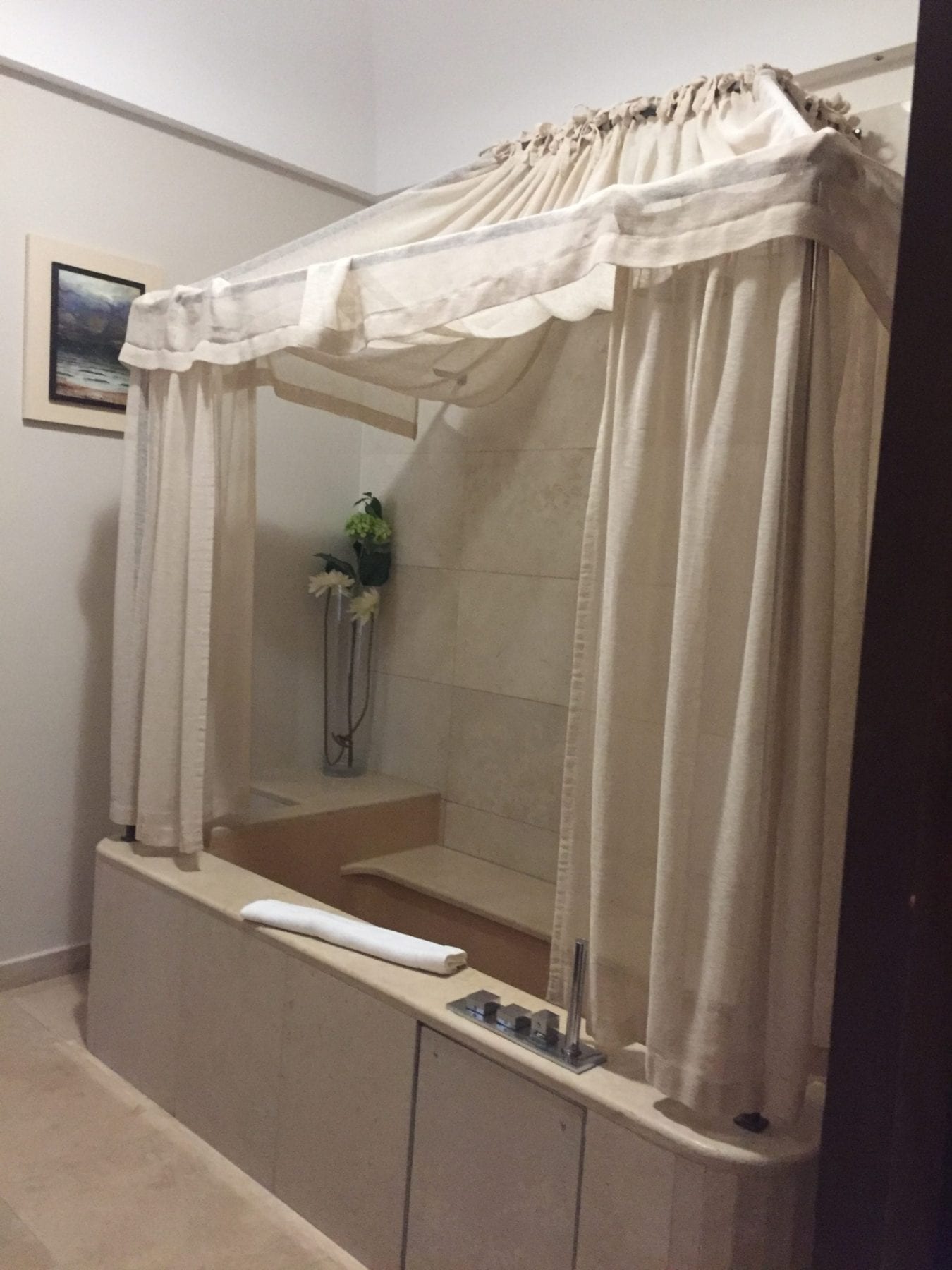 Breakfast was incredible! This European style breakfast offered everything you could ever want and it was included in the price of the hotel.  There was even fresh honey.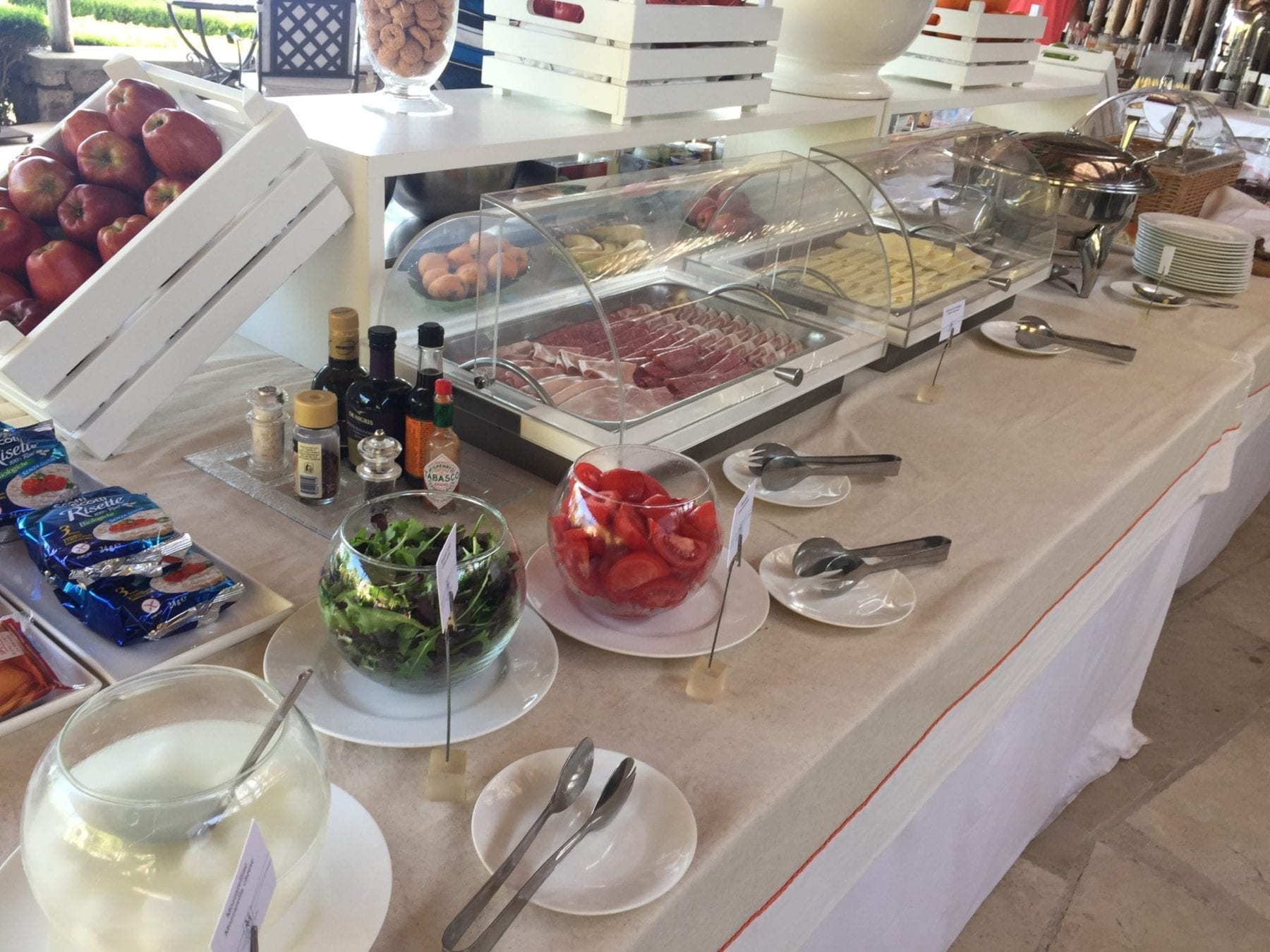 If you do get to stay the night I highly recommend this hotel!  This hotel alone would change my mind from a day trip to Capri to a weekend trip to Capri!
If you are traveling to Italy and want to explore more cities, check out these posts!
Planning your one week in Italy  and including many cities is possible..  We started in Venice with a Romantic Venice getaway. Then headed to Florence, Pisa and Lucca, and Siena.  After visiting Tuscany we headed to Gaeta, Naples, Capri , the Amalfi Coast, and Pompeii.
If you are looking for another reason to visit Italy or some great Safety Travel Tip's for Italy before you travel be sure to check out my other post.
Facebook Community
If you need advice about your upcoming trip join our travel community on Facebook. This group is full of amazing people that will answer any questions you might have.  Join us and we can help! Also, I try to post special deals that companies send me.
Free Italy Guide
Also, if you would like a Free Italy Guide with itineraries and restaurant suggestions sign up! I will email them to you.
Check out my video of How Rick Steve Saved My Italy Trip!
Check out my video of How Rick Steve's Saved My Italy Trip!
Scroll Down and Subscribe