Are you ready to plan a trip to Harry Potter World?
You are in the right place!
Harry Potter World is amazing! There is so much to see and do! If you are a Harry Potter fan this is going to be a dream come true. Even if you are not a big fan, you can still have a great time.
Harry Potter planning can be a little overwhelming!  I am going to show you step by step the best way to get the best deals at Universal Studios Florida – Harry Potter World.
If you like what you see and want to pin this for later click below!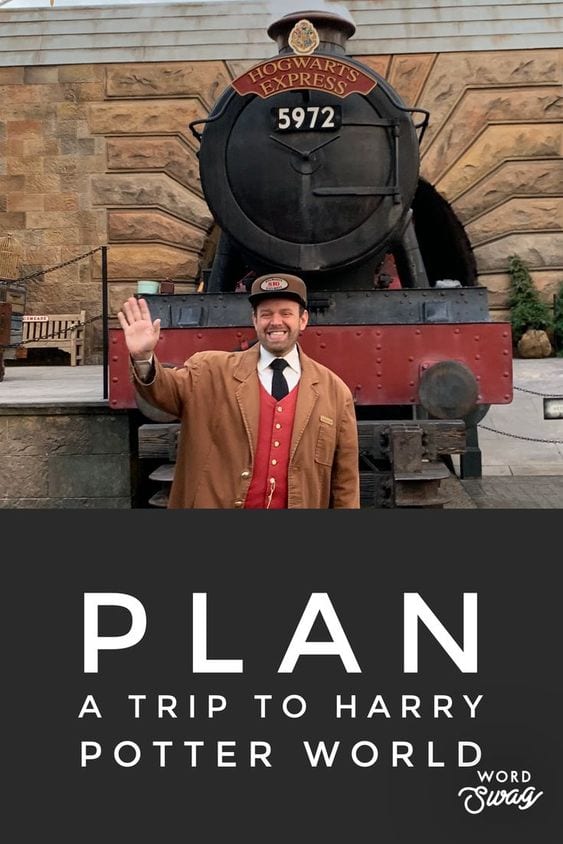 The Best Time to Visit Harry Potter World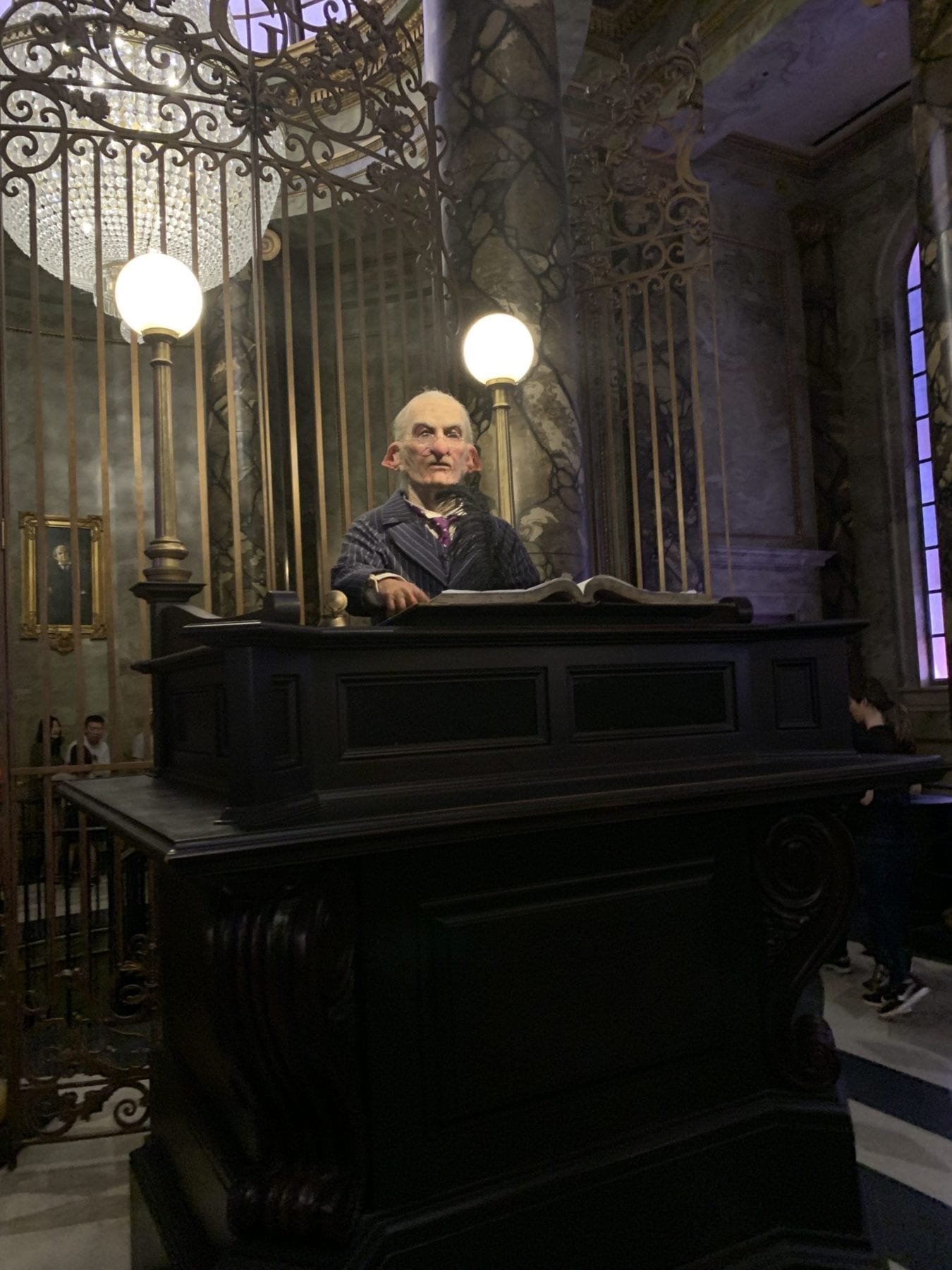 Orlando has certain peak seasons and low seasons.  Usually going when school is in session is going to be less crowded! This is not always an option so I have found that the Undercovertourist has a great Orlando Crowd Calendar. 
This Calendar can really help you know the best time to go!  We have used it many times!
Cool Tip
I learned that the Wizarding World of Harry Potter is not only in Florida and California but there is a location in Japan Check out fellow blogger Faecelinee experience to learn more!  There is also a stand alone attraction in Australia. London also has  the Harry Potter Studios which is more of an amazing museum compared to Universals Theme Park.
Universal Studios Florida - Packages and Benefits
What does a package include?
A package typically includes hotel, tickets, food, and extra benefits associated with staying on property.  This does plan a big role in your Harry Potter planning because if you decide to stay onsite it allows you to get  into Harry Potter World an hour earlier than the park opens.
Hotels
Universal's hotels are really nice.  Just like Disney World, there are different levels: value, prime value, preferred, and premier.
Value Hotels
Benefits at staying at this level is early admission to the Wizarding World of Harry Potter. There is also fun, free, and easy transportation.
Endless Summer Resort
Value is a new category just added in 2019 with the opening of Universal's Endless Summer Resort.  There are two hotels in this category.  Surfs Side Inn and Suites which is currently open.  The second hotel is called Dockside Inn and Suites, which is set to open in March of 2020.
Each room is themed! These rooms also sleep up to six guests, which is a big plus for larger families and groups!  When we planned our trip, a couple of years ago, we were very limited in where we could stay because we had a family of six.  This new hotel will be an awesome addition for families!
Prime Value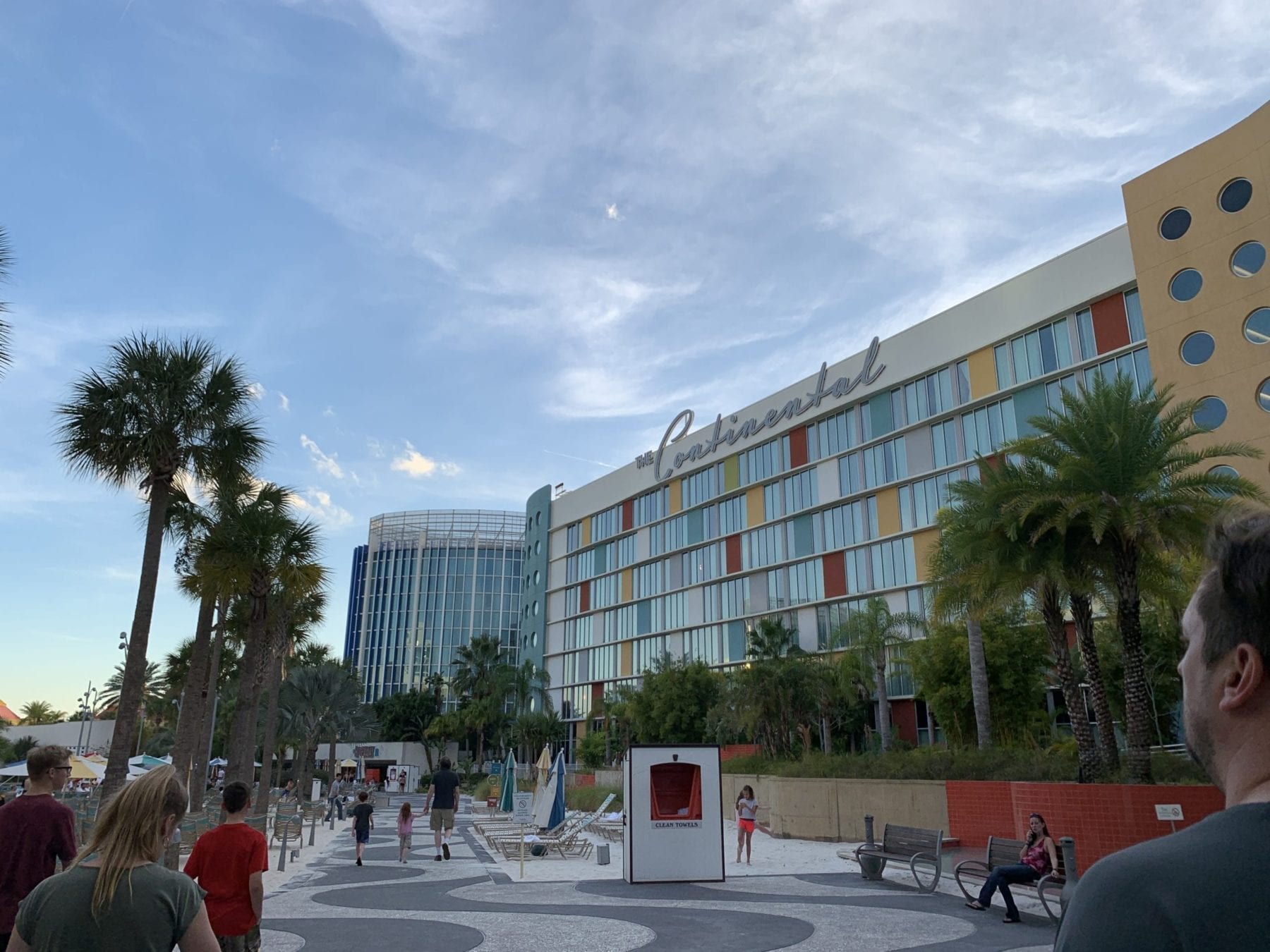 Prime value, like value, gives you early admission to the Wizarding World of Harry Potter, as well as fun, free, and easy transportation. There are also two hotels in this category.
Adventura Hotel
Adventura Hotel is a new hotel, built in 2018.  It is designed to be sleek, stylish, and modern.  It has a great view of all three parks. These rooms are equipped with high tech tablets that control everything in your room!
Cabana Bay Universal's Studio's Florida
Universal's Cabana Bay Beach Resort is a great family option.  It has a very retro theme.  We actually stayed here on our last trip and really liked it.  The room we received was very large to fit a family of six! We really loved the lobby and arcade.
Cabana Bay has a courtyard in the middle, with a 10,000 square foot, zero entry pool, a water slide, and a play area.  Four buildings surround the courtyard. In the front is the lobby with amenities. The other buildings make a "U" around the rest of the courtyard. There is a laundry facility at each building.
Benefits of Staying at Cabana Bay
We stayed at the building on the opposite of the courtyard from the lobby. What we found is that it was a long walk to get places on the site.  So what does prime value give you that value does not?
One thing is location. These hotels are closer to the parks, and unlike the value hotels, have a walking path to get to the parks as well as the shuttle buses. These hotels also offer full-service restaurants, as well as access to kids' camp and spa for additional fees. This is one thing to consider when you are Harry Potter planning.
Cabana Bay also has something to offer that the hotels in this and other categories do not: a lazy river and a bowling alley. It also has a kitchenette option. Pizza delivery is available only at the value level not above!
Preferred
Benefits of preferred start out with most of the same perks as prime value, including early admission to the Wizarding World of Harry Potter, and transportation.
Unlike the first two categories, there is currently only one hotel that is a preferred – Lowes Sapphire Resort.
Lowes Sapphire Resort
Lowes Sapphire Resort has an island paradise feel.  Your will be steps away from the new water park Volcano Bay.  The feel is going to be a little nicer than the value resorts.
The hotel also has a concierge desk, business center, room service at all times.
Premier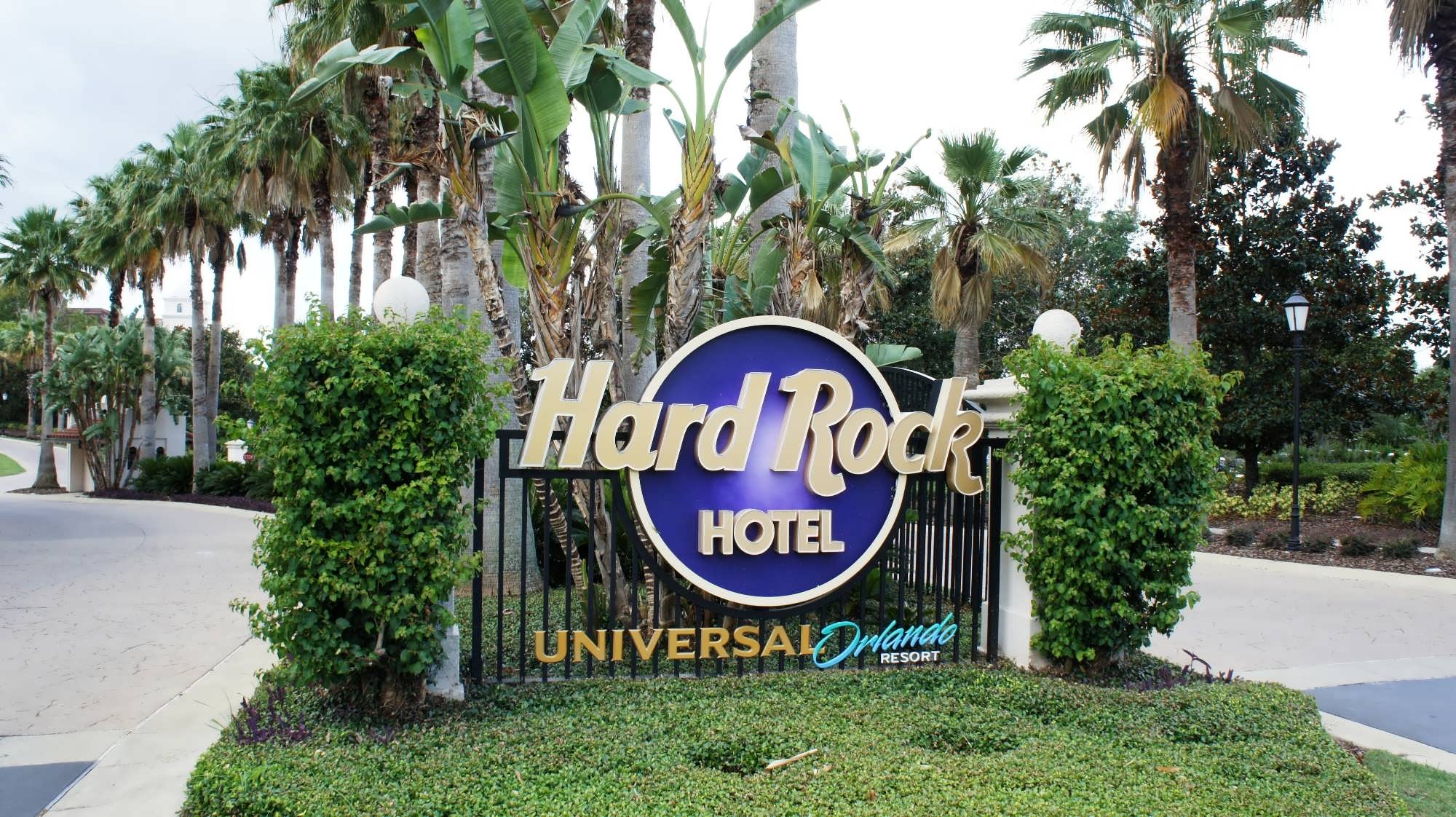 Hard Rock Hotel's entrance area. Image Courtesy of orlandoinsider
Benefits at staying at this level start out with most of the benefits of preferred, An Express Unlimited Pass is included with a stay which gets you to the front of the line on rides at Universal Studios and Islands of Adventure.  All the pools are amazing in this tier.
Lowes Royal Pacific Resort
Lowes Royal Pacific Resort has a South Pacific feel and is the highest tier of hotels that Universal offers. One problem we found is that there are not many accommodations that will fit a large family. If you have a small family and love luxury this is your place.
Hard Rock Hotel
Hard Rock Hotel you can really feel like a rock star. This may be a better option for an adult trip. There is club level offered at this hotel which is a swanky seventh floor elite experience. They offer special food and services throughout the day.  We have stayed club level at Disney before, and if this is anything like what we experienced, you may not want to ever go back to normal hotel stays!
Lowes Portofino Bay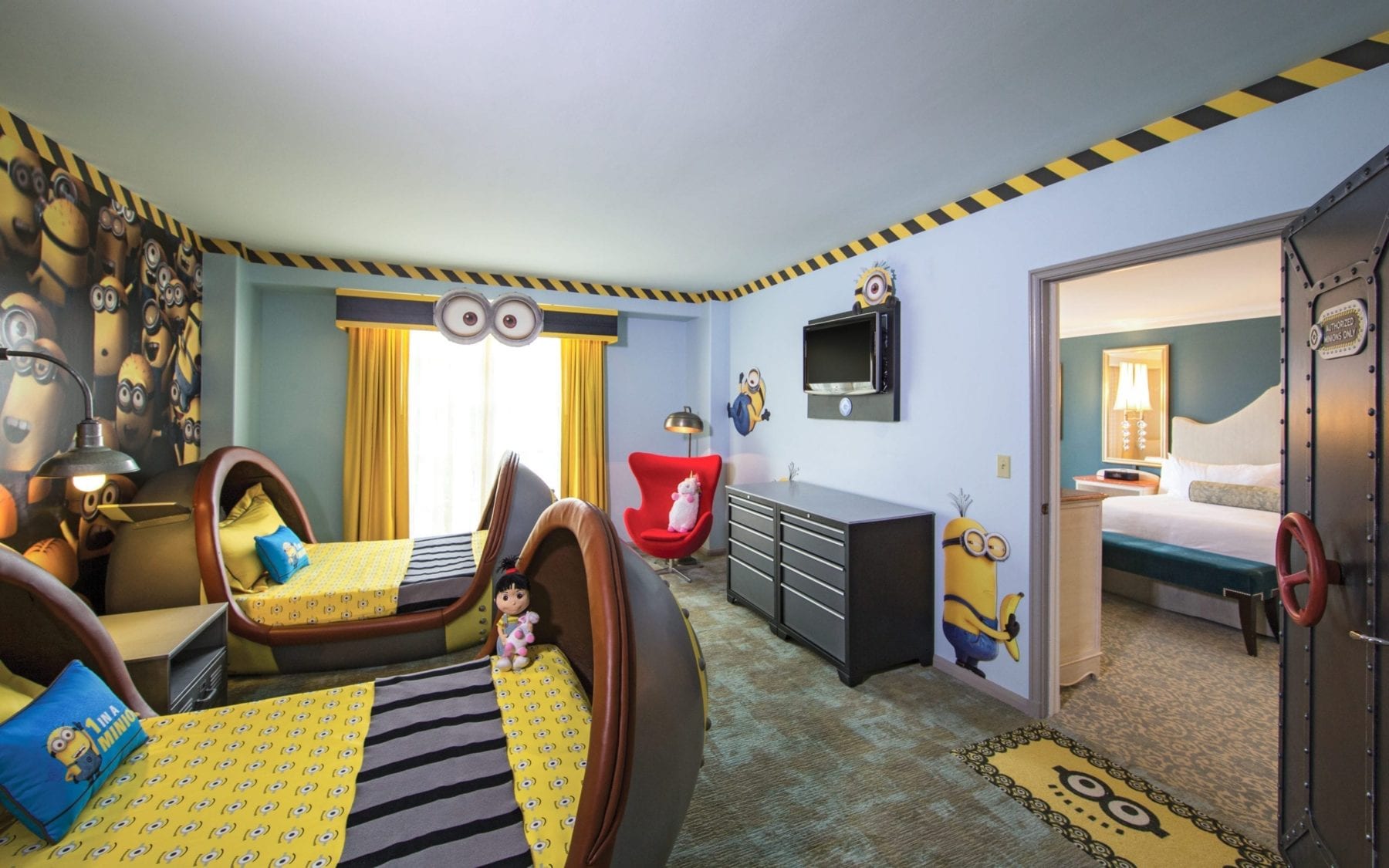 Advertising Resort Shoot. Portofino Bay Hotel, Governatore Suite, Presidential Suite and new Despicable Me Suite. Image Courtesy of Universalnsider
Lowes Portofino Bay has an Italian feel. The views are amazing and is a great high level tier hotel. Weddings and other events take place at this hotel, just to give you an idea of elegance that it holds. Plus, the offer themed rooms that will make your vacation a little extra special.
Overview
Step 1 in your Harry Potter planning is deciding where to stay.  Now that you have an idea of the hotels included in a package, you can decide what fits your personality best and check availability.
I will mention right here that a package is worth it.  The benefit of getting in early to Harry Potter World will save you so much time!  Also, the transportation to the park is a nice bonus as you can avoid the hassle of parking.
You may find cheaper hotels around the Orlando area but the benefits of staying on property is definitely something to consider. Please note that Universal does have a parking fee to have a car parked on site.
Is It Worth It To Stay At A Premier Hotel?
I have not stayed at any hotel other than Cabana Bay Beach Resort, so I can't tell you from first-hand experience if it's worth it.
What I will tell you is that a few years back at Disney World we stayed most of the time at a moderate, and the last night prices dipped and we splurged on a luxury hotel. The pool was amazing. The rooms were great.
The atmosphere was sublime. Maybe someone slipped something in the water, but I have to be honest; it's hard going back. I imagine the same could be said about the hotels at Universal. Maybe ignorance is bliss.
So what hotel do you recommend? Is luxury worth it at Universal Studios? Or do you get more bang for your buck at value and prime

value hotels? I would love to see your comments below!
Ticket Options - How Many Days?
Tip #1
The longer you stay the better your ticket price will be. Universal consistently offers by two days get two or three days free.  So if you get that ticket it averages out to a much lower cost compared to just going for one day!
Tip #2
Harry Potter is in both parks so you have to buy a park to park pass to see both parts of Harry Potter World and to ride the Hogwarts Express.
Tip #3
Just a thought, we were told that we could do all of the parks in one day.  We found this to be false! (We even had front of the line passes, and it was not on a peak day) I feel like two or three days would be much better.
If you are a Harry Potter fan you could easily spend hours between the two parks.  There is so much detail to see.  It really is incredible.
Interactive Wand
Consider getting an interactive wand at Olivander's Wand Shop (there is a location in both theme parks). The wand can be used at Hogsmeade and Diagon Alley in a number of locations. By casting certain spells (i.e., by moving your wand  certain ways as directed), you can make the items in windows, above you, and elsewhere move. It's a great interactive experience apart from the ride, and perhaps is one of the reasons we did not get to all of the rides . . . .
If you like riding rides they have two separate parks full of rides.  Don't forget the water park.  If you are going in the summer this may be essential!
Dining Plan at Universal Studios Florida
Universal Studios Florida does offer a dining plan but, I am going to save you the trouble right now and tell you it is not worth it!
If you are use to the Disney World Dining plan this does not compare.  We would have spent less on purchasing food than what the cost of the plan was.  Plus when I would go into a store most things were not included in the plan such as sweet treats and ice cream.  I personally would not do this again!
If you are determined to get the plan, the official Universal Dining Plan is only offered if you get a vacation package.  There are other quick service plans that you can purchase without a vacation package.
Extra Benefits of Staying On Property

Early entrance to The Wizarding World of Harry Potter
This benefit is so worth it!  Especially, if you are going during a really busy time of year.  We really wanted to do the Olivanders Wand Shop first thing!  It was awesome. Also riding the rides before the lines get long!  So many advantages to that.
Transportation to Harry Potter World
Staying on resort allows you to easily get transportation to all the parks without having to drive your car, park it, and commute to the park.  It is so nice to walk right out of your hotel room and jump on a bus.
Once you get off the bus at the parks, there is an escalator going up, and them moving walkways. The moving walkways went a long way, and you can look out in both directions as the sides were not enclosed. It helped build up the anticipation for us!
There are also water taxi's that run starting 30 minutes before the early hours start.
If you want to drive parking starts at $25, but is free after 6:00 pm except during Halloween time.
Express Unlimited Pass
This pass is a benefit if you stay at a premier hotel.  We wanted to stay at a premier hotel but our family was too big. The main reason was to get this pass for free.  We value our time and patients with kids.  Standing in line with little kids sounds miserable to us.  This pass was worth it! We added it to our package even though we did not stay at the premier hotel.
Advantage of Express Unlimited
So should you get it? Well, when we went we knew we had limited time. We live far away, and we realized the cost to travel back out to Orlando to go to Universal is expensive, and perhaps by more fully utilizing our time while in Orlando, we could save overall.  If we spent a week at Universal, we probably could have been fine without the pass.
Disadvantage of Express Unlimited
There was also one other downside to the pass. You move through the queues extremely fast. I almost wanted to get out of the line at one point so I could wait in line and walk slowly through Hogwarts to take it all in.
Well, almost. I'll be honest. I loved that ride so much, that maximizing the times I could do it was so worth it!  Please note that the pass has variable rates, so the more crowded it is, the more you are going to have to pay.  I hope that helps your Harry Potter Planning!
Food at Harry Potter World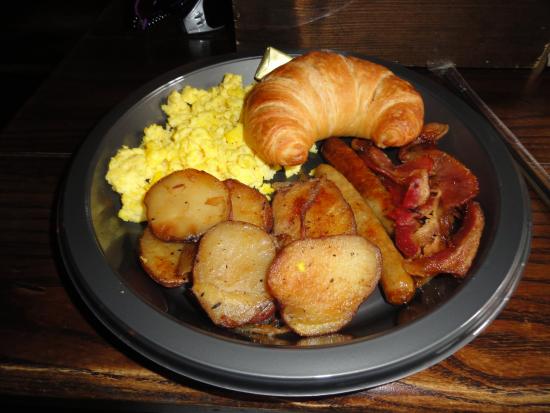 What is a theme park without food? Okay, you may be a diehard that brings your own food. (Trust me, been there done that with PB&J, goldfish, and even Pop Tarts.) And maybe Cabana Bay Beach Resort with a kitchenette is all you need.
Harry Potter Worlds Restaurants
But if you want to experience the food at Harry Potter World, you primarily have two choices for meals: The Three Broomsticks in Hogsmeade, and the Leaky Cauldron in Diagon Alley.
Leaky Cauldron
We have been to the Leaky Cauldron. It was a so-so atmosphere for us. It felt like we were in an assembly line until we got seated. The menu was okay, but seemed limited. For our kids that thrive on chicken nuggets and fries (I know, parents of the year), fish with those chips and cottage pie just didn't do it for them.
My husband and I thought the food was okay, but saw the rides and the villages and stores as the highlights. Keep that in mind in your Harry Potter planning!
Treats at Harry Potter World
Okay, now we liked the treats. Chocolate frogs, butter beer, fudge . . . yum yum yum. Frozen butterbeer, hot butterbeer, cold butterbeer. We tried it all, including butterbeer fudge (but did not get around to the butterbeer ice cream, if they had it when we went). All of it was wonderful!
Different family members had different preferences, but we were really glad to try different things and share them. For Harry Potter fans, this helps you breathe in the world that you love so much.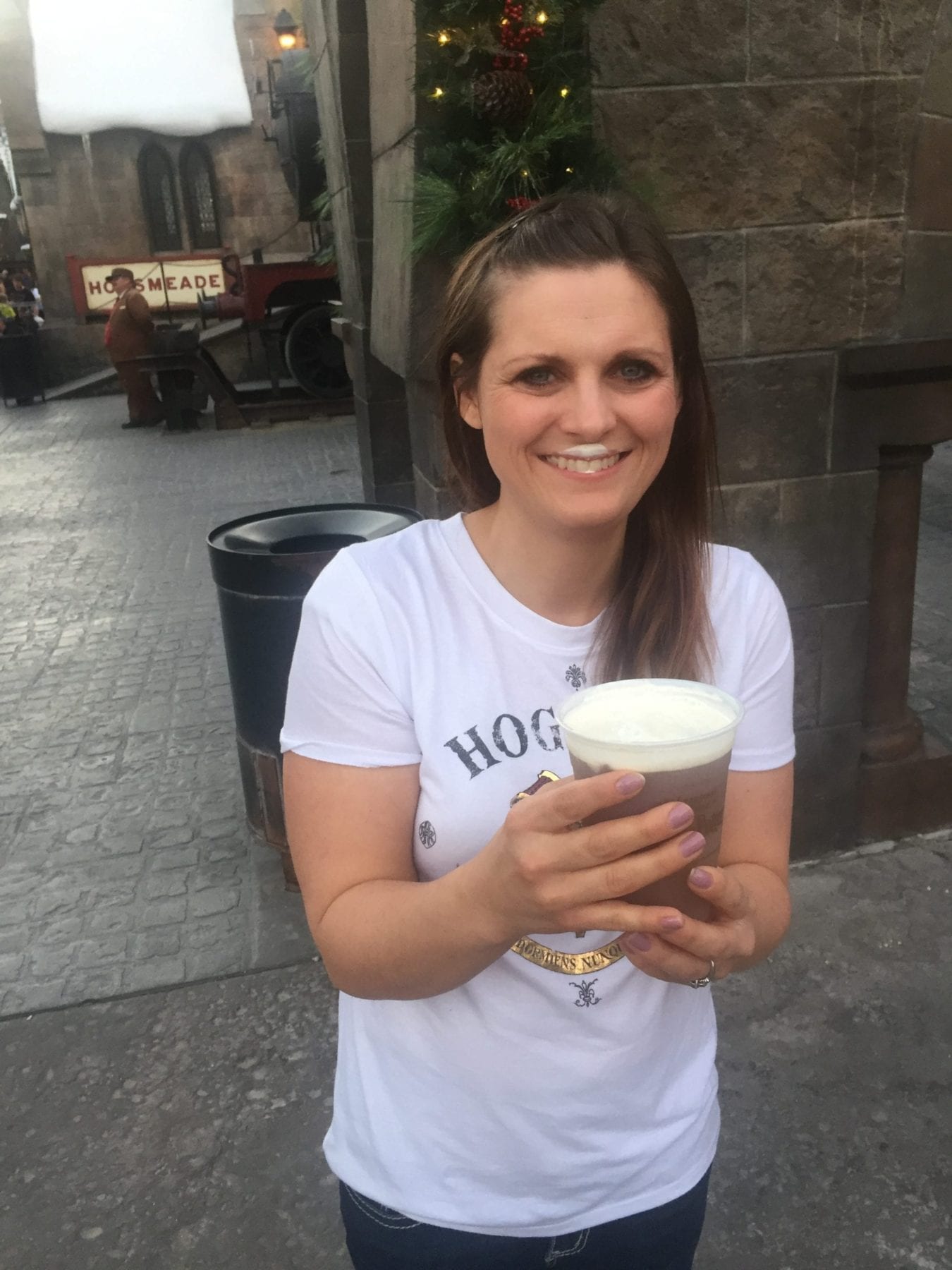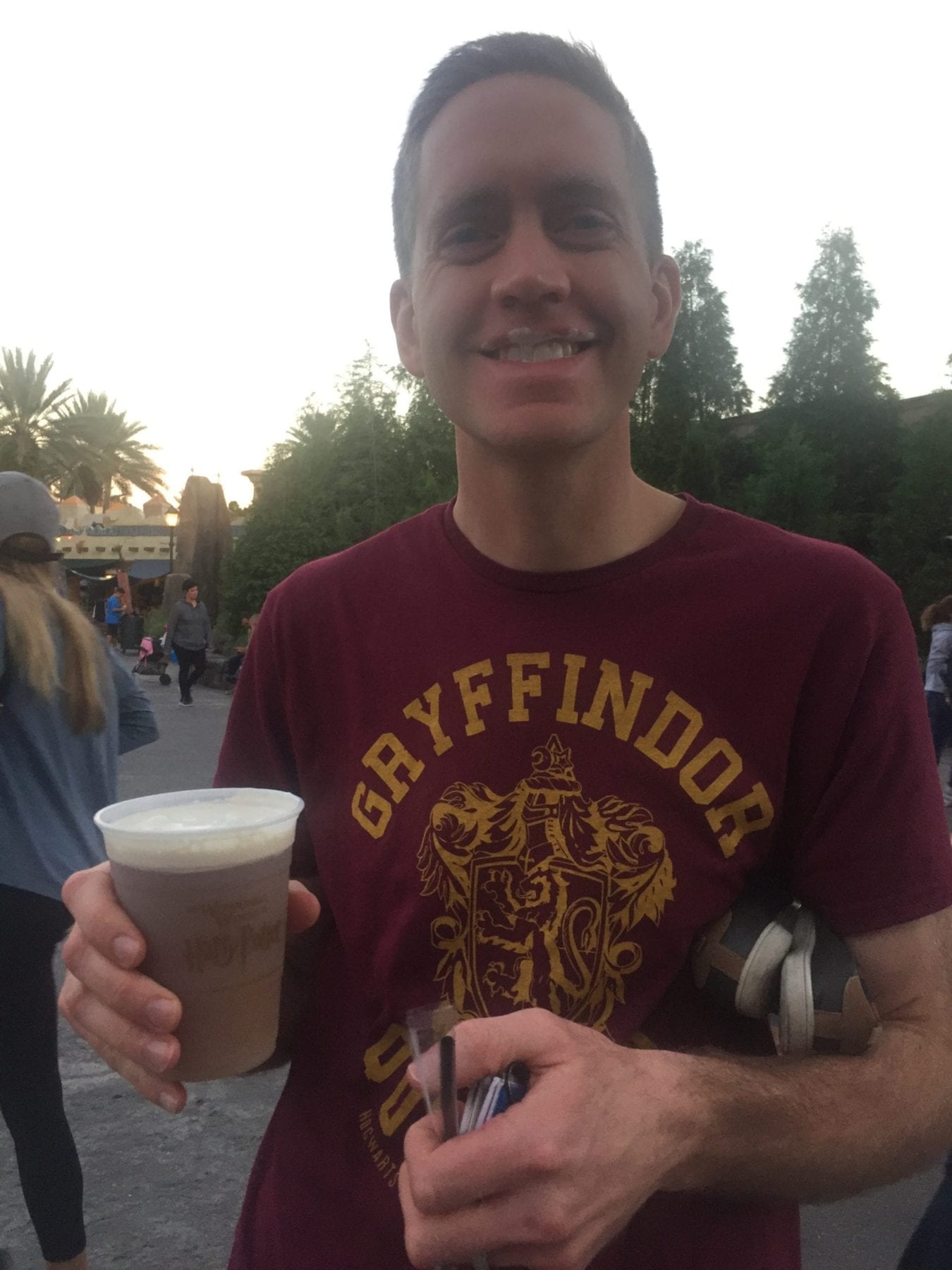 Hogwarts Express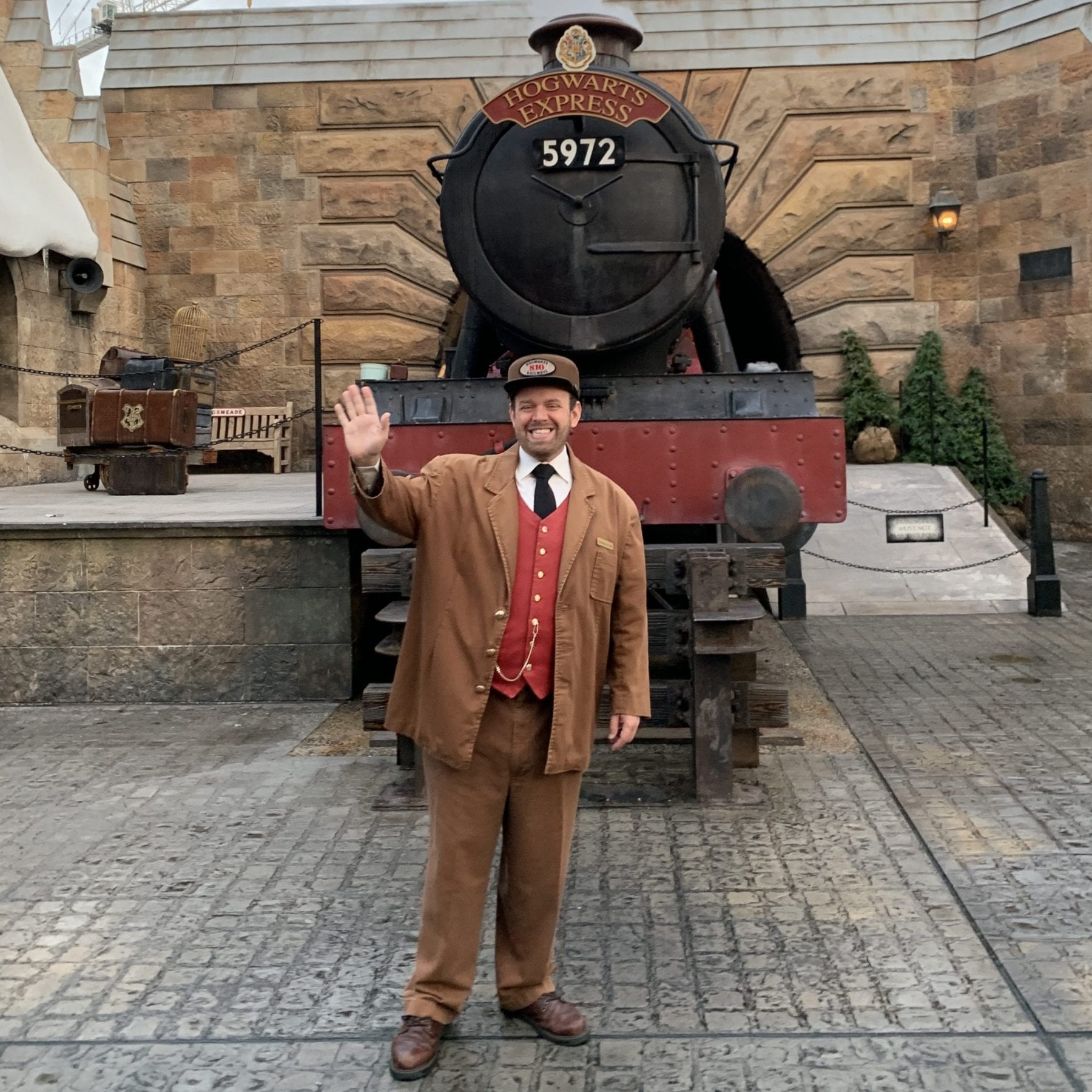 So you need the park hopper to do the Hogwarts Express. Is it worth it? We thought so, but we see three keys that helped in this success:
 We didn't have to wait in line too long. This helped as we wanted to wait in line for rides.  You can call this a ride, but once you've ridden it once, it's a transport (though you see different things out the window depending on what direction you're going).
 We had limited time at Universal. So the park hopper, coupled with the Express Pass, helped us get more in. Please note that you can't use the Express Pass for the Hogwarts Express.
We're fans. Sitting in the train that we've read about and watched in film was pretty cool, especially the first time.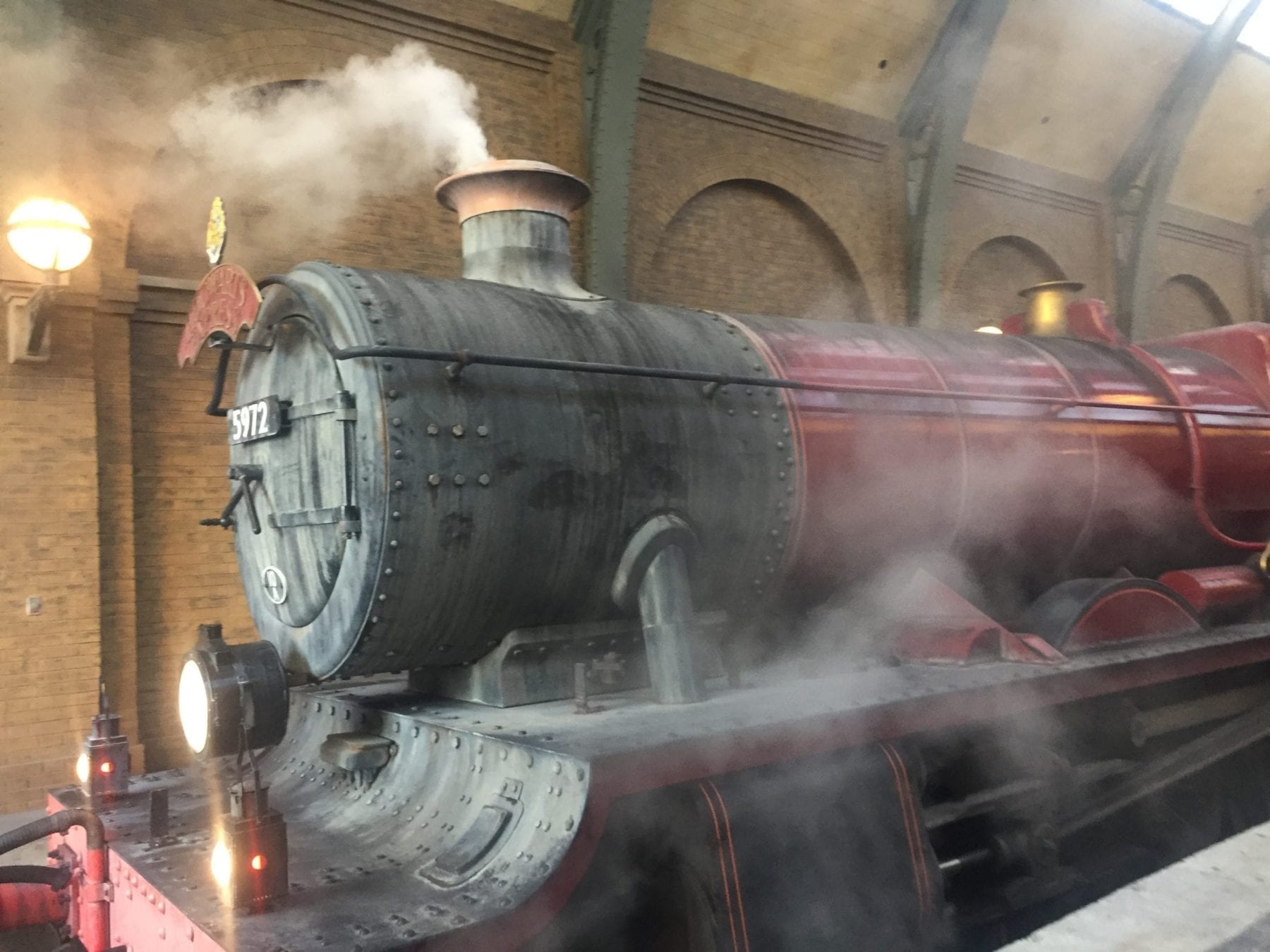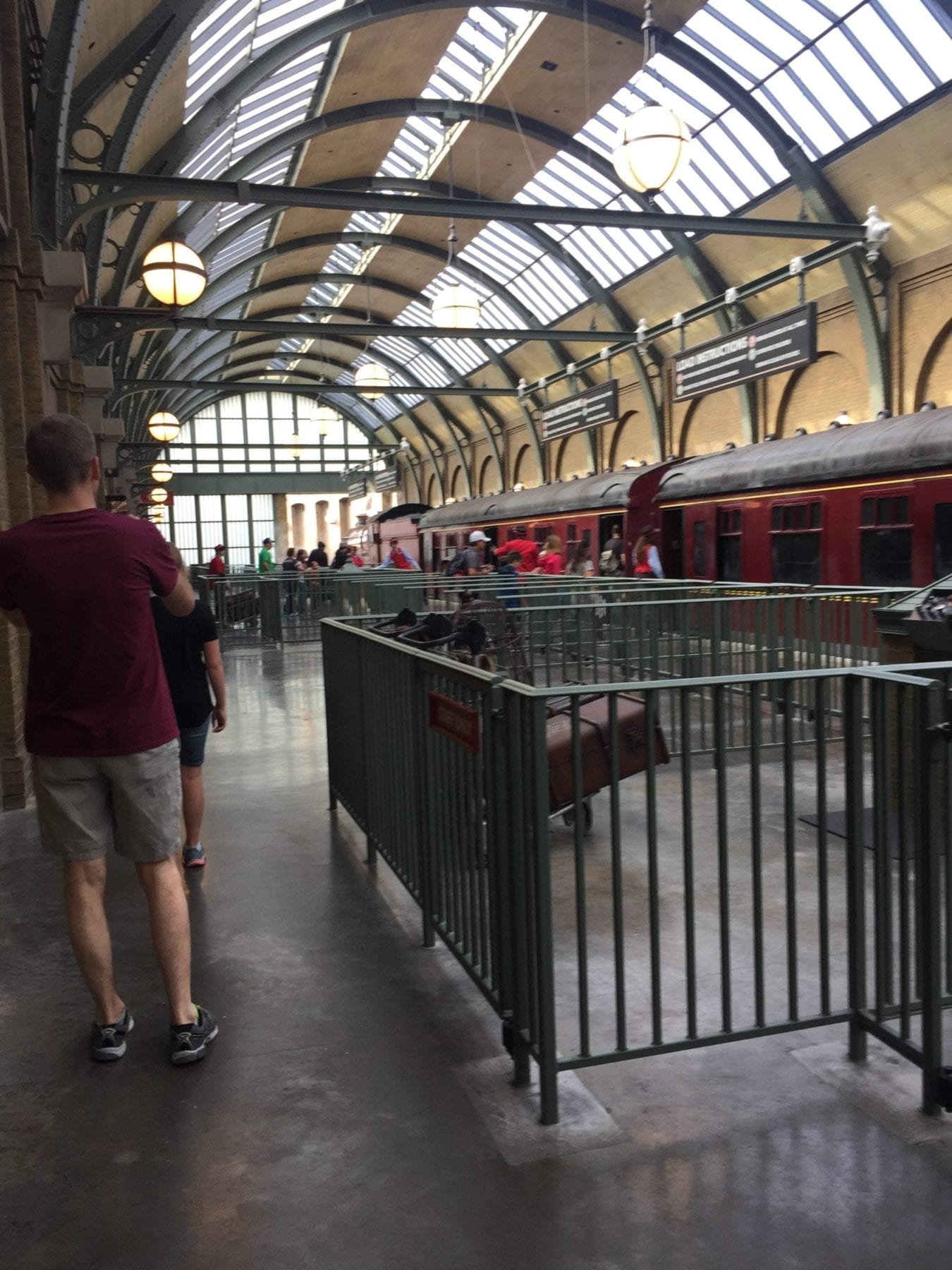 Shows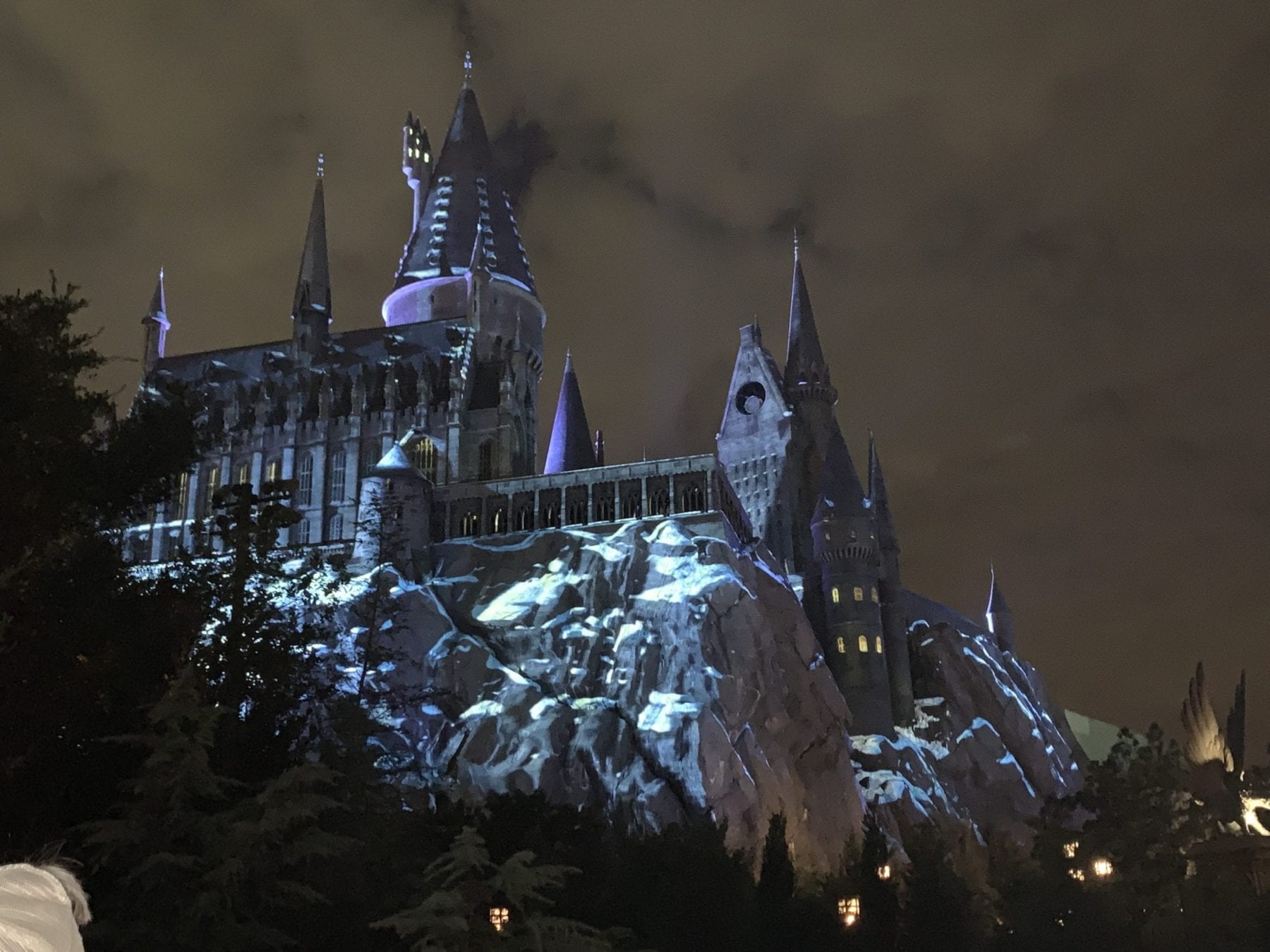 We liked the Harry Potter shows, although we were not overwhelmed. The Tales of Beedle the Bard is a puppet show. The puppets; amazing. The puppeteers; amazing. At least for the parents. The kids liked it but I don't think they appreciated the artistic elements as much. There is also a Frog Choir.
And finally there is a lights show projected on the walls of Hogswarts. We found the later show was more manageable the time of year we went, but it is still very busy. You may want to ask ahead what place is the best to stand to see the show.
Hogsmeade VS. Diagon Alley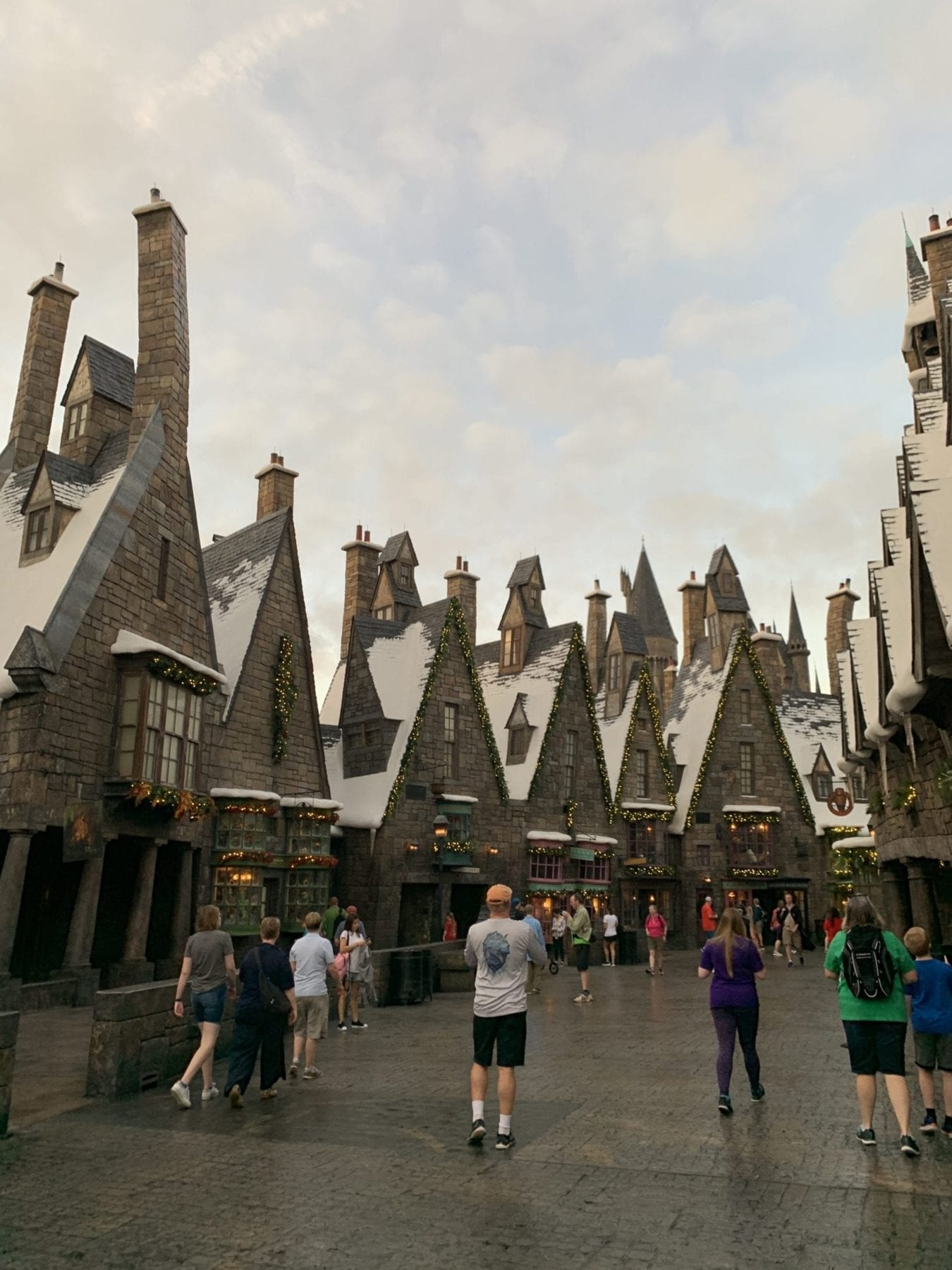 What Harry Potter Park Should You Start With?
So if you only have time for one park, or you are planning what park to spend the most time in, you may be wondering which is better for Harry Potter. Well, both have great things to offer. We found the layout of the Diagon Alley to be more immersive. When we arrived to the park via the Hogwarts Express, we couldn't tell at first how to enter Diagon Alley. The wall dividing the two worlds" actually did a great job.  This is in contrast to Hogsmeade where you walk up the entrance without really anything exciting.
The colors of some of the buildings, the liveliness of the area, the fire breathing dragon, Weasley's Wizard Wheezes; all good stuff!
We did find parts of Diagon Alley too dark. It made it difficult to see what we were doing with wands.
Rides at Harry Potter World
Of course the two areas boast different rides. Now with Hagrid's Magical Creatures Motorbike Adventure, we see Hogsmeade as the clear winner. (But as a personal preference, I've always loved Harry Potter and the Forbidden Journey over Escape from Gringotts.)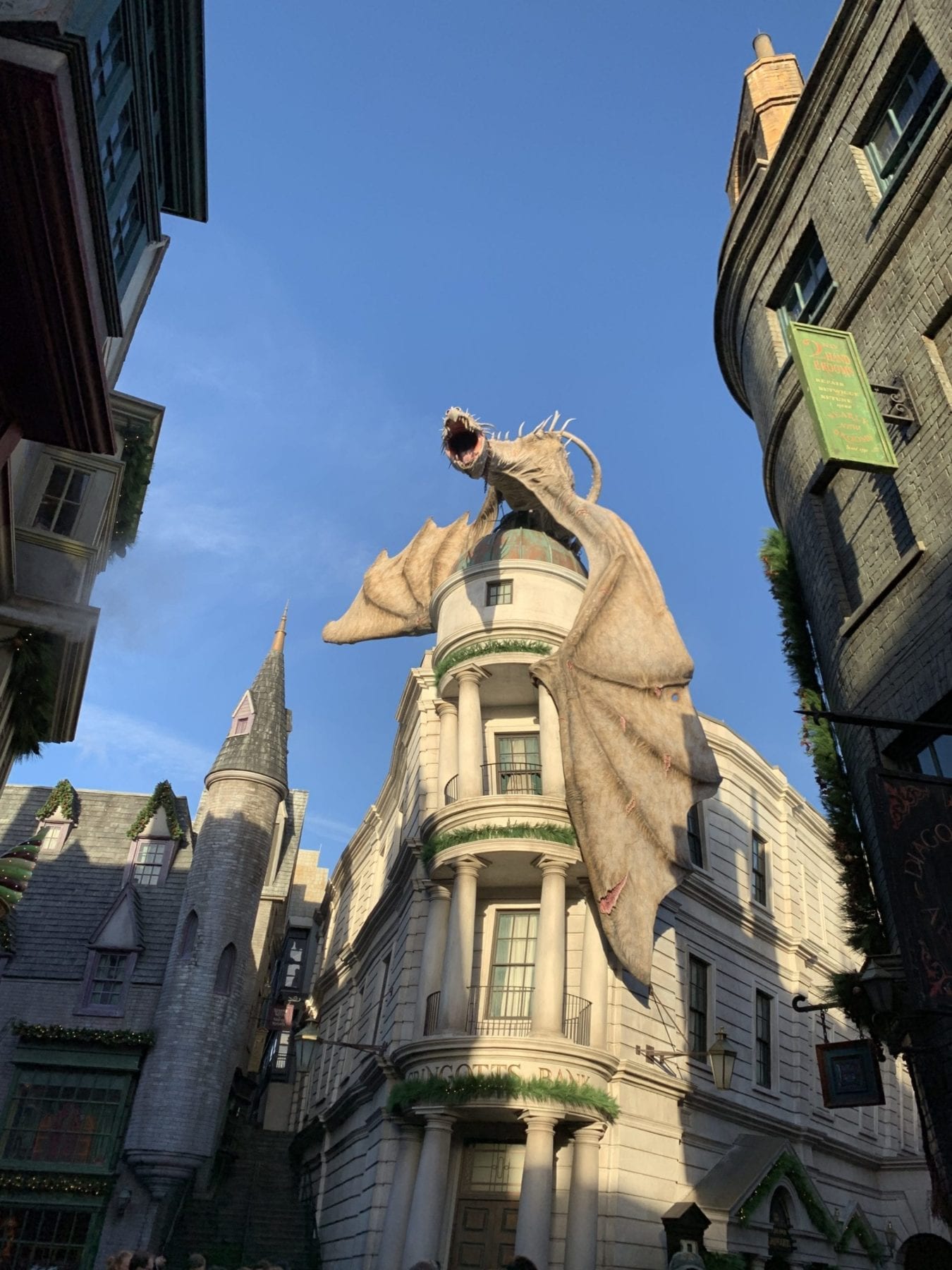 Harry Potter Planning Complete!
Hopefully, this post has given you enough information to get you set!  You will have a fabulous time!
If you have any question when planning your trip come join me in my private Facebook Group.  
This group is a place where you can ask any question about your upcoming trip and help others plan their trips.  It is also a place where I put travel deals.  I am not a travel agent. I just blog for fun.  If I see a good deal I will send it your way but you have to be in the group to see these offers!