Are you ready to plan a Harry Potter London vacation?
Awesome! I'm excited to share with you everything we learned when we went!
The most exciting part of our trip was the Warner Bros. Studio Tour – The Making of Harry Potter. I will make sure you know everything there is to know before you go! Then we will highlight all the amazing Harry Potter things to do in London.
All of this will help you plan a Harry Potter London vacation!
If you would like to save this for later be sure to Pin this to Pinterest!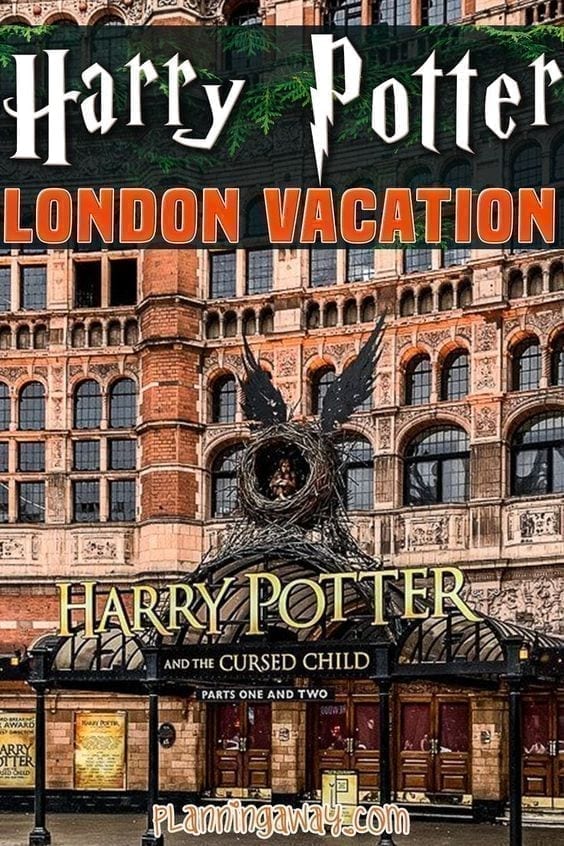 This post may contain affiliate links that will give me a commission at no additional charge to you.
Plan a Harry Potter London Vacation!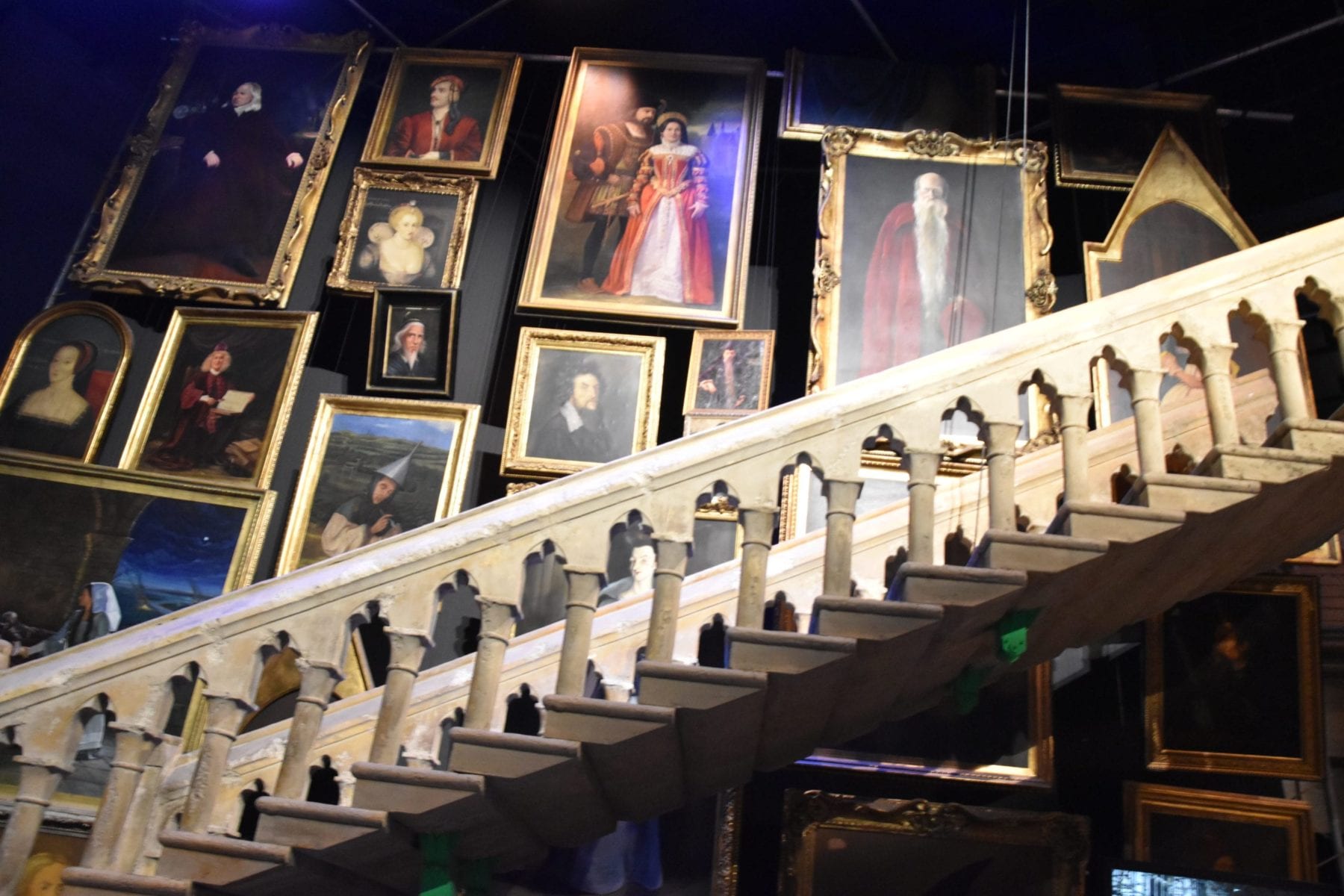 The suggestions I make do not have to be in any order. This is more of a guide to help you know what options you have and how many Harry Potter things to do in London there are.
How to Prepare for Your Harry Potter London Trip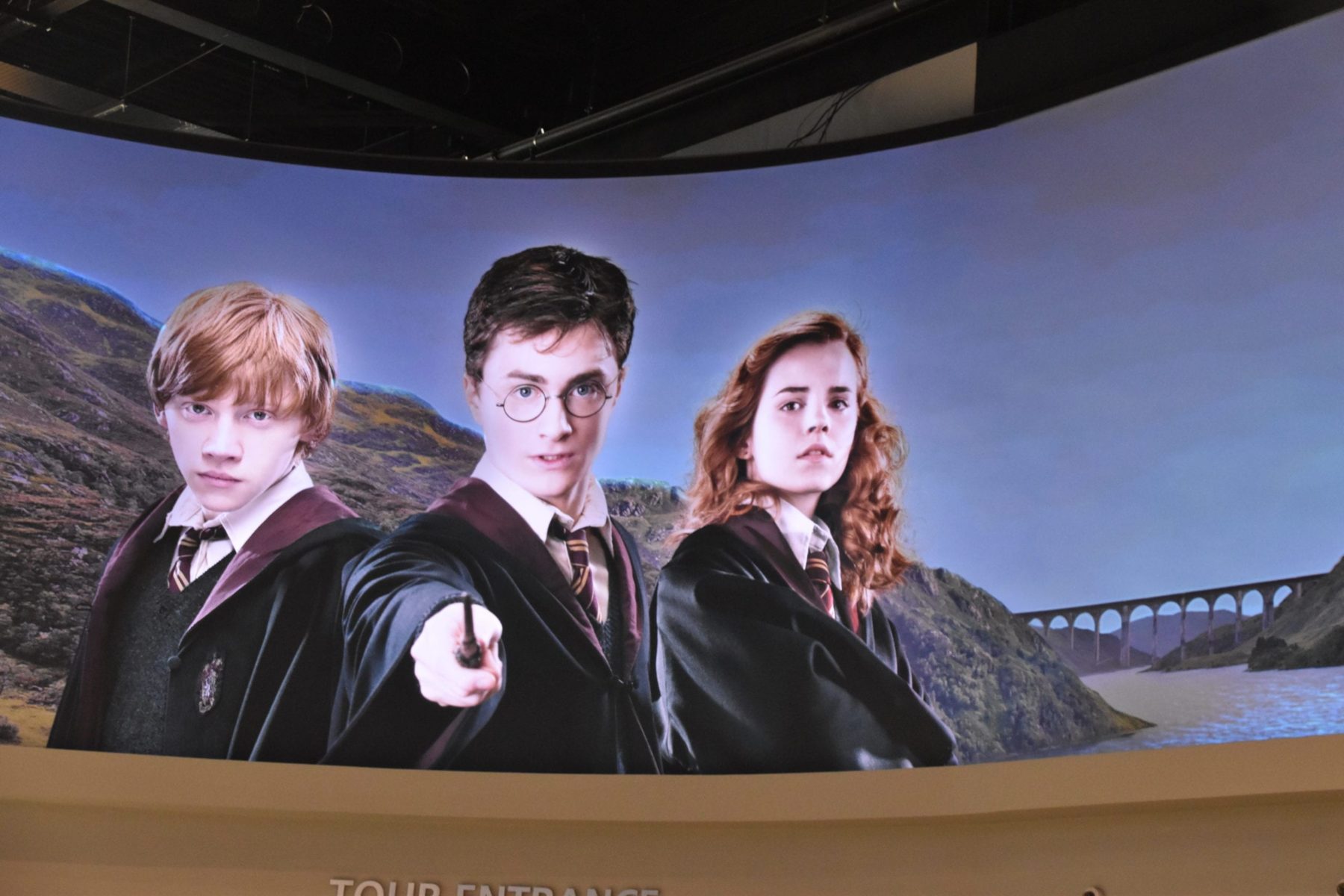 I have a few suggestions on what you need to do before you go on a Harry Potter London trip.
Book Your Tickets Early
Harry Potter and the Cursed Child
Read or Listen to the Books
If you know you are going on a Harry Potter London trip be sure to review the master piece that started it all! This will help you have a better appreciation for all the details that you see on your tours.
Watch the Movies
This might take a while but watching the movies will really help you appreciate the Harry Potter London Studio Tour. You will recognize everything you see on the tour and be able to recall exactly when in the movie it was used.
Jump on to Pottermore
Pottermore is a website that is especially for Harry Potter fans. My daughter frequents this page all the time. If you want to be sorted into a house before you go this is where you would do it.
You will want to know which color of scarves you need to buy when you head to the gift shops!
Buy Harry Potter Shirts
Target is much more affordable than some of the souvenir shops in London. We were able to find really cute Harry Potter shirts before we went on vacation. Check your local stores before heading on your Harry Potter London trip.
Harry Potter Accommodations in London
There are many places to stay in London but if you are looking for one of the coolest Harry Potter things to do in London staying at the Georgian House Hotel is at the top.
They have Harry Potter themed rooms which are big enough for large families. Also, wizarding experiences are available such as potion making and a wizard afternoon tea.
We did not get to stay on our last trip but I wanted to mention it if you are interested. It is expensive but I think it would be worth it for a Harry Potter fan.
Warner Bros. Studio Tour - The Making of Harry Potter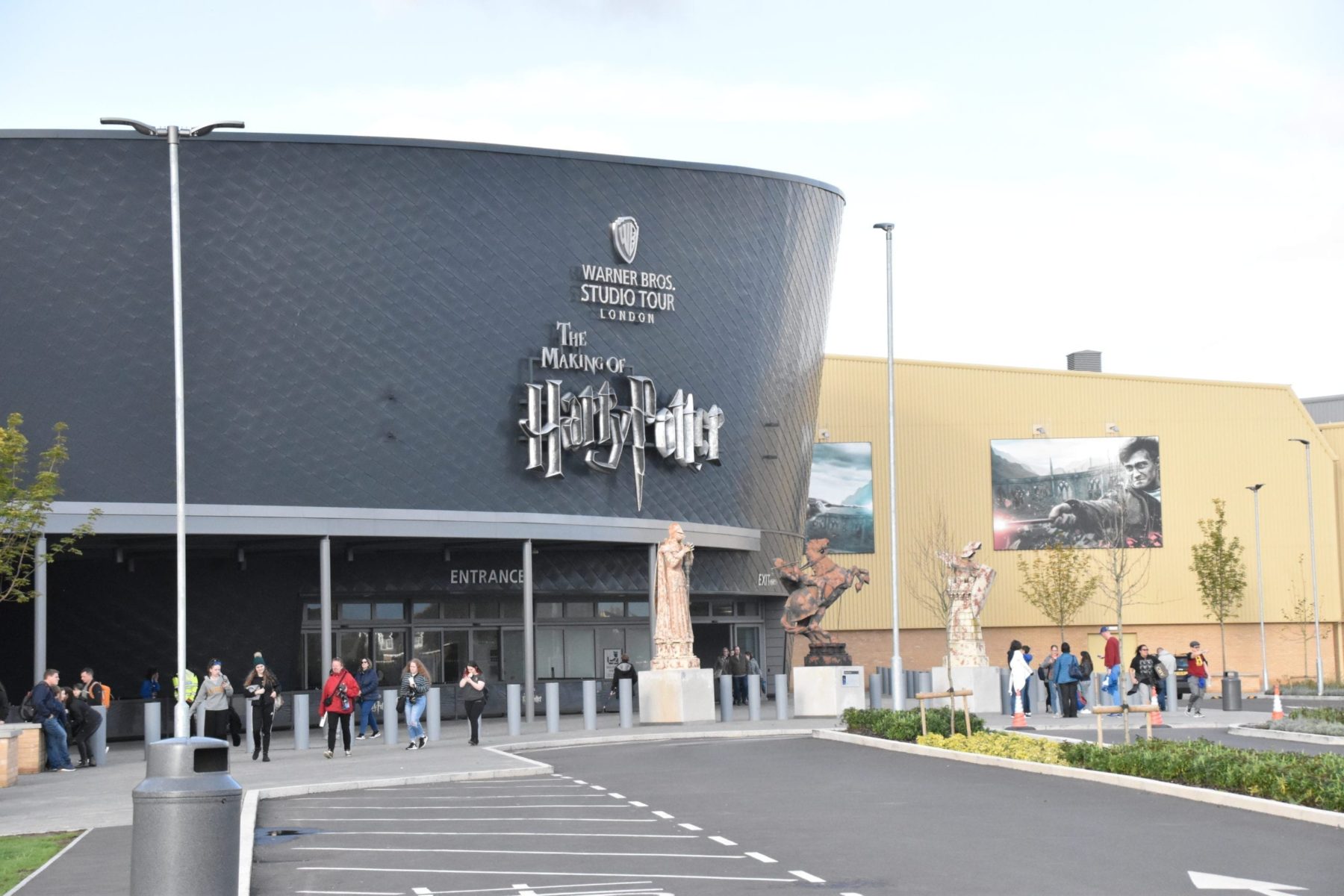 Coming from America, I was very aware of Universal's Harry Potter World in both California and Florida. There are also locations in Japan, Beijing, Singapore, and Australia! (They are on my list.) However, at the top of my list was the Harry Potter Tour in London.
Being the Harry Potter fans that we are we knew planning a Harry Potter London vacation was a must! Unlike Universal's Wizarding World of Harry Potter, London has the Warner Bros. Studio Tour – The Making of Harry Potter.
What is the Difference Between Universal's Harry Potter and Warner Bros. Studio Tour – The Making of Harry Potter?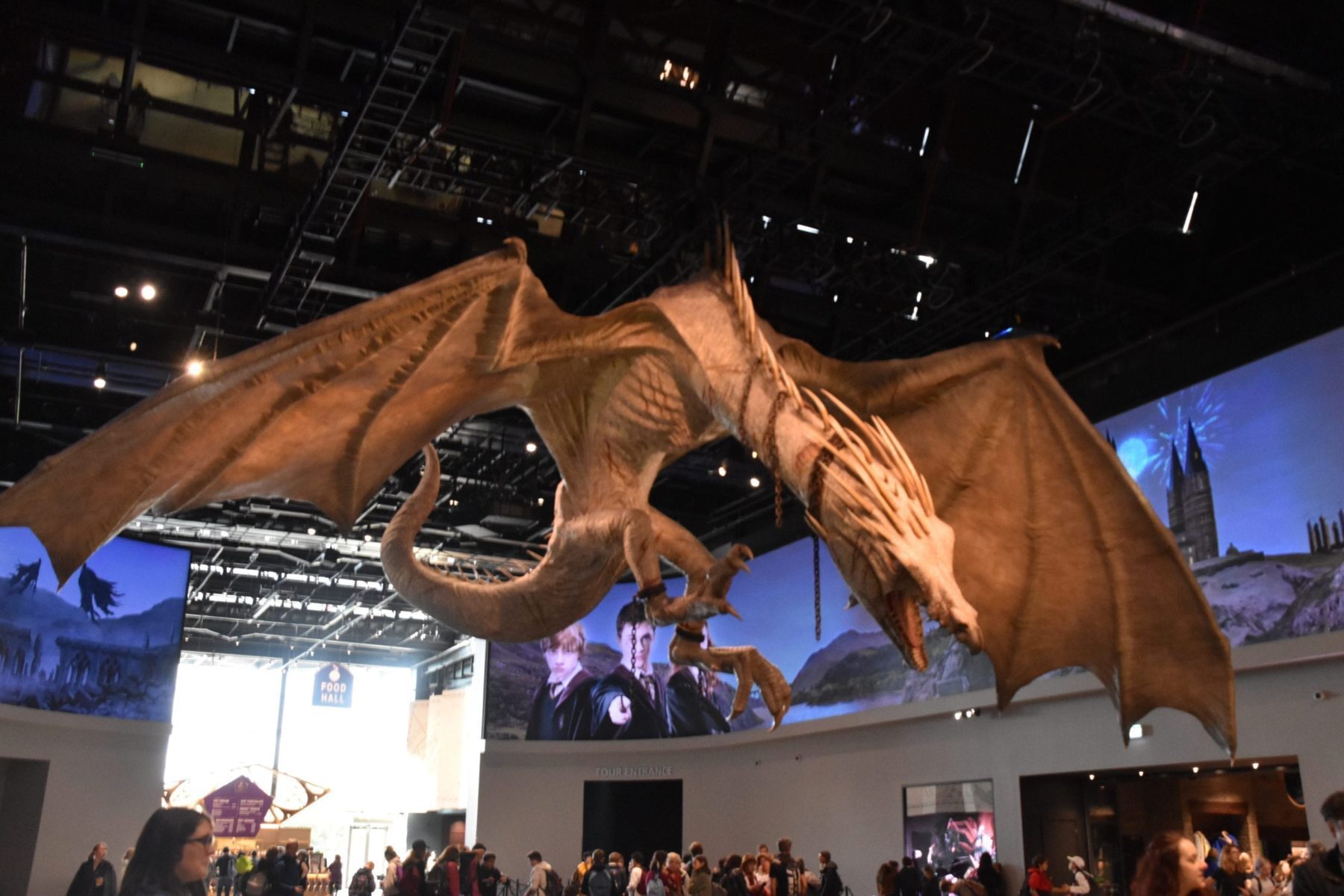 Universal Studios is an amusement park which includes the Wizarding World of Harry Potter. There are roller coasters and restaurants. The shops and re-creation of Hogsmeade and Diagon Alley feel like you are really in the Wizarding World of Harry Potter.
The Warner Bros. Studio Tour is different! It is not an amusement park. It is more like an incredible museum full of everything that was used in the movie. There are some interactive areas were you can fly a broom or take pictures with the actual sets.
If you are a Harry Potter fan, both are incredible experiences but they are different from one another!
Now that you know the differences, let's add the Harry Potter Studio tour to the itinerary and plan out the details!
How to Get to Warner Bros. Studio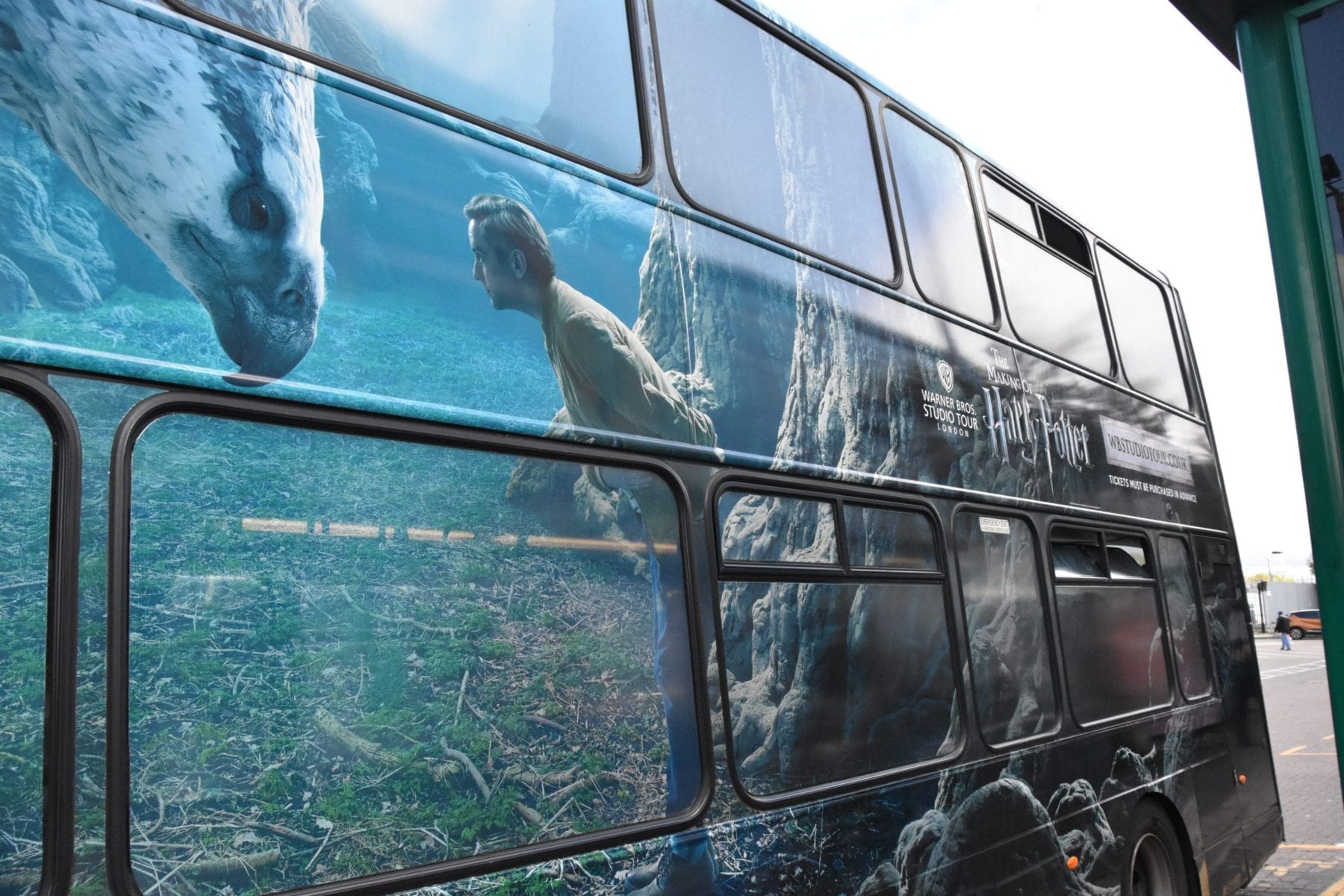 If you are staying in London the easiest way to get to the Harry Potter Studio is to take the tube. (Driving wouldn't be easy for me because of the driving on the opposite side of the road thing.)
Depending on where you are in London there are two stations that have direct transportation to Watford Station which is where you will get off. Eustan and Birmingham New Street have a direct line.
Once you get off at the Watford Station you will take a bus to the Harry Potter Studio. There is a small fee to ride the bus. Don't worry, this bus is specifically for the Harry Potter Studio and is not a city bus.
Tickets for Harry Potter Warner Bros. Tour

Do I Need To Purchase Tickets In Advance?
Yes. Like I said before, this is really important. As soon as you know what date will work, book your tickets to assure your spot.
How Much are Tickets?
Adults: 47 pounds
Child: 38 pounds
Family: 150 pounds
How Many People Does a Family Ticket Cover?
2 adults + 2 children or 1 adult +3 children
Can I Alter the Dates of the Ticket?
Yes, you can change your date, but there is a 10 pound administration fee to do so unless you are sick.
Pro Tip
Book tickets ahead of time! You need to reserve your day and time spot ahead of time. We booked our tickets about 2 months before our trip.
The morning times were not available even that far ahead of time. I suggest you buy your tickets as soon as you have booked your flights.
Harry Potter Studio During COVID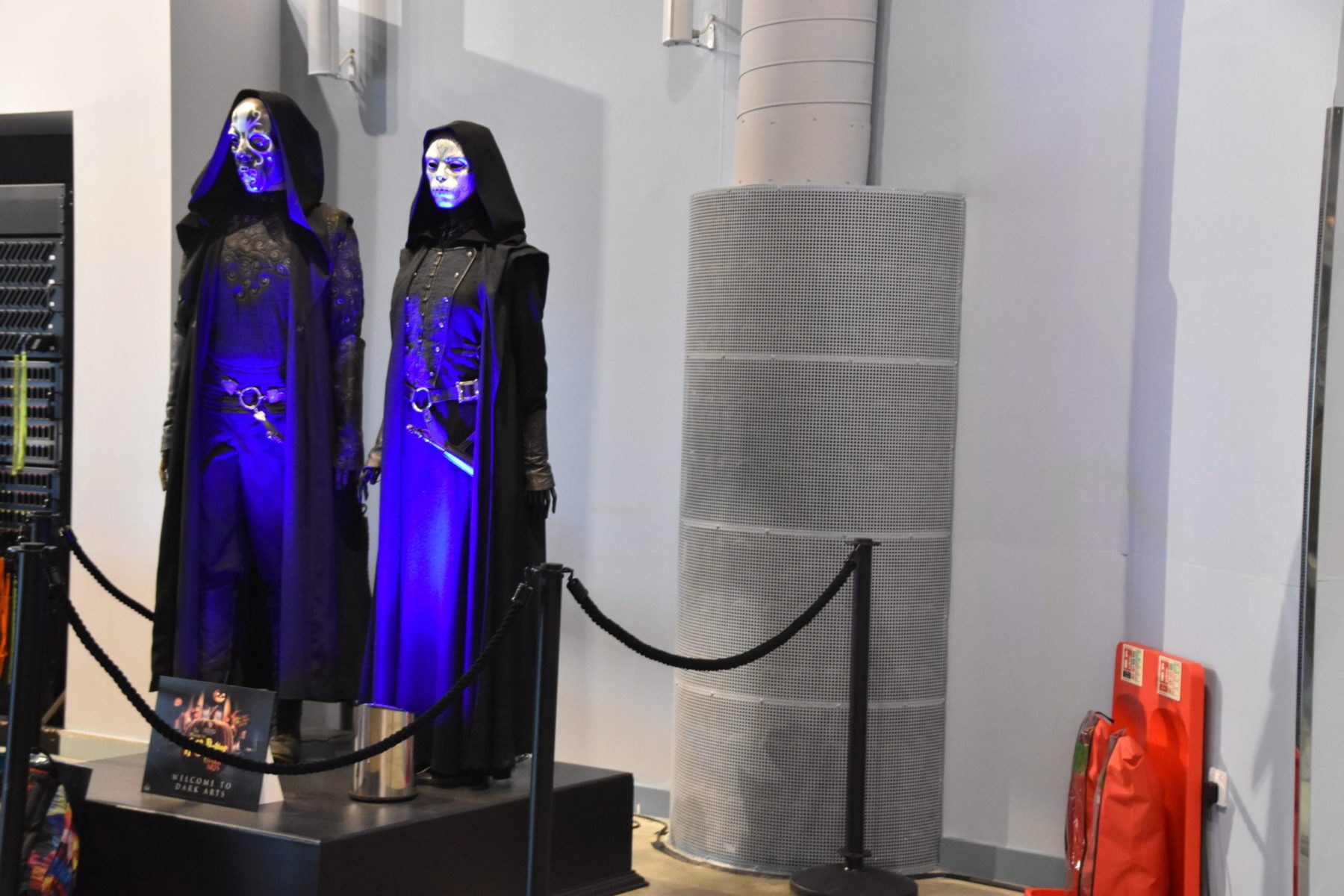 The Harry Potter Studio has put some COVID-19 measures into place to ensure that you are safe.
Mask must be worn if you are 11 years and older. Except when dining at the restaurants.

Limited tickets for each time slot are being sold to ensure the ability to social distance.

Dress up robes for the flying experience will not be provided so you will need to bring your own.

Hand sanitizer is available throughout the tour.

Cleaning procedures are in place.

Luggage storage is not available at this time.
How Much Time Should I Spend at the Warner Brother's Studio Tour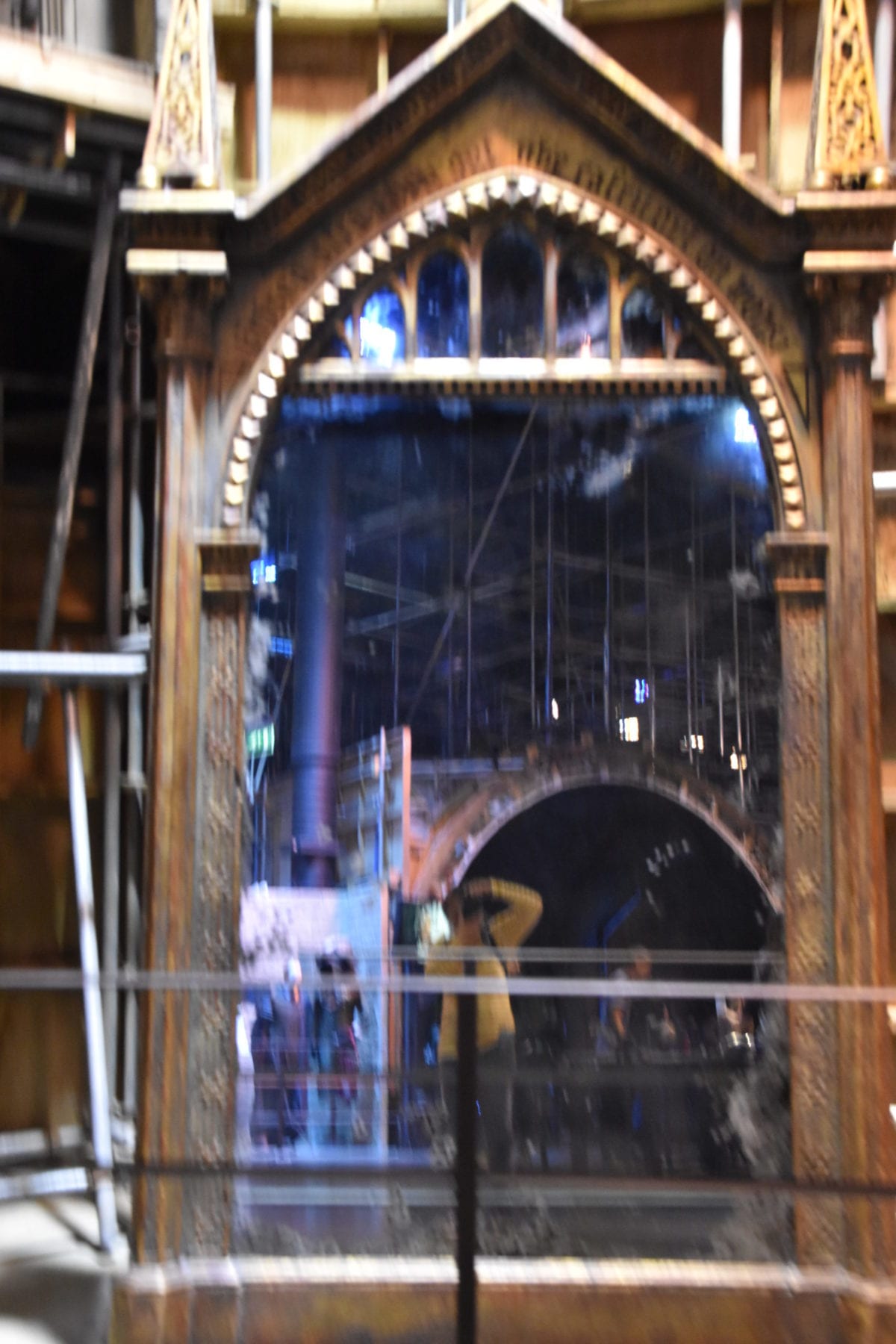 Most people spend about 3 and half hours touring Harry Potter Studio. That is about the time it took for us to visit.
You might end up staying longer if you take a look in the Mirror of Erised. You can see my deepest desire is to be an amazing blogger and photographer! Too bad this picture came out a little blurry! It looked a lot better when I was looking in it!
Explore the Harry Potter Sets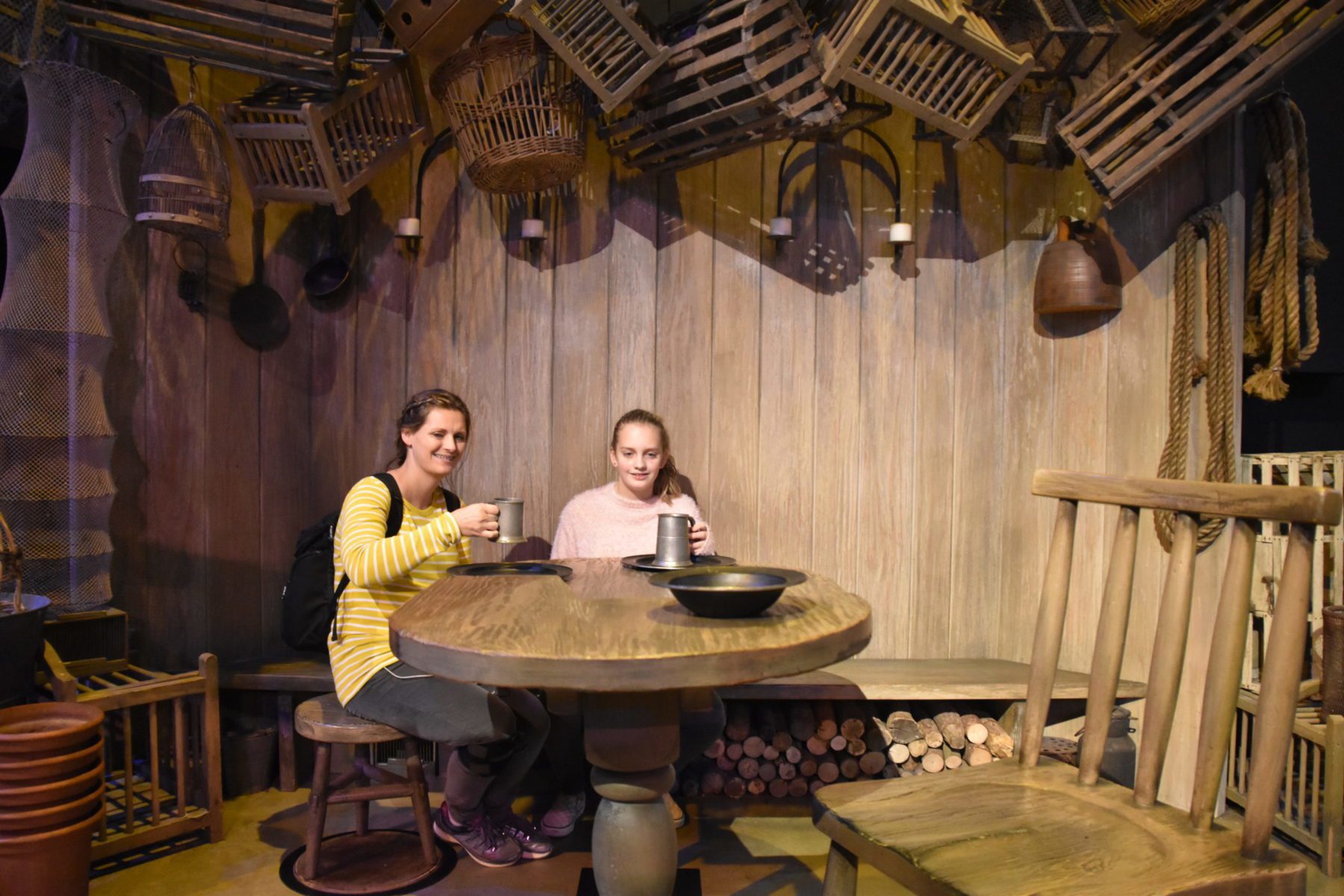 Some of the sets you will see are the Great Hall, the Forbidden Forest, and Diagon Alley.
Great Hall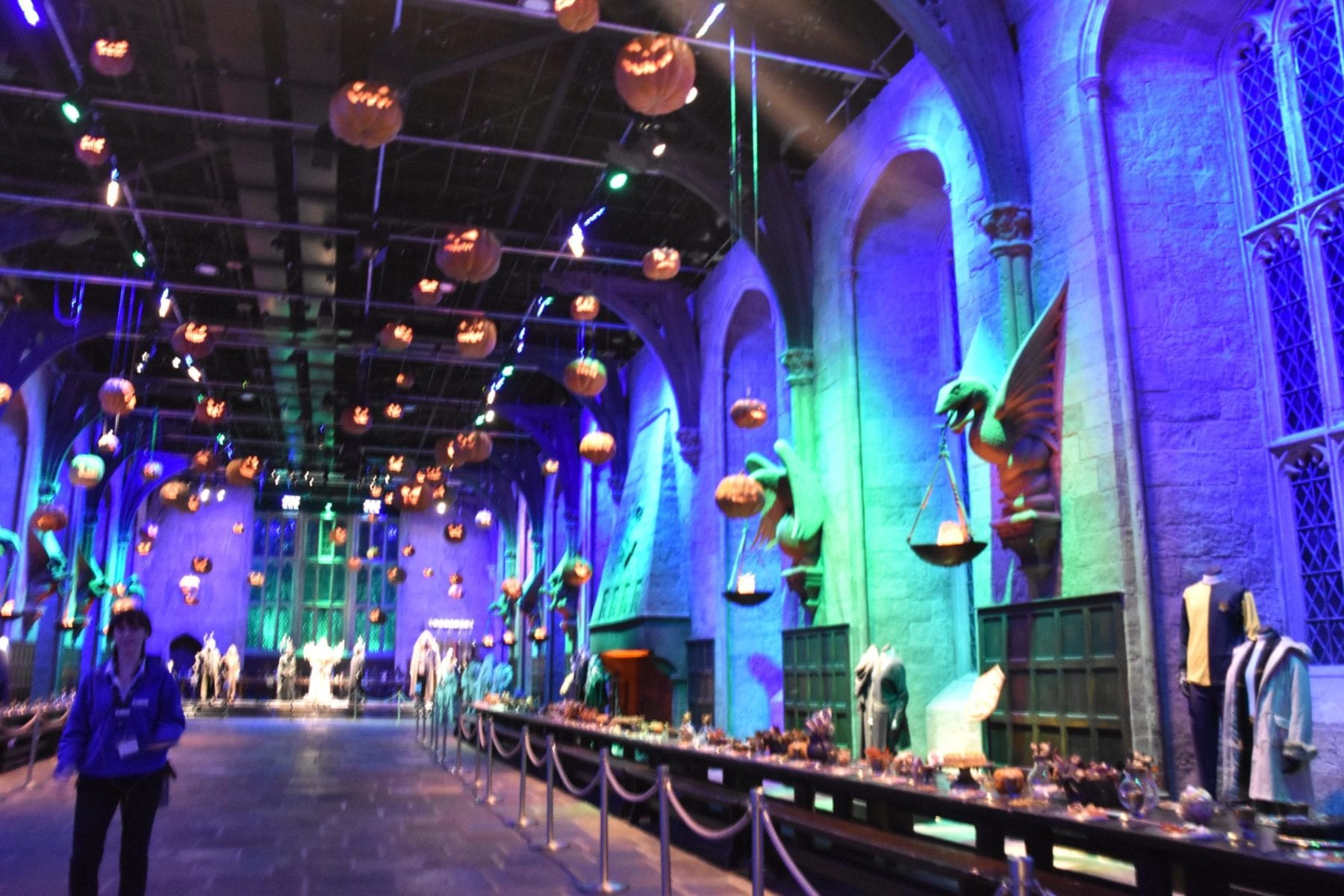 The Great Hall is the first set you will see. We went during Halloween time and there were pumpkins hanging from the ceiling. If you go at Christmas time there will be different decorations as well.
One of the employees will give a wonderful presentation of all the props in the room.
Forbidden Forest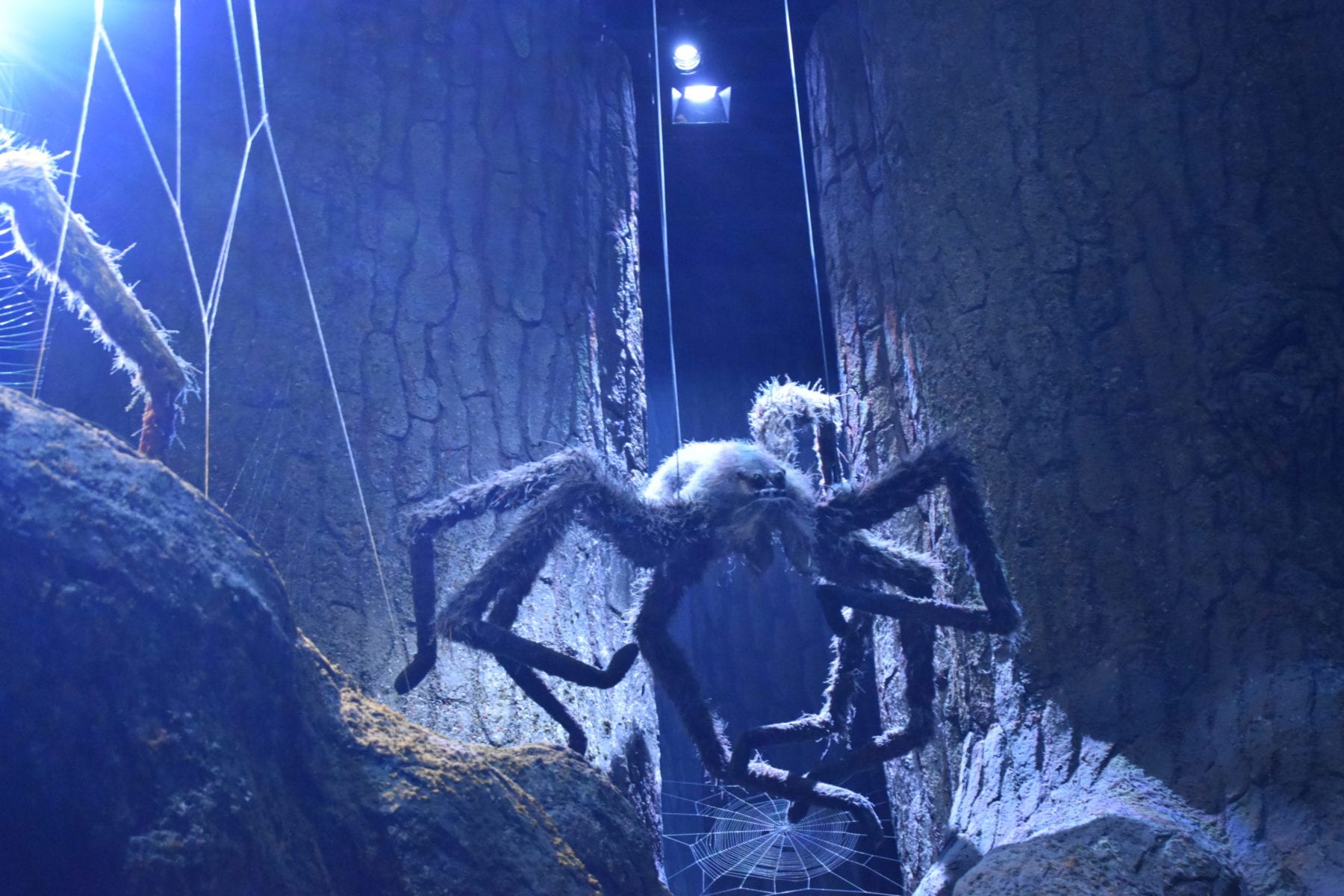 As you enter the Forbidden Forest there is actually a fog that surrounds you. You will be walking right into Aragog's Lair so beware. You may also see some creatures that only reside in the forest.
Diagon Alley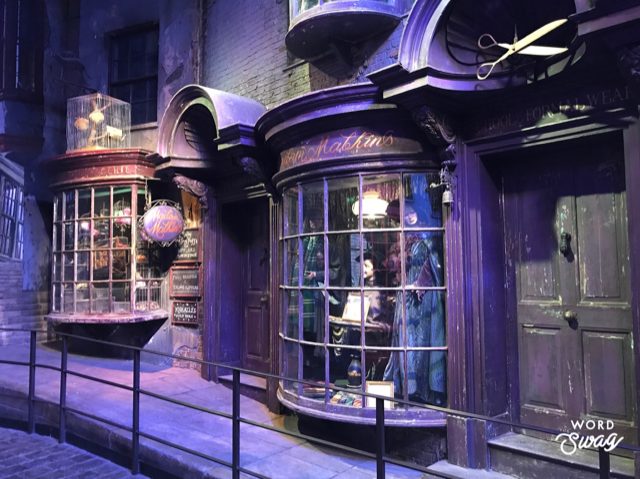 The Diagon Alley set makes you really feel like you are in the movie. It is interesting that this set was used for both Diagon Alley and Hogsmeade.
The Props Used in the Harry Potter Films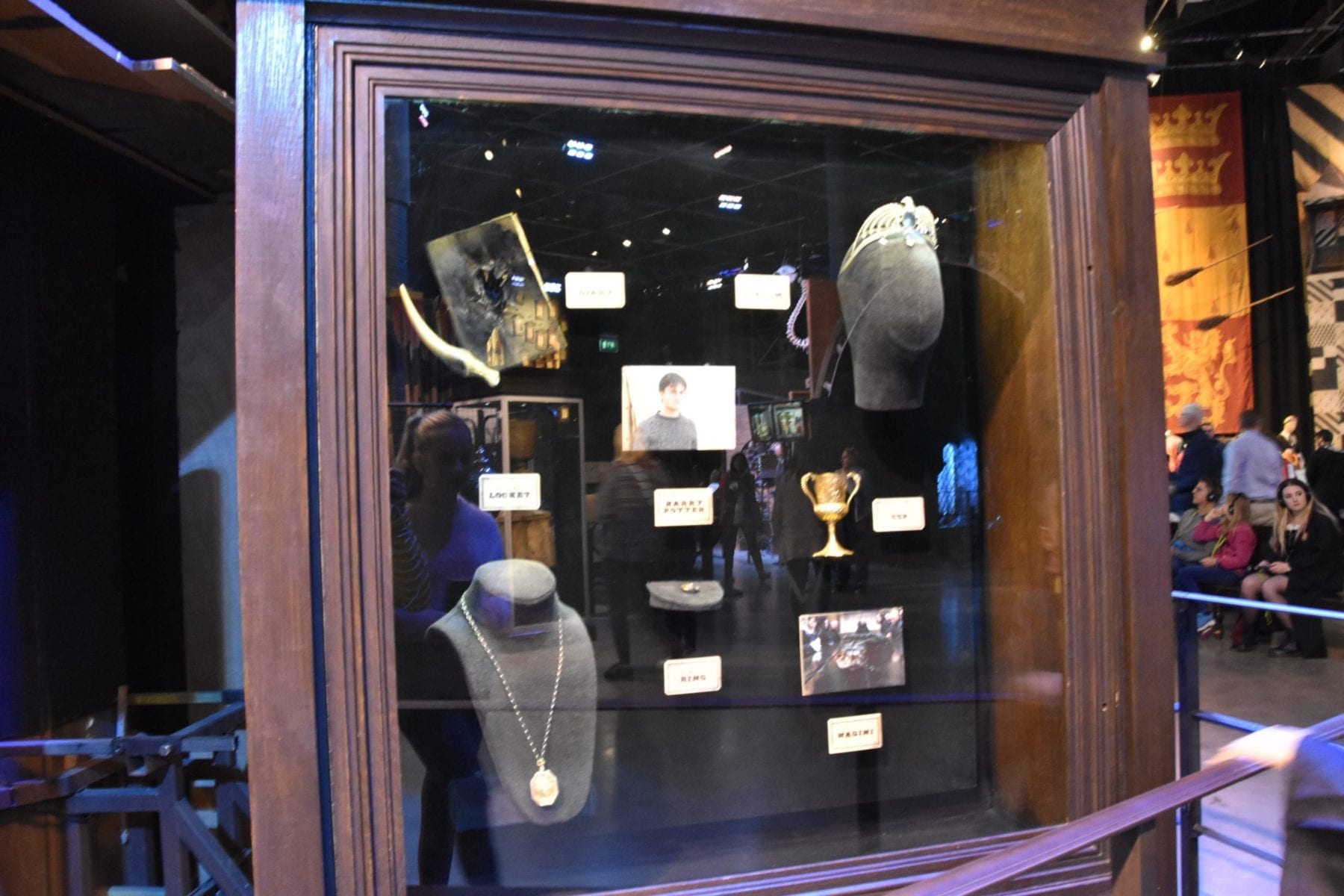 The prop room is huge. There are props from every movie including Snape's potion classroom, wands, Mirror of Erised, fat lady portrait, Dumbledore's office and so much more. You will probably spend majority of your time in this area of the tour.
We thought this area was so fun to explore!
Fly on a Broom Stick!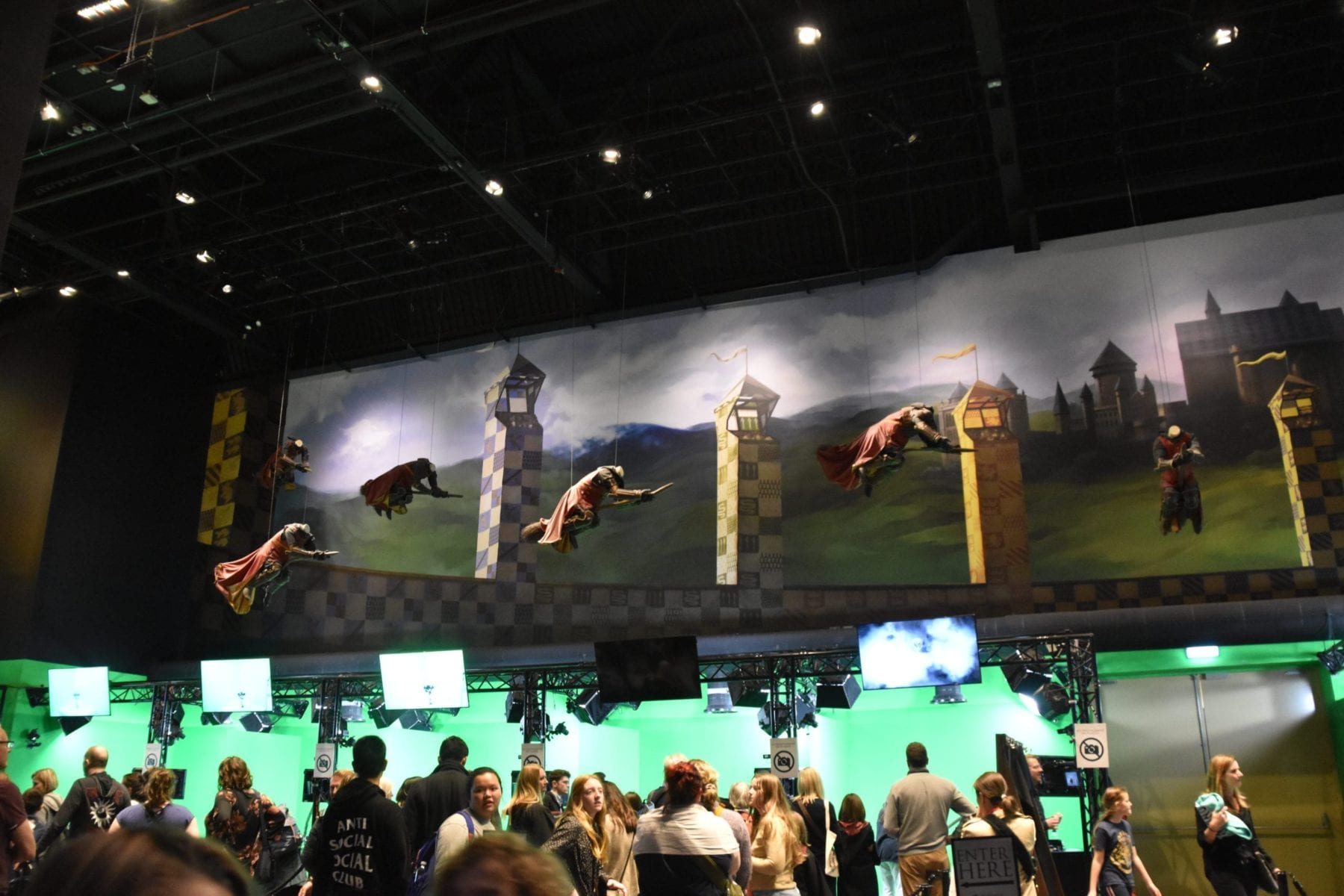 One thing we love about the Harry Potter London Studio is that it is interactive. You can sit right at Hagrid's table and have a drink, or you can fly a broom with a green screen behind you projecting an image of you in the sky. One thing I loved was using my muggle magic and levitating the broom.
There are some awesome photo opportunities you do not want to miss!
Platform 9 3/4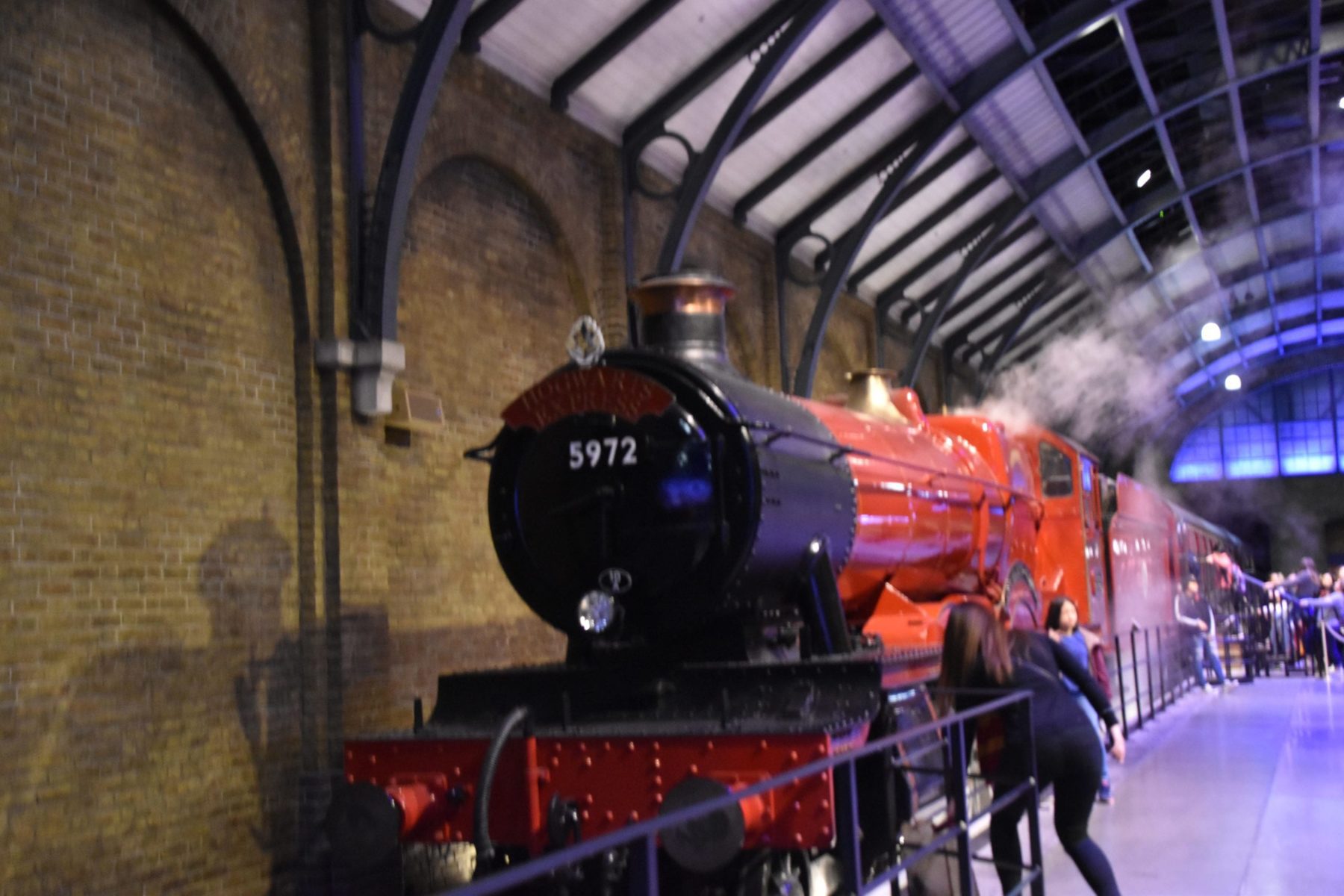 Are you ready to get that iconic picture walking through platform 9 3/4? Just push that trolley right on through and get ready to board the Hogwarts Express. Yes, you actually get to board the train and look around.
This is a fun area with lots of photo opps. There is also a little shop to purchase some merchandise.
Dinning at Harry Potter London Studio

The Chocolate Frog Cafe
This cafe is your go-to sweet shop. There are specialty cakes, ice cream, hot chocolate, and of course chocolate frogs. It is a perfect place to satisfy your sweet tooth.
The Hub
The Hub serves Starbucks coffee and some grab-n-go sandwiches.
The Food Hall
The Food Hall is another full menu restaurant serving breakfast, lunch, and dinner.
Back Lot Cafe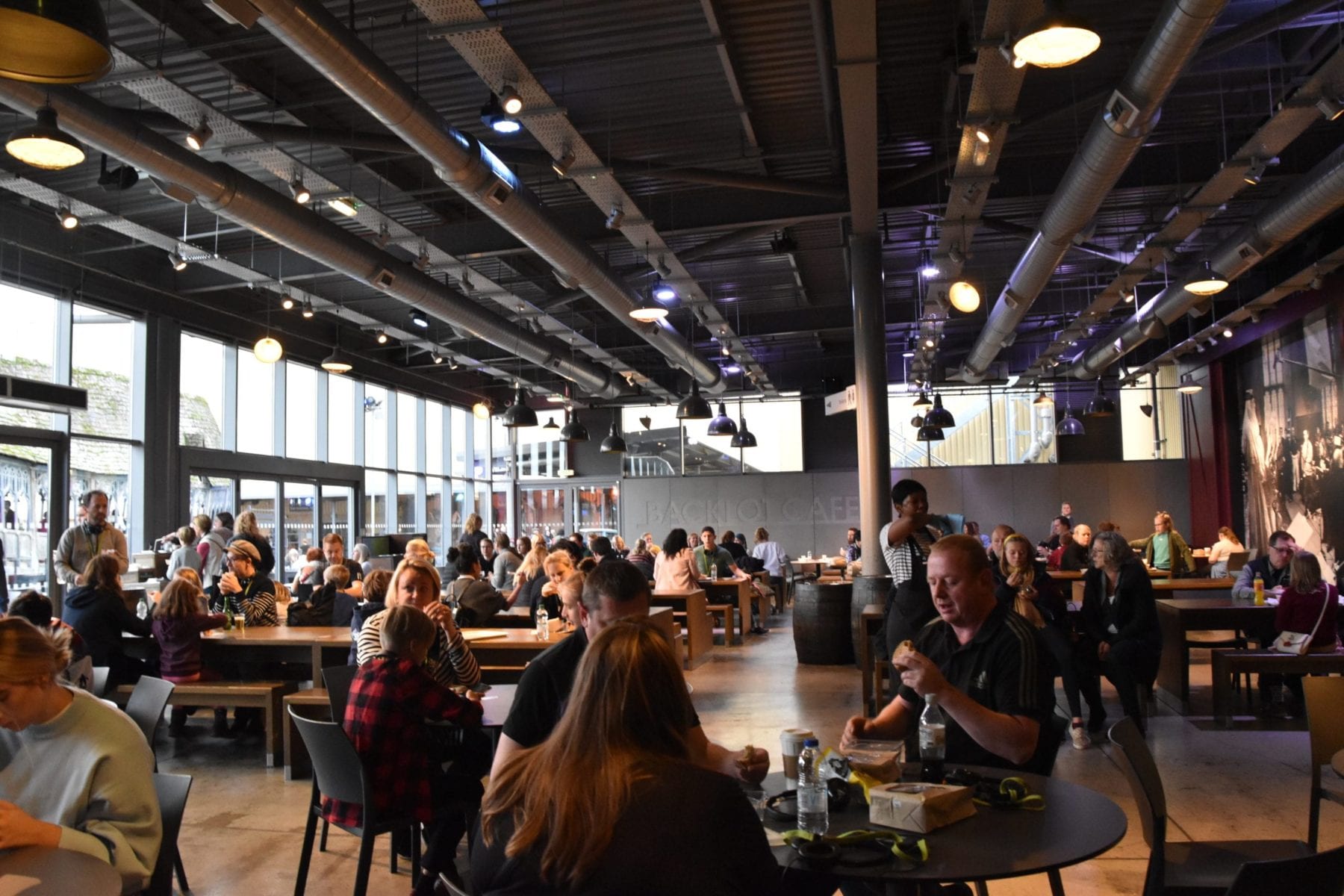 As you make it a little over halfway through your tour you will enter an eatery called the Back Lot Cafe. This is where you can get your butterbeer! You also have the option of butterbeer ice cream if you want! There is a full menu and bakery at this location as well.
If you pay a little more you will receive a souvenir cup. We thought that was really cool.
Our Experience
I think this is an American thing because I know we like things very sweet. We have tried the butterbeer at Universal Orlando and loved it. The London butterbeer was okay, it was not as sweet.
However, butterbeer ice cream was a first for us and sadly we thought it was gross!
Outside Sets of Harry Potter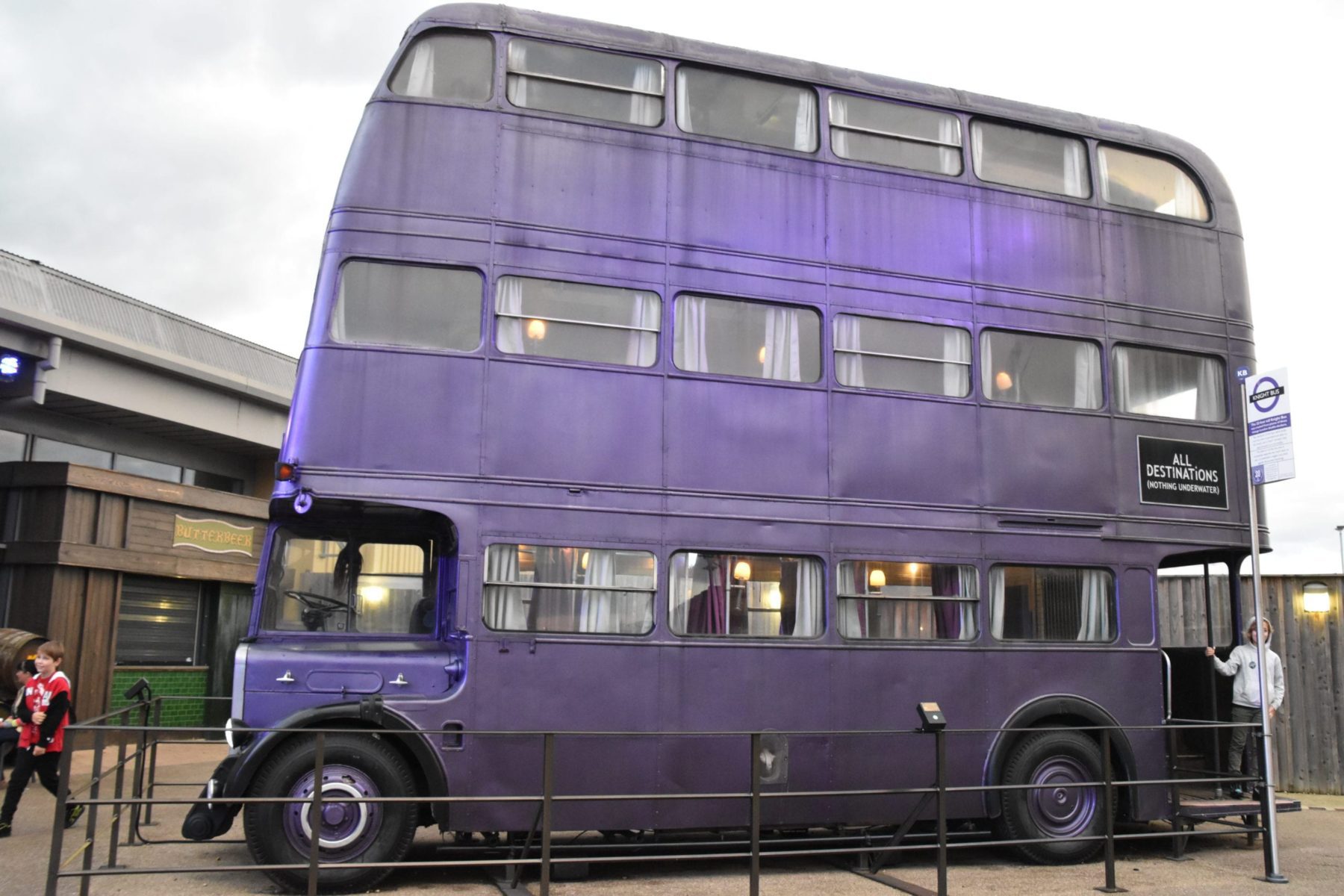 The knight bus, Bathelida Bagshot house, the bridge Neville explodes in the last movie, and the wizard chess pieces are all located outside. You can also walk on the bridge and get more of a hands on experience.
Gringotts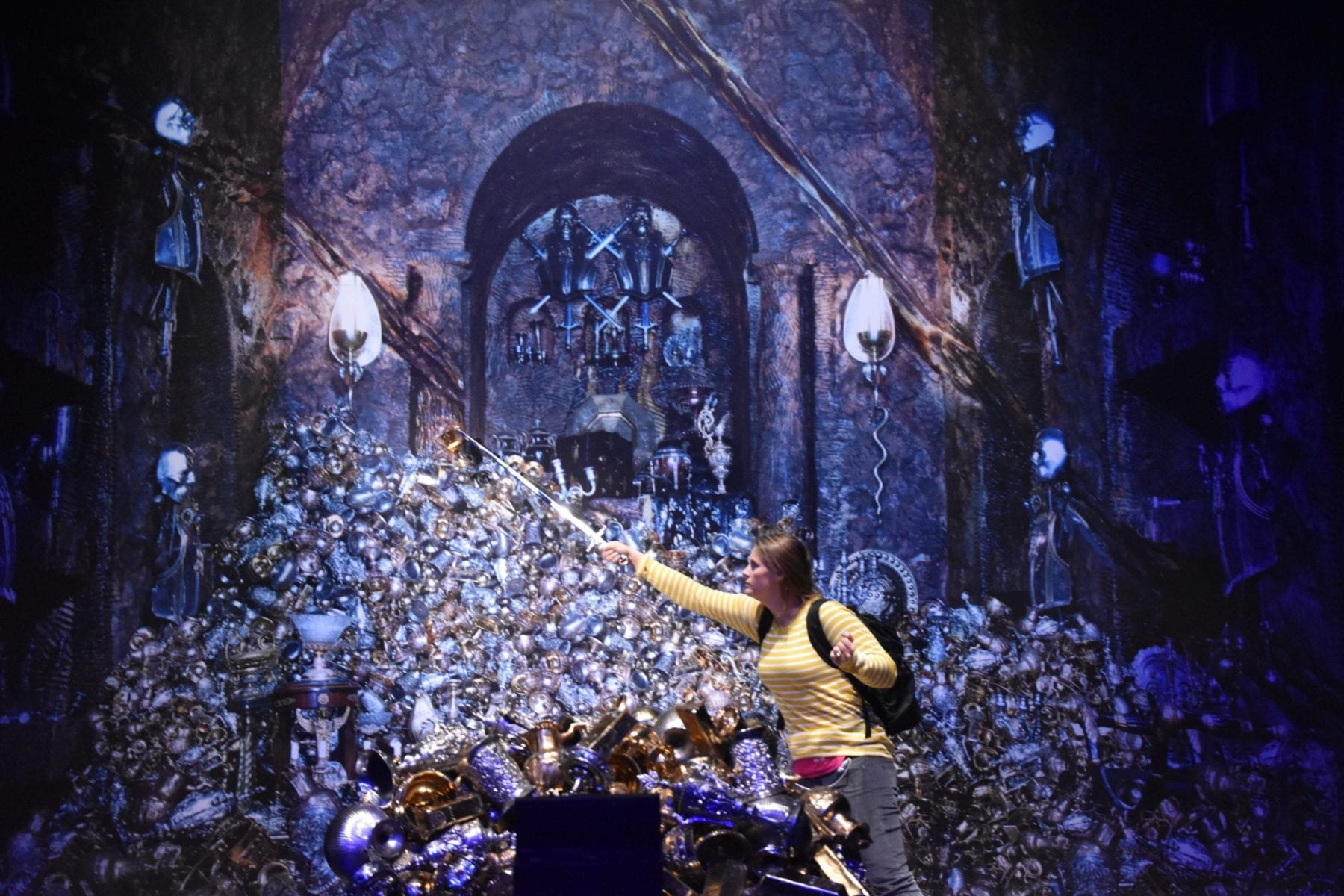 Walking onto the Gringotts set is really incredible. This area also has some great photo opps getting you right into Belletrix's vault.
Hogwarts Model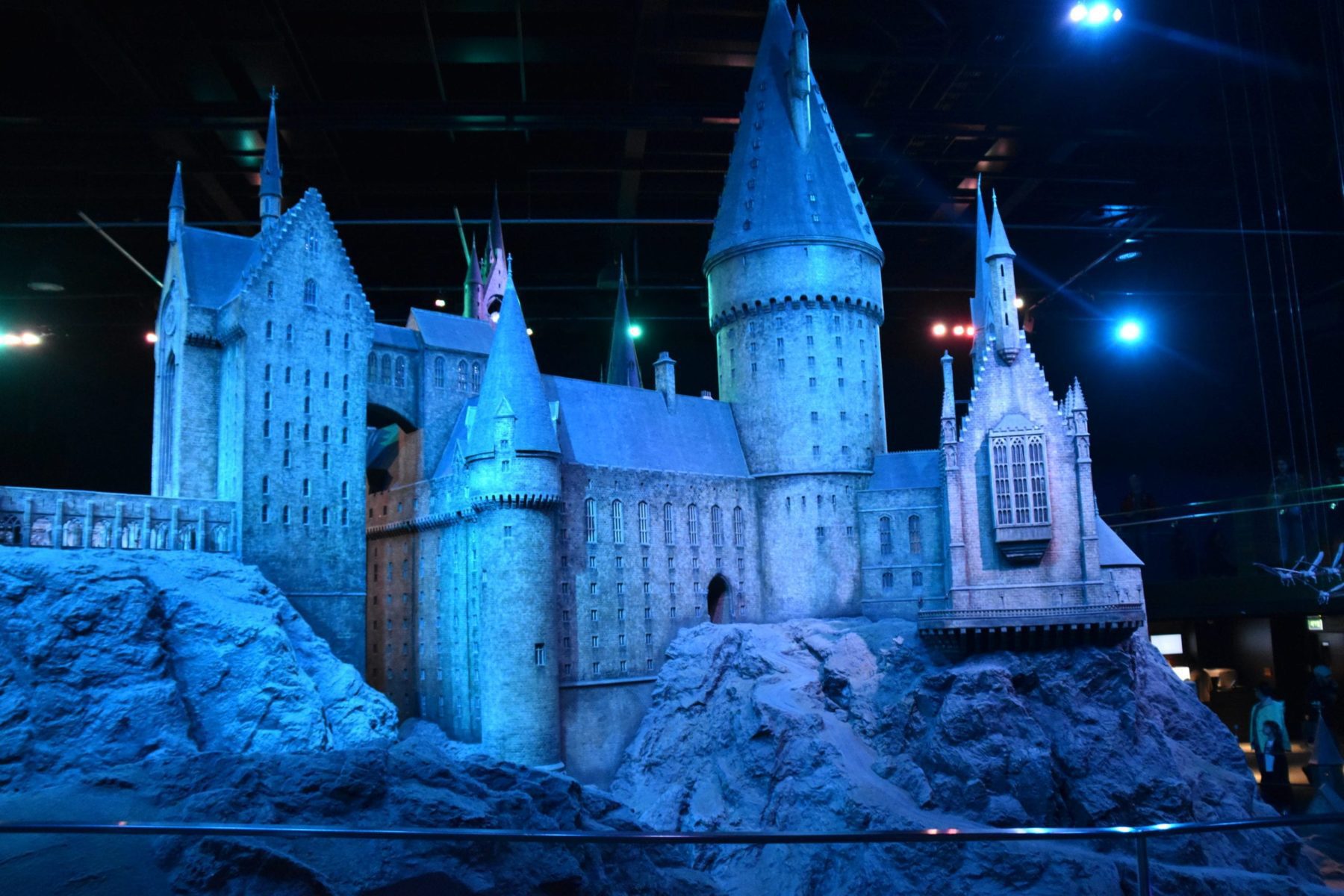 The Harry Potter Studio Tour ends with a model of Hogwarts that takes up an entire room. You can walk around and look at every detail. It is very impressive!
Our Experience
I highly recommend going to the Warner Bros. Studio Tour – The Making of Harry Potter! It was such a great experience! It is one of the best Harry Potter things to do in London!
Now let's explore other options for your Harry Potter London vacation!
Harry Potter London Walking Tour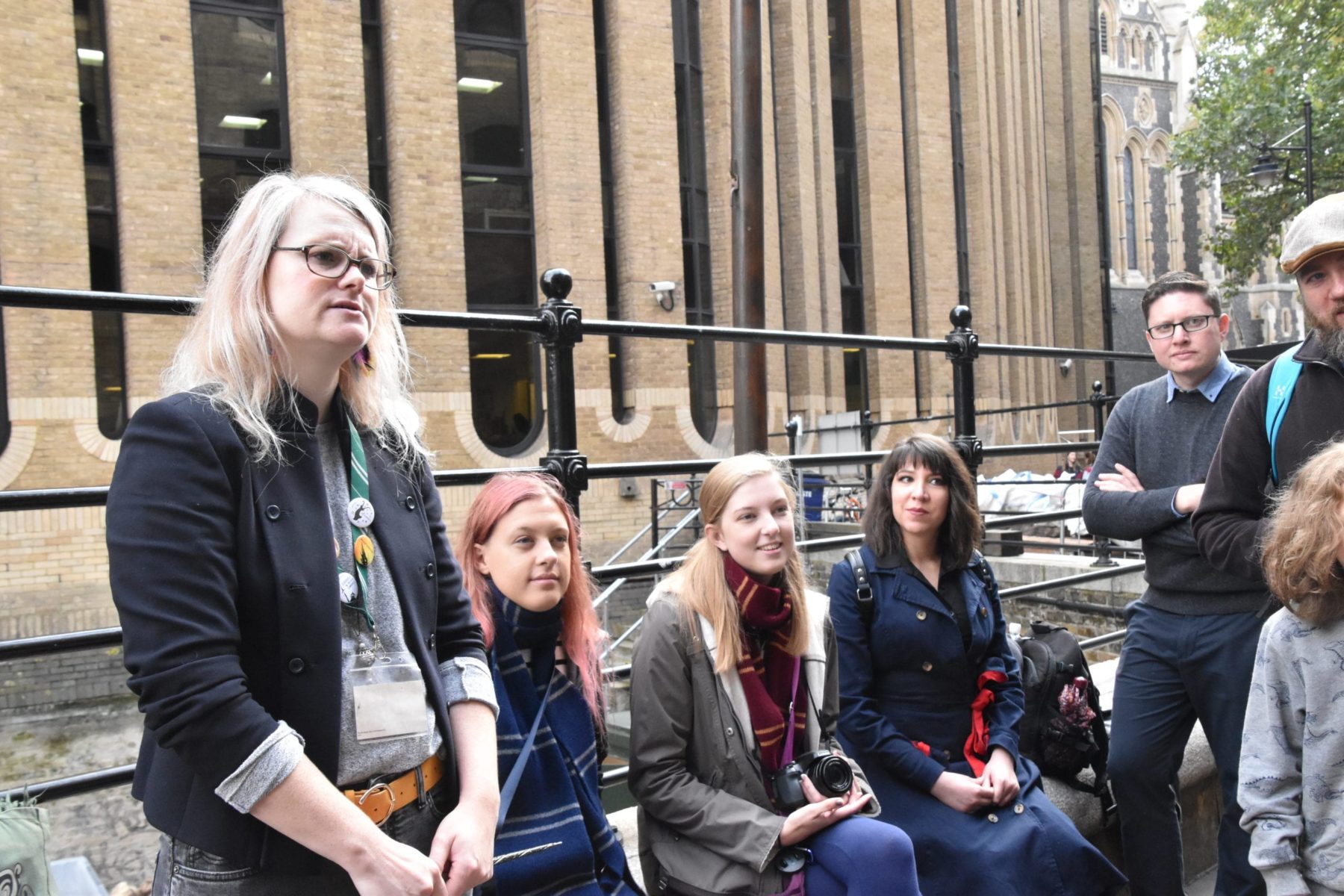 One of the best Harry Potter things to do in London is go on a Harry Potter walking Tour. I highly recommend adding this to your Harry Potter London itinerary. This was one of the best things we did on our Harry Potter London vacation. The tour guide was phenomenal!
This tour focuses on areas where actual scenes were shot. It was so fascinating to see the areas of London and then look back at the movies and realize that is where they were filmed.
Cecil Court is the street that inspired Diagon Alley. It was so neat to see where J.K. Rowling received the inspiration for Harry Potter.
Hot Tip
Book your tour early! This tour has a limited amount of people that can participate. Also, make sure to arrive really early. You do not want to miss any of the tour.
Trafalgar Square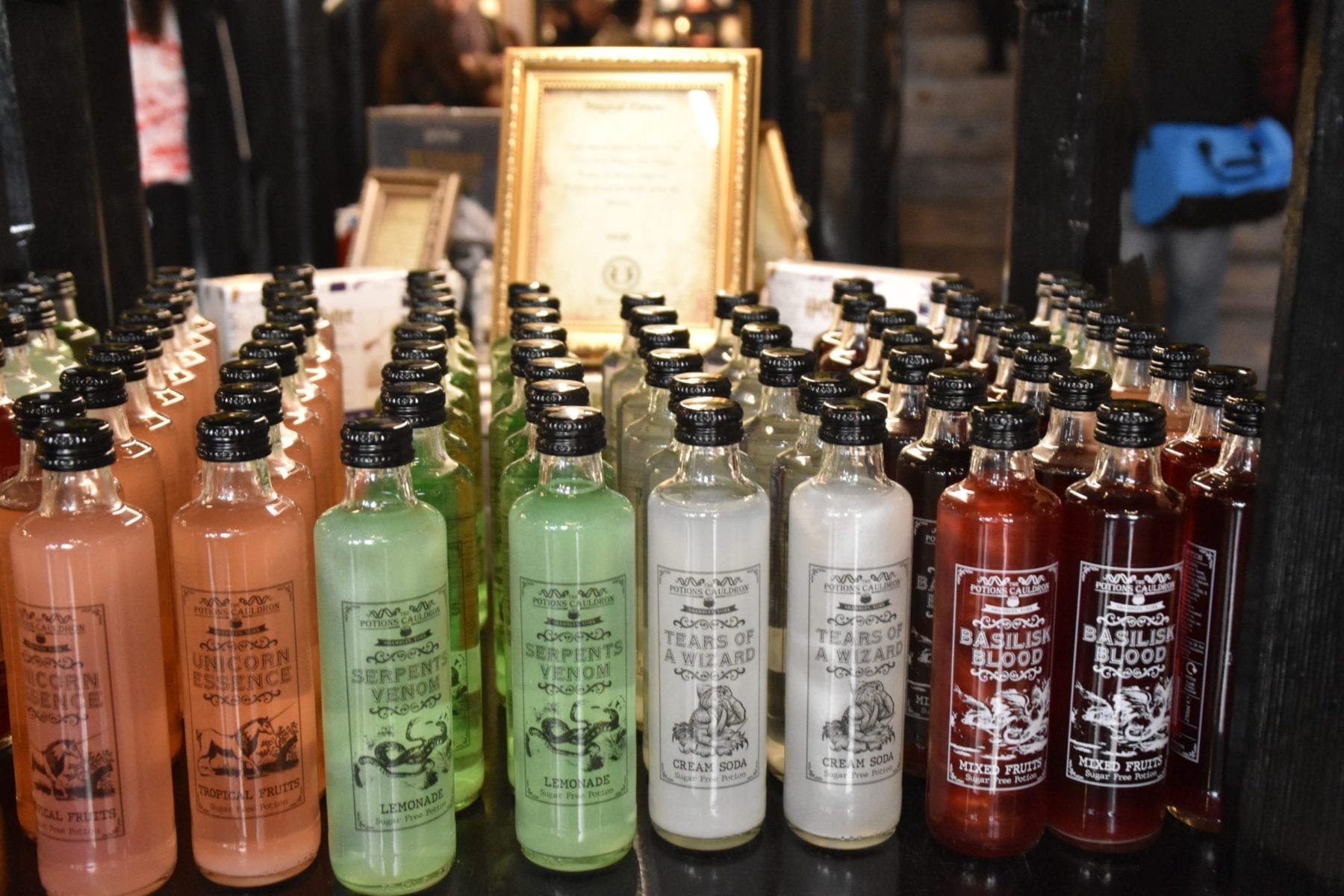 Trafalgar Square was where the World Premiere of the final Harry Potter movie was hosted. There may have been more fans for Harry Potter than for The Beatles!
There is a store called House of Spells located off of Charing Cross Rd. that is really cool. It is a collectibles or souvenirs store, but they have a lot of Harry Potter inspired items. One of our favorite purchases was the glass bottles of "magic potion". They actually shimmer when you shake them up.
King's Cross Station - The Real Platform 9 3/4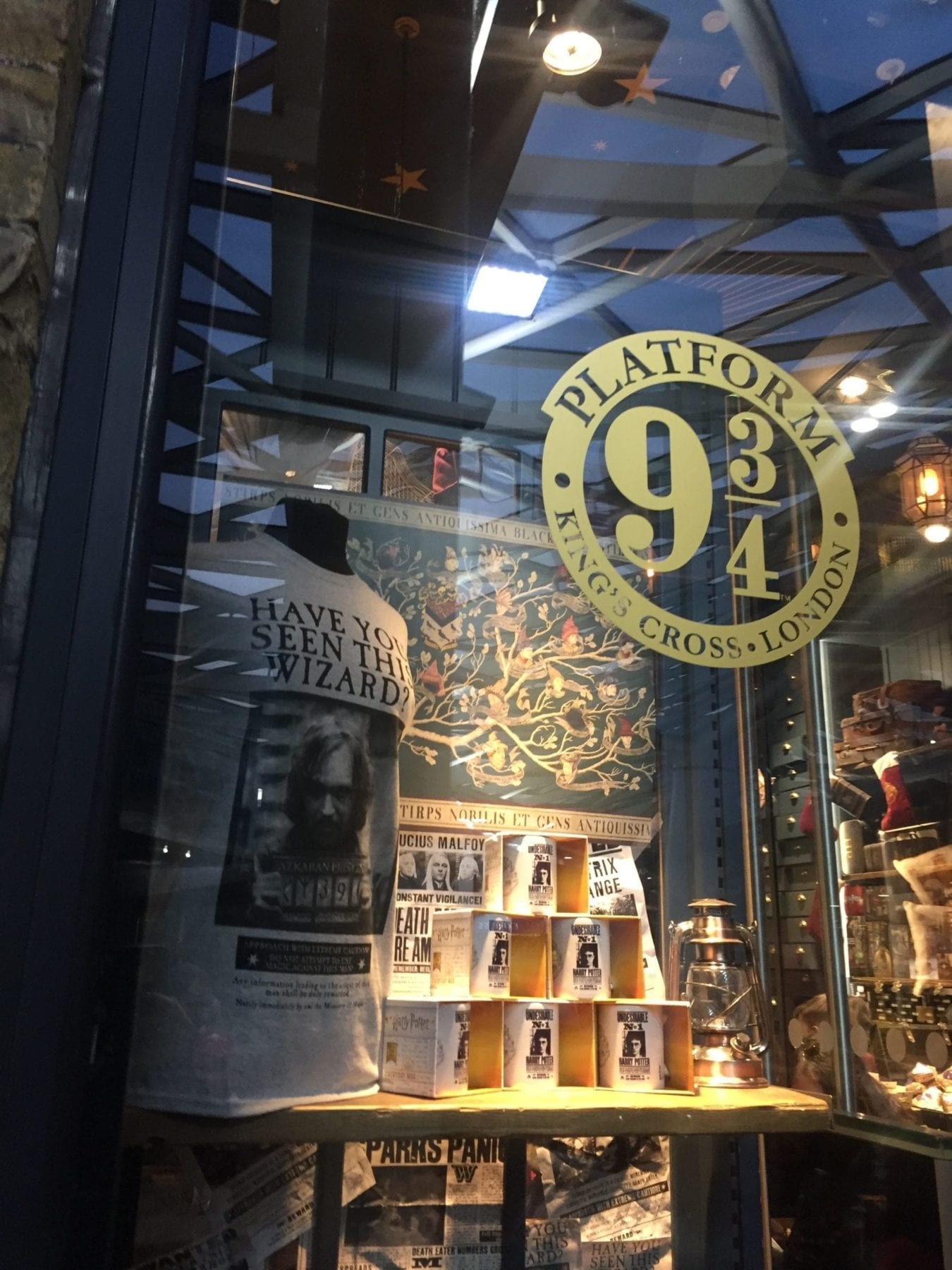 King's Cross Station is where the real Platform 9 3/4 is located. You can take the train there and get that special picture in the actual station. There is also a Harry Potter gift shop located there. We thought the merchandise was unique and worth purchasing a few items.
Special Pass
If you plan ahead you can purchase a special pass that will allow you to skip the line. (I linked that at the top.) It is worth it. The pass has to be mailed to you so you will need to do this at least a month before your Harry Potter London vacation.
Harry Potter and the Cursed Child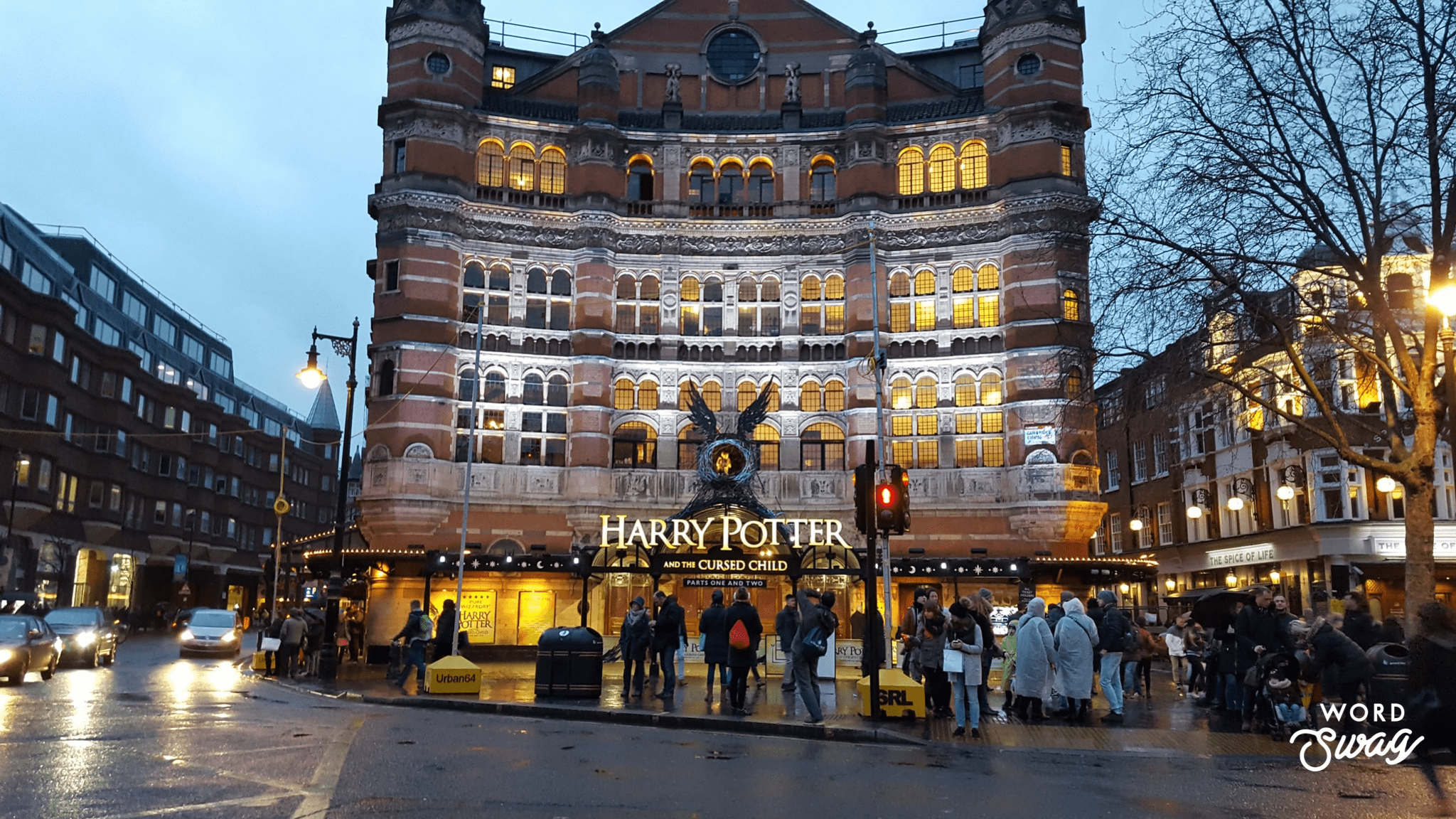 Harry Potter and the Cursed Child is located at the Palace Theatre. It is a two part play that you have to actually buy two separate tickets for. Each part of the play is a little over 2 and half hours each.
We did not have time to watch the play in London the last time we went. But we do plan to see it San Francisco.
Plan Ahead
If you want to add this to your Harry Potter London itinerary you will want to get tickets ahead of time. The show is currently suspended until February 2021.
Harry Potter Black Taxi Tour
Let me first just say if you want to ride in a black taxi, it is going to be expensive.
Riding in a black taxi is a very touristy thing that most people like to try at least once. They are very spacious and it is kind of exciting to experience. To make your journey even better, booking a Harry Potter Tour in a Black Taxi is one of those Harry Potter things to do in London that might be worth your time.
The link above was the best price I could find. These Harry Potter tours can range from $280-$680.
More Ideas for your Harry Potter London Vacation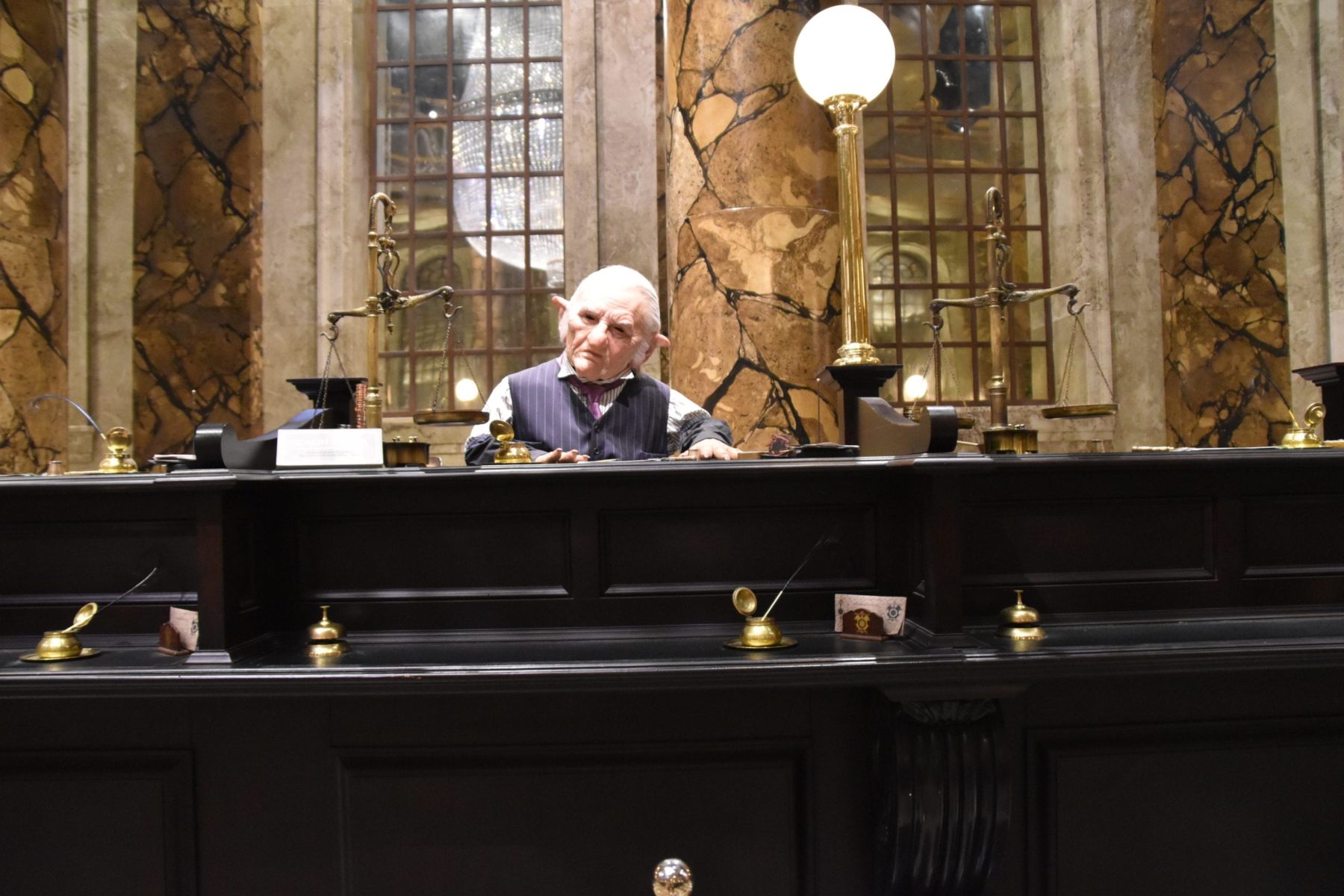 Oxford University is another film location of Harry Potter. Some of the major scenes came from the campus. It is about an hour away from the Harry Potter studio tour but I did find a combination ticket that would give you time to do both sites in one day.
Another thing that I wish I would have known before going on my Harry Potter London vacation is that a lot of the movie was filmed in Scotland. If I would have known that I would have booked a few days to explore the Harry Potter attractions there. Now I guess I have to go back.
Are You Ready to go on a Harry Potter London Vacation?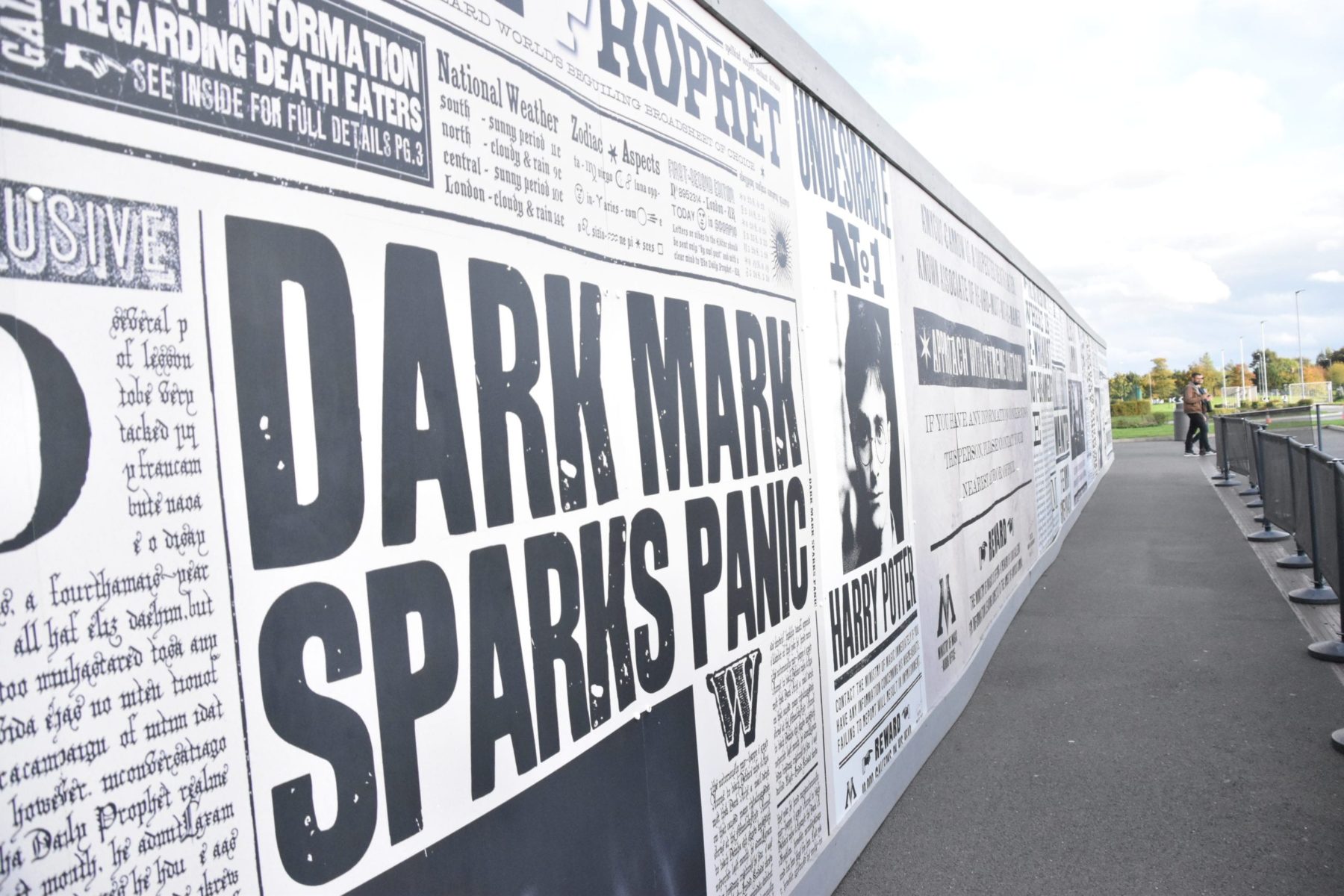 Hopefully, this gives you an idea of all the amazing Harry Potter things you can do in London. We loved our Harry Potter London vacation! Although we wished we had more time to explore.
I highly recommend booking as many tours ahead of time as possible! I know you are going to love your Harry Potter trip!
Facebook Community
If you have any questions be sure to join my Facebook Travel Community This great community can help answer any questions you may have about your upcoming trips. Plus, I try to add any great deals or promotions that companies send me!