The Ulitmate Guide For What To Pack For Hawaii
Are you wondering what to pack for Hawaii?  I had the same question when we went the first time.  There were a few items that everyone else had and unfortunately, I did not.  I do not want you to be in that same situation! 
Hawaii is such an amazing place and no matter which island you choose there are some great things to consider purchasing before you set off. 
Let's explore some options of what to pack for Hawaii, so you don't forget anything! 
If you want to save this information for later be sure to pin this to Pinterest.  
This post may contain affiliate links that will give me a commission at no additional charge to you.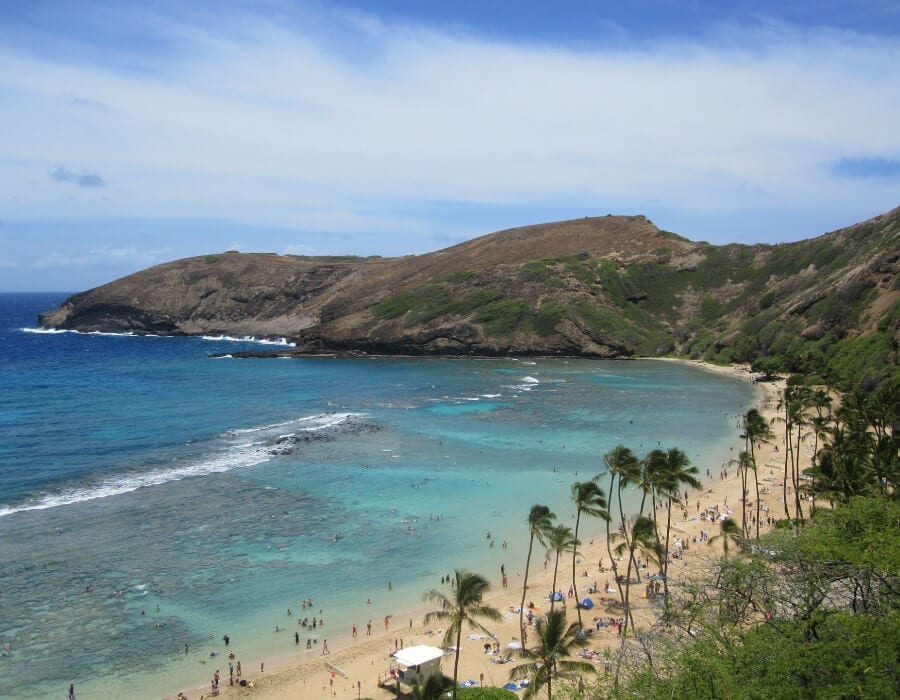 This isn't going to be a post about the typical things you would pack for any trip.  These are special items specific for this tropical paradise.  What to pack for Hawaii depends on what type of activities you are planning to do. 
Some of the most common activities include:
Snorkeling

Surfing

Hiking

Touring
When is the Best Time to Go to Hawaii? 
The climate is perfect year-round in Hawaii! Which leads me to believe that anytime in Hawaii is a good time!  However, one thing to consider is that December tends to be a little wet!
Does Time of Year Affect what to Pack for Hawaii?
No, typically you will be doing similar activities such as going to the beach, surfing, snorkeling, hiking and touring all year round.  Your packing list will be consistent throughout the year. 
Let's explore the "what to pack for Hawaii" List. 
Waterproof Phone Protection
The waterproof phone protector was the one thing that I was really wishing I had.  It is so nice that you do not have to leave your phone on the beach and hope no one steals it. 
So many people had these around their necks as they swam and did fun activities.   Having the ability to swim and take pictures in the water looked so cool.  I was super jealous that I had not purchased this before I left.  
As you pack for Hawaii, I highly recommend getting these for your phones!
Pack For Hawaii - Water Shoes
I actually did buy water shoes before we left.  I was so glad I did!  We did a lot of snorkeling in Oahu and some of the areas were rocky. It was nice to have protection on our feet. 
Types of Water Shoes
There are a few choices of water shoes you can pack for Hawaii.  We chose classic water shoes.  I liked the shoes, but one issue we had was sand.  I found it difficult to get the sand out of the shoe. 
You may want to invest in a pair of strappy sandals.  This type of shoe may be easier to walk away from the water without bringing the sand home. 
Another option is a pair of Keens.  This is my favorite brand because not only can you wear them in water, they are also great for hiking.  
Either way, I highly recommend purchasing a pair of water shoes before you head off to Hawaii!
Rash Guard and Board Shorts
I highly recommend buying both a rash guard and board shorts before heading to Hawaii.  These clothing items offer protection.  They will prevent chafing which believe me you do not want.   
These clothing items are essential if you want to surf or boogie board.  It also will provide extra protection against the coral. 
My Experience
The first time I ever went surfing, I did not know anything about wearing a rash guard or board shorts.  Let's just say it was very painful the next day! 
I went to the store and purchased a set but purchasing your clothes while you are on vacation always tends to be a little more expensive.  If you plan ahead you will not have that problem.
What to Bring to Hawaii - Sun Protection
Hawaii is a tropical paradise. The sun shines all year round.  You will want to protect yourself from the sun so planning ahead is essential.  There are three products that I highly recommend.
What to Pack for Hawaii
Sunscreen

Sun Hat

Sunglasses
All of these items offer sun protection.  It is recommended you get sunscreen that will not cause harm to the coral reefs in the ocean. 
Water bottles are nice to have at the beach. Hydro Flask is a really nice water bottle that keeps things extremely cold for long hours at a time.
I would recommend getting a thermal-lined water bottle to have long-lasting coldness.  Water bottles are also great if you plan on hiking in Hawaii.
What to Pack for Hawaii - Accessories
I have some random suggestions for what to pack for Hawaii. They will make your life better.  
External Charger
An external charger is really nice if you know that you will not be able to use your phone charger.  I have used these so many times and love them. 
Videos and Pictures
As for taking pictures and videos. A selfie stick is super fun and a GoPro is even more fun!   A GoPro will allow you to get those action shots! There are knock-off "GoPro's." Unfortunately, we bought one last time we went to Hawaii and it didn't work very well. 
One type of bag that is all the rage right now is packing cubes.  These will help you save space as you travel.  They are compact and easy to place in your suitcase.
Beach Bag
Another bag to consider is a waterproof beach bag.  These bags are great when you hit the beach.  I like to have a special bag that I take to the beach.  I usually will leave this bag in the rental car ready to go with all my beach equipment.
What to Bring to Hawaii - Snorkeling Equipment
This was one of the best things we purchased before we went to Hawaii.  You can always rent equipment but we found that most of the rental equipment was old and it kind of grossed me out that other people used it.
I loved having the flexibility to snorkel all over the island even in places that were not near rental facilities.
Purchasing Snorkel Gear
A few things to consider when buying snorkel gear:
The longer the fins, the better.

The

full mask

snorkel gear causes more drownings in Hawaii than any other reason.

Go for quality. You will be surprised how much you will use your gear!
What to Pack for Hawaii - Miscellaneous

Mosquito Bands or Bug Spray
Mosquito spray is nice to have.  Make sure you follow FDA guidelines if you plan to pack it.  Mosquito bands are a great alternative option.  There was only one time I had a problem with mosquitos and that was when we were hiking in Oahu.  I got about 4-5 bites.  
Quick Dry Towel 
If you want to pack light, a quick-dry towel is a better option compared to packing two huge beach towels.  Although you might want to pack both.  It is nice to have something to layout on the beach and have another option to dry off with.  
Rain Ponchos 
I take ponchos on every trip whether it is an amusement park or a beach vacation. Having these handy in case unexpected rain begins is awesome.  I always recommend grabbing some before you go.  Hawaii is known to rain a lot. 
Now You Know what to Pack for Hawaii!

Hopefully, this post gave you a great idea of what to pack for Hawaii.   I like to make things super simple for you so shop away!  
Save room in your suitcase for all those amazing Hawaii souvenirs! 
Packing Check List
I made a free generic packing list to write down what to pack for Hawaii and cross it off when it has been packed.  
Have fun in paradise! If you are looking for amazing things to do in Oahu with kids or without, be sure to check out my One Week in Oahu Itinerary,  Hanauma Bay, Pearl Harbor, the best places to snorkel on Oahu.
And don't forget to book an amazing family resort on Ohau (We stayed at Aulani) and visit all the fun things to do on the North Shore the Polynesian Cultural Center,  go on a Jurrasic Adventure, and learn Where to get a Dole Whip posts! 
Also, you may be interested in my One Day in Maui Itinerary, or my crazy experience driving in Maui on the road of death, if you decide to go to Maui.
Facebook Community
If you have any questions be sure to join my Facebook Travel Community   This great community can help answer any questions you may have about your upcoming trips. Plus, I try to add any great deals or promotions that companies send me!