Are you planning a Universal Studios trip in Orlando?
Awesome! Universal Studios Orlando is often the general term to refer to all three Universal parks in Orlando: Universal Studios, Islands of Adventure, and Volcano Bay.
Today we are going to give you some basic information to help you plan a trip to universal studios. We will also compare "Universal Studios or Island of adventure" which one is better. We will also discuss if Volcano Bay should be included in your trip.
As you plan a trip to Universal Studios we hope to give a few tips and tricks to make your vacation a success!
If you want to save this for later be sure to Pin this to Pinterest!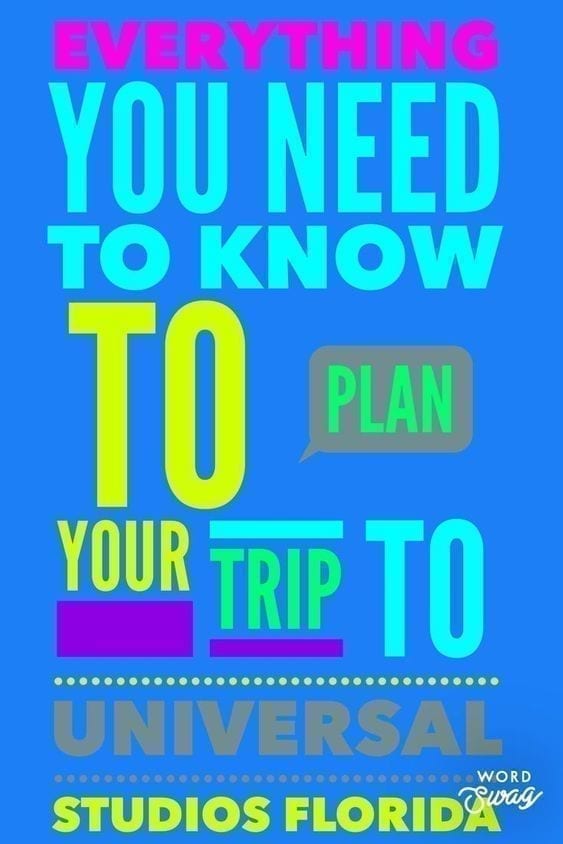 This post may contain affiliate links that will give me a commission at no additional charge to you.
A Little History of Universal Studios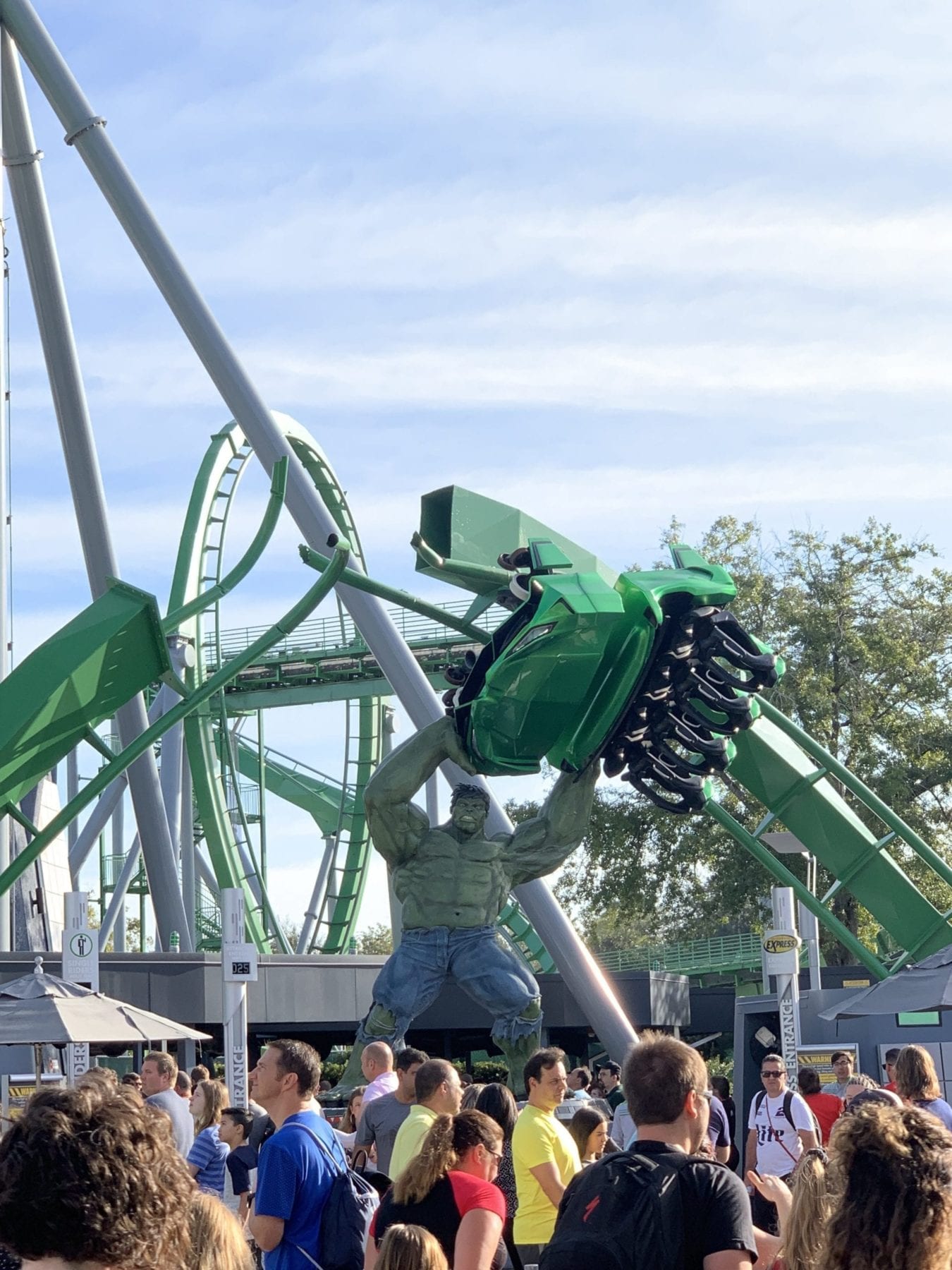 Harry Potter World was a major addition to Universal Studios and is the highlight of the park, in my opinion. But because Harry Potter is in both Universal Studios and Islands of Adventure, I will compare "Universal Studios or Island of Adventure" without the "Harry Potter" factor.
Keep in mind that Harry Potter only found his way into Universal Studios a relatively short time ago. It opened on June 18, 2010, and the Diagon Alley extension opened on July 8, 2014. (The California version opened on April 7, 2016). If you are interested in California vs Florida we will get to that a little later.
Universal Studios Florida opened on June 7, 1990, so it had two decades under its belt by the time The Wizarding World of Harry Potter opened. A second park was added in 1999: Universal's Islands of Adventure. Universal Studios Florida Volcano Bay then opened on May 25, 2017.
I tell you this as a reference to help you decide which park is right for you.
Universal Studios or Islands of Adventure
Which Park is Better: Universal Florida or Islands of Adventure?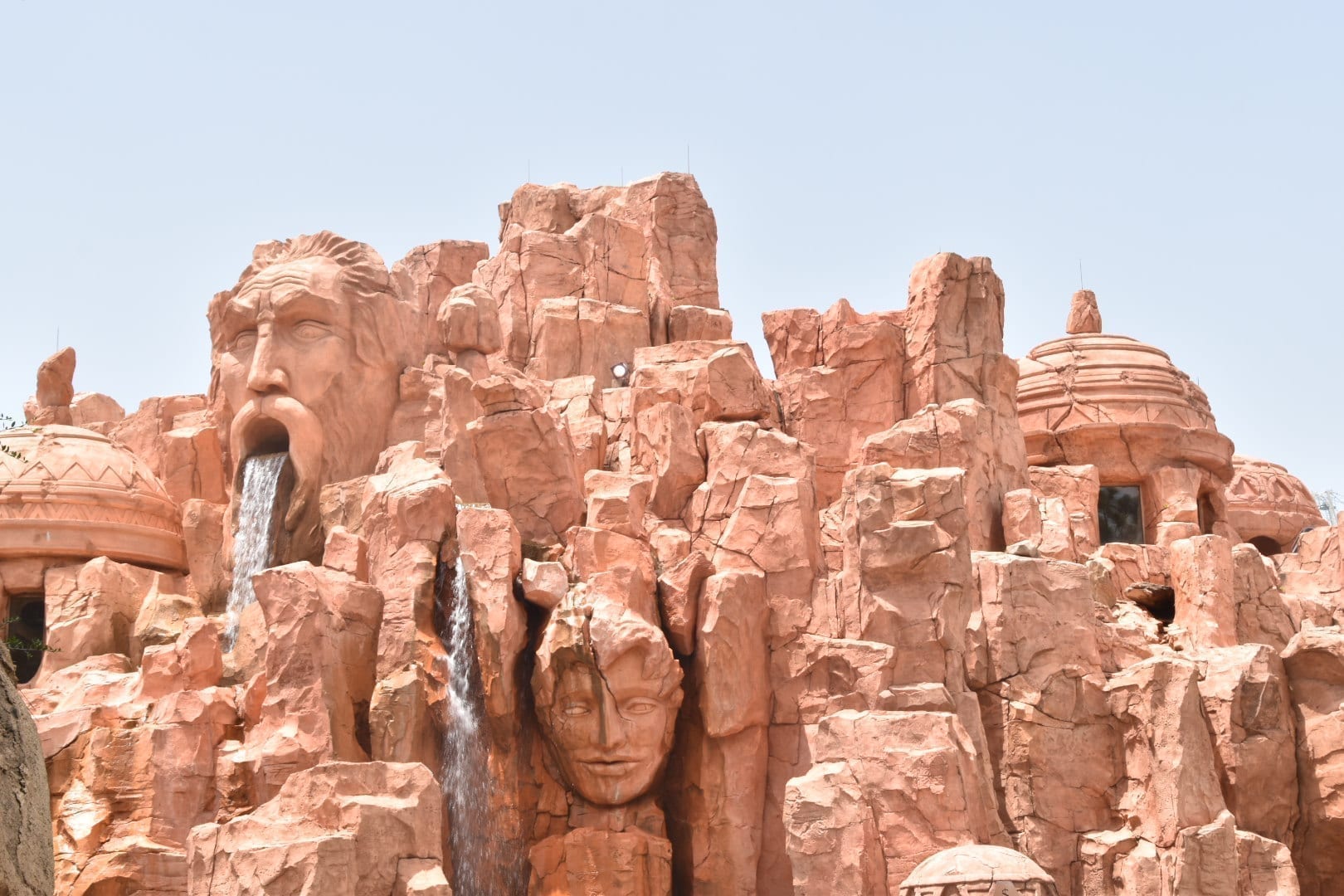 So I am going to try something new here. Instead of simply writing paragraphs about what to do, the information will be coming at you in Q&A form.
Let me know your thoughts about how this goes by leaving a comment below.
Differences Between Universal Studios Florida and Islands of Adventure
Universal Studios Florida
Island of Adventure
Rollercoasters
4 (3 thrill)
Escape from Gringotts
Revenge of the Mummy
Hollywood Rip Ride Rockit
Woody Woodpecker's Nuthouse Coaster
(kiddie coaster)
3 (2 thrill)
Hagrid's Magical Creatures Motorbike Adventure
The Incredible Hulk Coaster
Flight of the Hippogriff (junior coaster)
Other Attractions
(excluding the
Hogwarts
Express)
8 (0 water rides; 1 (or 2) kiddie rides)
Transformers: The Ride-3D
Despicable me Minion Mayhem
Men in Black Alien Attack
The Simpsons Ride
E.T. Adventure
14 (3 water rides; five kiddies rides)
Skull Island: Reign of Kong
Doctor Doom's Fearfall
Harry Potter and the Forbidden Journey
Jurassic Park River Adventure (water ride)
The Amazing Adventures of Spiderman
Four Dr. Seuss Kiddie Rides
Five other Rides
Shows
10 (1 Harry Potter; parade)
Fear Factor Live
A Day in the Park with Barney (kid)
Studio Brass Band
Universal Orlando's Cinematic Celebration
Animal Actors on Location!
5 (3 Harry Potter)
Poseidon's Fury
Oh! The Stories You'll Hear
Dining
30 (2 full service; 9 drinks; 4 desserts; 15
quick food)
25 (3 full service; 5 drinks; 5 desserts; 12 quick
food)
Park Comparison
If you want thrills, Islands of Adventure wins. Don't get me wrong, Universal Studios Florida has some cool rides. We love Revenge of the Mummy, and Escape from Gringotts is a crowd pleaser, but Islands of Adventure also has legitimate rides, and more of them.
Islands of Adventure also wins when it comes to water rides, in a shutout. Although, if you really love the water, you may want to check out the water park, Volcano Bay.
Food is a toss-up in my view. I haven't been to many of the food establishments in the parks, but there is a variety of choices in both. If you really want food, then you should check out Citywalk, which adjacent to both parks.
Is the Water Park Worth It?
Okay, so Universal lists Volcano Bay as one of its three "theme parks." It's a water park. Although there is a theme, I think of a theme park is a blend of rollercoaster and other rides, blended with shows and eateries in lands or other areas that are thematically tied.
Yes, that's a made up definition on the spot, but my gut also doesn't tell me this is a theme park.
That doesn't mean it's not worth going to. In fact there are a bunch of slides and other water activities that can help cool you off from the heat.
If you are making a week trip to Universal, why not? It breaks up the time by giving you something new to do. But if you are only there a short time, you may want to skip this. It is close to the main parks, but not too close. And so it's not a convenient walk if you are trying to jam multiple things into one day.
Can I Exchange my Volcano Bay Ticket if it Rains or is Too Cold?
The Customer Service is amazing at Universal. If you need to talk with them about issues that arise they will hopefully answer any of your questions. Many people of received refunds if the conditions do not meet their expectations.
Is There a Park Hopper Pass?
Yes, there is a two-park pass that you can get. This allows you access both Universal Studios Orlando and Islands of Adventure on the same day.
Do I Need to Take the Hogwarts Express to Hop Between Parks?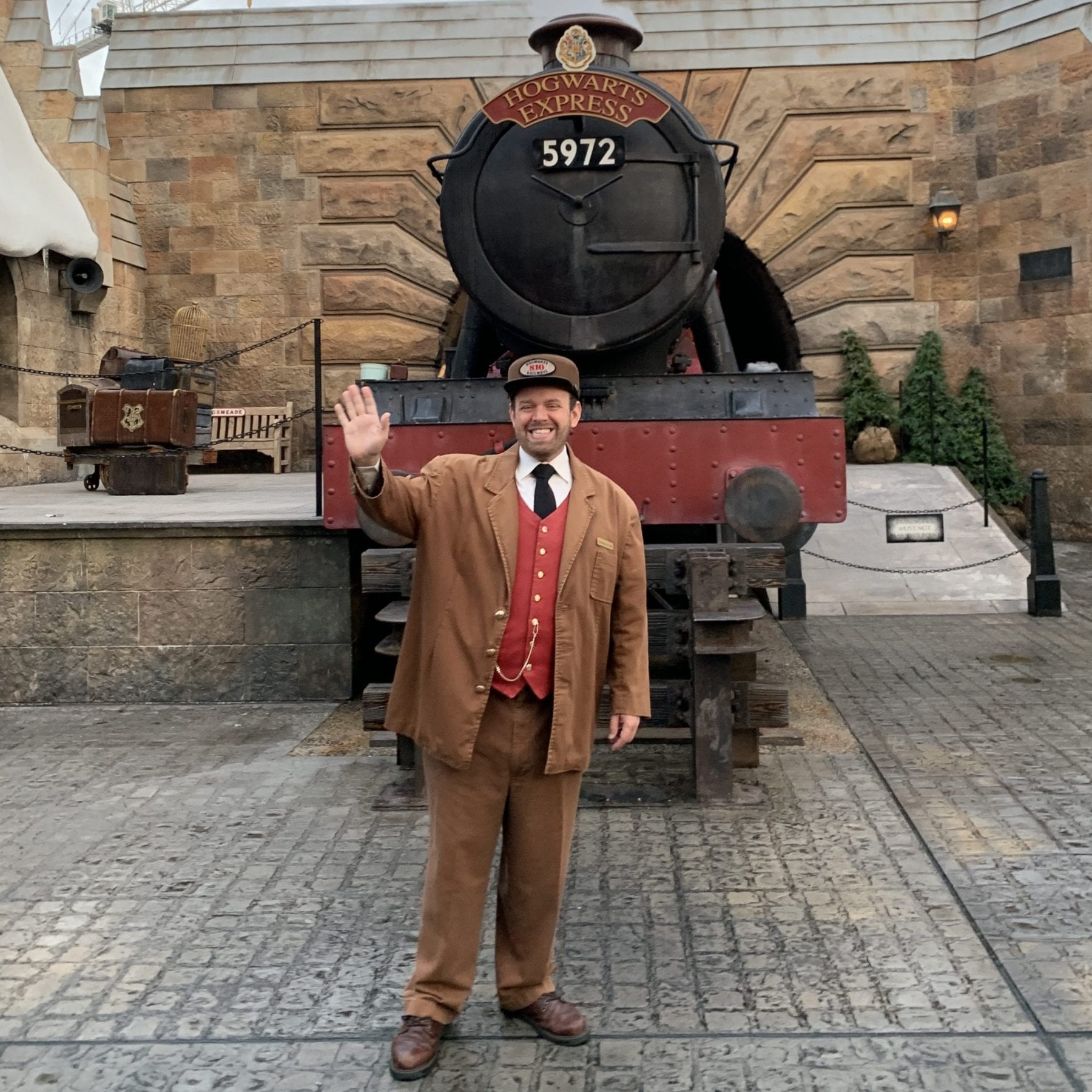 Absolutely not. The entrances to these parks are very close to each other, and once at the entrance of one, you can get to the other entrance in about five minutes. (Now it may take you some time to get to the entrance depending on where you are in a park.)
The Hogwarts Express comes with you multi-park ticket. I recommend doing it at least once, but you do have to wait in line to take it, ride it (just under five minutes), and exit, which can take a bit too.
If your main purpose is Harry Potter World and that experience than it is worth it, if not you are all good!
Where Can I Find Discount Tickets for Universal Studios Florida?
Types of Tickets available at the Gate
1-Day, 1-Park ticket: Valid for a particular day only
1-Day, Park-to-Park ticket: Visit multiple parks on the same day
2-Day Park-to-Park ticket: Valid for one day and then any second day within seven days after that
4-Day, 3-Park ticket: Valid for one day and then any three days after that within seven days after that
Universal Express Unlimited ticket: Entitles the holder to skip the regular lines on most rides and attractions and is currently available multiple options, varying from 1–5 days total.
VIP Experience tickets: These include exclusive backstage access and the ability to enjoy the parks' most amazing rides and attractions without waiting in line.
Prices vary based on the date you choose to go, but not by much
Costco and Costco Travel
Discount tickets are sometimes available in the store. On Costco Travel there are also packages to choose from that could save you money. Sometimes they will just offer a Costco gift card on top of already published promotions.
These packages include:
Orlando: Universal's Family Suites at Cabana Bay Beach Resort with Universal Orlando Tickets
Military Discounts
Active duty military with valid military IDs can receive a discount when purchasing multi-day tickets at the front gate tickets windows at Universal Orlando Resort™. You must present your current military or Department of Defense identification at any participating ITT or LTS office on base.
AAA Discount
AAA does offer a discount but you will want to compare it withe the current promotions that the park itself is offering. Check out AAA Discount.
Use Points
Use points to buy Universal Orlando Tickets including, American Express, Chase Ultimate Rewards, Hilton HHonors, Southwest Airlines Rapid Rewards, IHG Rewards Club, and Regal Crown Club.
I looked into using my Chase Rewards but they probably would go farther booking airfare.
Group Discounts
Group discounts are available but you have to call Universal directly to get more information.
Florida Resident Discount
Discounts given to residents are pretty significant. In some cases even half the cost depending on the time of year and other promotions being offered.
Season Passes
If you live close enough that a season pass would make since, than there are a few options to chose from check out the season pass information.
Do Ticket Prices Change Based on the Time of Year I Go?
Somewhat. The changes seem to be less volatile than Disney, but you will see about $10, maybe $20 increases based on the time of year and whether you are going on a Saturday.
When is the Best Time of Year to Go To Universal Studios Florida?
If you look at the ticket prices, that is a good indicator of crowd levels. Holidays and weekends tend to be busier. Weather is also a factor. The summers in Orlando are hot and humid. For me, hot + humid + kids = death to any plan to have a full (enjoyable) day at an amusement park. If you don't have little ones, or you can break up your day with naps and shade, the hot weather can be manageable.
If you can go when children are traditionally in school, you will usually find better weather and wait times. Please note that some Florida residents hold season passes that have blockout dates. These tickets allows holders to go most days that are not traditionally busy, and so later in the day you may see increases in crowds.
Florida is Far from Where I Live. Is it Worth Going to Universal Studios Florida, or Is Universal Studios Hollywood Just as Good?
Okay, so I need to be honest. There is a special place in my heart for theme parks in Orlando. My family can get to California theme parks by car in about ten hours, and we have been to California much more than Florida (although the gap is narrowing). But we enjoy Florida theme parks more!
Florida theme parks are bigger. Bigger does not necessarily mean better, but I think it does if you know how to navigate them. And one huge perk of Universal parks in Orlando is their proximity. There is just so much more to do in at Universal in Orlando.
Universal Studios Hollywood has about half of the number of attractions and half of the number of shows (and that's not counting Volcano Bay). Many of these experiences you can get in Orlando. Orlando has pretty much the same rides and attractions as Universal Studios Hollywood experience, and then quite a bit more.
I don't want to talk too much in this post about The Wizarding World of Harry Potter (check out my other post), but the question does come up from HP fans of whether the Harry Potter attractions are the same.
Not at all! California had replicated the Harry Potter experience at Islands of Adventure: Hogwarts and Hogsmeade. But now Islands of Adventure has added Hagrid's Magical Creatures Motorbike Adventure, which is a major attraction.
Universal Studios also has Diagon Alley, and the Hogwarts Express connects the two Orlando parks. Neither of these are currently options in California.
Can You Bring Outside Foods and Drinks Into the Park?
Universal doesn't want you to bring in outside food and drinks (surprise, surprise). The official policy allows for bottled water and small snacks. There are a few other exceptions, and you can see the policy here: Universal Orlando Food and Drink Policy.
I Only Have Time to Do Either Disney or Universal Studios. Where Should I Go?
There is no clear cut answer to this question. Folks just have so many different preferences. I have found that if you have young kids, Disney is better, especially if you have kids that are into princesses, or your family loves Disney movies.
If you have older kids and you are not Disney fans and have not previously been to Disney World, then Universal Studios is probably for you. But here's the thing. If you took your kids multiple times to Disney World (or Disneyland) when young, they may have wonderful memories of the place (ours do). Nostalgia can get a strong grip on you, and so
if Disney is in your family's DNA, it can stay there.
If you are going for a family reunion, Disney gets the nod. There are more amenities and
accommodations at Disney for this type of gathering.
If you like this information Pin this to Pinterest!
I am going to write a future post more in depth about the differences between Universal Studios Florida and Walt Disney World, so stay tuned.
Join My Email List! Be the first to know when new post are available
I wrote about the hotels at Universal Studios Florida in Orlando, and The Wizarding World of Harry Potter in Orlando. The place is amazing! But although The Wizarding World of Harry Potter may be the highlight for a little Gryffindor wizard in training, there is so much more to do at Universal Stuidos!