Plan the Best Weekend Trip To Portland
Are you thinking about planning a weekend trip to Portland, Oregon?
If so, Awesome!  Portland is a booming city with great places to eat, interesting things to do in Portland, and nice places to stay!  We just recently spent a weekend in Portland had a fabulous time. 
In this post, we are going to include some of the best places to eat, fun things to do, and where to stay for your Portland weekend trip! 
Let's plan the perfect Portland weekend trip!
If you would like to save this for later be sure to Pin this to Pinterest.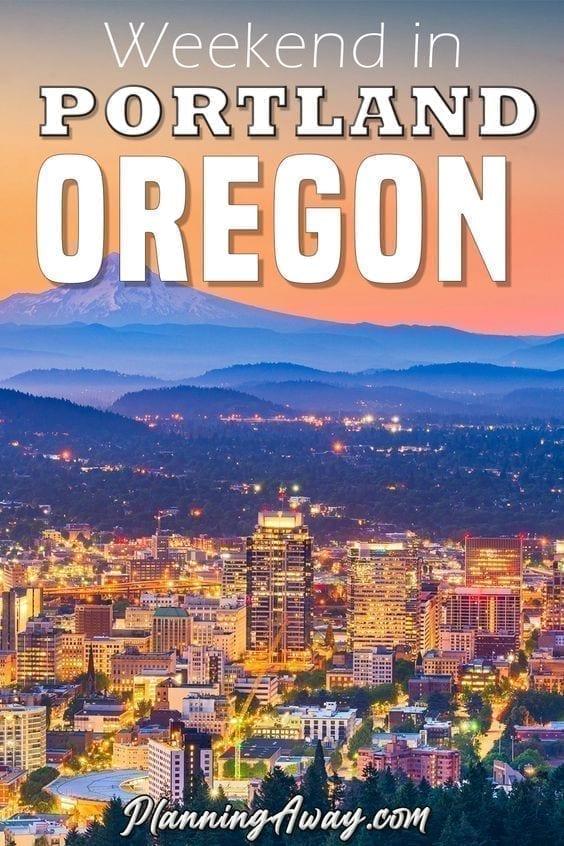 This post may contain affiliate links that will give me a commission at no additional charge to you. 
When is the Best Time for a Weekend Trip to Portland?
The best time for a weekend trip to Portland is late Spring/Summer/Fall.  Winter and early Spring are a little cold and no matter what season rain is always a possibility.
June to August is the best months to go to Portland Oregon. 
Weekend Trip to Portland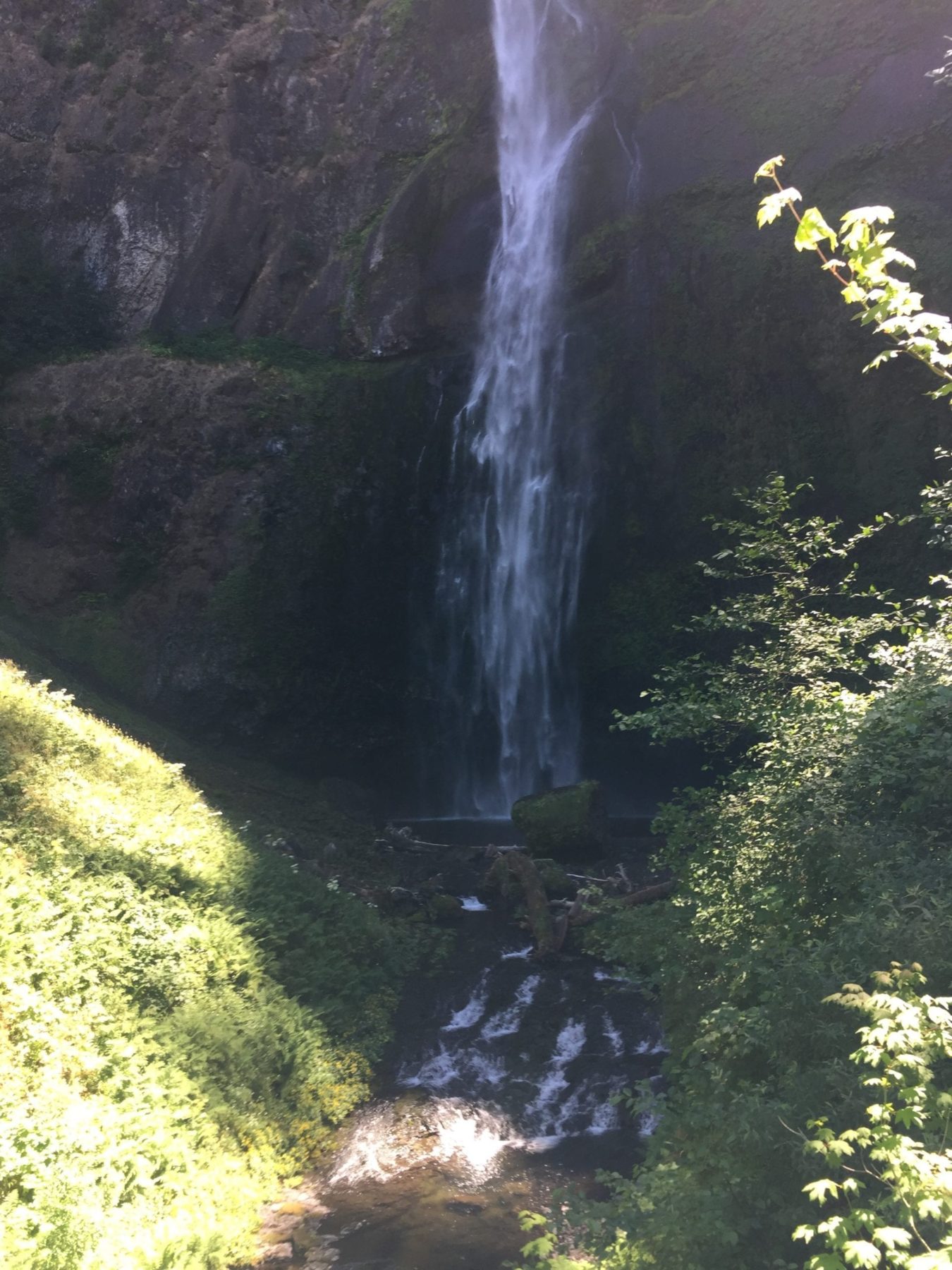 A weekend in Portland was a perfect choice for us!  After I had found great flights I started planning exactly what we would do.  I knew we only had a short amount of time and wanted to do as much as possible in our Portland weekend!
Breakfast in Portland Oregon
When I say start the day off right, of course, I mean breakfast!  The number one recommendation we received was to try  VOODOO DONUTS.
Voodoo doughnuts did not disappoint!  There was a line but I didn't feel like it took that long to get served. I wish we could have gone more than one time!  VOODOO DONUTS has more than one location but we decided to go to the location near the Saturday Market.
What We Ordered
We purchased two doughnuts. One was an Oreo (dirt) the other has an inappropriate name that I do not want on my blog but, it was the best thing I have ever tried.  It had chocolate frosting, Oreo Cookies, and peanut butter.
One of their most popular doughnuts is the Voodoo Doll doughnut.  It is pretty cute! VooDoo is now expanding and has opened franchises throughout the country including Universal Studios in Florida.
Other Breakfast Options
If you are planning a Portland weekend trip this will allow you to eat breakfast at more than one location. We did some research and found that most of the restaurants near the Saturday Market are local favorites and have great reviews.
Bijou Cafe
Our next stop was at the Bijou Cafe. Yes, we ate at two restaurants in one day!   We are total foodies! We shared a plate and it was delicious!  I was really full by this point so we needed to move on!
Mother's Bistro
The Mother's Bistro and Bar was nearby.  It has great reviews. I do wish we could have tried that as well!  Next time!
Alright, now you have two days worth of breakfast options for your weekend trip in Portland!  Let's move on to things to do on your Portland weekend trip!
How Do I Spend My Weekend in Portland

There are so many things to do in Portland that will make your weekend trip to Portland incredible.  Here are a few of the top tourist attractions date ideas in Portland:
International Test Garden

Japanese's Gardens

Saturday Market

Food Trucks

Powell's Books
Let's explore the activities we did on our weekend in Portland and hopefully, it will help you decide what you want to do! You can use our 3-day Portland itinerary.
1. Saturday Market
The Saturday Market is a happening part of town.  Lots of local artisans sell unique artwork and crafts.  We loved seeing all the booths. 
How Much Time to Spend at the Saturday Market
You could probably spend a few hours walking around and looking around. However, time was short and our next stop was waiting!
2. International Test Garden
We headed over to the International Rose Test Garden which is a beautiful garden. We were able to learn about the history behind the roses.  Roses from all over the world were sent to this garden. Portland's identity with roses began in 1888.
Visitor's Center
There is no entrance fee to enjoy this garden.  You can start your tour at the little visitor center.  They have a guide you can borrow to learn about the different types of roses.  During the summertime, it is hot so we did not spend too much time touring around!
3. Japanese Garden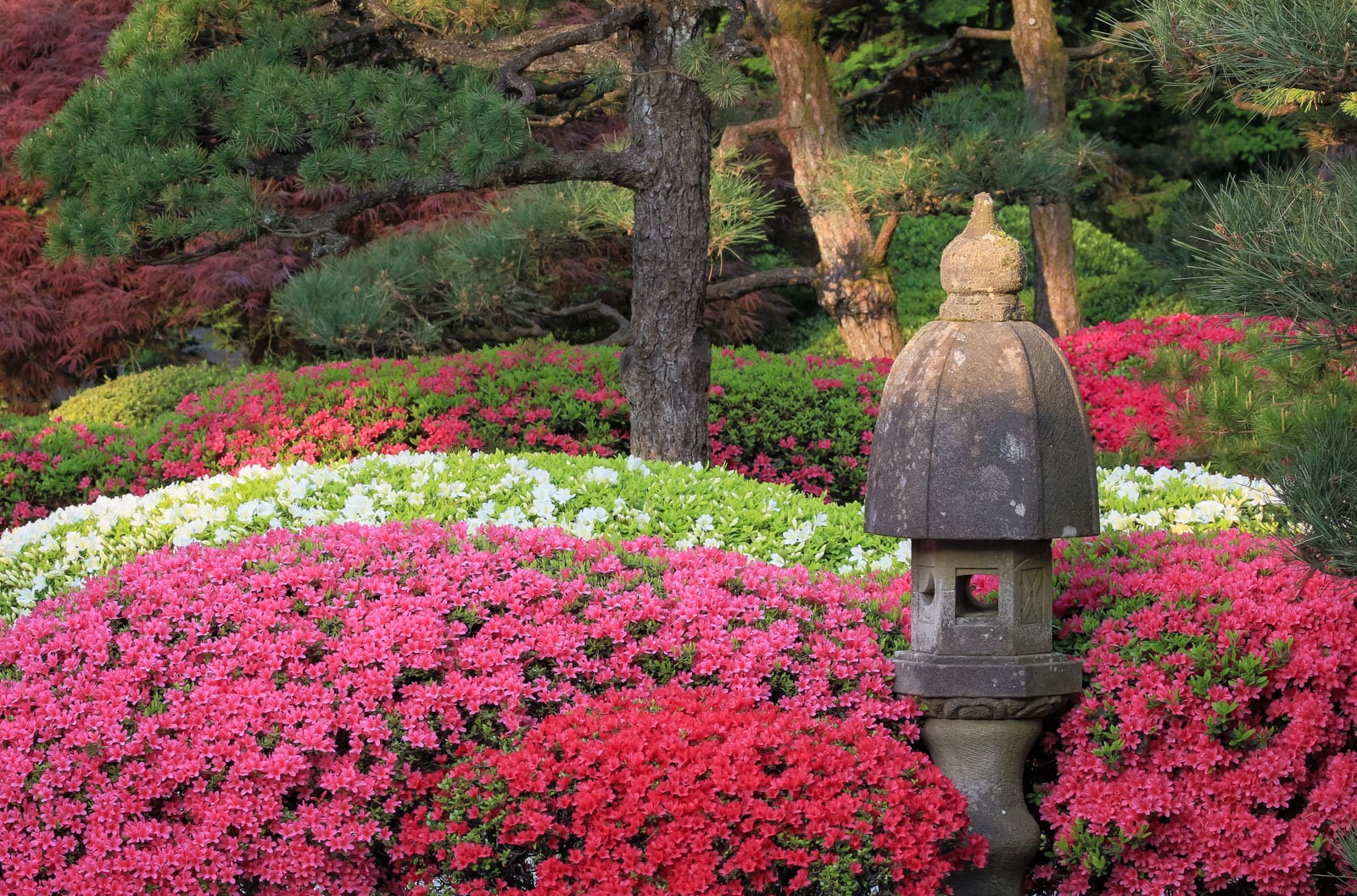 Located right next to the Rose Garden is the Japanese Garden.  The Japanese Garden has an entrance fee however it is well worth it. 
This garden is known for its tranquil beauty and serenity.  There are eight garden spaces to explore.  You will want to plan on getting there early so you can have an enjoyable experience in the summer months.
4. Multnomah Falls
I looked forward to seeing some amazing  Oregon waterfalls! We were able to go to Multnomah Falls. This is a must for your Portland weekend! 
Multnomah Falls
Multnomah Falls is a waterfall located on Multnomah Creek in the Colombia River Gorge. The falls are over 600ft of cascading water.
How Far is it From Portland?
It takes about 30 minutes to drive from Portland to the falls.
Is there an Entry Fee?
There is a parking fee of $5 and then you can take a bus to the falls.
Can you Hike to the Falls?
Yes,  we were very excited to hike this trail.  The hike to the falls was uphill and labeled as moderate.  It is a 2.2-mile round trip hike with a 700ft elevation gain.
The Multnomah Falls overlook trial is all that we could do.  For us, it was a really easy hike.  There is an option of a 5-mile loop that allows you to see five more waterfalls but when we went it was closed.
Are Dogs Allowed on the Trail?
Dogs are allowed.  You can bring your pouch and have an enjoyable time in the fresh air.
Visitor Center
Multnomah Falls Lodge is located at the base of the waterfall.  A restaurant is located inside as well as a gift shop. We loved looking at the gift shop and I purchased a cool shirt!
Accommodations in Portland Oregon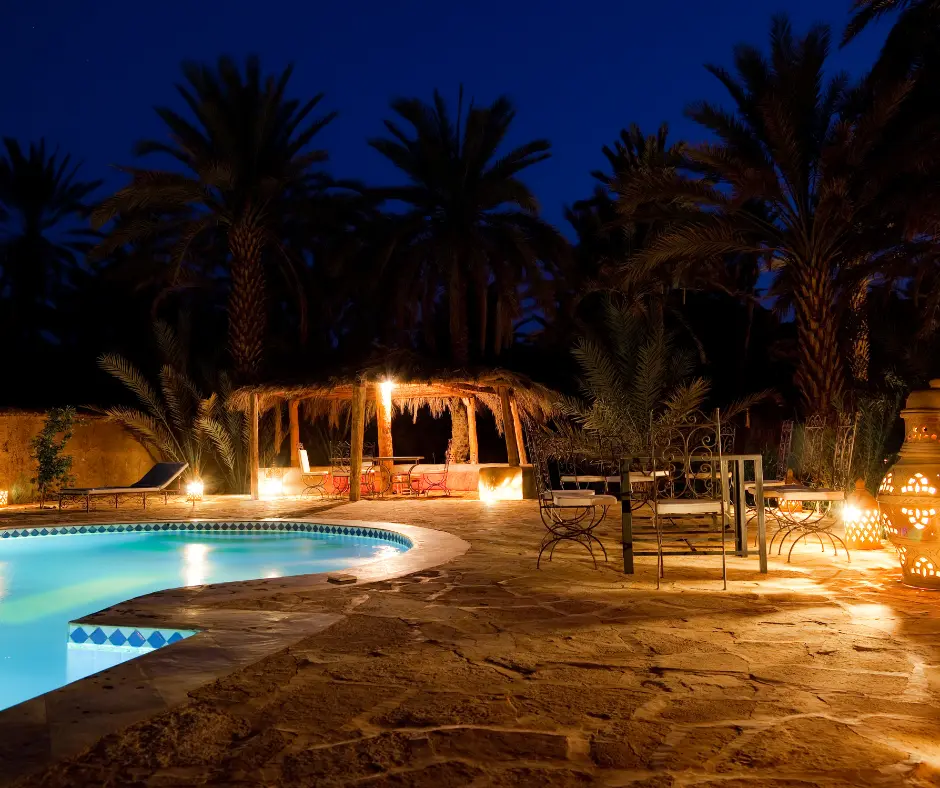 When you only have a weekend in Portland you will want to pick a hotel near your desired activities.  We decided to stay at the Embassy Suites.  We love their breakfast options.
There are many places to stay in Portland so finding lodging will not be a problem.
Dinner in Portland
After a full day of activities, we were ready for a great meal. We decided to go to a Chinese restaurant called Hunan Pearl.  It was located near our hotel and when you have had a long day finding something nearby is perfect.
There are some amazing restaurants in Portland.  We just did not have the energy to go!
Finding Cheap Flights for your Weekend in Portland Oregon
I really wanted to go somewhere for a weekend trip, but I wanted to find a good deal as well.  Finding cheap tickets to Portland, Oregon was where we started planning our weekend trip to Portland.  Obviously, finding great prices will be different depending on where you live.
Alaska Airlines
I would recommend looking at Alaska Airlines.  I am based in Utah so Portland isn't too far away. A normal-priced ticket is about $230 depending on the time of year.  I was able to get mine for $124 in the summer months which tend to be a little higher.
If your home state is an airline hub, I would check prices from that airline as well.  In Utah, Delta has a hub so we tend to fly on Delta a lot more.
Hot Tip:
You are going to want to pay attention because I seriously have saved hundreds using this tool.  Instagram is the key!  What?!  Yes!  Instagram accounts are going up all over Insta that are listing amazing prices from your city!
Instagram Accounts to Follow!

I should put a plug-in for my Instagram account @Planningaway1. Although I do not specialize in flight deals, I do post weekly about amazing vacation spots.  If you want to get great deals follow me on my Facebook Travel Community.
Here are some Instagram accounts I follow and love!
This is the most popular in Salt Lake City with over 267k followers!
FlightsFromHome list deals from Salt Lake City, Phoenix, and Las Vegas!
You can also join a paid membership to get deals before they are posted on Instagram.  I signed up for that and it has been amazing!  I was able to get flights to Amsterdam for 360 dollars round trip!  Crazy!
Salt Lake City
Denver
Los Angeles
Salt Lake City
Scott's is an email list that sends awesome deals from all over the country.
I am sure there are other accounts in your city that list amazing flight deals.  Do a little searching and see what you can find.  If you are looking for a business venture and love looking at Google Flights all day this may be the job for you!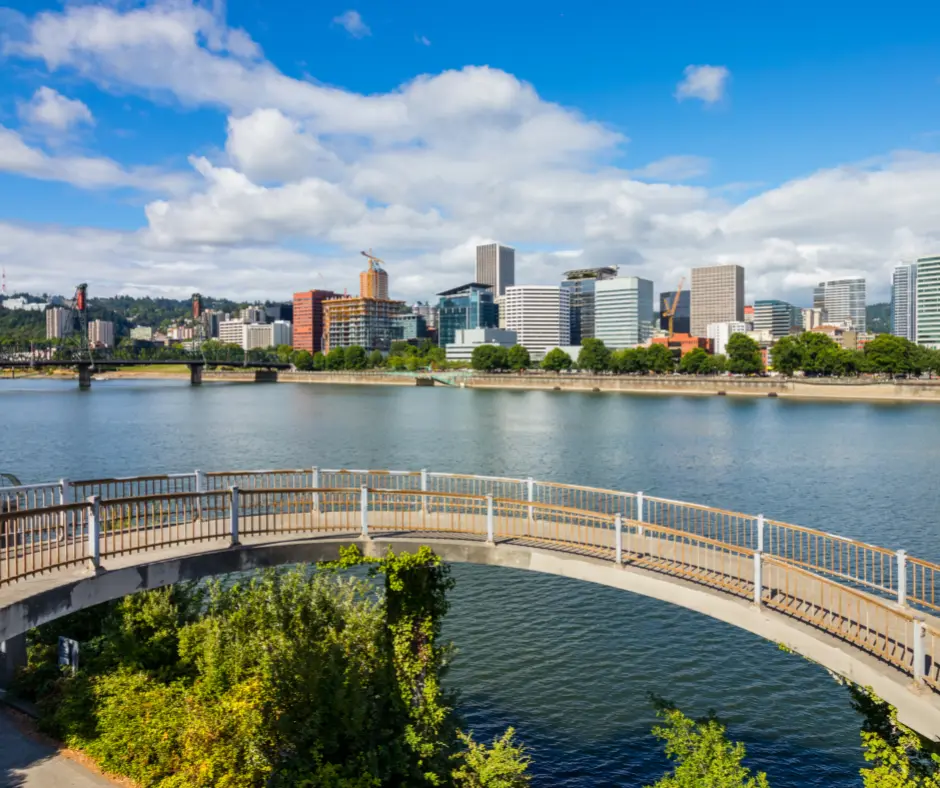 Day 1 – Friday Arrive
Check in to Hotel

Portland Tour

Eat in Downtown
Day 2 – Explore Portland
Voodoo Donuts

Saturday Market

International Test Garden

Powell Book Store

Eat Downtown
Day – 3 – Explore Portland
Eat Downtown Breakfast

Multnomah Falls

 Salt and Straw Ice Cream

Head Home
Portland in a Weekend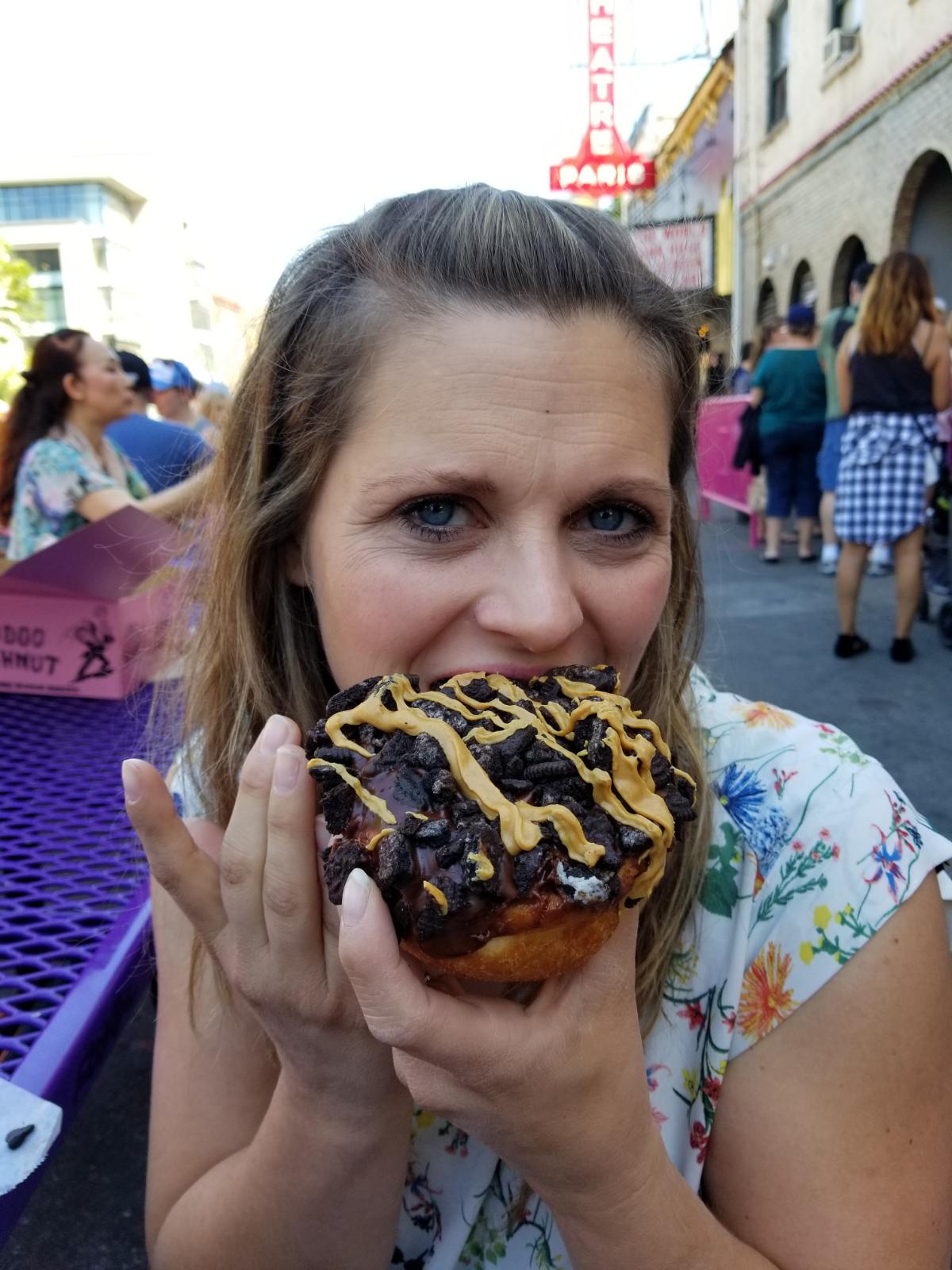 Are you ready to enjoy Portland in a weekend? We did so much in a short amount of time! After visiting Portland you may want to go on an Oregon Road trip or even to the Oregon Coast for more adventures.  I highly recommend a weekend trip to Portland!
Facebook Community
If you have any questions join my Facebook Travel Community. You can ask any questions you have about upcoming trips and everyone is happy to help you plan your trip.  I also try to give exclusive travel deals that companies send me.  It is a great group to join!