Are you ready to plan a Magnolia Market trip?
Awesome, you will have so much fun!
The Silo's at Magnolia Market, owned by Joanna and Chip Gaines, is a great place for a weekend getaway or a day trip.  It is located in Waco, Texas.  Joanna and Chip are most known for their hit TV show on HGTV, Fixer Upper.  They take the worst house in the best neighborhood's and turn them into a dream home.  Joanna's ability to design and decorate are outstanding.
If you are thinking about going to Waco, Texas to check out Magnolia Market at the Silos you will not be disappointed!
If you like what you see be sure to Pin this to Pinterest!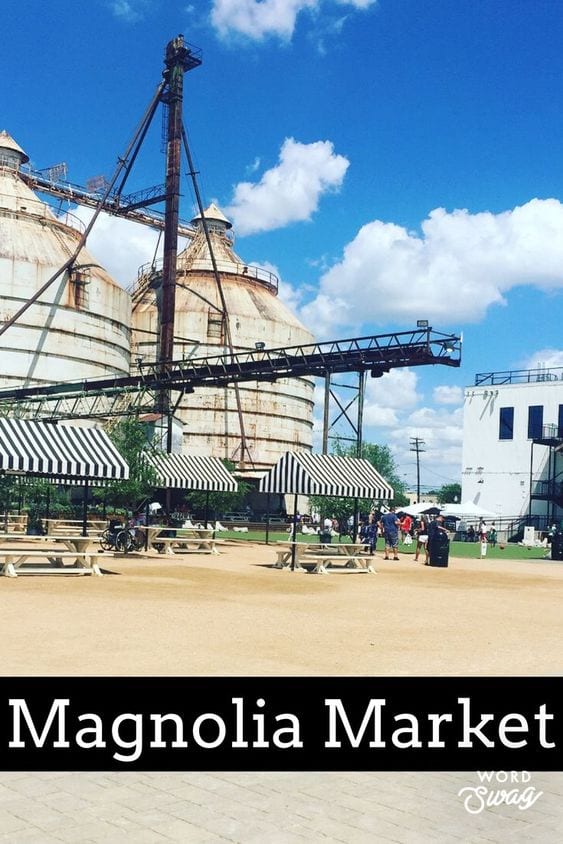 It is time to plan a Magnolia Market trip! Let's get started!
What is at Magnolia Market at the Silo's?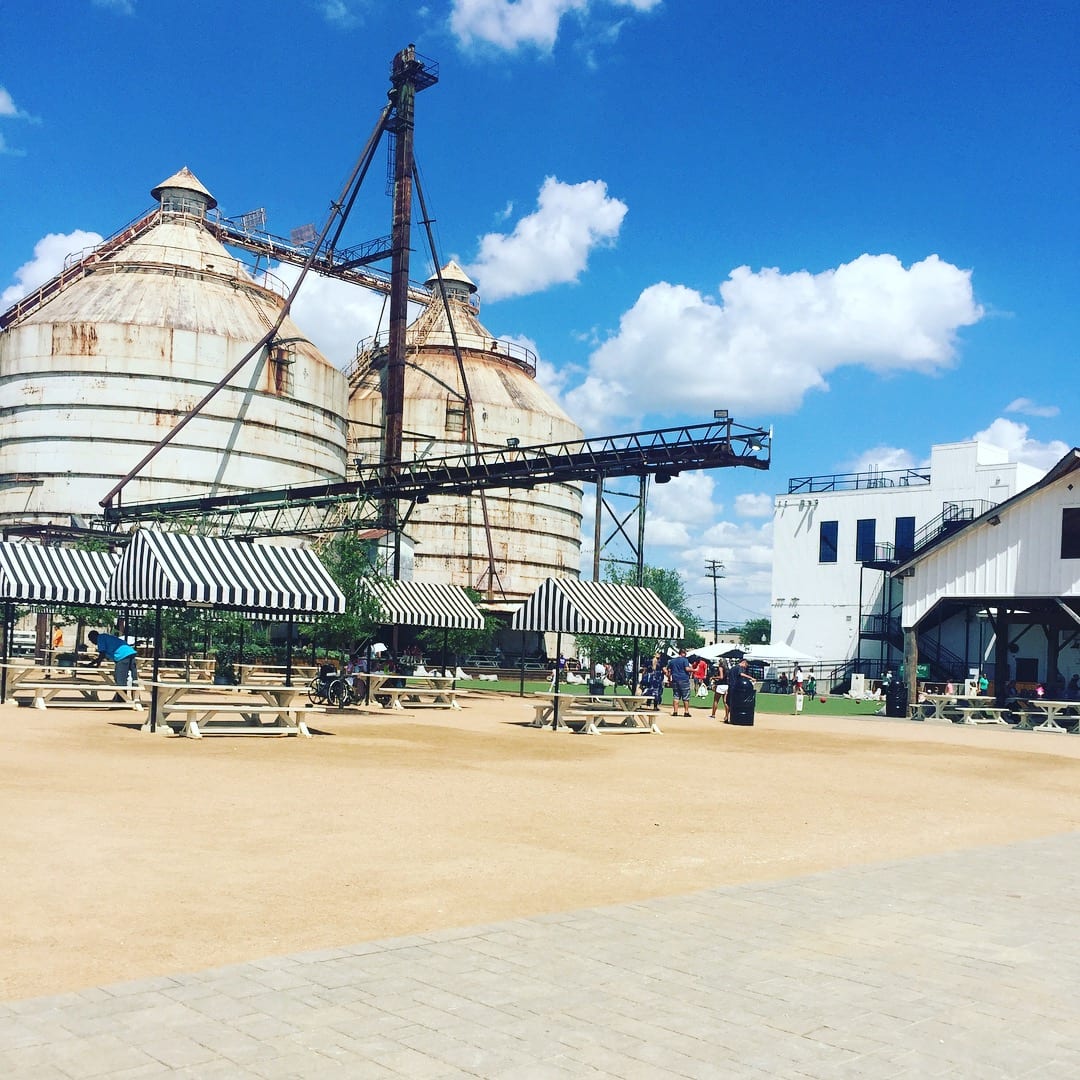 Magnolia Market at the Silo's sit's on about 5,000 acres and attracts over 30,000 visitor's ever week.  It houses the Magnolia Market store, the Silos Bakery Co, a garden, a grassy area to relax and hang out, as well as food trucks along the perimeter.
Magnolia Table which is the restaurant owned by the Gaines is located about 10 minutes away.  The Magnolia Press which is a coffee shop is located 1 minute down the street from the the Magnolia Market Store.
Where is Magnolia Market at the Silo's?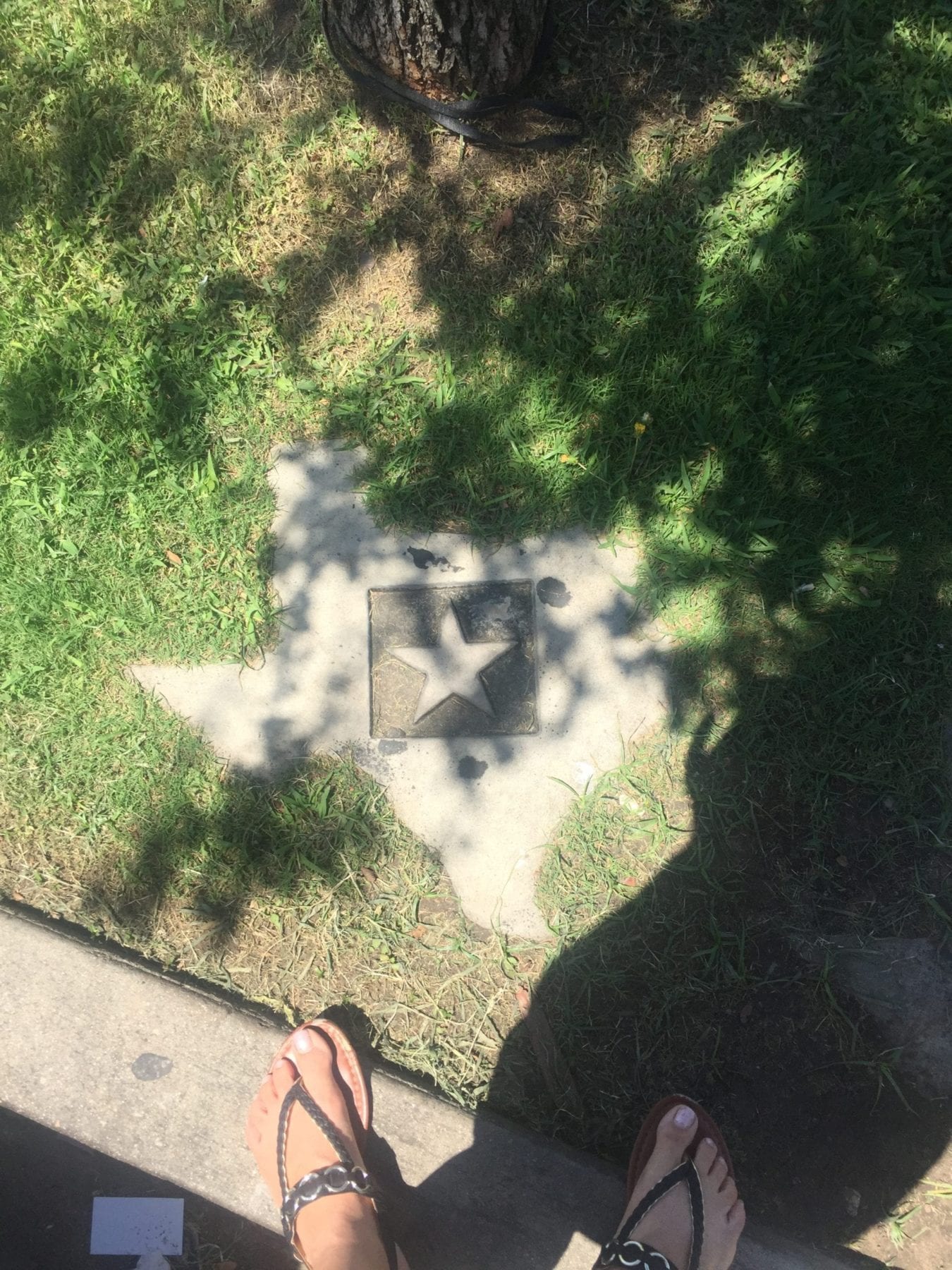 Okay, we know we want plan a Magnolia Market trip but where is Waco, Texas?
Waco, Texas is located 90 miles south of Dallas and 90 miles north of Austin.  There is a regional airport in Waco that American Airlines flies into but you might find a better price at the larger international airport's in Dallas and Austin.
Address and Hours at Magnolia Market at the Silo's
Address : 601 Webster in Waco, Texas
Magnolia Market at the Silos are open Monday through Saturday (closed Sunday) from 9 a.m. to 6 p.m.
The bakery is open Monday through Saturday (closed Sunday) from 7:30 a.m. to 6 p.m.
Magnolia Table is open Monday through Saturday (closed Sunday) from 6 a.m. to 3 p.m.
Best Time To Visit Magnolia Market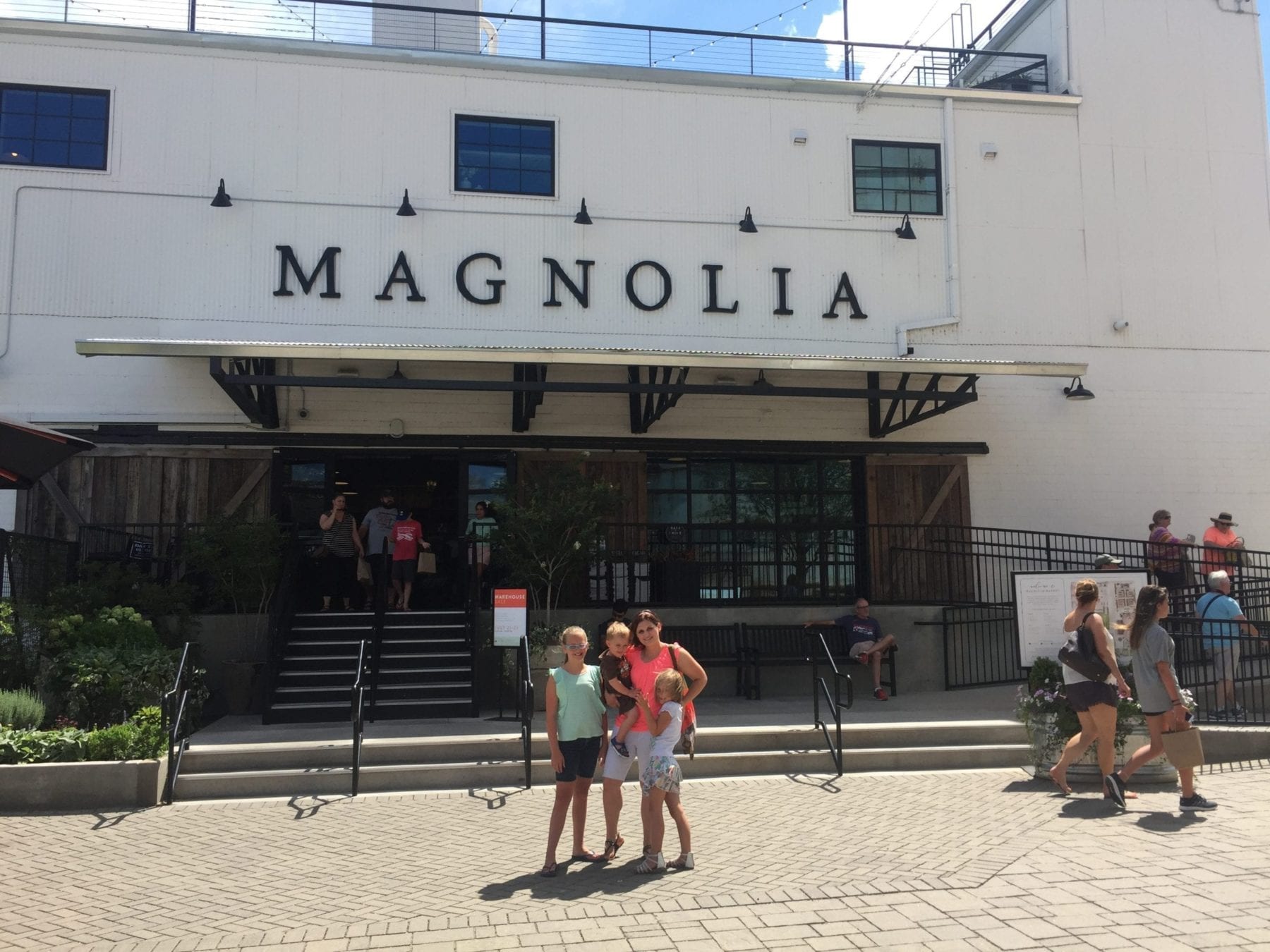 Arrive Early or Late to Magnolia Market at the Silos
Don't like crowds?  One important thing to consider when you plan your Magnolia Market trip is timing!  Wake up early and get there before everyone else.  I have found this true for any trip!
Another thought is to go right before the Silos close!  (shortest lines) Tuesday is the best day to visit both Magnolia Market and Magnolia Table for the lowest crowd levels.
The busiest time of day is Saturday at lunch time or college game days!
Magnolia Market is very popular so you will see crowds year round.  You might want to avoid summer because it is extremely hot.  With that said I went in the summer and didn't mind the heat too much!
Parking at Magnolia Market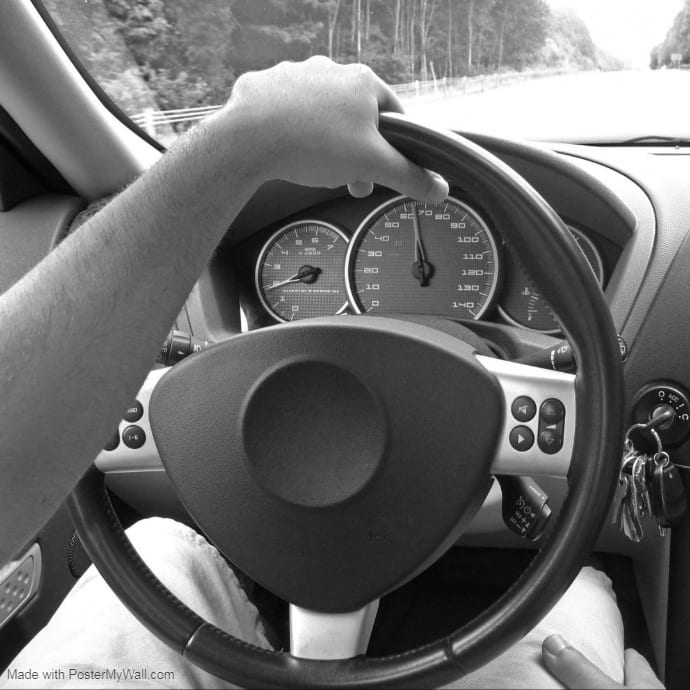 Parking is Free at Magnolia Market
No matter how crowded it is, there is always parking. There is a parking lot attached to the Silos as well as street parking. If those are full you can take a trolley for free from downtown Waco.  It is about 10 minutes away.
I really didn't have any trouble finding a spot in the parking lot that was right next to the Magnolia Market Silos.
Where to Eat at Magnolia Market at the Silos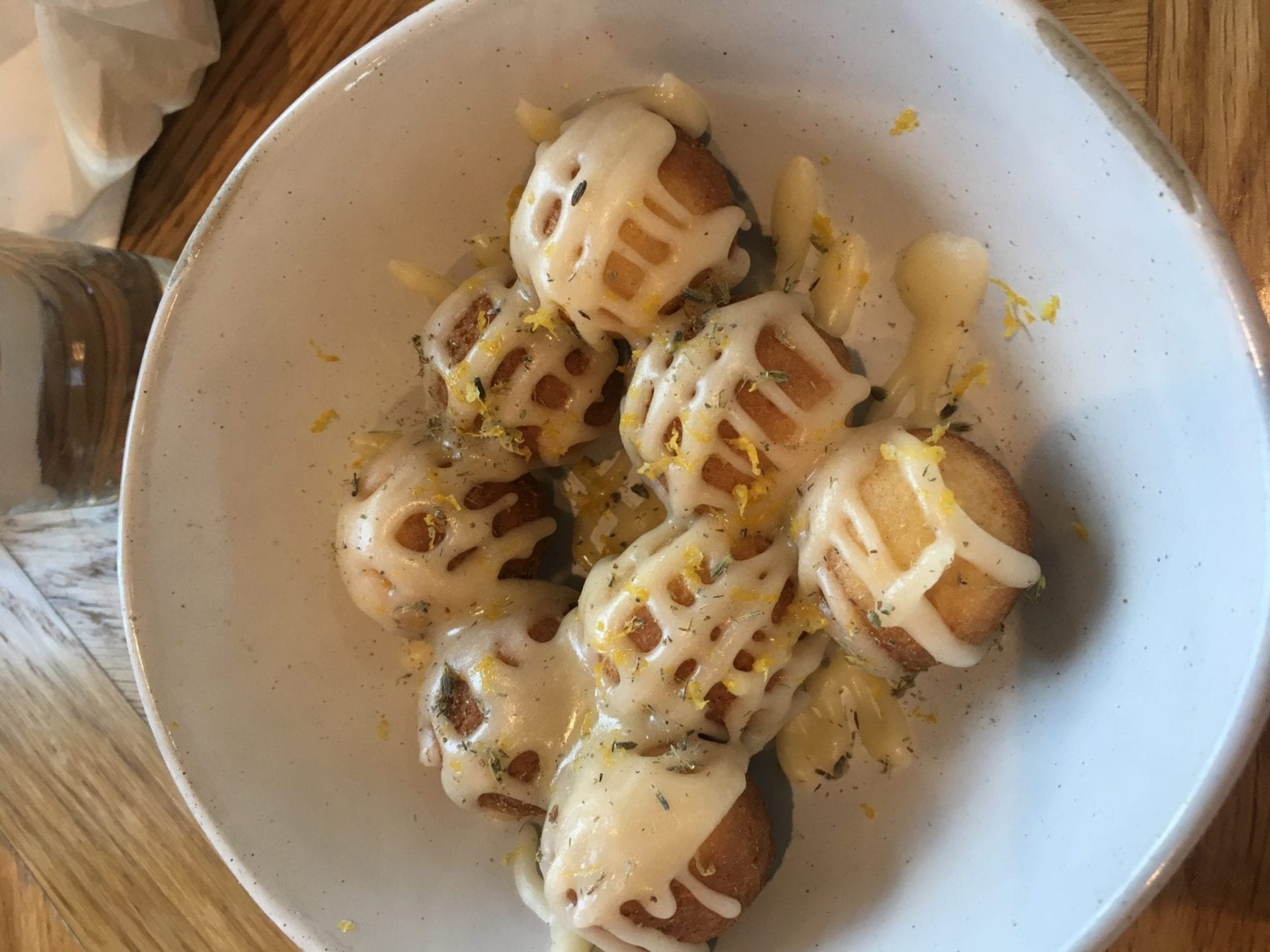 Food Trucks at Magnolia Market
Food trucks are available.  This is nice because you will have a wide variety of different types of food all in one spot.  They have southern food, barbecue, grill cheese, hamburgers, crepes, salad, sandwiches and pizza.
A huge green space is available with picnic tables  to sit at.   While you eat your kiddos can play outdoor yard games.
 Silos Bakery Co.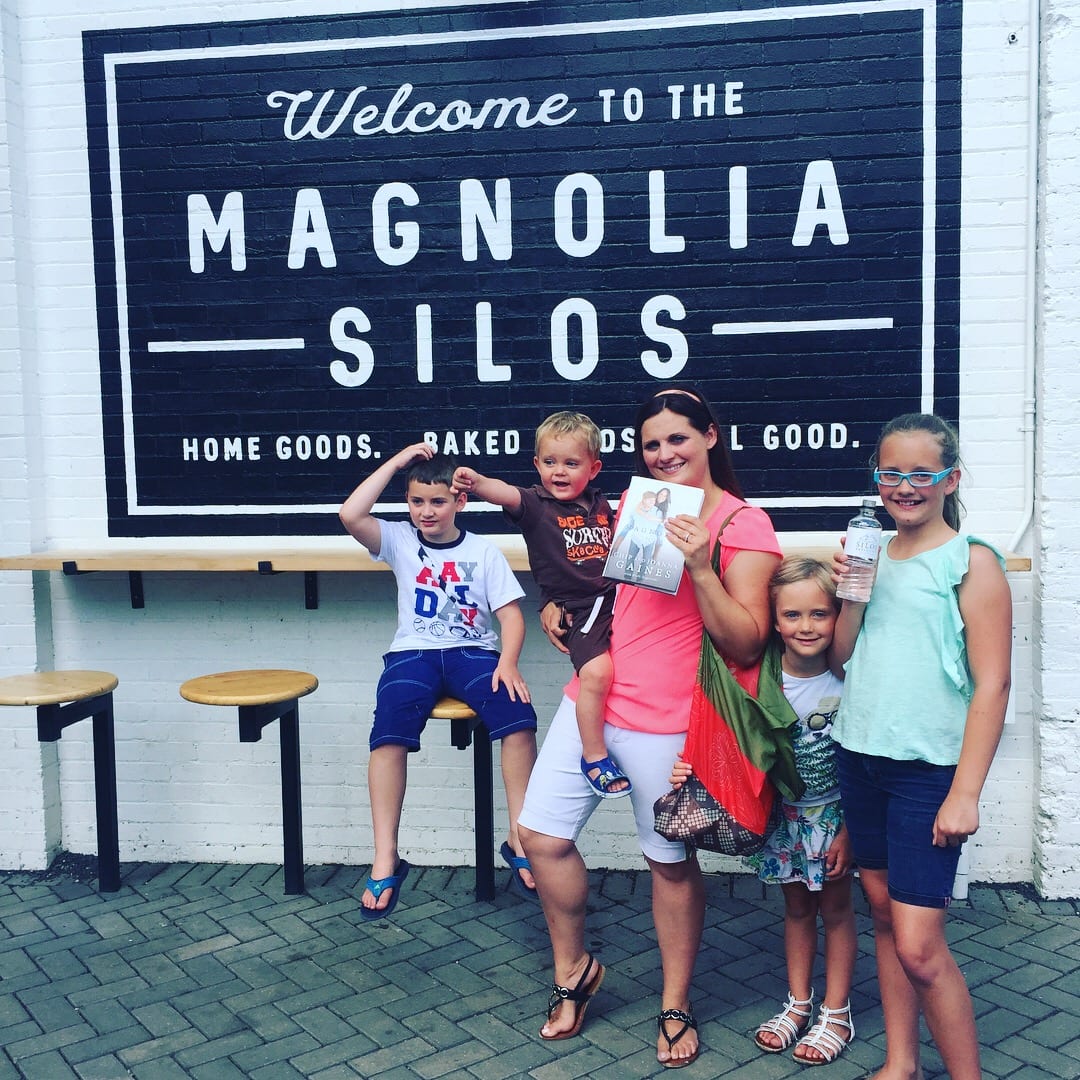 All I can say is CUPCAKES.  The Bakery Silos Co. is a cupcake lovers dream.  There are many flavor's to choose from!  They also have other bakery items such as biscuits, cinnamon rolls, and muffins. You will have to stand in line for a while but workers will be there to help you decide what the best options are for you.
In my opinion , the cupcakes are worth it!
The bakery is located across from the store.
Magnolia Table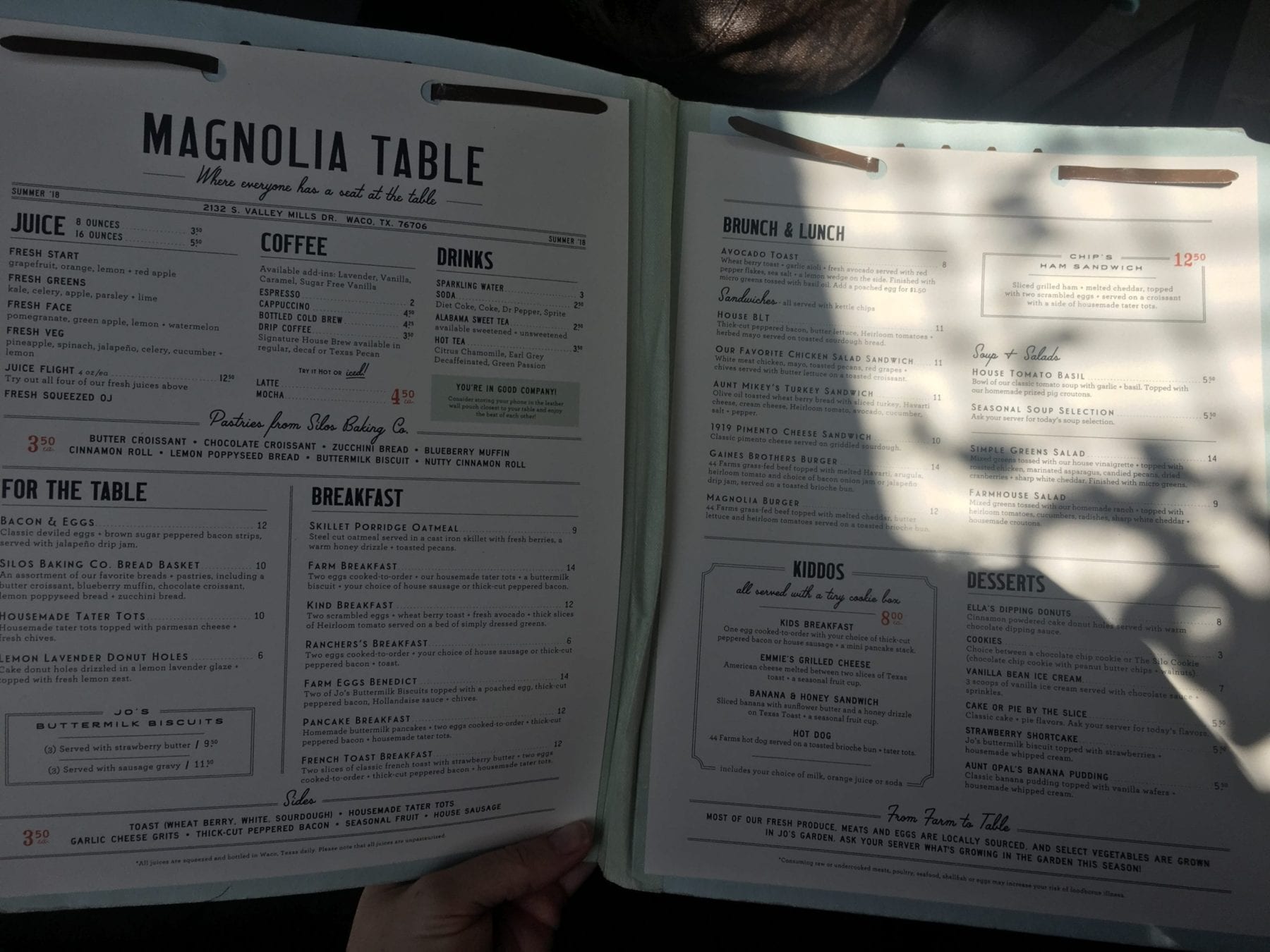 One of the top things I would do as I plan a Magnolia Market trip is to eat at Magnolia Table.  They do not currently take reservations so first come, first serve.
This restaurant closes at 3 pm, therefore breakfast and lunch are all that is served.  They are closed on Sundays!   They do have an option to purchase lunch on-the-go at the Magnolia Take Away and Market.   Merchandise may also be purchased here.
Magnolia Press Coffee Co.
Magnolia Press is the newest addition to the Magnolia group.  This is a cute coffee shop to chat and enjoy your coffee in style.
Shopping at Magnolia Market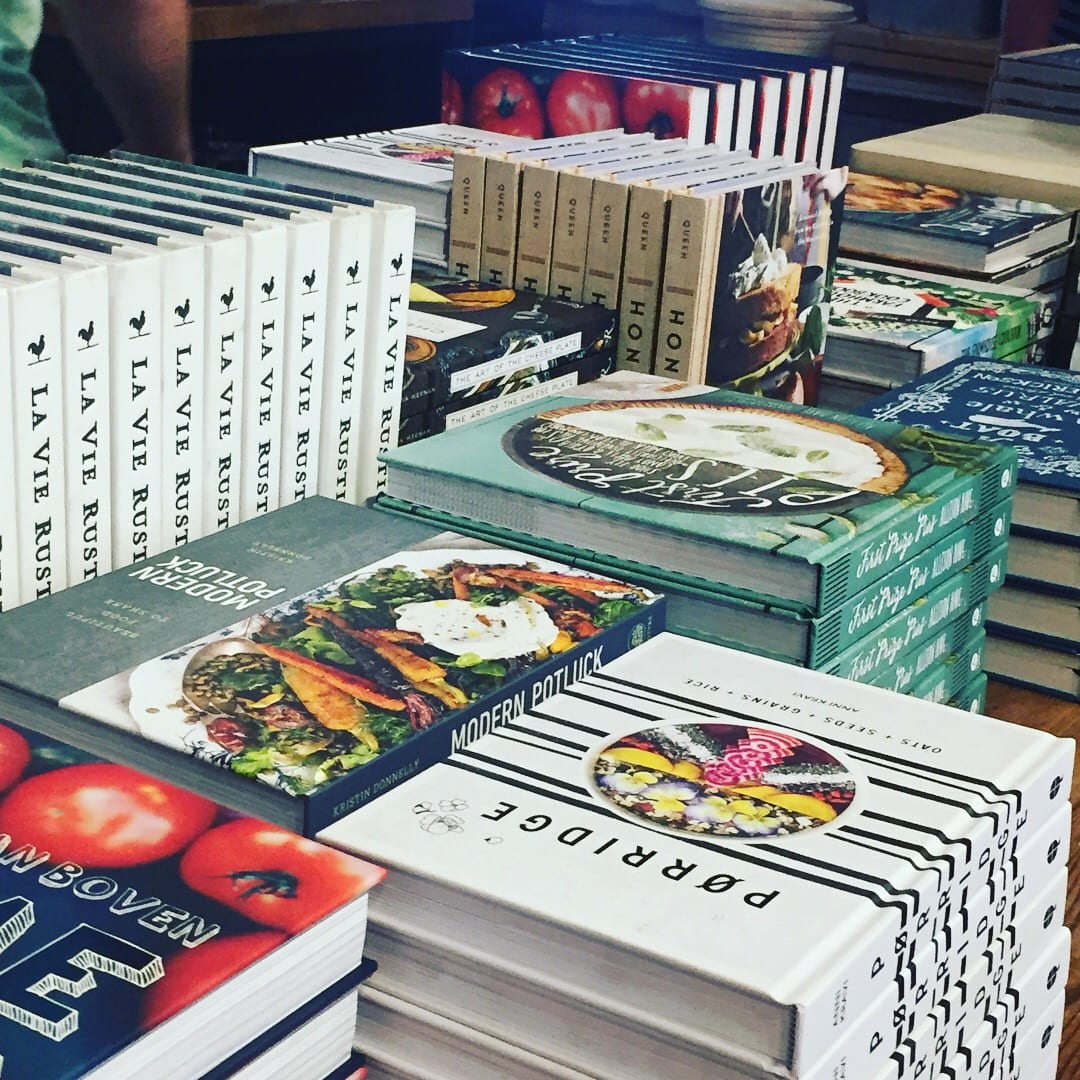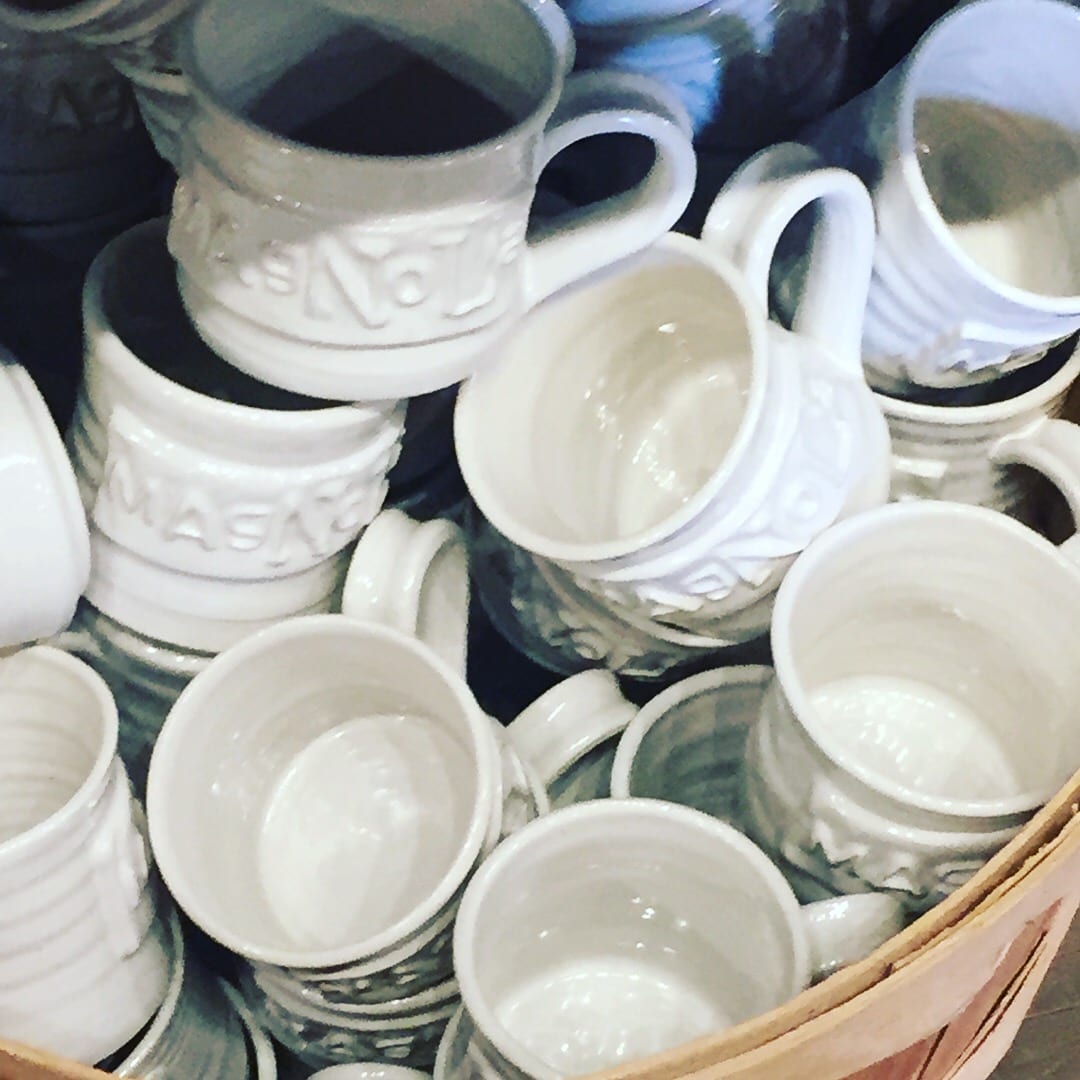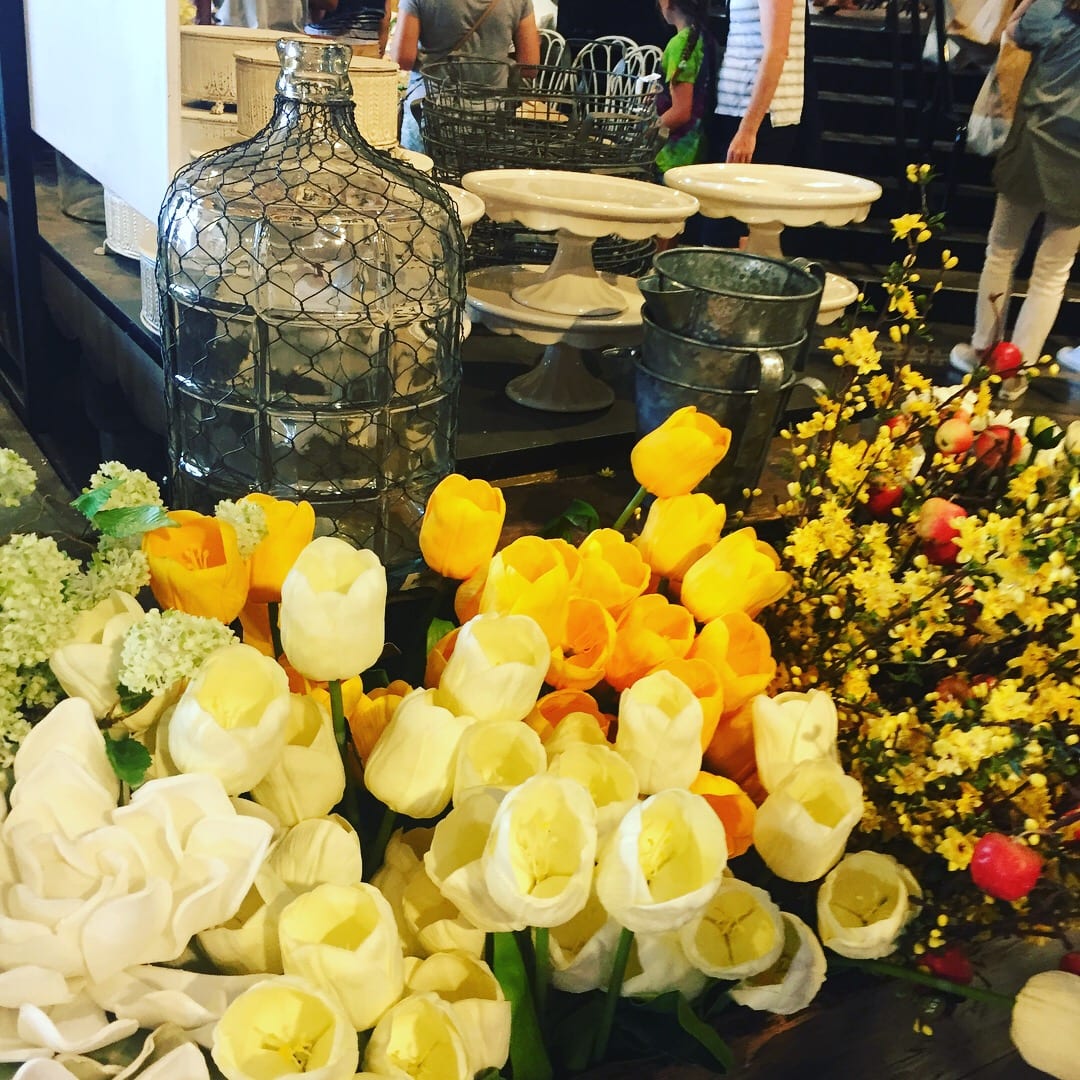 Shopping at Magnolia Market is the main highlight of the Silos! Check out the wall decor, home, and garden sections of the store.  The space is very large and you could spend a good amount of time looking at all the beautiful merchandise. Warning you may want to buy everything in the store!
Remember to sign the book when you walk in, people from all over come to see the Silos!
Pro Tip
You can always shop online at Magnolia Shop if there is something that you decide you want after you leave.
There is also an outlet Store! Little Shop on Bosque features slightly damaged and discounted product from Magnolia. It is located on 3801 Bosque Blvd, Waco, TX 76710
Harp Design Company
If you are a big fan of Fixer Upper you may recall that Clint made all the tables featured in Joanna's designs.  Clint has a furniture store called Harps Design Co.  It is located about a 5 minute drive from the Silos.
Where to Stay in Waco Texas?
One day may not be enough time to do everything you want to in Waco, Texas.  You may want to stay the night and enjoy this town a little more.  There are plenty of hotels to stay at in the area but you may want to try and experience something new.  You can actually stay in a few of the house Joanna Gaines remolded.
Rent The Fixer Upper Harp House
If you are new to Airbnb you can use my link and get $55 off your stay.
Day Trips From Magnolia Market
If you are looking for great day trips from Magnolia be sure to check out all the fun things there are to do in Austin and in San Antonio!  Texas is such a big state and really has some amazing cities.
Distance
Just a short drive from Austin or Dallas, Magnolia Market is a dream trip for some of us! I love Chip and Joanna Gaines!  Every summer I travel to Oklahoma and Texas to visit family. Waco,TX is fortunately right on our way.  We were able to stop by the Silos and explore!
Scroll down and Subscribe