Are you looking for some kid friendly hikes in Utah?
Great! In this post I am going to be focusing on the kid friendly hikes near Salt Lake City.
Utah is our home state, and so we get to enjoy the mountains all the time! We know which hikes our kids love and which ones they hate!
There are so many hikes near Salt Lake City that I could not possibly list all of them.  I plan to add more to this list as I discover more amazing hikes!
If you want to save this post for later be sure to Pin it to Pinterest!
This post may contain affiliate links that will give me a commission at no additional charge to you.
Wasatch Boulevard Hikes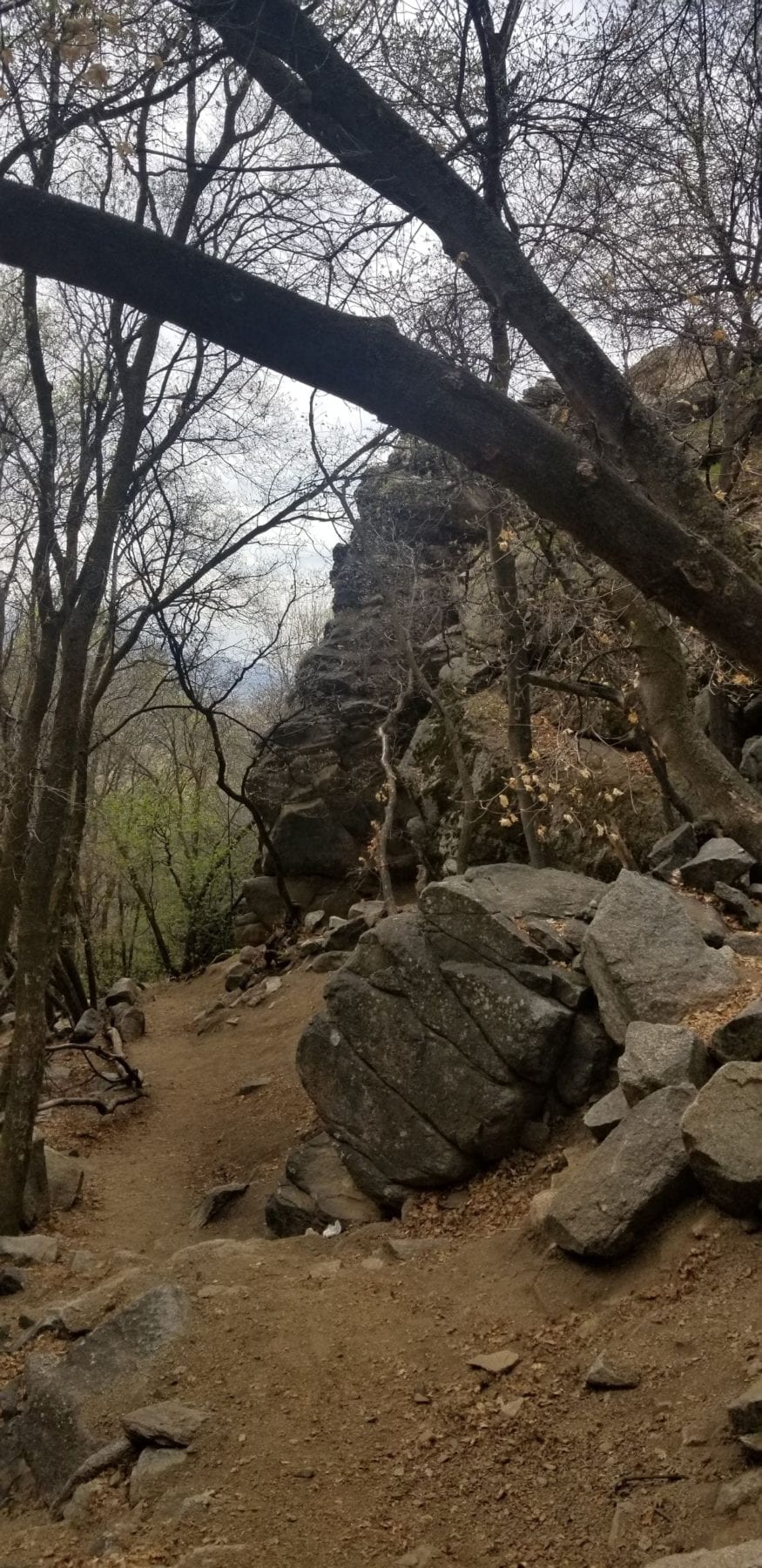 The following hikes are just to the southeast of Salt Lake City. What is great about the trails accessible along Wasatch Blvd. is that you don't have to drive up a canyon to get to them.  This is such a beautiful area with lots of trees right at the base of the mountains.
These hikes provide exceptional views of the Salt Lake Valley!
Rocky Mouth Falls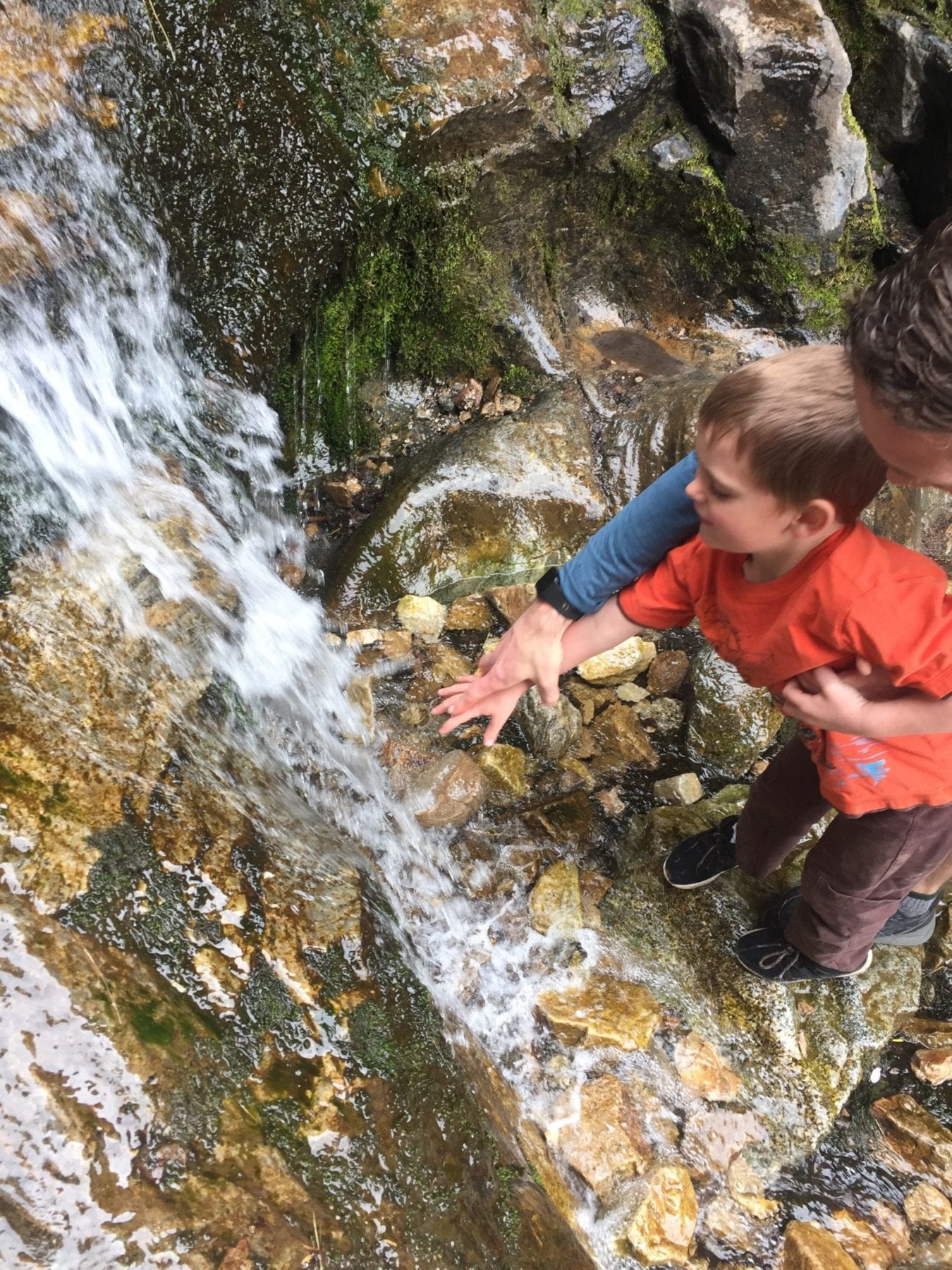 Location: This hike is located off of Wasatch Blvd at 11250 S., in Sandy, Utah
Parking: There is a small parking lot located off of Wasatch Blvd.  If the parking lot is full, you can park along Wasatch Boulevard.
Miles: This hike is .7 miles from the parking lot, but it seems shorter.
Rocky Mouth is probably one of the most kid friendly hikes in Utah!  What we love most is that there is a waterfall at the end of this short hike.  My kids love this hike.
After you park you will ascend a staircase that will lead you to a neighborhood. You might be thinking, "am I in the right spot?"  The answer is yes. You will walk about a block and see trail signs that will direct you to the trailhead.
Once you get to the trailhead from the neighborhood, you will have a semi-steep climb, but within a few minutes you will reach a point that it levels out.
The great part about this hike is that there are no drop-offs, it isn't long, but has a waterfall at the end to reward you and the kiddos.
Sights to Explore
There are a couple of other great sights along the way too. On your left (on your way to the waterfall, there is an area that seems like caves. Our little one loves to peek in an imagine what creature is lurking inside.
There is also a bridge on a path that goes off from the main hike (you will see it to your right on the way to the waterfall at a fork). We call this the troll bridge, probably because our little guy is thinking of lurking creatures after the caves got his imagination going.
This is a really popular hike with only one way in and one way out. I have never felt it was too crowded the many times I have been there.  This is a fast and easy hike!
The waterfall is pretty cool, and you can walk up through the water a way to get closer to it without worrying about a rapid flow of water. With that said, keep in mind that the water flows differently at different times of year.
Another Hiking Option in this Area
If you are up for more hiking after visiting the waterfall you can take the path that leads down the troll bridge.  We decided to see where the path led on our last hike and found that it connects with the Bonneville Shoreline Trail.  We took the trail all the way to the Hidden Valley Park to the south.  Our 4 year old loved it and walked the entire way. But it was a long walk!
Please also note that this section of the Bonneville Shoreline Trail goes across private property that is accessible by the public, at least when we last went. But in the past the gate has been closed, in which case you will need to turn around and go back.
Bonneville Shoreline Trail (Bear Canyon Suspension Bridge)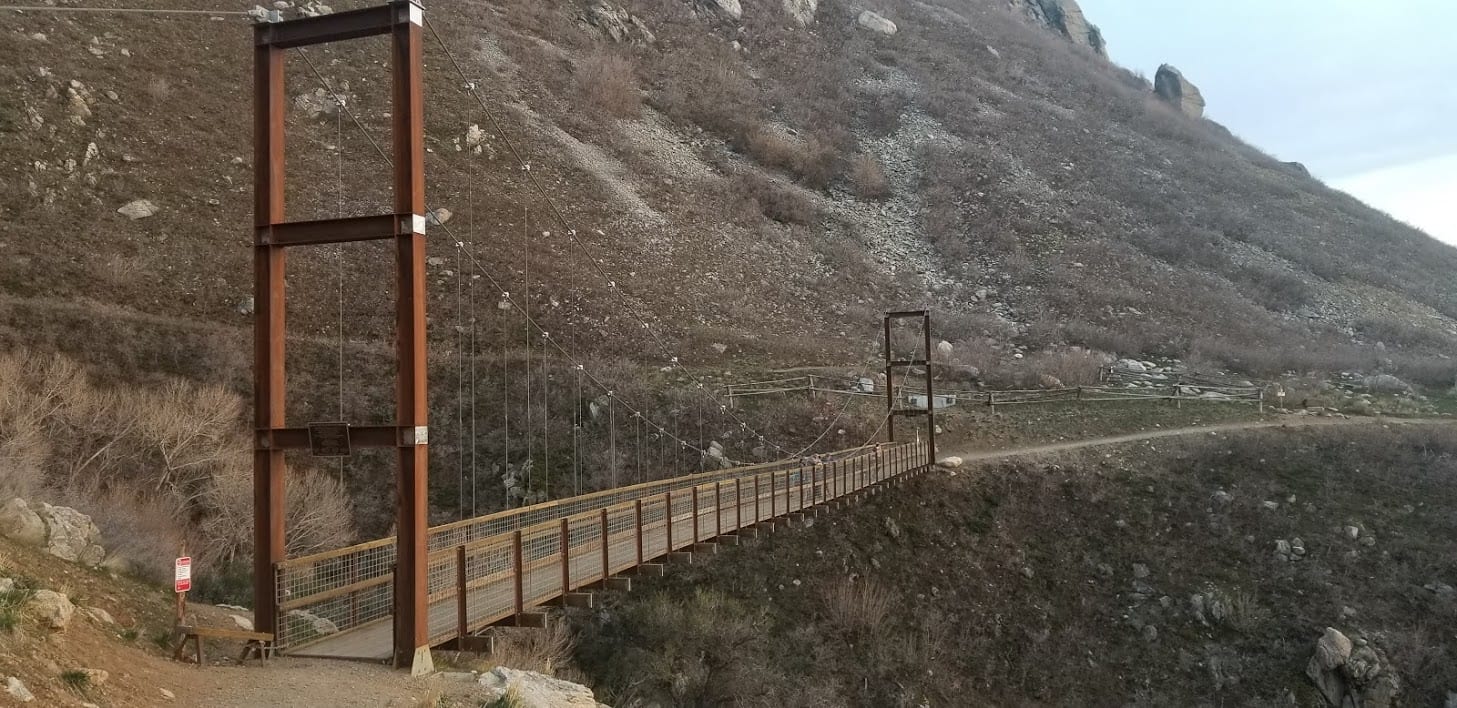 Location: The Bear Canyon Suspension Bridge is located along the Bonneville Shoreline Trail, and you can access it from Sandy (Hidden Valley Park on Wasatch Boulevard) or Draper (Orson Smith Park).
Parking: There are parking lots at both locations.
Miles: Starting at the Orson Smith Park trail head, it is a 2.3 mile hike round trip.  Starting at the Hidden Valley Park, it is 3 miles.
So 2.3 miles is easier than 3 miles, right? No brainer for kids? Wrong.  Yes, 2.3 miles sounds easier but it's not!  We have hiked from both origin points, and starting in the Sandy location is easier. The parking lot is at a higher elevation, and while there are some hills to climb, you don't have to climb as much overall.
Bonneville Shoreline Trail
The easier trail to the suspension bridge is the Bonneville Shoreline Trail.  This trail also gives you some cool views of the valley, even before getting to the suspension bridge.
Orson Smith Trail
The trail from Orson Smith Park, the Orson Smith Trail, has a bunch of switchbacks at the beginning to gain elevation. It is still a doable hike for kids.
When you get to the end of the switchbacks, you will arrive at a wide dirt trail, which is the Aqueduct Trail. Make sure to go left (to the right goes toward Corner Canyon), and you will see a sign that will lead you up to the bridge.
Aquaduct Trail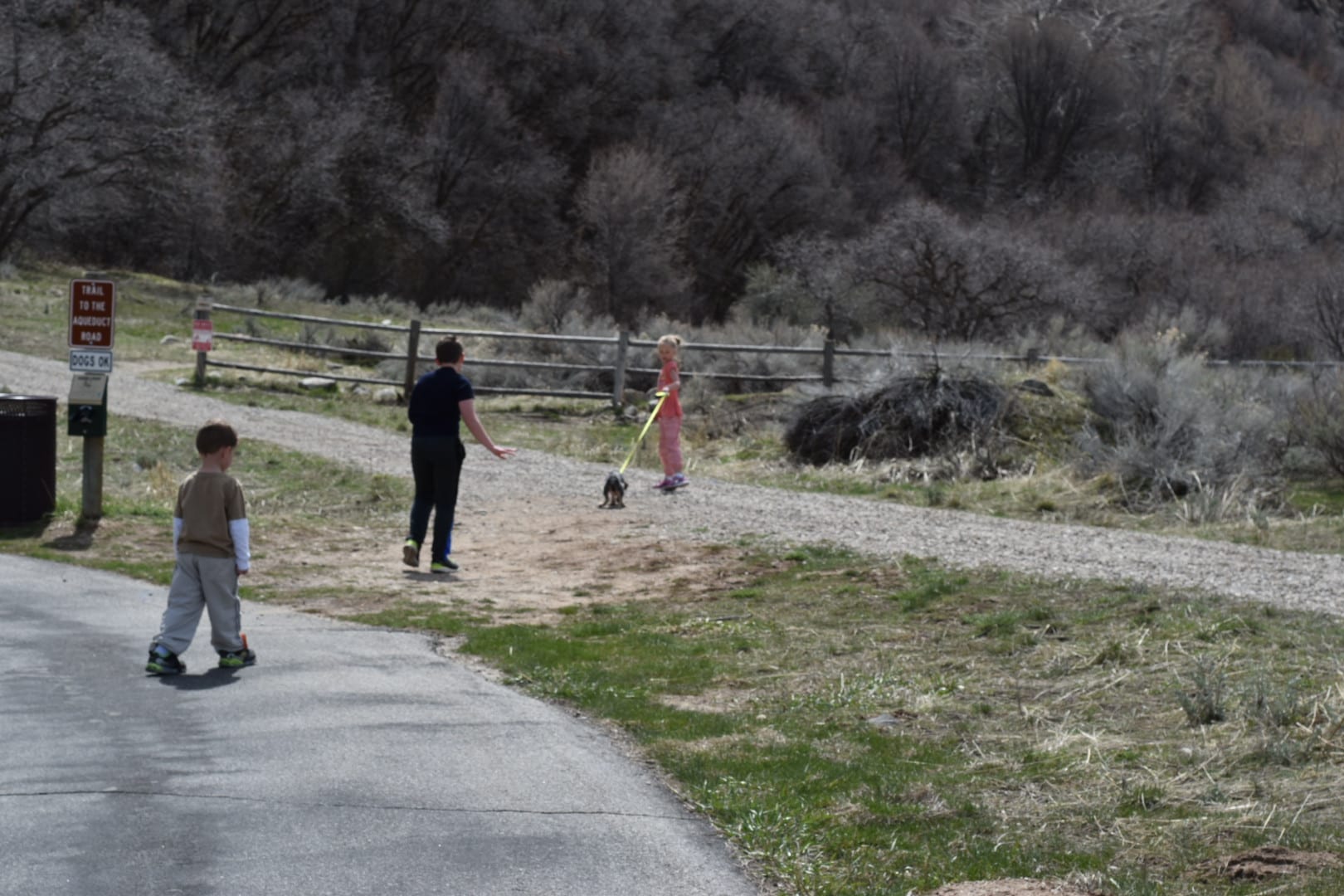 Location:  This trail is located at the Hidden Valley Park.  (same parking lot for the Bonneville Shoreline Trail in Sandy that gives access to the suspension bridge).
Parking:  There is a parking lot at the park.
Miles: This is a two mile hike round trip if you turn around before the "hill".
This is a great hike. Instead of following the signs to the Bonneville Shoreline Trail (which is the path going up from the pavilion), go the opposite direction to the paved loop.
As you walk along the loop, there is paved path that forks off, and will get you back to the access to the Bonneville Shoreline Trail if you stay on it. But you will see a dirt path off to the right shortly after forking off with a sign that says trail to the Aqueduct Trail. That's the path you want to take.
What to Except
It starts out in a beautiful forest area. You will soon cross a bridge and, at least in the late spring, see pretty purple wild flowers along the path.  As you keep going, you will get a great view of the city.
You eventually will get to a fork. Keep right (going left will take you up to Bonneville Shoreline Trail, which you may want to take on the way back to mix things up). As you go through another tree lined part of the path, you will soon get to a wide, open path, which is the Aqueduct Trail.
You can walk along the path for quite some time, but we generally go to a steep hill and turn around (this is about a mile in).
Dogs are allowed on this trail.
Bell Canyon Trail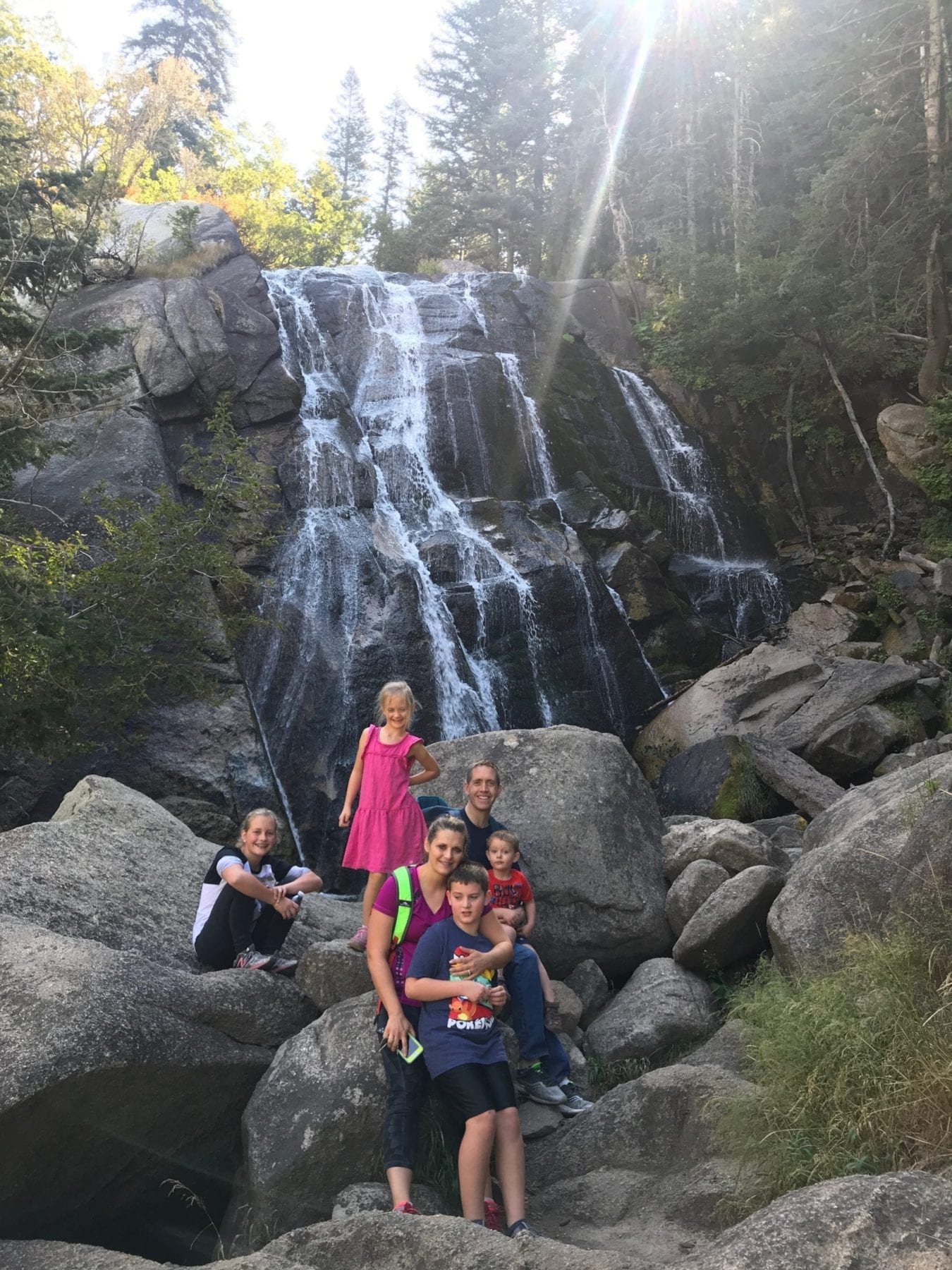 Location: This hike is located on Wasatch Blvd.
Parking: There are two parking lots! The larger parking lot is on Wasatch Blvd, but is only accessible going north on Wasatch.  The other is on Little Cottonwood Road, just off of Wasatch, at the Granite Trailhead.
Miles: .7 to reservoir –  5.3 to lower falls
Okay, to make this a kid friendly hike only go to the reservoir! We made the mistake of going to the waterfall!  It was brutal for me!  The kids actually did amazing getting there. (On the way back down our 3 year old fell asleep and had to be carried)
Reservoir Vs. Waterfall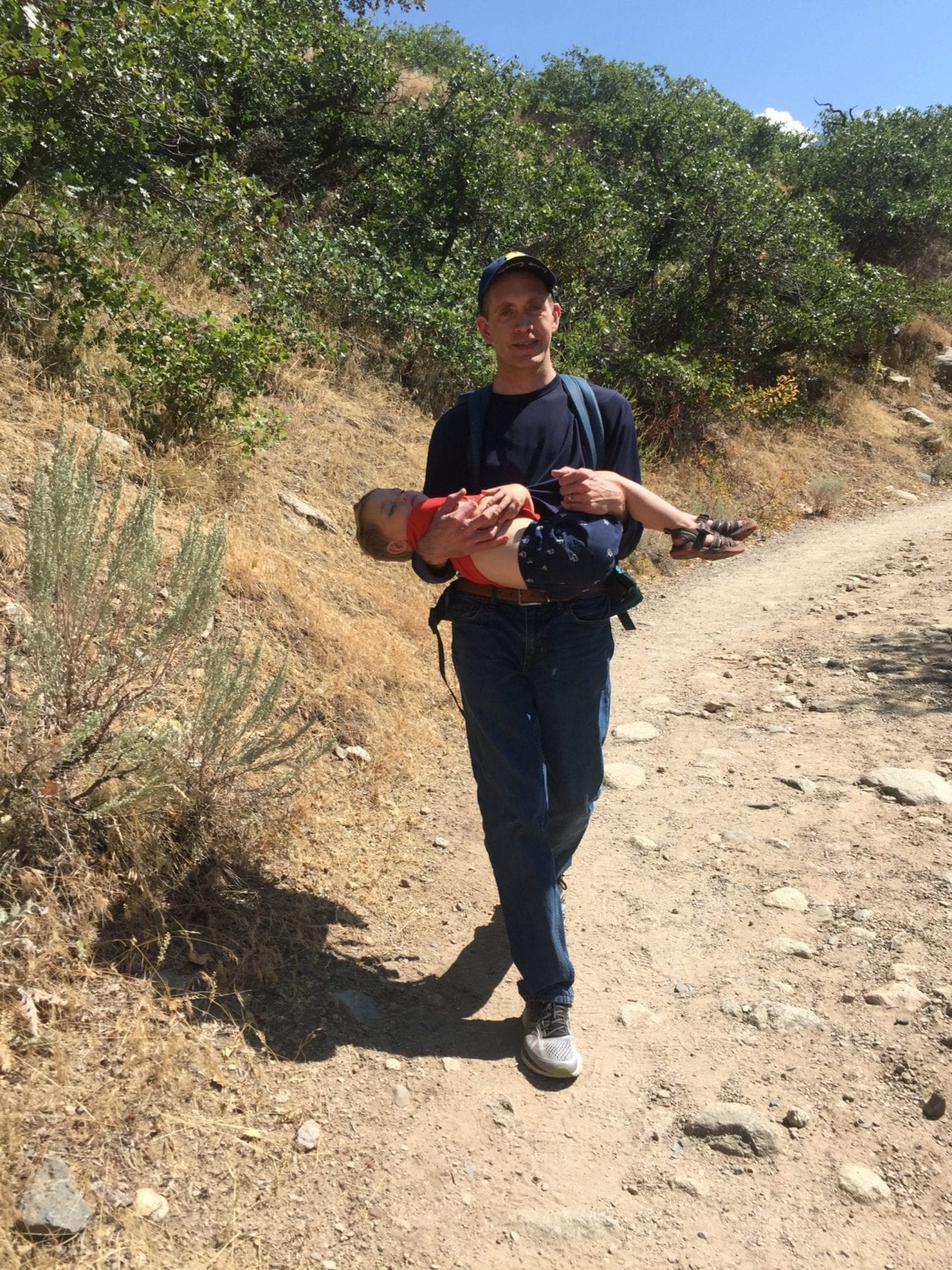 The reservoir can be really pretty if Utah has had a good snow/rain season.  The last time we went the water levels were very low and it really isn't as pretty.  If you like water, spring and early summer are great times to go.
There are two ways to get to the reservoir (and from there to the falls). If you park off of Wasatch, you start along a trail that goes by homes, It is an incline and takes a bit longer to get the reservoir.
If you start at the Granite Trailhead, you will be faced with switchbacks, but may save a bit of time.  The waterfall can be a great sight, especially if there is a good snowpack and you go in late spring.
The path close to the waterfall is very rocky and at a steep incline.  Shockingly our kids were rejuvenated at this point and bounded up this last 1/5 mile (while the adults languished).
No dogs are allowed on this trail.
Big Cottonwood Canyon Hikes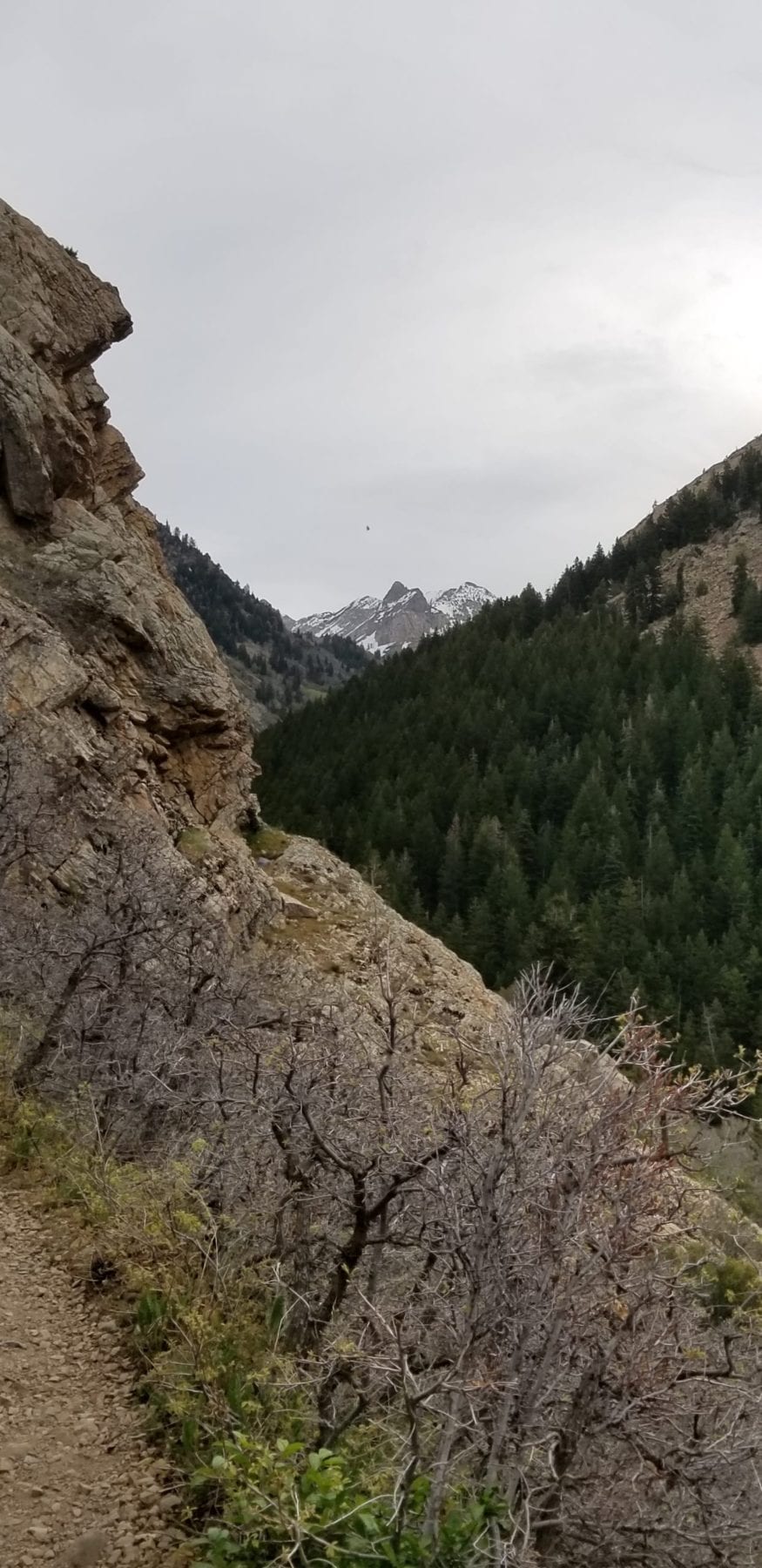 Big Cottonwood Canyon is the home of Brighton and Solitude Ski Resorts.  But you don't have to go all the way up to the ski resorts to find some kid friendly hikes.
Hidden Falls Trail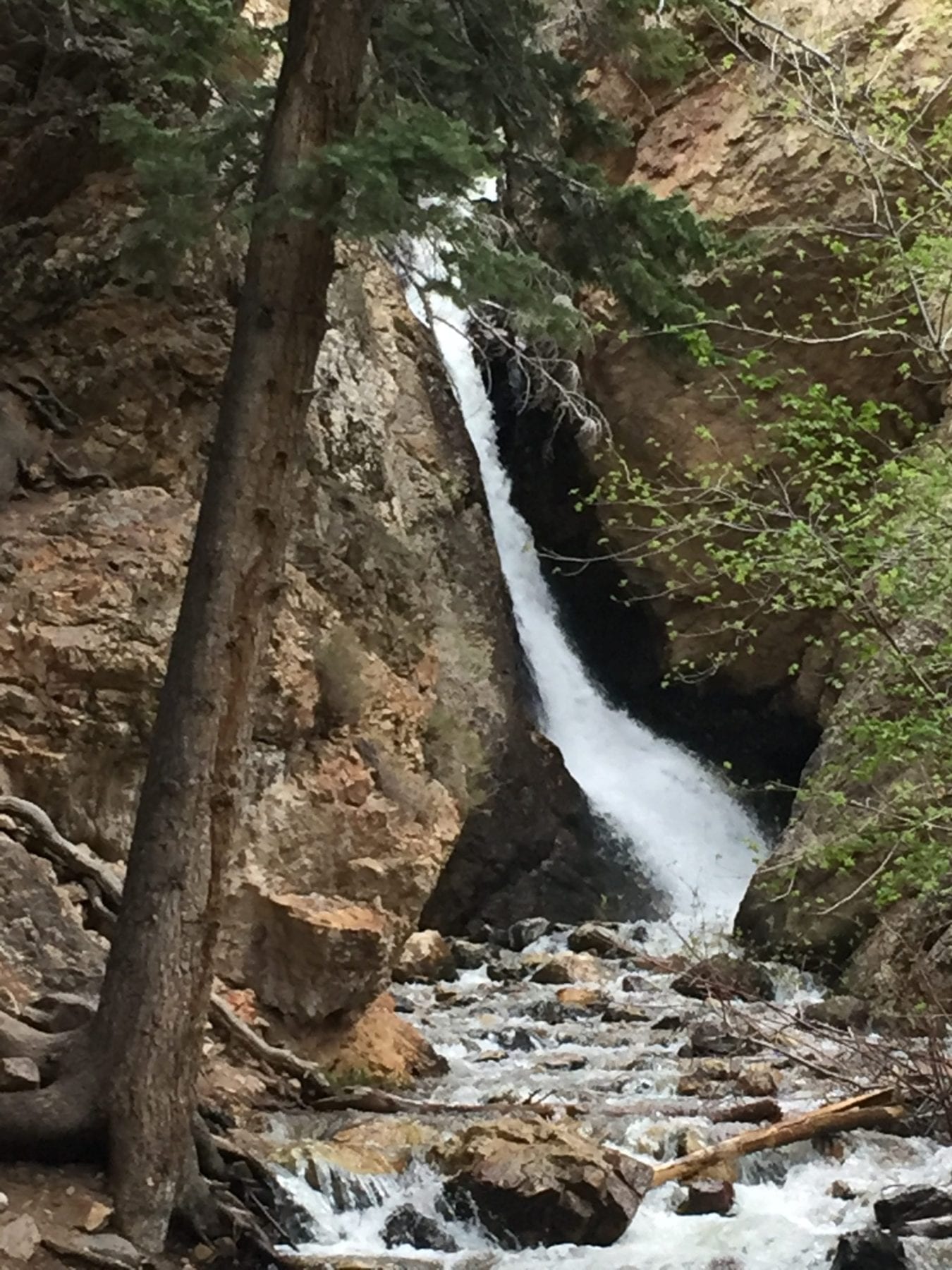 Location: Drive 4.4 miles into Big Cottonwood Canyon
Parking: Roadside parking lot. (off to your right at the beginning of the S curve; if you go up the curve you've gone too far). There is limited parking, and this lot can fill up quickly, in which case you will need to fine a place along the street. You will need to cross the street to access the hike.
Miles: .3 Miles
This is a very easy hike if the water is not high. You can pretty much see the waterfall from the road.  But in late spring the water can be high and it can be difficult to access the trail. When we went, folks were crossing the stream by walking across fallen tree trunks.
Yes, this hike is very short and has a great view of a waterfall, but use caution and plan a late summer hike.
If you are up for a little more hiking there is a path just off to the side of hidden falls. It doesn't have a name (it eventually leads to the Desolation Trail), but we decided to check it out.
It was a pretty steep climb but my kids did fine.  We went up to a point where you had to cross a small stream.  We didn't follow the path all the way so I am not sure where it leads! It had great views of the canyon.
Silver Lake
Location: The top of Big Cottonwood Canyon
Parking: There is a parking lot designated for the hike.
Miles: .9 Miles Loop
This may be one of the best kid friendly hikes in Utah!  You can even push a stroller on this hike.  There is a wooden plank path around a beautiful lake.  We have been on this path many times and love it!
For those of you who are not as adventurous but still want to enjoy the outdoors this is the hike for you.
Visitor Center
They also have a visitors center where you can learn about the area.  There is a scavenger hunt you will want to pick up before you go on the hike so you can look for certain animals as you hike.
If you are up for more of an adventure there are trails on the other side of the lake but with little kids I do not recommend it.
Little Cottonwood Canyon Hikes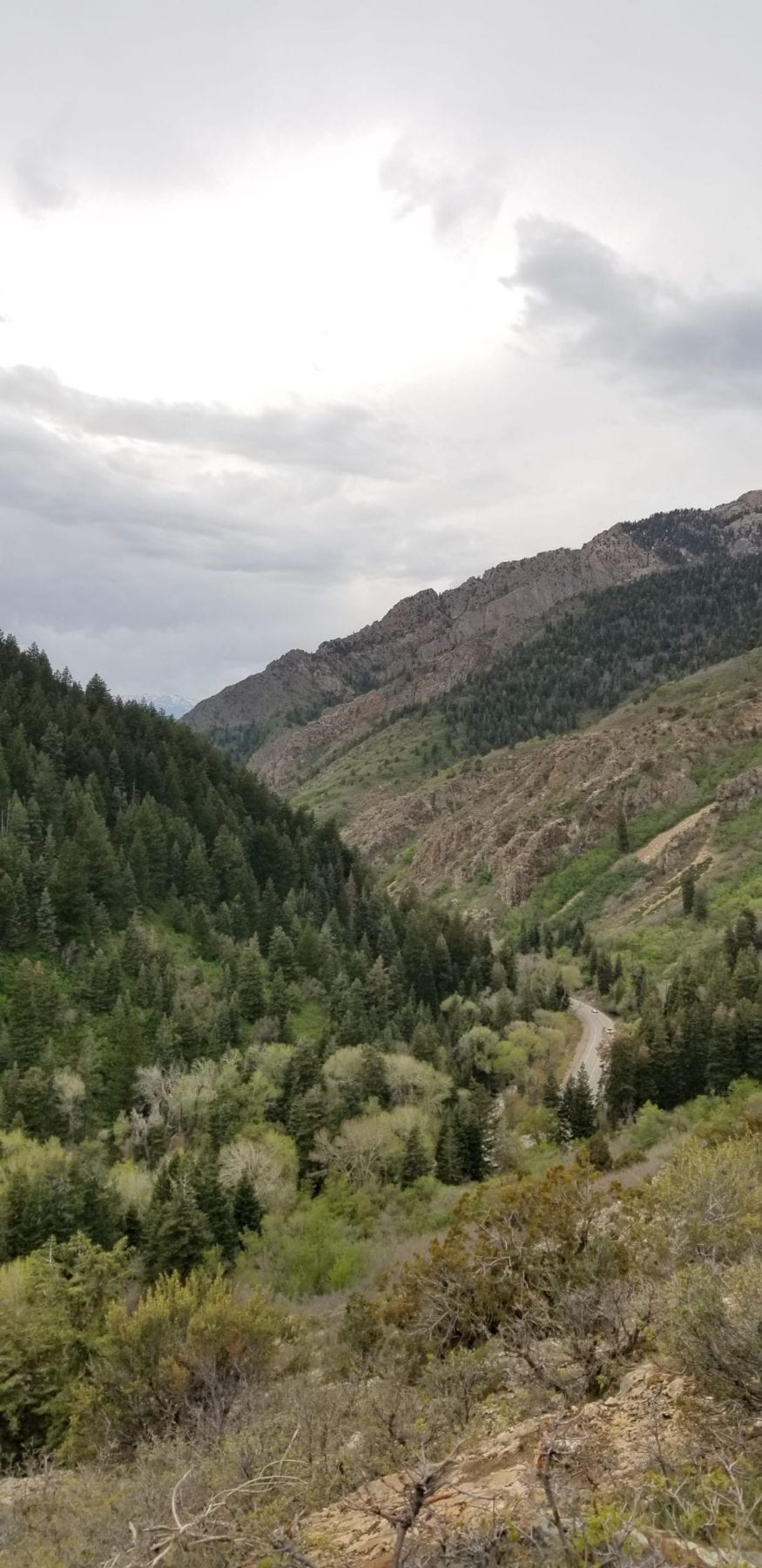 Little Cottonwood Canyon is the canyon that Alta and Snowbird Ski Resorts are located in.  In the summer time, this is a great canyon to explore.  Let's explore some of the kid friendly hikes in this area.
Lisa Falls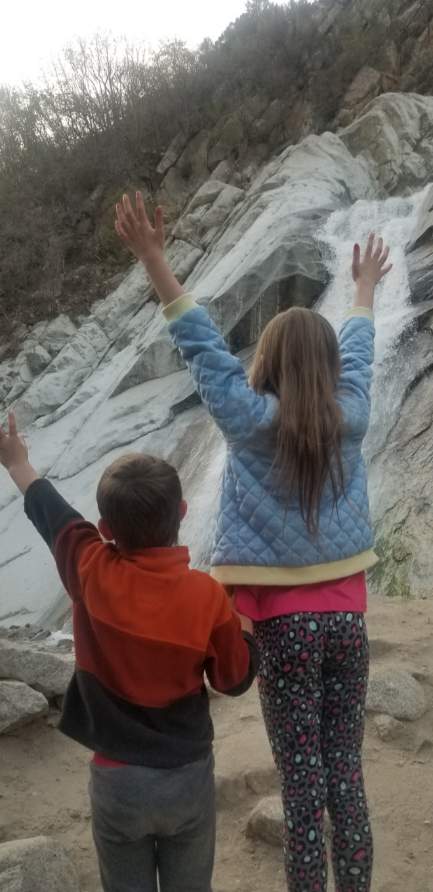 Location: Little Cottonwood Canyon
Parking: Parking is available off both sides of the road; access is located on the north side (on the opposite side of the road from you as you are driving up)
Miles: .4 miles to waterfall
This hike is probably one of the shortest and most kid friendly hikes in Utah!  We literally got out of our car walked up a short way to see an impressive waterfall.
Trailhead
The trailhead is not well marked, so make sure to use Google Maps or another navigation option.  You will see openings from the parking lot. You will begin in an area that is open with rocks to the left of the trail. Trees will obscure your view of the waterfall, but soon you'll arrive.
It is a really beautiful waterfall.
Little Cottonwood Trail
Once we were done with the hike, our kids still had some energy. We had parked on the other side of the road, and there's another trail, called Little Cottonwood Trail. You will see a sign and stairs leading down to the trail.
It was less than a mile and very wide.  You will walk along a beautiful river.  We came to a point where there was a gate and the trail then become a mountain biking trail.
Cecret Lake Trail
Location: Top of Little Cottonwood Canyon
Parking:  Parking lot located at the top of the mountain.
Miles: 1.8 miles round trip
Okay, funny story from years ago. Cecret Lake Trail was one of those trails we accidentally came upon.  We were trying to go to Silver Lake which is located at the top of Big Cottonwood Canyon.
My mom and dad were with us and we assured them the hike would be easy (my mom was in sandals).  Haha, the joke was on all of us. We went up the wrong canyon and went to Cecret Lake!
Cecret Lake Hike
This was not a flat boardwalk trail like Silver Lake. The lake is a ways up buy definitely makes this like for our kid friendly hikes in Utah.
Luckily, it was an easy enough hike for our kids to enjoy.   You do have to ascend up to the lake, and once you get to the lake, the path does not go around the lake. But the views along the way are amazing, and there can be beautiful wild flowers.
The trail is fun but only available late June – October.  Even in the middle of summer we found a huge snow pile that the kids thought was really cool to climb on.
As we continued on the hike there is a small section of switch backs. We thought the path near the lake was a little hard to find and we actually took a wrong turn and realized we were headed off a steep drop.  Once we corrected ourselves we were able to make it to the beautiful lake.
Tip: Bring mosquito spray, especially for when you get to the lake.
American Fork Canyon Hikes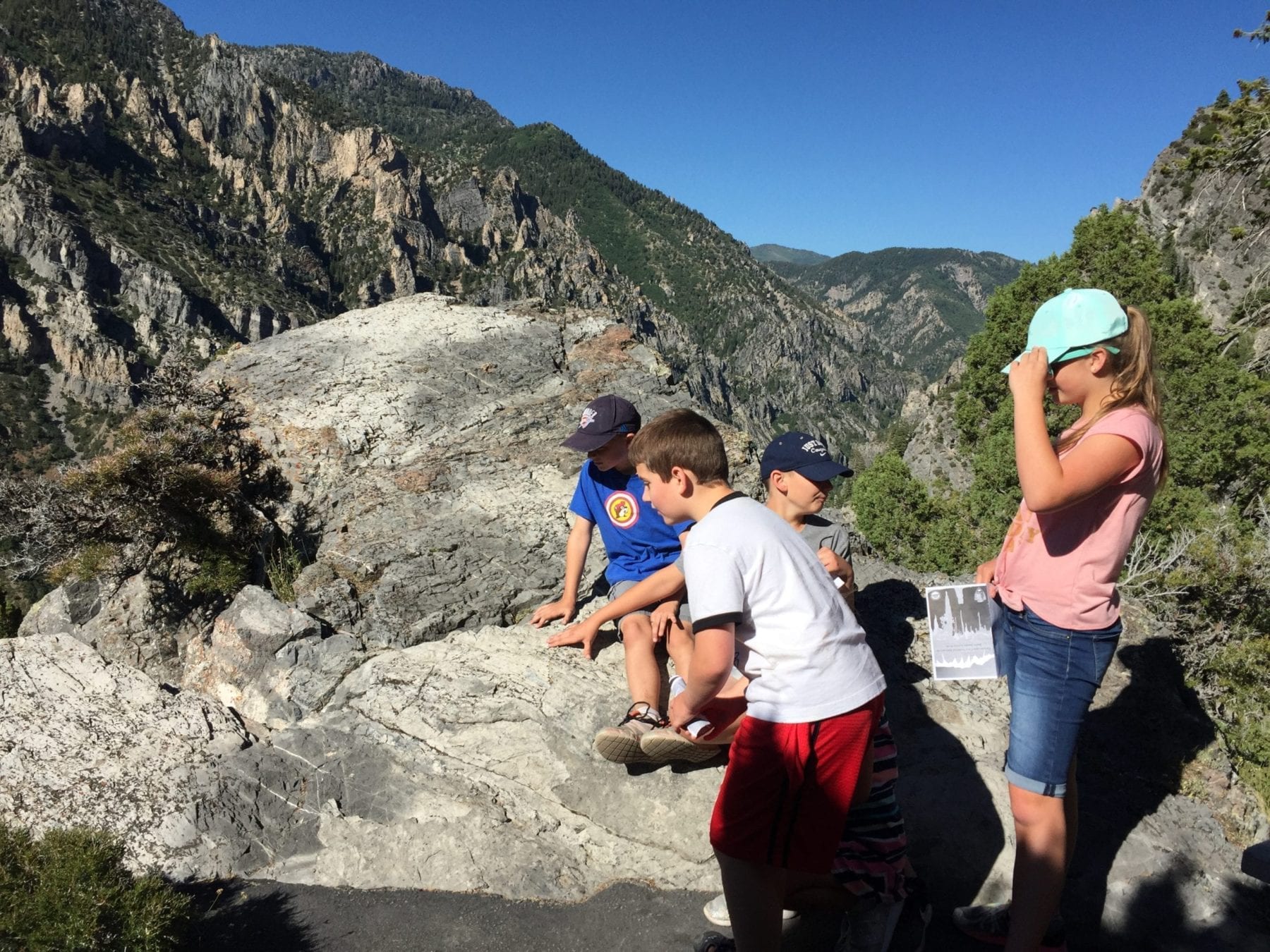 There is an entrance fee for the American Fork Canyon because it is apart of the USDA forest service.  It also leads to Mount Timpanogos Caves which is a National Monument.
Timpanogas Caves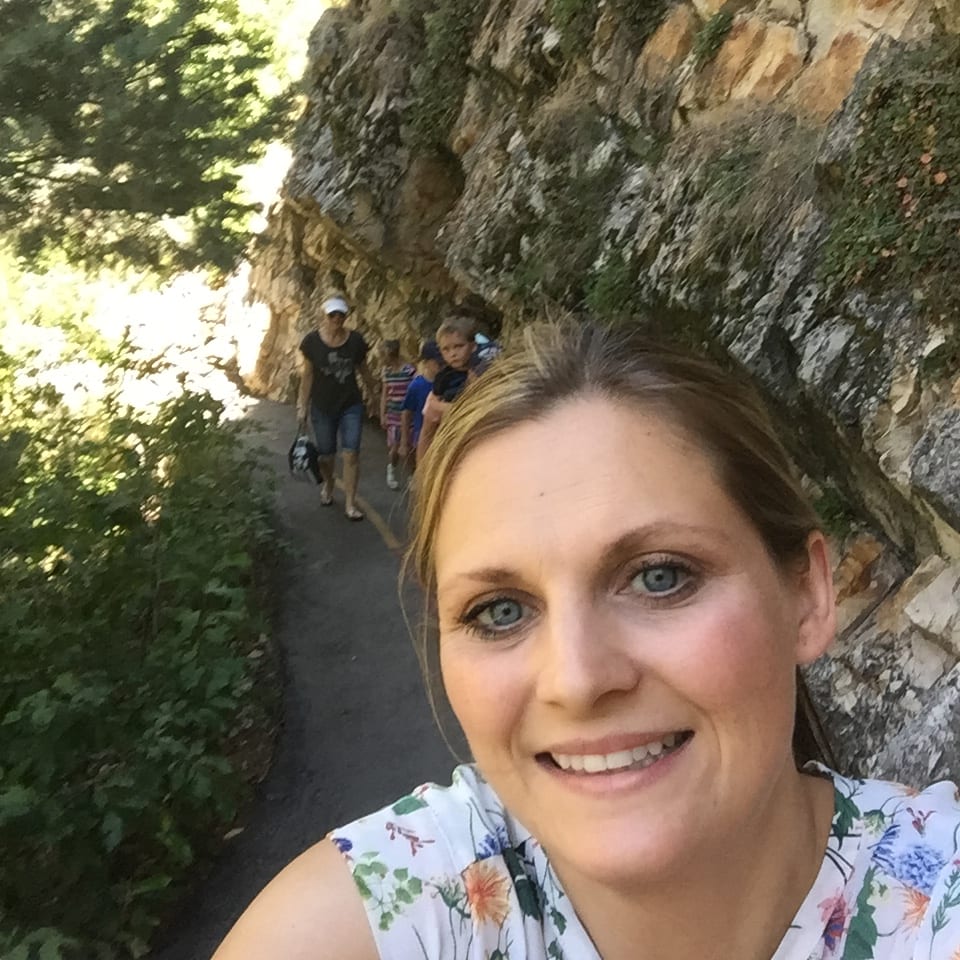 Location:  American Fork Canyon
Parking: There is a parking lot at the National Monument Site
Miles: 1.5 miles that are paved.
Timpanogas Cave National Monument is a paid hike that needs to be reserved ahead of time.  This is one of the best kid friendly hikes in Utah because you actually get a guided cave tour once you reach the top!
As long as you don't go in the heat of the day the hike is manageable.  We went and it was so hot.  This hike consists of quite a few switch backs the entire way to the top.  I was carrying a 3 year old on my back and thought it was pretty tough.  The other kids did great and had no problems.  I did have to turn on music to help distract us from how hot we were.
Once we made it to the top we waited until our tour time started.  After being so hot stepping inside the cave was heavenly because it was so cold.  We loved getting a tour and highly recommend getting a reservation so you can experience this!
Ogden Canyon Hikes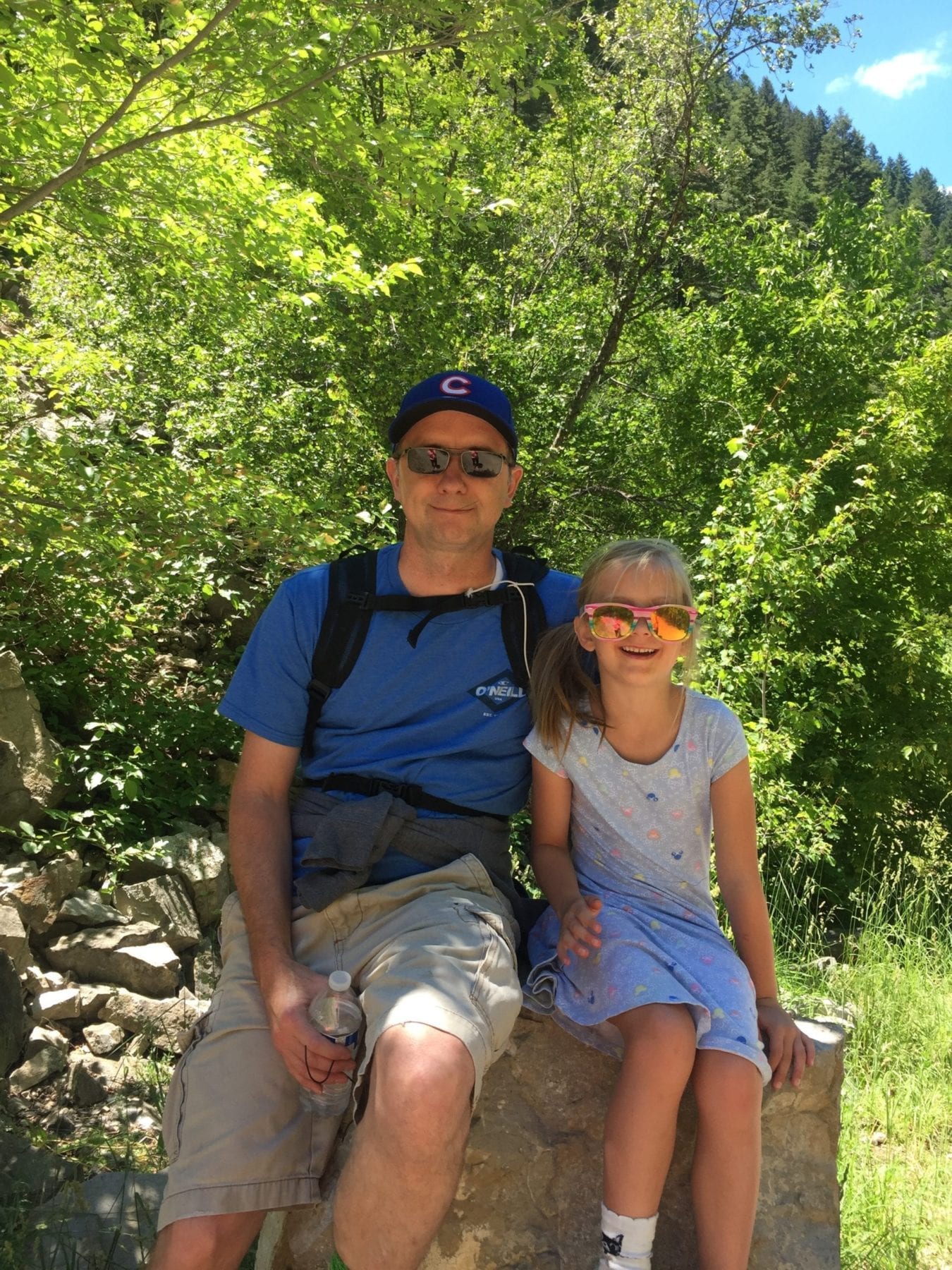 We usually spend a week in Ogden Canyon in the summer time. It is a lovely canyon.
Wheeler Creek Trail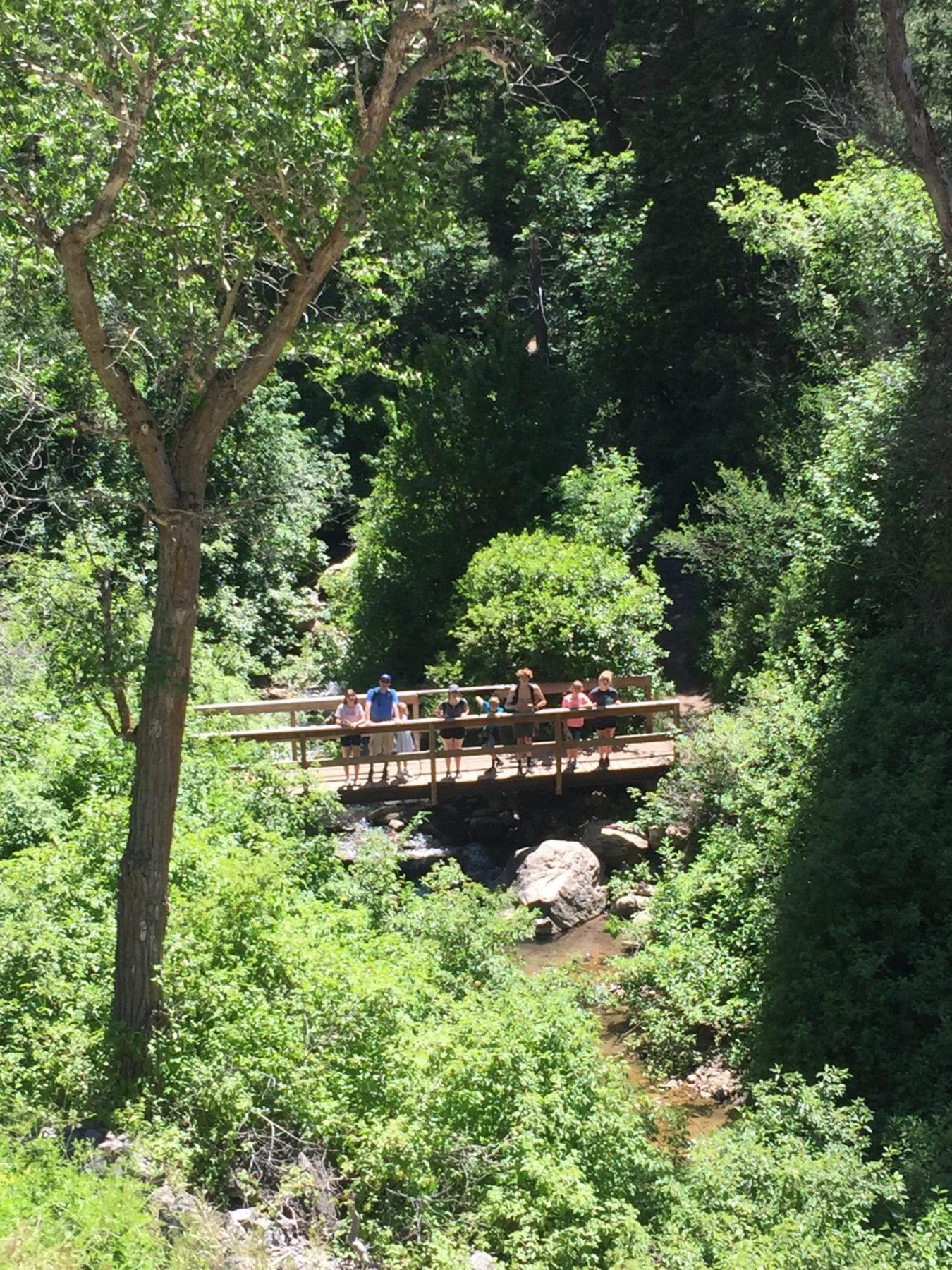 Location: Ogden Canyon
Parking: Parking is along the road where a few parking spots are available.
Miles:  9.2 miles but we did not go that far!
Wheeler Creek Trail hike was a pretty easy hike as we did not do the whole trail.  It was pretty flat and led to a cool bridge! At that point, we turned around and came back.  We actually did this hike on our Utah family reunion.
Spending time hiking in the gorgeous mountains in Utah is something we have really enjoyed.
Logan Canyon Hike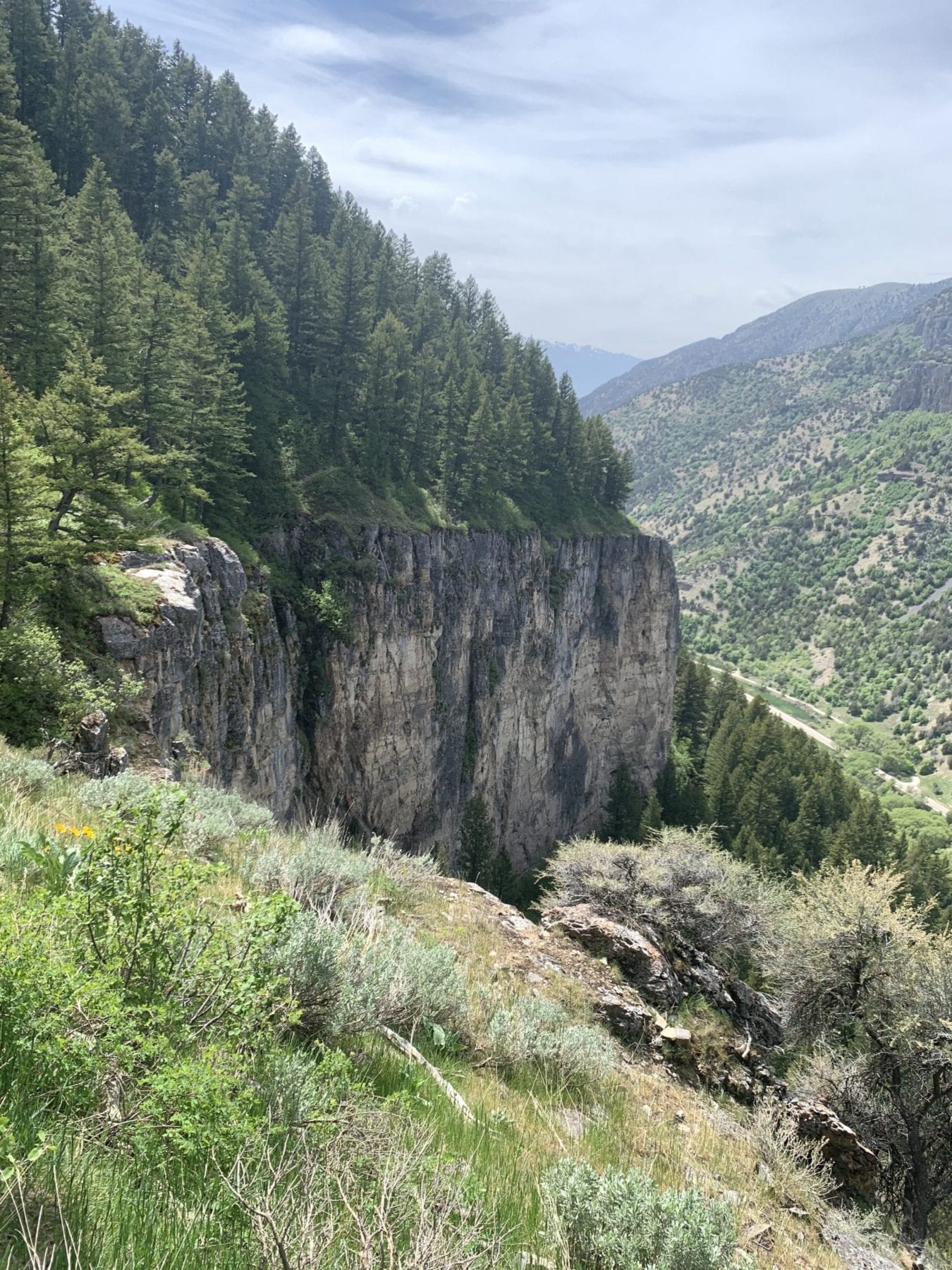 Logan Canyon is Northwest of Salt Lake City.  Logan is a beautiful canyon that leads to Bear Lake.  Bear Lake is a stunning blue lake. The water is so blue you will think you should be in the Caribbean.  This drive through the canyon is just as good as the hikes you will experience in it.
Crimson Trail
Location:  Drive 5 miles into Logan Canyon
Parking: There is limited parking just to the right of Spring Hollow Bridge Crossing
Miles: 4.3 miles round trip
This hike is a little more challenging. I would recommend your children be at least 7 or older.  The first mile is up hill but then the next two are flat as you reach the top.
There is a drop off that is pretty steep at the top.  Great views but if you have little ones that are afraid of heights it might not be the best choice. This is an older kid friendly hike in Utah!
Dogs are allowed.
Kid Friendly Hikes in Utah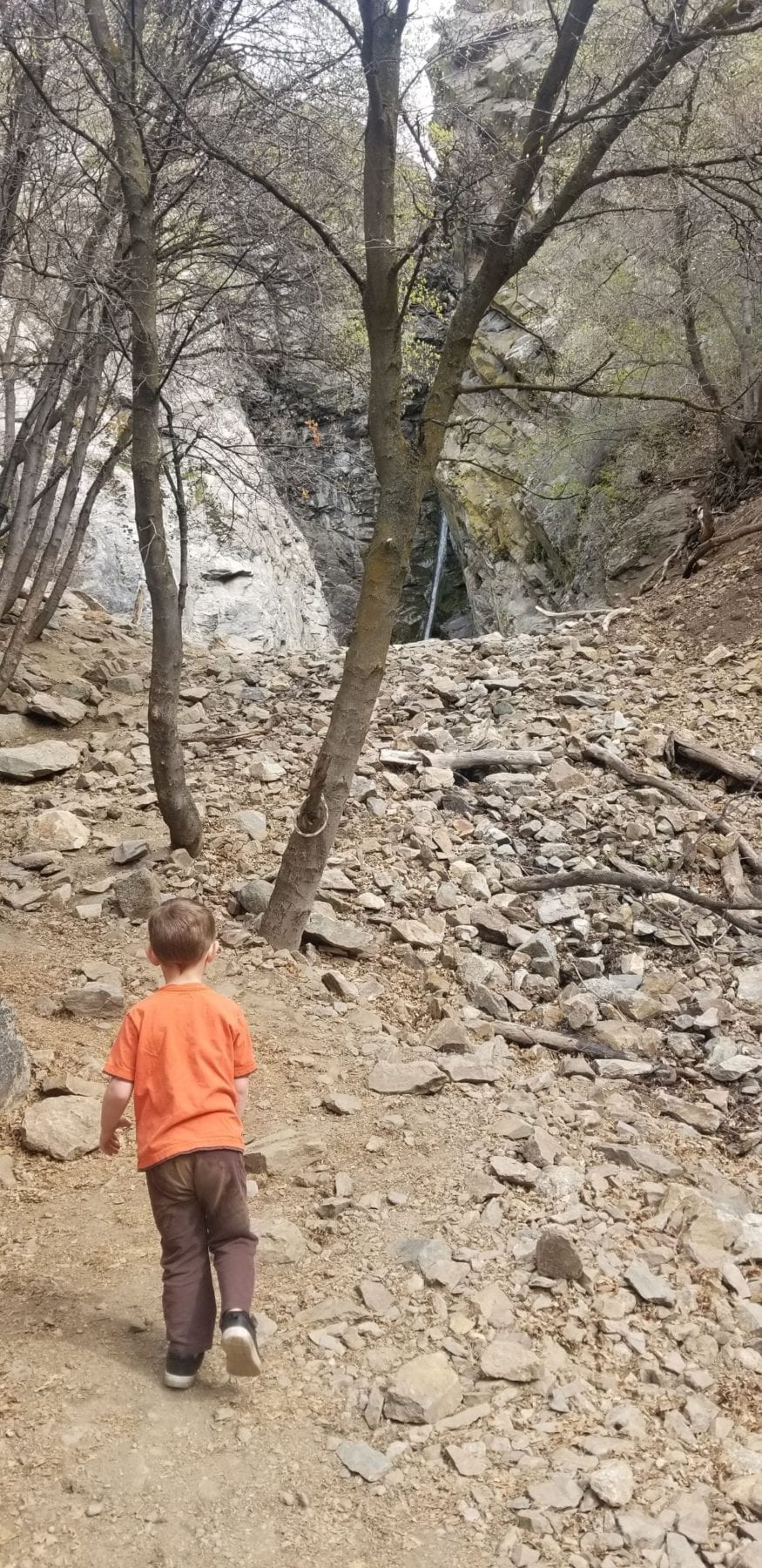 Hopefully, this list has given you a few ideas of where you want to go hiking.  There are so many kid friendly hikes in Utah and this list will keep growing. Make sure to come back often as there will be more and more hikes listed here.
This list will not include Southern Utah and the National Parks. That will be for another post!
Facebook
If you have any questions be sure to join my Facebook Travel  Community  This great community can help answer any questions you may have about your upcoming trip. Plus, I try to add any great deals or promotions that companies send me!