Are you ready for a South Dakota road trip?
Great. I can't wait to tell you all about our road trip!
I love the Black Hills of South Dakota!  The first time I went I was so impressed and I knew I wanted to go back and visit again.  For 10 years I have tried to convince my family that Mount Rushmore is the perfect place for a family reunion.  But no one believes me!
I decided to take my immediate family and we explored the Black Hills of South Dakota.  Now we would love to convince you that this South Dakota road trip is worth the drive!
In this post I will share with you a great South Dakota itinerary so you can plan the perfect trip!
If you want to save this post for later be sure to pin this to Pinterest!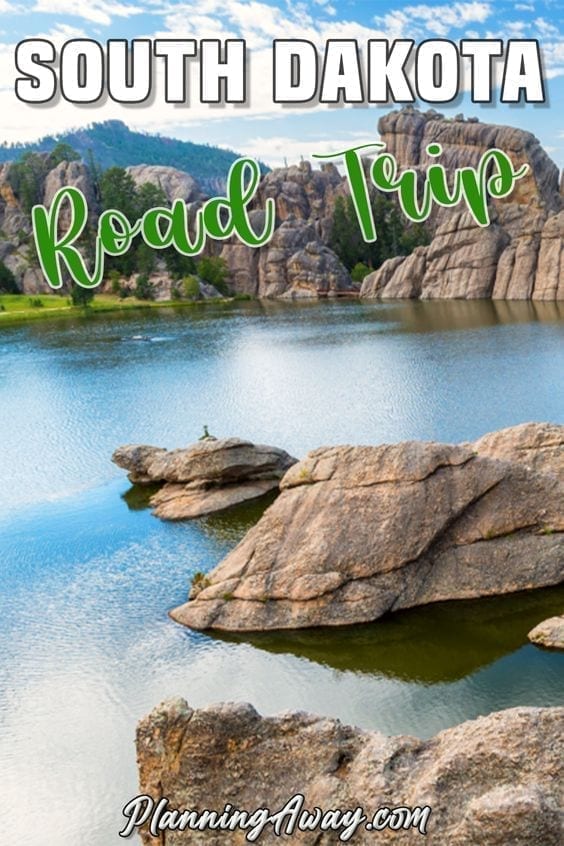 This post may contain affiliate links that will give me a commission at no additional charge to you.
South Dakota Road Trip Itinerary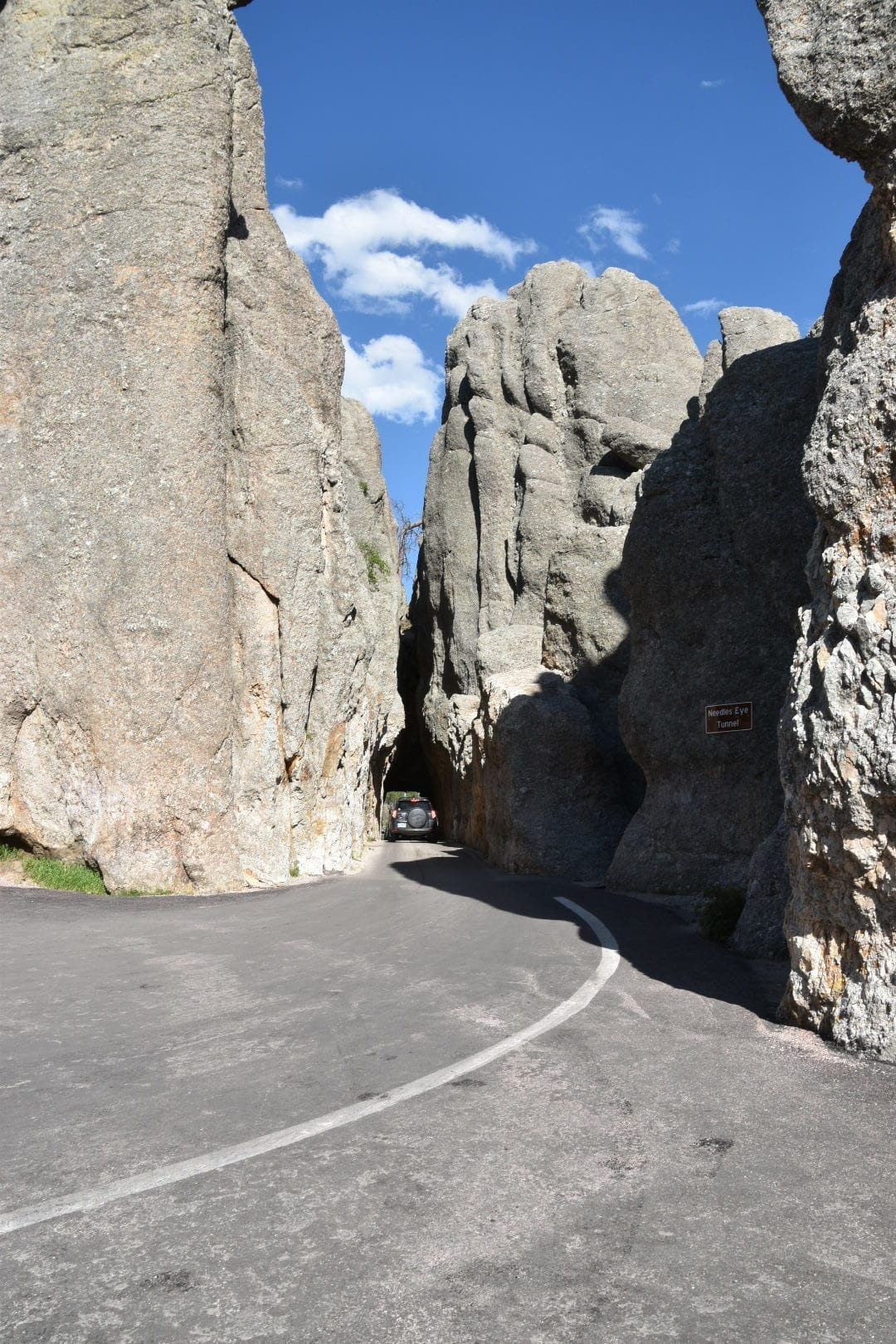 How you do your South Dakota road trip will depend on where you are coming from. The list below takes you across the state from west to east, starting in the beautiful Black Hills area, and then traversing the state via Interstate 90. You can even hit Devils Tower in Wyoming on the way.  If you are coming from the east, just hit the itinerary in the opposite order!
Devils Tower
Mount Rushmore
Crazy Horse Memorial
Wind Cave National Park
Laura Ingalls Wilder
Sioux City
Devils Tower - Wyoming Detour (or on your way from the west)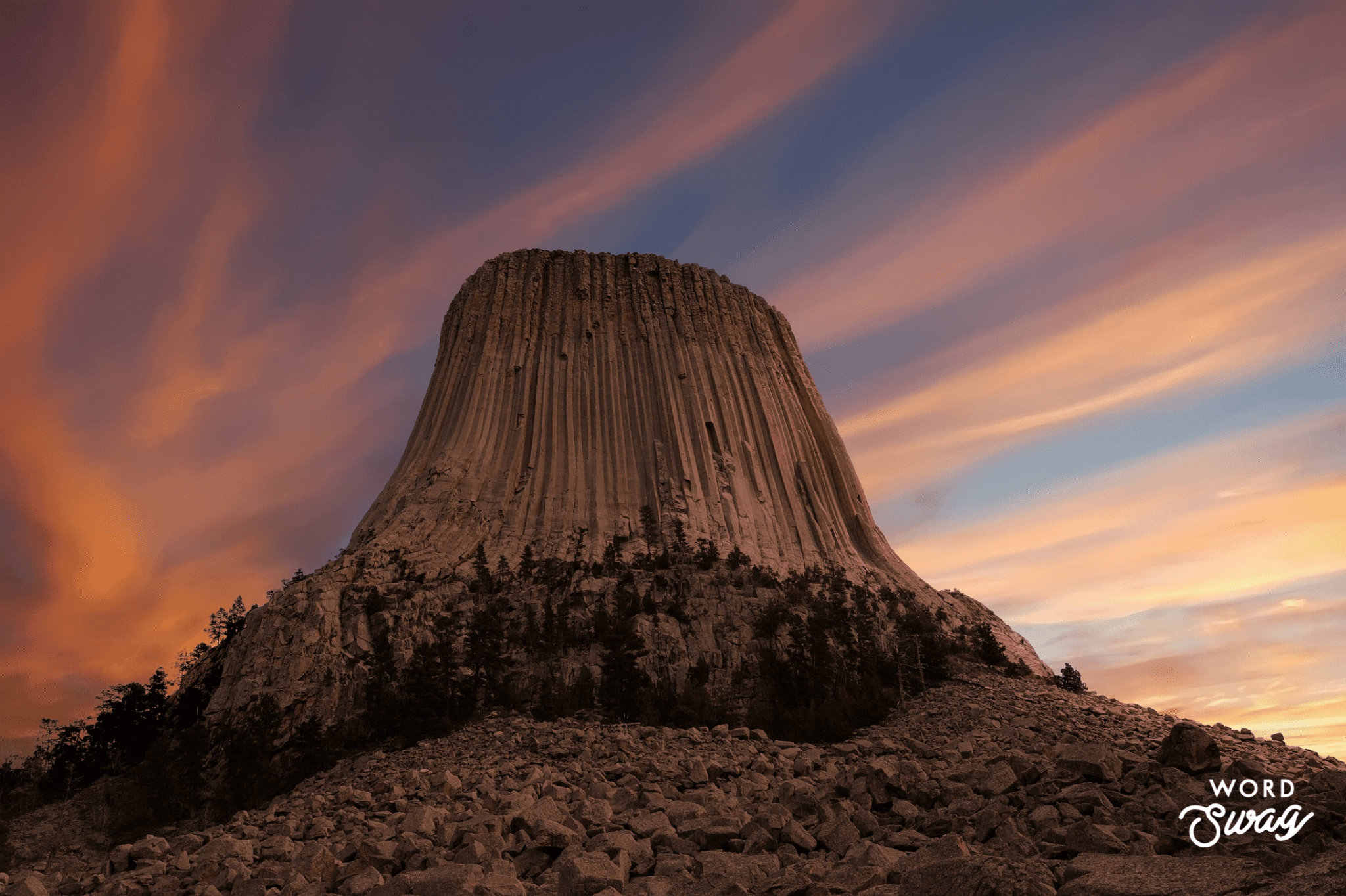 While not in South Dakota, Devils Tower National Monument is so close to Black Hills National Forest (which is where you will find Mount Rushmore, Custer State Park, and Wind Cave National Park), you may want to make this a stop.
Devils Tower
Devils Tower National Monument was the first national monument in the US.  The monument got its name in 1875 by Richard Dodge who misinterpreted the native name to mean "Bad God's Tower"
Devils tower is tall!  It is the height of four football fields.  It is a great place to climb, hike, or just have a picnic.
And yes, Devils Tower was that backdrop featured in the 1977 movie, Close Encounters of the Third Kind.
Admission
Entrance is $25 per vehicle
Hiking at Devils Tower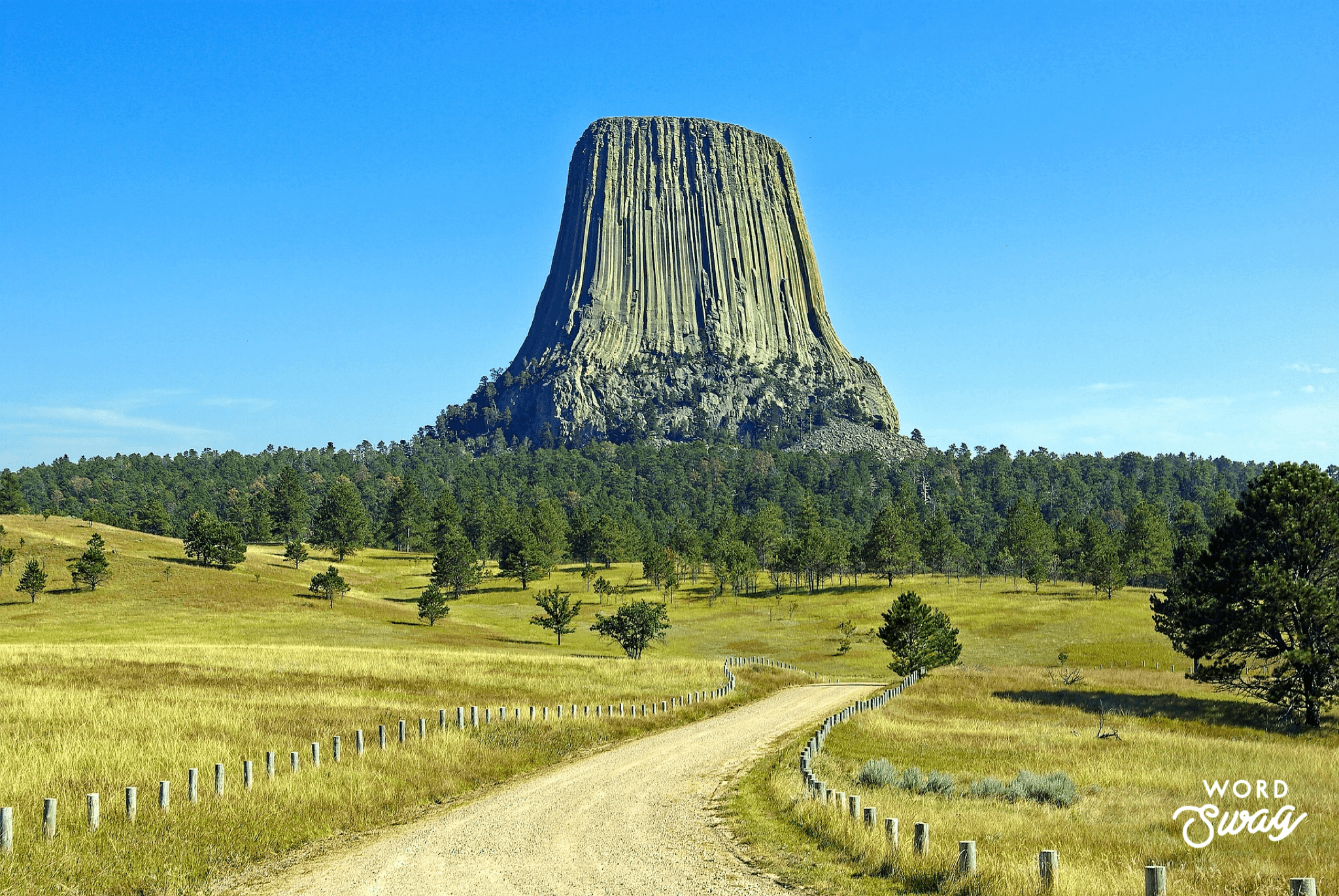 There are at least five hikes you can go on at Devils Tower.  You may want to just walk around the tower this will take you about 45-60 minutes to complete. 
Amphitheater Circuit
One of the best hikes is the amphitheater circuit which includes the Valley View, Red Beds, and South Side Trail heads.
Miles: 1.5 miles
This is a loop trail. You can also access the South Side Trail, and the Valley View Trail that start at the amphitheater as well.
Tower Trial
If you have more time, Tower Trail is another option. It is the most popular trail at the park. This is a paved trail.
You may notice fabric hanging from trees, these are Native American prayer clothes and are not to be touched.
Miles: 1.3 miles.
Visitor Center
When we did our South Dakota road trip, the visitors center was closed due to COVID.  But you can still access Devils Tower and the activities around it. 
Mount Rushmore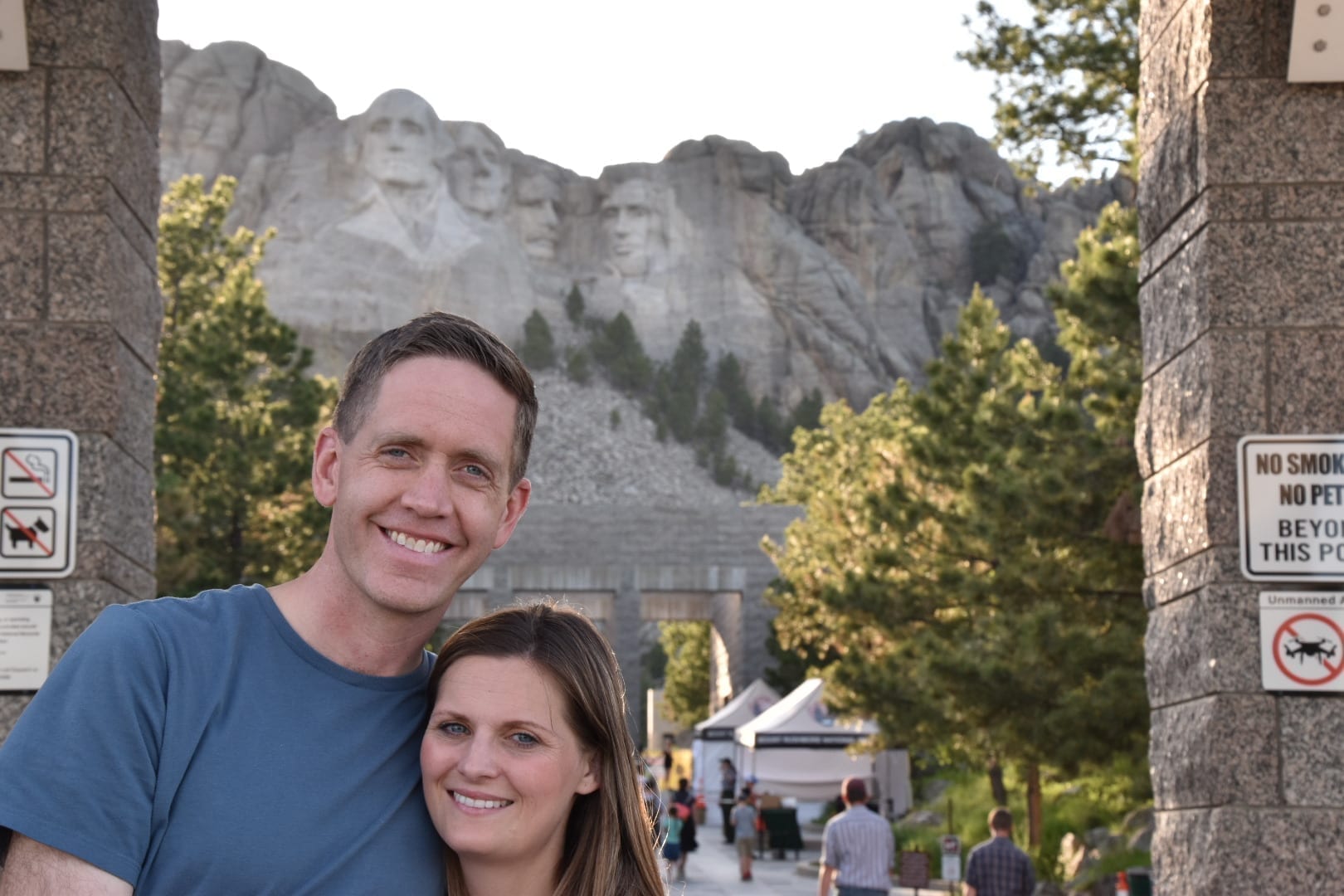 Let's start with my personal fav —Mount Rushmore. Of course Mount Rushmore is an iconic landmark.  What you need to realize if you do not already, and I certainly didn't, as there is more to Mount Rushmore then the heads.
This is no pull-over-on-the-side-of-the-road-and-take a-picture kind of place. (Sadly, that's what I had thought the first time I went.) 
There is so much more! Not only at the memorial, but in the surrounding area. You can do alpine slides, horseback riding, a water park, mini golf, and so much more! But on your South Dakota road trip, you may not have much time as you drive through, so here's the scoop on spending that to see the presidents.
Museum and Gift Shop
See, there's more to Mt. Rushmore than the carved head. For starters, there's a nice museum and gift shop. And nearby is a beautiful presidential walk leading to the base of the monument.
Hiking Trails 
There are short hiking trails at the monument.  It is a beautiful area to walk around.
My Overall Experience
When we went the first time to Mount Rushmore National Monument, we did not plan enough time to explore the area.  I knew I had to plan another South Dakota road trip to see it again, and the opportunity came this summer. 
It was so exciting for me to bring my kids and let them see Mount Rushmore.  My kids were pretty impressed.
I, on the other hand, not so much.  The visitor center was closed as a result of COVID-19 and the beautiful presidential walkway was closed for construction.
I'm glad my kids had a good experience because they knew no different.  Hopefully, the next time I come to this area it will be a great experience.
Custer State Park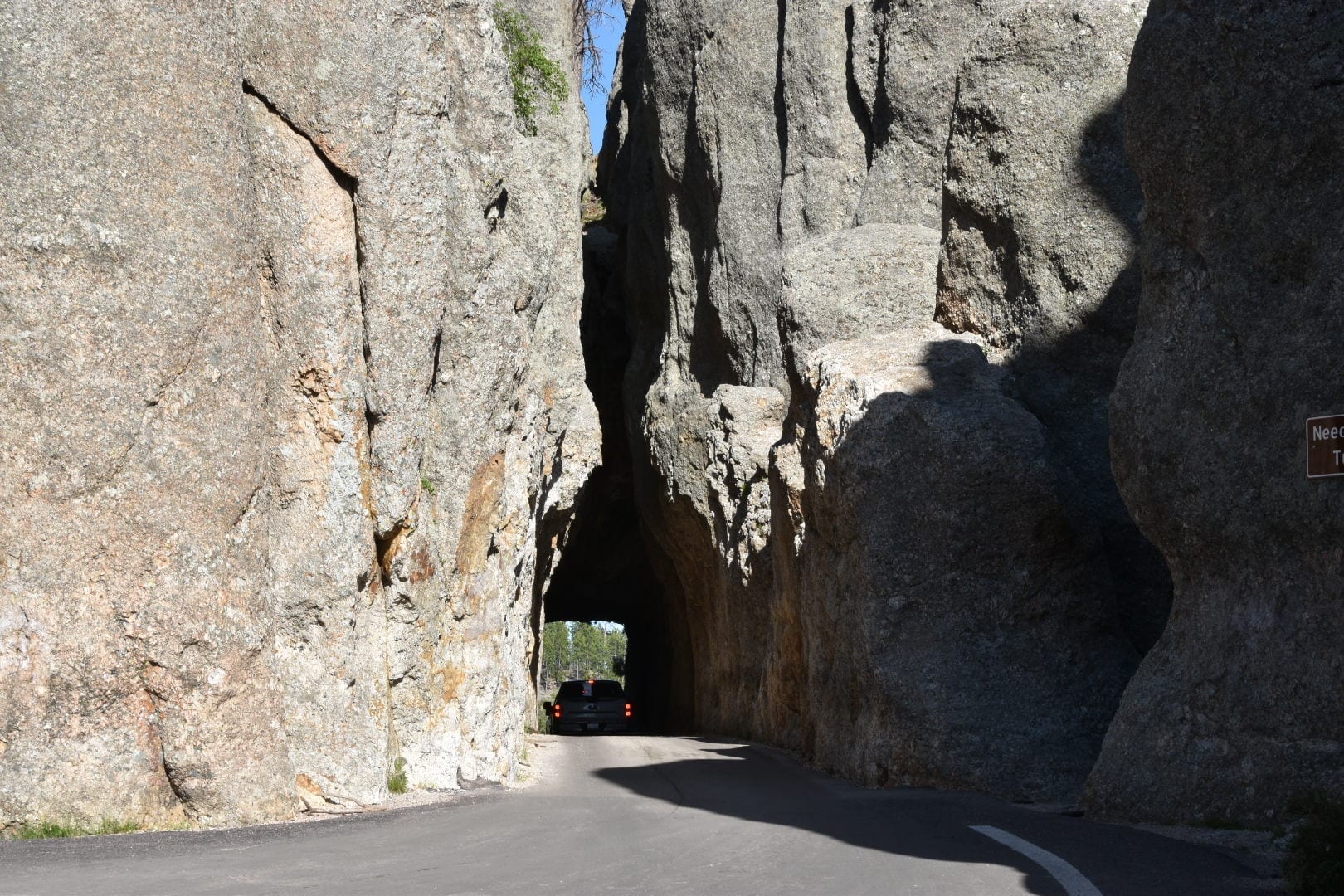 Okay. So if you are stopping by Mount Rushmore on your road trip, it is definitely not out of your way to make a stop in Custer State Park.
Custer State Park is the nations largest state park, with 71,000 acres.  It is just south of Mount Rushmore.
Scenic Drives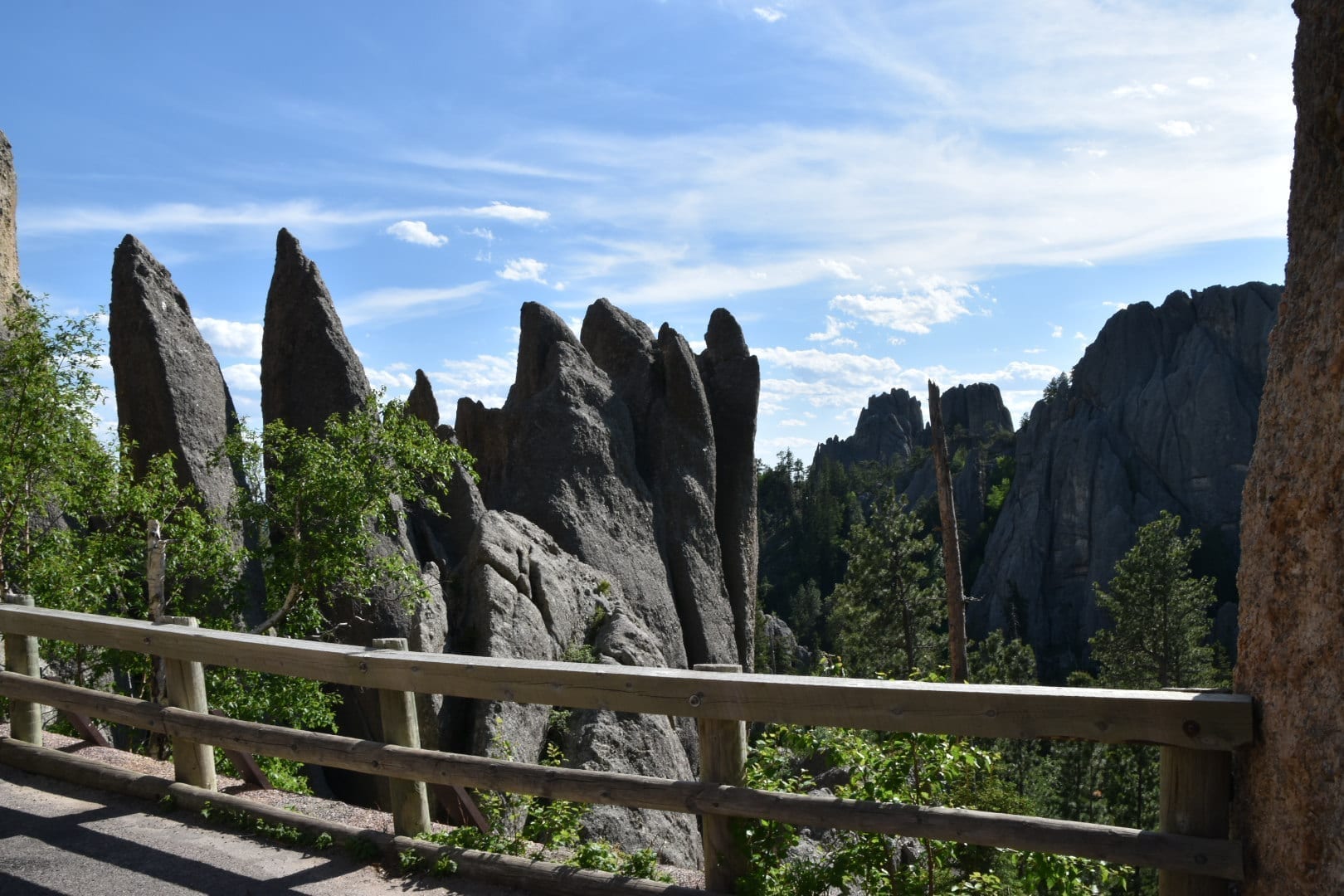 So why Custer State Park? Well, one of the best things to do there does not even require you to get out of your car.  There are three scenic drives in Custer State Park: Needle Highway, Iron Mountain, and the Wildlife Loop.
The great parts about these scenic drives are that you are either seeing animals all over the place, or awe-inspiring rock formations.
Needles Highway
We came into the park at the Sylvan Lake entrance and were able to immediately get on the Needles Highway.  The Needles Highway consists of rocks shaped like of giant "granite needle" along this scenic drive.  Narrow tunnels were blasted through the rock to create a gorgeous drive.
There are places to pull over and get same great pics, with the Needles Eye Tunnel being the most impressive.
Wildlife Loop
The Needles Highway will take you to the Wildlife Loop, which is an 18-mile scenic road with buffalo, deer, elk, coyotes, and owls. This will take you time, so if you're in a hurry, I recommend avoiding the loop.
With that said, make time if you can.  The park has some phenomenal animals.  They may even come to you! We stopped several times as animals were either on the road or right next to it.
Iron Mountain
Iron Mountain is a pass that exits Custer State Park and connects to Mount Rushmore.  You can get to it quickly once you are off the Needles Highway, or you can do the Wildlife Loop and circle back to it.
There are three tunnels along this scenic drive.  At one of the tunnels you have a clear shot of Mount Rushmore.  It is really incredible.
Things to Do at Custer State Park (other than Driving)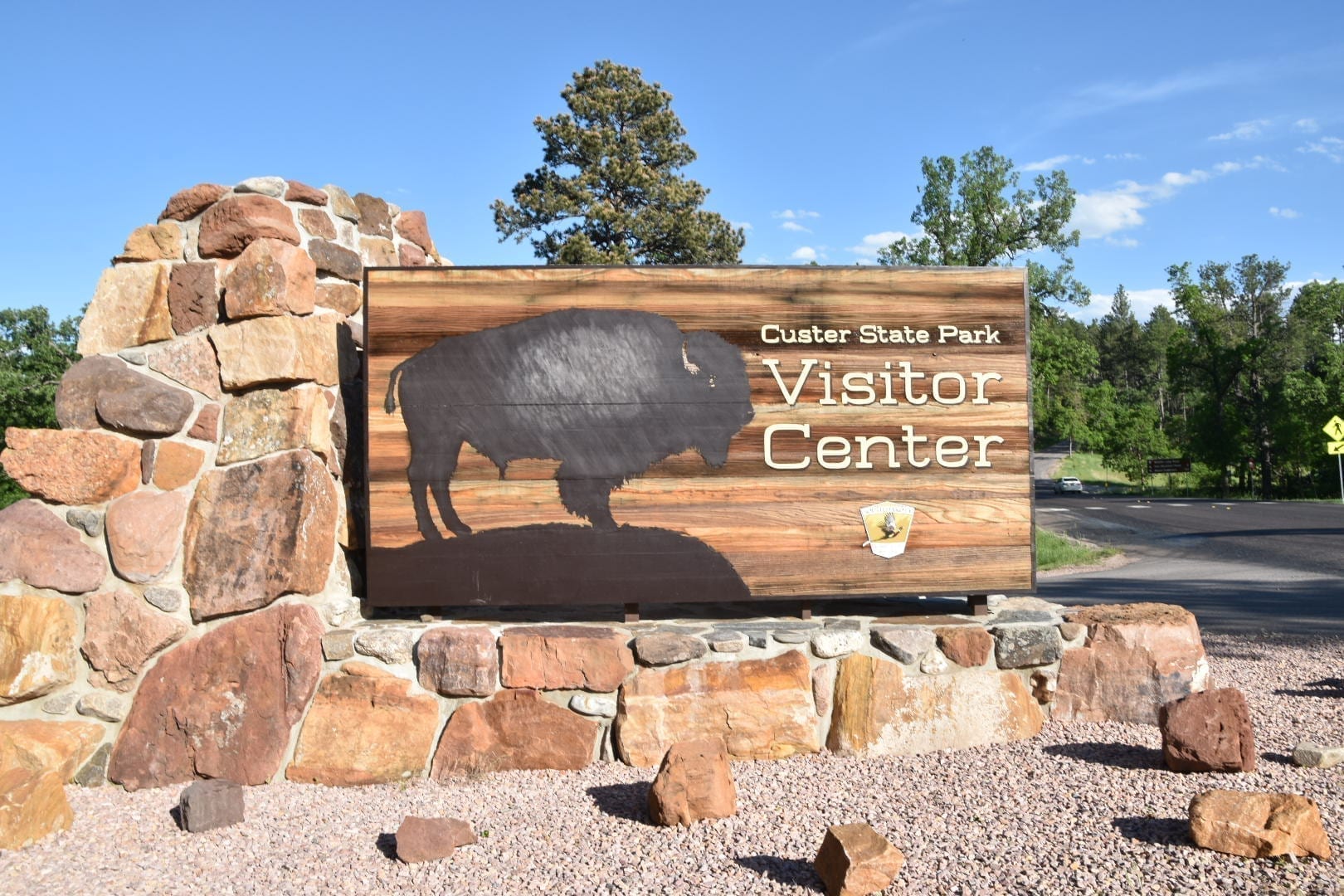 The scenic drives are the most popular attractions at the park but you can also camp, hike, boat, fish, climb, and horseback ride at Custer State Park. There are 17 hiking trails to choose from!
Take time to enjoy a few days at Custer State Park.
Crazy Horse Memorial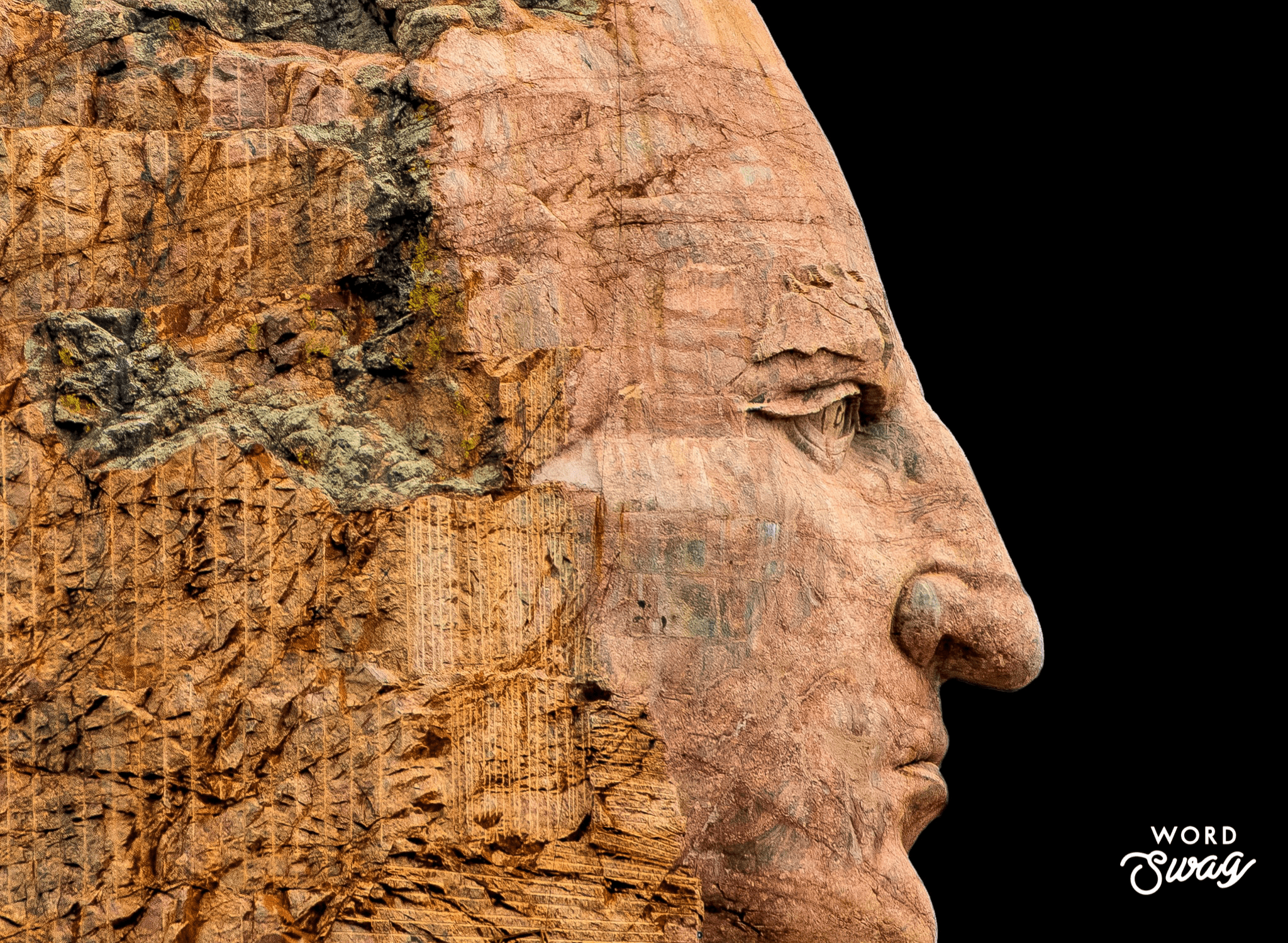 Near Custer State Park and Mount Rushmore is Crazy Horse Memorial; a mountain sculpture of Oglala Lakota warrior, Crazy Horse, riding a horse and pointing to his tribal land.  It is not yet finished, and so basically it is right now a head of Oglala without his horse.
Admission
$12-$30 depending on how many people are in your car.
Welcome Center
There is a welcome center that houses the Native American Cultural Center as well as the Indian Museum of North America.
Buses 
Buses and vans run throughout the day and take you right up to the monument.
Wind Cave National Park
If there wasn't enough to do already near Mount Rushmore, nature has another offering for you. One you may not be as familiar with. It's the Wind Cave National Park.   This is another great option to add on your South Dakota itinerary.
Guided Tours
You need to make a reservation see the caves.  Unfortunately, when we did our South Dakota road trip the cave was closed due to COVID.  I believe the elevators to the cave were not working as well.
Hopefully, you get to experience the guided tours through the caves.  One of the highlights of the wind cave is it has calcite formations called "boxwork".  95% of the worlds boxwork formations are found at the Wind Cave National Park.
The cost is between $10 -$12 per person.  There are three normal tours and a few specialty tours.
Garden of Eden Tour
One of the tours is the Garden of Eden Tour.  This tour is about one hour and is a moderate level of difficulty. It is about 1/3 mile but does have several stairs.
Natural Entrance Tour
Next on our list is the Natural Entrance Tour.  This tour is an hour and fifteen minutes. It is also a moderate level of difficulty because there are slippery spots and stairs involved.
Fairground Tour
Finally, there is the Fairground Tour.  This tour is an hour and a half.  It is a strenuous hike up 89 stairs with slippery paths.
Specialty Cave Tours
There are two strenuous cave tour that can be reserved: Wild Cave Tour (minimum age 16) and Candlelight Tour (minimum age 8).
There is also an accessible tour for those who are impaired or have special needs.
Hiking Outside of the Wind Caves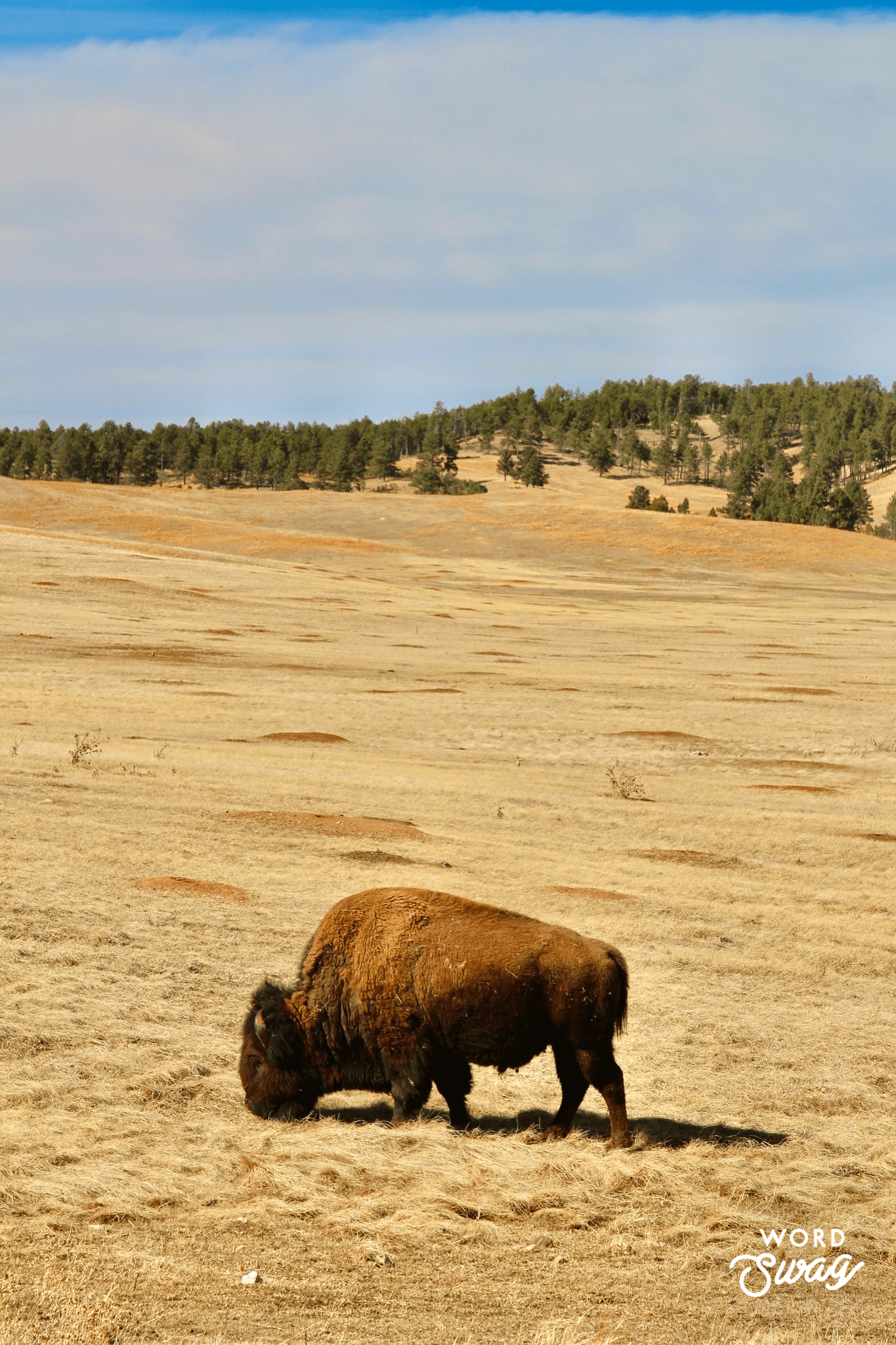 There are 11 hiking trails at Wind Cave National Park. They are located in the prairie land that surrounds the cave. They range from easy to strenuous.
One of the highlights of hiking at Wind Cave National Park is the wildlife that calls this area home.  Just be sure to stay 25 ft away from the animals.
Wall Drug Store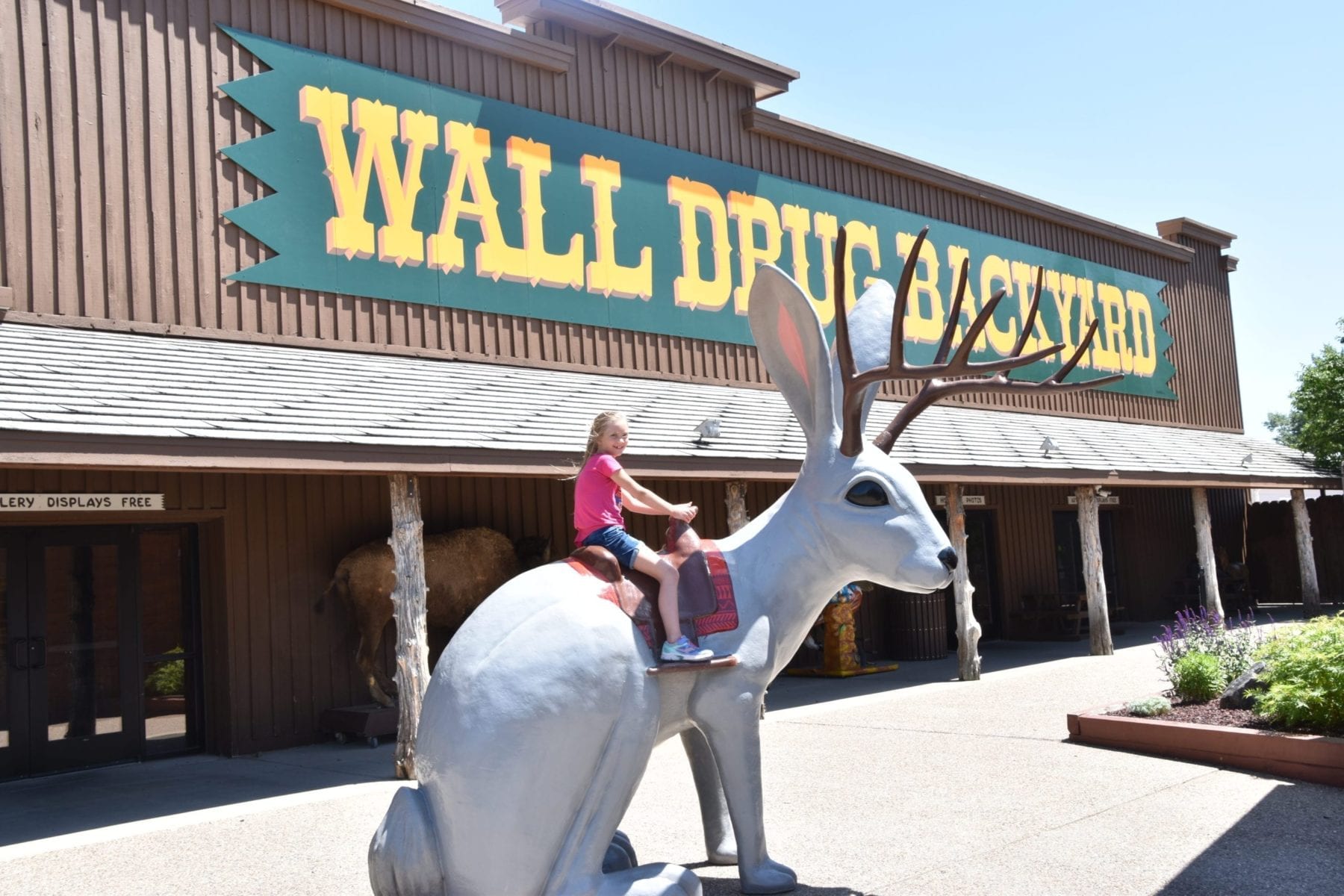 But enough about the outdoors. Time to talk shopping. And not your typical shopping. The shopping at Wall Drug Store is experience shopping.
Wall Drug Store is a must see on your South Dakota road trip.  Long before you actually get to the city of Wall, you will start to see signs advertising this iconic site. You might ask "what the heck is Wall Drug Store?"
Free Ice Water
Wall Drug is a family owned business that got its start by putting signs on the highway advertising "Free Ice Water".  As time went by more signs have been added and millions of people have come to see what is it is all about.
Restaurant 
Wall Drug is a great stop on your South Dakota road trip because this western themed store (really stores) really has something for everyone. There is a restaurant that has homemade donuts, pie, and 5 cent coffee.  There are also specialty stores, where you can buy toys, boots, candy, and other items.
Behind the main store, there is an outside play area with photo opps.  You can even pan for gold.  After hiking in the Badlands we went to Wall Drug and had lunch and shopped for about 2 hours!  It is a lot of fun!
The Badlands National Park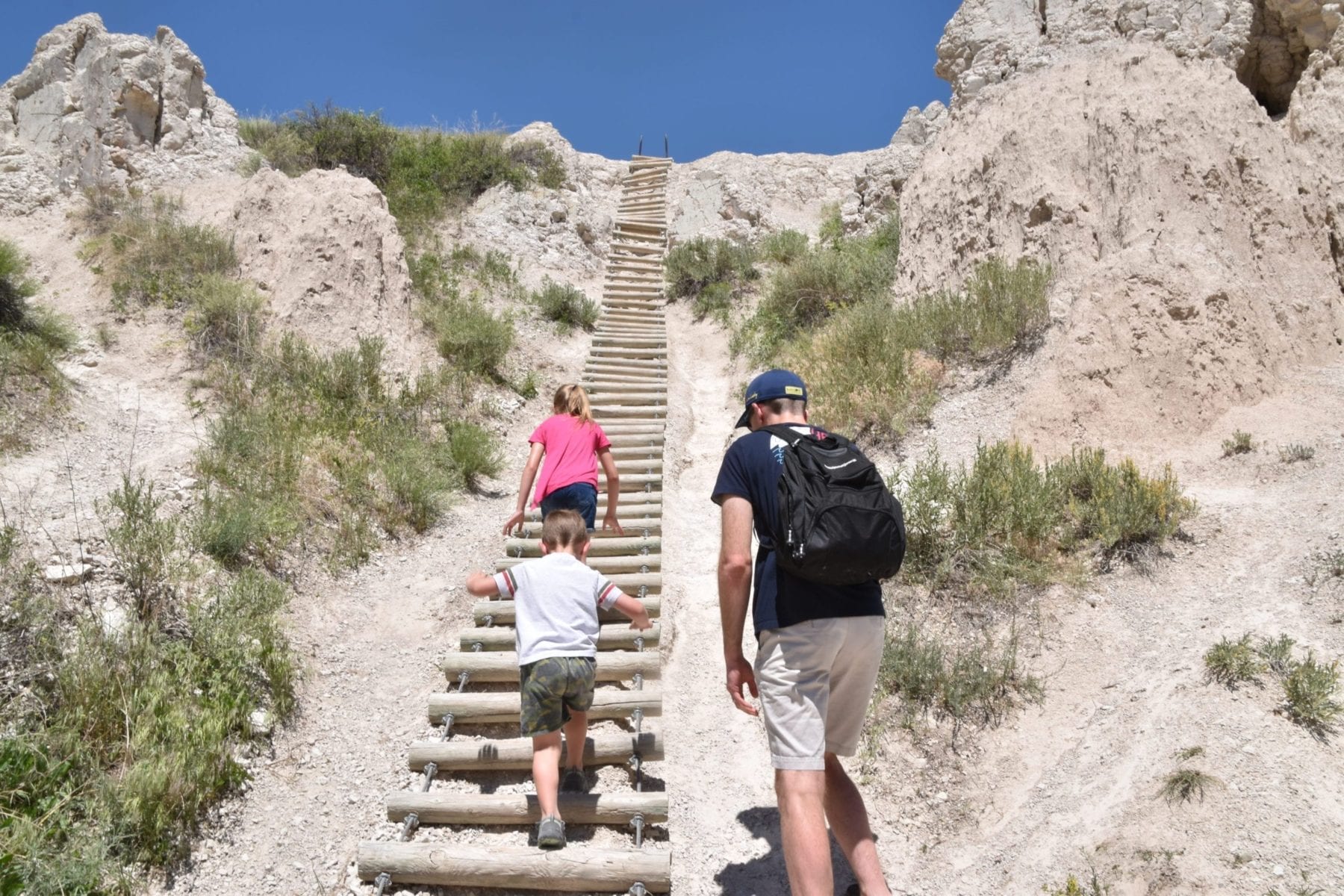 Now that you've got your shopping in on your road trip, it's time to get back to the great outdoors.  Badlands National Park is less than 10 miles from Wall, offering up visual wonders to explore with your eyes and feet.  
There are two entrances to the park. The west entrance is closest to wall. The east entrance is further, but is close to the best hikes and the visitor center. If those are your destinations, then you may want to head east on I-90 from Wall, which is faster then driving east through the park.
If you have time and are coming from Wall, I recommend that you use the west entrance (due south from Wall), and drive through the park from west to east.
Hiking at Badlands National Park
We loved hiking in the Badlands. There are great hikes for all ages.
Visitor Center
You will want to stop at the visitor center to  get a map, and talk to a ranger. We always enjoy doing the ranger programs with our kids.
Scenic Drive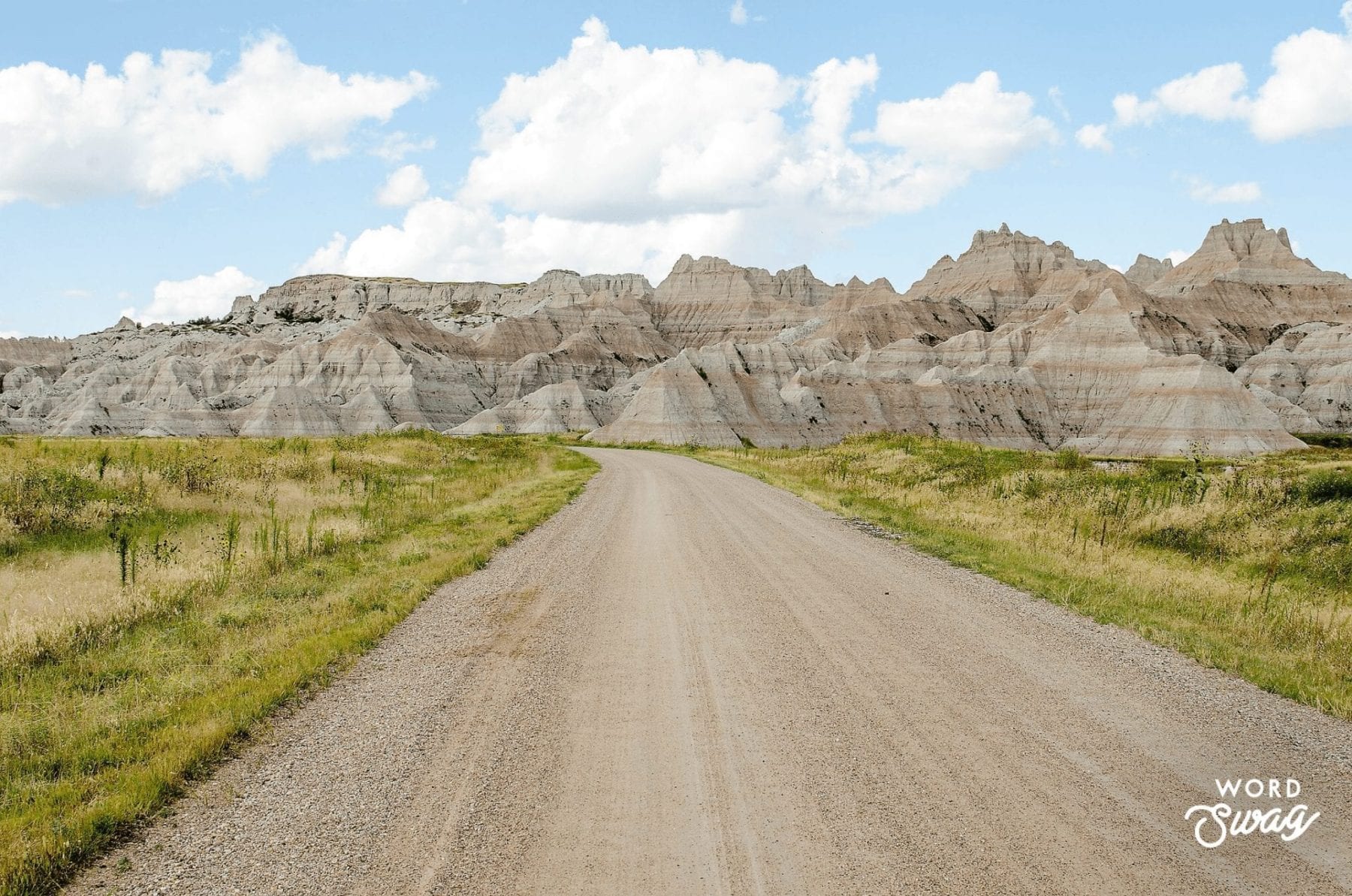 The rest of the park consists of beautiful viewpoints where you can get out of your car and admire the beauty of the park.
Badlands National Park is a must see on your South Dakota road trip.
Laura Ingalls Wilder - Little House on the Prairie House
As you continue east along I-90, you will eventually hit the Laura Ingalls Wilder Homestead.  Laura Ingalls Wilder was a true pioneer.  I grew up reading the books and watching the TV show, Little House on the Prairie.  If you are a fan then this is a great stop on your South Dakota road trip.  
Just be aware that this is a bit off the beaten path.
Reservations
Reservations are required for tours.  You will have to email or call them directly.
Things to Do at the Laura Ingalls Wilder Historic Site
Laura's family lived in De Smet, South Dakota.  Tours of the original house built in 1887, the school house she attended, discovery center, and cemetery where her family and neighbors were buried are all located at this site.
Allow yourself at least an hour and half to complete all the tours.
There are few other historical sites located a short drive from the main site.
Corn Palace - Sioux Falls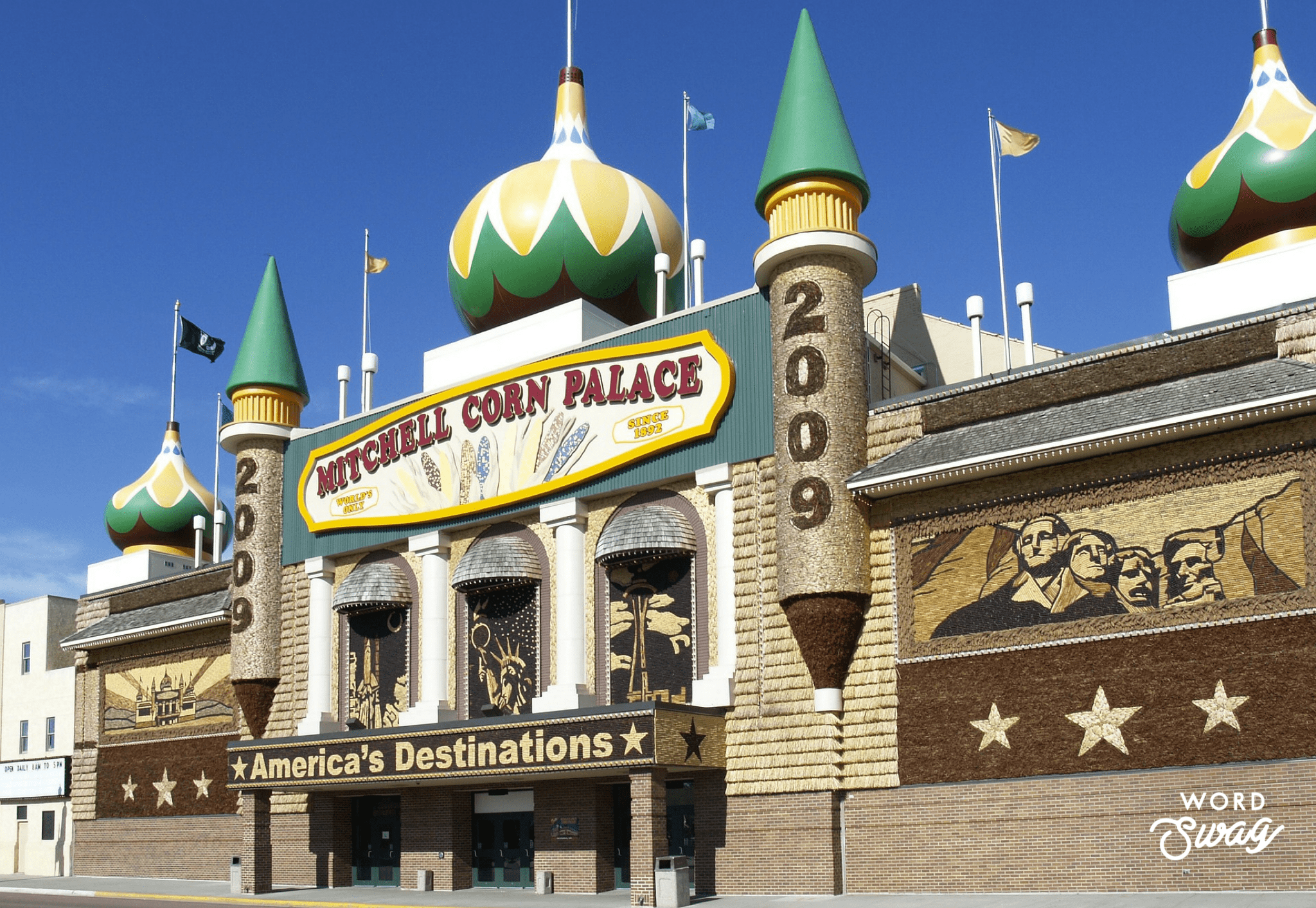 If you don't want to get far off I-90, or on your way to the Laura Ingalls Wilder Historic Site, you can visit the Corn Palace.
Corn Palace
The Corn Palace has been around for over 100 years as a symbol of a thriving agriculture state.
The main attraction here is the murals that line the building inside and out.  The palace can be rented out for special events but if you are on a South Dakota road trip, you probably will be stop to see the murals.
Sioux Falls
The last stop in South Dakota going east is Sioux Falls.  This is where we ended our South Dakota road trip. There are plenty of places to eat and stay in Sioux Falls but we decided to stay at the Courtyard Marriott in this area.   T
Are You Ready for a South Dakota Road Trip?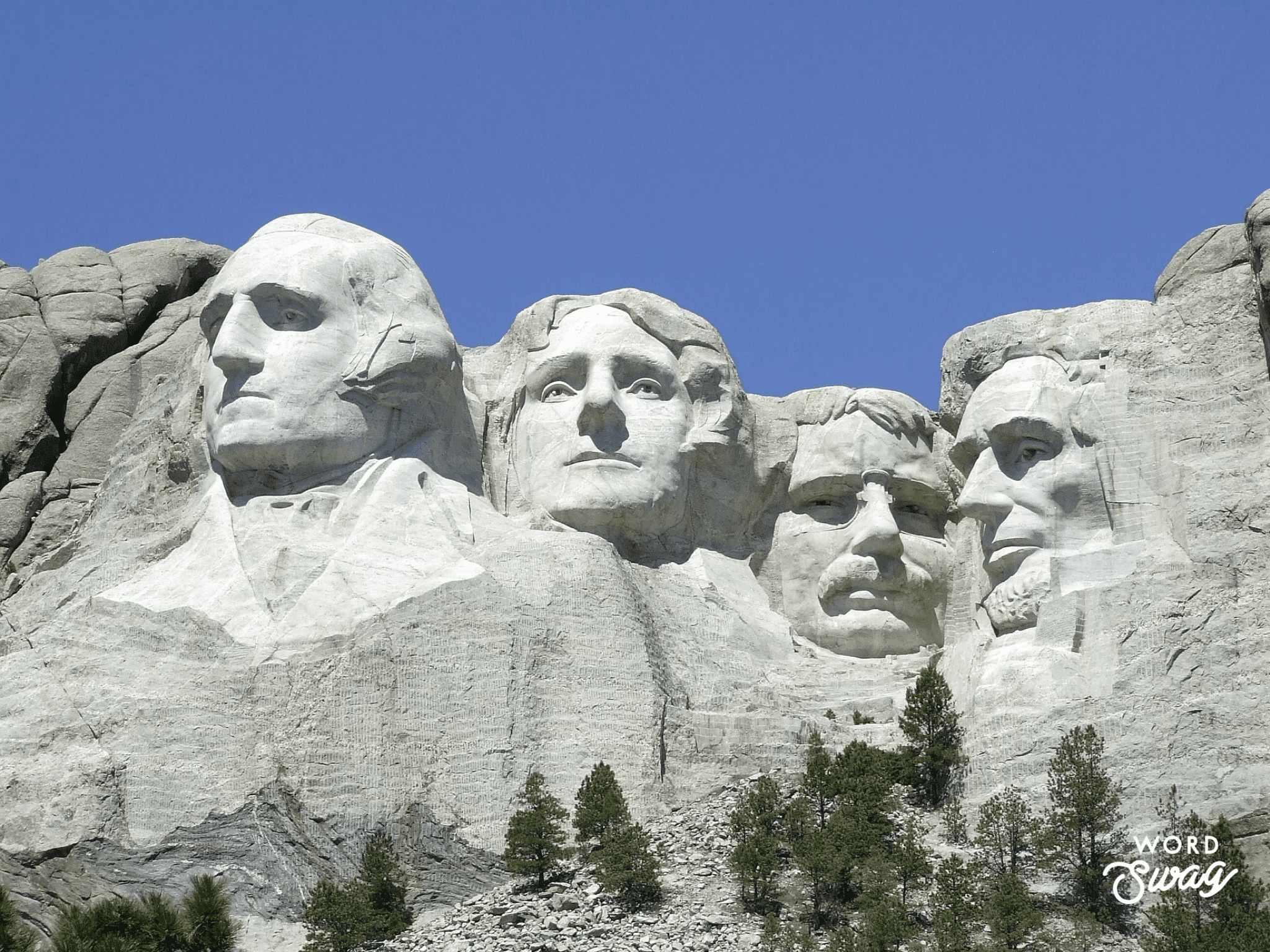 I hope you are ready to go on a South Dakota road trip now!  There are some amazing stops along the way.  
The Black Hills National Forest in South Dakota is a destination everyone should go to at least once in their lifetimes.  It is a great USA road trip!
Facebook Community
If you have any questions join my Facebook Travel Community.  You can ask any questions you have about upcoming trips and everyone is happy to help you plan your trip.  I also try to give exclusive travel deals that companies send me.  It is a great group to join!