The Best Family Vacation Spots Around The World
Do you want to plan a family vacation but aren't really sure where?  I know that feeling!  Trying to find the best places that your family will love can be hard.
Let's explore a few options in the United States as well as some international locations for those of you who are up for an adventure! We will find the best country for a family vacation. 
This post includes many destinations all over the world.  If you are like me, I tend to dream and start planning vacations years in advance. 
For instance, I already have a trip to Hawaii and a summer in Europe planned before my oldest graduates high school (I have 5 years left).   I am determined to find the "best countries to visit with family," and then go! 
Let's explore all the best family vacation destinations in the World! 
If you want to save this for later be sure to Pin this to Pinterest!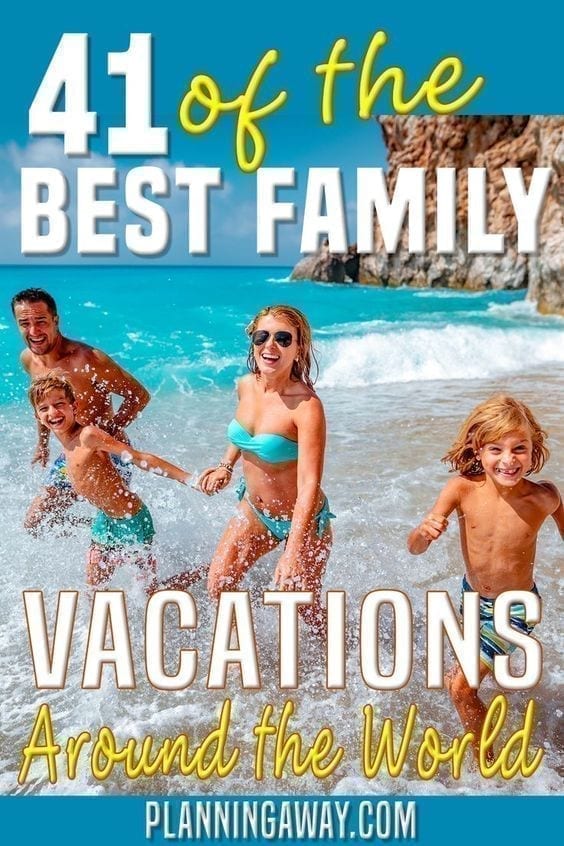 This post may contain affiliate links that will give me a commission at no additional charge to you.
Family Vacation in the United States – East Coast 
Maine
Acadia National Park
Hiking, biking, and swimming while seeing dramatic seaside sights make a trip to Acadia National Park the perfect family vacation.
Located 4 ½ hours north of Boston along Maine's southeastern rocky coast, Acadia attracts 3.5 million visitors each year.
Things to Do at Acadia National Park
A wide variety of outdoor activities keeps all ages engaged and entertained.  Hiking trails include easy routes as well as adventurous sky-high climbs overlooking the crashing ocean waves.
My family's favorite hike was up Gorham Mountain. It's not the tallest mountain, but climbing over boulders and in and out of little caves made for an exciting family-friendly hike. The best part was the panoramic ocean view from the top!
Biking the wide, motor-free carriage roads is also a fun way to see the park. Forty-five miles of well-kept wooded roads wind around Acadia's natural beauty.  The children will enjoy a stop at Sand Beach to cool off in the crisp, ocean water or swimming in the warmer water of Echo Lake.
Sunrise at Acadia National Park
Acadia is home to Cadillac Mountain – the first place in the country to see the sunrise.  You'll want to get the kids up early for this serene experience.
Whichever way you choose to spend your time in Acadia, it's sure to be a fun, memory-filled family vacation.
Contributed By: Scenicandsavvy.com
Washington DC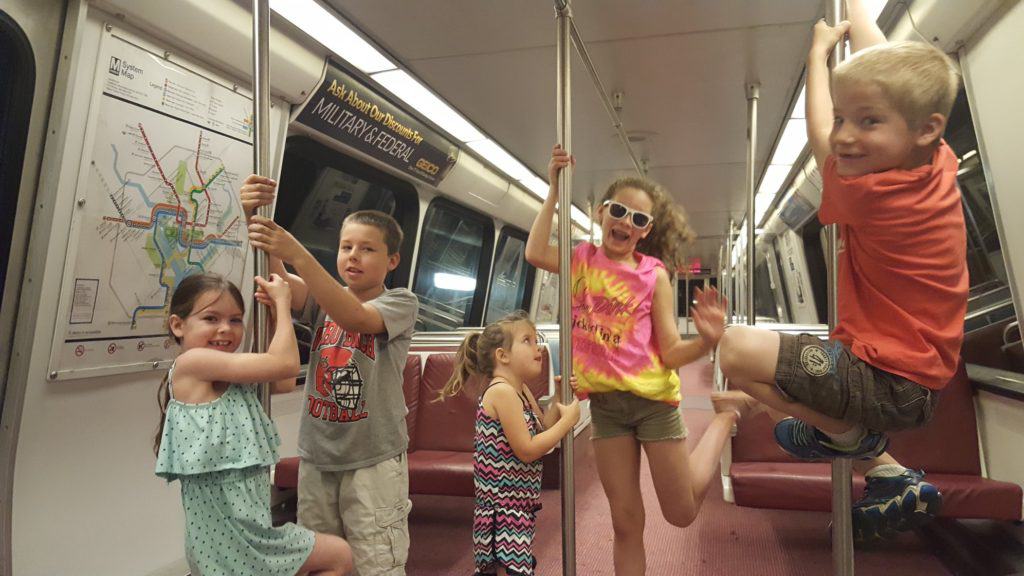 Choosing Alexandria, VA, and Washington, DC for your next family vacation will be an amazing historical trip for your family. You will be able to expose your family to the history of our nation, fabulous museums, and great food that make this area a fantastic choice for your next epic family vacation.
Things to do in Washington DC
Walk the cobblestone streets of Alexandria of Captain's Row, while you enjoy homemade ice cream. If you prefer riding, a free trolley runs up and down King Street, allowing visitors to hop on and off to browse trendy boutiques, cute coffee houses, dining options from casual to elegant, and lazing away a sunny afternoon at the wharf.
You will love your Washington DC family vacation!
Contributed By: Borntobeboomers.com
East Coast Road Trip
The East Coast has so many amazing things to do and see.  Taking a road trip down the coast is a great family vacation.  Especially if you are on a budget but still want to make memories with your kids.
As we planned this trip we wanted to do as much as possible but not break the bank.  We included activities such as historic parks, National Parks, and museums.  There are so many places to visit on the East Coast that you will be sure to find something that your family will love.
Contributed By: Statebystate.net
North Carolina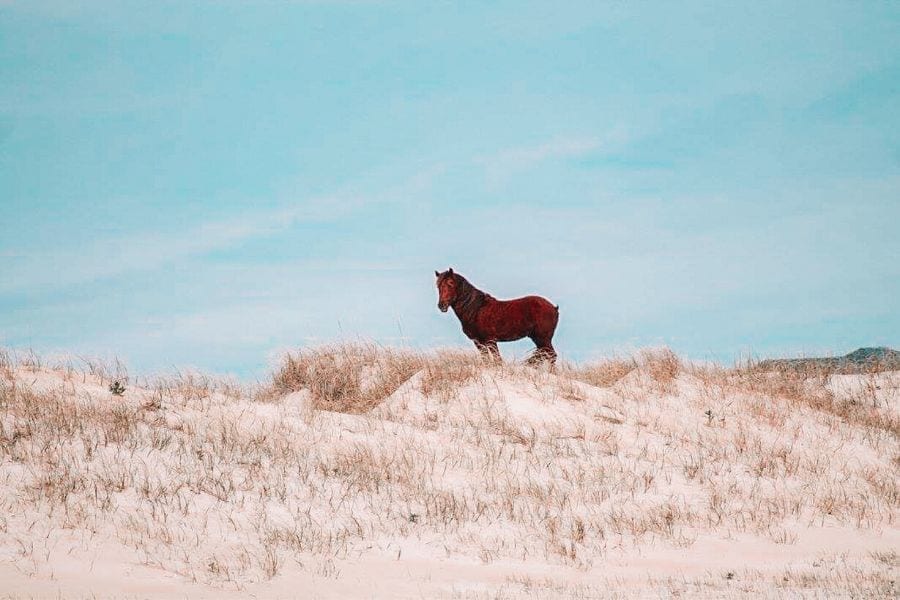 Outer Banks, NC
Outer Banks, an archipelago of islands off the coast of North Carolina, is one of the best family vacation destinations in the US.
Things to Do in Outer Banks
There are many things to do in Outer Banks NC and not just the mesmerizing beaches.
This is where Wright Brothers – Wilbur Wright and Orville Wright created history by successfully inventing and flying an aircraft. The Wright Brothers memorial displays the model aircraft, the airstrip where they flew for the first time, and many other interesting facts.
The Jockey Ridge State Park has the most massive natural dunes on the East Coast. It's also a great place to watch the sunset.
Driving on Outer Banks
For adventure seekers, Outer Banks has one of the best beaches to drive on, and the thrill to ride on the beach is unmatched. Corolla and Cape Hatteras do allow driving, but you need a permit for Cape Hatteras. 
Wild Horses
Outer Banks is famous for its wild horses, the Spanish Mustangs. You can find them roaming freely on Corolla Beach.
Beach Time
There are some amazing hotels and vacation rentals right on the beach. You can enjoy the beach all day. Build the sandcastles, bask in the sun, or enjoy fishing – a perfect way to relax and rejuvenate in Outer Banks.
You can visit the Outer Banks all year round, but summer is the most popular time to enjoy the weather and water. 
Contributed By: Travelmelodies.com
South Carolina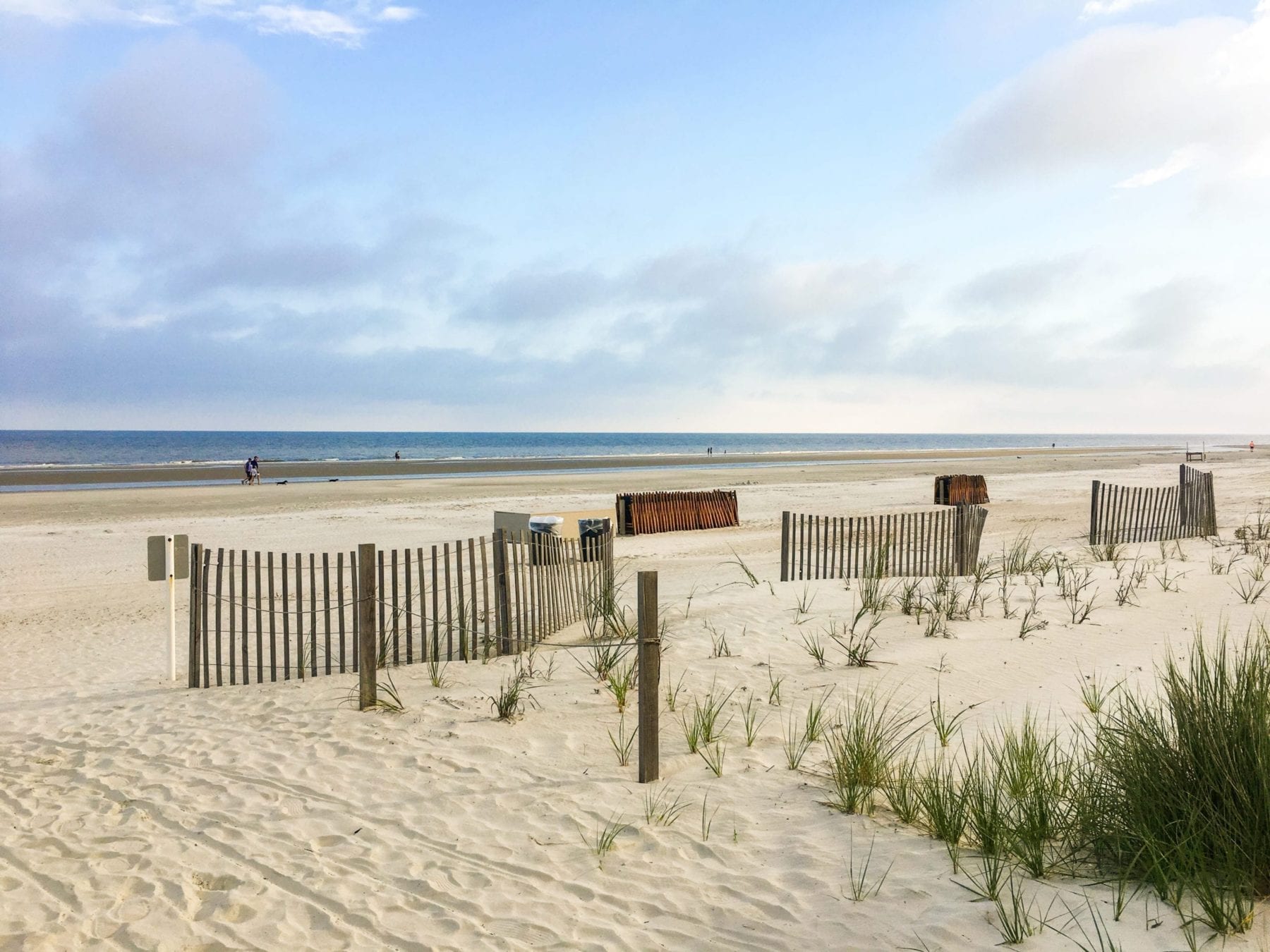 Hilton Head
Hilton Head Island, South Carolina is mainly known as a golf destination. But it's also the perfect spot for a family trip! HHI has miles of pristine sandy beaches with lifeguards and super-clean public facilities, so it's a great location to take even the littlest vacationers.
Coastal Discovery Museum
The island's Coastal Discovery Museum caters to nature lovers of all ages. Visit the butterfly pavilion, say hello to their resident tacky horses, and spend some time learning about local animals in the interactive kids' room. Get out on the water with a dolphin-spotting tour, or take an easy (and stroller-friendly!) hike to the ibis rookery on nearby Pinckney Island.
Hilton Head's pre-Civil War history will definitely interest older kids and teens. Take a free self-guided tour of the ruins of the Stoney-Bayard Plantation. Local lore says the grounds are haunted! Or take a short trip over the bridge to tour the Garvin-Garvey House, a rare Reconstruction-era home of a formerly enslaved man.
Food Choices at Hilton Head
Hilton Head is one of my favorite places to take the whole family, and it's also a foodie paradise! Kids will love the hush puppies that many casual eateries provide as a free starter. Adventurous eaters will want to try the island's famous soft-shell crab or local favorite she-crab soup.
Hilton Head Island is kid-friendly without being kid-centric, so busy parents can just relax and enjoy the vacation! There are truly so many things to do at Hilton Head.  It is a perfect place to plan a family vacation!
Contributed By: Shouldbecruising.com
Alabama
Gulf Shores
If you're looking for an affordable beach vacation the whole family will enjoy, Gulf Shores should be your go-to. This laid-back Gulf Coast town has 32 miles of pristine, powdery soft beaches. The best part? No crowds. You can stretch out on the sand, fish off the pier, and look for dolphins swimming by in the emerald green water.
Things to Do in Gulf Shores
Besides the gorgeous beaches, there are lots of fun things to do in Gulf Shores with your family. Bike ride through Gulf Shores State Park under moss-covered trees, past lakes, marshes, and swamps. Walk nature trails at Bon Secour Wildlife Refuge (keep your eyes open for alligators!). You can also kayak, zipline, ride a Ferris Wheel, and go on a dolphin cruise.
Things to Eat in Gulf Shores
When it's time to refuel, there are lots of family-friendly places to eat. Choose from party spots on the beach to an amazing hot dog bar to a hole-in-the-wall pizzeria that locals love. Kids will go bonkers for milkshakes almost too pretty to eat, while grownups love brunch that comes with a build-your-own Bloody Mary bar. Of course, there are fried pickles (it's the South y'all!) and rum drinks (because it's the beach!) too.
Contributed By: ReadymadeTravelPlans.com
Family Vacation in the United States – Western States
Arizona

Sedona, Arizona, is an incredible year-round family-friendly destination with mind-blowing views, scenic hikes through the red rocks, tasty authentic Mexican food, artsy shops, waterslides, and vortexes.
Sedona has something for everyone to love.  You could easily spend a week in Sedona. Plus, here is a fun fact for you, the sun shines more than 300 days a year in Sedona, which may be more days than my Sunshine State!
Things to Do In Sedona
In Sedona, you can drive an ATV over and through the red rocks, hike to a vortex to meditate, mountain bike as far and as long as you ever dreamed, marvel at architectural wonders, stargaze, and walk through ancient ruins built into the cliffs.
Scenic Drive
Sedona boasts one of the most scenic drives in the United States, the 14-mile stretch through Oak Creek Canyon, where you may spot a Whitetail Deer or maybe even a black bear.  And one more thing, don't miss a plunge down the 30-foot natural waterslide at Slide Rock Park, fun for the kids, but even better for the adults.
And you will discover an unexpected bonus (adults only) in Sedona, a lot of Tequila, the real thing.  I know it's all about the kids, but if momma is happy, everyone is happy.
Contributed By: Travelingpartyof4.com
Washington 

Seattle on a Budget
Seattle is a fun getaway for families!  Seattle is perfect if your family is on a budget but still wants to have fun.  We spent less than $500 for an entire weekend!
Things to Do in Seattle 
The beach is a perfect free attraction that kids love and could spend a lot of time at.  Pike's Place Market is quite an experience as well.  There are many restaurants in the area.  We loved picking a foreign restaurant and trying to experience a new culture through food.
The Woodland Park Zoo was the highlight for our trip although it can be crowded so plan accordingly.
Seattle Underground
If your family loves history then the underground Seattle tour can not be beat! This tour includes the beginnings of Seattle, the great fire, and even a ghost stories!
You don't have to spend a lot of money to still have a fabulous vacation in Seattle.
Contributed By: Afamilyonthemove.com and Thisfamilyblog.com
Texas
South Padre Island
A barrier island located along the Texas coast, South Padre Island is a resort community with a population of around 2900 people but attracts thousands of families year-round.
Things to Do at Padre Island
With the Laguna Madre on one side and the Gulf of Mexico on the other, there are plenty of activities for you to choose from. The options for water sports are vast, some of them are jet ski rentals, boat rentals, kiteboarding, surfing, kayaking, dolphin watching tour, sunset boat tour (this one is a must by the way), and the Beach Park at Islan Blanca water park are among the selection.
You not only have the water to keep you occupied, but you also have other family-friendly activities on land, like a tour of the Brownsville Port, the Sea Turtle Inc., Port Isabel Lighthouse and square, SPI adventure park, and SPI Birding and Nature Center.
These are just a few of the fun alternatives you can enjoy on South Padre Island. The food around the island is also worth a mention, some of the freshest you will find and the people are very welcoming.
Lodging  at Padre Island
As far as lodging, it can range from a fancy resort with a view of the Gulf, a nice rental on the Laguna Madre, and anything in between, so whatever you pick it'll make your family vacation memorable.
Contributed By: Travelfamlife.com
Utah

Utah is a great place for a family vacation.  There are three awesome national parks with adventures for the whole family.  Arches National Park has great hikes, including the all-day hike in Devil's Garden (good for fit families) or short easy hikes such as Sand Dune Arch and Skyline Arch, perfect for the very young.
A moderate trail that culminates at the incredible Delicate Arch (which is on Utah's license plates) is great for slightly older kids.  Nearby Moab is an adventure-lovers paradise, so if your family likes white water rafting, mountain biking, or canyoneering, this is the place to go.  Canyoneering is also a great activity for older kids near Zion National Park.
For the less adventurous, other things to do in Zion include hiking the Narrows, where you hike in a river through a narrow slot canyon, or just do a simple hike along the River Trail to the start of the canyon.
Nearby Bryce Canyon National Park also has plenty of great hikes for the family to do, as well as an easy drive with frequent stops at viewpoints of the hoodoos along the way. There's also a fun western show nightly near the park entrance.
If your family likes the great outdoors, Utah is hard to beat!
Contributed By: Travelingcollecting.com
Nevada
Las Vegas
When you think of Las Vegas I am sure family-friendly is not the first thing to come to mind. If you think Las Vegas is only for gamblers and college students looking to have a good time, you'd be wrong.   Las Vegas is a fun place for families with kids, from babies to teenagers.
Things to Do in Las Vegas with Kids
Families with younger children can enjoy the children's museum, mermaid show, indoor rain, aquarium, circus shows, and the M&M Factory.
Older kids will enjoy viewing the strip from 500 ft above in the Linq, ziplining, the Marvel museum, fireworks show, and Red Rock Canyon.
Food in Las Vegas
As if all of the activities aren't enough, the food is phenomenal. Many of the most famous chefs in the world have a restaurant in Las Vegas. I recommend Burger by Gordon Ramsey, it was the best thing I think I've ever eaten.
If you want to truly enjoy everything that Vegas has to offer, you have to get off the strip and enjoy the city. The Fremont Experience is a foodie's dream, with everything deep friend to perfection for you to indulge for days.
There are light shows, live music, museums, and shops to keep you busy for days. If you have time day trips to The Grand Canyon or Death Valley are amazing side trips. It is like taking a vacation within your vacation. 
Contributed By: Itzafamilything.com
California

San Diego
San Diego is the perfect place for a family vacation!  The weather in San Diego can not be beat with 70-degree temperatures year-round.  You can plan a 3 day San Diego trip or plan to stay much longer if you have the time.
Things to Do in San Diego
There are so many things to do in San Diego for families!  There are two amazing amusement parks SeaWorld and Legoland that will be fun for all.  The world-famous San Diego Zoo and Safari Parks can not be missed.
The beach is a great way to spend the afternoon.  You can learn to surf, dolphin watch, or just swim. (although the water is kind of chilly) My kids didn't care and swam in December!
If your family loves history be sure to check out the USS Midway ( a historic battleship) and Balboa Park (15 museums).  Also, Old Town San Diego and the Mormon Battalion Museum is a family-friendly adventure.
San Diego is amazing!
Contributed By: Planningaway.com
Hawaii
Hawaii is one of the top family vacation destinations in the United States because there's truly something for everyone there. From underwater explorations and thrilling adventures to relaxing on a beach and sipping tropical drinks, there's an endless list of activities to keep your whole family engaged and entertained.
Hawaiian Islands 
Plus, each island has its own unique attractions. On Maui, head up to Haleakala to see an epic sunrise or drive the famous Road to Hana. On the Big Island, head to Hawaii Volcanoes National Park for your chance to see real lava.
On Kauai, drive up to Waimea Canyon (known as the Grand Canyon of the Pacific) or go tubing down a sugar cane canal. And on Oahu, tour around Pearl Harbor or learn more about the Pacific Islands at the Polynesian Cultural Center.
The Best of Hawaii
Hawaii is also a foodie paradise with all kinds of Asian-infused cuisine like Hawaiian poke and shave ice plus traditional Hawaiian food like kalua pork and poi.
And it's got some of the best beaches for surfing and snorkeling in the world. Whether you plan to stay at a swanky resort or are doing Hawaii on a budget, Hawaii is a kid-friendly destination you should add to your family travel bucket list!
Contributed By: Hawaiitravelwithkids.com
Family Vacations in Europe
United Kingdom

Cornwall
If you're looking for a fun family vacation in Europe, head to Cornwall.
This is one of the best places in the UK for families- the beaches are spectacular, the people are friendly and the food mainly consists of cream teas and ice cream (don't say I didn't warn you!)
There is so much to do, it's almost impossible to plan a Cornwall itinerary (but don't worry- it's doable)
If you want some history, head to Tintagel Castle- home of King Arthur and the wizard Merlin. There's even a cave you and the kids can explore.
For the best beach, visit Westward Ho! (yes, the exclamation mark is part of the name). This is one of the safest and sandiest beaches, and there's plenty of facilities, cafes, play areas, and surf schools- perfect for all ages.
There are plenty of theme parks and kids' playgrounds, but two of the best are Flambards and the Pirates Quest. After all, Cornwall is full of stories of pirates and smugglers- there's plenty to catch a child's imagination.
Lastly, head to Lands End- and explain that the very next point of land you'd see if you started heading west is America!
Contributed By: Wandering-bird.com
Scotland
Scotland is often overlooked as a family destination for more traditional "kid-friendly" destinations. Between castles, beautiful nature, and Harry Potter destinations, families are sure to find something to love for everyone. My family had 11 people ranging in ages from 6 to 65 staying in one house exploring this amazing country.
Pitlochry
Pitlochry's location makes it a prime destination – Edinburgh and Glasgow are only about 90 minutes by car, with the Highlands being under two hours as well. Pitlochry has its own charm as a small rural town with places to explore. You can enjoy the natural beauty of Scotland, right in your backyard.
Cairngorms National Park
The gem of this area was Cairngorms National Park with a variety of hikes for all skill levels and ages. Not only that, it's home to Scotland's own wild reindeer herd. My fondest memory of our week in Scotland was seeing my niece's faces as we got to pet and feed these gentle animals. It's a short hike to the herd, where the guide tells you about the nature and history of the National Park.
Outside of Pitlochry, we enjoyed visiting numerous castles, like Eilean Donan, visiting the Fairy Pools, and retracing history on the Royal Mile. With so much variety, it's easy to find things of interest for any age.
Contributed By: Directionallychallengedtraveler.com
France
Marseilles
The first stop on our Mediterranean cruise was to Marseilles. It is a port city in the Provence-Alpes Cote-
d'Azur region. This was our first trip to Europe, and I was a bit nervous that the kids would be overwhelmed with all the historical sites.
Marseilles was a great place to start, and both kids enjoyed the day. We ventured outside of the city and visited Les Baux -de-Provence, a small town about an hour away. The town consists of ruins from a 13th century medieval stone fortress. The boys enjoyed climbing to the top and taking in the views.
Things to Do in Marseilles
There are other ruins, such as a chapel, a hospital, courtyards, and houses carved into the rock.  The village itself has been restored and is just charming.  The bakery was their favorite spot.
Another highlight is the Carrieres Des Lumieres, an abandoned limestone quarry that features over 2,000 digital images projected on the surfaces. It is so cool! Every few months, a new artist is featured.  During our visit, Picasso's paintings were being projected throughout the quarry.
There was plenty to keep the boys busy, and they learned quite a bit of history.
Contributed By: Lifeatmyownpace.com
Paris

Paris doesn't have a reputation for being the most family-friendly tourist destination, and for good cause. Getting around the city on the metro is impossible for a stroller or wheelchair. However, if you stay in the center of the city and plan your trip carefully, Paris is the perfect city to visit with kids.
The center of Paris is quite small and imminently walkable.  As an example, walking from Bastille in the east of Paris to the Eiffel Tower in the west of Paris only takes about 1 hour and 20 minutes. There is also an elaborate bus system that runs across the city, that is a much more pleasant way to get around.
Things to Do in Paris
Quite a few of Paris's major attractions are along this path, such as the Louvre Museum, the Marais, the Latin quarter, Musée d'Orsay, etc. All within handy walking distance, making it easy to get around, and then back to your lodging when your little one is tired.
There are also 3 theme parks just outside of Paris, including Disney, Parc Asterix, and Jardin d'acclimatation.  And when you combine all that with the sights and sounds of Paris, the culture, the architecture, and the family-friendly restaurant terraces, Paris becomes the perfect location to intrigue and entertain the full family.
Contributed By: Snippetsofparis.com
Spain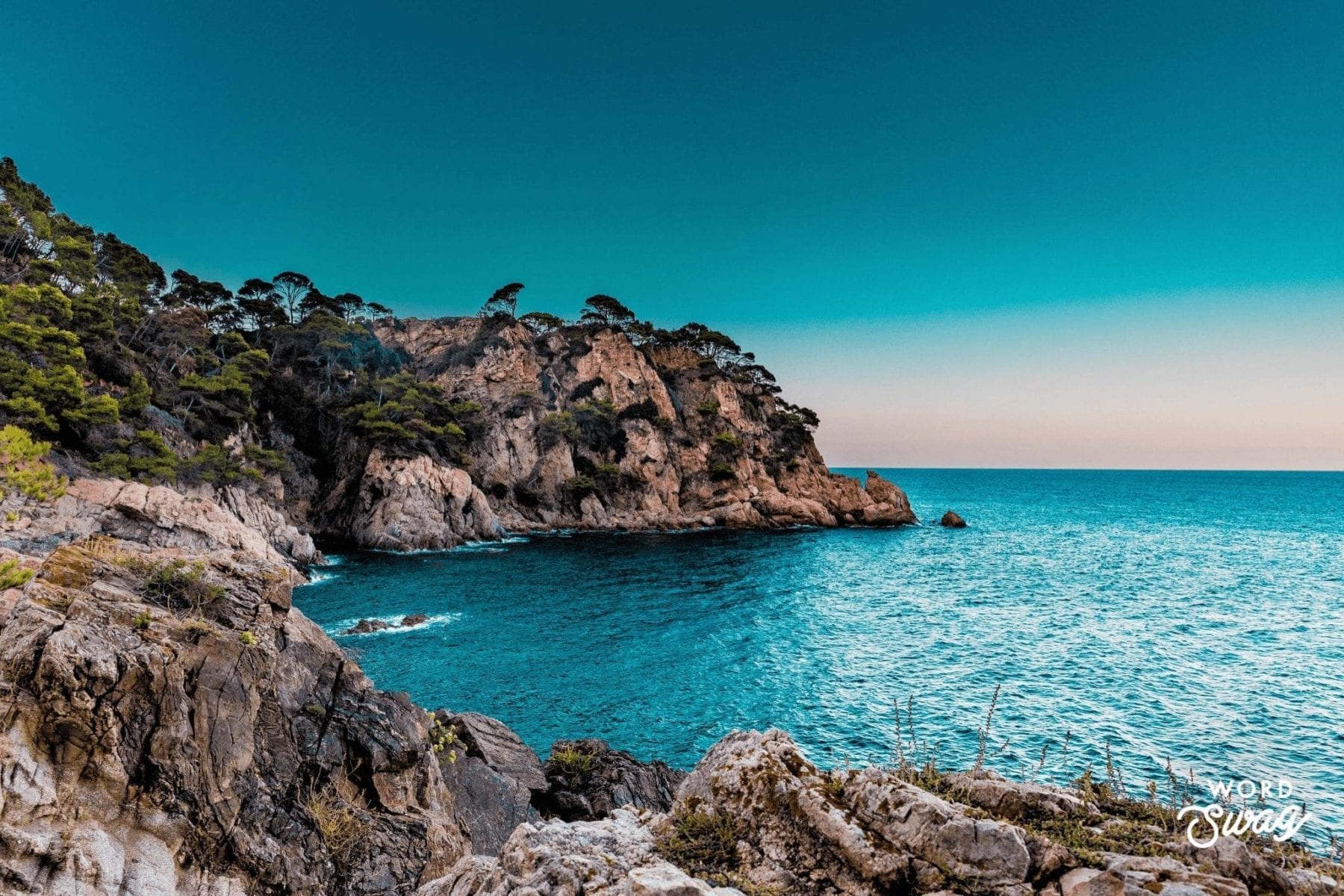 One of the best places to spend family vacations is without any doubt Malaga in Southern Spain. Why? First, there are the obvious reasons: great, warm temperatures all year round, easy to get to, not as big as Madrid, a gorgeous historic city center.
 The lively capital of the Costa del Sol, famed for its beaches and mild climate, boasts among others a stunning Moorish architectural heritage. The city's Alcazaba is a great example, an 11th-century citadel towering in splendor overlooking the African and Mediterranean coast.  In addition to their rich cultural heritage, Malagueños are also very proud of their most famous citizens, such as the painter Picasso, for whom there is a museum.
Things to Do in Spain
 If you are looking for family things to do, I recommend staying in the small town of Benalmadena which is famous for its family-friendly hotels. The resort is only 10 minutes drive away from Malaga and boasts a water park among others. Other cool things to do in Benalmadena for families are visiting the Butterfly Park.
 Contributed By: Paulinaontheroad.com
Austria 
Zell am See
One of the coolest places for a family vacation is Austria, more precisely best you go to Zell am See! Its located in the south of Salzburg, in a magnificent idyll with high mountains and a crystal-clear lake. Here, around Zeller Lake, you and your family will experience some unforgettable activities and plenty of amazing things to do. Whether swimming, hiking, cycling, sightseeing, surfing, sailing, stand-up paddling, or just relaxing – for sure you won`t get bored there.
Things to Do in Austria
Especially for kids, Zell am See offers a wide range of cool activities. Like a visit to Schmidolin, the cool dragon of the Schmitten mountain. Or go and have a ride at the Alpine Coaster Maisiflitzer. If you love hiking then the Sigmund Thun Gorge is a fantastic experience: On robust wooden paths it goes up through the gorge, you will pass thunderous waters and beautiful waterfalls.
In winter you have to try skiing at the XXL Fun Slope and the Schmittenhöhe Snow Park! No matter if summer or winter – for sure all the family will love it there. Fantastic is here also the Zell am See Card, with which you can visit most of the attractions in Zell am See free of charge.
Contributed By: PlacesofJuma.com
Portugal 
There are many great destinations around the world. But which one is perfect for a family vacation abroad? One of the most interesting places on Earth is a Portuguese island called Madeira – a great choice for a week away with your loved ones.
Madeira is often called the land of eternal spring because most of the year the air temperature on the island fluctuates around 20 degrees Celsius. This makes it a perfect all-year-round destination.
Things to Do in Madeira 
Walks along the charming streets of coastal towns and mountain trails, as well as diving and sailing, are the most common activities chosen by visitors. There is practically no crime in Madeira too, which makes it attractive for a family vacation.
The warm ocean current makes the water pleasant – 22ºC in summer and 18ºC in winter, which allows swimming in the ocean, even in November. For kids, this climate is just perfect to visit the island throughout the year. Kids, who are allergic, respond exceptionally well to the Madeira climate. The air is pleasantly warm, there is no smoking sun or unbearable wind – ideal!
Madeira has not yet been so commercialized and flooded with tourists like the neighboring Canary Islands. Thanks to this, it is a perfect place for a holiday for families who want to escape from the bustle of the city, looking for a mild climate and peace.
Contributed By: Darekandgosia.com
Family Vacation in Costa Rica
Costa Rica is a fabulous place to plan a family vacation. With its beautiful landscapes, those who love the outdoors will be in for a treat. Costa Rica is known for its happy people, amazing recreation areas, and best of all its family-friendly environments.
Things to Do in Costa Rica 
If you are looking to see some unique animals make sure to visit Manuel Antonio, National Park. Be sure to enjoy a hike where you will be sure to run into monkeys, snakes, frogs, and more as you head to the beach.
If your kids are up for an adventure Arenal National Park is the perfect place to try zip lining.  Another amazing adventure is a tour of Tortuguero National Park.  You will be sure to see some amazing turtles!
The best time to take your family vacation to Costa Rica is mid-December through April.  You are sure to have a fabulous time!
Contributed By: Joinourvidaloco.com
Family Vacation in Israel
Tel Aviv
If Tel Aviv isn't on your radar as a top family vacation destination, it should be! This bustling metropolitan city is the center of Israel's business and tourism industries, and might just defy your expectations of what a vacation in the Middle East is all about.
Things to Do in Tel Aviv
Whether you are visiting Tel Aviv with a baby, kids, or teens – there are so many fun things to do in this city. Spend your days at the old train station that has been turned into a chic shopping and dining center, or eating your way through the Instagram-worthy Sarona Market, or exploring the depths of the classic Carmel Market.
Beaches
The beaches in Tel Aviv are absolutely perfect, with a promenade that runs along them for nearly 9 miles – restaurants, parks, and pools the whole way. Every evening you'll be treated to a scenic sunset over the Mediterranean.
English is spoken by nearly everyone in Tel Aviv, and you'll find it on menus, storefronts, and street signs. Combine all that with world-class cuisine, top-notch public transportation, and easy access to the region's historical sites (like Jerusalem, a 2-hour bus ride away), and you've got an easy, fun, and engaging family vacation.
Contributed By: Diapersinparadise.com
New Zealand And Australia
Rotorua New Zealand
Rotorua is one of the best places to visit for a family vacation.  Rotorua is very unique as it is a geothermal hot spot.  All around the town, you will find streams and rivers steaming and mud bubbling.
There are a lot of free spots where you can view this, or you can visit a purpose-built facility like Hells Gate and experience your very own mud spa.  Isn't that a kid's dream? To bathe themselves in mud, and the mud in this area is known for its healing properties.
You will find a great range of family accommodation in Rotorua, from budget to luxury, so whatever you choose, ensure there is enough in your budget for the wide array of adventure activities here.
Things to Do in Rotorua
You can raft the highest commercially rafted waterfall in the world, roll down the hill in iconic Zorb ball, Bungy jump, and mountain bike through the forest.  Or for some more tame, but exhilarating fun, try the Rotorua Treewalk, crossing suspension bridges and platforms high up in the Redwoods Forest.
There are so many free activities and attractions, you could easily stay a week with your kids and still not do everything.
Contributed By: Backyard travelfamily.com
Auckland, New Zealand
When it comes to family-friendly holiday destinations, Auckland is a must-do in your New Zealand itinerary. It has activities that cater to people of all age groups.
Things to Do in Auckland
In Auckland, you get to explore the wildlife and marine life, take day tours of islands, visit waterfalls, tour museums, explore historic sites, and walk/hike through picturesque landscapes. It provides you a wholesome travel experience that keeps the entire family entertained.
Kids will love places like Kelly Tarlton's Antarctic Encounter and Underwater World, Kiwi Valley Farm Park, Butterfly Creek, Auckland Zoo as they'll get to see the most varied species of animals, birds, and aquatic life on the planet.
Museums in Auckland
Then you have museums like Auckland War Memorial Museum, New Zealand Maritime Museum, Auckland Art Gallery, Stardome Observatory & Planetarium that'll keep the adolescent kids engaged.
Day Trips From Auckland
You can take day trips to islands like Waiheke island, Rangitoto island, Great Barrier island, Kawau island, Motutapu Island and relax on the beaches, or have a family picnic. You can also visit family-friendly waterfalls like Kitekite Falls, Karekare Falls, Oakley Creek falls, Hunua falls and admire the amazing natural sights on display.
The breathtaking landscapes, rich culture, diverse flora and fauna, and friendly people of Auckland make it a delightful and safe family-friendly destination. So if you are planning a visit to New Zealand, then don't miss out on an opportunity to explore Auckland.
Contributed By: Thewanderingvegetable.com
Sydney Australia
Sydney is best suited to an outdoor kind of family holiday. Sydney Harbour is a stunning centerpiece that you can travel around on the ferry network to get to a long list of famous destinations that make for great family day trips.
Ferry Terminal
The central ferry terminal is located at Circular Quay in the CBD. This is wedged in between the Harbour Bridge and the Opera House, so you will have no trouble finding it.  Destinations like Manly Beach, Taronga Zoo, Luna Park, Watsons Bay, and the Gap are all a pleasant and cheap boat ride away.
Things to Do in Sydney
If you prefer to stay in the CBD then you have the waterfront areas of Observatory Hill, Barangaroo, and Darling Harbour all to the west of the Harbour Bridge.
Here you will find the Aquarium, Sydney Wildlife Zoo, Madame Tussauds, Maritime Museum, and the Powerhouse Museum. All surrounded by countless waterfront dining options and is also not far from the Darling Quarter – a very impressive kids playground with ropes and flying foxes in a large outdoor parkland in between Darling Harbour and China Town.
Plenty to keep young kids entertained! And on Saturday nights you may also be treated to a fireworks show!
Let's not forget a trip to Sydney Tower for the best view in town. All within walking distance of most family-friendly hotels in the CBD area.
Contributed By: Katherinerosman.com
Victor Harbor Australia 
Victor Harbor, ninety minutes from Adelaide, is a great family vacation spot because there is so much to do. There are two parts two Victor Harbor – the township and Granite Island.
In Victor, families can play on the beach, go on a camel ride along the sand and check out the displays at the Whale Centre. In winter, you can go whale spotting. The foreshore has a wonderful nature play playground, mini-golf, and, over summer, a small amusement park.
Catch the Cockle Train, a steam train, to the neighboring town of Goolwa. It runs along the coast and is an activity both the young and young at heart will love. Visit Urimbirra Wildlife Park where you can feed kangaroos and pat koalas.
Granite Island
You can walk to Granite Island, but the kids might prefer the horse-drawn tram. The main feature of the island is the Sculpture Trail. The art really captures your imagination and is a fun way to explore the island.
Marine wildlife tours leave from the causeway. You are almost guaranteed to get see seals and dolphins. You can also go on an evening tour to see the island's fairy penguins return to shore.
Contributed By: Curiouscampers.com.au
Canberra Australia

Canberra in Australia is a great place for family vacations because there are numerous things to do. There are activities suitable for when you are traveling with a baby and toddler, older children, or adults.
For a fantastic view of Canberra, hike the Mount Ainslie Summit Trail. It's a moderate hike, and steep in parts. For an easy, stroller-friendly walk, the bridge-to-bridge route around Lake Burley Griffin is fantastic.
Things to Do in Canberra
A key attraction is Questacon, the National and Science Technology Centre, with over 200 science exhibitions over eight interactive galleries. There's something for all ages, from babies to adults alike.
The National Zoo and Aquarium is also popular with diverse animals, as well as the fantastic playground. You can also stay overnight at the zoo in luxury accommodation – the Jamala Wildlife Lodge.
The Australian War Memorial is not to be missed. It commemorates Australians who have died in operational service or war. Galleries take you through World War One and World War Two, as well as other conflicts.
Food in Canberra
For delicious eateries, locals love Brodburger, Dobinsons Bakery, and Sammy's @ Foreshore. Canberra is a fabulous family vacation spot in Australia.
Contributed By: Petitecapsule.com
Tasmania Australia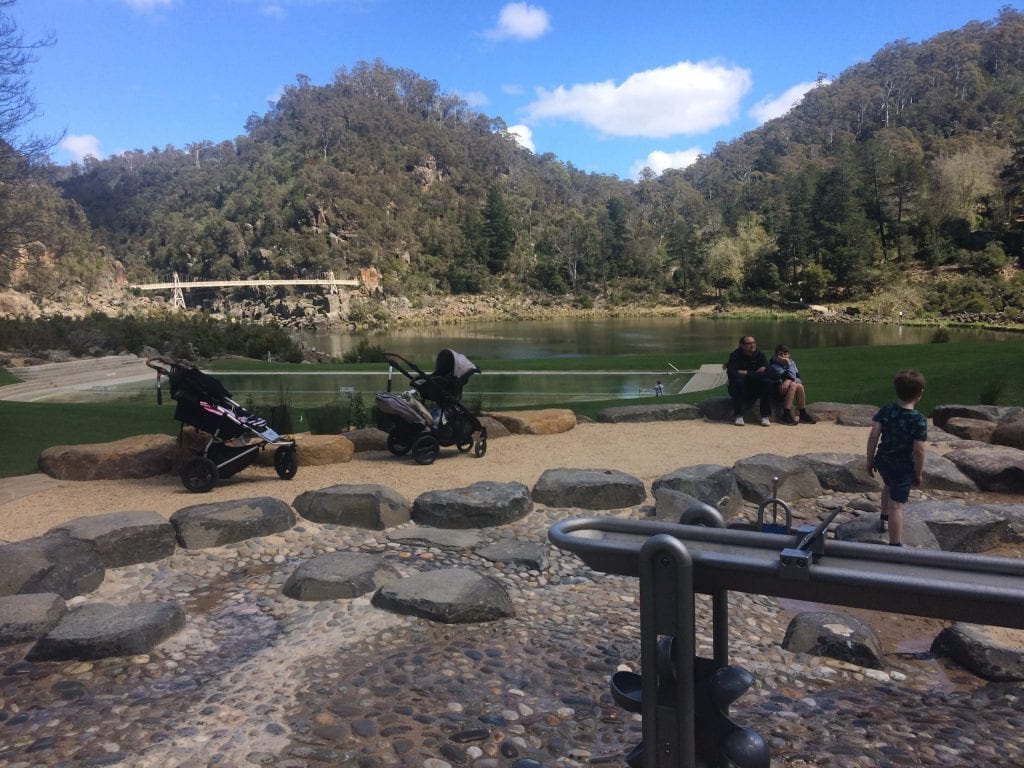 Launceston is a historic city on the river in Northern Tasmania, Australia, and is an amazing family destination with lots of things to see and do.
 Tasmania is an island state of Australia and has lots of opportunities for outdoor adventures in outstanding natural beauty. Our first stop when visiting Launceston was the Cataract Gorge, a river gorge located just 1.5km from the city centre.
Outdoor Things to Do in Tasmania
It is home to the world's longest single-span chair lift so you can view the stunning scenery from high above. There is also an outdoor swimming pool for the summer months, a cafe and children's playground, walking tracks, a suspension bridge, and an abundance of wildlife.
 There are also over 30 different cycle tracks around the city to explore and there are lots of incredible playgrounds in Launceston to enjoy as well. On cooler days there are lots of all-weather activities too, you can visit the world-class Queen Victoria Museum which has a great interactive kids' zone and also a huge dinosaur exhibit.
Indoor Things to Do in Tasmania
The Penny Royal convict-themed complex has a huge rock climbing wall, a historic boat ride, and even a zip line! On rainy days there is a large aquatic centre, and there are 2 great soft play areas in the city too, Kids' Paradise and Adventure Planet. The last one is located in the Launceston Entertainment Complex (LEX) where they also have Airtime 360, a huge trampoline park, as well as a laser tag zone.
Family Vacation in Malaysia
Kuala Lumpur is the capital city of Malaysia and it is often a transiting city for flights. It is also the gateway to other locations within Malaysia and South East Asia.
Kuala Lumpur has a plethora of activities for everyone to enjoy. If staying for a few days, you might be interested in a two-day itinerary. But even if you only have one day, you can choose from a huge array of activities.
Things to Do in Malaysia 
Activities everyone will enjoy include visiting the KL Forest Eco Park, or maybe going to the top of the Kuala Lumpur Tower, which is the 7th tallest freestanding tower in the world. You may also like to go to the iconic Petronas Twin Towers and the KLCC aquarium and park.
Other animal adventures include the butterfly park or the KL Tower mini zoo. For a little bit of photographic fun, you could check out the Upside Down House near the Kuala Lumpur Tower. There are just so many fun things to do!
It is quite easy to get around Kuala Lumpur with kids too, as the public transport system is very easy and affordable. There are even some free hop on hop off buses that run around the city. Kuala Lumpur is a fantastic family holiday destination!
Contributed By: Frugalfemaleabroad.com
Family Vacation to the Philippines
The Philippines may not be the first place that comes to mind when planning a family vacation, but there's a lot going for it. This Southeast Asian tropical paradise is blessed with islands, beaches, and beautiful scenery.
Things to Do in the Philippines 
There is no better way to spend your family vacation than on the beach, teaching the kids to surf, going swimming, sunbaking, and diving. With so many places to put on your Philippines itinerary, planning a trip to this idyllic destination can be fun.
Spend some time in Manila exploring the country's fascinating historical sites before heading to the islands for fun in the sun.  For a fantastic time on the beach, head to Boracay or Palawan.
Planning Tips for the Philippines 
Another excellent reason to choose the Philippines for your next family vacation is it's easy on the budget. Traveling and staying in most places around the country is very affordable. You can book a cheap hotel for anywhere between 800 and 2000PHP.
Getting around the Philippines is also very affordable, and the kids will enjoy riding in the local jeepneys. The food is delicious and won't cost a fortune. Many of the local dishes will appeal to kids who love sweet things.
The best time of year to visit the Philippines is when it is dry, between December and April.
Contributed By: Travel2next.com
Family Vacations in India
Rajgir: The Holy Place
Rajgir! The land of Gautam Buddha spreads Buddhism to Asia. This ancient place belongs to Bihar. Buddhist traveler Xuan Zang stayed here for a long time.  There are a lot of historical places within a short distance.  This place is for Jains as well.  You can visit Pawapuri–The Jal Mandir is close to Nalanda University or Xuan Zang memorial hall.
Vishwa Shanti Stupa
Vishwa Shanti Stupa is another interest here. Japanese government built 80 stupas around the world, to honor those victims of the atom bomb. It spreads the message of non-violence and peace.
Things to Do Near Rajgir
There are plenty of places you can cover on the same day, as everything is within close proximity. But I suggest making a plan for at least 2/3 days.  Also, the ropeway ride is a special attraction here to add to your list.
Nalanda University

Xuan Zang Memorial Hall

Shilpa Gram

Kundalpur Jain Temple

Black Budda

Nalanda Archaeological Museum

Naulakha Temple

Pawapuri Jain temple

Pandu Pokhara

Bimbisar jail

Rath Chakka stain

Manihar Math

Veerayatan

Japanese Temple

Venuvan

Ajatshatru Fort

Vishwa Shanti Stupa / Rajgir Roapway

JIVAKA'S Mango Garden

Rajgir Brahma Kund or Hot Springs

Sonbhandar Caves
One last-minute suggestion, take a tanga (horse cart) ride for visiting these places. Your journey will be amazing.
Directions to Rajgir
Rajgir is connected by roadway and railways in India. Bakhtiyarpur railway station is near Rajgir. Or if you came from Bodhgaya hire a cab, it's a 4-hour ride.
Other Nearby Interests
The first time I visited Bodhgaya I came from Kolkata Howrah railway station. After spending 2 days in Bodhgaya, I went for Rajgir. In the way of Rajgir, I stopped in a place called  Dashrath Manjhi's 'Gehlaur' village. In this village, a man-made a 22 ft road from a hill only using a hammer and chisel. The work is under 'Guinness book of world records. So don't miss the place this winter.  Happy journey.
Contributed By: Theholidaystory.com
Ooty India
Ooty is famous as 'Queen of Hills' surrounded by Blue mountains, verdant tea estates, and is considered a famous summer destination of South India. The temperature remains pleasant throughout the year, which makes it a perfect destination for families.
Things to Do in Ooty
You can instantly fall in love with the people, culture, and nature in Ooty.  Ooty is a trip your family will love.  There are many things to do in Ooty for families, from a visit to Nilgiri hills, chasing waterfalls, or admiring colonial architecture.
Things to Do with Kids in Ooty
If you are traveling with kids, visit the Botanical Gardens and Wax Museum to keep them entertained.  If your children are book lovers, you must visit the Higginbothams Book store to read a vast collection of books.  One of the top activities in Ooty includes taking a boat ride in Ooty Lake- which is a famous family picnic spot.
The trip to Ooty is incomplete without riding the famous Nilgiri Mountain Railway (Toy Train) a UNESCO World Heritage site that passes through tunnels, bridges, and waterfalls. The ride from Ooty to Coonoor is a must!  It passes through mountains and valleys.
There are many viewpoints in Ooty like Dolphin's Nose, Dodabetta Peak, and Ketty Valley Viewpoint. These are easily accessible for all ages and perfect to visit if your family loves nature.
Tea Capital of India
If you are a tea lover, Ooty is going to be heaven for you.  It is a famous for being the tea capital of India. You can visit any tea estates in Ooty which gives you an idea about the tea-making process.  At the end of the tours, you can taste different varieties of tea.  They will also be available to purchase from the souvenirs shops.
Homemade Chocolates
Ooty is also famous for its handmade chocolates.  If your kids love chocolates, you can visit the Chocolate Museum! If you want to take your chocolates and have a picnic, visit Pykara Lake and Upper Bhavani Lake near Ooty.  This is the best place to spend quality time with your family.
Directions to Ooty
 Coimbatore is the nearest airport to Ooty. You can reach Ooty via Cab or Bus which takes 2-3 hours.
Contributed By: Fernwehrahee.com
Munnar India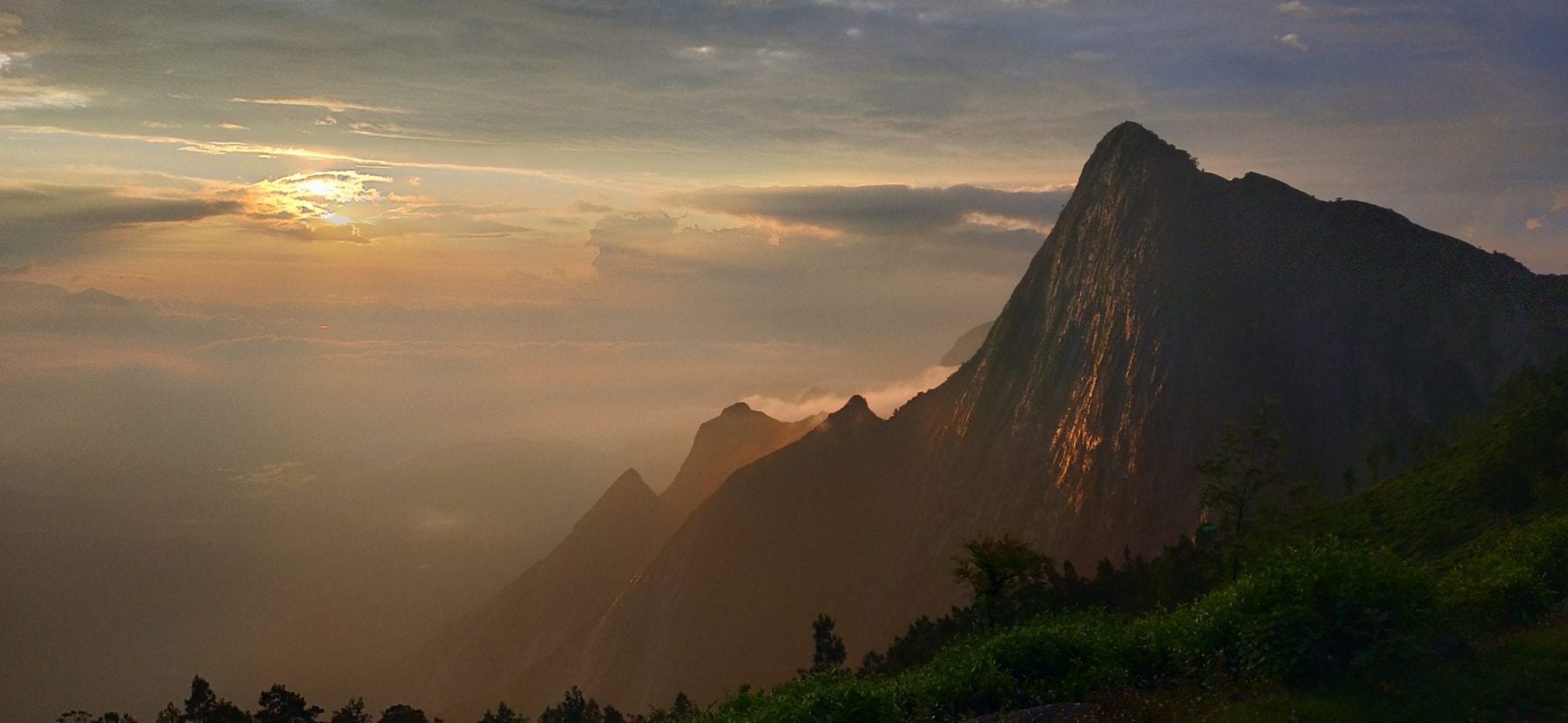 Munnar is one of the most popular holiday spots in Kerala. Known for its ever pleasant climate, Munnar is one of those destinations flocked by tourists around the year.
With its many tea plantations and mountains everywhere you look, Munnar is the perfect spot to spend some quality time with your family. From strolling through lush tea plantations to trekking up a hill, things to do in Munnar are many!
Eravikulam National Park
The Eravikulam National Park is a treasure trove of exotic wildlife and plant spices. You can also spot the Nilgiri Tahr, which is considered an endangered species, which can be a great experience as it is only found here. If you plan your trips well enough, you can catch a sighting of the Neelakurinji, which only blooms once in 12 years in the mountains of Munnar.
Tea Plantations 
You can also plan a quick trip to Kolukumalai, which is famous for being home to the world's highest tea plantations. Many travel agencies provide camping options for families at Kolukkumalai. You can visit the Echo point which, as the name suggests, is the perfect place to yell out and hear yourself being echoed.
You can enjoy boating at the Madupetty Dam, which is surrounded by the most beautiful scenery. And let's not forget a local Munnar tea, which is by far the most favorite part of anyone visiting Munnar.
Contributed By: Ourbackpacktales.com
Family Vacation to Japan
Tokyo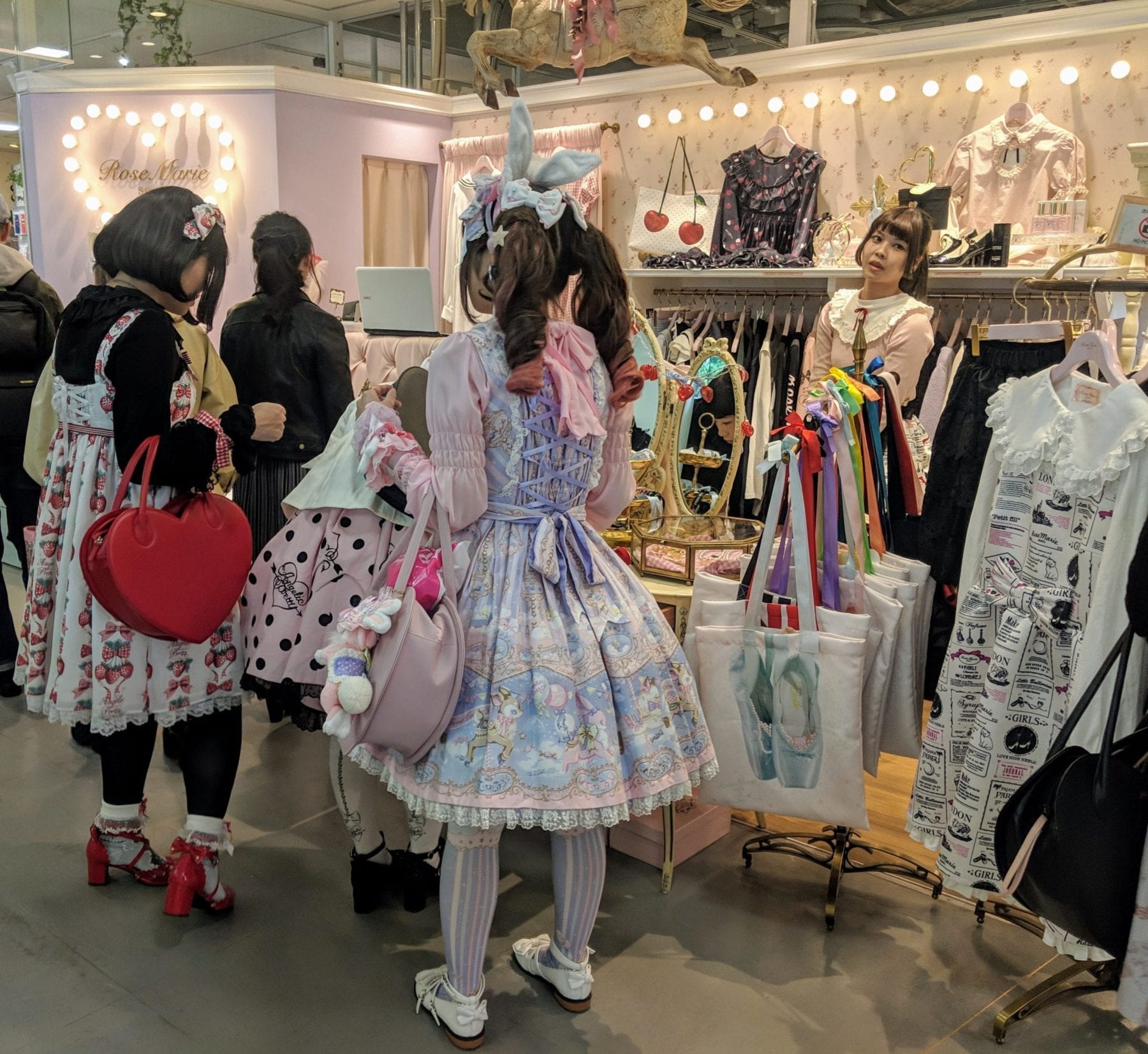 Tokyo may seem like an intimidating place to visit with children, given it is chaotic and bursting with people, but show me another city that has these many opportunities to keep the little ones busy. Not only are there gaming parlors, entertainment zones, and petting cafes like you might not have seen anywhere else in the world, but also there is the Tokyo Disneyland if you want something familiar to go to at the end of the day.
In addition, Tokyo is a great introduction to the world in the Far East. Japanese culture and traditions are fascinating, to say the least, and it would be well for the children to be exposed to them early on in their lives. Here's a ten-day Japan itinerary.
Things to Do in Toyko with Kids
To make the best of your time in Tokyo and to avoid traveling a lot, stay at Shinjuku or Shibuya. Among things you could do in Tokyo with your kids: watch robots cavort at a Robot Restaurant (buy the tickets well in advance), pet an animal in a pet café (choose one where the animals are treated well), have crazy sweet treats, or shop at Harajuku, if visiting during cherry blossom season, head over to Ueno Park for a picnic, Sakura viewing, and a run around the playground.
If you have older children, you could take them to a gaming arcade in Akihabara or have them partake in cultural indulgences such as tea tasting or simulated samurai battles. As you can see, the choices are endless.
Contributed By: Smitabhattacharya.com
Family Vacation in Bali
Bali is a destination you will want to go back to!  It is a perfect spot to plan a family vacation!  To start it is very affordable.  You can find great accommodations as well as restaurants for amazing prices.
Things to Do in Bali
Bali is very safe and there are many things to do in Bali with kids.  One thing your kids will love is the Bali Safari Marine Park.  This was the highlight of our trip!  There are also many water parks and outdoor activities such as river rafting that will entertain your family.
Get ready to have a blast on your Bali family vacation!
Contributed By: Fiveoutandabout.com
Family Vacation in South America
Fernando de Noronha – Brazil 
There is one archipelago in the middle of the Atlantic Ocean which is a little piece of heaven on earth. It is called Fernando de Noronha and it is just a few hundred kilometers off the northeastern coast of Brazil.
 Nature here created something magnificent and authorities were smart enough to keep it well protected. Indeed, only a restricted amount of tourists can visit this lush and green archipelago and see some of the most beautiful beaches in Brazil.
 The fact itself of not being too packed is great for family vacations. Your children will have enough space to enjoy their time at the beach. And while some of the most secluded areas are not equipped for young people, there are at least three beaches perfect for kids.
Things to Do with Kids
The children will love the possibility to see many animals, especially during very easy snorkeling in Baia do Sueste or in Praia do Atalaia. It is very common to spot colorful fishes or giant tortoises that will amaze children.
 Finally, kids will love moving on the island onboard colorful and noisy dune buggies that most people rent.
Things to Do for the Whole Family 
And for parents? Safety of their children makes this a perfect spot for a family vacation, not considering the very good standards of the hotels here so that even an afternoon at the resort could be a good option.
 There are some nice restaurants in the center of the main village which will also permit the whole family to do a little stroll during the evening looking for some food and before going to bed, ready for a new great day in Fernando de Noronha.
 Contributed By: Restandrecuperation. it
Family Vacation to Africa
Cape Town is an amazing city to come for a family holiday. It's the most beautiful city in South Africa with many things to do to keep the whole family busy.
Table Mountain
Out of many amazing places to visit in the city Table Mountain is definitely one not to miss. Both adults and children will enjoy spending an hour or so on the top of the most recognizable attraction in Cape Town.
The journey to the top starts at the Lower Cable Car station from where visitors can take a cable car up the mountain. A 5-minute ride offers breathtaking 360° panoramic views of the city and the surrounding area.
Wildlife 
Cape Town is a great place for watching wildlife. Visiting Aquila Safari Park, a private game reserve near the city is definitely a bucket list adventure. The reserve is an amazing place to see African animals such as lions, rhinos, elephants, giraffes, zebras, and others roaming around in their natural habitat.
Boulders Beach
For families with children, Boulders Beach in Simon's Town is a must-visit place. This beautiful white-sand beach is famous for its penguin colony. Visitors can see many cute African penguins walking around and swimming.
Another great way to spot wild animals is to do a boat tour during which tourists can see dolphins, whales, seals, penguins, and many seabirds. There are many other outdoor adventures and cultural experiences in Cape Town to make your family holiday unforgettable.
Contributed By: Stingynomads.com
Are You Ready to Plan the Best Family Vacation?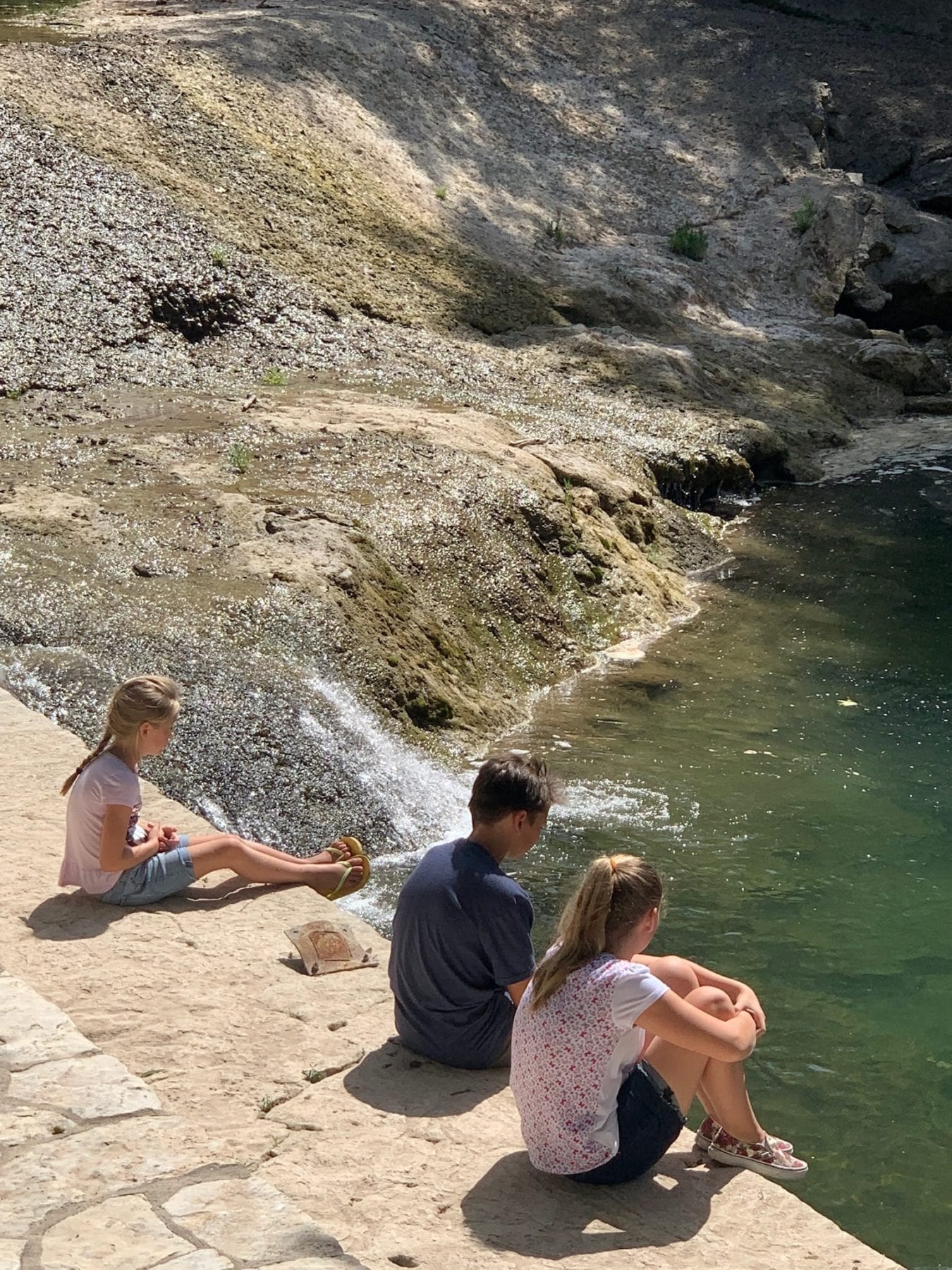 Hopefully, this has given you some great ideas for planning your future family vacation.  The World is at your fingertips! Start planning now so you have enough time to prepare and create the perfect trip.
Facebook Community
If you have any questions join my Facebook Travel Community.  You can ask any questions you have about upcoming trips and everyone is happy to help you plan your trips.  I also try to give exclusive travel deals that companies send me.  It is a great group to join!