Is Swoop a Good Airline? (My Swoop Airlines Review)
Have you heard of Swoop Airlines? The prices are so low!! Wondering if Swoop is a good airline? 
If this Canadian budget airline and its friendly prices are calling your name, but you are unfamiliar with Swoop Airlines this post is for you.  
I had the same questions.  Is Swoop a good airline?!! Why is Swoop so cheap? Well after talking with some Canadian friends and reading some Swoop reviews, I decided to test it out and write a Swoop Airlines review based on my experience.
This post is not sponsored, all of the observations and experiences are my own.  
In this post, I wanted to give you an honest Swoop Airline review, so you can know what to expect if you decide to book the cheapest airline in Canada with Swoop. 
I will give an introduction to Swoop Airlines, and answer as many questions you might have. 
Let's get started planning a Swoop vacation with my Swoop Airlines review!
If you want to save this information for later be sure to pin this to Pinterest.
This post may contain affiliate links (Including Amazon) that will give me a commission at no additional charge to you.
Swoop Airlines is a Canadian airline that specializes in flying from Canada to warm destinations with budget-friendly prices.
Swoop does fly into bigger airports but has a lot of smaller airport options. There are a few main airports that travel to international locations. For example, if you live in Halifax you could take a Swoop flight to Toronto and then on to many warm destinations. 
Swoop Airlines from the USA
We chose Swoop because we wanted to go to Niagara Falls out of Las Vegas.  The price was so much cheaper using Swoop compared to other airlines! If you are a US citizen and want to visit Canada, I highly recommend using Swoop to save money! 
Where Does Swoop Airlines Fly to?
Canadian Origin Airports
Abbotsford, BC YXX (Near Vancouver)

Charlottetown, PEI YYG 

Deer Lake, NL YDF

Edmonton, AB YEG

Halifax, NS YHZ

Hamilton, ON YHM (Near Toronto)

Kelowna, BC YLW

London, ON YXU (Near Toronto)

Moncton, NB YQM 

St. Johns, NL YYT

Toronto, ON YYZ

Victoria, BC YYJ

Winnipeg, MB YWG
International Destinations
Fort Lauderdale, FL USA FLL

Kingston, Jamaica KIN

Las Vegas, NV USA LAS

Los Cabos, Mexico SJD

Montego Bay, Jamaica MBJ

Puerto Vallarta, Mexico PVR

Punta Cana, Dominican Republic PUJ

St. Pete-Clearwater, FL USA PIE

Varadero, Cuba VRA
Is Swoop Airline a Good Airline?
Swoop Airlines is a budget airline but with that expectation, I would say YES.
Would I Fly Swoop Airlines Again?
Our experience was actually really good.  We had good flights on both sides of our trip.  Booking was easy, adding luggage to our trip was not a problem, and the boarding and flying experience was all pretty good.  
Would I fly Swoop Airlines again….YES!  
If that is all you need in a Swoop Airline review then go book your ticket.  If you want a more detailed experience keep reading.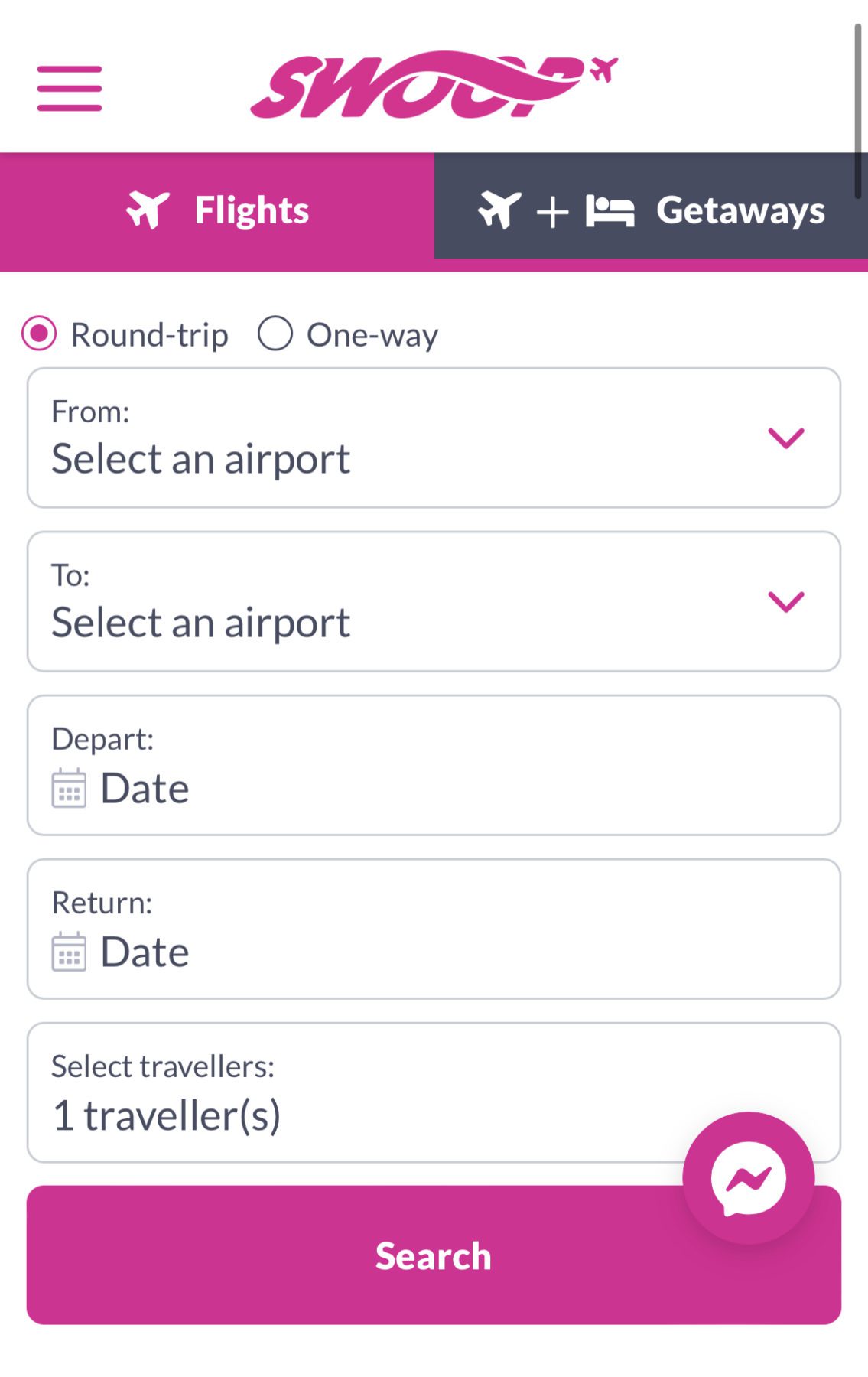 In this section, I am going to give you a Swoop Airlines review on the Swoop Airline booking process. 
The Swoop Airlines website is really easy to navigate.  You can enter your origin city and your destination with the dates you would like to fly and the results will pop up.
Swoop Airline Flight Time Options
One thing that you will notice is that most flights only have one option.  So if you are looking for a specific time of day to fly, this might not work for you.  
If you are flexible on times and want to save some money this shouldn't be a problem.  
Swoop Airline Flight Dates
Some locations are more popular than others, meaning that some routes are offered every day while others are only offered 1 time a week. 
Do Swoop Flights Get Canceled?
We have been in a situation where our budget airline was canceled on the day of our trip.  We were compensated very well, however, we were still not able to fly because the airline only flew out of our area once a week.
I am happy to say that Swoop has a good cancelation policy. 
If your flight gets canceled Swoop will do their best to get you out within 48 hours of your original ticket.  If they can not they do have agreements with other airlines and you will be booked on a partner airline. 
There are also other compensations if your flight is delayed by more than 3 hours.  
Swoop Airline Bookings
I think my number one concern before I booked my flights was if Swoop Airlines was a reputable airline that would honor basic airline industry policies.  
I had read a few Swoop Airline reviews and felt pretty comfortable booking my flight.  I am glad I did because our experience was really good.  I felt like they did comply with the airline standards of other non-budget airlines. 
Once you feel comfortable you can book your flight online.  Before you book be sure to look for coupons.  These are available right on their website. 
Swoop Customer Service
One bad thing about Swoop is that the only way to solve any problems you have is through social media. Facebook Messenger is the main way to communicate.  There are no phone numbers or a way to talk to an actual human.  
For us, it wasn't a big deal. For those who may experience problems, it might be.  The flight attendants said they love the Facebook Messenger option.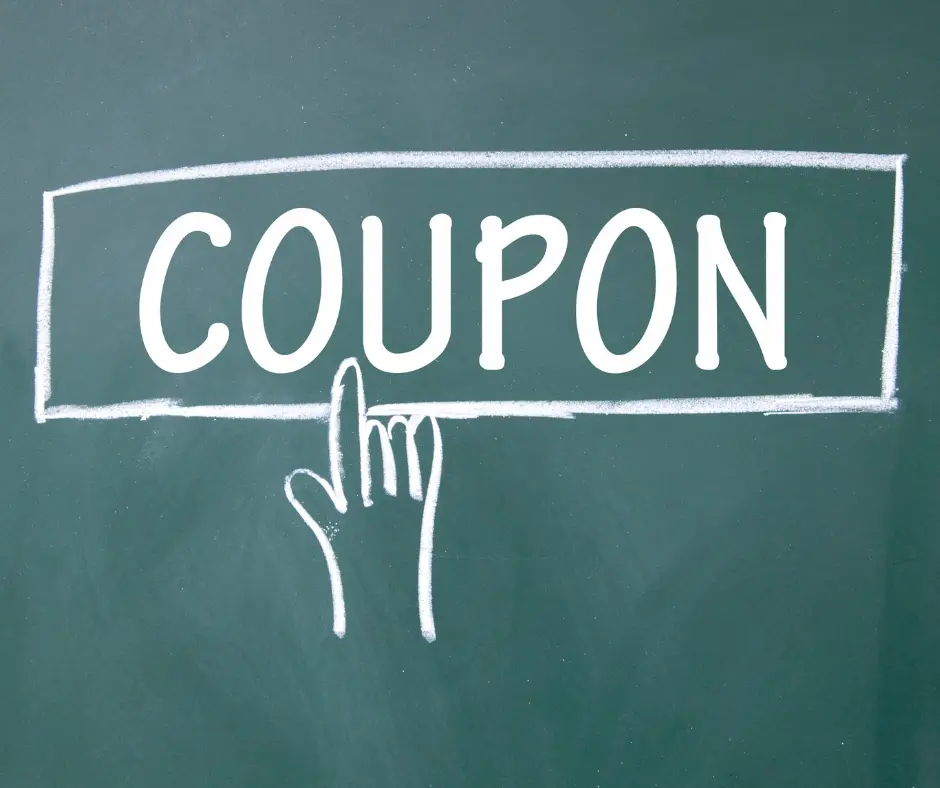 Swoop's prices are already pretty awesome, but if you are looking to book a last-minute flight you might be able to snag a good deal. Swoop cheap flights are available if you know where to look.
How Do I Get a Good Deal on Swoop?
Typically one week before a flight extra discounts are offered on select cities.  You will use the coupon code SWOOPON at checkout to save up to 40% the listed price. 
On Fridays, there are additional last-minute deals with coupon code FLYDAYS
Does Swoop Airlines Charge for Everything?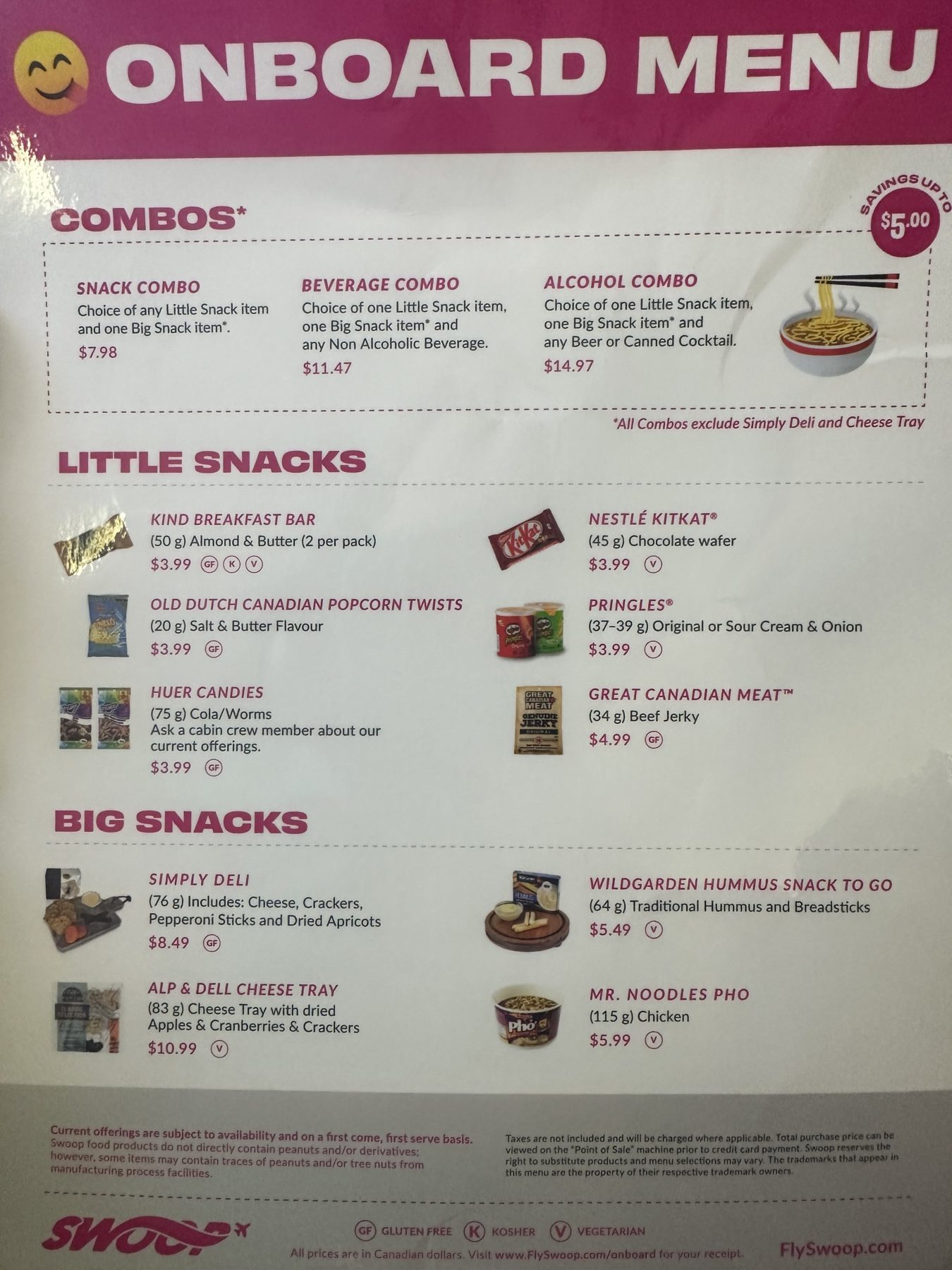 Budget airlines tend to charge extra for certain things.  I wanted to list some of these such as seat upgrades, baggage, food and beverages, and internet, and give you my full Swoop Airlines review for each item. 
Seat Upgrades
When you are booking your ticket, there will be many "seat upgrades"  If you want to pick your seat it comes with a price.
You do not have to pay for your seat if you do not want to! 
Swoop Airline Review – Seat Upgrades
I was traveling with my family of 6.  We were already trying to find a good deal on airline tickets, I didn't want to pay extra for 6 people. 
It is not a problem! Swoop will do its best to put your party together (without paying to upgrade your seat.) 
I did not pay for the upgrade and we had great seats on both flights.  
Swoop Airline Carry-On and Checked Bags
Swoop Airlines allows you to bring on one bag that can fit under the seat.  You would be surprised at how much you can fit under that seat, you can even fit a Bluetooth speaker if you need one.
Most airlines charge for baggage nowadays. Swoop does charge for carry-on luggage that goes in the overhead bins as well as checked bags.
It is better to pay for your luggage before you check in for your flight as it will save you money.  
If you have babies Swoop Airlines is not that great. Babies require lots of extra things like strollers and car seats.  They will charge you for these items. 
Swoop Airline Review – Luggage
I found that even with paying for luggage it was still cheaper than booking with other airlines on the dates that I needed. 
What I noticed is that your ticket will say "paid carry-on" but no one really checked.  As long as your bag was under your seat or stored above, the flight crew wasn't overparticular.
If you do purchase a carry-on, remember that you can still bring a large duffle or backpack and put it under the seat in front of you as well.  
If I had babies and young children I wouldn't be too happy that I couldn't bring my stroller or car seat with me for free. 
Food and Beverages
You aren't going to get a free snack and drink on Swoop Airlines. However, they do have a lot of options for meals and snacks. 
Many people do buy meals and snacks on Swoop flights. 
Swoop Airline Review – Food and Beverages
I would suggest buying some snacks and bringing them on the plane. I didn't buy any products so I can't tell you if they are worth the money.
However, the choices really cater to a diverse group of people. As an example, there are hummus snacks and hot noodles.
Swoop WIFI 
You can pay to get Swoop Wifi, but I wouldn't count on it working. 
For both fights, I would have happily paid for the internet but I wasn't even able to log on.  Swoop WIFI may be wishful thinking! 
Swoop Airline Review – Upcharges
How do I feel about upcharges?  I didn't think they were too bad for a budget airline.  If I wanted a meal on another airline I would have to buy it as well, right?! 
We did pay for luggage but honestly, I didn't think it was unreasonable.  Some budget airlines will charge you to print out boarding passes but Swoop did not.  We had to go to the ticket counter to have our passports checked before we boarded and our passes were printed on-site.  
Is Swoop Airline Comfortable?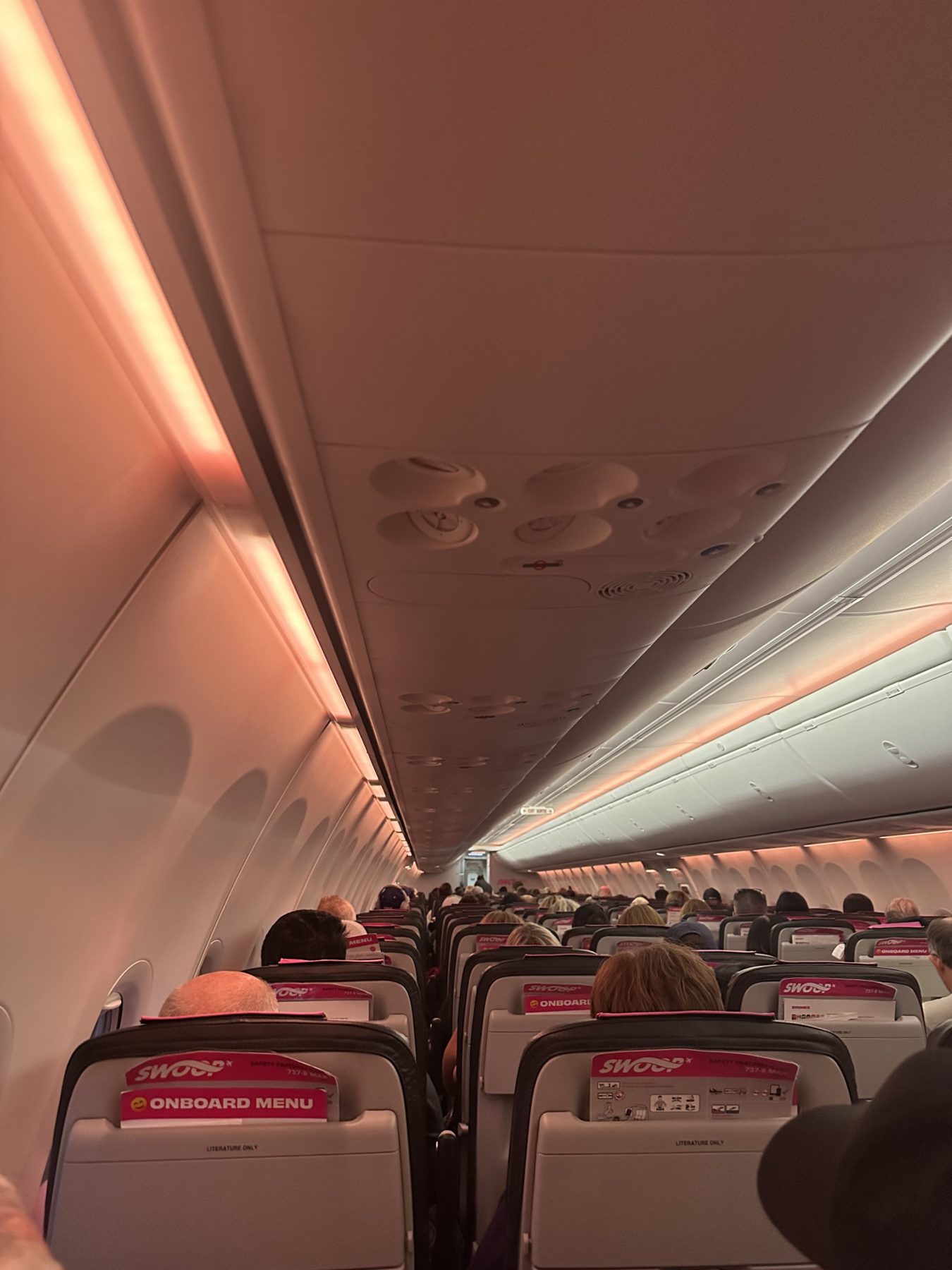 The seats on Swoop are not as comfortable as some airlines.  There is a thin back and base on the seats.  
I really didn't mind it though.  We flew on a 4.5-hour flight and I did just fine.  
What Was the Over-all Feel on Swoop Airlines
The atmosphere on Swoop is really positive! The Swoop flight attendants are really nice and funny.
They have plenty of flight attendants to take care of everyone on board.  They make jokes over the intercom and even recognize people who are celebrating special occasions. 
It was a very positive experience! It reminded me of Southwest Airlines in the US.  
They do speak English and French in Canada so you will get to hear both during the flight.  
Are there Entertainment Options on Swoop Airline?
Sadly, Swoop Airlines will not have a TV Screen in the seat in front of you.  
Your best bet is to download entertainment options on your electronic devices before you fly.  As I said Swoop internet was non-existing so come prepared. 
A good old fashion book might be a great option as well.   
There are Plug-ins on Swoop Airlines
One thing that discovered at the end of the flight was that there are plug-ins and USB ports on the seats in front of you. 
They are easy to miss!  Look under the tray table. You can charge your devices when you are in the air.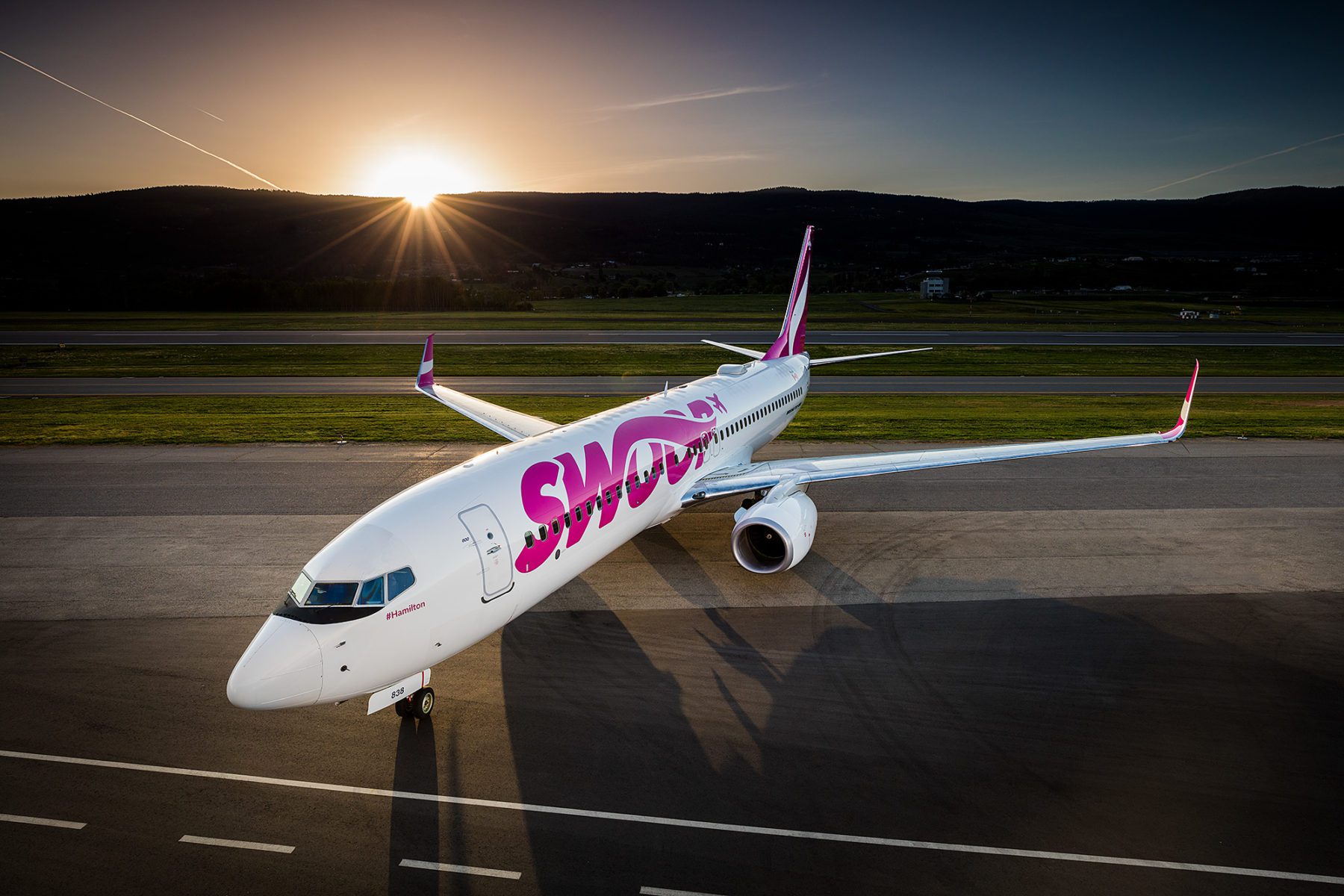 I would say Swoop is a good budget airlines Canada choice.  I would book a Swoop Vacation again.  From booking to taking off and landing everything went smoothly.
Keep in mind it is a Canadian budget airline and keep your expectations as such.  I would recommend Swoop Airlines if you are flying to Canada from the USA.  
Facebook Community
If you have any questions join my Facebook Travel Community. You can ask any questions you have about upcoming trips and everyone is happy to help you plan your trip.  I also try to give exclusive travel deals that companies send me.  It is a great group to join!