Today is all about the Disney World's FastPass System!  Welcome back to our Disney World Planning series if you missed the Ultimate Disney World Hotel Guide or the Disney's Dining Plan Explained you can check those out first!
This post may contain affiliate links that will give me a commission at no additional charge to you.
What is FastPass?
FastPass known as Fastpass+ is basically the best thing Disney World has come up with! (okay, some people love turkey legs, and Disney has come up with plenty of other great things, but today I get to rave about FastPass)! This system known as FastPass is a way to reserve a front of the line pass for certain rides, character meet and greets, and shows.
How Much Does FastPass Cost and How Do I Use it?
This amazing program is included with your admission ticket!
For each day at the parks, you start with 3 advance FastPasses at one park, that you can choose 60 or 30 days in advance of your first day at the parks!  The timing depends on whether you are staying on property, at Disney Springs, or certain other hotels (60 days) or somewhere else (30 days).
Once you are at a park and use your three FastPasses that you chose in advance, you can add additional FastPasses one at a time, depending on availability.
If you have been to other Disney Parks or maybe you haven't been to Disney World in a really long time, you might remember that you could go to a kiosk and put your ticket in and get a FastPass from a machine.  That system is gone!
(There are kiosk but they are digital computer screens now located at certain areas of the park) This system is still in place at Disneyland but they have added Maxpass which is similar to Disney World except you have to pay for it!  My friend Lori has a great post for Disneyland Fastpasses on her site Serendipityonpurpose.com
So don't forget to charge your cell phone, and you may want to bring an external charger with you on your trip!
My Disney Experience App
Disney World came up with a better plan!  Everything is done by an App called MyDisneyExperience.  This app allows you to connect your entire trip.  Dining plans, hotel information (if staying on site), and of course FastPass choices.
First, you need to make sure that your hotel and ticket are linked to your account so that you can book FastPasses.
If you purchased directly with Disney this will already be done for you. It will also give you a count down to when you will be able to select your FastPasses.
Booking FastPasses on your Computer
There are two ways to book your FastPasses. One is on the MyDisneyExperience App and the other is on the Disney World website at MyDisneyExperience.
You will be able to choice your FastPasses beginning at 7 am EST on the day that is either 30 or 60 days prior to the first day you will be in the parks.  The best thing is that you can choose for your first day, and all other days for your trip even though those others days will be more than 30 or 60 days away.
Personally, when I am initially booking my FastPasses I like to use my computer, if I make any changes I usually do that on my app.  They are both connected.
How Does the FastPass System Work?
1.In advance, you can pick 3 fast passes per day in a park – this means you can only make advance FastPass reservations at one park per day, even if you have a park hopper ticket.  All 3 of these passes have to be at the same park.
2. To schedule your FastPasses, it takes planning ahead of time but you will be   thanking yourself later when you can walk right onto a ride that has a 2 hour wait. The popular rides go fast, and some are not even available the first day you can book! So get on the app or website on the morning you can, and be strategic about your choices.
3. After you use all 3 FastPasses you can add 1 at a time while you are in the park. (But the selection are really slim pickings) This can be at the park you started at, or, if you have a park hopper ticket, at any of the other parks.
4. You can cancel your selections at any time, even the day of, but as time shortens, so does the availability of rides. We've been at one park with FastPass selections, and some in our group decided to go to another park. They cancelled all of their selections, and got a FastPass somewhere else.
Do You Mean I Have to Know Which Park I'm Going to 60 Days Before I Go?
The answer is yes, if you want the best selection!  You may already know where you'll be way before then if you booked dining inside a certain park (dining you can book up to 180 days in advance).  So by the time FastPasses come around, you should be set on locations.
What is the Best Strategy to Book These FastPasses?
I will break this in to steps to make this easier!
Park Hours and Extra Magic Hours
Step 1 – Check out the

p

ark hours and Extra Magic Hours

for the days you will be at Disney World.  This plays a huge part of where you will pick your FastPasses.  Magic hours allow park guest that are staying at Disney hotels, and other select hotels, to either access a park either before or after the normal operating hours.
The first time we went to Disney World, we thought that we should go to the parks that had magic hours.  This was a rookie mistake and herd mentality.  For park guests that have access to magic hours, the default choice is to take advantage of those hours.
If those guests do not have a park hopper, they are stuck at the park that entire day, making for a busy park!  We found that if you have a park hopper ticket and want to hit the magic hours great, but it may be better to switch parks after the magic hours are finished.
If you don't have access to magic hours, we suggest scheduling your FastPasses (and for that matter dining) at a park that does not offer magic hours on the day that you are going.  Just another tip if you do have access to magic hours, we found that if you have a park hopper ticket and want to hit the magic hours great, but it may be better to switch parks after the magic hours are finished.
Crowd Calendar 
Crowd Calendar Courtesy of Undercovertourist

Step 2 – Take a look at a crowd calendar.  We always check out the crowd calendar from the Undercovertourist.
These kinds of calendars will let you know which park will be the busiest on the days that you plan to be in Orlando.  It is a great tool to help you pick which park you want to visit.
We'll give a shout out to Undercovertourist.  We had some questions about the  crowd calendar and sent an email, and not only did we get a timely response, it was a specific, well- thought out response that explained that the calendar did take into account those questions we had.  While we are not convinced crowd calendars are completely accurate, they are a great resource to give you a general idea of how busy a park will be.
Time Selection of FastPasses
Step 3 – Picking the

Times of your FastPasses

 is important.
Another rookie mistake we made was thinking that we should get all of our FastPasses in the morning. We thought that once we used all of them we could get more, which is true, but the FastPasses available on the day of are usually not to the most popular rides. Plus the parks get busier in the afternoon and evening.
It Is All About Your FastPass Plan
If you are a morning person and plan to get to the park right as it opens, you will be able to walk on to 2-3 (maybe more) rides before the crowds start coming in (with the exception of popular rides, such as Slinky Dog Dash,  Avatar Flight of Passage, and the rides in Star Wars Land. I would pick these passes in the morning).  The afternoon tends to get very busy, this is why I like to book my fast passes in the afternoon.
However, I have read other bloggers opinions that while they once believed in afternoon FastPasses, they have become more convinced to use and maximize the number of FastPasses they want to use, and now try to get FastPasses as early as possible.
I think this may work for you at a place like Magic Kingdom if you haven't been much.  Magic Kingdom has a lot of FastPass options, and you can do the busiest rides via FastPass in the morning, and then hit less busy rides with FastPass later in the day.
Important FastPass Information
As you go on the app or website to pick your times, it will only show you morning times. This can be confusing, it made me think that those were the only available times.  You will have the option to select a specific time to see availability, or a specific time.
Also, the time shown is your start time.  You will have an hour block to use it. HOT TIP – you can arrive 5 minutes early or 15 minutes after your pass was supposed to expire and still use it!  (But beware, Disney can always change this.)
When choosing your FastPasses you can not choose times that overlap!
Additional Resources to Help Pick Your FastPasses
You can also get help with software, apps, and books that help you choose what rides to go on and when. This is a great choice if you are looking to maximize the number of rides you get on. We have found that these guides are $30 or under, and in the grand scheme of things, can be a bargain.
Walt Disney World Guide Books
One of our first visits, we used the Unofficial Walt Disney Guide Book.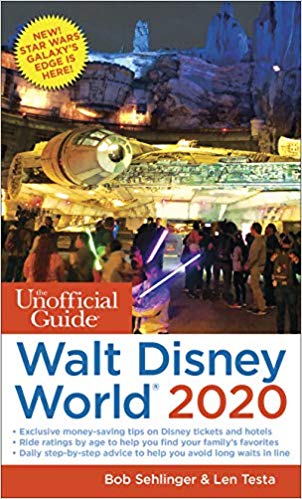 This book was very helpful and offers plans to follow to maximize your day at the park.  There are lots of tips and tricks to make your vacation extra special!
RideMax Software
One place to check out is RideMax.com. You select the park you want to go to, the day, and the rides and other attractions you want to ride. The RideMax computer software then gives you a plan (unless you have selected too many attractions, or too many popular attractions, in which case RideMax will tell you that it can't generate a plan).
We have had mixed results with RideMax.  For the most part, we have liked RideMax the best because it is robust enough to customize plans based on what we want to do and helps us know what time to pick our FastPasses.  Sometimes it has worked like a charm. However, sometimes it hasn't, for a few reasons.
Why The Software Doesn't Work All the Time
Reason number one: it is fairly common for a popular rides at Disneyworld to shut down at some point during your stay (issues come up).  When that happens, throw your plan out the window, or park hop.  A massive amount of people will now be going to other rides, and if and when the ride reopens, it will honor FastPass times for when it was closed.
Reason number two: You can't hack it.  My natural inclination is to put on paper all that I can do in a day. And it looks great on paper! But then I don't get to the park right when it opens, or the heat or little ones (or both) slow things down. All of sudden we are behind schedule. If we try sticking with the plan, the waits are inevitably longer.
In these cases, throw the plan out once you are unable to keep on the schedule, or skip ahead to what is next on the list.
Reason number three: The plan can't hack it.  Assuming all rides are working, software still can't predict with perfect accuracy crowd levels and behavior. Our worst case example was that our plan had us going on Peter Pan's Flight early in the morning, with a wait of no more than 10 minutes.  Well, it ended up taking us 70 minutes!
We kept telling ourselves, "trust the plan, we will be on in no time; it is just going to get longer later on." That was a big mistake.  You're actually there at the park.  Trust your eyes and real time information (sometimes that is off too).
And make the best of it! Not everything has to work out to have a great time. Be flexible.
How Do I Use My FastPasses?
Magic Bands
Another genius Disney invention is the Magic Band.  If you are staying on site, your magic bands will be mailed to you before your trip without an additional charge.  These bands act as your room key, tickets, dining plan, credit card, and FastPasses! You can also purchase Magic Bands.
To use your FastPasses, you need to get to the special FastPass entrance. You will be able gain access to the FastPass line by scanning your magic band on the sensor, it will turn green and you will be able to enter.  The FastPass line is often next to the regular line, but this is not always the case. There will be a sign, but you can also look for the posts that have a gray ball on the top with a Mickey silhouette flashing in green (this is the scanner for your Magic Bands).
If you are staying off site and do not want to buy a magic band, don't despair.  You will use your ticket to scan at the FastPass entrance.
FastPass Attractions and Tiers
FastPasses are not available to every ride at Disney World. It is set up for the rides that usually have long lines.
Disney has come up with a Tier system at Epcot, Animal Kingdom, and Hollywood Studios. This limits you on selection. You can only choose one FastPass from Tier 1 leaving your remaining two from Tier 2.  Magic Kingdom does not have a Tier system.
Tier 1 rides are the most popular, so one strategy is to book three FastPasses with your Tier 1 pass being the earliest. Check your app once you are off the ride to see if there are other Tier 1 rides available.  Keep your Tier 2 FastPasses if there are not. If one is open and you want to ride it, cancel your Tier 2 FastPasses, and now you can select one attraction, including a Tier 1 ride! But availability can go fast, you are taking a risk.
Lets get down to business!
Epcot FastPass Choices

Tier One – Choose Only One
Frozen Ever After (ride)
Test Track (ride)
IllumiNations Reflections of Earth (show)
Soarin Around the World (ride)
Tier Two – Choose Two
Turtle Talk With Crush (show)
Mission Space (ride)
(note that there is an Orange Line (more intense and almost always a longer wait in the regular line) and a Green Line; you can access either with your FastPass)
Living with the land
Journey into imagination with Figment (ride)
Disney and Pixar short Film Festival (show)
The Seas with Nemo and Friends (ride)
Spaceship Earth (ride)
Hollywood Studios FastPass Choices
(Starting August 29,2019)

Tier One – Choose only one
Most Popular – (Toy Story Land rides are hot items because they are new, but are not intense rides)
Slinky Dog Dash (ride)
Alien Swirling Saucers (ride)
The Star Wars Ride that opens in a month does not have a FastPass available yet.
Not as Popular (not new, but in our view a lot more fun)
Toy Story Mania (ride)
Rock N Roller Coaster (ride)
Tower of Terror (ride)
Tier Two – Choose Two
Beauty and the Beast Live on Stage (show)
For the First Time in Forever: A Frozen Sing-A-Long Celebration (show)
Disney Junior Dance Party (show)
Fantasmic (this often changes from Tier 1 to 2. If it is Tier 1 I do not recommend getting it, we have never had a problem getting into the show.  We have used a Fastpass for the show a few times and it makes it nice that you do not have to show up early and stand in line)
Indiana Jones: Epic Stunt Spectacular (show)
Muppet Vision 3D (show)
Star Tours
Voyage of the Little Mermaid
Animal Kingdom FastPass Choices
Tier One
Avatar Flight of Passage (Awesome ride)
Navi River Ride (popular because it is new; visuals are great, and air conditing is a plus)
Tier Two

– Choice 2 of these or 3 if you can not get a fast pass from tier one
Dinosaur (more intense)
Expedition Everest (intense)
Festival of the Lion King (show)
Finding Nemo – The Musical (show)
It's Tough to be a Bug! (show)
Kali River Rapids (more intense)
Kilimanjaro Safaris
Meet Favorite Disney Pals at Adventurer's Outpost (Mickey & Minnie meet and greet)
Primeval Whirl
Rivers of Light (show)
UP! A Great Bird Adventure
Magic Kingdom FastPass Choices
Only Park with no Tiers.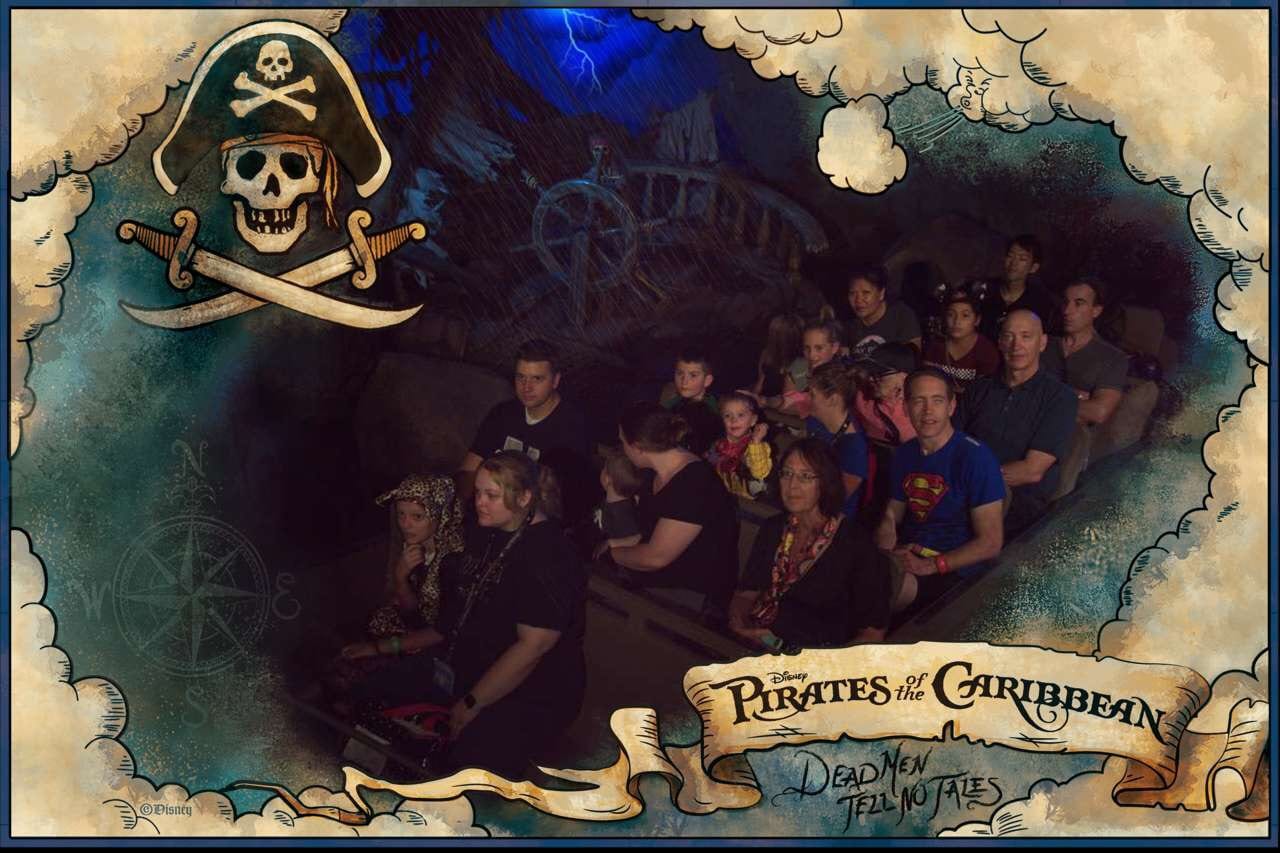 Meet and Greets
Meet Ariel in her Grotto
Meet Cinderella and Elena at Princess Fairy Tale Hall
Meet Mickey Mouse and Minnie Mouse at Town Square Theater
Meet Rapunzel and Tiana at Princess Fairy Tale Hall
Meet Tinkerbelle at Town Square Theater
No Height Requirement
Mickey's Philharmagic (show)
Monster's Inc Laugh Floor (show)
Peter Pan's Flight* (ride)
Pirates of the Caribbean* (ride)
Under the sea Journey of the Little Mermaid (ride)
It's a Small World (ride)
Jungle Cruise (ride)
Mad Tea Party (ride)
The Magic Carpet's of Aladdin (ride)
The Many Adventures of Winnie the Pooh (ride)
Buzz Lightyear 's Space Ranger Spin (ride)
Dumbo The Flying Elephant (ride)
Enchanted Tales with Belle (show)
Barnstormer (ride)
Height Requirement 
Space Mountain* (ride)
Splash Mountain (ride)
Tomorrowland Speedway (ride)
Seven Dwarfs Mine Train* (ride)
Big Thunder Mountain Railroad* (ride)
Haunted Mansion* (ride)
Because there are so many choices to choose from, the rides with an asterisk (*) by them are the ones that get long lines. Seven Dwarfs Mine Train will be the first FastPass to go.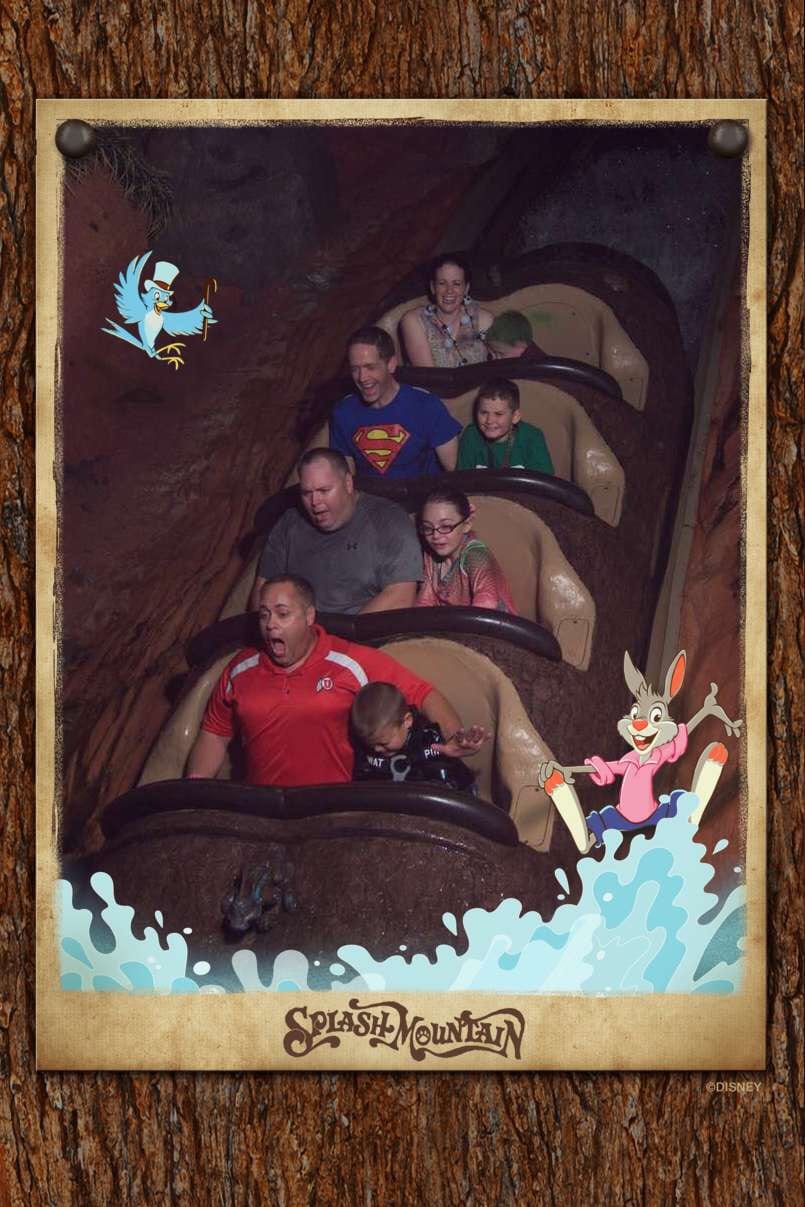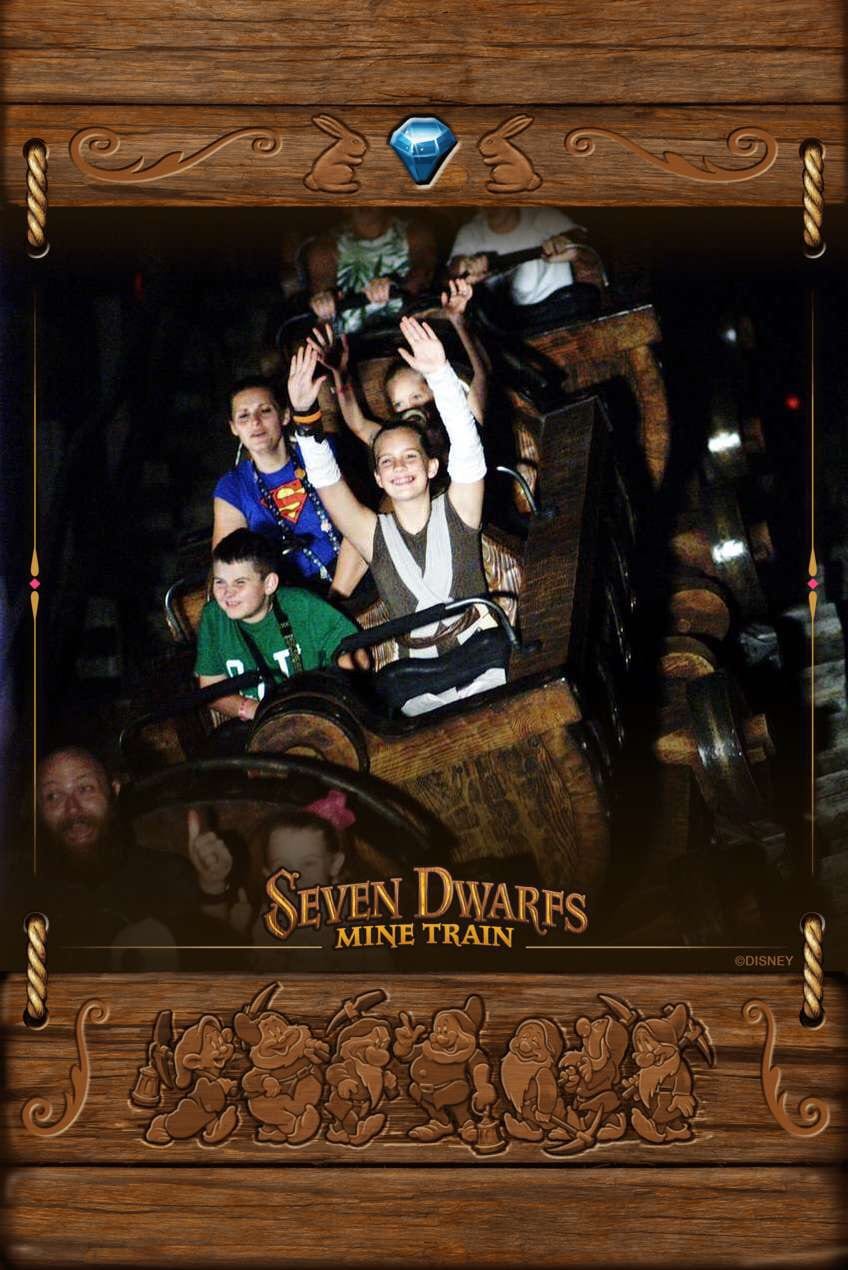 Are There Any Downsides To FastPass?
Yes, there are downsides to FastPass. Some of the rides at Disney World have incredible visuals in the lines (this is fairly unique in that many of the same rides at Disneyland do not).  A lot of the rides, like Seven Dwarfs Mine Train, Peter Pan's Flight, and the Winnie the Pooh ride, have hands on items to play with. You miss out on most visuals by using the FastPass.
The other downside is for when you are in a regular line. FastPass spoils you! Disney World gets crowded. Unless you can get there in the middle of the week, wet weather gives you an assist, or at other slower times, lines get long! Ever been stuck on the highway at a point where cars are merging in? And you just can't wait to get past the merge point so you can start moving again? That is the feeling I get in the regular line.
FastPass is  a zero sum game. By making the line faster for some guests, it makes it slower for the rest.
Is There Anything Else I Should Know About Walt Disney World Lines?
Absolutely. If you have little ones that can't go on the rides (infants, toddlers, the faint of heart), you can get a rider switch. Have your party go up to the Disney cast member (the ride attendant) at the line entrance and let them know you need a rider switch. They may want to see the little one, so make sure to bring the little one up with you.
The cast member should give you a rider switch pass that you can come back and use, along with two other guests. You will get to use the FastPass line.
Also, if you have someone with disabilities with you, you can go up to a ride, similar to a rider switch, and get a pass to come back at a set time with your entire party.
Last time, we scanned our band and the rider switch was added to our magic band.
Final Observations of the Disney World FastPass System
There is no one way to do Disney. We are all different, and so learn the basics, do your best, and learn what works best for you.
If you have thoughts of how best to utilize FastPasses, I would love to hear about it in the comment section below.
I also want to say thank you to everyone that has helped me plan my DisneyWorld trips, to those that have agreed to go with me (even though Disney may not be their thing), and all the Disney cast members that have gone out of their way to help me.