This is Part 1 of the Walt Disney World Resort Planning Series.  We will start with all the hotel choices, so that you can figure out where you want to stay! Followed by the Disney Dining Plan and the Ultimate FastPass Guide.
Are you so excited about planning your trip to Disney?  I know every time I plan, or help plan, a Walt Disney World Resort trip it makes me so happy!  Disney World is my happy place; it is the one vacation that I could do over and over and really not get tired of!
As this series continues you can progress by using the links below! (coming soon)
Have you ever heard that Disney World is the happiest place on earth? The people who say this most likely had a thoroughly planned out trip.
A Walt Disney World Resort trip can easily require you to start planning 6-9 months before your actual vacation.  I have found that those who have a bad experience at Disney World are those who do not plan and expect to show up and figure out things when they get there. For a place as large as  Walt Disney World Resort, this just doesn't work. There are steps to take to make sure that you succeed and have a great time!
Where to Stay
Is it better to stay on Walt Disney World Resort property or off site? If this is your first time going to Walt Disney World Resort, one thing that you may not know is the massive size of Disney World. You can easily drive 15 minutes one direction and still be on property.
The best way to think about lodging for Disney World Resort is that you have three general locations:
(1) onsite Walt Disney World Resort hotels (and Marriott's Swan and Dolphin);
(2) hotels at Disney Springs (7 Hotels including Hilton, Holiday Inn,etc.); and
(3) offsite hotels, Airbnb locations, and other lodging.
I have stayed both on and off-site and would highly recommend staying on- site at a Disney Hotel! Your vacation will be so much more magically, you will not regret it!  Staying offsite involves a lot of driving, waking up extra early and having to deal with parking!
Onsite hotels have a bunch of perks. These hotels have transportation to and from all theme parks throughout the day, allow you to get into certain parks early or stay late, and provide free transportation on the Disney Express to and from the Orlando International Airport (including courtesy bag check).
Walt Disney World Resorts have three different levels of hotels starting with Value and progressing to Deluxe.  Moderate resorts are those between Value and Deluxe. As you go up a level you get better accommodations (and are paying more).
Please note that while you get better accommodations, that does not necessarily mean that you get closer proximity to the theme parks. If you plan to go to one park more than others, you should look at hotels near that park, and perhaps consider staying at multiple locations during your stay.
Disney Value and Moderate Resorts are also going to be smaller than your Deluxe and Deluxe Villas.
Value
Moderate
Deluxe
Deluxe Villas and DVC
Disney Springs
Off Site
- Disney's All-Star Movies Resort
- Disney's All-Star Music Resort
- Disney's All-Star Sports Resort
- Disney's Art of Animation Resort
- Disney's Pop Century Resort
- The Campsites at
Disney's Fort
Wilderness Resort
- Disney's Caribbean Beach Resort
- Disney's
- Coronado Springs Resort
- Disney's Port Orleans Resort – French Quarter
- Disney's Port Orleans Resort – Riverside
- The Cabins at Disney's Fort Wilderness Resort
- Disney's Animal Kingdom Lodge
- Disney's Beach Club Resort
- Disney's BoardWalk Inn
Disney's
- Contemporary Resort
- Disney's Grand Floridian Resort & Spa
- Disney's Polynesian Village Resort
- Disney's Wilderness Lodge
- Disney's Yacht Club Resort
- Deluxe Villas are at most Deluxe Resorts
- Old Key West
- Sarataga Springs
- Cooper Creek
- Wilderness Lodge
- Hilton
- Holiday Inn
- Best Western
- B Resorts
- Wyndham
- Airbnb's
- Hotels located in another town
Recommendations
Walt Disney World Resort – Value
If you are a small family and you want to save a little money, this could be the right fit!  The rooms at  Walt Disney World Resort value hotels are generally small, and the doors face outward like a Motel 6.  But it is Disney and everything is nice, safe, and clean.
There are six value resorts: Pop Century, Art of Animation, All-Star Sports, All-Star Music, All-Star Movies, and the Campsites at Disney's Fort Wilderness Resort. These resorts are located south of the theme parks.
The Disney bus service is great to and from these resorts.  Bus rides is take about 10-20 minutes depending on what theme park you are going to.  Starting in the Fall of 2019 the Disney Skyliner will have a station at Pop Century and Art of Animation Resorts.
Art of Animation
Art of Animation is newer and a themed value resort.  If you need more room, the Art of Animation has suites that fit up to six people.  This resort is pricier than the other value resorts, especially if you have six people.  But if you need space and want the Disney experience on the walls of where you stay (think Nemo, Lion King, and Cars), this may be the place for you!
All Star Resorts
The All Star Sports Resort houses a lot of guests that come to Disney World specifically to compete in dance, cheer, etc….. It might not be the best if you are coming on a family vacation to be surrounded by sports teams, unless you really like that atmosphere.
Each resort has a pool area. The pool area is pretty basic with no water slides or lazy river, but do have the Disney touch for decoration and is large enough to enjoy.
We are going to try out the value resorts for the first time this year, with an upcoming trip, and I can update on what our own opinion is.
Campsites at Disney's Fort Wilderness
If you have thoughts on the campsite, please let me know!  We've seen RVs, and in talking with some people, the campsites are a great option if you want to stay for weeks, or even more. I am not much of a camper, but an RV might be a different story.
Hot tip – if you do not want to get a package through Disney, I have seen these resort prices much lower on Priceline.
Walt Disney World Resort – Moderate
There are four (or you could say five) moderate resorts at Disney World. Disney's Port Orleans has two sections. One is called French Quarter, and the other is called Riverside. There is also Caribbean Beach and Coronado Springs, and the Cabins at Disney's Fort Wilderness Resort.
Disney's Port Orleans French Quarter and Riverside
We have stayed at Disney's Port Orleans, Riverside, and have explored Disney's Port Orleans, French Quarter. It feels as if you are in a bayou, which was a cool experience. I guess we relate Disney experiences to movies, and this one would be The Princess and the Frog.
The grounds at Port Orleans are very large. This is both a good and bad thing. We enjoyed the beautiful stretches along the water when we were not in a hurry, but those stretches were not as great when we wanted to get to a theme park, or arrive back to rest.
The rooms are not located in one central location. This is not the type of hotel that has a lobby area with rooms all accessible inside by walking to an elevator. The rooms are in separate buildings throughout the property.
There is a building that has a restaurant, snack, and drink area. This place is awesome! Very spacious, and one you will probably go to often if you stay here.
We never had to wait very long for a bus.
The rooms were a little small but they can fit five people in one room.  My friend recently stayed here in a princess suite and thought it was wonderful!
The pools here are okay. Nothing fancy. They remind me of a good sized outdoor pool at any hotel.
Disney's Fort Wilderness Cabins
Enough on Port Orleans for now. Another moderate option is at Fort Wilderness Resort. Fort Wilderness not only has campsites, but also has cabins. The cabins have the amenities of a hotel room (air conditioning, beds, baths, etc.), but with a cabin feel!
If your family loves that type of experience, this might be where you want to stay. The rooms are bigger and can hold up to six guests. Disney also allows you to have an infant under 3 years of age to stay in the room on top of the general occupancy.
Caribbean Beach
Our first time we stayed on property we were choosing between Caribbean Beach and Port Orleans Riverside Resorts. Although, we ultimately chose Port Orleans, I believe Caribbean Beach has recently gone through a remodeling, and may have a fresh feel to it.
Coronado Resort
The Coronado is more of a Mexican feel, we haven't stayed there but it is in a moderate price range. I have looked into it but it is a little bit higher in price than Port Orleans.  When we have stayed at Disney World Resorts, the Coronado has been pricier than to stay at Port Orleans.
Walt Disney World Resort – Deluxe
All of these resorts are top notch, making them pretty expensive.  In my opinion they are worth it. They all have proximity to at least one of the theme parks, which is nice if you want to walk somewhere and don't want to wait for a bus, or just want to have some personal space. The rooms are larger and nicer. You can also fit a large family if you can get a room at a Disney Vacation Club location.
I came across a deluxe resort for the first time about three years ago. The tail end of our trip was a less busy time, and hotel prices went down. We decided to pay the extra money to stay one night at The Beach Club. It may have been the most wonderful thing I've ever experienced!
By this time I was pretty wiped out and ready to go home. But after staying here, I felt rejuvenated and ready to plan my next trip back almost immediately!
Walt Disney World Resort – Club Level
One perk that the deluxe hotels have that the other levels do not is a "club level" option. We had no idea what this was. When we stayed on club level the first time, we didn't even know it. We got in the elevator and our floor button would not work. Someone on the elevator said that we must be on club level and needed to use our magic band on the sensor before hitting the button.
Club level has a concierge desk dedicated to help you with your needs. There is a buffet area that serves light meals and snacks throughout the day. You also have the option for "turn down" service.  Disney staff will leave chocolates and a Disney touch on your beds.
We have found that club level at Disney is a notch above clubs at other hotels. You don't need to stay at club level (you pay more than you the base price), but it is a nice touch, and can be particularly helpful if you don't have a meal plan.
Epcot Resorts
There are four (or you could say five) Epcot resorts. The three owned by Disney are Beach Club, Yacht Club, and the Boardwalk. Marriott also has one resort on the property that is divided between the Swan and the Dolphin.
These resorts are all fairly close to Epcot and somewhat to Hollywood Studios. They are not close to Animal Kingdom or Magic Kingdom, and the best bet is to take a bus or Lyft to get to these resorts.
Beach and Yacht Club
Beach Club/Yacht Club together make up our top choice of hotels on the entire property. These resorts are next to each other, and are similar in size, but have different styles.
Yacht Club has a Martha's Vineyard feel. Get ready to put on your Cardigans and golf shorts! Okay not really, but there are those that do dress that way, and this hotel definitely has this vibe.
Beach Club has more vibrant colors and a more relaxed feel.   Still very posh. We've stayed in both hotels, and don't think you can go wrong either way.
Beach Club Pool – Best Resort Pool on Property
The Beach Club and Yacht Club share a pool called Stormalong Bay. This pool is the most amazing pool, I have ever swam in.  It is the best pool on Disney hotel properties. (Keep in mind that Disney does have two water parks, and so if you want to take things to the next level, you can go there.)
Stormalong Bay has sand along the entire floor.  It is heaven for your feet after walking all day in a park.  The sand is not real, so it doesn't stick to you, but you can still build a sand castle with it.
The is a kiddie pool where you can build sand castles.  There is also a lazy river, a hot tub and a pirate ship with a big water slide. We have had so much fun and try to swim everyday when we stay there.
Proximity to Epcot
Okay, do you remember when I said earlier that proximity matters. If you are an Epcot fan (and I am), these hotels are within walking distance from the back entrance of Epcot. Beach Club is closer to Epcot than Yacht Club, but we are talking the difference between an eight minute walk or an eleven minute walk.
If you have not been to Epcot, you should realize it is really two parks in one. Think of a figure eight, with the bottom circle being one park (Future World) and the top circle the other (World Showcase).  World Showcase is next to Beach Club. Future World opens before most or World Showcase, but you can still access Future World from World Showcase at park opening.
Epcot is our favorite! It is one of our favorite parks because we love to eat around the world.  We love going to dinner every night and having the close proximity to the park is perfect. The most important part of being close is that we love being able to walk tired kids back to the hotel to nap and spend time at the pool before going to another park later in the day.
I cannot overstate the perk of having easy access to a hotel with little kids! Disney is taxing on all of us, but especially the littles! We have been in a park literally sitting on the pavement, dying of heat.  This is no fun!! If you can break up your day, that may make the difference between whether you feel like you are at the most stressful place on earth or the happiest!

Proximity to Hollywood Studios
Accessing Hollywood Studios by boat is an option. The boat stops near the Epcot World Showcase entrance and by the lighthouse between Beach Club and Yacht Club.  You will also need to wait while the boat stops at the Swan and Dolphin and the Boardwalk before getting to Hollywood Studios.
You can also get to Hollywood Studios by foot, and this way may be faster depending on how fast you walk and how long you would need to wait for the boat.
My husband and I like to run, so on the way back, running the path is a joy to us (okay, we may be a bit crazy). Keep in mind we take breaks during the day, so after the run, we are probably headed to the pool and to rest (and maybe ice cream at Beaches and ream).
I would not recommend doing the walk with kids, unless you have a stroller.
Boardwalk Inn
The final Walt Disney resort near Epcot is the Boardwalk Resort.  This resort is near Epcot and the Beach and/ Yacht Clubs. It will take you a bit longer to walk to Epcot, but some of the rooms at this resort are not too far of a walk from Hollywood Studios.
I have heard that it is a great single adult location. There is a nightlife along the boardwalk with lots of adult fun to be had. There are restaurants and shops located along the boardwalk. These locations are also fairly accessible from Yacht Club and Beach Club.
Swan and Dolphin
Marriott owns the only non-Disney hotel on Disney property. The Swan and Dolphin are impressive to look at. The Swan and Dolphin are great options. They provide deluxe level accommodations, and can do so at a better price, although the time of year plays a big part in this.
These are often used for business conferences, and it is a bit maddening to see the prices of each change from week to week (with the Swan being more expensive and some points, and more affordable at others).  Also, there is a resort fee of $30 a day, take that into account when deciding where to stay.
Although, you may save some money on the lodging, you do lose out in other areas. The Swan and Dolphin also only have standard rooms, and so this is not really a good option for a family or group of more than four. You also can not bundle Disney dining or get Disney airport transportation (the "Magical Express").
The location is great as you have close access to Hollywood Studios and Epcot.
Magic Kingdom Resorts
Grand Floridian, Contemporary, and Polynesian Resorts are all of the Magic Kingdom Resorts. These are all deluxe hotels, and so you are going to be paying a premium if you want to stay close to the Magic Kingdom.
Transportation to Magic Kingdom
All of these hotels are connected by the Monorail, which makes transportation to Magic Kingdom easier than from other resorts. If you have not been to Disney World before, you will find out that when you park to go to the Magic Kingdom, you have to take the Monorail (or a boat). That is because the parking lot for Magic Kingdom is not quite at the Magic Kingdom. The parking is at the "Ticket and Transportation Center."
Contemporary Resort
You also can walk pretty easily to the Magic Kingdom from the Contemporary Resort. The Contemporary Resort has always looked like a concrete bunker to me from the outside, and I have not wanted to stay there.
I have looked inside and it is a nice location. On top of having the easiest access to Magic Kingdom, it has one of the most popular character dining locations, Chef Mickey.
You don't have to stay at the resort to dine there, but it sure makes it more convenient.
Polynesian Resort
The Polynesian is also a great choice. I have not stayed here yet, but it is on my list because of the Hawaiian culture and feel, and because it has the best pool for kids of the Magic Kingdom resorts.
Walking the grounds of the Polynesian is great. The sand, the shops, and the eats are all great eye candy. They also have a fabulous Luau dinner.
You can easily get on the Monorail and head right to Magic Kingdom.
Grand Floridian
We recently stayed at the Grand Floridian. It is perhaps the jewel of the Walt Disney Resort property, although it is aging. This is very Victorian, and makes me think of Mary Poppins (Disney reinforces this with its character dining at the location).
The resort is connected to the Monorail, and you can also access the Magic Kingdom by boat. Coming  back from Magic Kingdom the boat is direct, no stops.
When you walk into the hotel, the lobby area is large and open, reaching to the top floor. The area is elegant and definitely gives the wow factor.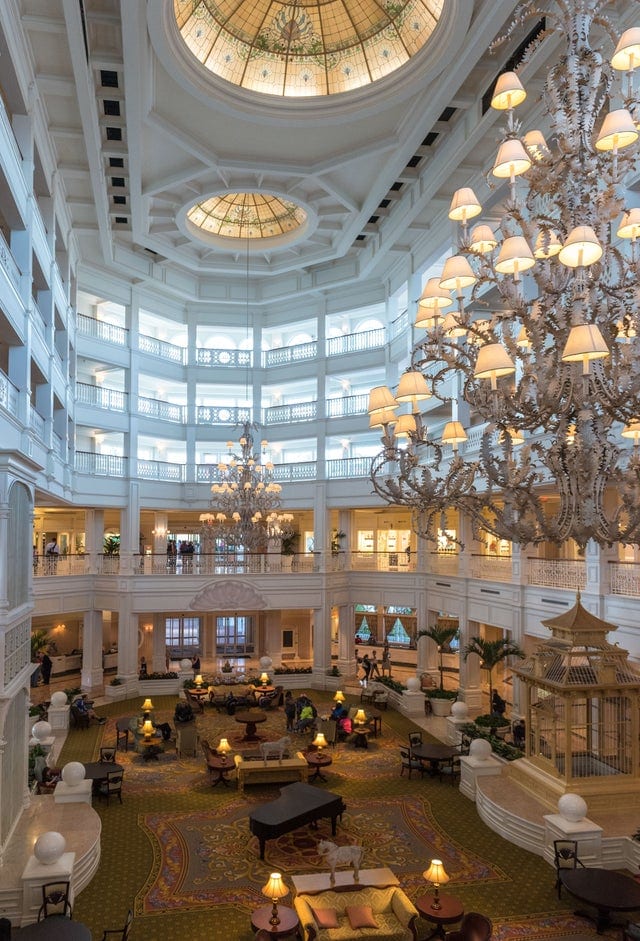 My husband went for business when we were first married.  I was very jealous, even more so when he told more how great it was!  Finally, I had a chance to stay last year when we took my in-laws to Disney World.
I really enjoy the Grand Floridian. There are good dining options, the lodging accommodations are very nice, and there is easy access to Magic Kingdom (we stayed at the time the Halloween party was going on at Magic Kingdom). I would definitely recommend looking at this, especially if you are going as adults.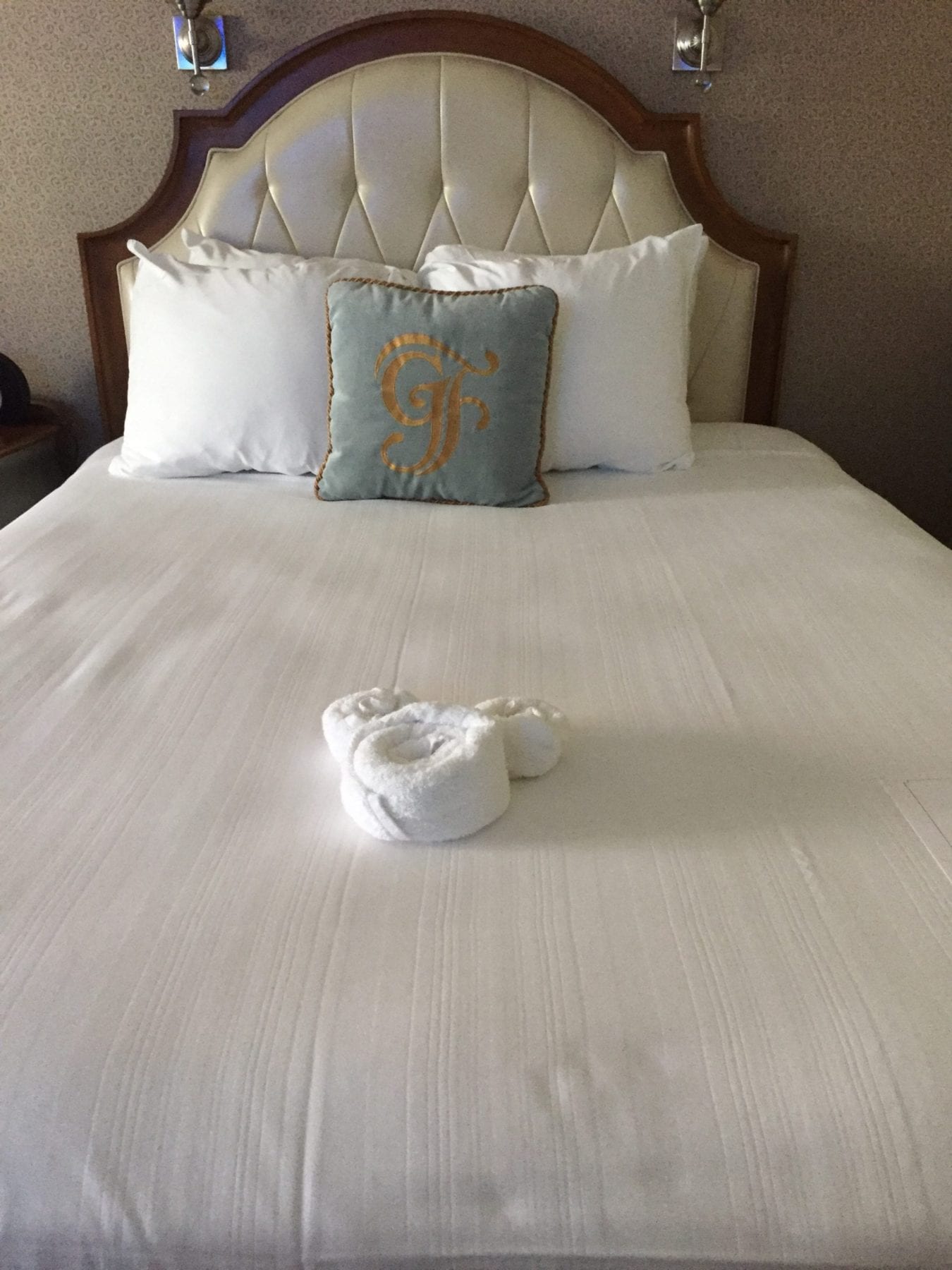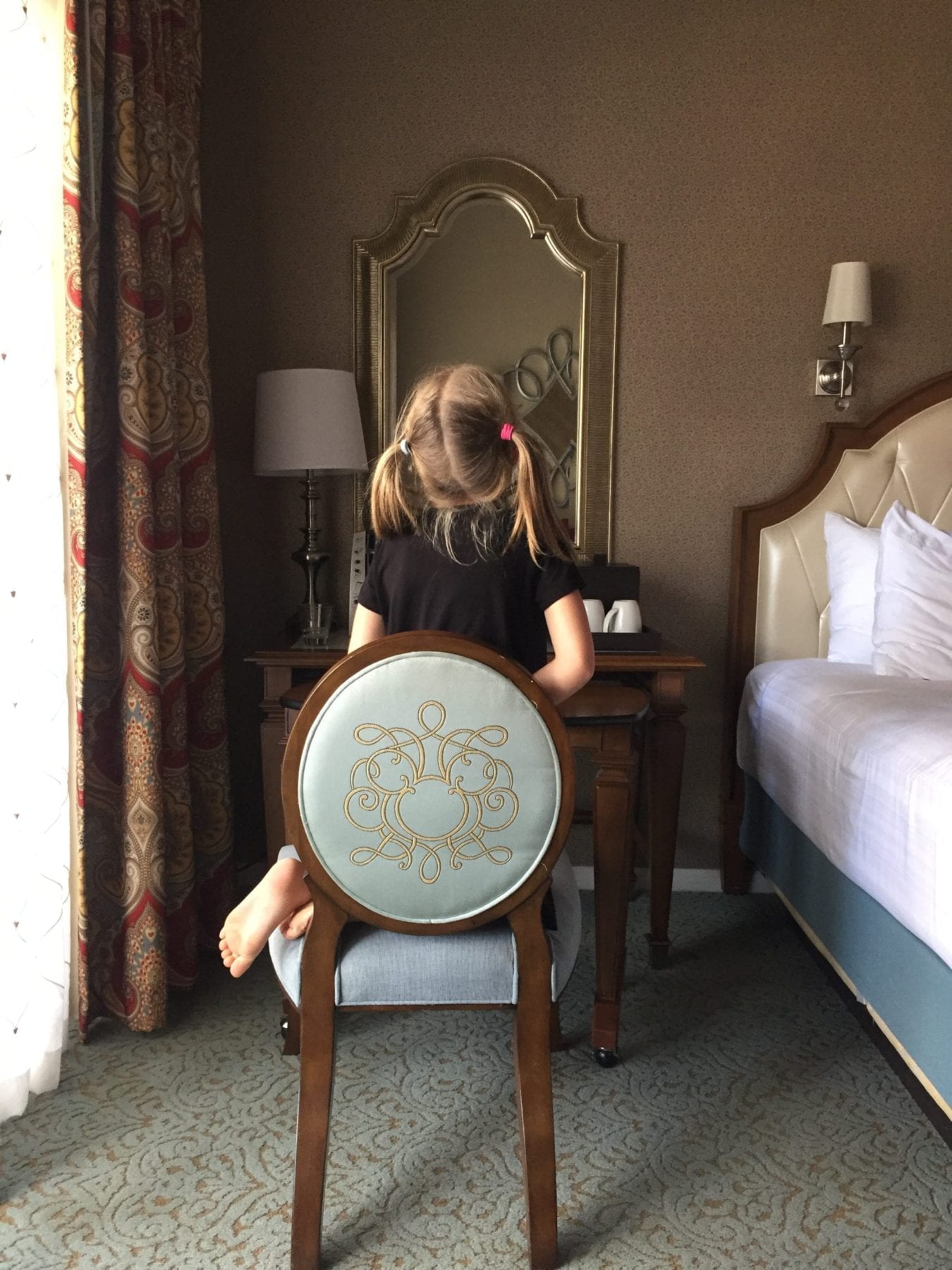 There is a large pool in the middle, and a splash pad in a separate area.  While it is fine for kids, there are much better places for kids. This would be like taking your kids to a fancy restaurant instead of Red Robin, but without worrying about their manners so much. While it is still relaxing for you, they'd prefer Red Robin.
Grand Floridian Club Level
We did get the opportunity to stay at Club Level and it was a little different at the Grand Floridian compared to Beach Club. In the Beach Club and Yacht Club, the top floors are dedicated to Club Level.  Compared to the Grand Floridian, there are two dedicated buildings for Club Level.
At Beach Club, the food area was located behind the concierge. This is different than  at the Grand Floridian, where the food area is in the middle, and rooms surround it. We had heard that the first two floors in the building were bad places to stay because of the noise, but we were on the first floor, steps away from the food area, and had no issues.
Animal Kingdom
Animal Kingdom Resort is obviously closest to the Animal Kingdom.  The views can be amazing.  You can pay extra to stay on the side of the hotel that has a Savannah view.  Giraffes will be just outside your window!
I have found that this resort is a little bit cheaper than the other deluxe resorts at some times of the year.
The reason I have never stayed here is that this hotel (and the Animal Kingdom) are very far from the other resorts. I enjoy the Animal Kingdom, but I usually go to the other parks more, which makes returning to relax a lot more difficult if I were to stay here.
I should mention that Marriott has two hotels that are just outside of the Disney property on the Animal Kingdom side: the Springhill Suites and the Towneplace Suites. These are nice locations.
The pool is spacious, there is a barbecue area, and the rooms are can accommodate families of five or six. We have stayed in both, and thought that the Springhill Suites was nicer.
Walt Disney World Resort – Deluxe Villas
The deluxe villas are Disney Vacation Club properties that are located at the resorts I've previously described, but are in separate buildings.  If you are not a DVC member you can still stay at the property, based on availability.
Recently, we stayed at the Beach Club Villas.  This would be a place to stay if you are traveling with a large group.  Our villa could fit eight people.  We loved it!  They usually have a kitchen and a laundry facility right in your room.  It is basically a really nice apartment.
Some of the villas are part of the Deluxe Walt Disney Resorts such as Animal Kingdom, Boardwalk, Polynesian, Contemporary, Beach Club, and Grand Floridian.
Walt Disney World Resorts – DVC Properties
Other resorts were built just for DVC members including Wilderness Lodge, Copper Creek, Old Key West, Riviera and Saratoga Springs.
Like I said, you can still stay at any of these resorts and not be a member.  It is really a nice option when you are traveling with a big group, because the rooms are larger. These are all very nice hotels.
Wilderness Lodge
Wilderness Lodge has a very similar feeling to the Grand Californian at Disneyland, or a Great Wolf Lodge without the water parks.  It has a very rustic feel. There are top notch restaurants located on site. I felt like it was very far away from the parks like the distance of a some of the moderate resorts.
Walt Disney World Copper Creek Resort
Copper Creek is a newer DVC property.  The completion of this hotel was in 2017. It is more on the Magic Kingdom side of the property.
My friend Julie from Howwefindhappy.com has a great tour post of both Copper Creek and Wilderness Lodge.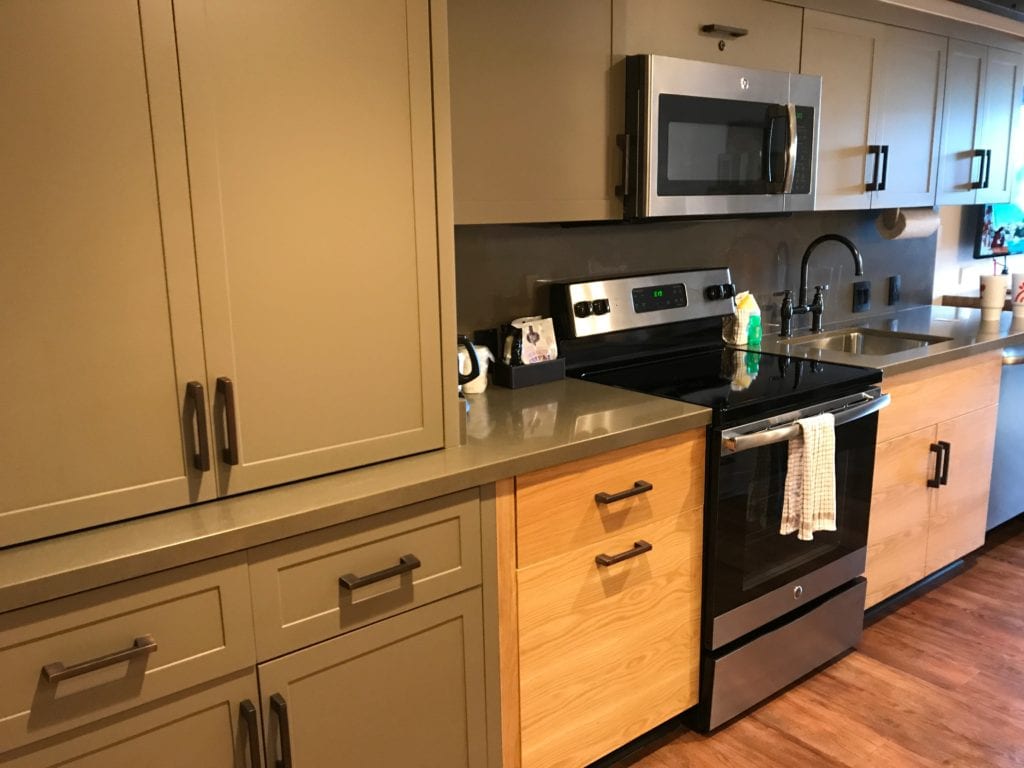 Photo Courtesy of Howwefindhappy.com
Walt Disney World Riviera Resort
This is the newest addition to the DVC properties! It was completed in 2019.  It is more on the Animal Kingdom side of the property.  I also noticed that the water parks are near by.  It will feel like new because it is!
Key West and Saratoga Springs
Key West and Saratoga Springs tend to be lower in cost for the DVC properties. They are not quite deluxe but sometimes the prices can rise to that level.  My friend had a family reunion and and loved staying at the Key West Resort. With anything Disney it will be very nice!
Offsite Properties
There are a number of hotels and other places you can stay at, both at Disney Springs, which is close to Disney World, and other locations.
Holiday Inn
We stayed one year at the Holiday Inn in Kissimmee.  It was fine, and the pool was nice, but it was a long way to Disney. There is another Holiday Inn that is more of a resort with water slide closer to Disney.
The best parts of offsite locations are (1) price and (2) size (in the case of some Airbnbs).
Springhill and Townplace Suites
Other than the Springhill Suites and Towneplace Suites near Animal Kingdom, there are not too many close options if you are not staying on property or at Disney Springs.
I don't think that I will stay at an off-site hotel again if I am visiting Disney unless it is the Springhill Suites near Animal Kingdom. Traveling gets so draining, that the additional stress of being so far is not worth it.
Transportation
What we found when staying at the Springhill Suites that you can drive, take a shuttle, or take Uber or Lyft to the theme park, but driving means you have to rent a car and pay theme park parking.
A shuttle can also be expensive, crowded, and hard to time. This may be okay on the way to the park, but not so much when you are ready to head back.  Uber and Lyft may be the best option, but can also be pricey (but more predictable).
AirBNB
An Airbnb may make sense for you, especially if you are going as a large group. We have done Disney with 23 people, and Disney hotels have been fine.
But I can see the draw of a large house where everyone can stay together.  I think if we are to go as larger group in the future, we will probably do this, but only if we are also doing activities other than Disney.
Disney Springs
Disney Springs is another option. This helps somewhat with distance, and has some other perks.  Currently Disney is allowing hotels guests at Disney Springs to access Disney's Magic Hours, which permit early or late access to the park.
We have stayed at a hotel here before, and found the rooms to be smaller and less kept up. The transportation was "free," but not convenient.
If you have hotel points and are only going with older kids (or no kids), this may be a good option.  But if you have littles, the inconvenient access back and forth between the hotel and parks will make for unhappy kids (which for me results in unhappy parents).
Where are you going to stay?
Now, that I have given you all this information does it make your choice any easier? It really depends on how much money you would like to spend. Remember, the phrase "you pay for what you get"
Do you have any questions?
Leave a Comment Below!
Join my 

Free Facebook

community

where you can ask all
members their opinions, it is a great place to get help when planning your vacation!
If you want to save this information for later click below to pin to Pinterest!
Where are you going to stay?