Last time we gave you an extensive Guide on which Walt Disney World Resort Hotel to choice.  I also have an Ultimate Guide to Booking FastPasses.  Today's post covers Disney dining plan. There is a bunch of good information, but for starters, I think it is helpful to let you know what this post does NOT do.
This post does NOT go into detail about the food trucks, restaurants, and other options at Disney Springs. I do want to make sure that you know that if you still have Disney dining plan credits at the end of your trip and are looking for places to use them, there are locations (food and snacks) at Disney Springs.
This post does NOT discuss all the extra places to eat when Epcot has the Food and Wine festival each Fall. (I will say that if you're there, go try it out; many of the booths have scrumptious morsels!)
This post also does NOT describe the grocery stores (relatively) near Disney World, or bring-your-food-from-home tips. Disney DOES allow you to bring in outside food and drink, and when we've had a car, we've hit the grocery stores on occasion. If you're interested in our experiences on saving money by eating non-Disney food items, please let me know in the comments below.
Finally, I skip discussion of many of the Disney dining plan options in the Disney hotels in this post, and I don't attempt to go over all of your Disney options in the parks. Dining in hotels is tough unless you are staying there. I wouldn't go out of your way, but if you, consider taking an Uber or a Lyft instead of potentially adding multiple bus trips that could really take out a lot of your day.
What to Expect
What I do do in this post is to let you know the basics of Disney Dining Plans, my favorite eats (and not so favorite eats), and my opinion on whether a Disney dining plan is worth it. Hopefully you can get a better sense of whether you should get a plan, and if you decide to, how to better use it.
So bon appétit, and I would love to hear your experiences and thoughts in the comment section!!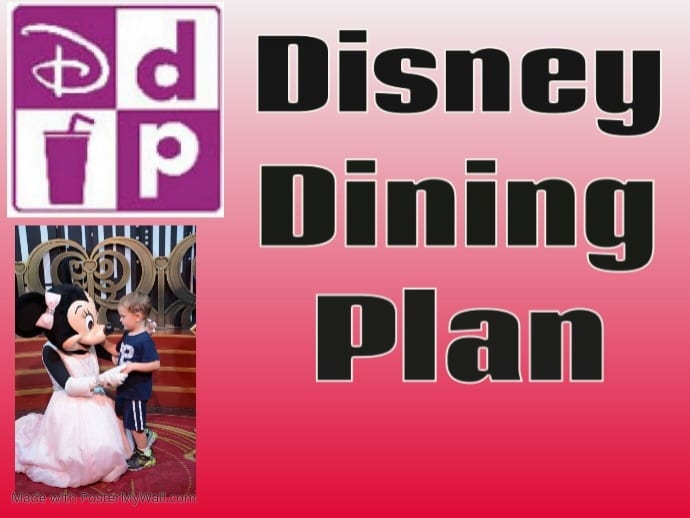 Disney Dining Plans
Quick Service Plan
2 quick service meals per day
2 snack credits per day
If character dining is not your thing or you do not want to take the time to set down at a restaurant, then this is the Disney dining plan is for you!
You can get snacks pretty quickly, and you can now use My Disney Experience App to pre-order meals at some locations. We had mixed luck with the app last Fall, as it did not seem to save us much time, if any. Here is hoping that this has improved and will continue to improve over time so that you can save even more time!
You might be thinking what I was when I first saw two meals per day: "I eat three meals a day! Are you trying to starve me into buying another meal?" I have found the answer to that question to be no. Many of the snacks can be filling (think large cinnamon roll for breakfast), and we have yet to go hungry on a meal plan.
Disney Dining Plan
1 quick service meal per day
1 table service credit per day
2 snack credits per day
This is a great Disney dining plan when character dining is a must, or you like to experience restaurants. What we have found on this plan is that after three days you tend to accumulate a lot of snacks credits especially if you have a bigger family.
This is because we usually get snacks around breakfast time, and share them, and then eat meals later in the day. The first time we had a meal plan, we were worried we would not have enough to eat by the end of the trip. But we have found the meal plan really does keep our bellies filled.
It is important to know the difference between a credit and a meal for table service. You get a credit each day you are on the plan. Some restaurants take two credits. That means that if you make a reservation at a two-credit restaurant, you will not be able eat at restaurants each day you are on the plan without paying more.
There are lots of restaurants that take one credit, and so unless you want a fancy dining experience, or you just make a mistake, you don't have to worry too much about not finding a good sit down experience for each day you are at Disney World.
Deluxe Disney Dining Plan
3 table service credits per day
2 snacks credits per day
This would be a plan for a person who comes to Disney World to eat!  If you want to experience every restaurant in the park, and not do much of anything else, this is for you!
You may be thinking why anyone would want to go to three restaurants in a day. Well, some may. And again, there is a difference between credits and meals. Someone may want to go to a restaurant for lunch that is one credit, and a restaurant for dinner that is two credits.
When Should I Make Reservations?
Disney allows you to make reservations 180 days in advanced! I highly recommend getting on your My Disney app and choosing you top picks! The most popular restaurants will go fast!  Using the app will allow you to get on at 8 am Eastern Time, and you should get right on and book if you are determined to get certain places.
What If I Did Not Get the Reservation I Wanted?
If you did not get the restaurant you wanted, keep checking. People change their minds, and places open up. Two great times to check for openings are around 30 days before your trip and on your trip.
Disney allows you to cancel your lodging bookings up to 30 days in advance and get a full refund.  Also, Disney allows you to start booking meals and FastPasses based on the first day you stay.
Because many of us are procrastinators, if we need to cancel, we do it at the last minute, and because our trips span longer than the first day we book, I may be cancelling more than 30 days prior to when your starts (or less).  So check about a week before thirty days out, as well as the week after.
While you're at Disney, there are also openings.  Again, best assurance is to go through My Disney Experience Mobile App to make sure you are booked, but we have also had some luck walking up to the venue. The reason it pays to check while you are at Disney is because guests can cancel up to 24 hours beforehand, and some do cancel the day before, creating openings.
What is Character Dining?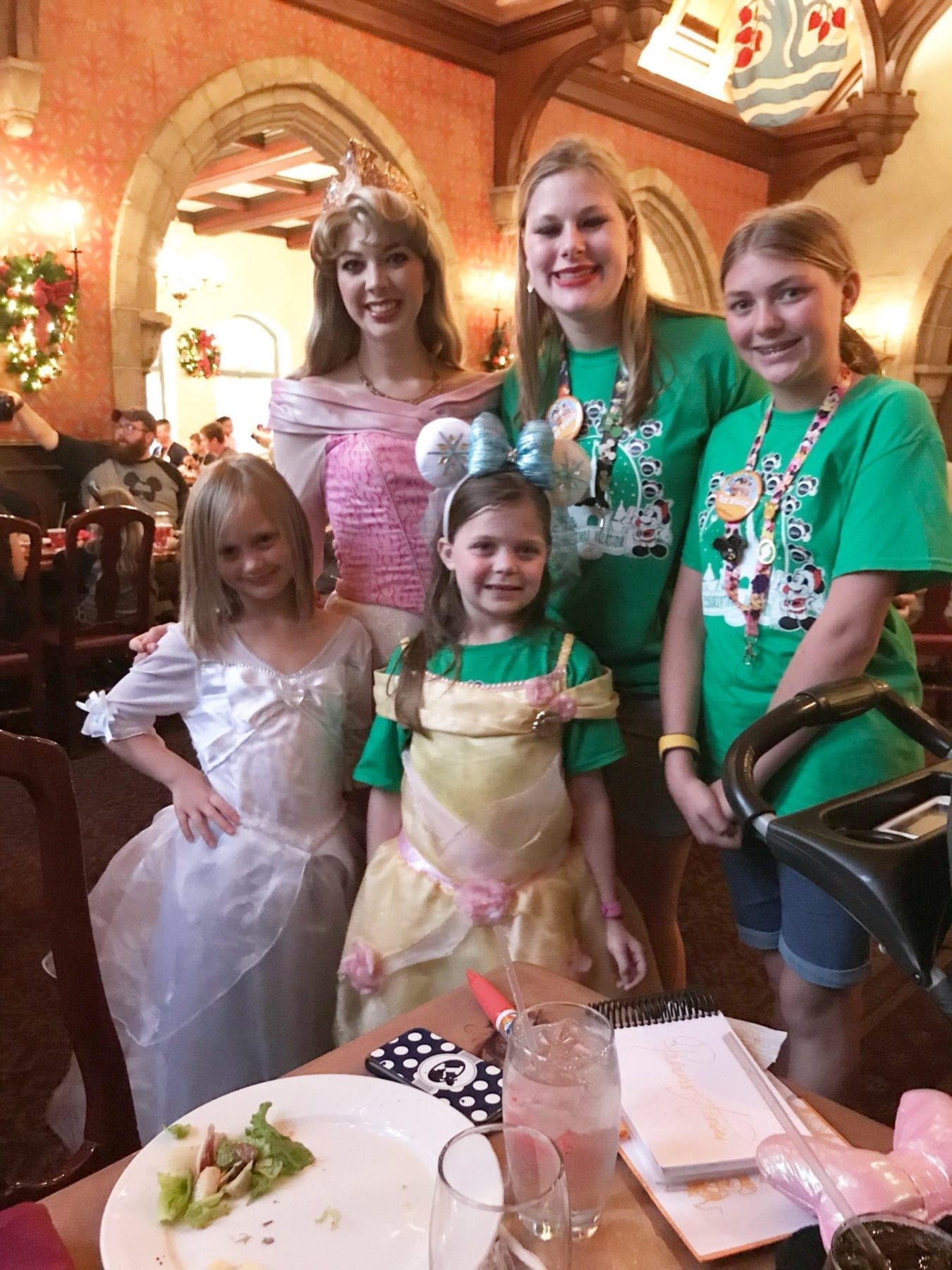 Character dining may be the most genius thing you can do! Princesses and different characters come by your table as you eat.  You get to hug, talk to, and get signatures from all your favorite characters without having to wait in long lines at character meet and greets (or having to use a FastPass on the experience)!   We have loved our character dining experiences.
Different characters are at different venues, and sometimes at different times of the day, so do your research to make sure you are getting the characters that you are expecting. Disney is really good at making sure all characters come to your table, so you'll get to see all the characters the venue has to offer!
Which Restaurants are the Princesses at?
Cinderella's Royal Table (located in the Castle)
If you want to dine here, you have to book this 180 days in advanced.  You may want to get up early and make this reservation as soon as it goes live. They will require a full advanced payment.
As you walk in you will get to have a professional photographer take your picture with Cinderella.  This is great if you have memory maker, all the pictures they take will be yours.
A signature restaurant such as this one, means you have to use 2 dining credits to eat here, which means you may have to forego a restaurant on a different day if you are on the Disney Dining Plan.
It is located in the castle at the Magic Kingdom, which provides an amazing visual experience, both of the inside of the castle, and views of the park from the dining area.  You will absolutely get to meet Cinderella.  There will be other princesses that rotate through such as Aerial, Aurora, Snow White.  Jasmine and Belle occasionally make an appearance.
My Personal Opinion
We have had the chance to eat at this location and we were underwhelmed with the food.  I felt like I was given boxed mash potatoes!  If I had not had the free Disney dining plan, I would have been very upset with the quality of the food.  I did have the Disney dining plan and I still was a little upset because I had to use 2 of my credits!
Keep in mind, most people who want to eat here are not here for the food. Most want to see the inside of the castle and meet princesses.  If this is you, you probably won't be disappointed.
Personally, I would not go back.  If you are looking for both good food and princesses, I would recommend that you look into Akershus Royal Banquet Hall in Epcot.
Askershus Royal Banquet Hall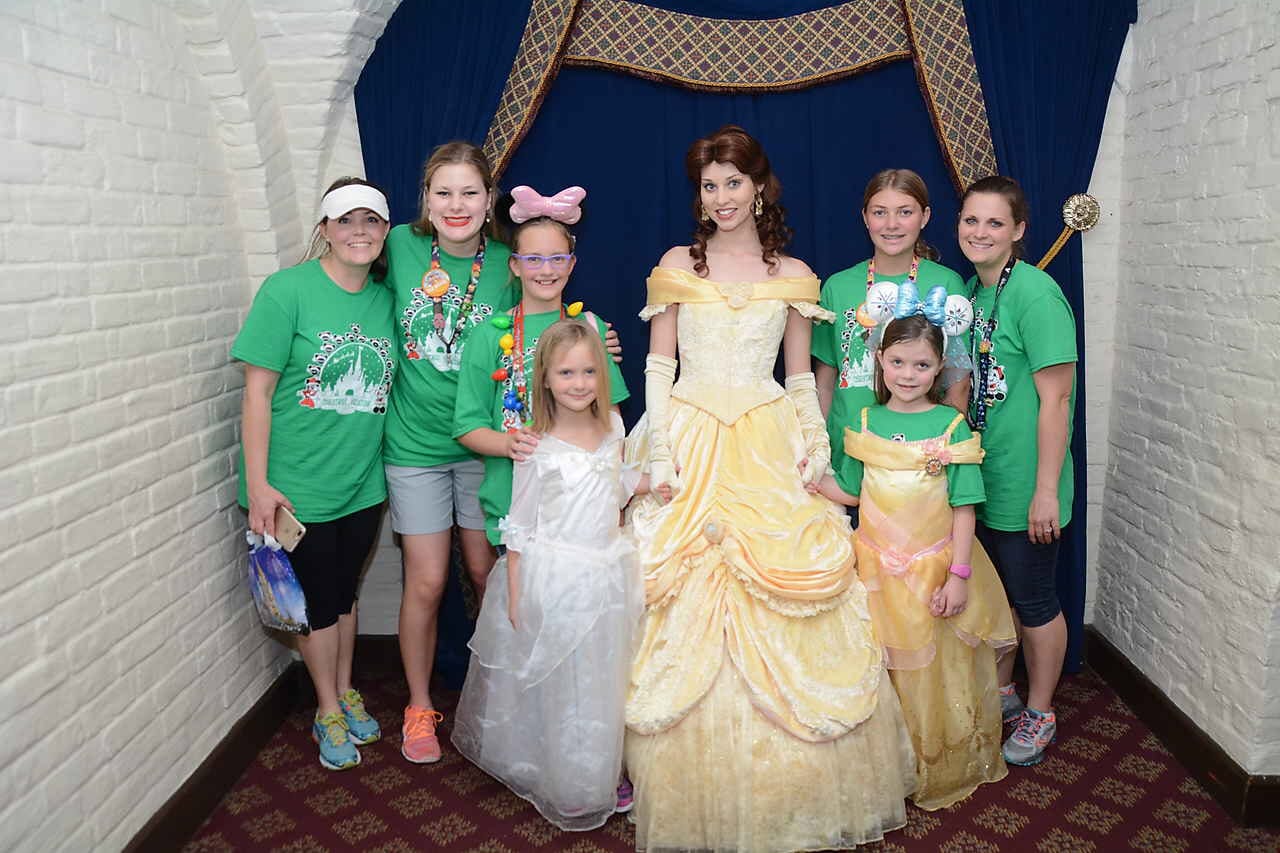 Akershus is located in Epcot in the Norway section of the World Showcase.  It has Cinderella, Aurora, Aerial, Belle, and Mary Poppins.
This dining experience only uses one credit.  The food is authentic to Norway, which is great for adventurous eaters but can be a deterrent for pickier eaters.  The food is quality and give you a good idea of what a menu would be like in Norway.
This restaurant is listed as a buffet/restaurant.  What that means is that there is an appetizer buffet with all sorts of cheeses (very popular in Europe), with some cold salads. Then you will order your main dish from a menu.  I ordered a ravioli and loved it! My daughter ordered the meatballs and they did not sit well with her at all!
Our waitress said that the ravioli was the best, but the meatballs were more of what her people of Norway would eat.
The kids menu is very standard and your kids will not have to try authentic Norwegian food. My littlest ones had pizza.
I thought we had a good amount of time with each princess talking and getting our autograph books signed. Disney is really good about making sure every princess gets to your table.
1900 Park Fare
This is another Cinderella experience that also has her step sisters, Lady Tremaine, and Prince Charming.  1900 Park Fare is located at the Grand Floridian Resort.  It is easier to get a reservation here than at the other princesses locations,  but is out of the way if you are not staying at this resort. My parents have eaten here and said it was really good! It is a buffet style dinner.
Cinderella is only at 1900 Park Fare for dinner. If you choose the breakfast option, you will be getting a different cast of characters. More on that below.
Trattorio al Forno
Rapunzel, Flynn Rider, Ariel, and Prince Eric are the main stars at Bon Voyage Adventure.  This restaurant is located on the Boardwalk, which is close to Epcot and somewhat close to Hollywood Studios. But reader beware! The characters are only  available for breakfast.  We made the mistake and booked this for dinner and ended up changing it because we had wanted to see Rapunzel!
Artist Point Storybook 
This the newest princess character dining experience, and is located at the Wilderness Lodge.  It features Snow White and the Seven Dwarfs! My friend Heather from Lifeatmyownpace.com was able to go and has a great post all about it. Click on the link above to check it out!
What are the Hottest and Hardest Reservations to Get?
Cinderella's Royal Table
You can read more of my opinion on this location above.  Despite what I think, this restaurant is booked out easily the day it becomes available to book.  If you do not secure this early, the chances are pretty low that it will open up later on.  It never hurts to look at your app when you are actually at the parks.
Be Our Guest Restaurant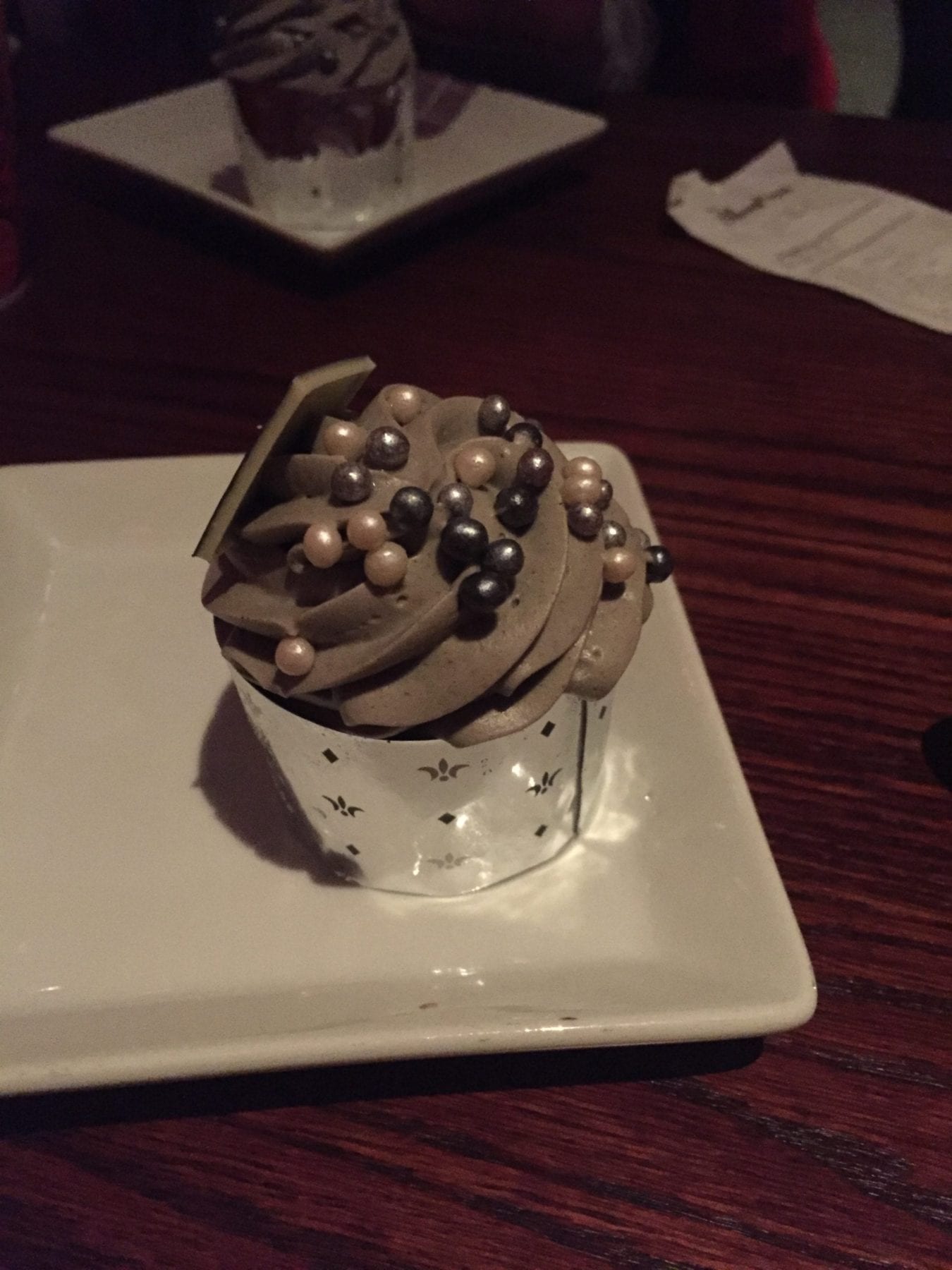 It is also very hard to get a reservation for Be Our Guest, located in the Magic
Kingdom.  Breakfast and lunch are treated as a counter service location. At dinner this becomes a table service restaurant with the Beast making a special appearance.
This is the only location that you can make a reservation for a counter service restaurant.   It will book up 180 days in advance, but there is some hope!  I have been able to look at my app during my actual stay at Disney World and secure a reservation for the counter service lunch.
Also, I have found a reservation for four people but we had five in our group and they were very accommodating and let us all in.  I have also had some success walking up the day of and asking if they have availability.
This works best for a couple of people, but if you are in Magic Kingdom it is worth a shot!
Sci-Fi Dine-In Theater Restaurant
This is not a character dining experience but that doesn't mean it is not awesome! Obviously, it is one of the hardest reservations to get out there!  The atmosphere is what most people find to be the most exciting part of this restaurant.  Your table is in the shape of a car and you get to watch classic movies as you dine!  If that is not cool, I don't know what is!
I really wanted to dine here last time but reservations never opened up for more than 2 people, I really wanted my entire family to be able to go!
Chef Mickey's
Chef Mickey's is located in the Contemporary Hotel, which is within walking distance of the Magic Kingdom (or accessible by monorail from the park).  This is a character dining breakfast with Mickey, Minnie, Pluto, Donald, and Goofy. The Fab Five!
Breakfast is served buffet style so expect to get those awesome mickey shaped waffles!  I found that this location is not as hard of a reservation to get initially.  If you know exactly when your 180 day mark is and you are within that week, you can hopefully get a spot!
Victoria and Alberts
Located at the Grand Floridian, it is the most prestigious five star restaurant in all of Orlando.  This isn't a place you would typically take your kids, but looks to be quite the experience.  It is a posh restaurant designed for the elite or those celebrating something very special.
This restaurant starts at $185 dollars per person and goes up from there!  I have seen this restaurant available to book 180 out, but not very often. This restaurant is not included on your Disney Dining Plan.
Akershus
Akershus fills up fast because those that do not secure a spot at the Cinderella Castle, but still want a princess dining experience, will book here.  I have found that if you consistently check your app a table usually opens up during your stay at Disney World.
O'hana Dinner
Located in the Polynesian Resort, this table service restaurant will take up 2 of your dining credits (just like Cinderella's Royal Table).  Breakfast is a typical character dining experience with Mickey, Pluto, Lilo, and stitch.  The food is family-style with Hawaiian influences.
Dinner is a non-character Hawaiian show. I have heard they have taken away the Ukulele players. The food looks amazing! We have not had the opportunity to try it yet. This atmosphere is authentic.
California Grill
This is a signature restaurant which will also take 2 table service dining credits.  I have never attempted to eat here.  It is located in the Contemporary Resort, and is one of the best dining locations for seeing the Magic Kingdom Fireworks.
Beaches and Cream
This is a tough reservation to get because it is a very small ice cream shop.  There are not many tables available.  It is set to close August 25 for renovations but will open up winter 2019.
Located at the Beach Club Resort, which is about a ten minute walk from the World Showcase entrance of Epcot, this is a great ice cream place. The atmosphere is fantastic (like eating ice cream at a shop by the beach), although the place is a bit small.
We just had to splurge and get the kitchen sink! It had a ton of ice cream, and they let the whole restaurant know that you got it! I won't spoil how they do it so that you can find out when you're there.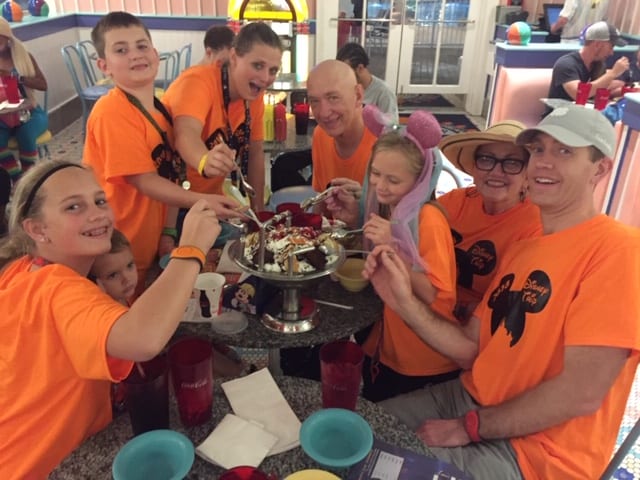 What Can I Use My Snack Credit's on?
This was a question I had the first time that I went to Disney World. The answer is A LOT!
One thing I would like to mention — if you plan it right — is that a snack credit can go a long way!  We love to go to Gaston's Bakery in the Magic Kingdom where  you can get a cinnamon roll for 1 snack credit. It feeds four people(okay, so we don't have teenagers yet).  They are huge!
On the other hand, we found that some snacks don't go as far, such as getting a Mickey ice cream bar.  But hey, you need to get at least one while you're there!
Basically, you can use this on all your typical snacks such as Mickey pretzel's, drinks, popcorn, etc. But what the website doesn't tell you is that your snack credits can get you specialty cupcakes and Dole whips.  If you walk into a store with a beautiful bakery display case, all those delicious goodies are snack credits.
Use Snack Credits Strategically
So in my opinion, really plan out your snack credits! Look for unique homemade goodness compared to packaged pre-made items. Planning your snacks and your sit down restaurants goes a long way, whereas other than Be Our Guest, you can roll with the punches for quick service credits.
The first time we went we were scared to use our snack credits and by the end we had accumulated so many, and had to used them on packaged items (gummies and other candies).  That was not the most efficient use!
In subsequent trips we were not scared to use our snack credits but heat and thirst did drive us to use credits on soda pop and ice cream bars.
My favorite place to use my snack credits is at the bakery in the France section of the World Showcase in Epcot. (Les Halles Boulangerie & Pastisserie). This bakery opens earlier than the rest of World Showcase.    Also, the bakery in Norway is really good!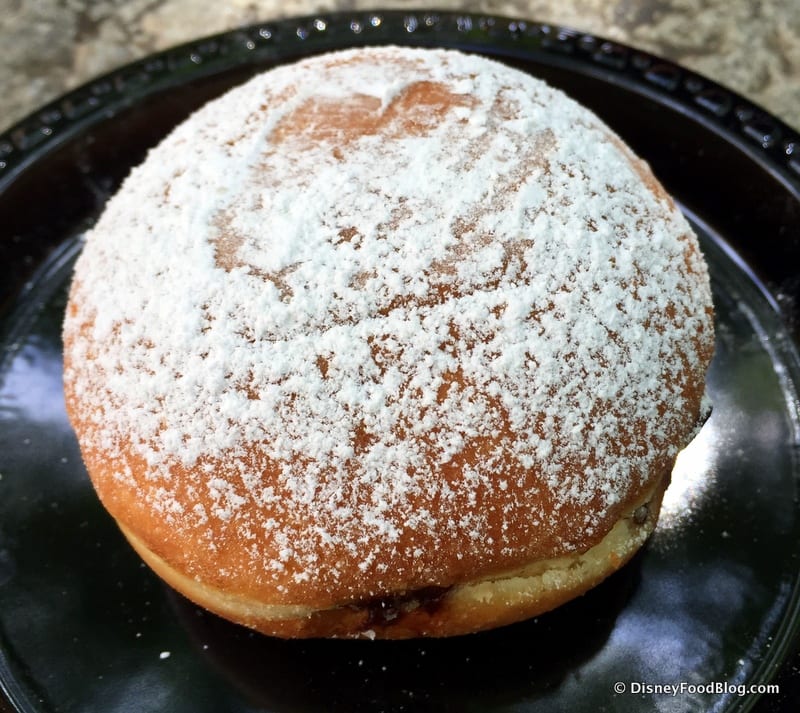 Epcot Counter Service Locations
There are far too many counter service restaurants at Disney World to list them all!  Epcot is my favorite place to eat, so I have more opinions on the counter service choices in Epcot.  I will let you know my favorites and not so favorites!
In the World Showcase part of Epcot different countries are represented.  Each of my family members have a different favorite.
Mexico -La Cantina de San Ange

l
This is my top choice.  Everything they serve is amazing – the nachos are my favorite!
China -Lotus Blossom Café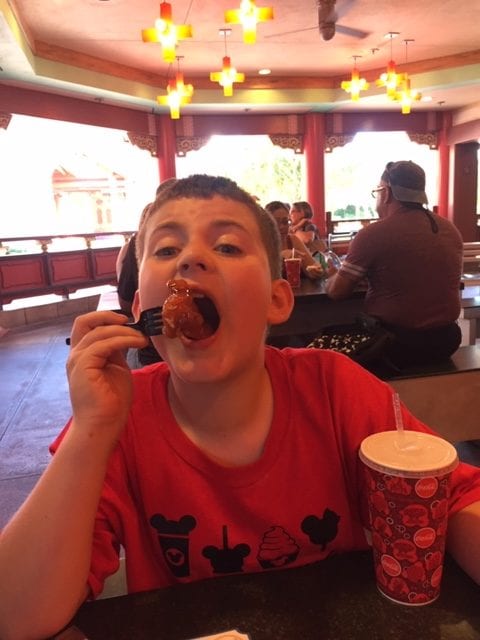 Orange Chicken – my oldest son's top choice
America – Liberty Inn (closed in July 2019)
Chicken nuggets was my little kids top choice, unfortunately, they will be disappointed that it is becoming a bar-b-que restaurant!
Tangerine Café
This place is so good, this took me a step out of my comfort zone!  I loved it.  It is worth a try for sure! Check out the menu and you may be surprised what unique dishes the serve!
France – Les Halles Boulangerie Patisserie
As I mentioned, my absolute favorite place for snacks! They do offer counter service items.
Worst Places We Have Tried at Epcot
Italy – Pizza al Taglio
I am not a huge fan of the Italian pizza. Not that it matters to taste, but you order at a window and get the food from an adjacent window.  You may want to look just a few steps away We have eaten at at Tutto Italia Ristorante. It is a table service
restaurant that we thought was great.
Magic Kingdom Counter Service Restaurants
Casey's Corner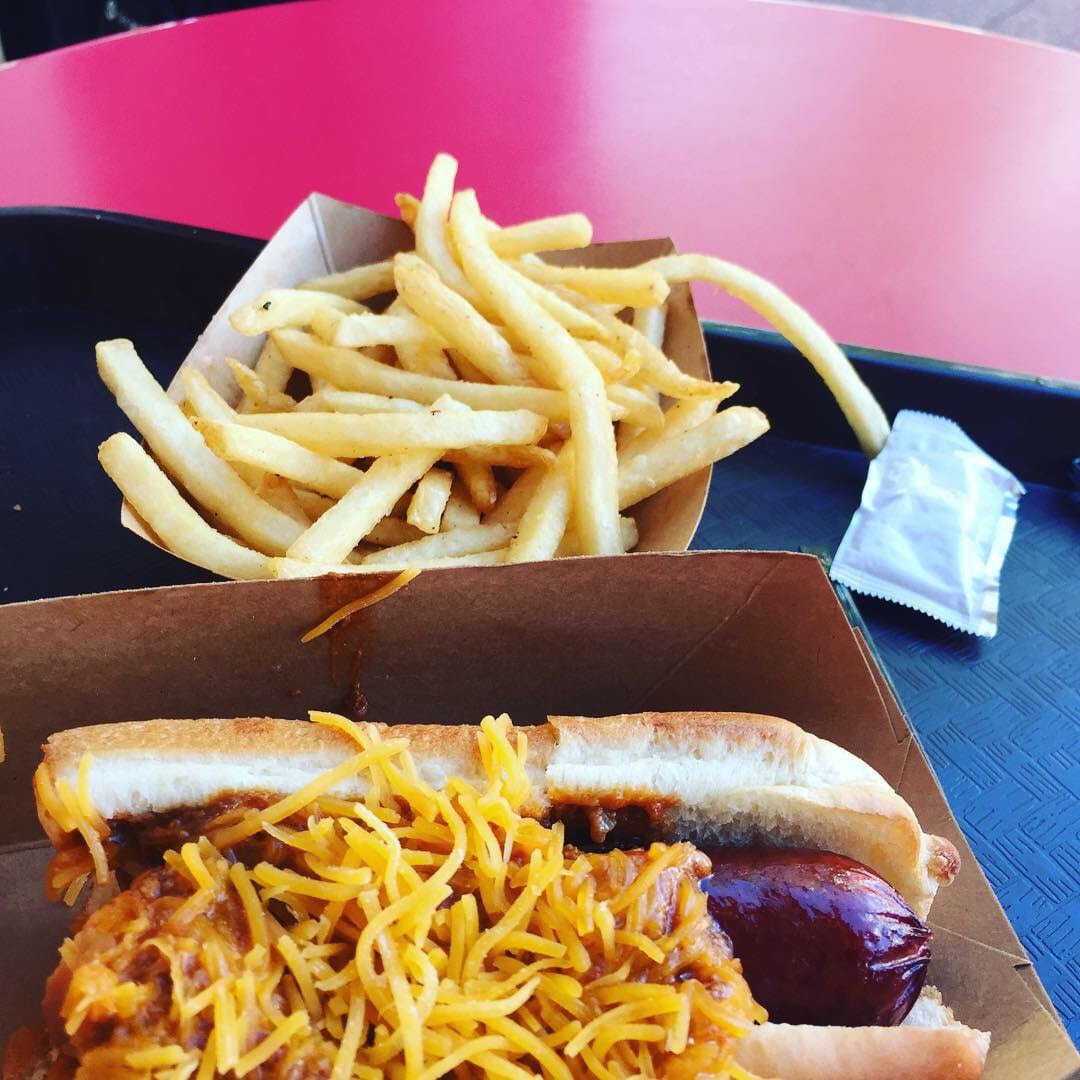 If you like hot dogs, Casey's Corner has a unique twist. They have a variety of different kinds!
Be Our Guest
The counter service restaurant was good. I mainly went to try the grey stuff. But we did get a few meals and I was surprised with how healthy everything was on the menu.  If you are looking for a healthy alternative, this is the place.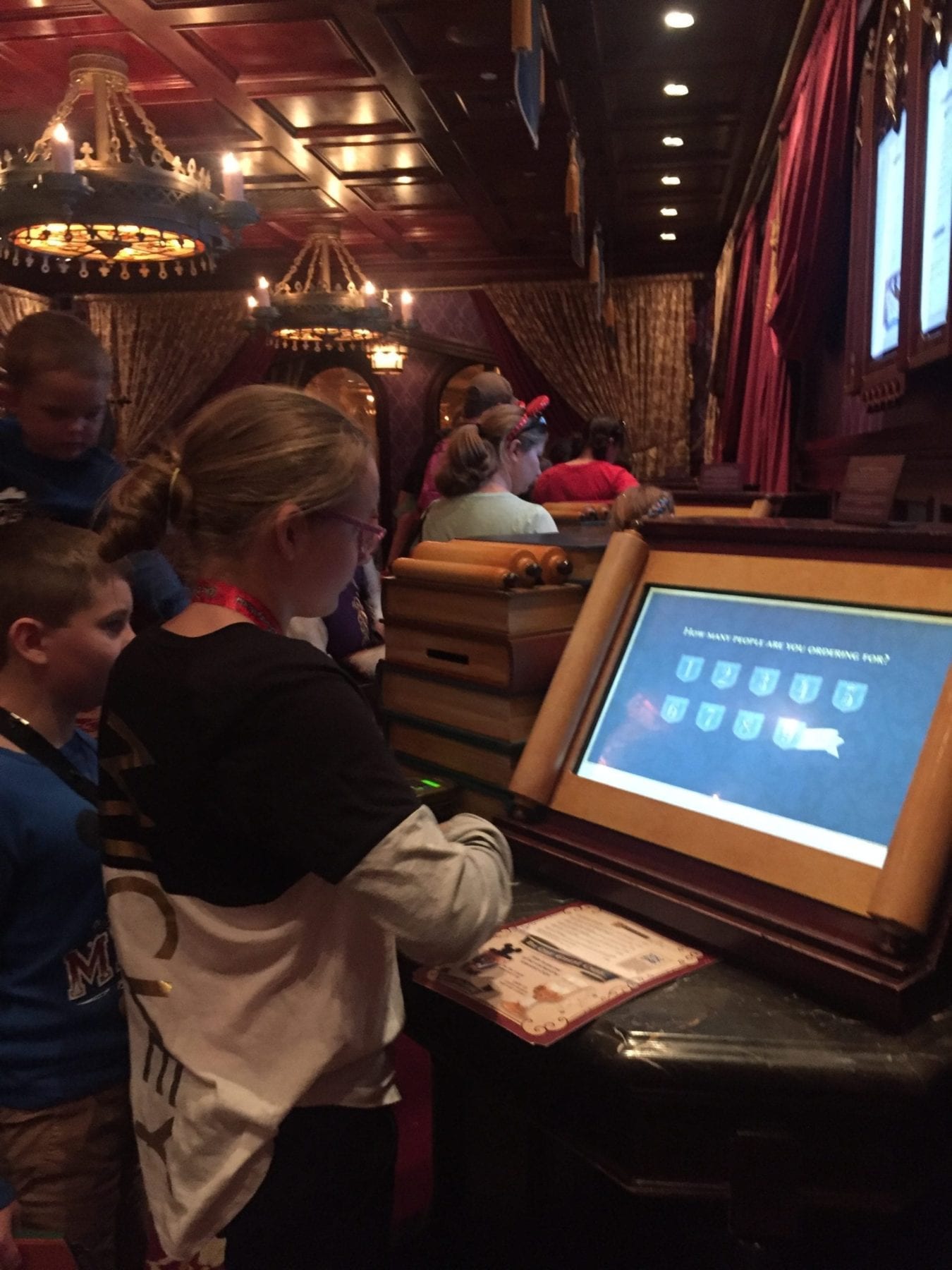 And the atmosphere is amazing! Many people like to eat in the Beast quarters.  If you watch closely over the fireplace, you can see a silhouette of the Beast appear when lightning strikes. Kind of cool, but I personally like the ballroom. The lighting is much better.
Animal Kingdom Counter Service Restaurants
Flame Tree Bar B Que
We love this place, you can get a great pulled pork sandwich!  If you like bar b-que this place will satisfy your craving!
Yak and Yeti and Pizzafari
we have not eaten at these locations but they are suppose to be really good!
Hollywood Counter Service Restaurants 
I don't really think Hollywood is known for their food.  I personally save my credits and park hop back to Epcot, especially when I am at an Epcot Resort, or I eat at 50's Prime Time Café (not a quick service restaurant).
Woody's lunch box is supposed to have great pop tarts, but I can not vouch for that because I have not tried them!
Our Favorite Table Service Restaurants
Supercalifraglistic Breakfast
Located in the Grand Floridian, at 1900 Park Fare, it is our family's favorite breakfast.  This is a buffet, but we feel like they offer more than most.  The food is absolutely delicious and the characters are Mary Poppins, Winnie the Pooh, Alice and Wonderland, and the Mad Hatter.
50's Prime Time Cafe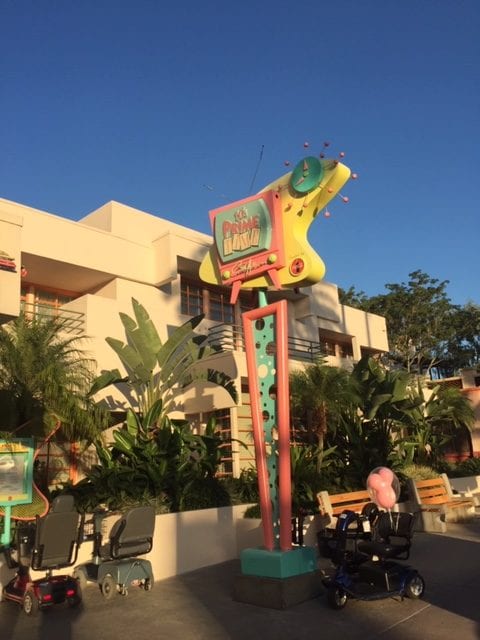 Located at Hollywood Studios, this place is just plain fun.  You have to be easy going and play along with the waiter or waitress.  He or she tells you what manners are expected, like not to put your elbows on the table. If you get caught he may have you sing, "I'm a little tea pot!"  It is a great atmosphere.  I thought the food was good, and the kids loved the milk shakes!
Tusker House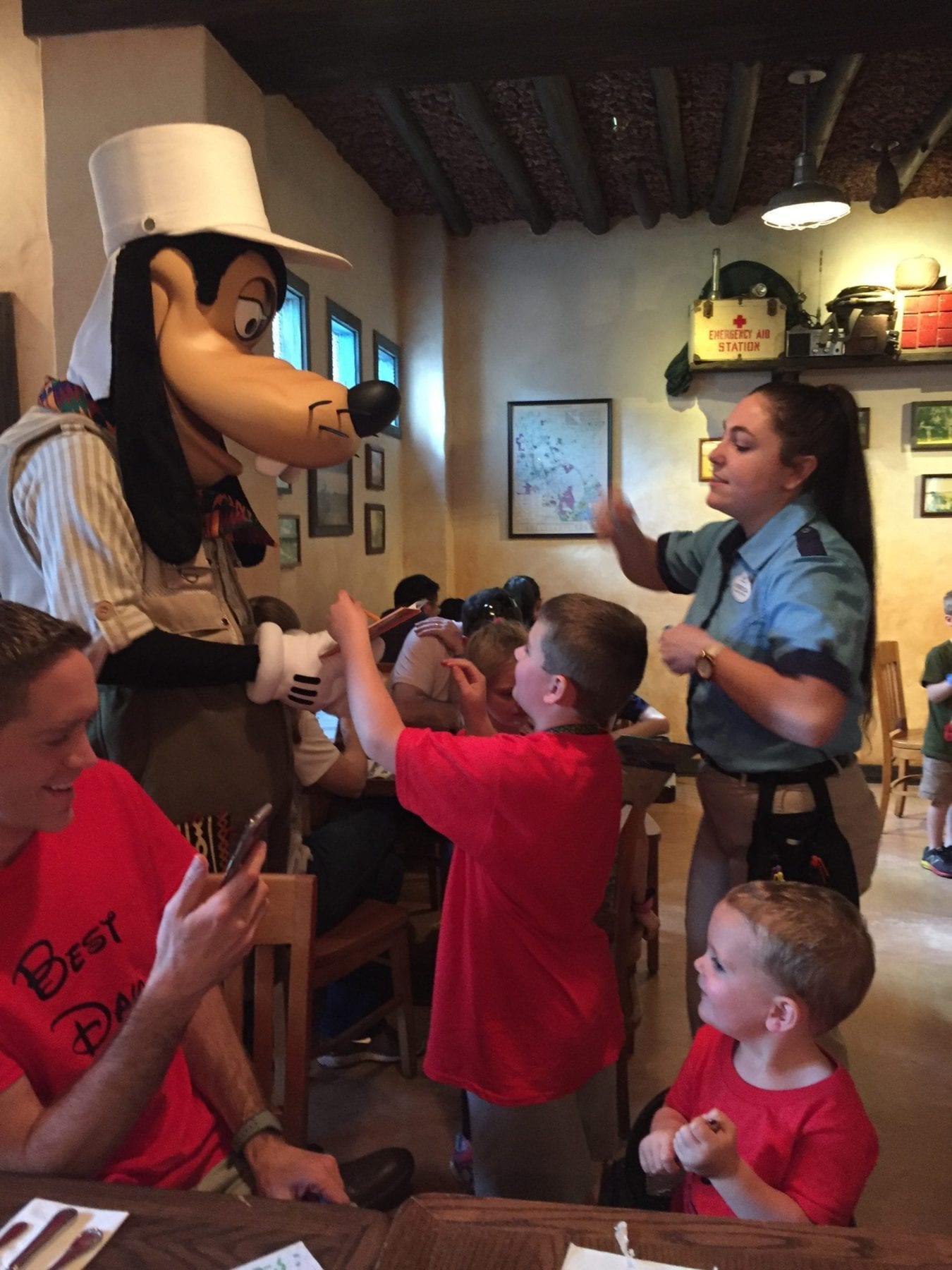 Located at Animal Kingdom, this is a buffet with an African flare, but also with American staples.  This is also a character meal, and so you can see Mickey, Minnie, Goofy, Donald, and Daisy, all decked out in their Safari gear. This is a favorite for our kids!
Le Cellier Steak House
Located in the Canada section of the World Showcase in Epcot, this is a great choice if you want a steakhouse. We really enjoyed it. It does take two dining credits, and while some of us went, we did not take the smallest kids (they went off to Akershus with others in our group).
If you need amazing ideas of what to eat, my absolutely favorite Disney blogger is Disney Food Blog!
Is the Disney Dining Plan Worth it?
I think the Disney dining plan is worth it in many cases when you stay on resort. Disney offers Stay, Play, and Dine, and other offers that will include dining in your package, or provide a discount.
When there are no discounts offered, dollar-for-dollar the plan does not seem to save you money.  We have done some of the calculations when we've planned trips, and there are no clear savings unless you want to be very strategic about what you get.  For us, while strategy can be fun, we prefer more than anything to get something we like.
With all of that said, the other benefits of the plan is you know what you're getting. Yes, it can be expensive if there is not a deal, but if you budget for it and pay up front, you're done! No pain of scanning the menu thinking how much the food is costing you at the park.  It makes for a more enjoyable experience if you're willing to fork out the money as an initial matter, and are not focusing on costs while you are at the parks.